Proper burial practice was really, really important to the ancient Egyptians. Without it, they believed that dead pharaohs wouldn't make the long journey to the afterlife. The dead needed sustenance, which was provided for them, by the living, in their tombs. They would be given wine, for example, as well as baskets of fruit, and for many, watermelon was a must.
The ancient Egyptians loved watermelon for a similar reason that we do today: its high water content means it's ultra-hydrating. But over the years, the fruit has evolved into a delicious snack. Despite its morbid origins, now, watermelon is less about death and more about keeping cool and refreshed in the summer months. And as an added bonus, it's also pretty nutritious, too.
Of course, you can snack on watermelon as it comes, or sliced and mixed with other popular summer fruits. But you can also turn it into soup, vegan tuna, add it to a pizza, or turn it into a steak. Yep, these days, the options are endless when it comes to cooking and preparing watermelon. Here, we've got all the inspiration you need for taking a tasty summer classic and making it even more delicious.
What is a watermelon?
The ancient Egyptian watermelon was quite different from the one we're familiar with now. Back then, research suggests that the fruit "was hard and unappetizing, tasting either bitter or bland," reports National Geographic. But over the years, it has been cultivated into a delicious, juicy, sweet treat, with a smooth, hard exterior.
The scientific name for watermelon is Citrullus latanus, and it's a flowering plant species from the Cucurbitacecae family (the same family as courgettes, pumpkins, and cucumbers, for example). In cooking, it can be treated as a fruit or a vegetable, but botanically speaking, it is technically a fruit.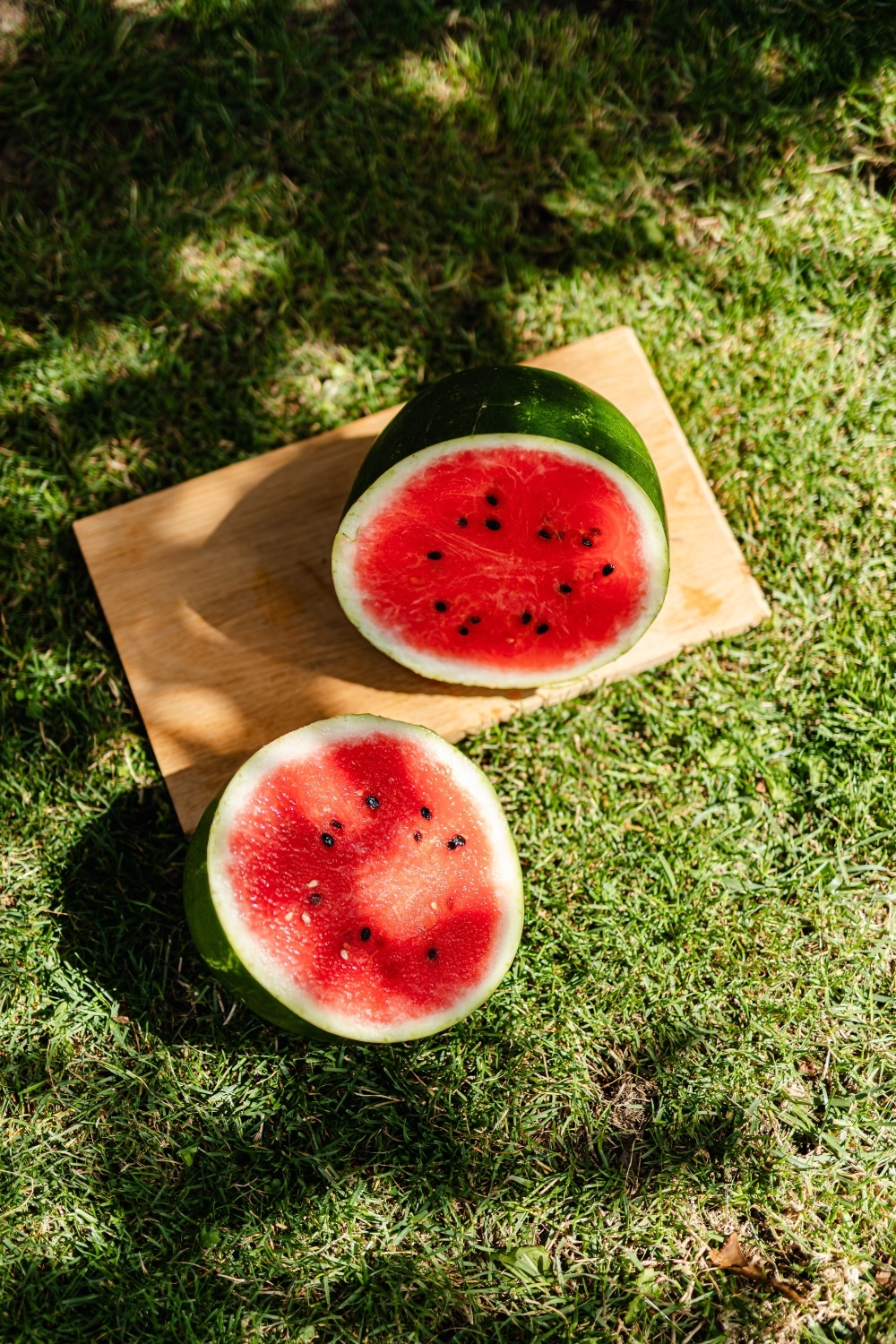 Pexels
Watermelon nutrition
As you may have heard already from Harry Styles, watermelon is particularly high in natural sugar. In fact, one cup of diced watermelon contains around 9.42 grams. But it's important to note that natural fruit sugar and refined sugar (like that you would find in candy, for example) are not the same thing.
"From a chemistry perspective, your body breaks down natural and refined sugars into identical molecules, processing both similarly," writes Alina Petre, MS, RD, for Healthline. "However, natural sugars typically occur in foods that provide other beneficial nutrients. For instance, unlike the fructose in [high-fructose corn syrup], the fructose in fruit comes with fiber and a variety of vitamins, minerals, and other beneficial compounds."
Watermelon is a good source of vitamin C, as well as potassium, copper, vitamin B5, and vitamin A, and it also contains citrulline, an amino acid, and lycopene, an antioxidant. Plus, because the fruit is 92-percent water, it's also a great choice for staying hydrated, particularly when you're out in the sun in the warmer months of the year.
How do you cook with watermelon?
There are countless ways to prepare watermelon. It's delicious chopped on its own, of course, and you can also mix it into salads or serve with ice cream for dessert. You can juice it, add it to a smoothie, or blend it into a shake. You could add it to a poke bowl, too, or you can even grill it. It sounds a little weird, but cooked watermelon is actually delicious, trust us. From fresh salads to chilled soup, here are some of the tastiest ways to prepare watermelon this summer.
Vegan recipes with watermelon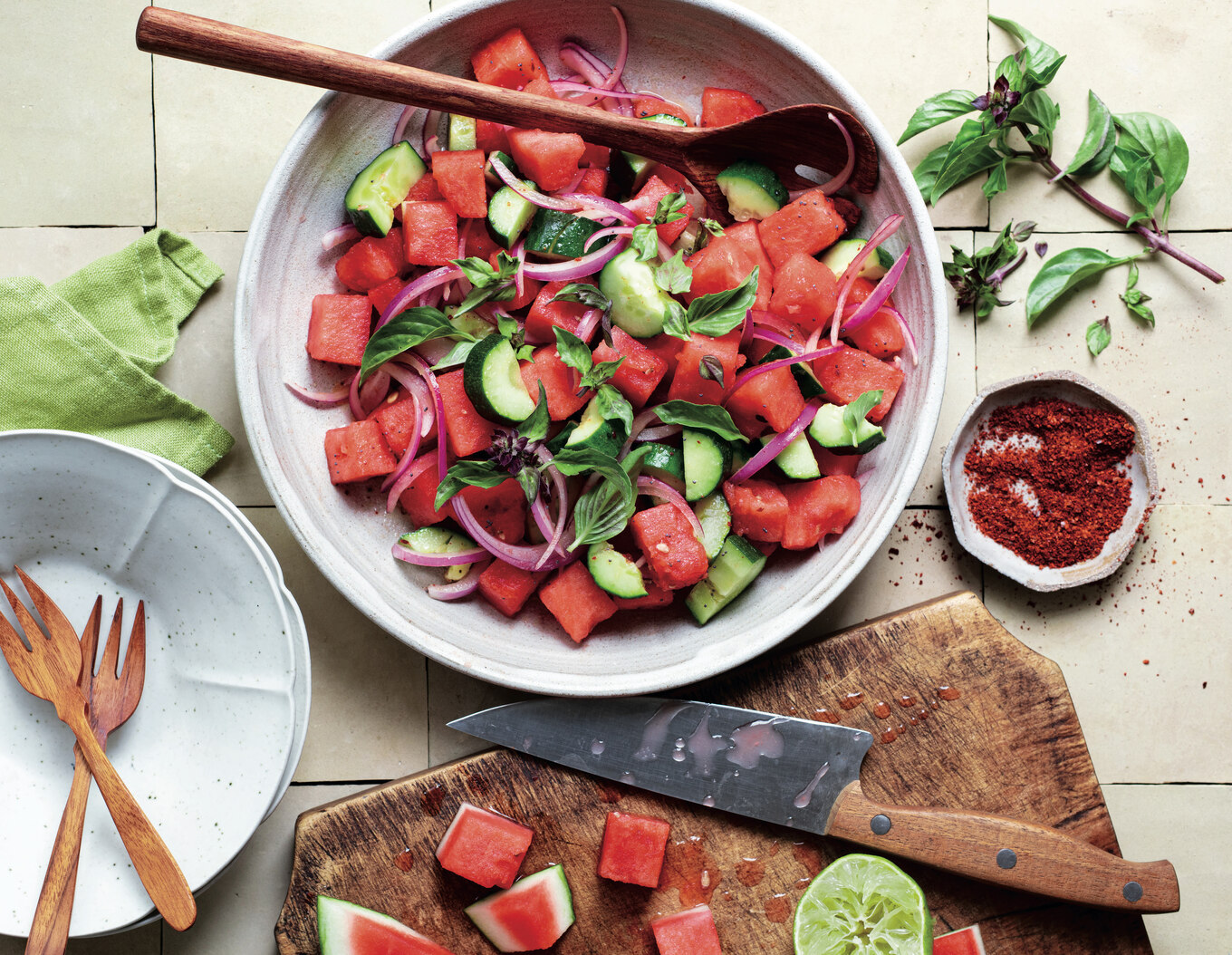 Erin Scott
1 Vegan Watermelon and Cucumber Salad
Cucumber and watermelon are a cooling, refreshing match made in heaven, particularly in the summer months. For extra flavor, add zesty lime, herby basil, and tangy Aleppo pepper for a new lunchtime classic.
Get the recipe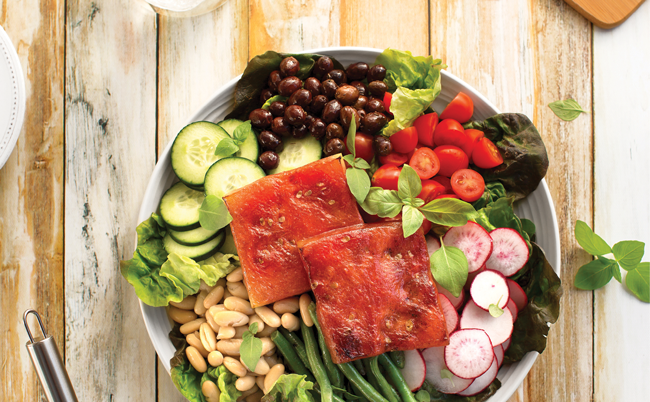 Hannah Kaminsky
2 Seared Watermelon Niçoise Salad
If you love the taste and texture of tuna steaks, but you're not such a fan of eating real fish, then watermelon is a great alternative. Aside from a similar appearance, the taste and texture are surprisingly alike. Try it out in this delicious niçoise salad recipe, complete with cannellini beans, radishes, and butter lettuce.
Get the recipe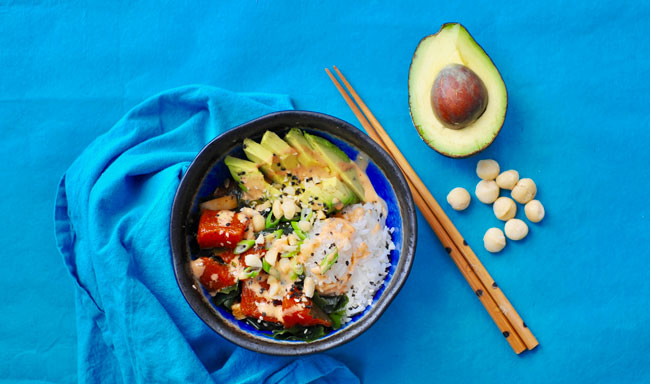 Leinana Two Moons
3 Watermelon Poke
Again, traditional Hawaiian poke bowls are usually made with ahi tuna, but watermelon presents a convincing, animal-free alternative. Pair it with sesame soy dressing for a new spicy summer classic.
Get the recipe
Quarry Books
4 Watermelon Poke Burger With Avocado
For a fun vegan twist on the traditional poke bowl, why not try a poke burger, instead? As well as juicy watermelon, this tasty recipe features creamy avocado, sliced tofu, and fresh cilantro.
Get the recipe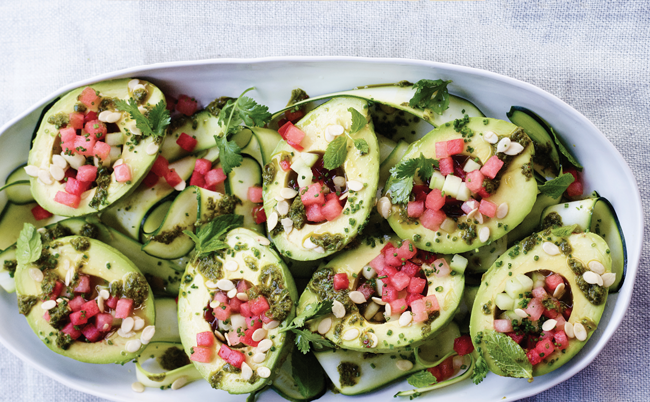 The Perfect Blend
5 Chimichurri Avocado Salad
Watermelon and avocado are another summer dream team, there's no question. This flavorful salad recipe combines both, alongside tasty chimichurri, cucumber, zucchini, and finely diced tomatoes.
Get the recipe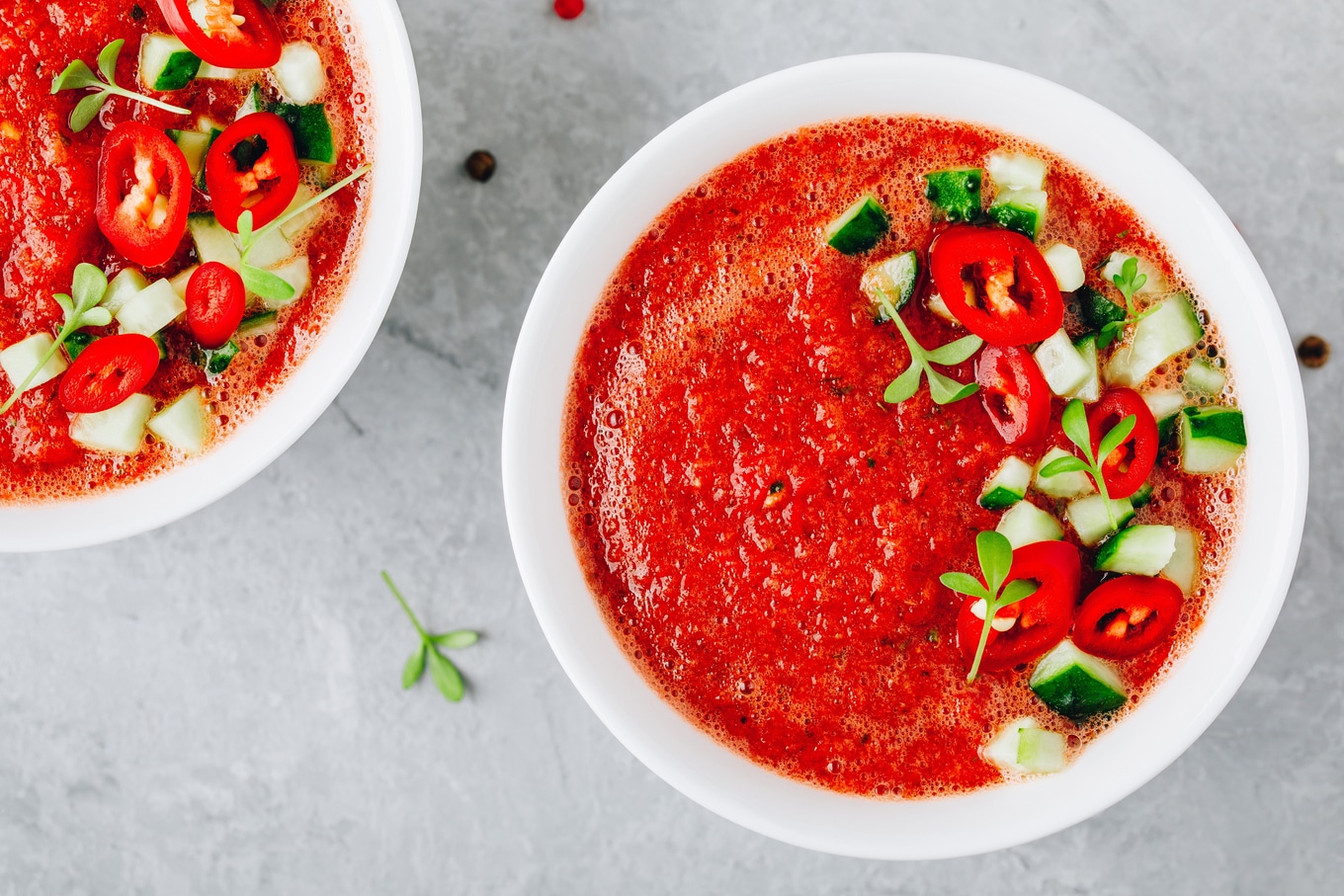 Allyson Kramer
6 Watermelon-Cucumber Gazpacho
Soup isn't just for the fall and winter months. In the summer, you can serve it chilled, as this tasty gazpacho recipe demonstrates. It's refreshing, cooling, and full of flavor, too.
Get the recipe
For more on vegan ingredients, read: