South Korean startup Mycel is working to make fungi-based biomaterials that can replace both animal leather and meat. Recently, the company raised $10 million in a pre-Series A funding round to commercialize its biomaterials as early as next year.
Mycelium—the fast-growing root structure of mushrooms—is being used by a number of companies around the world to replace animal leather for products ranging from car seats to shoes and handbags. San Francisco-based startup MycoWorks raised $125 million in a Series C round early this year which will be used to build a full-scale mushroom leather production plant in Union County, SC, for its flagship product Reishi. Meanwhile, Bolt Threads secured $253 million in September 2021 to further the commercialization of its Mylo mycelium leather, which has already been used in pants, handbags, and shoes in partnership with brands such as Stella McCartney and Adidas.
Mycel will use its new funding to build out its platform, which utilizes the regenerative growing system of mycelium to produce a biomaterial that can be used for a variety of applications across industries from fashion to cosmetics to pharmaceuticals. The Seoul-headquartered startup aims to open a production plant in South Korea for scaling the manufacture of its fungi-based biomaterials and double its employee headcount to 42.
Mycel is also in talks with global brands to co-develop mycelium-based leather products as well as cosmetics ingredients, with an aim to commercialize its mushroom leather in 2023.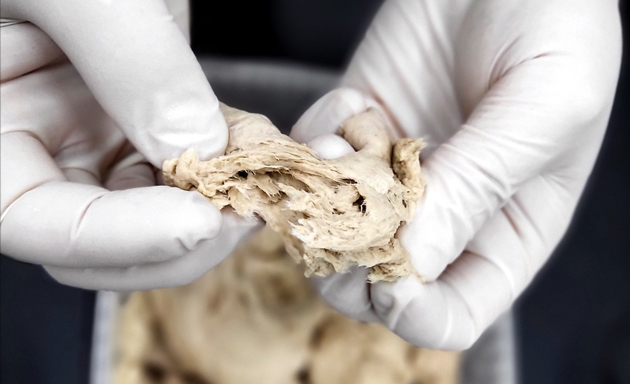 Mycel Project
Making vegan meat out of mycelium
A spin-off company that emerged from Hyundai Motor Company's in-house startup program, Mycel was founded in 2020 by former Hyundai employees Sungjin Sah, Sungwon Kim, and Yunggon Park. To set itself apart from other mushroom leather startups, Mycel is also targeting the meat market.
According to the company, because mycelium has a morphological characteristic similar to that of animal muscle, it can mimic the fibrous structure of meat unlike other plant-based proteins. Additionally, mycelium is low in fat and rich in protein and dietary fiber, offering a high nutritional value as a food source. The company aims to launch its fungi-based biomaterial that will be used in alternative proteins next year.
While Mycel focuses its efforts on disrupting the vegan protein space in Asia, other food developers using fungi protein are popping up around the world. Founded in 2017, Swedish startup Mycorena developed a proprietary process based on mycelium biotechnology to create vegan protein in the most resource-efficient and sustainable way and has since created multiple food prototypes, such as vegan tuna, burgers, and meatballs that are sold around Sweden.
England's longtime vegetarian brand Quorn may have been one of the first companies to introduce fungi protein in food products, offering items made from a fermented fungi protein called mycoprotein as a more sustainable protein source than animal-based protein. While many of Quorn's meatless products contain egg whites, the brand also offers a full range of vegan products such as dinosaur-shaped vegan chicken nuggets, Turkish-style kabobs, fishless fillets, and pepperoni slices.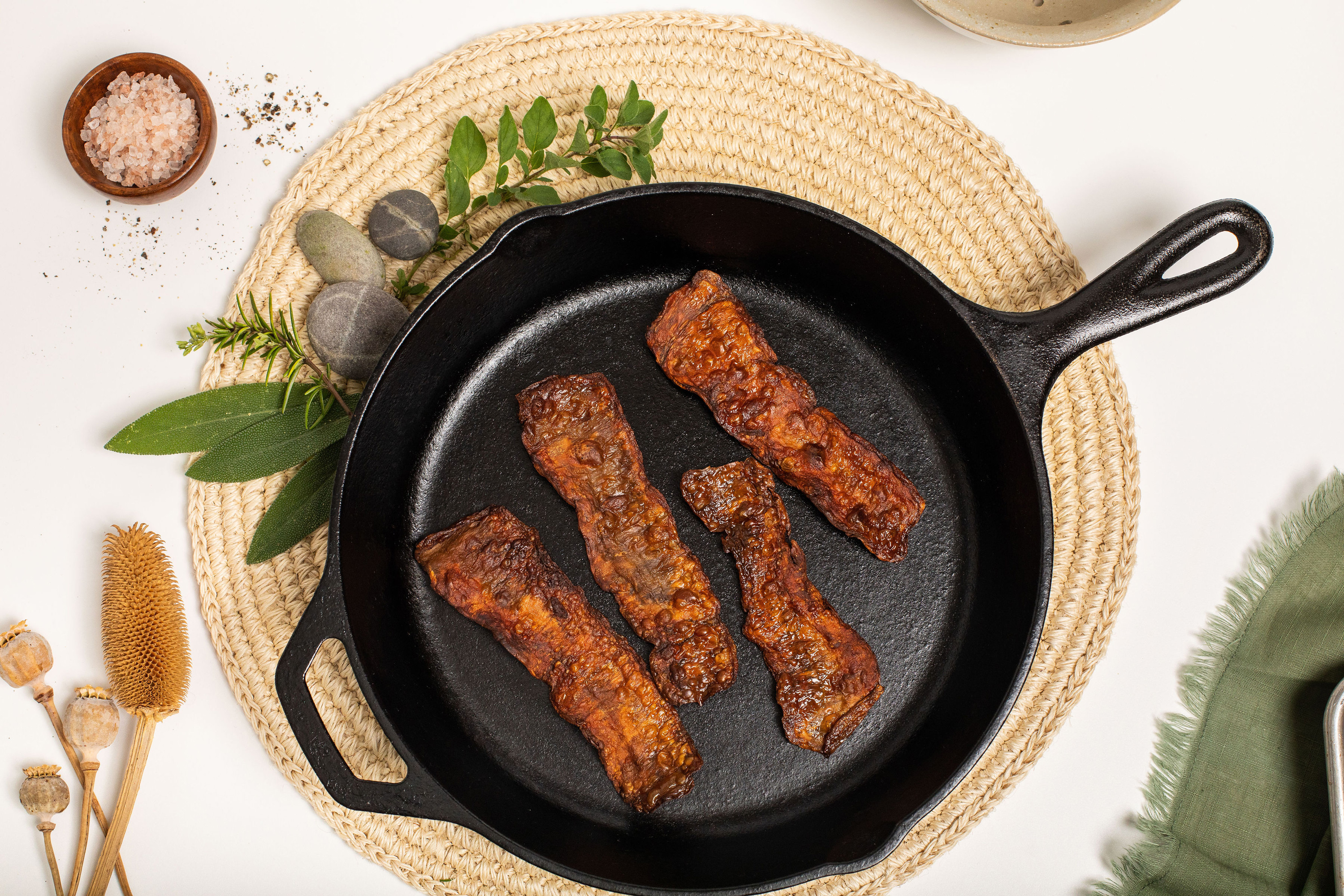 MyBacon
Stateside, California-based biotechnology company Evocative was founded in 2007 with the goal of replacing animal products and eco-damaging materials with mushroom-derived alternatives in a multitude of industries. Through its biofabrication platform, the company makes a suite of products using different strains of mycelium. Like Mycel, Ecovative is exploring the possibilities of mycelium in edible applications through its food arm, MyForest Foods, where it creates mycelium-based vegan bacon called MyBacon.
This summer, Evocative founder Eben Bayer opened a 120,000-square-foot vertical mycelium farm—the world's largest farm of its kind—which uses the company's AirMycelium-patented technology to grow nearly three million pounds of mycelium annually for MyBacon. With major partnerships in the works, its goal is to serve its vegan bacon to one million customers by 2024. "Fully displacing animal agriculture is one of the most important things I can work on and that just happened to align with where we were on developing this mycelium," Bayer previously told VegNews. "The original idea then was leather and I never thought we'd do food. The whole point of Ecovative [at the time] was everything except food but it brought me full circle back to this space and it's a space I'm really passionate about."
Mushroom steak is here
As Mycel, Mycoworks, Mycorena, Quorn, and Ecovative have all shown, mycelium is a versatile biomaterial that can solve a spectrum of sustainability issues. As it turns out, it also makes a great vegan steak.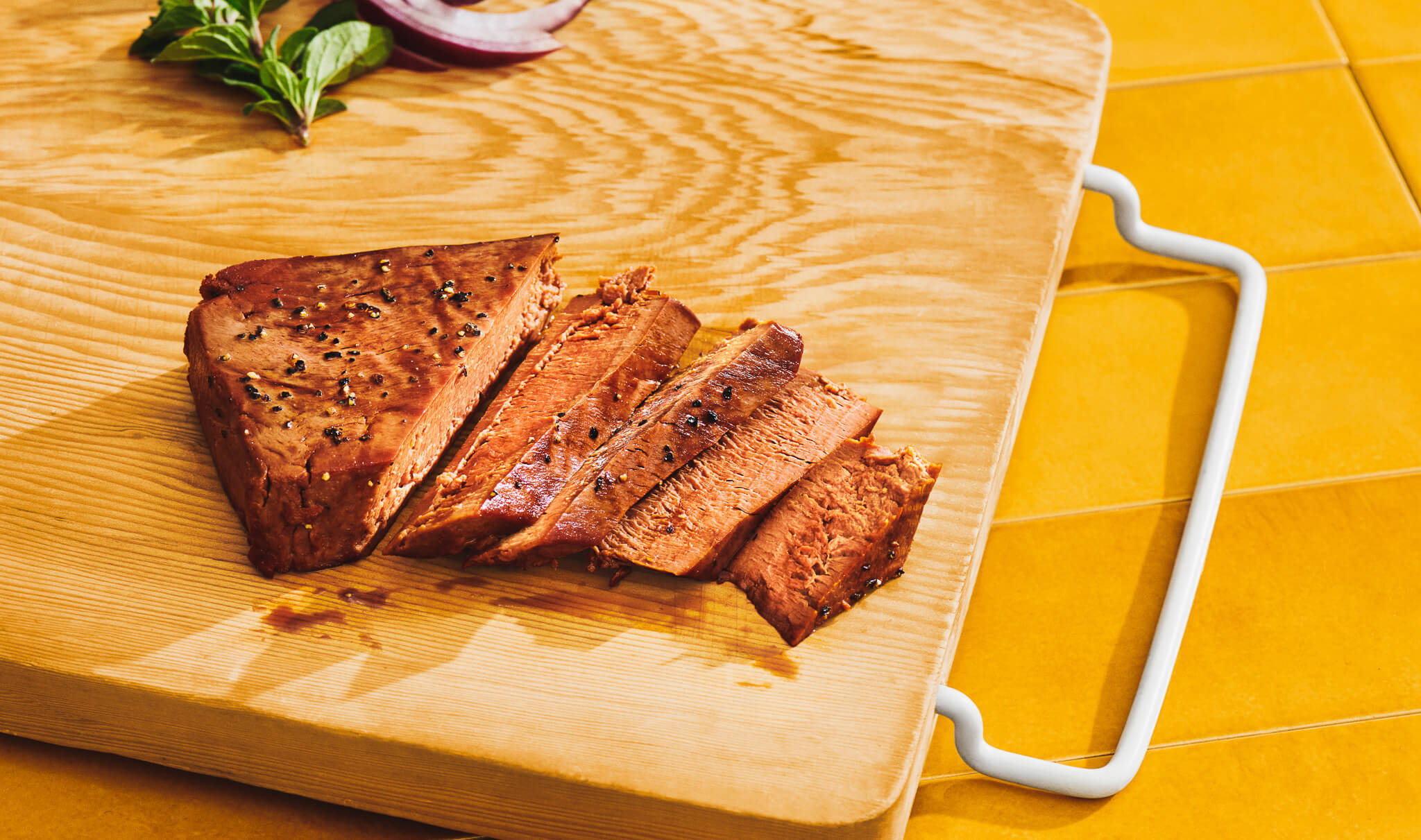 Meati
Colorado-based vegan meat brand Meati was co-founded in 2019 by engineers Justin Whiteley and Tyler Huggins and is now creating whole cuts of steak and chicken using a technology that relies on mycelium. Earlier this year, the company made its products available for nationwide delivery through its website, starting with its vegan chicken Crispy Cutlet and Classic Cutlet, which sold out in under 24 hours when they first became available for preorder.
Ultimately, these food companies are working to replace animal meat with a more sustainable option. "As the population grows to 9.2 billion in 2050, meat consumption is projected to increase from 3.04 million tons in 2018 to 4.55 million tons," Sa said. "In the end, I think the market that replaces meat has no choice but to grow."
For the latest vegan news, read:
New Doctor-Led Vegan Meal Program Trains Schools, Hospitals, and Prisons
New Vegan Girl Scout Cookie Raspberry Rally Is Joining the 2023 Season
How This New Vegan Bluefin Tuna Provides an Ocean Sustainability Solution