Movie theaters might be shuttered for the near future, but that doesn't mean you have to forgo your vegan popcorn while watching Netflix at home—in fact, we encourage all the vegan snacking. Though you can always make your own popcorn if you feel so inclined (just don't forget the nooch), numerous companies are now making ready-to-eat popcorn in various vegan flavors you can't easily replicate at home. Here are 11 of our favorite brands.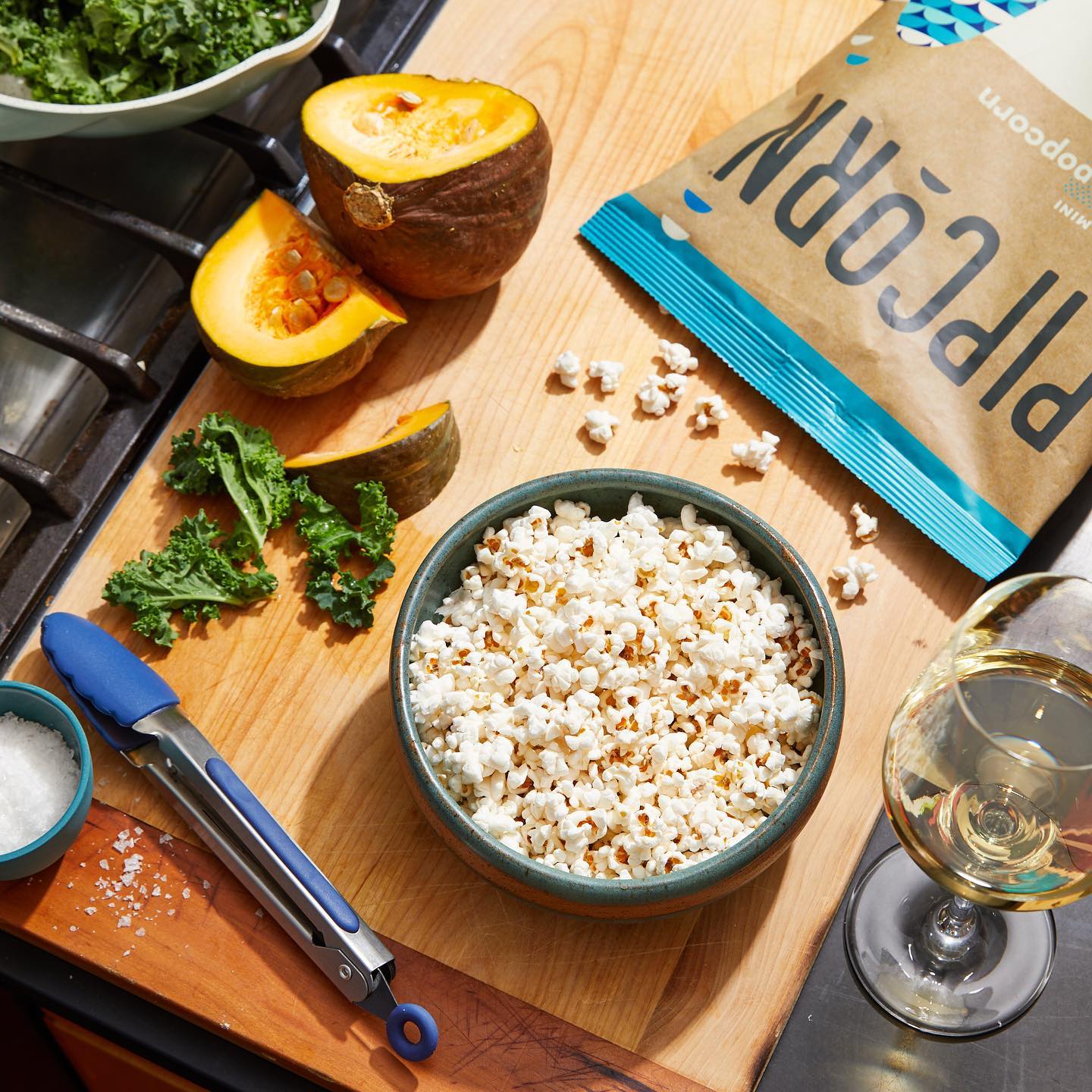 Sink your teeth into Pipcorn's Vegan Caramel popcorn and your sweet tooth will explode with gratitude. This flavor is a scrumptious splurge if you're craving a dose of sugar with your popcorn. And "pip" is appropriate when describing the kernels, as the mini heirloom kernels are half the size of regular popcorn. Don't shy away from the other two vegan flavors: Sea Salt and Truffle. They may not have "vegan" in their name, but rest assured they are.
Perfect for: Sweet-toothed snackers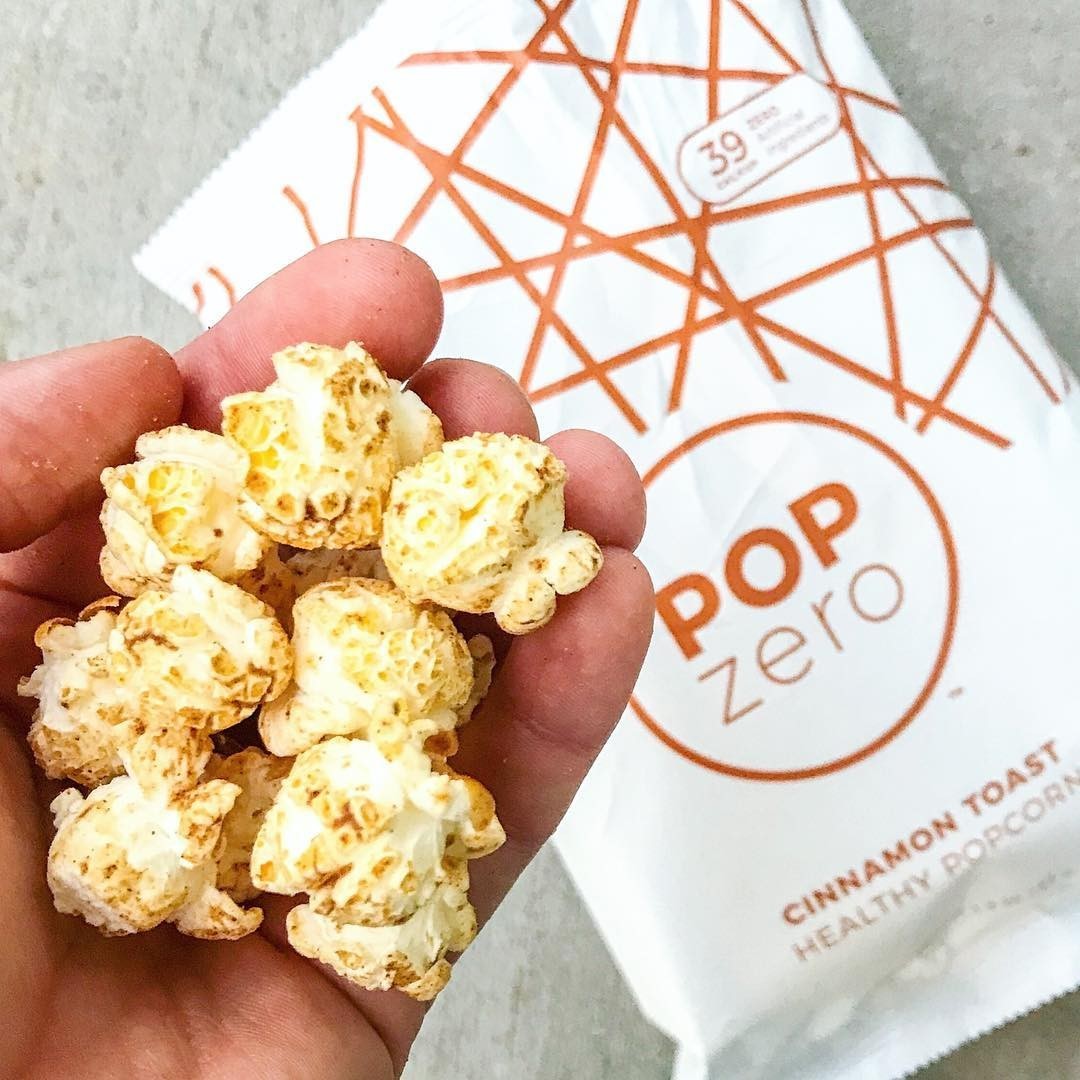 Not even movie theatre popcorn (with vegan butter, of course) can come close to Pop Zero. The kernels are bigger than what you would expect from bagged popcorn, and they're packed with flavor. This vegan brand offers four flavors—Simply Cinema, Cinnamon Toast, Sea Salt, and Chili Lime—and a new White Cheddar flavor was introduced this month that will knock your socks off. The unique part is that the company uses algae oil instead of other plant oils. Why algae? Pop Zero says it's an "omega-3 powerhouse, which helps support a healthy immune system."
Perfect for: The movie theater popcorn buff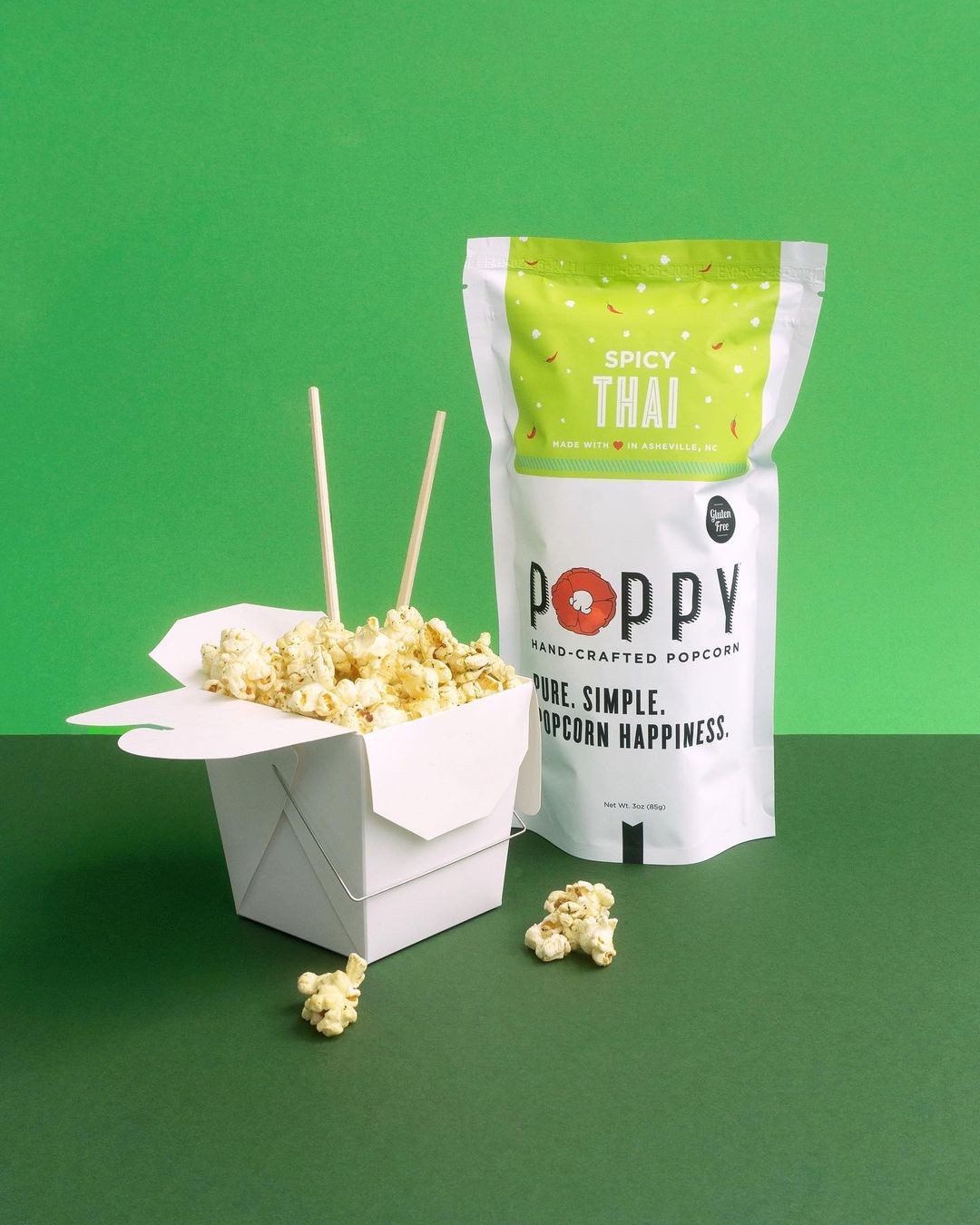 This popcorn hails from Asheville, NC, which bodes well, given that the city is a beer capital—and where there's good beer, there's always good popcorn. The company prides itself on using simple, natural ingredients, and though it offers many flavors seasonally and in series, its four year-round vegan flavors include Everything Bagel, Vegan Salted Caramel, Salt & Pepper, and Thai Spice. And currently, the Southern Series Sweet Onion flavor is also vegan.
Perfect for: The boutique brand shopper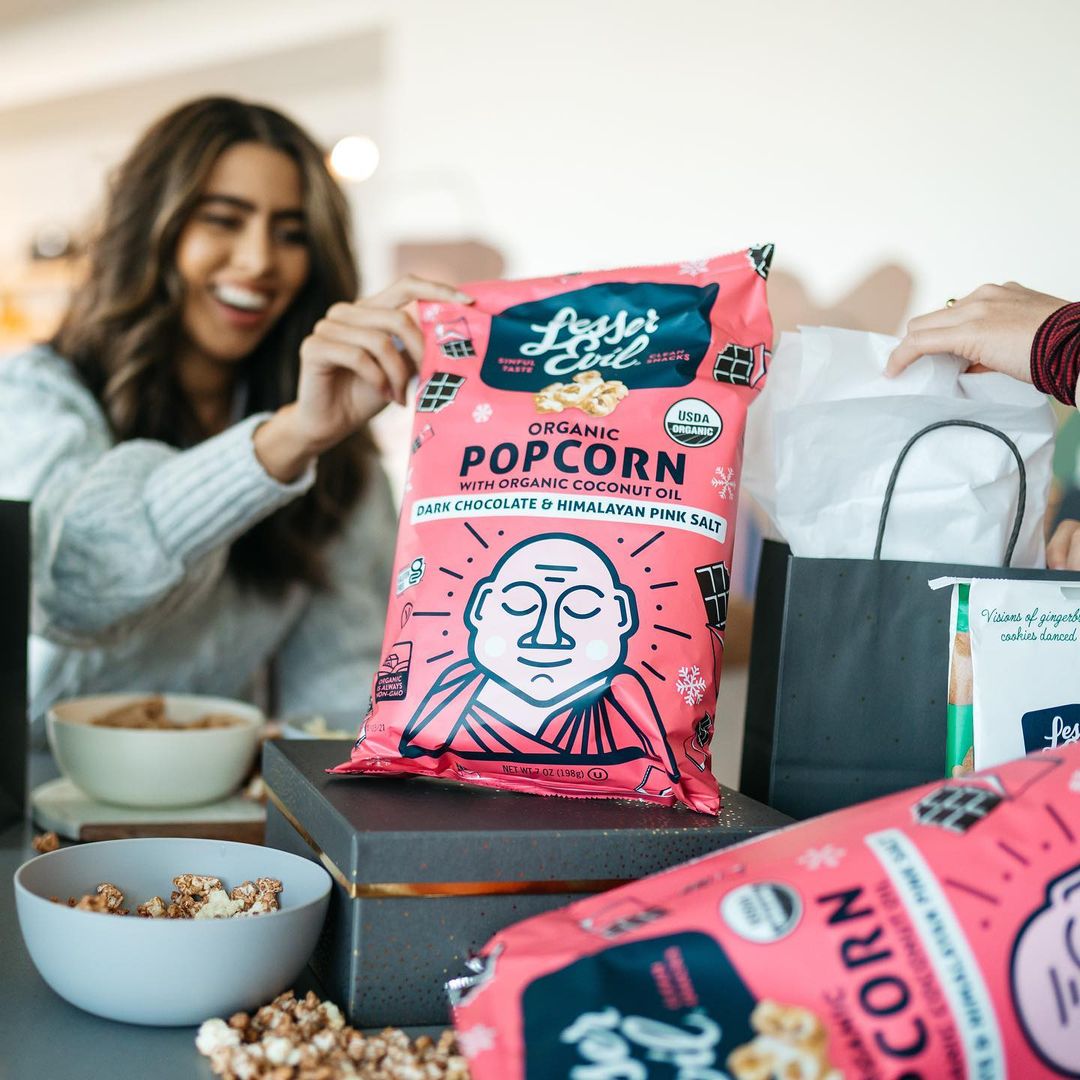 Organic popcorn gets a makeover with Lesser Evil's heavenly vegan lineup. There are eight vegan flavors, many of which use a unique combination of coconut oil and the company's "butter type" flavor on its air-popped kernels. Try, for instance, the "No Cheese" Cheesiness, Avocado-licious, or the Himalayan Gold. Or if you want to step out of the bag and indulge your sweet tooth, the White Chocolate + Matcha, Himalayan Sweetness, and Dark Chocolate + Himalayan Pink Salt flavors are perfectly sweet and salty.
Perfect for: The butter-loving popcorn fan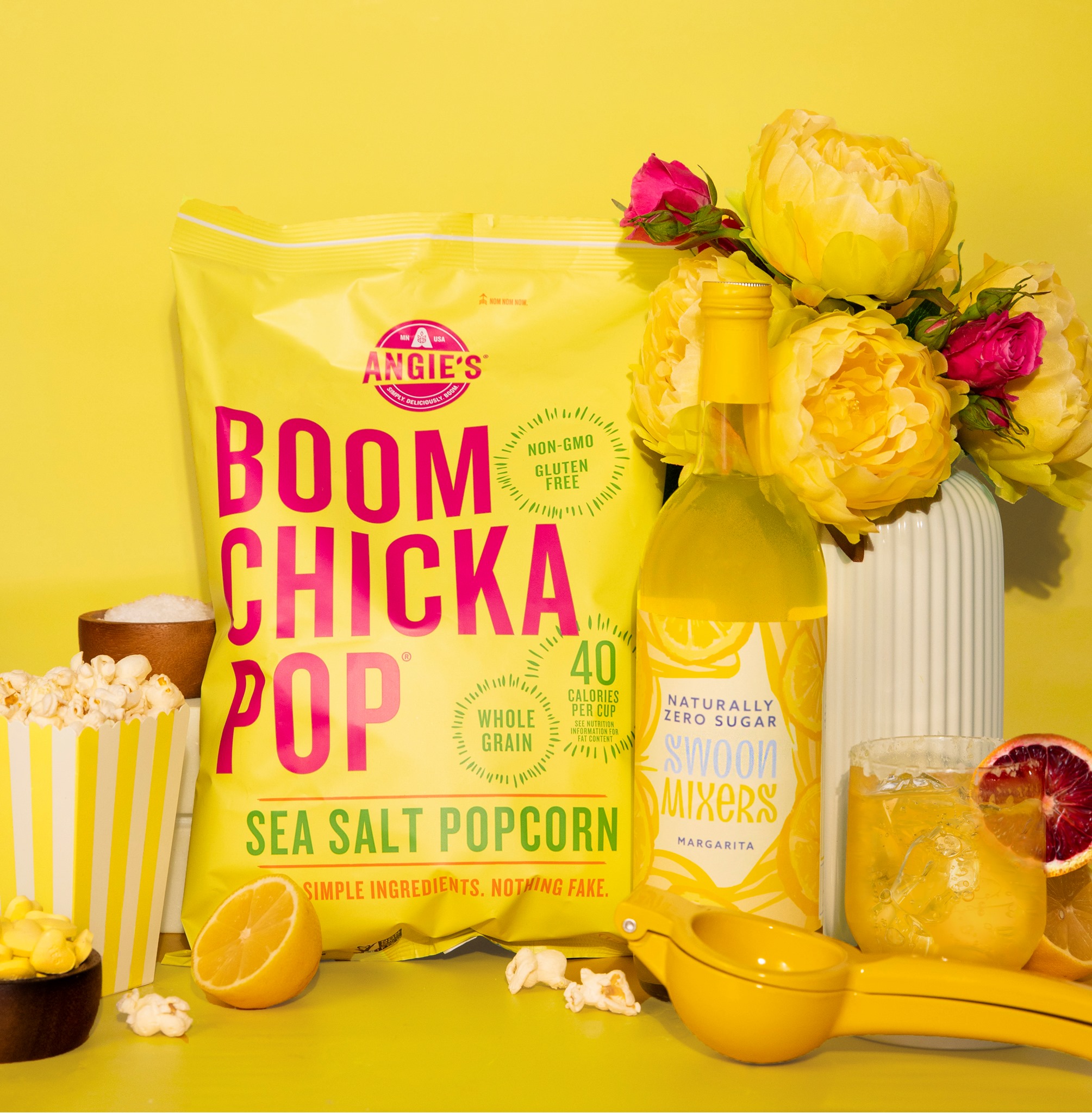 Angie's popcorn is so good you won't be able to close the bag. So, it's a good thing that most of its vegan flavors (with the exception of Vegan Salted Caramel) contain only 35 or 40 calories per cup. Four flavors make up its vegan line: Sea Salt, Light Kettle Corn, Avocado Oil, and Salted Caramel. The company's seasonal Rosé Flavored Kettle Corn is also vegan.
Perfect for: The light-snack lover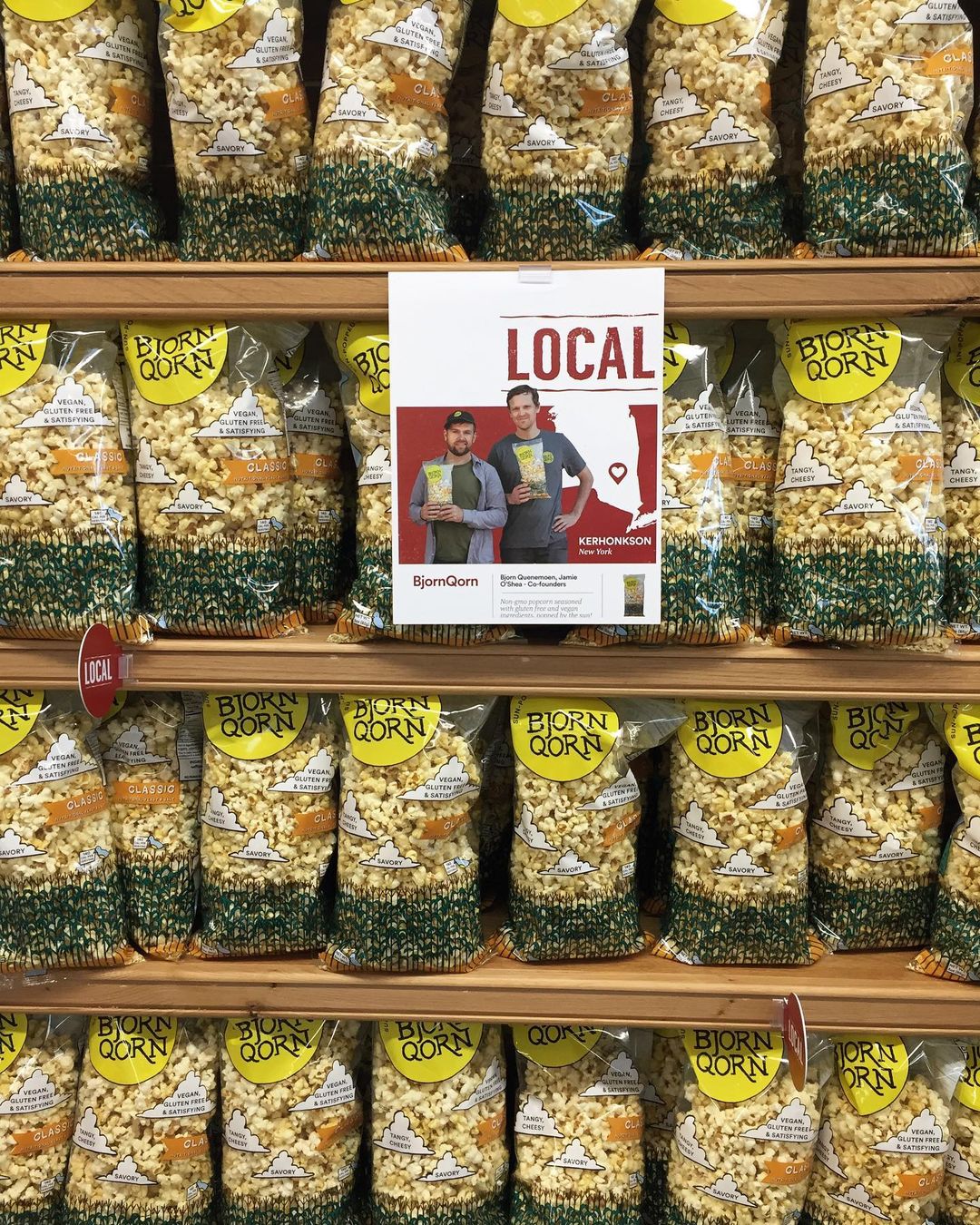 Get your nooch on with these deliciously flavored all-vegan kernels. Choose from Classic, Spicy, or Cloudy (aka salty), all of which are topped with nutritional yeast instead of cheese. The fun part about the brand? This artisan popcorn is solar popped, meaning you can thank the sun for making the kernels so crispy and airy.
Perfect for: Nooch lovers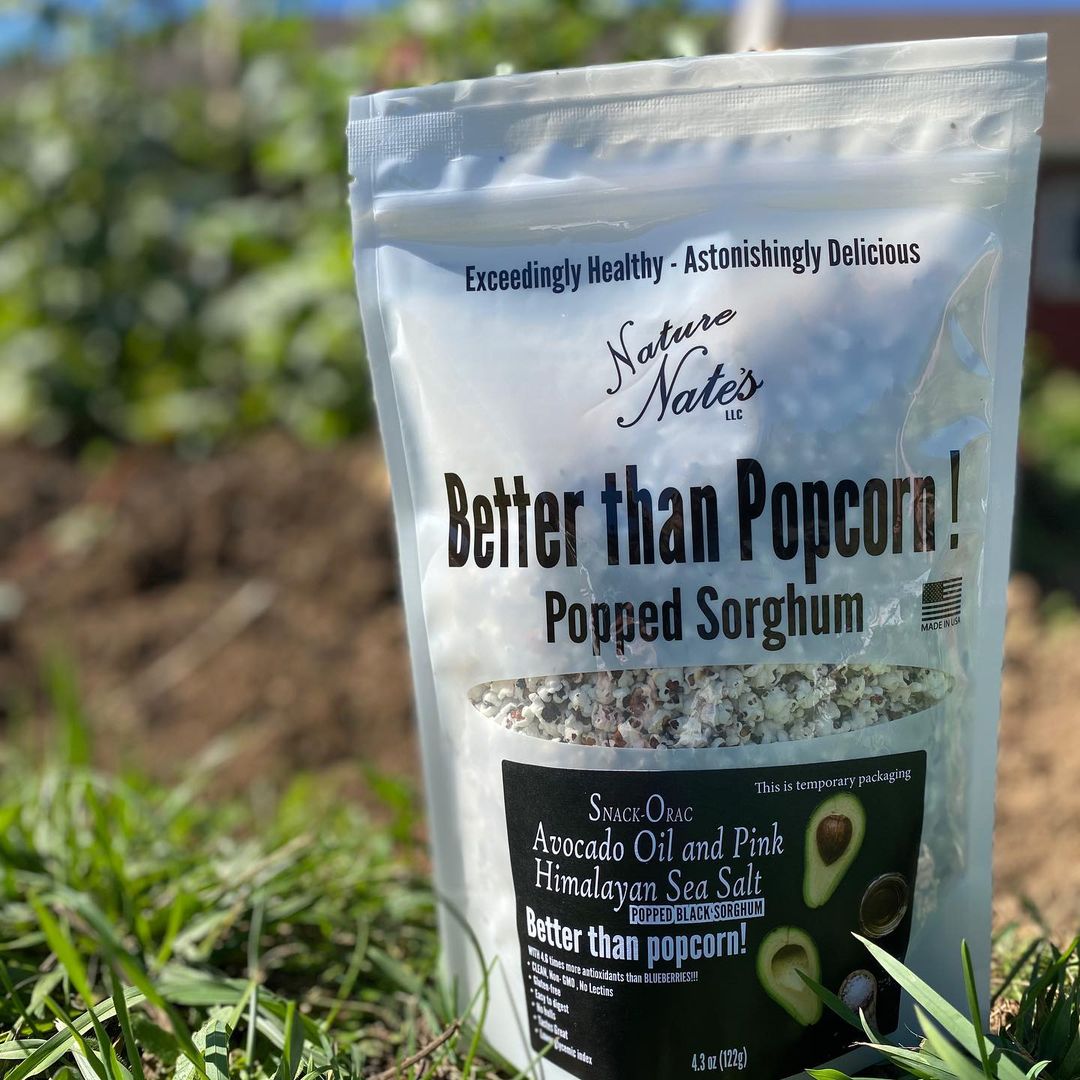 Forget corn kernels. Instead, go with the grain that's making headlines: sorghum. You might know sorghum best as a feed for animals, but this whole grain is slowly making its way into foods for humans, showing up on restaurant menus and in food products. Now, it's being popped as a healthier alternative to popcorn, and Nature Nate's has two flavors for vegans: Avocado Oil & Sea Salt and Coconut Oil Pink Himalayan Sea Salt.
Perfect for: The health nut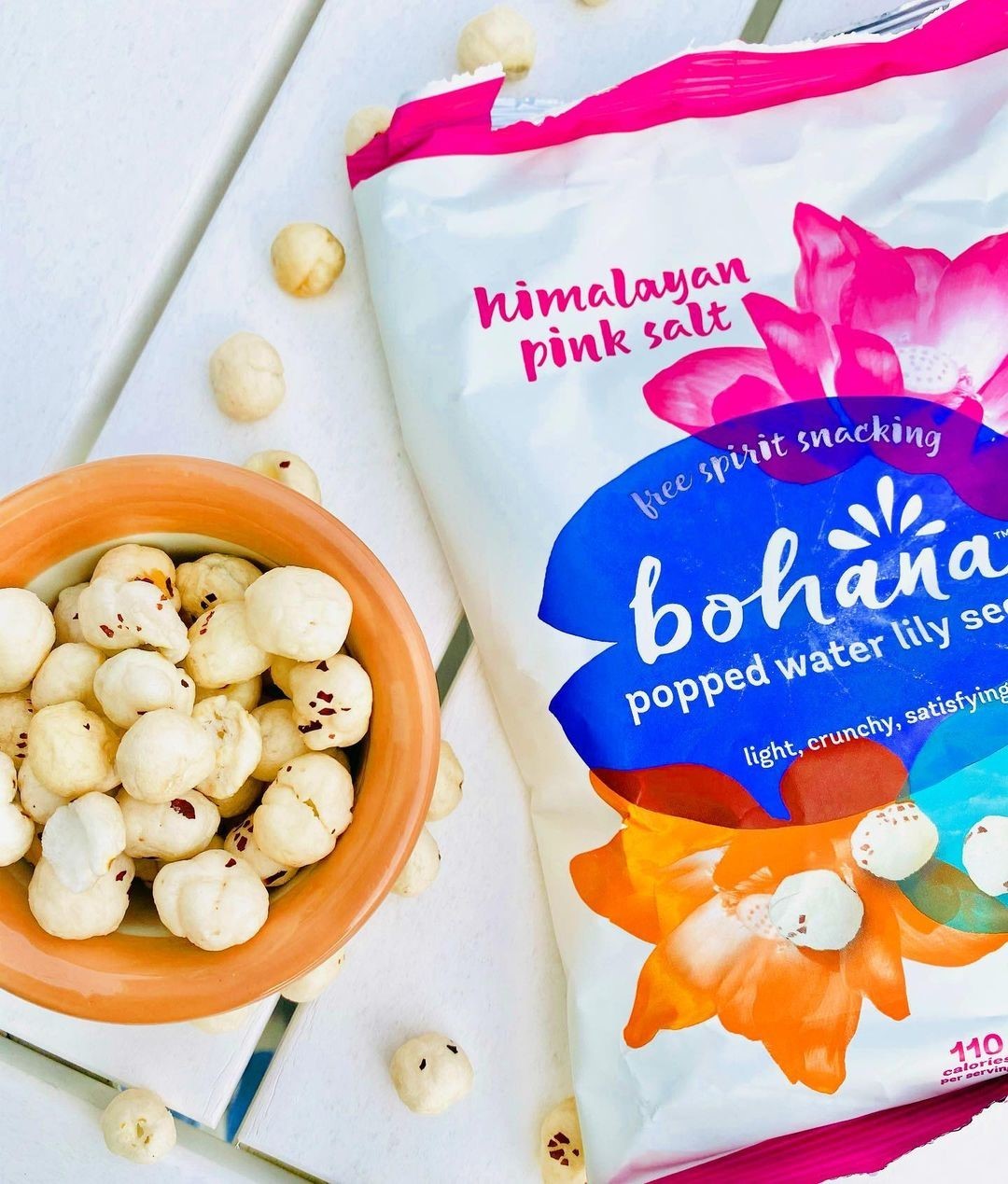 Inside these bags is a big surprise: the "popped" comes from water lily seeds. According to the company, lily seeds are nutritionally superior to regular popcorn because they have 67 percent less fat, 20 percent fewer calories, and 50 percent more protein than popcorn. Here's the bonus: No kernels get stuck in your teeth. Choose from four vegan flavors: Soulful Sriracha Spice, Pink Himalayan Salt, Sweet Cinnamon Drizzle, and Sea Salt Chocolatey Drizzle.
Perfect for: Free-spirited souls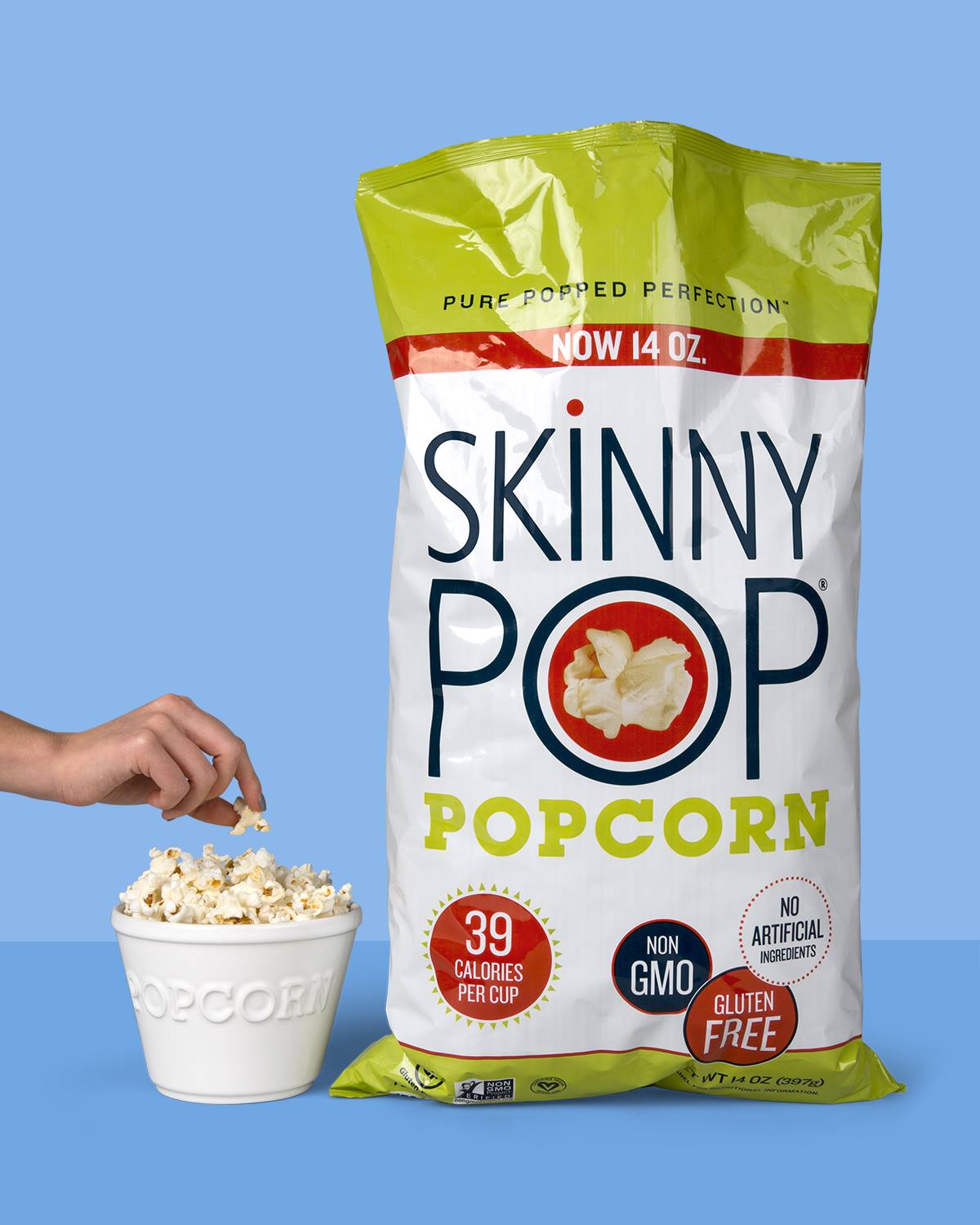 You can't have a "best of" popcorn list without including Skinny Pop. Its name is its biggest selling point, as an average cup of its original popcorn contains only about 39 calories. Not all of its flavors are vegan, so check the packages to be sure, but the vegan options among the current lineup include Original, Dairy-Free White Cheddar, Sweet & Salty Kettle, Sea Salt & Pepper, and Twist of Lime.
Perfect for: The calorie-conscious eater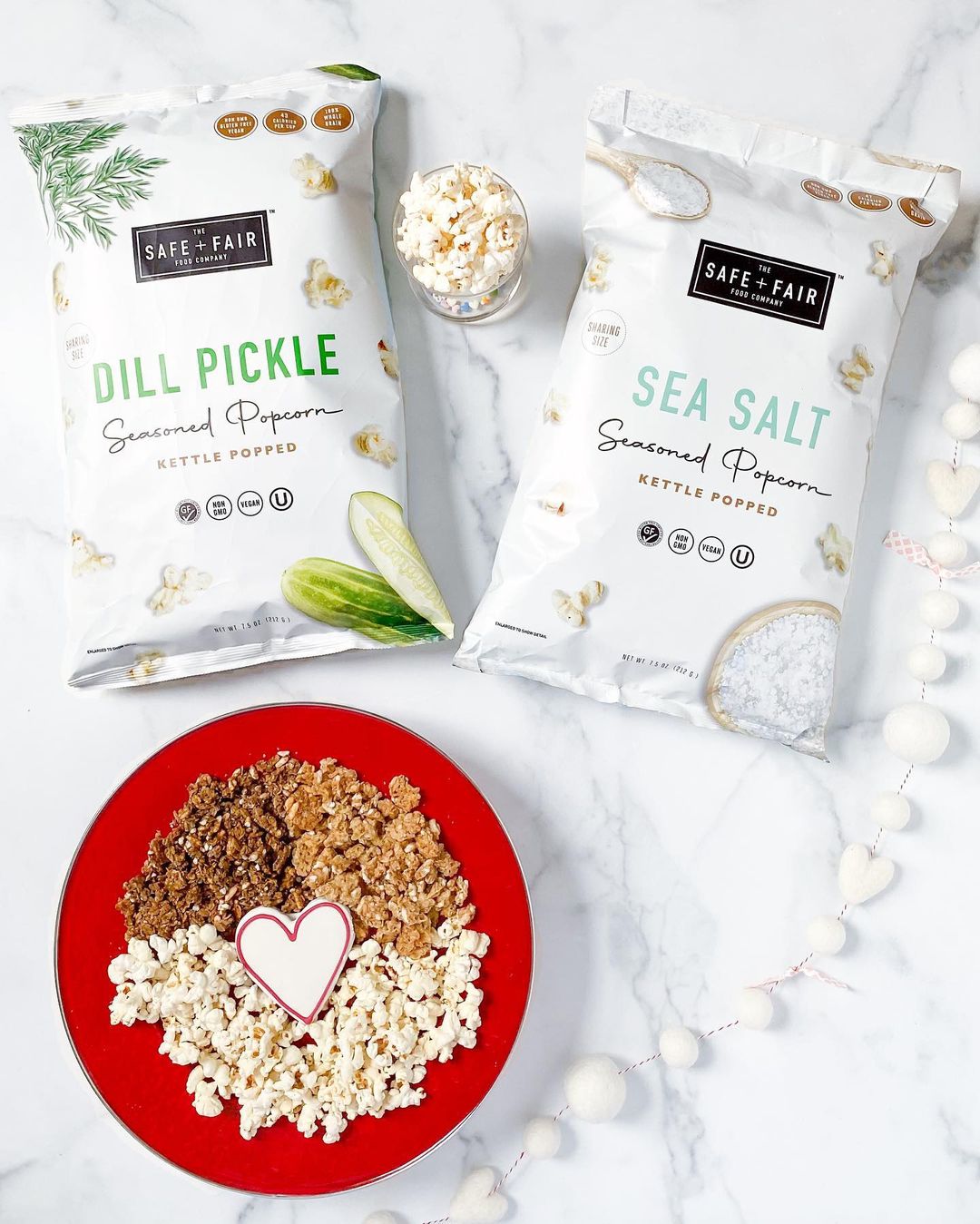 Never tried drizzled popcorn? You'll wonder what took you so long when you dig into a bag of Safe + Fair's popcorn. The all-vegan flavors are among the most unique you'll find in commercially available popcorn and include fun versions such as Strawberry Shortcake, Dark Chocolate, Blueberry Cobbler, and Birthday Cake.
Perfect for: The adventurous eater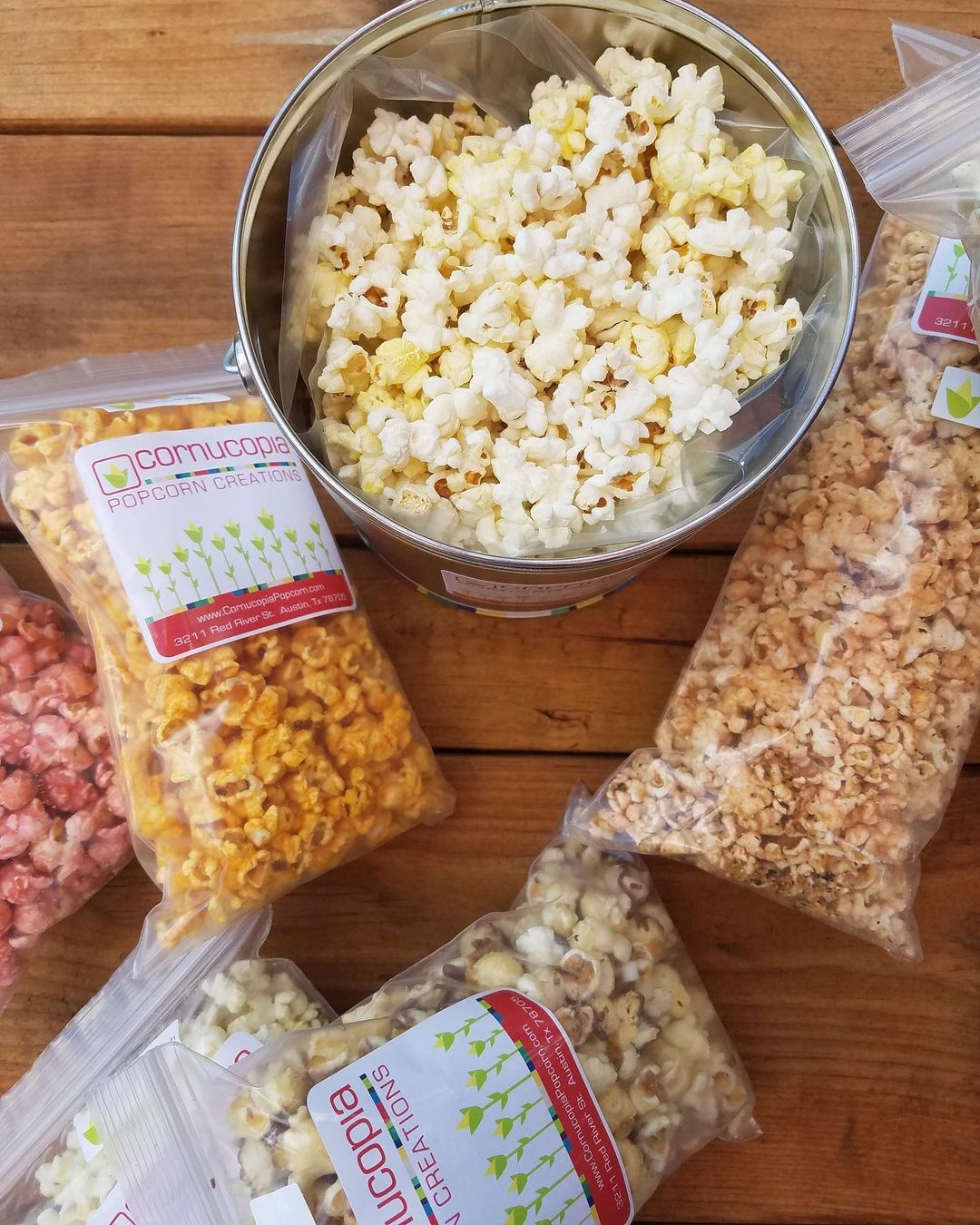 Talk about vegan flavor overload! Cornucopia currently has 15 vegan flavors in its lineup, and it's not just the quantity but also the creative diversity that sets this brand apart. Maybe you're a Caramel Apple fan, or you prefer Chili Lime instead. Or maybe you want to put a different spin on your popcorn snacking and opt for the fun colors of Cornfetti. Better yet, go for all 15! Got a flavor suggestion you think would be awesome? Cornucopia encourages you to submit your creations to get a free gallon tin.
Perfect for: I-can't-make-up-my-mind munchers
Karen Asp is the author of Anti-Aging Hacks and award-winning journalist, as well as a fitness pro certified in plant-based nutrition, world record-holding athlete (in Nordic walking), vegan mentor with PETA, and board member with Uplands PEAK Sanctuary, Indiana's first farmed animal sanctuary.