While our eyes are glued to the big game come Super Bowl Sunday, we're just as fixated on the game day grub. And there's no better game day food than nachos. Chips. Beans. Cheese. Salsa. Guac. No doubt, this combination is good, but there is so much more within the realm of piled snackage to re-excite our taste buds. This year, our snacks aren't missing out on the action—we are expanding our definition of nachos, allowing for saucy, sweet, spicy, and downright sinful varieties to grace our Game Day spread. Not into comfort food? We've got the healthy hacks to keep you rallying well into overtime.
Vegan nachos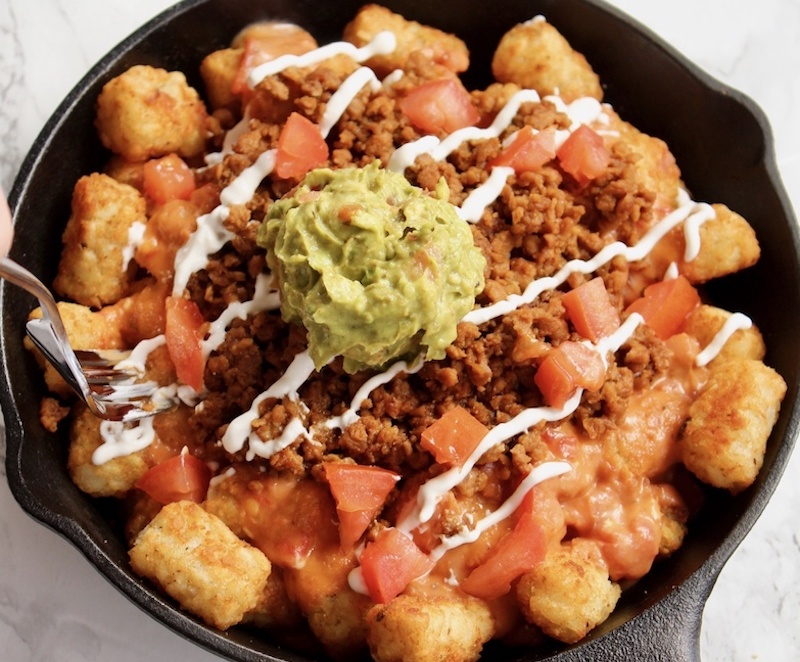 Six Vegan Sisters
1 Loaded Totchos by Six Vegan Sisters
What's better than tortilla chips? Tater tots. Let's not fight on this. One bite of these revamped tater tot nachos and you'll never go back to soggy, partly disintegrated chips again.
Find the recipe here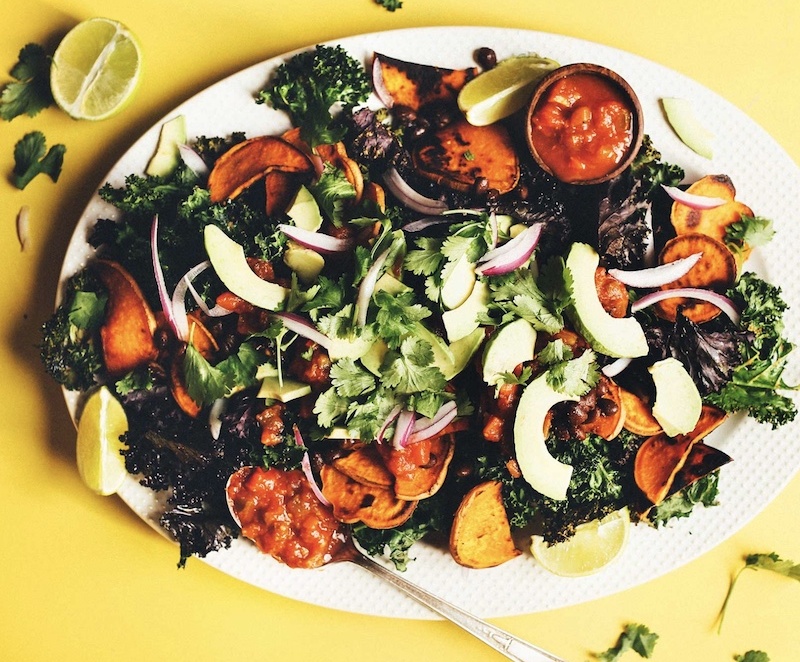 Minimalist Baker
2 Kale Chip Nachos by Minimalist Baker
Craving nachos but determined to keep your healthy eating resolution? These kale and sweet potato chip nachos are topped with creamy avocado, black beans, and fresh salsa for a flavorful game day meal that doesn't derail your goals.
Find the recipe here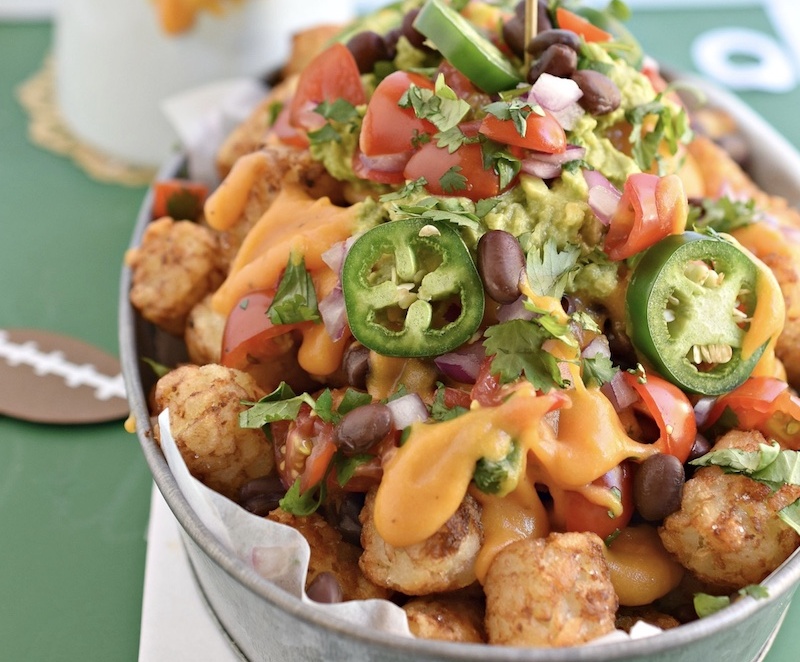 Fork and Beans
3 Buffalo Tatchos by Fork and Beans
No game day table is complete without buffalo sauce. Slather it over these tachos to check off this essential condiment. Don't shy away from the jalapeños if you're looking for an extra kick of heat!
Find the recipe here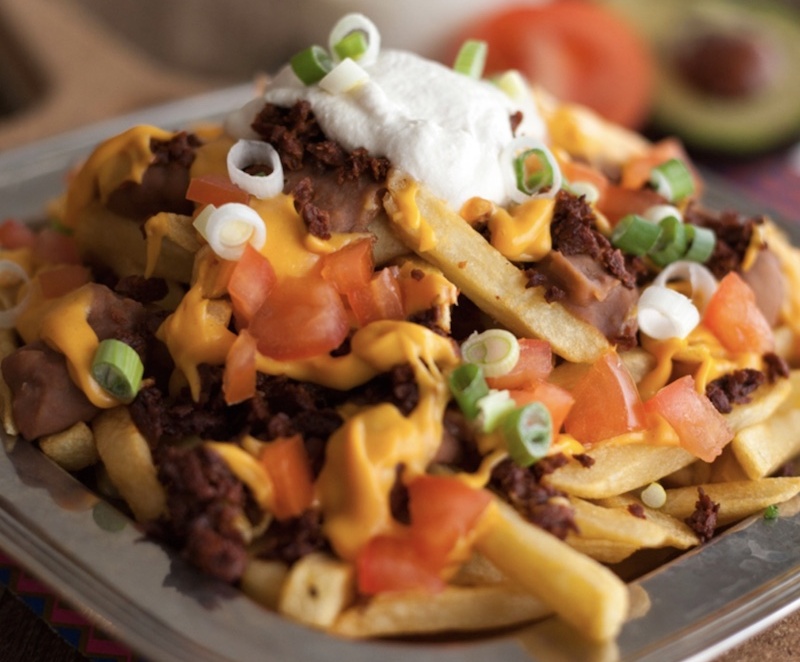 The Edgy Veg
4 Fries Supreme by The Edgy Veg
Loaded french fries are really just french fry nachos. With secret sauce. Oh yeah.
Find the recipe here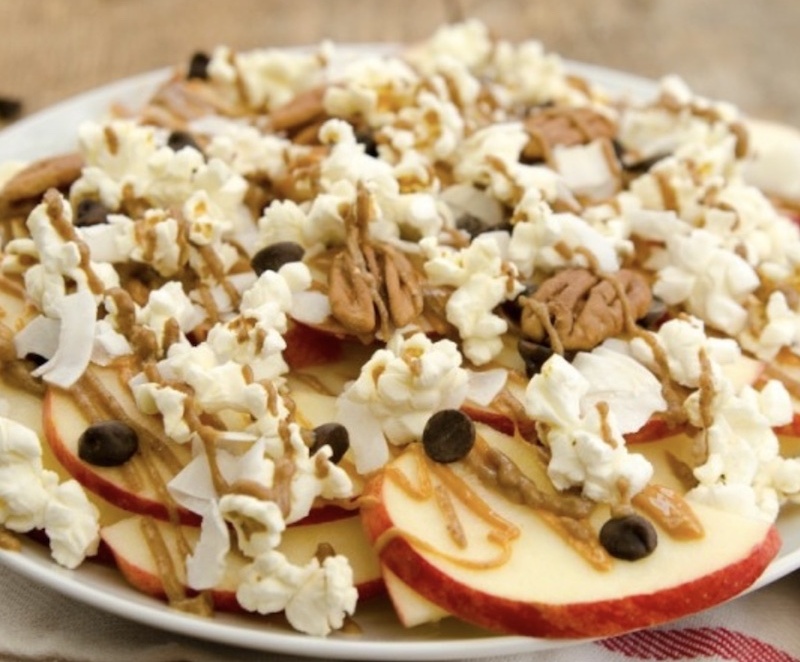 Dreena Burton
5 Apple Nachos Supreme by Dreena Burton
Apples and vegan caramel is nothing new, but when you plate sliced apples and pile on the caramel, chocolate chips, and popcorn, this simple snack transforms into a perfectly satisfying nacho tray.
Find the recipe here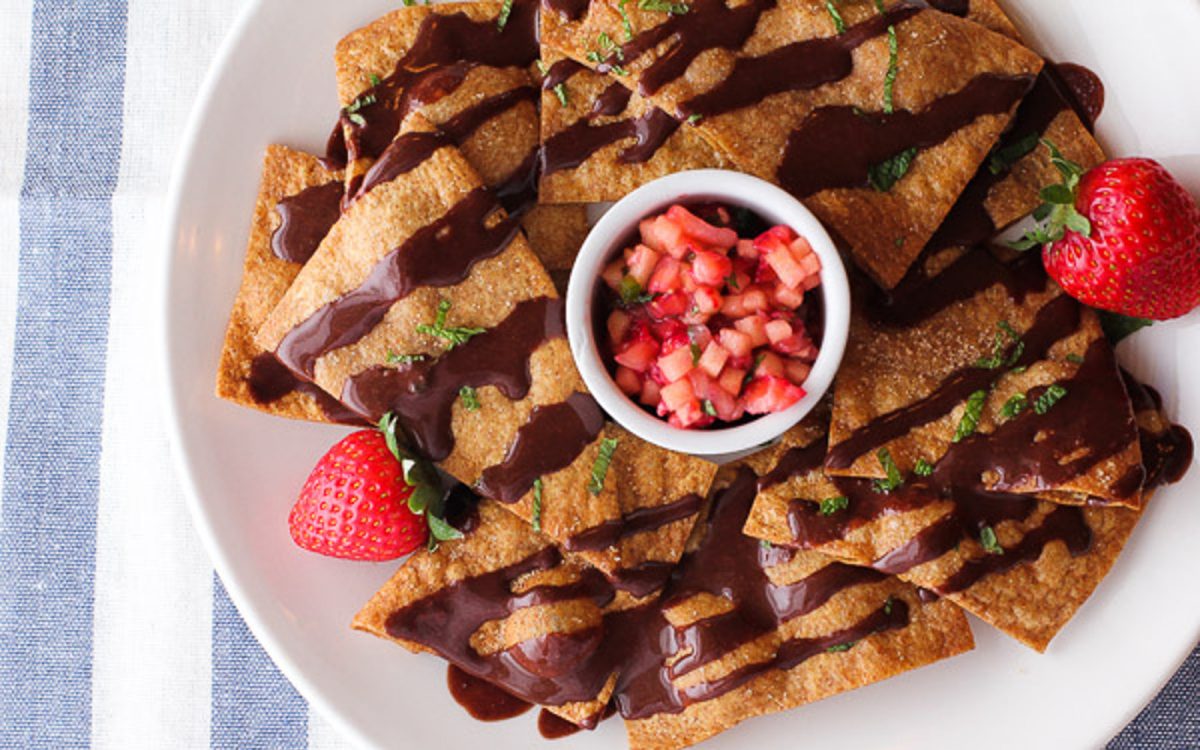 One Green Planet
6 Choco Nachos by One Green Planet
Cinnamon sugar. Chocolate sauce. Stawberry salsa. This is what we dream about. No matter who wins, this chocolaty mountain will make the day end on a high note.
Find the recipe here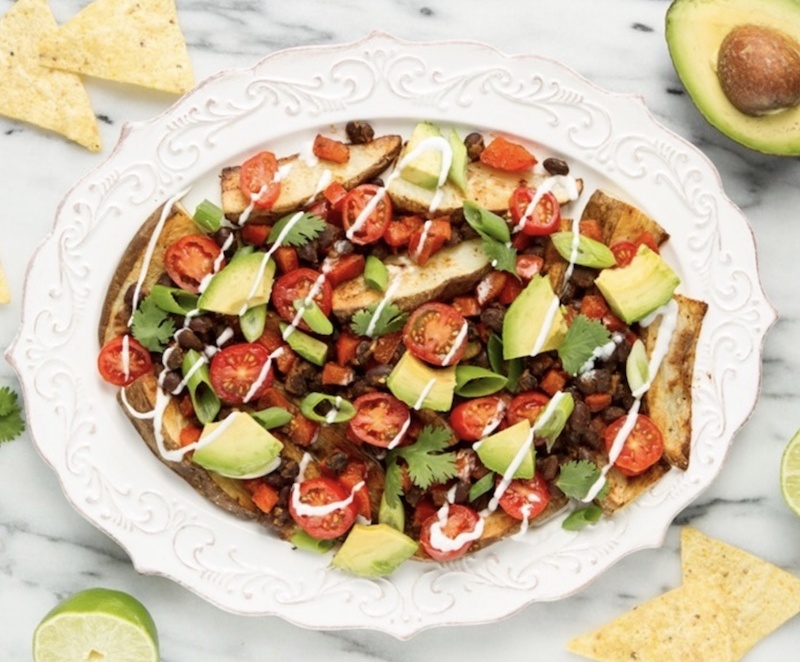 Oh She Glows
7 Black Bean & Potato Wedge Nachos by Oh She Glows
Super Bowl snack, or Sunday night dinner? These healthy loaded potato wedges are both!
Find the recipe here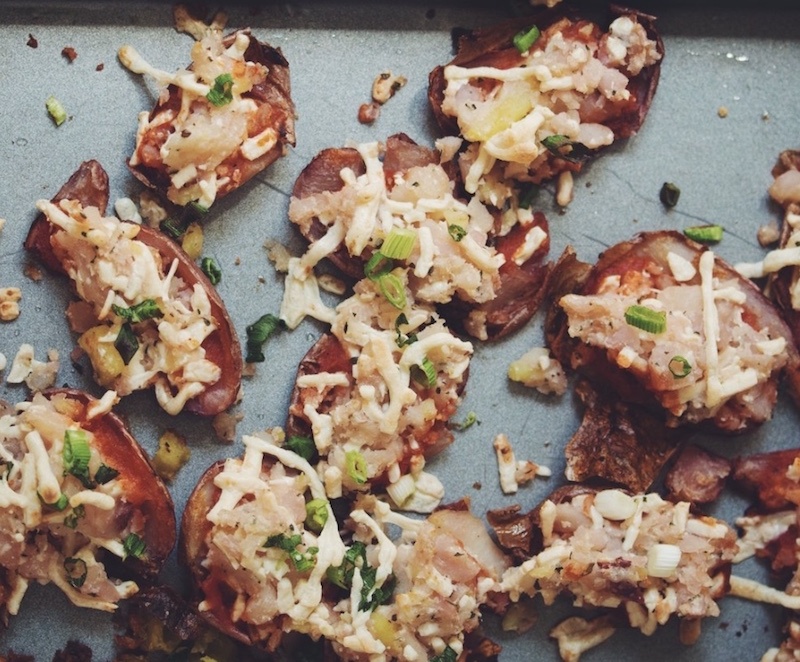 Hot for Food
8 Vegan Pizza Potato Skins by Hot for Food
Obsessed with the perfect topping ratio? Rest easy with these individual potato skins. Each one is topped with all the essential ingredients, so you'll experience every flavor and texture with each savory bite.
Find the recipe here
Feedfeed
9 Buffalo Cauliflower Nachos by Feedfeed
You could serve buffalo cauliflower with ranch and celery sticks, but that defeats the purpose of being bold and exciting. Layer your favorite buffalo cauliflower in a big serving bowl, then go wild with nacho toppings for a delicious mashup of two football snack classics.
Find the recipe here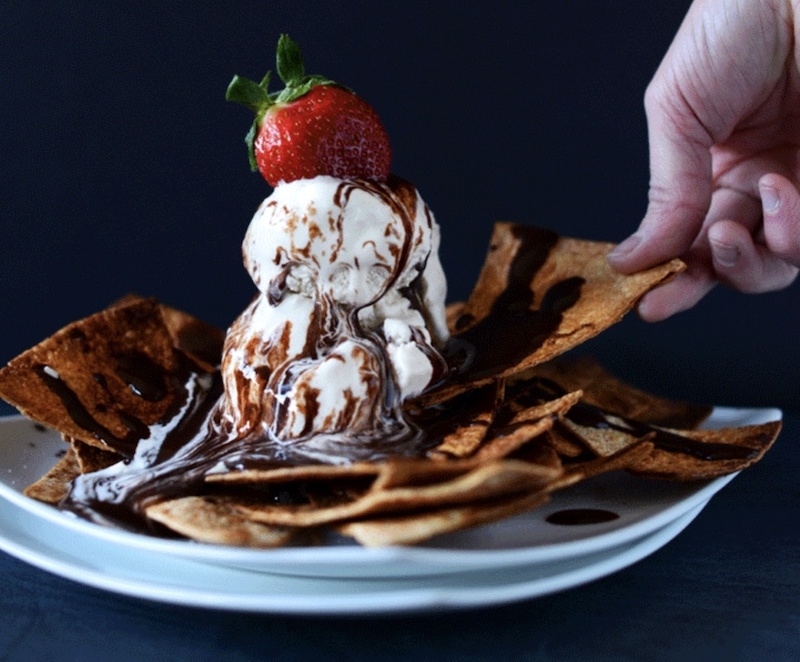 Minimalist Baker
10 Dessert Nachos with Coffee Ice Cream by Minimalist Baker
This is essentially a sundae in nacho form. You cannot go wrong. Just be sure to tackle it right away. No one wants melted ice cream over soggy cinnamon sugar chips.
Find the recipe here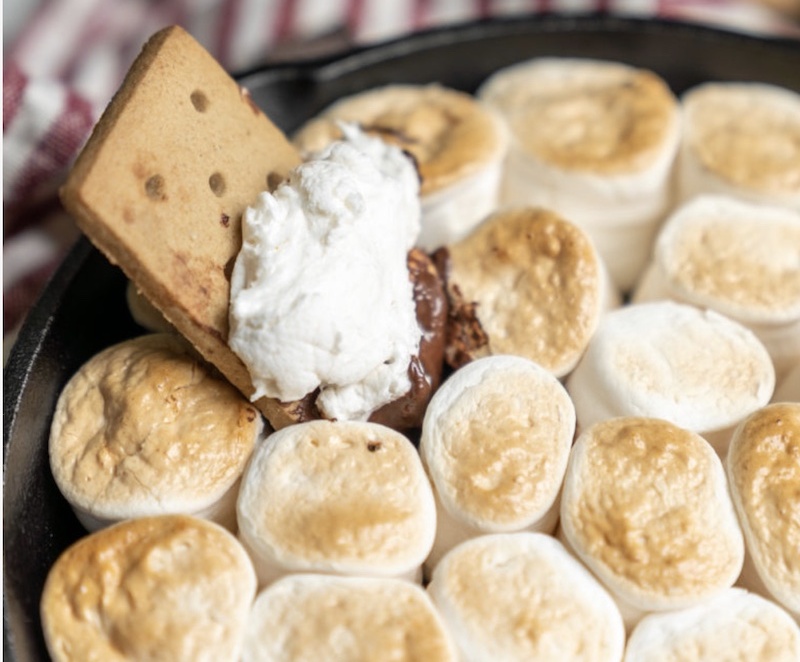 Sweet Simple Vegan
11 Summer Skillet S'mores by Sweet Simple Vegan
Fact: you do not need a bonfire to enjoy vegan s'mores. You don't even need to tailgate. This indoor version offers the same gooey chocolatey marshmallowy bliss without setting anything on fire. Touchdown!
Find the recipe here
Healthy vegan Super Bowl snacks
Mix in a few healthier options amongst your traditional game-day fare. Munch away on these snacks and apps and you'll feel energized enough to start a round of post-game flag football.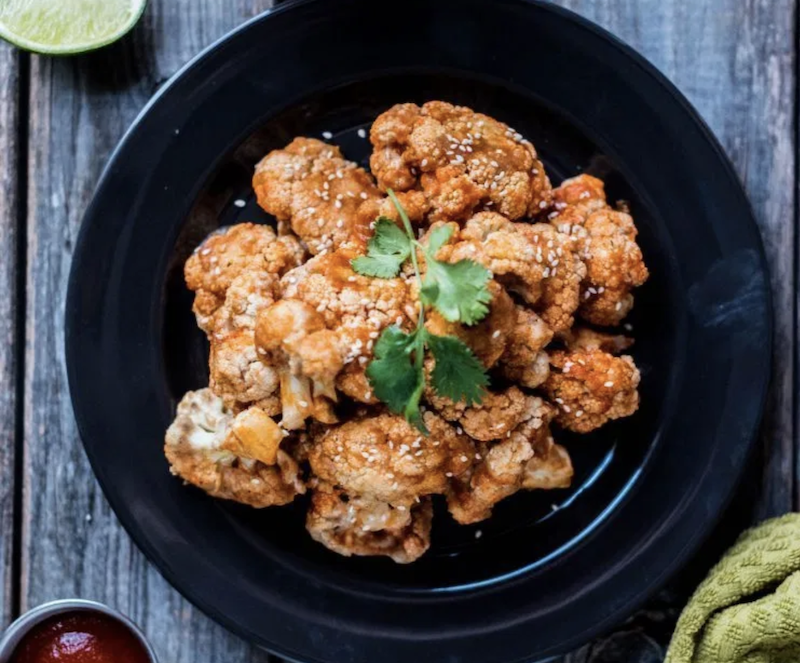 The Nut-Free Vegan
12 Orange Sriracha Cauliflower Wings by The Nut-Free Vegan
These tender veggie wings might be nut-and-gluten-free, but they're definitely not free of flavor. Each bite delivers a sweet and spicy heat with a subtle hint of citrus. They're better than any generic chicken wing and rival vegan versions made with seitan and deep-fried. You can even make these oil-free if you bake them in an air-fryer. That's a game-day win for sure!
Get the recipe here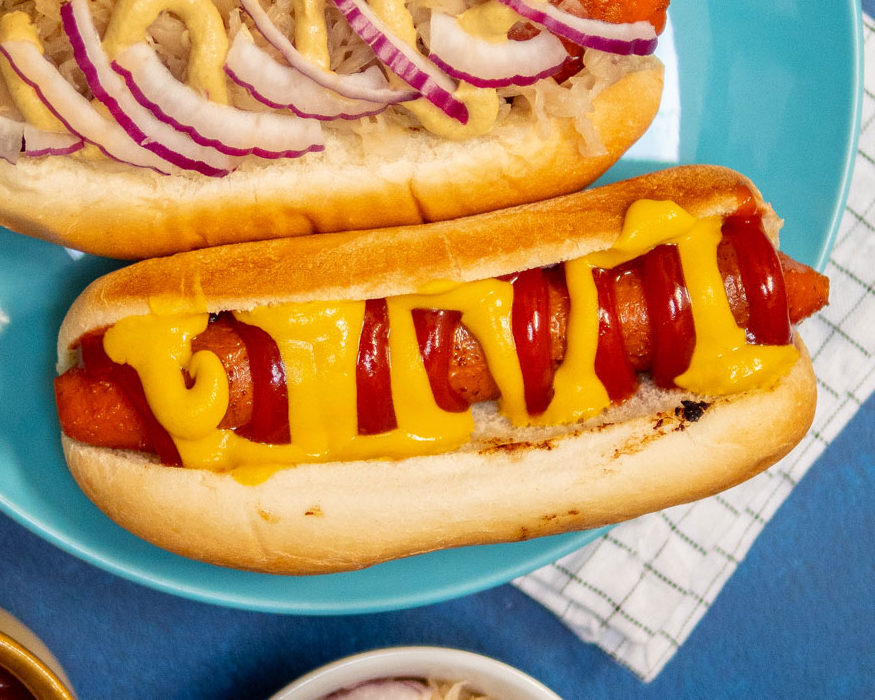 The Edgy Veg
13 Carrot Hot Dogs by The Edgy Veg
While we love a good vegan sausage for convenience, there are healthier ways to enjoy a hot dog. With a bit of marinade and patience, carrots can transform into truly exceptional veggie dogs. Give them a good sear and slather with your favorite toppings for a taste of that classic stadium snack food.
Find the recipe here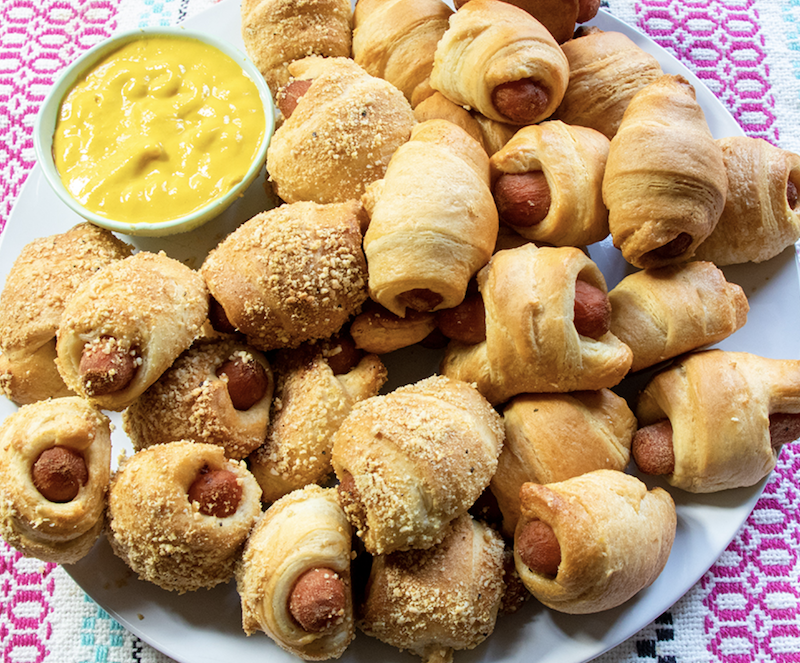 86Eats
14 Carrot Pigs In a Blanket by 86Eats
You never grow old of pigs in a blanket. Take the carrot dog hack one step farther to create everyone's favorite finger food. Serve with your choice of condiments from classic ketchup and mustard to marinara or even sophisticated vegan pesto.
Find the recipe here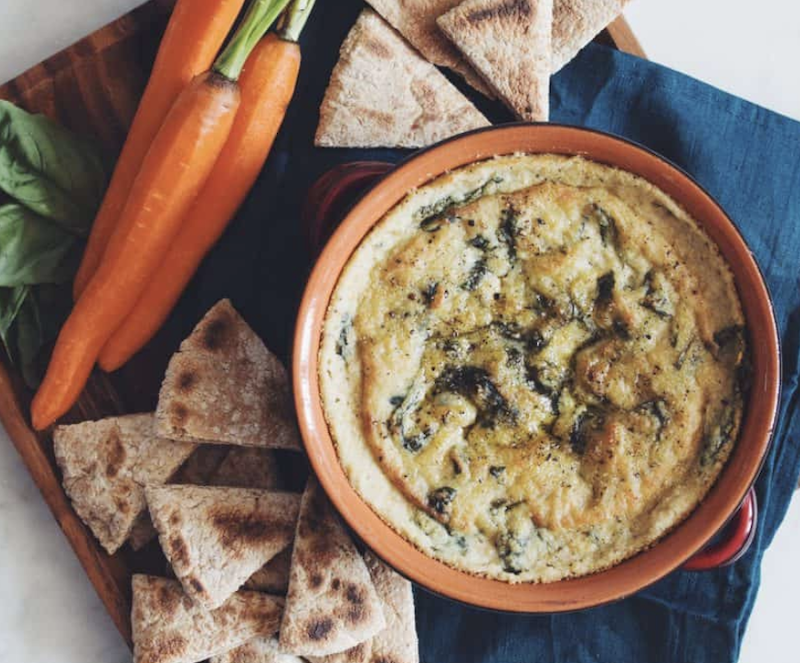 Hot for Food
15 Vegan Spinach & Artichoke Dip by Hot for Food
The vegan version of this dip isn't a novelty—we've enjoyed it plenty of times thanks to the abundance of plant-based recipes. However, instead of adding a shocking amount of vegan cream cheese, this recipe relies on cashews, white beans, and spices to mimic our favorite game-day dip. Serve hot with veggie crudites and toasted pita triangles.
Find the recipe here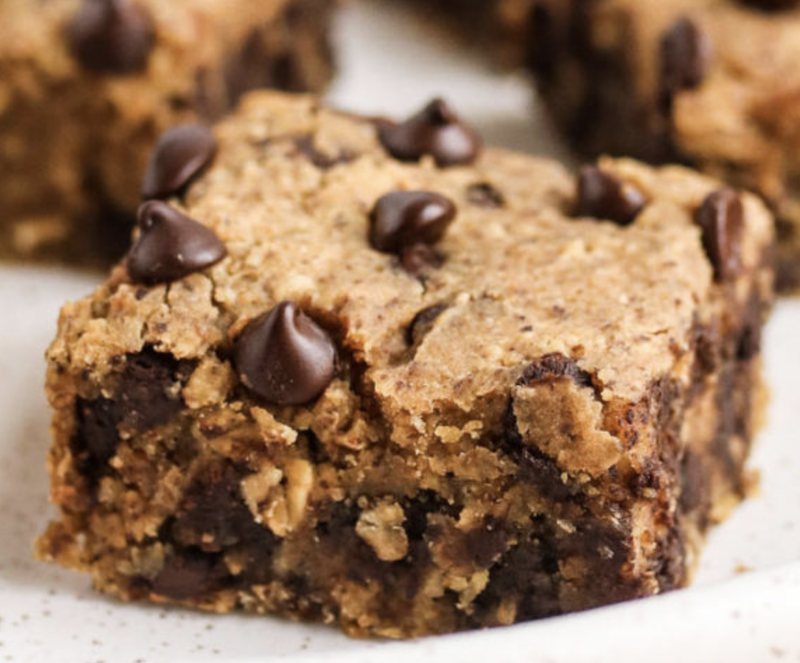 Veggiekins
16 Football-Shaped Blondies by Veggiekins
Cookie cutters are not just for cookies. Use a football-shaped cookie cutter to create game-appropriate desserts out of your favorite blondie or brownie recipe. This chewy, fudgy blondie recipe is oil, flour, and refined-sugar-free which allows all of your guests to treat themselves regardless of their dietary preferences. Just be sure to allow the blondies to cool completely before cutting them out into football shapes. No matter which way the game goes, you'll win the day.
Find the recipe here
For more game day recipes, read:
Easy Vegan Veggie Fakout Queso
Stuffed Vegan Chili Cheese Dog Bites
Vegan Baked Jalapeño Poppers