Starting this week, grocery chain Trader Joe's is expected to launch 10 new vegan products. The store will be launching fall-inspired items such as vegan pumpkin oat milk, pumpkin hummus, pumpkin cashew yogurt, pumpkin overnight oats, along with sour gummy cats and bats for Halloween. The chain will also offer new products made with oat milk, including vegan eggnog and chocolate bars.
In addition to new private-label products, the chain will offer Barebells protein bars in two new flavors (Hazelnut Nougat and Salty Peanut)—the first plant-based Barebells products to launch in the United States, offering 15 grams of protein and no sugar. Trader Joe's will also be one of the first brick-and-mortar retailers to offer Boursin Dairy-Free cheese spread, a plant-based version of the dairy brand's popular Garlic & Herbs cheese spread flavor made in partnership with vegan brand Follow Your Heart.
The news of the fall items was revealed by Instagrammer Big Box Vegan, who shares insider news and vegan finds at American retailers.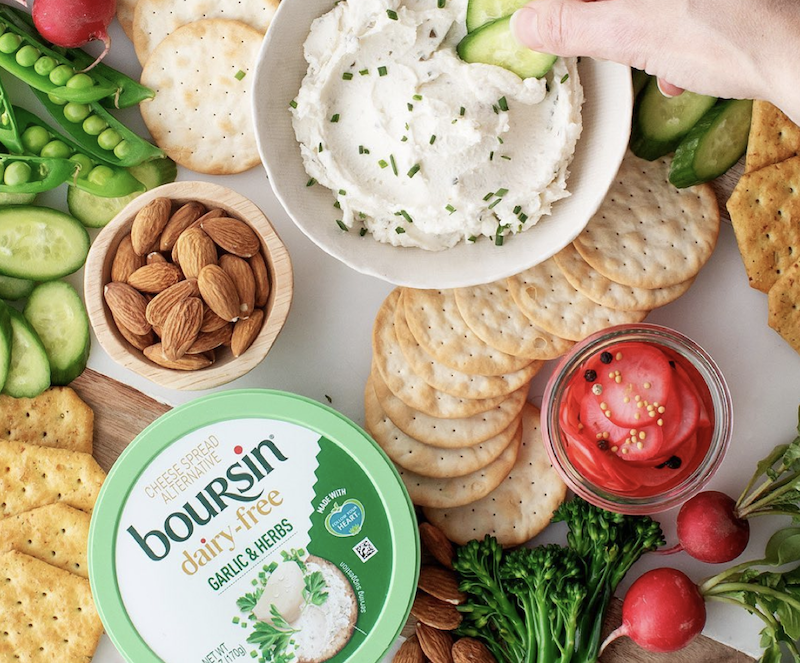 Bel Group
Vegan at Trader Joe's
Earlier this year, Trader Joe's executives revealed during an episode of its "Inside Trader Joe's" podcast that the grocery chain is working to increase its vegan offerings in every category in an effort to meet the growing demand. Since then, the chain has kept its word with the launch of multiple plant-based products.
In the dips and condiments category, Trader Joe's now offers caramelized onion dip and tzatziki (which is traditionally made with dairy-based yogurt). In the prepared meals category, the store bulked up its toss-and-serve salad mixes with the addition of vegan salad kits and a heat-and-serve Vegan Enchilada Casserole. Trader Joe's now offers vegan bolognese with plant-based meat crumbles in two formats: as a jarred pasta sauce for classic Italian dishes and in a frozen meal. And last month, pizza lovers' dreams came true with the Vegan Meatless Meat Eater's Pizza. The new pizza comes topped with vegan mozzarella shreds and three types of vegan meat: plant-based pepperoni, Italian sausage crumbles, and chorizo sausage crumble.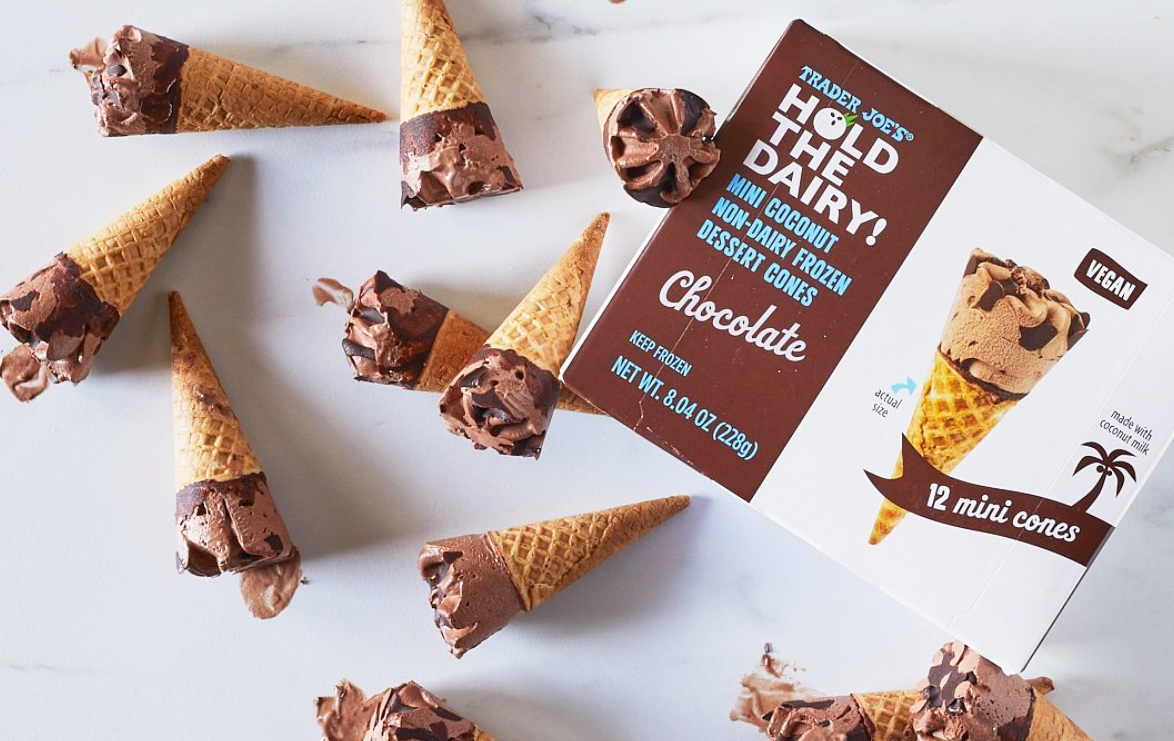 Trader Joe's
In the desserts category, vegan vanilla cupcakes topped with rainbow sprinkles have been spotted on store shelves in California, and this summer, Trader Joe's launched Hold the Dairy! Mini Coconut Non-Dairy Frozen Dessert Cones. The cones are a vegan version of the chain's Hold the Cone ice creams but made with coconut milk instead of dairy, and are currently available in a chocolate flavor that features a waffle cone coated with chocolate on the inside.
Trader Joe's has also become a go-to for seasonal vegan food items. In recent years, the chain has offered limited-time, fall-inspired options such as Pumpkin Spice Granola Bark, canned Caramel Spice Coconut Cream Cold Brew Latte, pumpkin bagels, and pumpkin spice almond milk. And for the holiday season, the chain brings in items such as Non Dairy Mint & Chip Bon Bons, a coconut milk-based ice cream treat; almond nog; hot chocolate sticks made with dark cocoa; Candy Cane Joe-Joe's sandwich cookies; and gingerbread loaf.
For more on vegan products at Trader Joe's, read:
Essential Vegan Guide to Trader Joe's
Trader Joe's Launches Vegan Cheesecake
Trader Joe's Just Launched a Vegan Meat-Lover's Pizza and It's Only $6