It seems that every week in the world of vegan food news is more exciting than the last and this week is no exception. California restaurant chain Gott's Roadside added buckets of plant-based Impossible chicken nuggets to meet its customers' March Madness snacking needs. Mars-owned Galaxy is reportedly launching dairy-free white chocolate bars. And plant-based seafood companies—from whole-cut salmon maker Plantish to sushi-grade tuna innovator Current Foods—are having a great week. Read on for more.
1Gott's gets Impossible vegan chicken buckets
Northern California restaurant chain Gott's Roadside is celebrating March Madness with a shareable bucket of Impossible's plant-based chicken nuggets. The limited-time offer features 40 plant-based chicken nuggets packed into a compostable bucket that comes with a side of fries and three (non-vegan) sauces—which currently cannot be omitted. While the bucket is a March special at seven San Francisco Bay Area locations, Gott's is making the Impossible Chicken Nuggets made from Plants (sold in eight-nugget servings) a permanent menu addition after a short test run.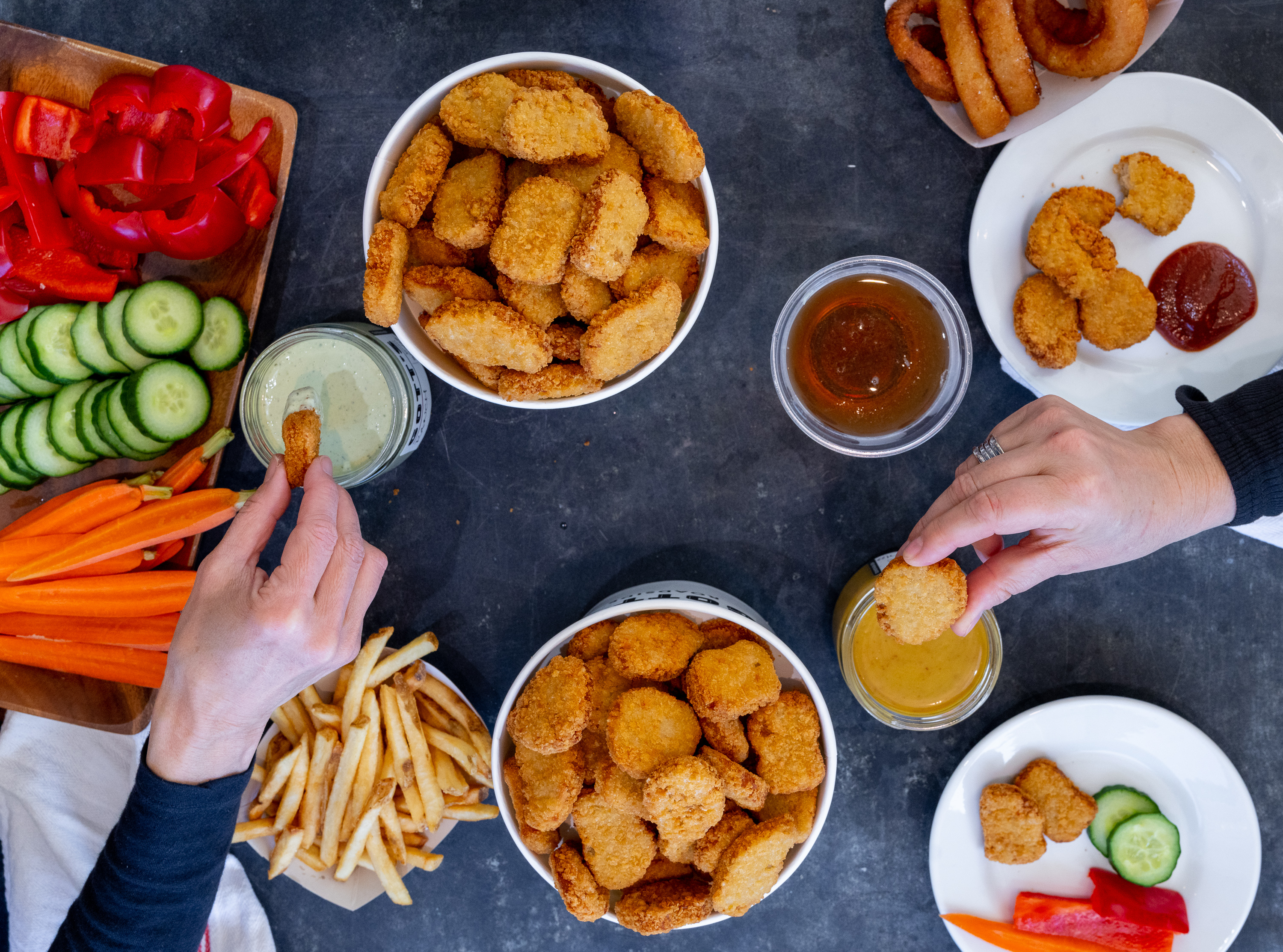 Gott's Roadside
Impossible chicken is not the only innovative vegan thing on Gott's menu. In 2017, Gott's was one of the first fast-casual eateries in the country to add the Impossible Burger to its menu—where the meatless burger continues to be one of its best sellers. Last June, the restaurant was also one of the first places in the country to add Oatly's dairy-free soft serve to its menu which it serves at its Ferry Building location in San Francisco in vanilla, chocolate, and chocolate-vanilla swirl.
2Fish-free seafood goes big
It seems as though with every passing week, new and exciting developments happen in the plant-based seafood space—and that's a good thing because our oceans, and the animals who call it home, need all the help they can get. This week, Good Catch Foods expanded its plant-based tuna packs (in Naked in Water, Mediterranean, and Oil & Herbs varieties) to Sprouts stores nationwide, joining the brand's breaded fish-free products already stocked in the freezer aisle.
"We're thrilled to expand our distribution with Sprouts Farmers Market to give shoppers across the country craveable flexitarian options," Christine Mei, CEO of Good Catch's parent company Gathered Foods, said. "This is an important expansion for us as we continue on our mission to make innovative plant-based products more accessible to consumers."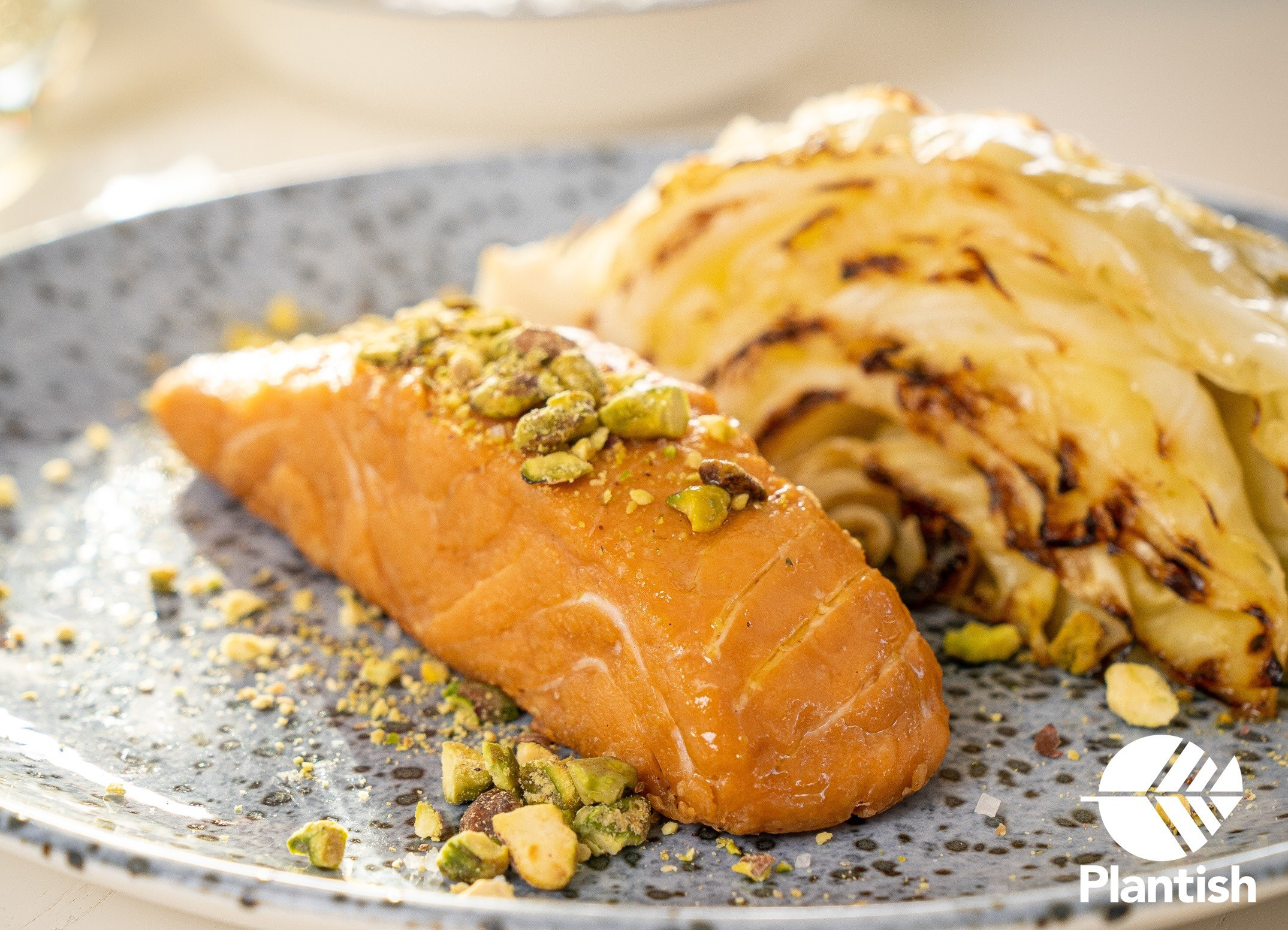 Plantish
In whole-cut vegan salmon news (because that's a thing now), Israel's Plantish just raised $12.45 million in a seed funding round—the largest seed round raised in the alternative seafood space to date. The startup is only about six months old and is setting its sights on taking down the $50 billion global salmon market with its plant-based salmon made using a patent-pending manufacturing technology.
"Cracking wholecut seafood is the next big opportunity in our quest for impact and sustainability," Merav Rotem Naaman, General Partner at State Of Mind Ventures which led the funding round, said in a statement. "When we met the world-class team at Plantish we knew that they had the passion, vision, and capability to pull off the seemingly impossible task of producing a true upgrade to fish."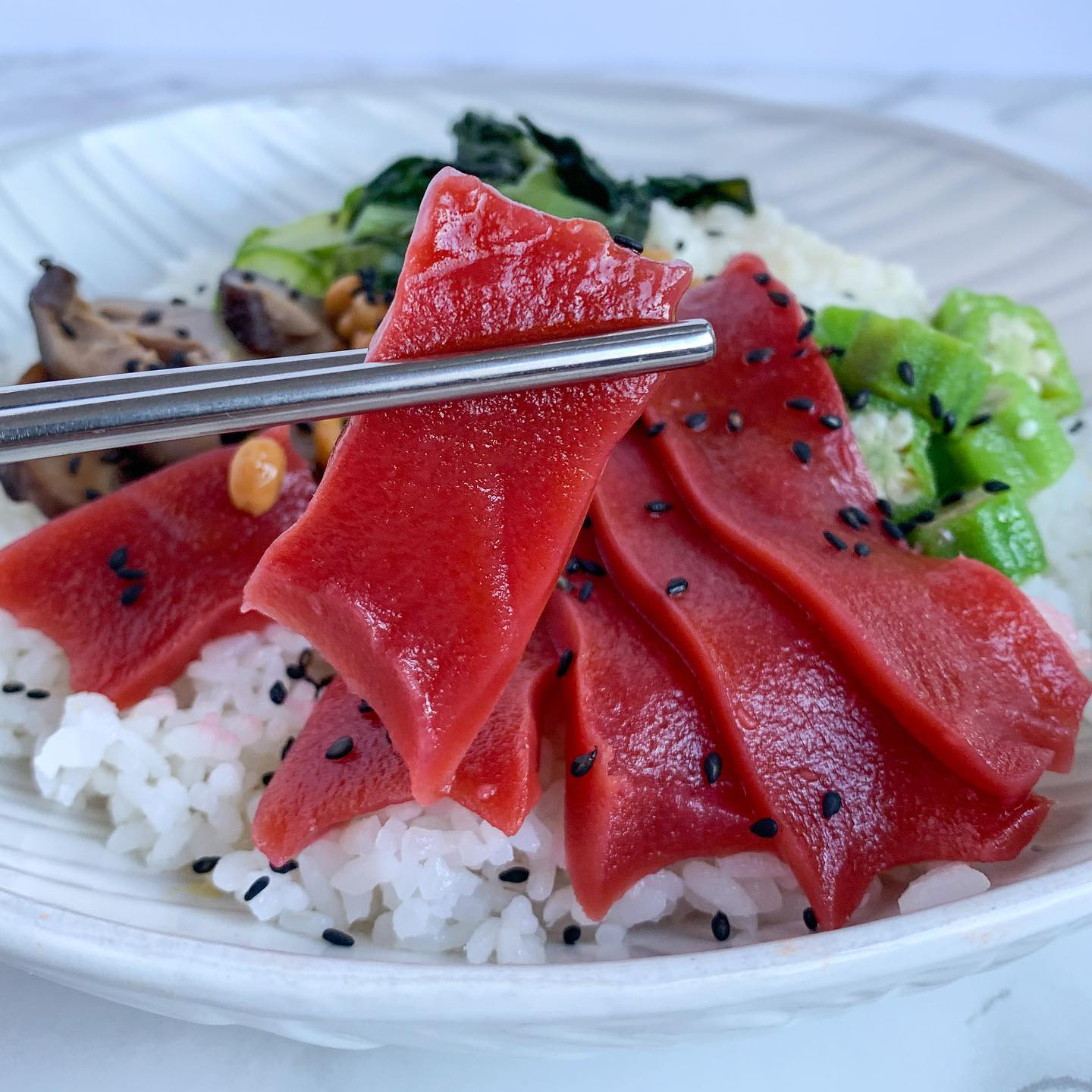 Current Foods
And finally, for some really fun fish news: Current Foods just made the world's largest serving of plant-based ceviche using its sushi-grade vegan tuna. An adjudicator from the Guinness World Records was present at the event this week in Brisbane, CA where the company built the massive ceviche, which officially weighed in at a whopping 589 pounds. While Current Foods has only been in business since 2019, it has already won several accolades: a spot on TIME's 100 Best Inventions of 2021 list and a VegNews Best in Show award during Expo West last week.
3New vegan fast-food chain comes to Hollywood
San Diego's popular vegan fast-food chain Plant Power Fast Food (PPFF) is continuing its expansion with this week's opening of its 11th location. The new PPFF outpost sits near the intersection of Vine Street and Melrose Avenue and around the block from Paramount Studios in the heart of Hollywood, CA. PPFF serves star-worthy menu items such as The Big Zac (a Big Mac copycat burger named after co-founder Zac Vouga); plant-based versions of chicken and fish filet sandwiches; and dairy-free soft-serve.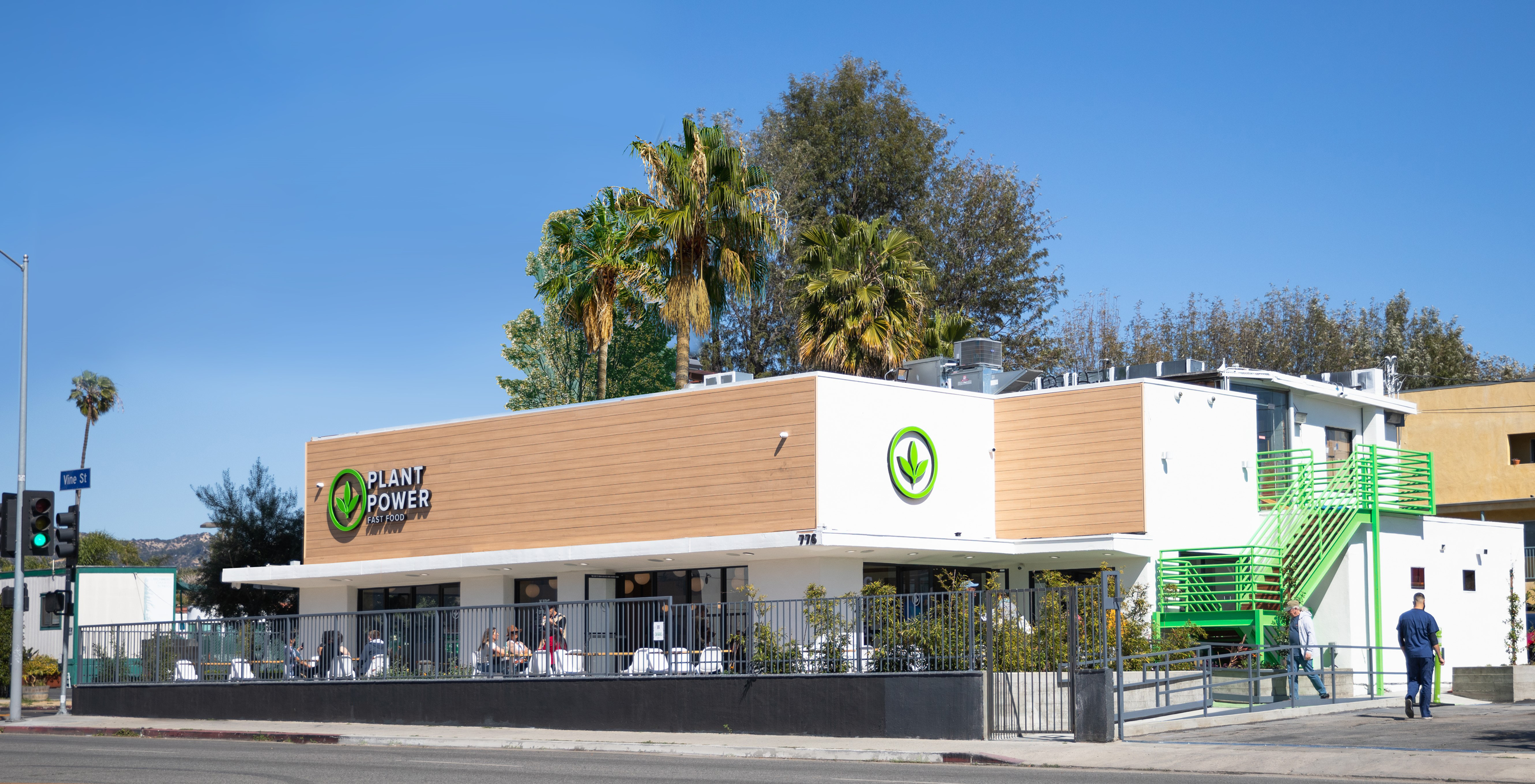 Plant Power Fast Food
And while PPFF's whole menu is vegan, most of its customers are not … yet. "Most of our guests are omnivores who are exploring new choices. Over the past few years, most everyone has become aware of the negative impact of animal agriculture on the environment and its role as a major contributor to greenhouse gas emissions and climate change," Vouga said in a statement. "They also know that eating plant-based [food] is much better for their health. So, imagine chomping down on a delicious 'bacon' 'cheese' burger with zero cholesterol and no artificial ingredients and then realizing that this is actually better for the planet, too. This really is groundbreaking."
PPFF recently added new members to its team who previously worked for brands such as Chipotle Mexican Grill, Del Taco, Yum Brands, Starbucks, and others, to put its plant-based burgers in front of many more vegan-curious customers.
4New dairy-free white chocolate is on the way
For a sweet finish this week, we found out that Galaxy is working on a new vegan white chocolate bar. Unearthed by Instagrammer @UKsnackattack, little is known about when the new bar will launch or where, but we're hoping the wait is short and the availability is wide. Galaxy is a Mars-owned brand that has worldwide distribution and it launched its first vegan chocolate bars back in 2019 in the United Kingdom.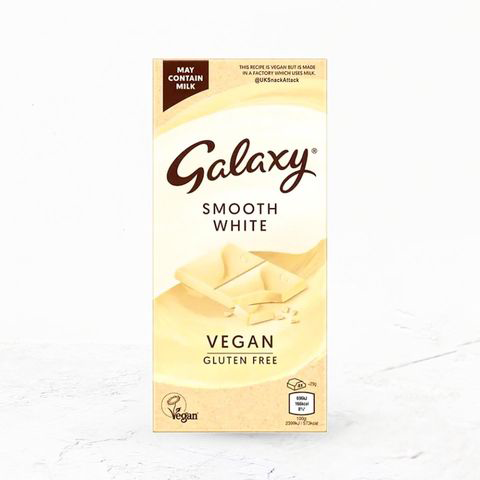 @UKsnackattack
Galaxy spent six months developing its first vegan chocolate bars which are made with hazelnut paste and rice syrup instead of dairy milk. The company first launched its vegan bars in Smooth Orange, Caramel & Sea Salt, and Caramelized Hazelnut flavors and has since expanded to include Smooth Mint and Cookie Crumble.
If the wait for white chocolate gets too arduous, Wicked Kitchen is launching vegan white chocolate-covered ice cream bars next month at Kroger. We'll see you at the checkout.
For the latest vegan news, read:
Chobani's Top Exec Takes Over as CEO of Impossible Foods
Miyoko's Made the World's First Vegan Cottage Cheese From Watermelon Seeds
There's an Impossible Meatless Orange Chicken, Too. Here's Where To Find It.