Today, Burger King is giving away 10,000 Plant-Based Whoppers and Vegan Royales across the United Kingdom for National Burger Day. The fast-food chain's "Whopper Swapper" promotion is in an effort to encourage customers to swap out their beef burger for a plant-based option.
Burger King's Plant-Based Whopper features a soy-based patty topped with tomatoes, lettuce, vegan mayonnaise, pickles, ketchup, and sliced onions on a sesame-seed bun. And the Vegan Royale features a crispy breaded vegan patty topped with iceberg lettuce and vegan mayonnaise on a toasted sesame-seed bun. While the Vegan Royale is certified vegan by the UK's Vegan Society, the Plant-Based Whopper is not because it is cooked on the same grill as the chain's meat-based Whoppers.
To claim the free burger, customers need to use the Burger King app, which is available on the App Store and Google Play Store. Simply add the item to your order, select a participating restaurant, and check out. There is no minimum purchase required, but free burgers are limited to one per customer and are only available while supplies last.
In the UK, Burger King aims to transition its menu to be 50 percent meat-free by 2030. According to the fast-food chain, 66 percent of customers are currently reluctant to try a plant-based or vegan burger while 51 percent of meat eaters said they wouldn't try a plant-based burger even if it was free. As such, Burger King's Whopper Swapper promotion could be an attempt to help consumers change their minds about plant-based food and is one of many initiatives aimed to encourage Brits to give its plant-based menu items a try.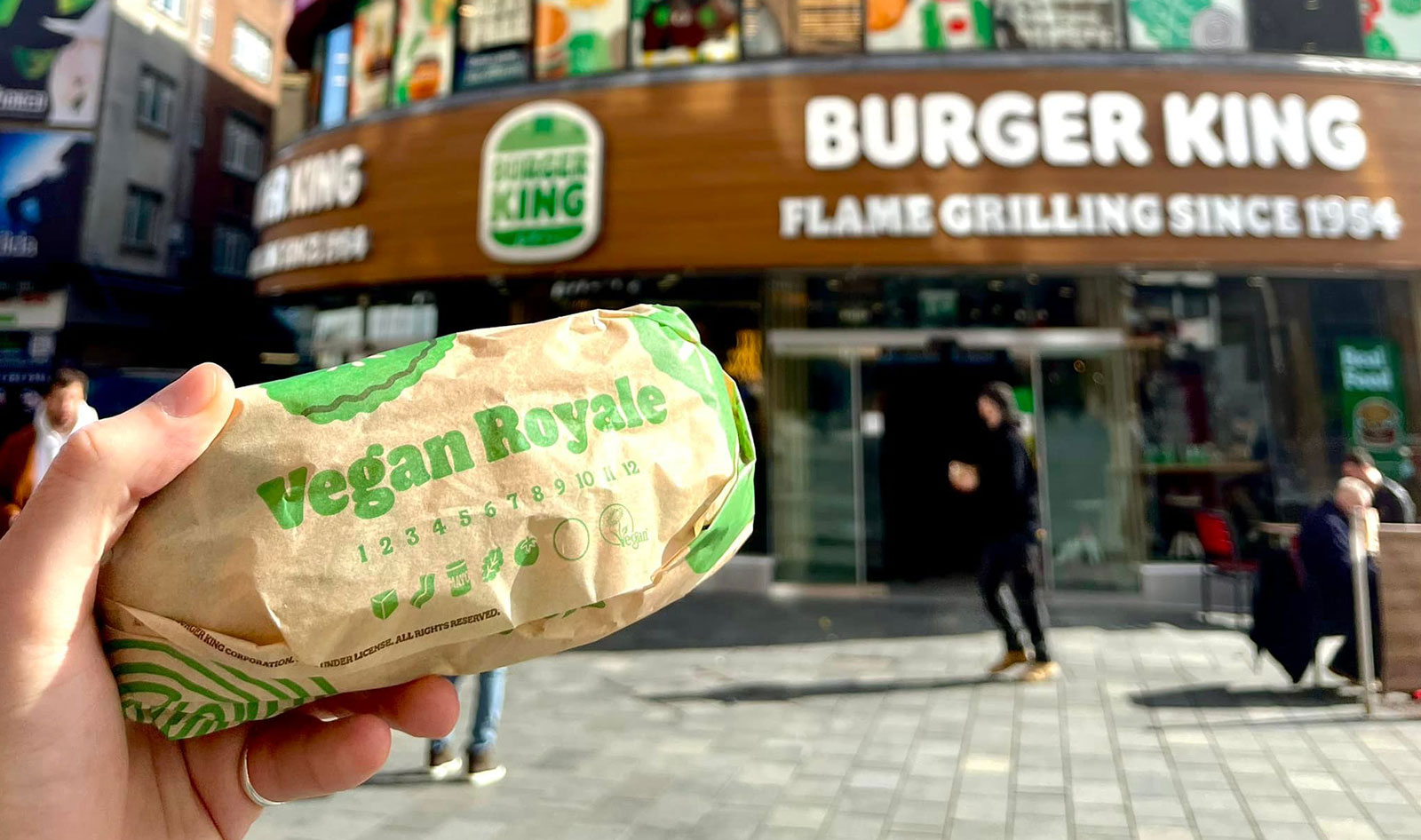 Burger King
Burger King's meatless options
In recent years, Burger King has been working to gather intel about how plant-based foods perform on its menu globally through a series of meatless pop-ups. Earlier this year, the chain transformed its flagship location in London's Leicester Square into an entirely vegan pop-up location. For one full month, the all-vegan location featured Burger King's biggest plant-based menu with 25 items, including its iconic Plant-Based Whopper and Vegan Royale along with a vegan bacon double cheeseburger, chicken nuggets, chili cheese bites, and the Japanese-inspired Vegan Katsu Royale and Plant-Based Katsu Chilli Whopper.
"We're incredibly proud of our new meat-free menu," Burger King UK Chief Marketing Officer Katie Evans said in a statement at the time. "It absolutely delivers on big taste with no compromises and reflects our ongoing commitment to serving our customers a diverse and innovative range of products."
In addition to its meatless pop-up in London, Burger King has tested the meatless waters in countries such as Germany, Switzerland, Austria, Spain, and Chile.
In Austria, Burger King ran a campaign similar to Whopper Swapper, where it asked customers if they want "regular or meat-based" Whoppers, essentially marketing plant-based meat as the norm. Customers' reactions were filmed as part of a short film to accompany the campaign and many responded positively.
"At Burger King, we are making meatless indulgence a permanent fixture on our menu, because meat no longer comes naturally to everyone," Jan-Christoph Küster, Chief Marketing Officer of the TQSR Group, the Austrian master franchisee of the Burger King brand, said in a German language statement. "With the provocative question 'Normal or meat?,' we want to show that we take our customers and their needs seriously. Because from now on, we also serve almost our entire range [as plant-based]."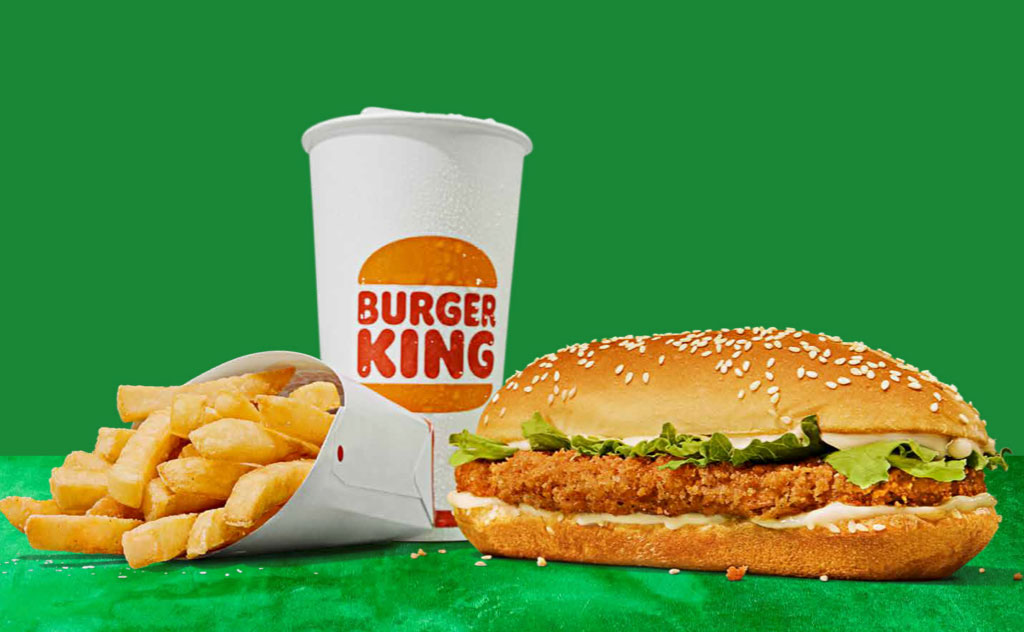 Burger King
Burger King partners with Impossible Foods
Stateside, Burger King is stepping up its meatless game with the launch of a plant-based version of its fan-favorite Original Chicken Sandwich. Starting this week, customers at participating Cincinnati, OH Burger King locations can order the Original Chick'n Sandwich made with Impossible Foods' new Impossible Chicken Patties made from Plants. The limited-time sandwich, which is prepared on shared equipment, can be ordered plant-based by omitting the mayonnaise.
"Burger King has demonstrated once again that they know how to deliver innovative options that taste great," Dan Greene, Impossible Foods SVP of North America Sales, said in a statement sent to VegNews. "Working with them to launch our first-ever chicken patty has been a fun way to continue our partnership. We think fans are going to love this new plant-based twist on the Original Chick'n Sandwich."
In addition to the plant-based chicken sandwich, US locations of Burger King also offer the Impossible Whopper, which launched in 2019 and features a plant-based patty made by Impossible Foods. This summer, the chain added the Impossible King and Southwest Bacon Impossible Whopper that includes a plant-based patty topped with animal-based bacon to give customers additional options.
For the latest vegan news, read:
Kevin Hart Aims to Make His Vegan Fast-Food Chain As Big as McDonald's
TikTok's Pink Sauce Is Coming to Stores. And This One Will Be Vegan.
Bella Hadid Fights to End NYC's Outdated Horse Carriages