Lizzo's love of vegan food is no secret and she just partnered with Instacart to share her plant-based grocery finds with her fans. The musical artist is kicking off a new "Carts" in-app feature that gives Instacart users access to shoppable lists curated by celebrities, influencers, creators, and brands.
For Lizzo's Cart, she chose items that she has personal connections to and uses frequently, which embodies Instacart's "The World Is Your Cart" platform. The idea here is around digitizing the experience of browsing physical store shelves for inspiration with an added discovery layer of getting ideas from icons such as Lizzo.
"The World is Your Cart' is a rallying cry that reminds us of the abundant possibilities of each product we add to our Carts and satiates our curiosity by enabling others' Carts to spark our own creativity," Laura Jones, Chief Marketing Officer at Instacart, said in a statement. "In addition to capturing these possibilities across our new creative platform, we're making them a reality by offering consumers the chance to discover new things across the Instacart app—so you can browse, be inspired, and turn that inspiration into reality by getting your items delivered to your door in as fast as an hour."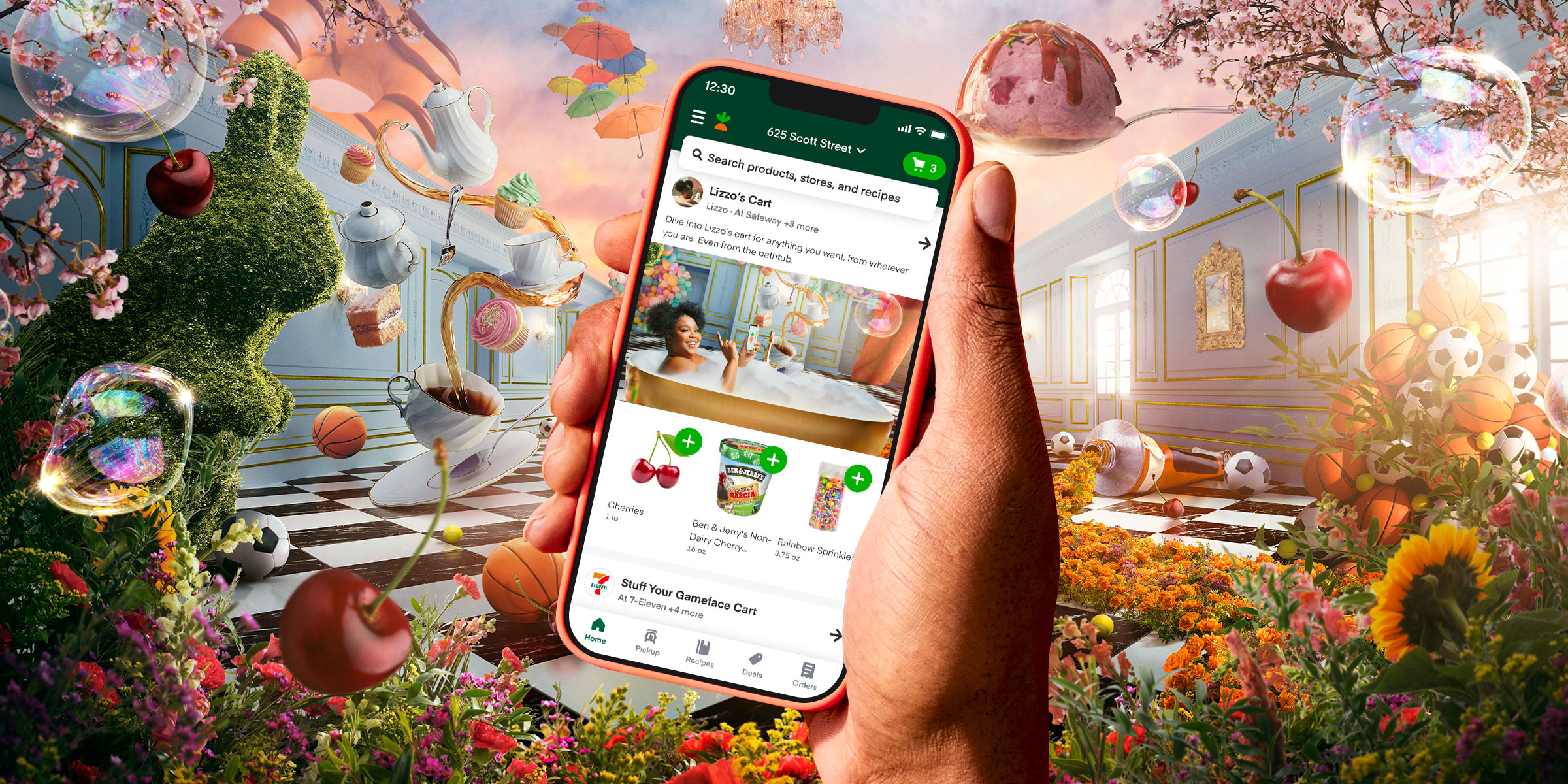 Instacart
Lizzo's vegan grocery list on Instacart
So, what's in Lizzo's Cart? When it comes to beverages, Lizzo's stocking up on 12-packs of Coca Cola, Essentia Purified Water, and Perrier. In the produce department, Lizzo is picking up lemons, limes, cherries, and bananas, along with a bouquet of flowers. Lizzo's vegan grocery cart includes a pack of Impossible Burger's plant-based meat, a pint of Ben & Jerry's vegan Cherry Garcia ice cream, and Uncrustables Peanut Butter & Grape Jelly sandwiches. When it comes to snacks, Lizzo did not hold back with her favorite spicy chips Takis, accidentally vegan candy Skittles, and classic Oreos cookies. She also added a few cleaning products and a light-up spikey ball toy just for fun.
"Lizzo's joyful, authentic, and aspirational personality was exactly what we were looking for to bring the wonder and whimsical vibe of the film to life—in addition to being our first celebrity to launch our new Carts product," an Instacart spokesperson told VegNews, explaining the vegan food has seen steady sales growth over the past year.
To promote its campaign with Lizzo, Instacart created a short film—soundtracked by a remix of "The Sign," the first track on Lizzo's new album Special—in which Lizzo is taken on a fantastic shopping journey using the new feature. "A shoot where I get to sit in a bubble bath and shop all day? Sign me up Instacart," Lizzo said in a statement. "This spot is so dynamic, and people will see me shopping and imagining what each item could lead to, from a desertscape of Takis—which are always in my cart—to a rain shower of cherries. I'm also excited to share my shoppable Cart which includes so many of my favorite things. I hope that my Cart inspires people to get all the stuff they love or maybe even try something different."
The short film will premiere after Lizzo's performance at MTV's Video Music Awards (VMAs) on August 28.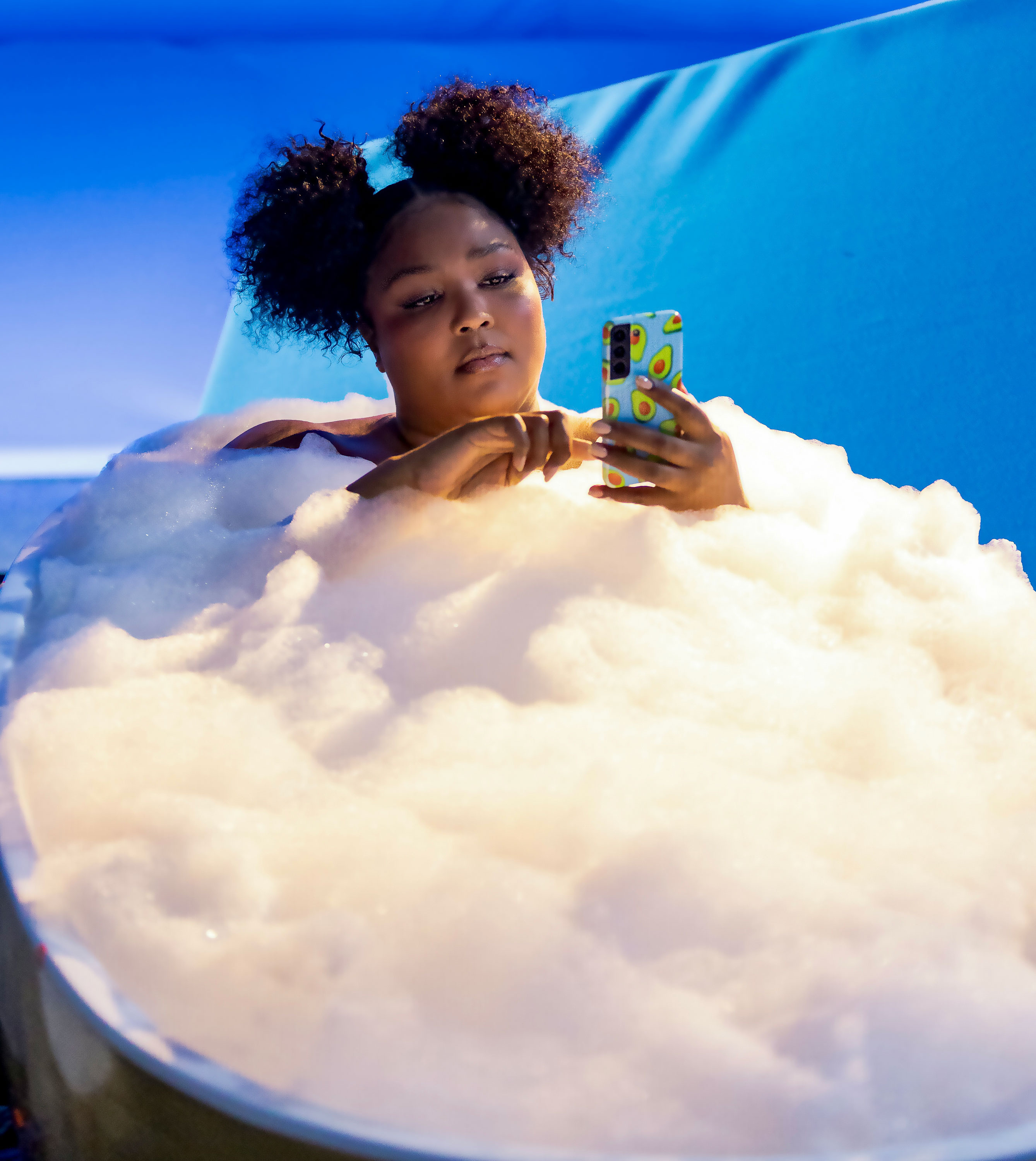 Instacart
Spicy vegan food makes Lizzo feel good as hell
The items in Lizzo's Cart are reflective of what the musical artist—who went vegan in the summer of 2020—uses to make indulgent meals at home. She often takes to TikTok to share her creations, which was the case when she had a craving for Hot Cheetos—a favorite snack from her pre-vegan days that contains dairy ingredients.
To satisfy her need for something spicy, crunchy, and cheesy, Lizzo created a snack that features Takis slathered in a homemade vegan cheese sauce she concocted from Japanese yam potatoes and blended them with a few cubes of high-protein tofu, onion, garlic, nutritional yeast, Kelly's Gourmet Cheezy Parm, salt, pepper, and habanero hot sauce. Lizzo added a "secret ingredient" to take the sauce over the top: a few melted slices of Follow Your Heart's vegan smoked gouda cheese.
And Lizzo's love for spice was recently put to the test on an episode of Hot Ones, where she blasted through the 10 increasingly spicy hot sauces with the help of Daring Foods' vegan chicken—which the show subbed in for animal-derived wings. Halfway through the episode, Lizzo removed a few articles of clothing and downed a vegan milkshake to help her get through to the The Last Dab: Apollo sauce, which, at a scorching 2,000,000+ scoville heat units (SHU), brought tears to Lizzo's eyes.

For the latest vegan news, read:
Burger King Gives Away 10,000 Vegan Whoppers For National Burger Day
Can Kevin Hart's Vegan Fast-food Chain Become as Big as McDonald's
A Vegan Version of TikTok's Pink Sauce Is Coming to Stores