It seems that every week in the world of vegan food news is more exciting than the last, and this week is no exception. Do you love spicy chicken sandwiches as much as we do? Chile's NotCo and Texas' Yellowbird have the collab you've been waiting for. Thanks to Midwest company Rootberry, new crispy dumpling appetizers in four flavors can grace your holiday table this season. Ikea is making good on its plant-based commitment with new vegan nuggets in Sweden. And if you're on a sweet kick, candy company Fruit-tella is going vegan. Read on for more.
1New appetizers from Rootberry
Already thinking about how to mix things up this holiday season? How about easy-to-make appetizers to wow your guests while the Tofurky is in the oven? That's exactly what Rootberry, a brand specializing in plant-based and allergen-friendly foods, has launched this month.
The St. Louis, MO-based company is known for giving a plant-based twist to comfort food favorites, and its new line of crispy dumplings is no exception. Each dumpling flavor, like other Rootberry products, features high-quality ingredients, many of which are locally sourced.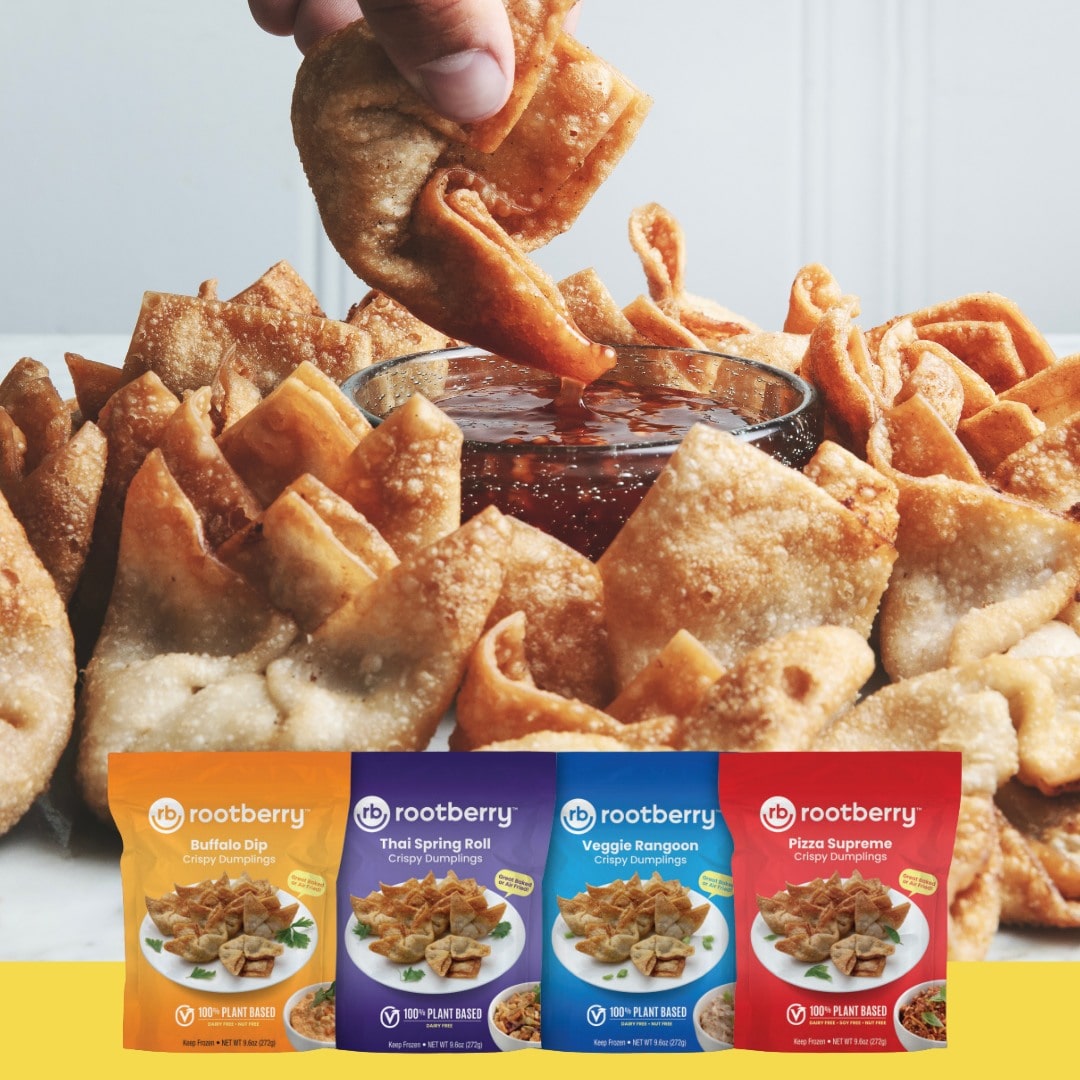 Rootberry
Available at $8.99 per pack, the initial offering comes in four flavors: Buffalo Dip, Thai Spring Roll, Pizza Supreme, and Veggie Rangoon. This product introduction marks Rootberry's debut in the frozen food sector and is the brand's second major growth move in three months, following the national expansion of its prepared plant-based meal delivery service in July 2023.
"Rootberry was founded to help more people eat plants more often, and expanding to the frozen food aisle is the next logical step for us," Rootberry Co-Founder and President Marc Connor said in a statement.
"We're proud of the growth of our meals, snacks, and sides, and now we're ready to deliver joy through delicious, easy-to-make bites perfect for family gatherings, watching the big game, or satisfying those late-night cravings," Connor said.
In addition to Dierbergs Markets, Rootberry is rolling out its frozen dumplings to university convenience stores and foodservice events. The company's popular prepared meals and snacks continue to be available in a variety of locations, including grocery stores and corporate offices across multiple states.
2Oil company Wesson gets into plant butter
For 124 years, Memphis, TN-based brand Wesson has been in the business of making cooking oils and this week marks its entry into a new, lucrative market: vegan butter.
Richardson International Ltd., the company that acquired cooking oil company Wesson in 2019, has introduced two new variants of plant-based butter under the brand: Wesson Plant Butter (Original) and Plant Butter (with Olive Oil).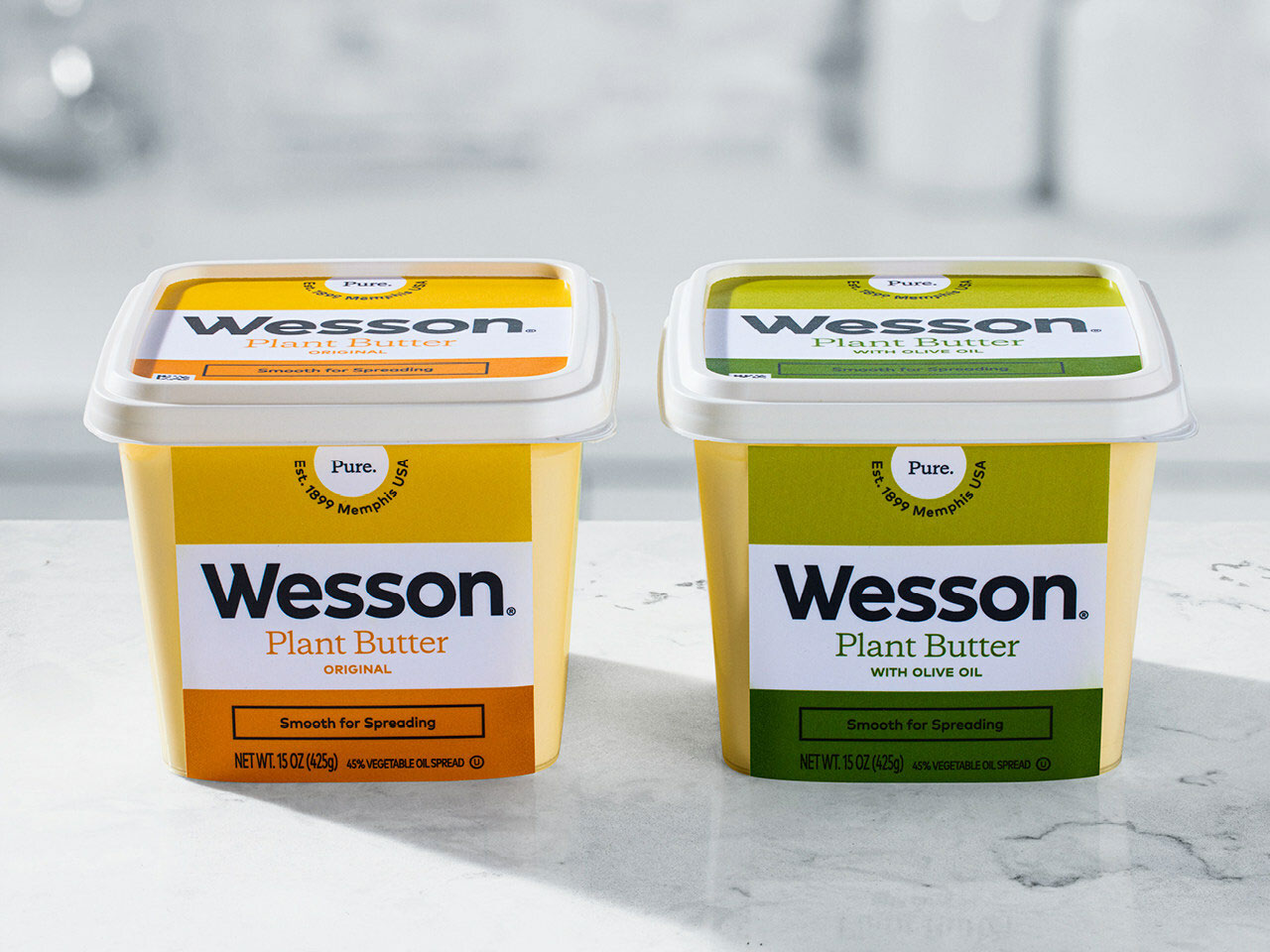 Wesson
"Wesson is an iconic, trusted brand that consumers turn to for unrivaled quality," Brian Olson, Vice President of Food & Ingredients at Richardson International, said in a statement. "Our vision is to give consumers more of what they love, through product innovation."
Richardson International aims to leverage Wesson's brand equity and consumer trust to penetrate a rapidly growing market segment focused on health-conscious products.
"This diversification in our business, allows us to tap into a category that's growing 26 percent per year, while addressing consumers' shift toward healthier lifestyles with a high-quality plant butter that's unique in the marketplace," Olson said.
The new Wesson Plant Butters primarily use canola oil, which is noted for having the lowest saturated fat content compared to all vegetable oils. Unlike traditional butter, these plant-based alternatives contain no cholesterol.
Wesson's butters are now available at select retailers in the Northeastern United States such as Hannaford and Stop & Shop. "The Wesson Plant Butter rollout begins in the Northeast where consumer demand and Wesson brand loyalty are high," Irman Webb, Director of US Retail Sales at Wesson, said in a statement.
In masked taste tests, 91 percent of participants indicated a likelihood to purchase the new plant-based butter, citing its creamy and flavorful taste.
"Wesson Plant Butters have performed exceptionally well in consumer taste tests and the initial response from retailers has been strong," Webb said. "We continue to confirm new distribution outlets."
3NotCo's chicken patties get spicy
If spicy chicken sandwiches are life, then you'll love this news. This week, Chile's The Not Company (NotCo) announced a collaboration with hot sauce company Yellowbird that will tingle your taste buds: NotChicken Spicy Patties.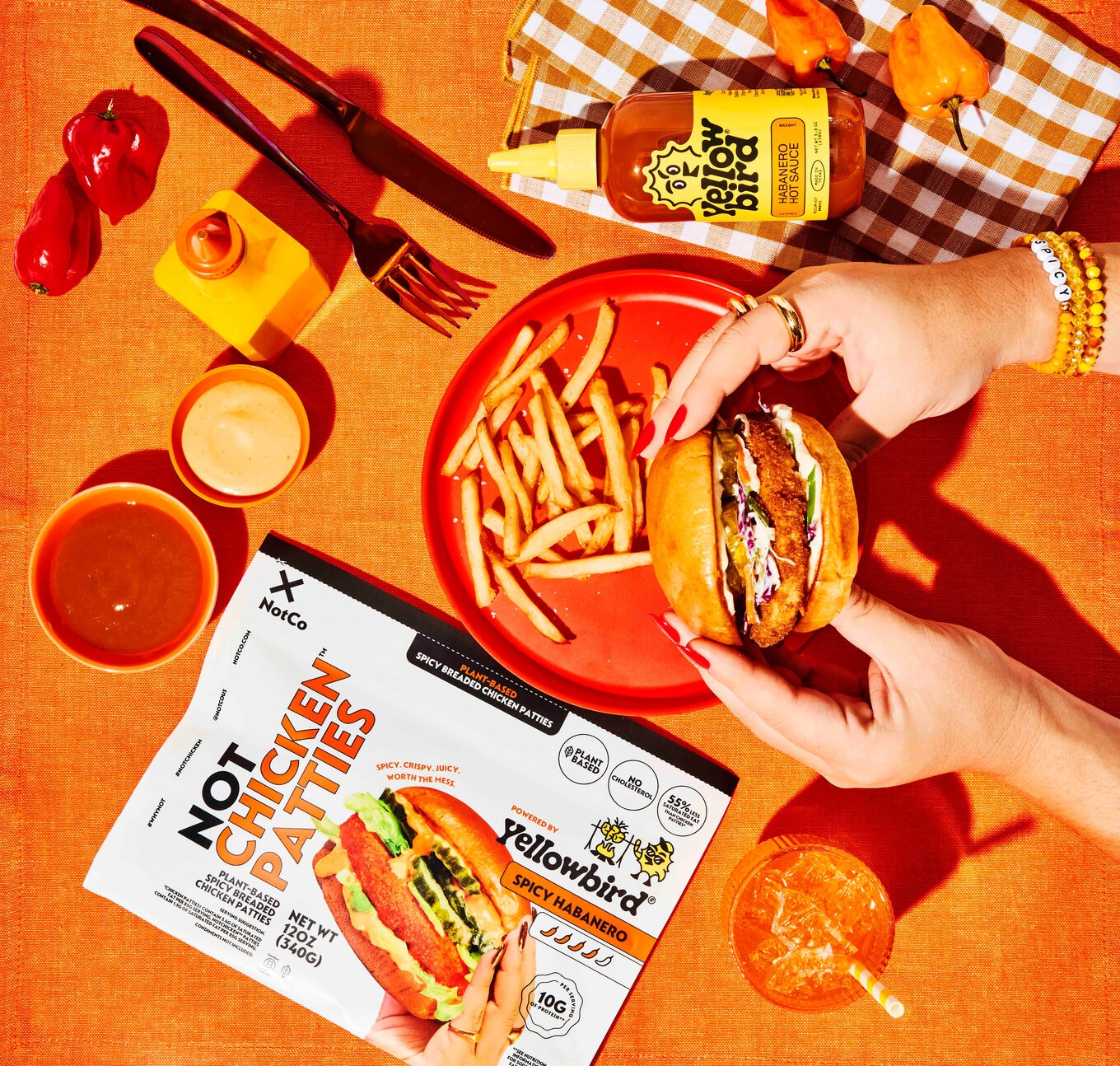 The Not Company
Available in select Whole Foods Market locations in the United States, these new patties aim to replicate the taste, texture, and aroma of chicken while adding a habanero kick.
"We already deliver on our promise to provide consumers mind-blowingly delicious plant-based options and we were looking for a way to build on that flavor-forward guarantee to reach even more plant-based eaters and flexitarians," Matias Muchnick, CEO and founder of NotCo, said in a statement.
"The only way we could make NotChicken taste even better was to spice it up through a partnership with our favorite hot sauce brand, Yellowbird," Muchnick said.
The new offering combines NotCo's proprietary NotChicken Patties with Yellowbird's Spicy Habanero flavor, known for its blend of habaneros, carrots, garlic, and tangerine. Crispy on the outside and juicy on the inside, the spicy vegan chicken patties are versatile and can be used in various dishes like sandwiches, wraps, and tacos.
"The launch of NotChicken Spicy Patties will open the door to more brand partnership opportunities that will help expand our distribution across the US and satisfy more taste buds seeking new planet-friendly and delicious options—two things that don't always go hand-in-hand," Muchnick said.
The collaboration also serves as NotCo's first retail co-brand in the UD and paves the way for future partnerships.
"At Yellowbird, we believe in the power of plants to help create a happier, healthier, and more delicious world for all," Yellowbird Chief Brand Officer and Co-Founder Erin Link said in a statement. "What better way to support this idea than partnering with our favorite plant-based patty–maker, NotCo."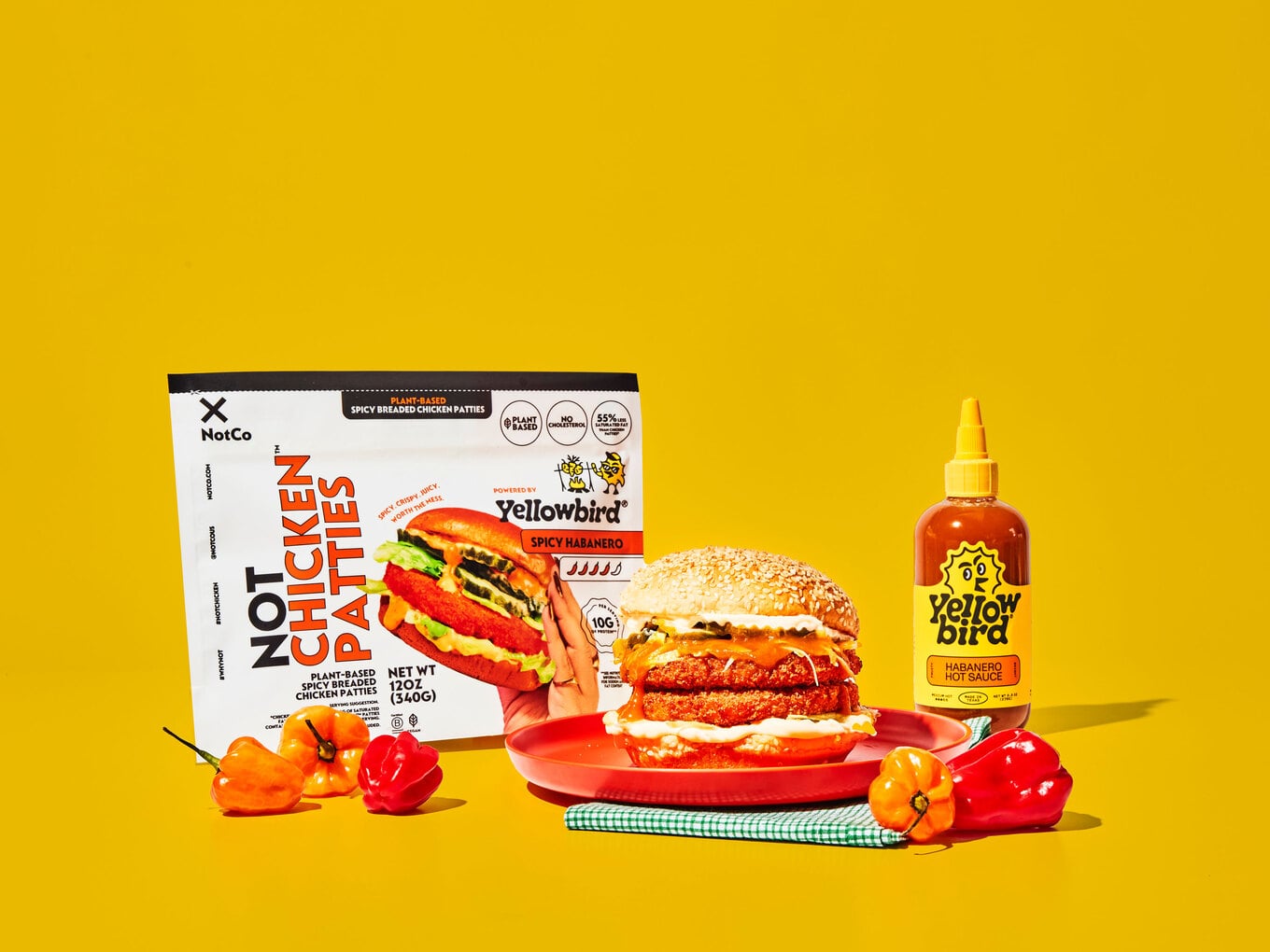 The Not Company
"The flavor and texture of these NotChicken Patties featuring Yellowbird Classic Habanero Spice is a true surprise-and-delight experience, no matter whether you're plant-curious or monogamous," Link said.
To celebrate the launch, a co-branded food truck will offer the Spicy Patties in Austin and Los Angeles for three days in November.
4Ikea's new vegan nuggets
From take-and-bake cinnamon rolls to the vegan version of its iconic Swedish meatballs, we've been munching away on Ikea's growing array of vegan food. This week, the furniture giant's home stores in Sweden got a new treat: vegan nuggets known as "Slagverk."
The wheat-based nuggets are available as frozen items and the product is designed for easy preparation, whether in the pan or oven, offering consumers a convenient plant-based option.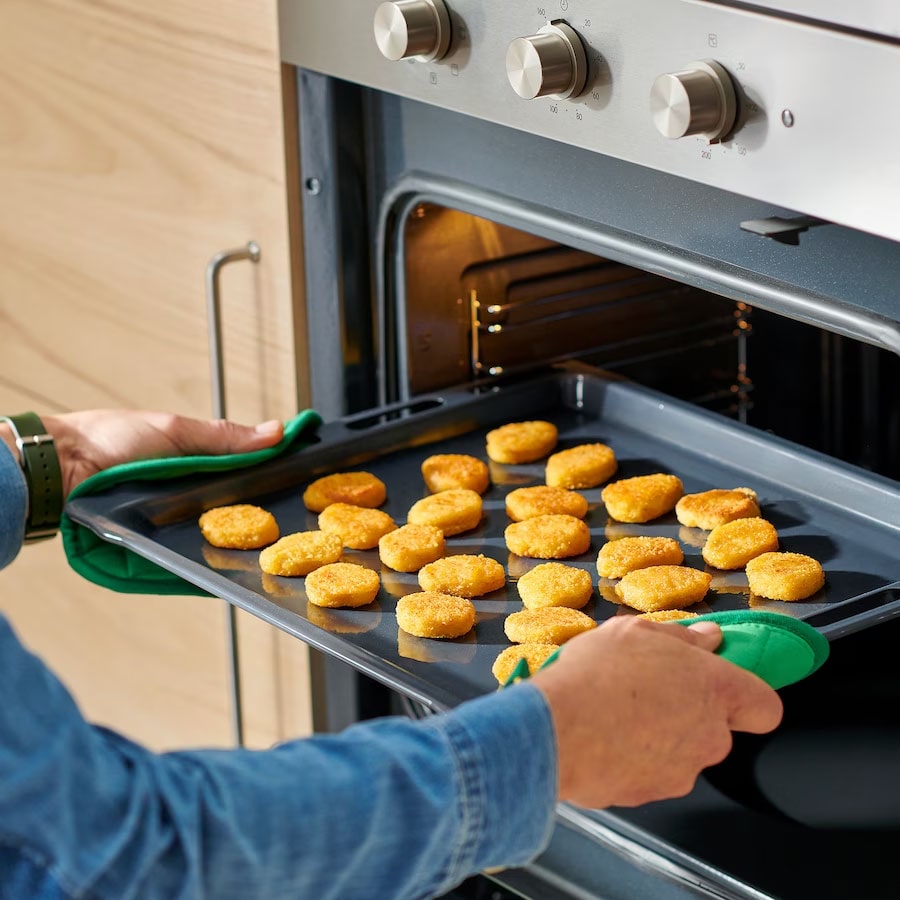 Ikea
Slagverk nuggets feature a crispy breaded surface and a juicy interior, providing a satisfying texture. Their mild flavor makes them versatile and suitable for pairing with a variety of side dishes for a complete meal.
Ikea aims to transition toward more sustainable food offerings, with plans to make 50 percent of its bistro food and 80 percent of its retail food plant-based by 2025. The new nuggets join a lineup of other vegan options that the company has introduced globally, which includes improved hot dogs, dairy-free soft serve, and more.
Stateside, Ikea recently opened its first San Francisco location which will soon feature an adjacent Saluhall, a food hall that serves mostly plant-based fare.
5Fruit chews go vegan
Popular candy brand Fruit-tella—which is originally from the Netherlands— is updating its top-selling chews to a completely vegan formula. This change extends to its entire chewy candy line, including the popular Strawberry Mix Chews, Fruit-tella Duo Stix, and the recent addition, Fruit-tella Berries & Cherries.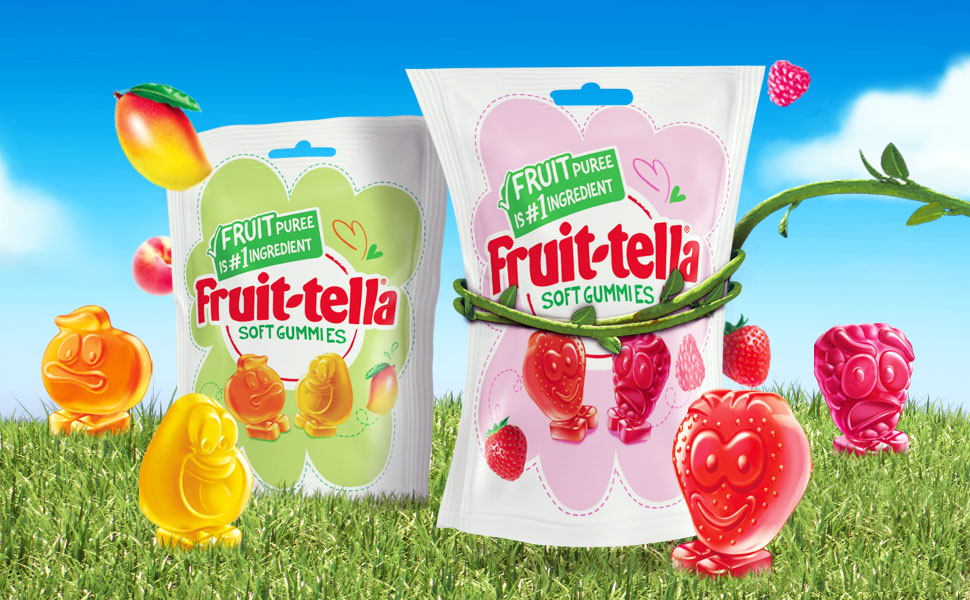 Fruit-tella
The candies, which come individually wrapped in sharing bags, are ideal for various occasions such as road trips or quick snacks on the go. They also serve as a convenient option for trick-or-treaters, offering both hygiene and portion control.
"Fruit-tella has been synonymous with the highest quality sweets since 1931," Lauren Potter, Senior Brand Manager at Fruit-tella, said in a statement. "We are delighted that those who favor a plant-based diet can now join in the fruity fun, too."
"We have worked hard to perfect a vegan recipe that replicates the taste and texture of our beloved chews, and we are certain that the new formulation will be a surefire hit with existing consumers and new shoppers alike," Potter said.
The updated vegan candies will be available in stores starting in November, accompanied by a targeted social media campaign, influencer involvement, and product sampling.
For the latest vegan news, read: