It seems that every week in the world of vegan food news is more exciting than the last and this week is no exception. Iconic French cheese company Bel Group is keeping the good times rolling this week with the launch of a brand new vegan flavor of its Plant-Based Babybel cheeses. Pinky Cole is bringing Slutty Vegan to Texas and if you're anywhere near Dallas, you might as well line up now. Oatly is hitting the skies with Swiss Airlines and Beyond Meat's chicken line is flying the coop to the UK. Read on for more.
1Slutty Vegan hits Texas
Everything is bigger in Texas, making the arrival of one of the country's biggest food sensations a welcome addition to the food scene. This summer, the Dallas neighborhood of Deep Ellum is getting its own location of Atlanta's popular chain Slutty Vegan.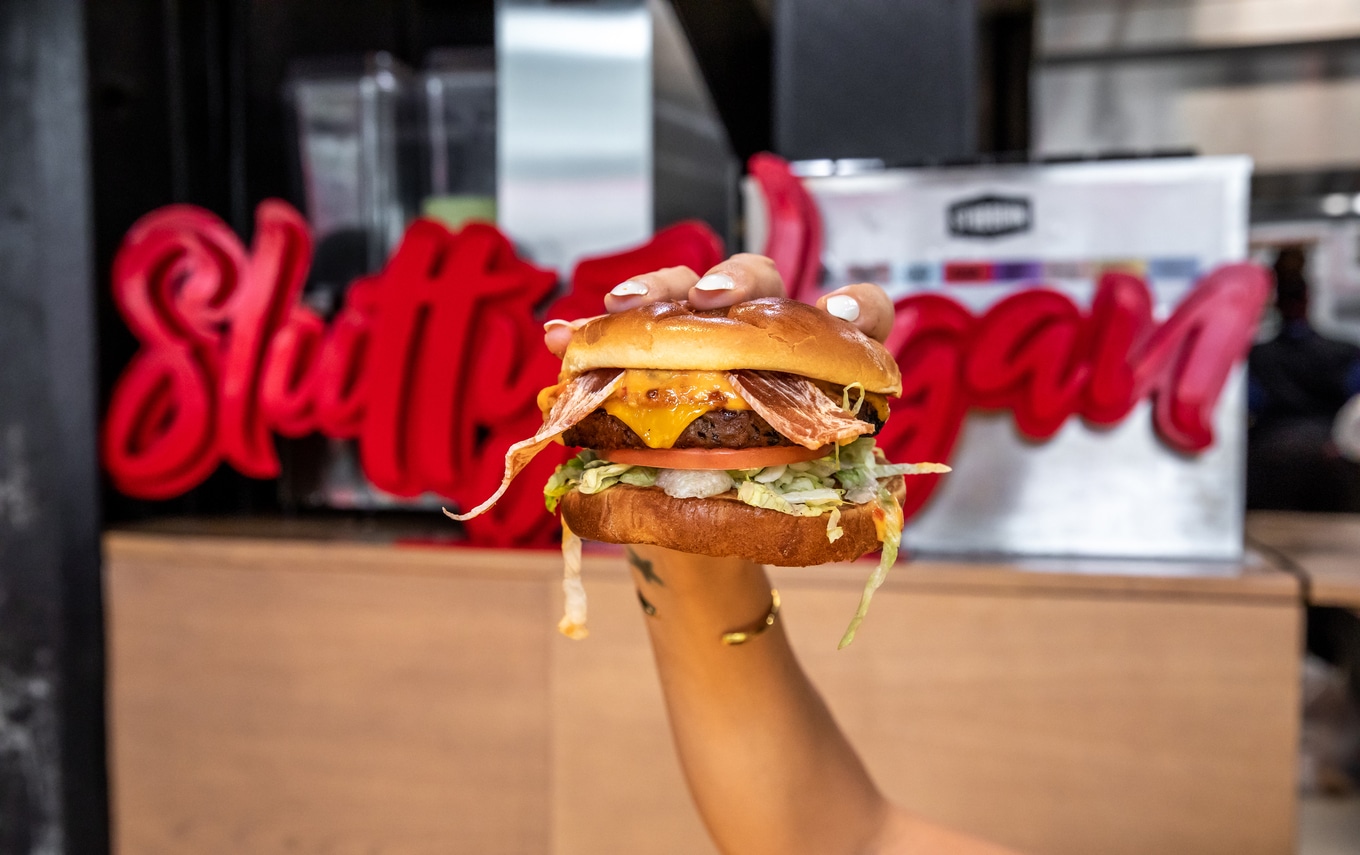 Madelynne Boykin
Texans can expect all of Slutty Vegan's saucy favorites on the menu at the 2,500-square-foot shop, including the One Night Stand, Hussy Fussy, and Hollywood Hooker.
"Dallas has been asking, and we're so excited to deliver," Slutty Vegan founder Pinky Cole said in a statement. "We're bringing the heat just in time for summer."
Slutty Vegan raised $25 million last year to expand its celeb-loved vegan venture and Cole is not skipping a beat to bring plant-based burgers to people everywhere. The Dallas location will be the fourth Slutty Vegan opening this year following outposts in Atlanta's Truist Park, Harlem, NY, and on-campus at Georgia Tech.
If the grand opening of this location is anything like the rest, you should probably just form a line now.
2Oatly's flying high with Swiss Air
These days, it seems like everyone is drinking oat milk on the ground but Swedish brand Oatly is bringing the trend to the skies with its newest partnership with Swiss International Air Lines (SWISS). This week, Oatly's canned Caffè Lattes became available for purchase aboard all SWISS flights.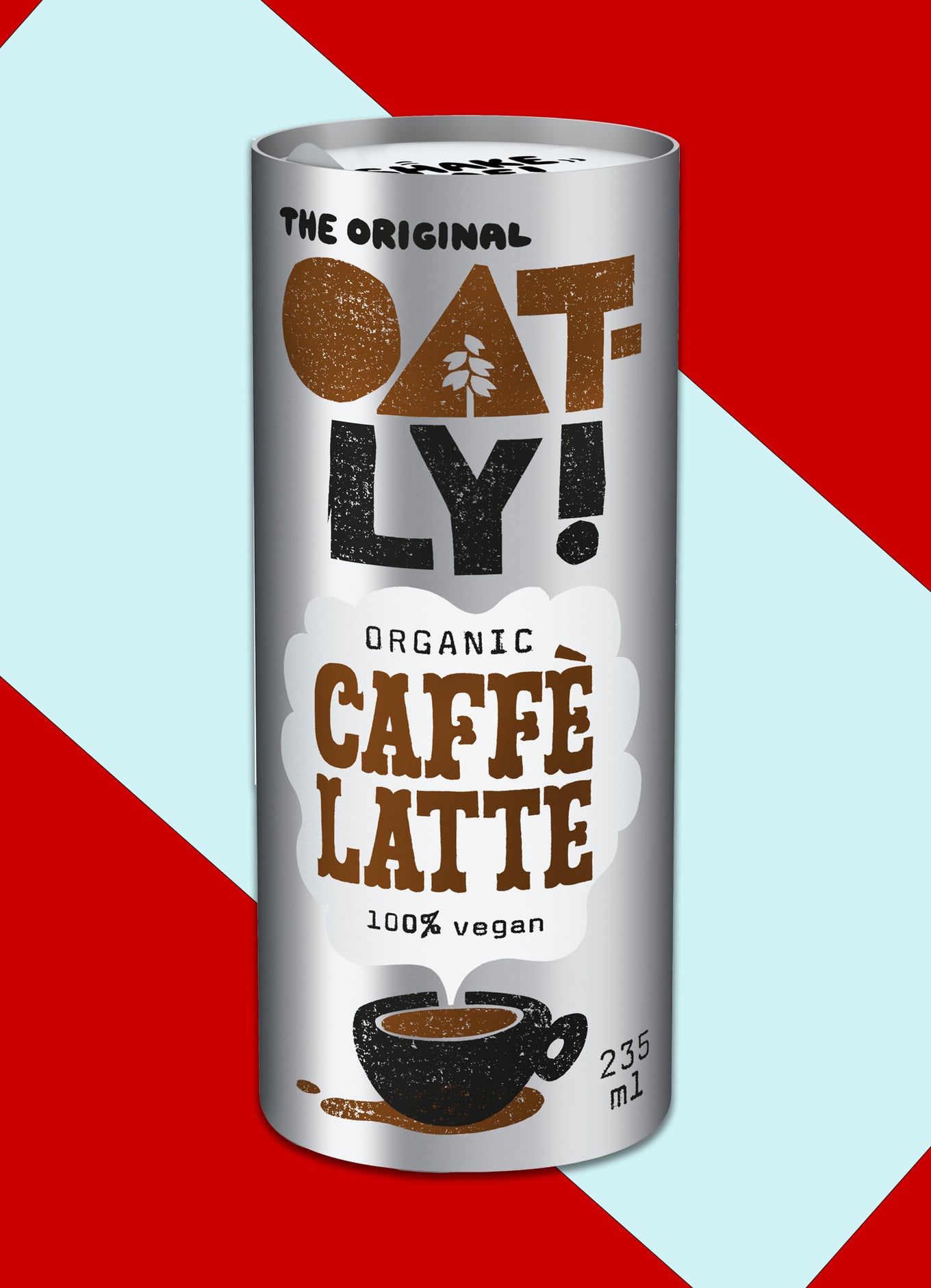 Oatly
"Today's collaboration with SWISS is a major milestone for Oatly and our mission to put our products everywhere to make people's switch to plant-based as easy as possible—even at 10,000 meters in the air," Helge Weitz, Oatly's General Manager, DACH and Poland, said in a statement.
"We're excited to work with SWISS to offer their millions of annual passengers around the world a great-tasting and climate conscious coffee drink option," Weitz said.
Oatly's collaboration with SWISS marks the first time the vegan brand has worked with a global airline.
"We are delighted to be collaborating with Oatly to expand our beverage range," Mathias Vonlanthen, Head of Hospitality Management at SWISS, said in a statement. "SWISS values a high-quality and diverse offering—this includes plant-based products and Oatly's coffee drink is a great addition in this area."
3So Delicious gets into oat milk
If you need another oat milk brand to love, So Delicious is getting into the mix with the launch of Organic Oatmilk in Original and Extra Creamy flavors.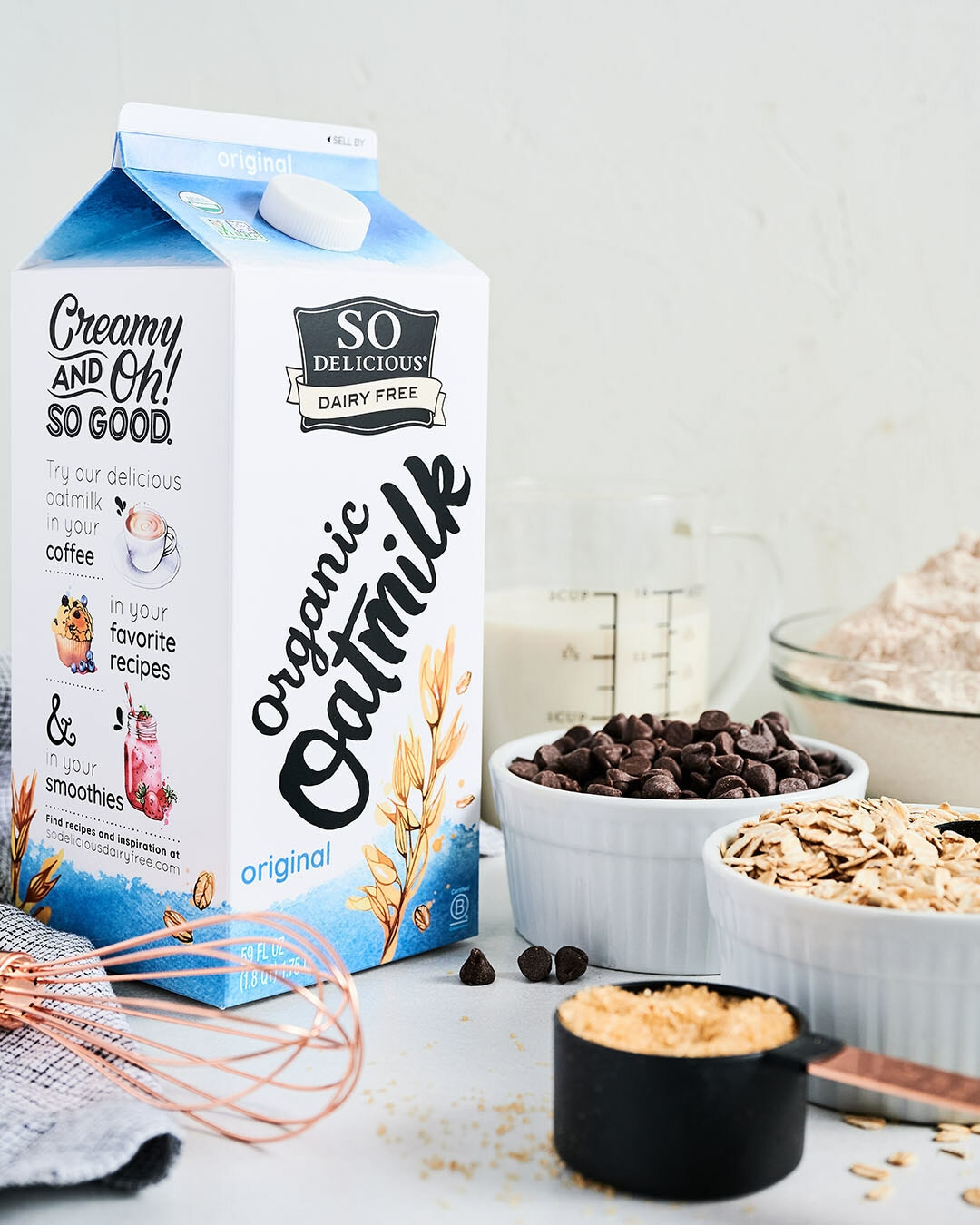 So Delicious
Oat milk sales grew by 50 percent in 2022 compared to the year prior and the Danone-owned brand is jumping in to get its piece of the oat milk pie. "As leaders in the dairy-free space, we at So Delicious are always listening to consumers and striving to deliver what they are looking for," Olivia Sanchez, Vice President of Marketing, Plant Based Beverages for Danone North America, said in a statement.
"Oatmilk is a favorite for both dairy-free veterans and people new to plant-based beverages, and we know that the interest in oat milk isn't going anywhere anytime soon," Sanchez said. "With Organic Oatmilk, our first oatmilk beverage innovation, we are proud to offer fans a new great-tasting organic option to enjoy in their daily routines."
And if you'd prefer to eat your oats in frozen form, So Delicious also has a line of oat milk-based ice cream in Chocolate Salted Caramel, S'Mores, Coffee Chip, and Chocolate Hazelnut Brownie flavors.
4Beyond Meat's chicken flies the coop
California company Beyond Meat is spreading its wings with the launch of its plant-based chicken line in the United Kingdom.
Best known for its Beyond Burger, the company launched Beyond Chicken Tenders in 2021 in the United States and expanded the line—made with a base of fava beans—with Beyond Popcorn Chicken and Beyond Chicken Nuggets in 2022.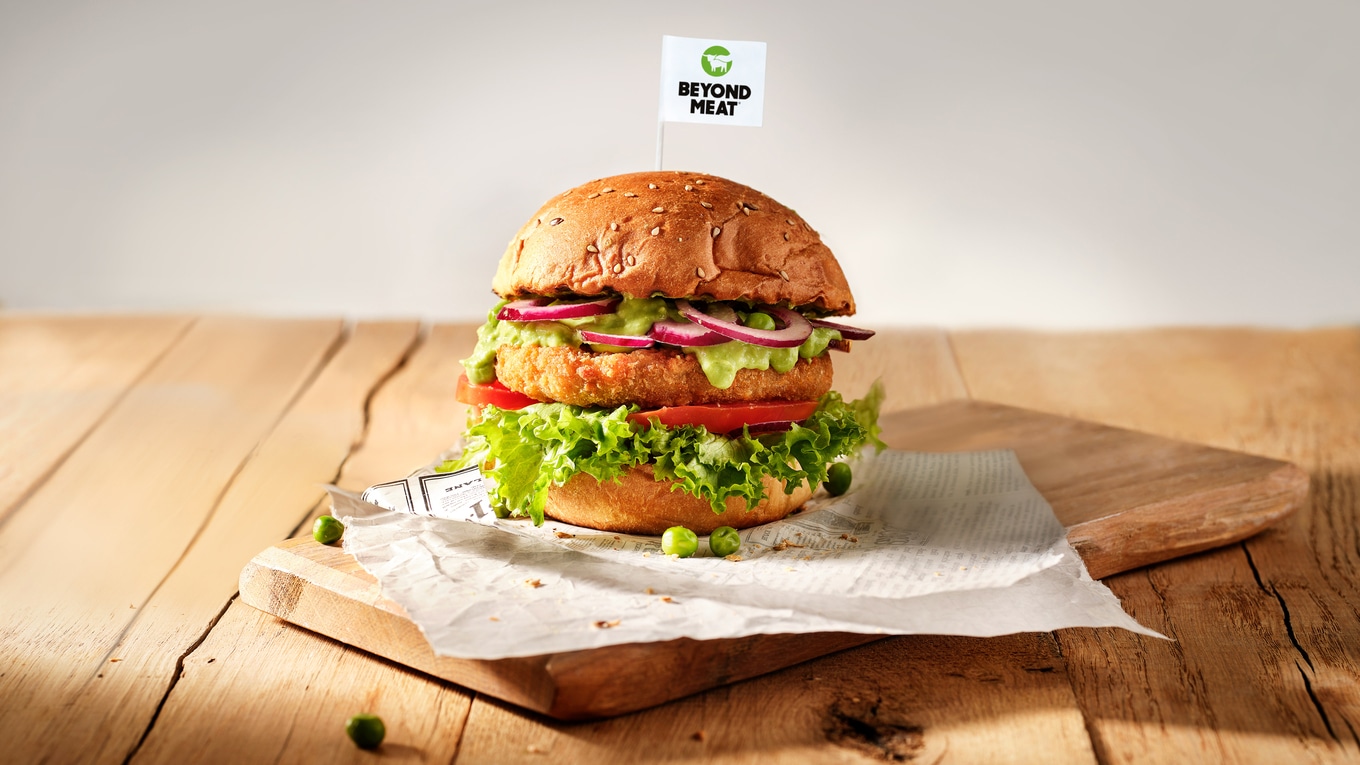 Beyond Meat
Now, Beyond's British fans are finally getting a taste with the launch of the Beyond Chicken line (filets, nuggets, and chicken-style burgers) at Waitrose stores.
"Following the success of Beyond Meat's burgers and meatballs we know our customers love the brand and think they will love this product too, as demand for plant-based chicken grows," Catherine Shacklock, Waitrose Chilled Vegan & Vegetarian Buyer, said in a statement.
"Our customers are always looking for something new, and this product is a great example of how advanced the plant-based market has come in both flavor and texture in recent years," she said.
Beyond Meat's chicken line landed in the UK just in time for King Charles III's coronation on May 6, in honor of which chef and influencer Sam Jones (of No Meat Disco) created the Beyond Coronation Chic-King Sarnie recipe.
Beyond Meat's chicken line will also hit Sainsbury's stores in early May.
5Babybel's new vegan cheese flavor
We're still trying to digest the fact that 150-year-old French cheese company Bel Group is remaking vegan versions of our childhood favorites like Babybel and The Laughing Cow cheeses. And this week, Bel Group hit us with another surprise: a new plant-based Babybel cheese in its fan-favorite White Cheddar flavor.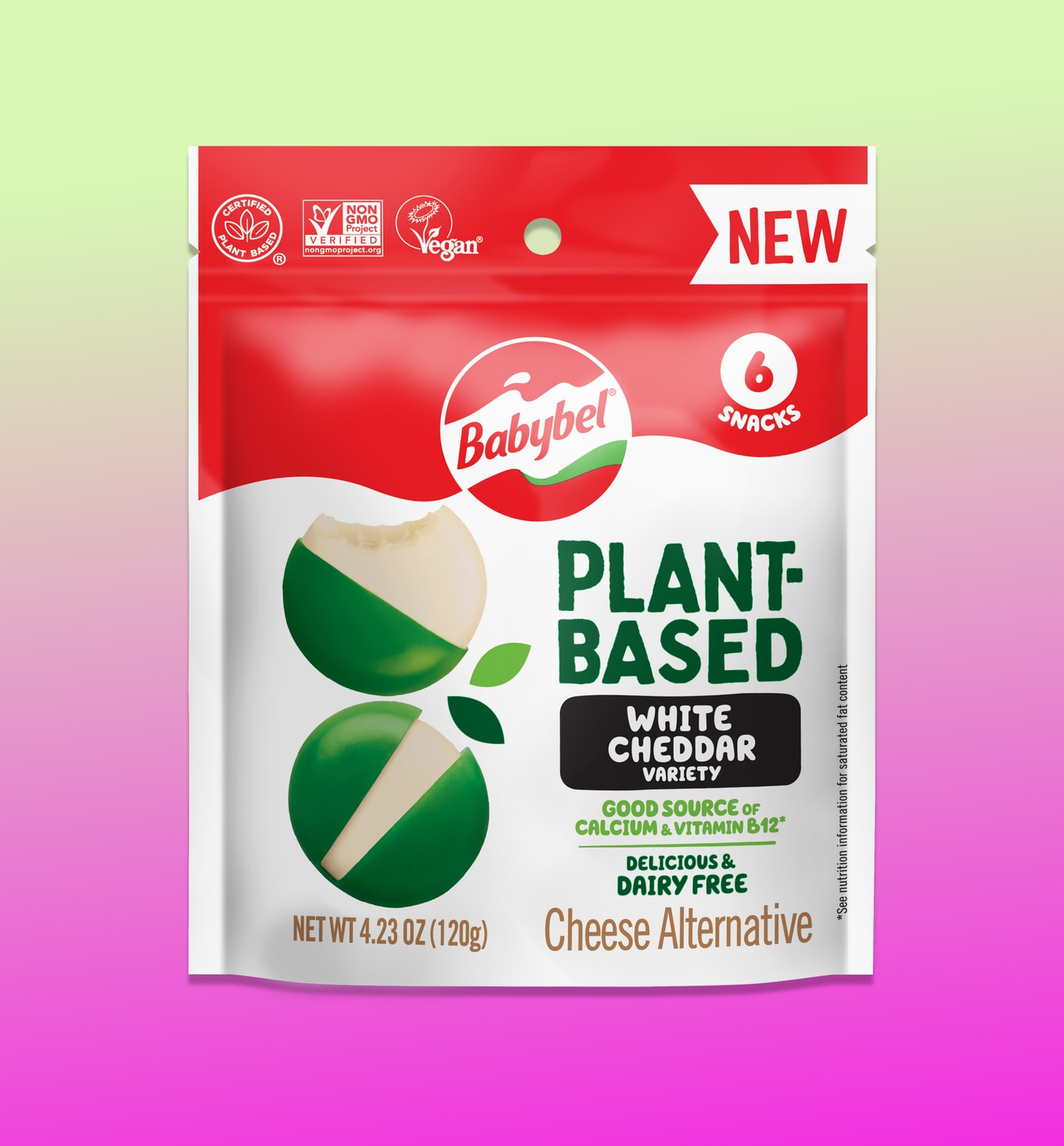 Bel Group
Launching this spring, the new flavor comes a year after the original Plant-Based Babybel hit store shelves—where it is performing very well. "Babybel Plant-Based has seen an overwhelmingly positive response to-date among flexitarian and vegan shoppers," Ridhi Barber, Senior Brand Manager at Babybel, said in a statement.
"We wanted to continue this momentum and introduce a second dairy-free Babybel snack option in the fan favorite White Cheddar variety," Barber said.
Currently, Bel is working to make 50 percent of its cheese portfolio plant-based and has tapped biotechnology company Climax Foods to help it get there. The duo is working to reformulate its iconic portfolio of cheeses using Climax' AI-powered technology which will result in next-gen versions of Babybel (probably next year) and others like The Laughing Cow and Boursin to follow.
We're ready for whatever is next, Bel.
For the latest vegan news, read: