It seems that every week in the world of vegan food news is more exciting than the last and this week is no exception. Meatier Beyond Sausages launched in four flavors in time for Fourth of July grilling. Canada is getting a taste of NotChicken made with the help of artificial intelligence by Chile's The Not Company. Plus, summer travel just got so much better with Just Egg hitting the skies with two major airlines. Read on for more.
1Juicier Beyond Sausages
This week, Beyond Meat upped its grilling game with a new iteration of its best-selling Beyond Sausage. The plant-based sausage pumps up the flavor and juiciness of the original with an enhanced flavor profile and a new aromatic blend of spices that include garlic powder, onion powder, and paprika.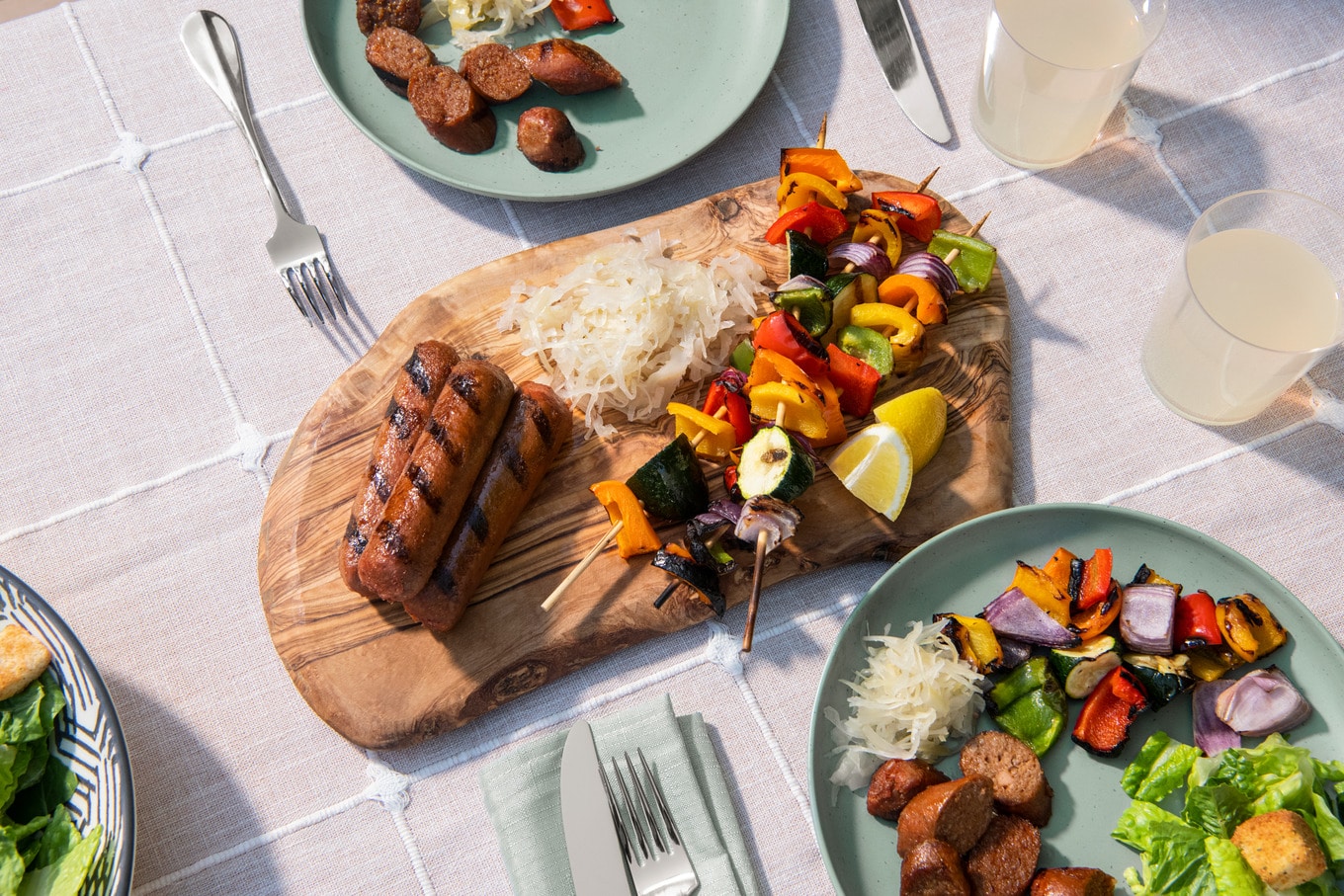 Beyond Meat
"Our next-generation Beyond Sausage reflects our commitment to relentlessly innovate until our products are indistinguishable from animal meat in taste, texture, and flavor while being more nutritious and sustainable," Dariush Ajami, PhD, Chief Innovation Officer at Beyond Meat, said in a statement.
"We are thrilled to introduce this latest version of Beyond Sausage during [the] summer grilling season, enabling consumers nationwide to enjoy a classic BBQ favorite that's better for people and the planet," Ajami said.
And even though these new Beyond Sausages—which are differentiated from the previous formulation with a "Meatier Taste" icon—are super juicy and indulgent, they still boast 40 percent less saturated fat than traditional pork sausages.
In time for all your Fourth of July grilling needs, you can find them in Original, Brat, Sweet Italian, and Hot Italian flavors at 15,000 stores nationwide, including Kroger, Albertsons, Ahold, and Publix.
2Fungi meat for all
Meat made from mycelium—the fast-growing root system of mushrooms—is all the rage and two companies are teaming up to help everyone discover the magic of fungi. California-based Prime Roots and European mycoprotein leader Quorn have inked a partnership to co-develop products that innovate the vegan meat category.
"We are thrilled to partner with Quorn, the leader in mycelium-based proteins to create breakthrough innovations together and to bring great tasting foods that are better for you and for the planet to mass markets," Kimberlie Le, Co-founder, and CEO of Prime Roots, said in a statement.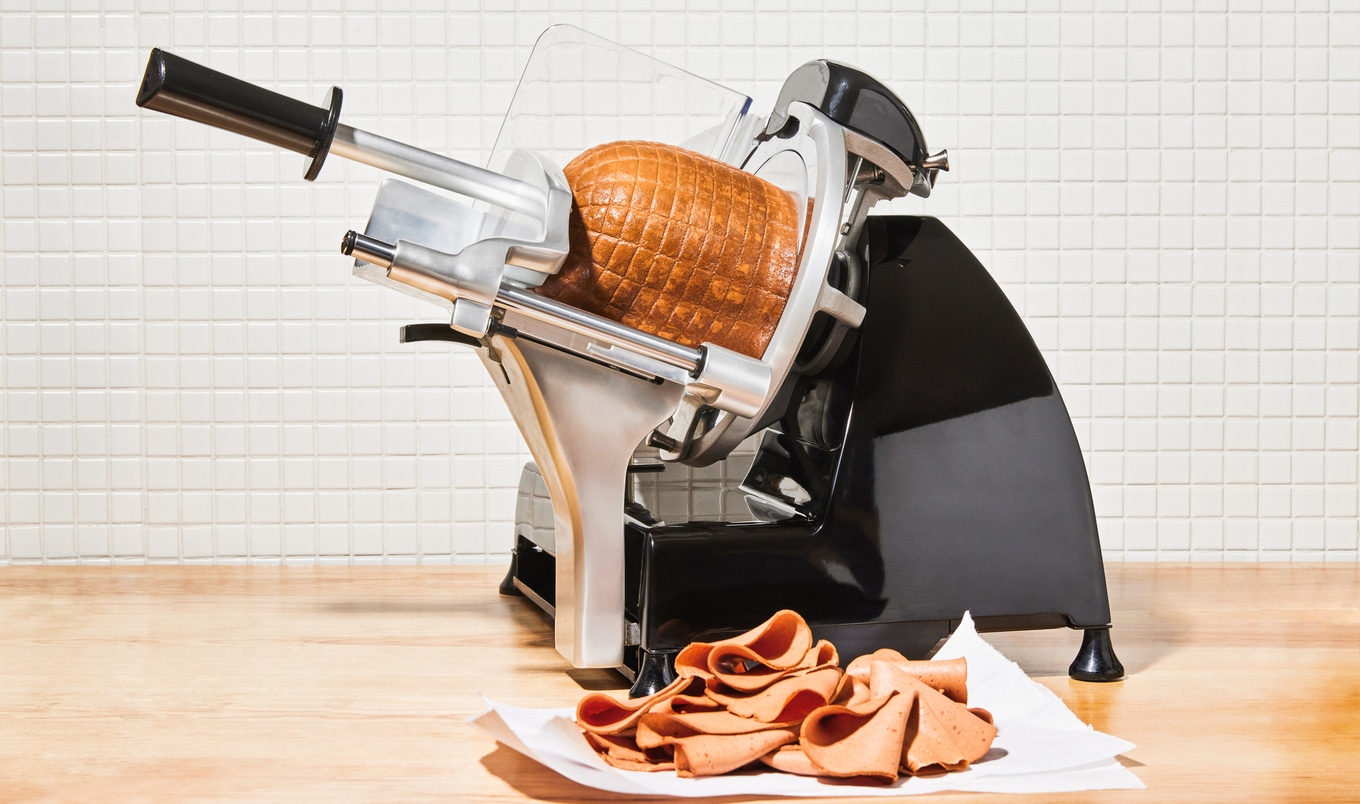 Prime Roots
In operation since the 1980s, Quorn is known for its range of meatless products such as vegan chicken nuggets, pieces, and patties. Meanwhile, Prime Roots is aiming squarely for the deli case with its charcuterie offerings that include salami, pepperoni, bacon, pâté, and foie gras products—all made using its unique koji mycelium.
"Prime Roots is doing great things in developing the US meat-free deli category, and we're excited by the opportunity we now have to share knowledge and collaborate with Kimberlie and her team," Marco Bertacca, CEO of Quorn—which also made a minority investment in Prime Roots—said in a statement.
Can we get a mycelium-powered vegan ham sandwich, stat?
3New European vegan butter
Europeans know their butter and Danish brand Natruli' is bringing its award-winning plant-based spread to the States for the first time.
"We can see from the consumer reaction and growth in the 40 markets around the world where we sell Naturli' Plant Butter, that consumers really like our approach to plant based food—for Naturli' it is all about taste and functionality," Naturli' CEO Henrik Lund tells VegNews.
A winner of the Superior Taste Awards by the International Taste Institute in Brussels in 2023, Natruli's vegan butter is made from cocoa butter, almond butter, coconut oil, and canola oil. Natruli's vegan butters also have a carbon footprint that's four times lower than their animal-derived counterparts.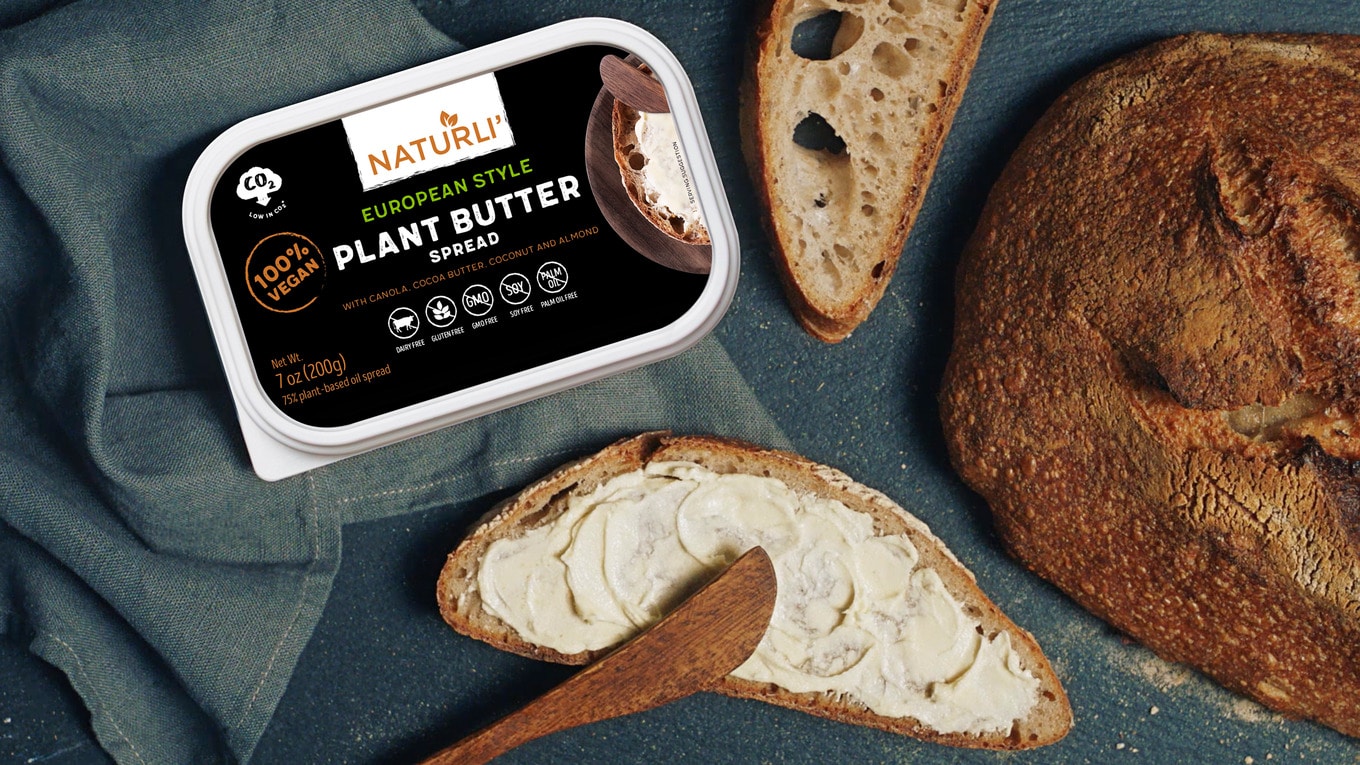 Naturli'
"Our unique plant butters, that takes you straight to butter land—have impressed numerous US consumers and retailers at trade shows we have attended in 2022 and up to now, so we thought: why not bring our innovative plant-based dairy products to the US and add value to US retailers and consumers?" Lund says.
This month, H-E-B stores in Texas will begin stocking Natruli's butter in both baking-ready blocks and bread-worthy spreads.
4NotChicken flies the coop to Canada
Chile's The Not Company (NotCo) is launching its vegan chicken up north in Canada, where it already offers its NotMilk and NotBurger. The new line includes nuggets, burgers, and tenders that are all hitting the frozen aisle at major Canadian grocery stores.
What's special about this vegan chicken is that it's made with the help of an artificial intelligence platform called Giuseppe that helps the NotCo team approximate animal products using plant ingredients. Made in Canada, NotChicken utilizes uncommon ingredients such as peach, bamboo fiber, and fava bean.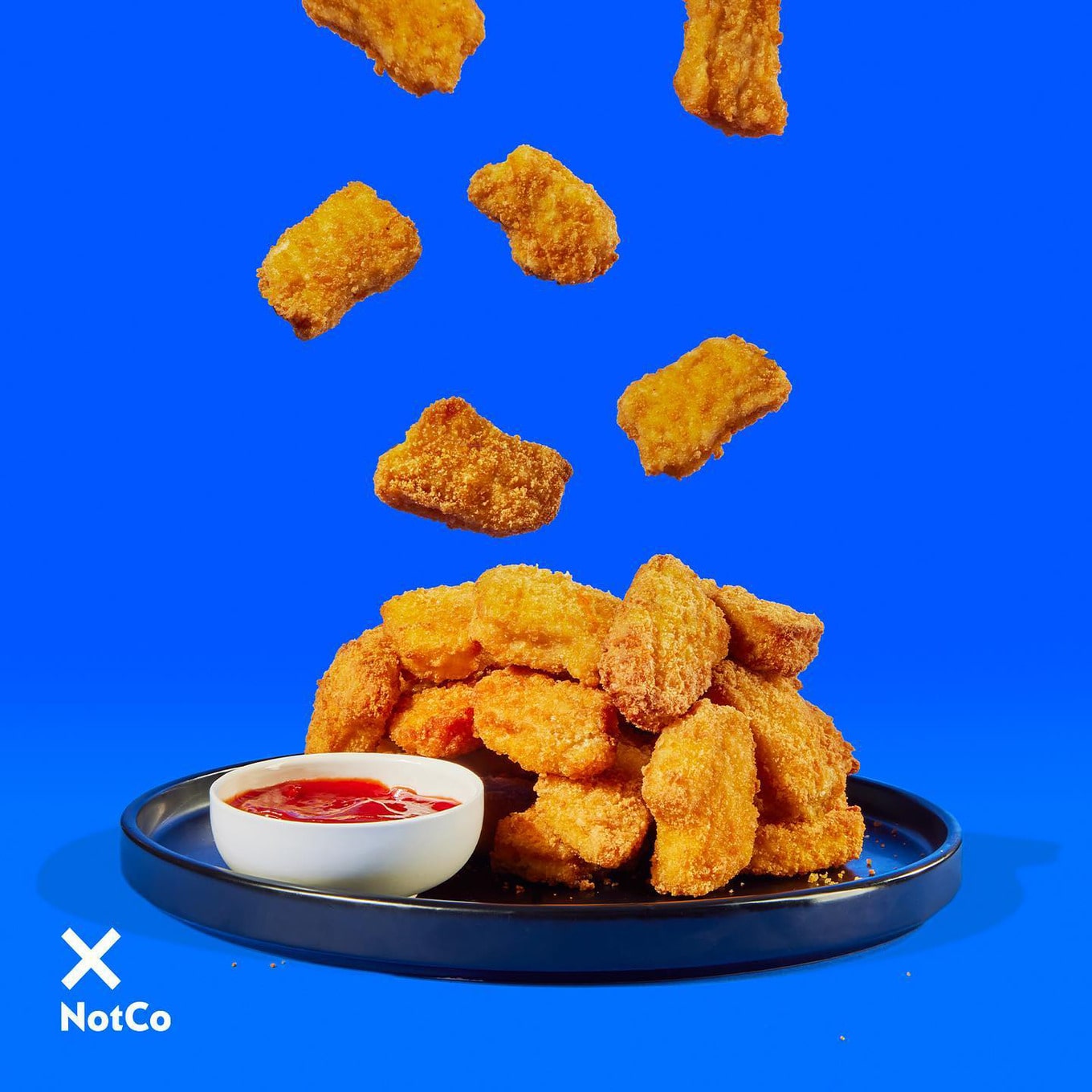 The Not Company
"At NotCo, we believe that shifting the food system away from animal dependency doesn't have to come at the expense of consumer satisfaction," Andre Manuel, General Manager of NotCo Canada, said in a statement. "Our goal with NotChicken—as with all NotCo products—is to deliver a no-compromise experience that tastes, cooks, and looks just like the animal-based reference."
"When customers try it, they are shocked to learn that NotChicken is plant-based and that's the single biggest compliment we can get," Manuel said.
Outside of its NotChicken, NotCo also taps Giuseppe to make a suite of vegan products that resemble their animal counterparts. The company also works with food giants such as Kraft Heinz, Burger King, Dunkin', Shake Shack, and Starbucks to help them offer next-level vegan options.
5Just Egg takes to the skies
Our travel plans just got a lot more exciting. That's because we've spotted a Just Egg in the friendly skies. Over at United Airlines, a new vegan bagel has landed on the breakfast menu for flights that exceed 1,190 miles. The new option features Just Egg, vegan cheese, and harissa spread, served on a warmed bagel.
United Airlines
At Alaska Airlines, first-class passengers are getting three vegan options: Harissa and Chorizo Frittata made with plant-based Just Egg; a Spicy Tofu Wrap; and a White Bean Chili with Grilled Polenta.
"We're always looking to spark joy with great food and drink on board our flights, delivering a delicious meal or craft beverage with care as part of our award-winning service," Todd Traynor-Corey, managing director of guest products at Alaska Airlines, said in a statement. "What our guests have to say is important, and they told us that more food and beverage variety would be great, so we set out to make that happen."
"We've worked hard to give our guests of all ages a wider selection of food, from classic comfort food to more healthful options all while representing the vibrant flavors of the West Coast," he said.
And if you're still craving vegan eggs when you land, Eat Just has expanded its retail distribution vastly this year, including to 1,000 more Walmart stores, and dishes made with its mung bean-based eggs can be found all over, including at Barnes & Noble Cafés, 7-Eleven Canada, Next Level Burger, Colectivo Coffee, and Proper Food.
Summer vacation, here we come!
For the latest vegan news, read: