Summer is in full swing and Swedish brand Oatly just opened its first pop-up shop to help people beat the summer heat. Located on Prinsengracht 16 in Amsterdam, the Netherlands, Oatly's whimsical pop-up shop serves its oat milk-based soft serve from noon until 10pm.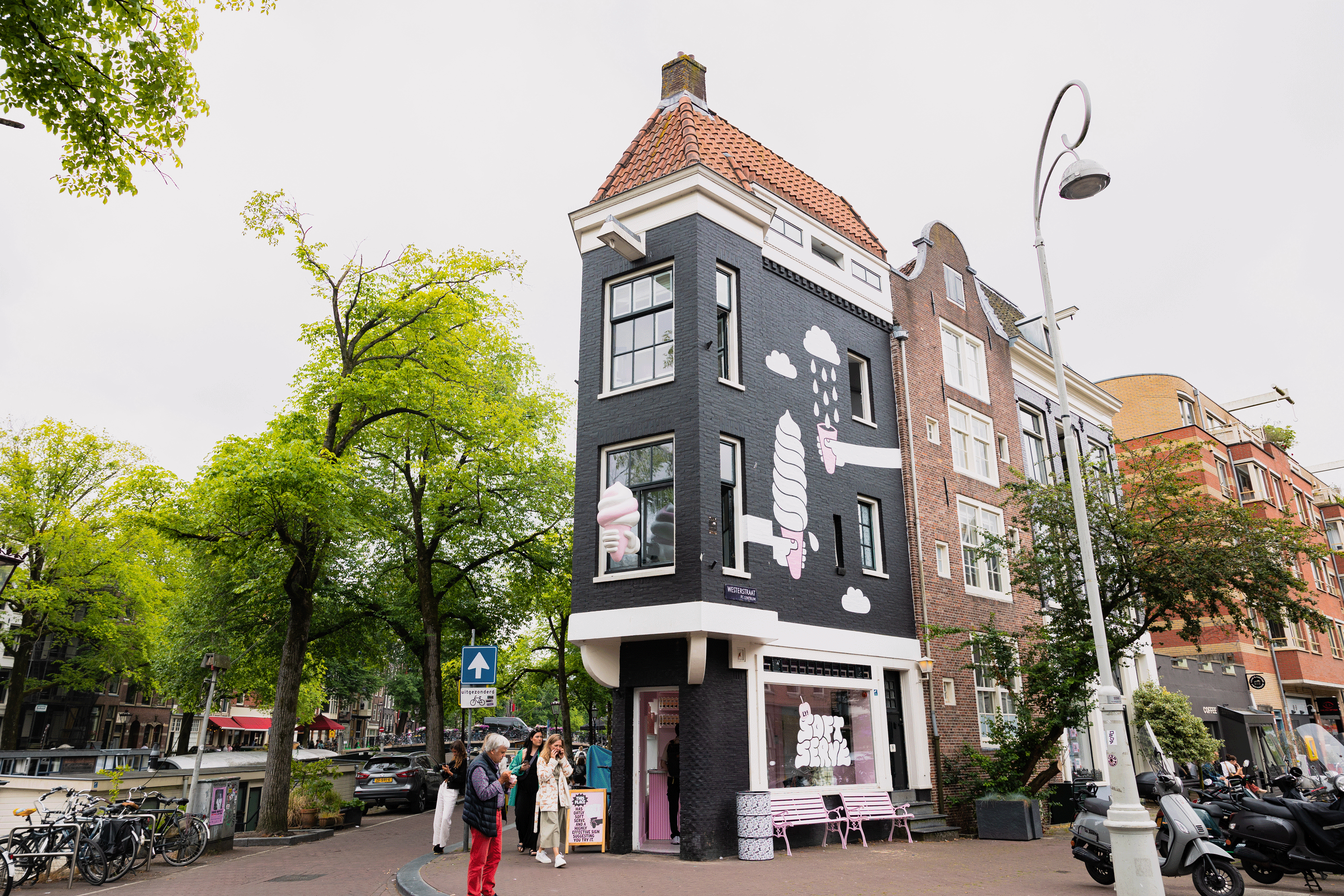 Oatly
On the menu are vanilla, coffee, and matcha vegan soft-serve flavors along with a rotating menu of specialty toppings, including strawberries, cherries, and stroopwafel, and drizzles such as salted caramel, mixed berry, and chocolate.
Oatly is also partnering with local brands this summer to kick things up a notch. The shop will hold a spice week with Spice First and a summer-long spicy challenge with crispy chili oil brand La Lia.
"To celebrate the introduction of Oatly Soft Serve in Europe, we decided to open our first-ever pop-up ice cream store in the world in the heart of Amsterdam this summer," Christiaan van Doornik, General Manager, Oatly Benelux, tells VegNews. "With Oatly Soft Serve, we are setting new standards in the plant-based ice cream segment by delivering the delicious taste and creamy texture you'd expect in a soft serve, but now without a drop of cow's milk."
"The pop-up shop allows us to put our Soft Serve to the test to drive trial in an area with high foot traffic and word of mouth," van Doornik says.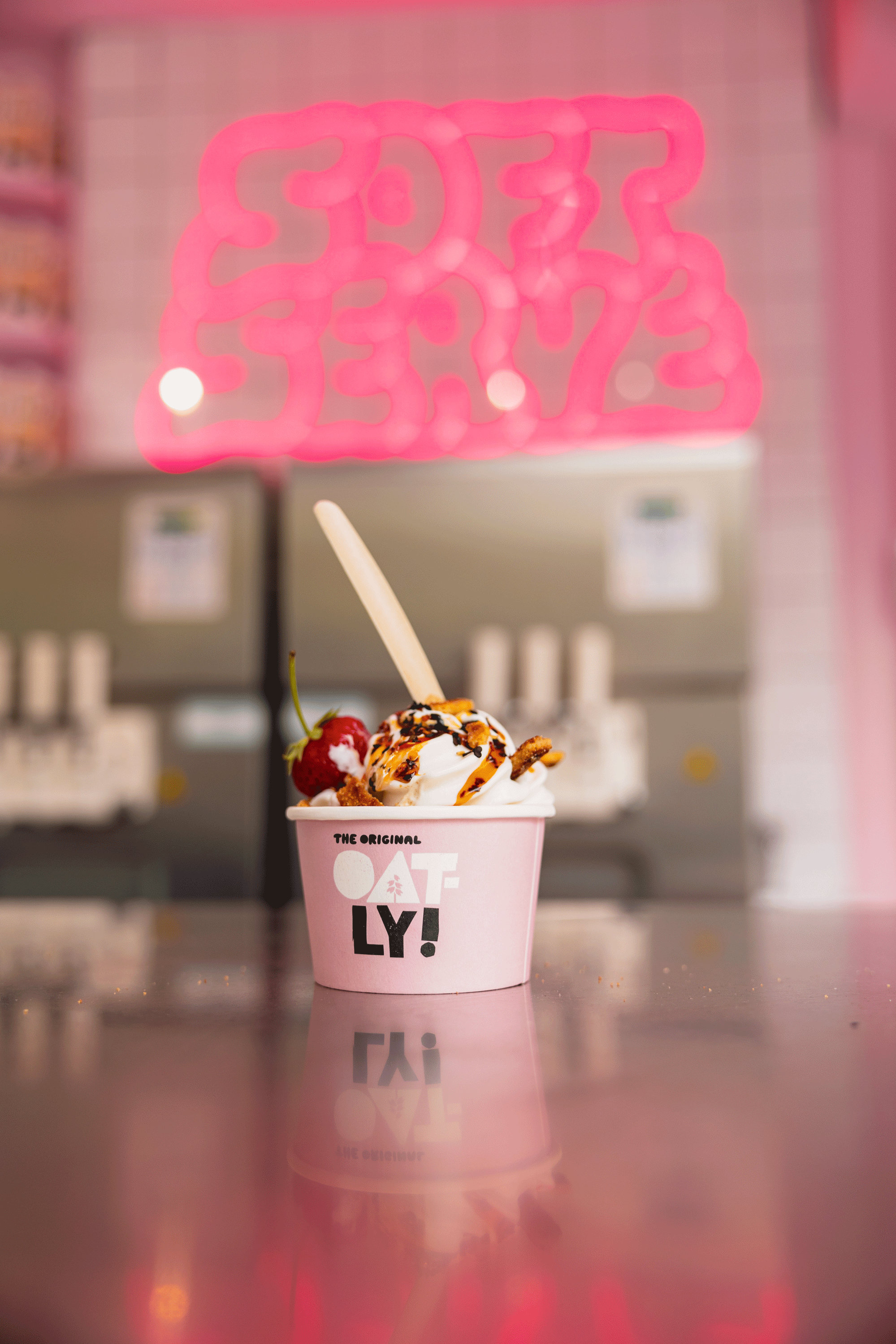 Oatly
Not in Amsterdam? Oatly is taking its oat soft serve on tour to bring it to as many people as possible this summer.
Oatly's soft serve goes on tour
Outside of the pop-up, Oatly's vegan soft-serve truck will also be making daytime and nighttime stops this summer across Sweden, Denmark, and the United Kingdom, with appearances at festivals such as Way Out West, O-Days, and Forwards Festival.
At night, the truck can be located by following a projected neon light. What's more? Oatly bumps up the sweet soft-serve experience with something a little more savory at night: French fries, which van Doornik says are perfect for dipping.
"Dipping fries in ice cream is the internet's favorite food hack," van Doornik says. "With the launch of Oatly Soft Serve in the UK, this felt like the perfect moment to do something a little different this year at our summer festival line-up and tap into the sweet and savory phenomenon that is soft serve and fries."
Also this summer, Oatly will take over 15 German subway stations with its vegan soft serve where DB lounge visitors can get a taste between August and September 10.
While Oatly makes a variety of vegan products, it chose to focus on its soft serve this summer to inspire more people to eat less dairy with a familiar treat.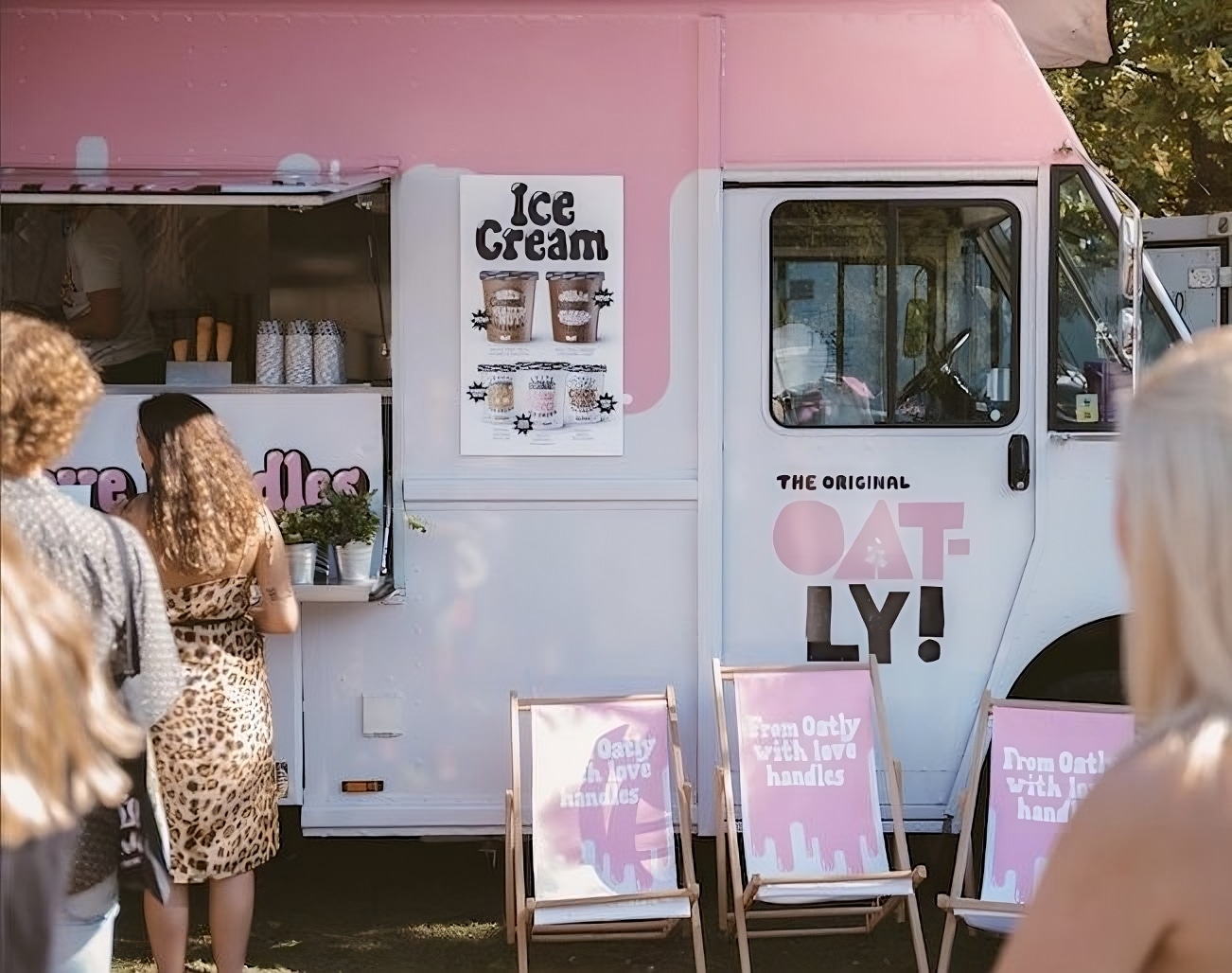 Oatly
"Our soft-serve offering, and accompanying European activations, continue our core mission: to make it easy for people to eat better and live healthier lives without recklessly taxing the planet's resources," van Doornik says.
Oat milk ice cream this summer
While the soft-serve pop-up tour is underway in Europe, Oatly has some summertime plans for its US fans, too. In May, the company announced its partnership with Minor League Baseball (MiLB) which brings its vegan ice cream bars in chocolate fudge and vanilla flavors to stadiums across North America, sampling events, and "Oatfield" activations at all 120 MiLB stadiums.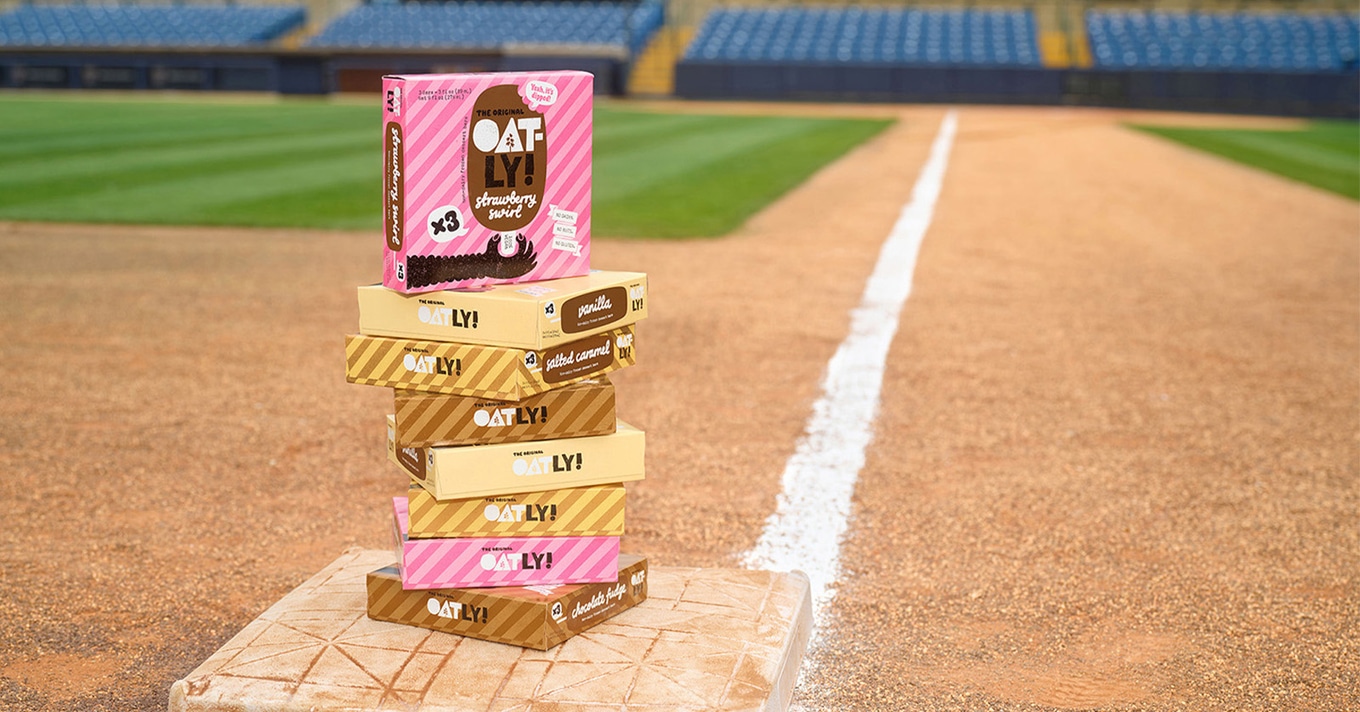 Oatly
This partnership follows Oatly's 2021 partnership with Major League Baseball ballparks, which put its soft serve at concessions at Yankee Stadium (New York City), Wrigley Field (Chicago), and Globe Life Field (Arlington, Texas). Later that year, Oatly's soft serve hit restaurants on the West Coast, including Northern California chain Gott's Roadside.
Oatly is also in an ongoing partnership with frozen yogurt chain 16 Handles which has previously experimented with a variety of vegan oat milk flavors such as Iced Latte, Cinnamon Bun, Chai Tea, and Marshmallow and S'mores. Currently, 16 Handles locations offer Vanilla and Chocolate Banana flavors of Oatly's world-famous vegan soft serve.
Outside of its frozen treats, Oatly recently debuted its vegan cream cheese in the US, starting with a limited launch this March in Philadelphia, home of legendary Olympic skater Tara Lipinski, its launch partner. In June, the oat milk-based cream cheese—which the company spent more than one year developing—began rolling out in Plain and Chive & Onion flavors at retailers nationwide.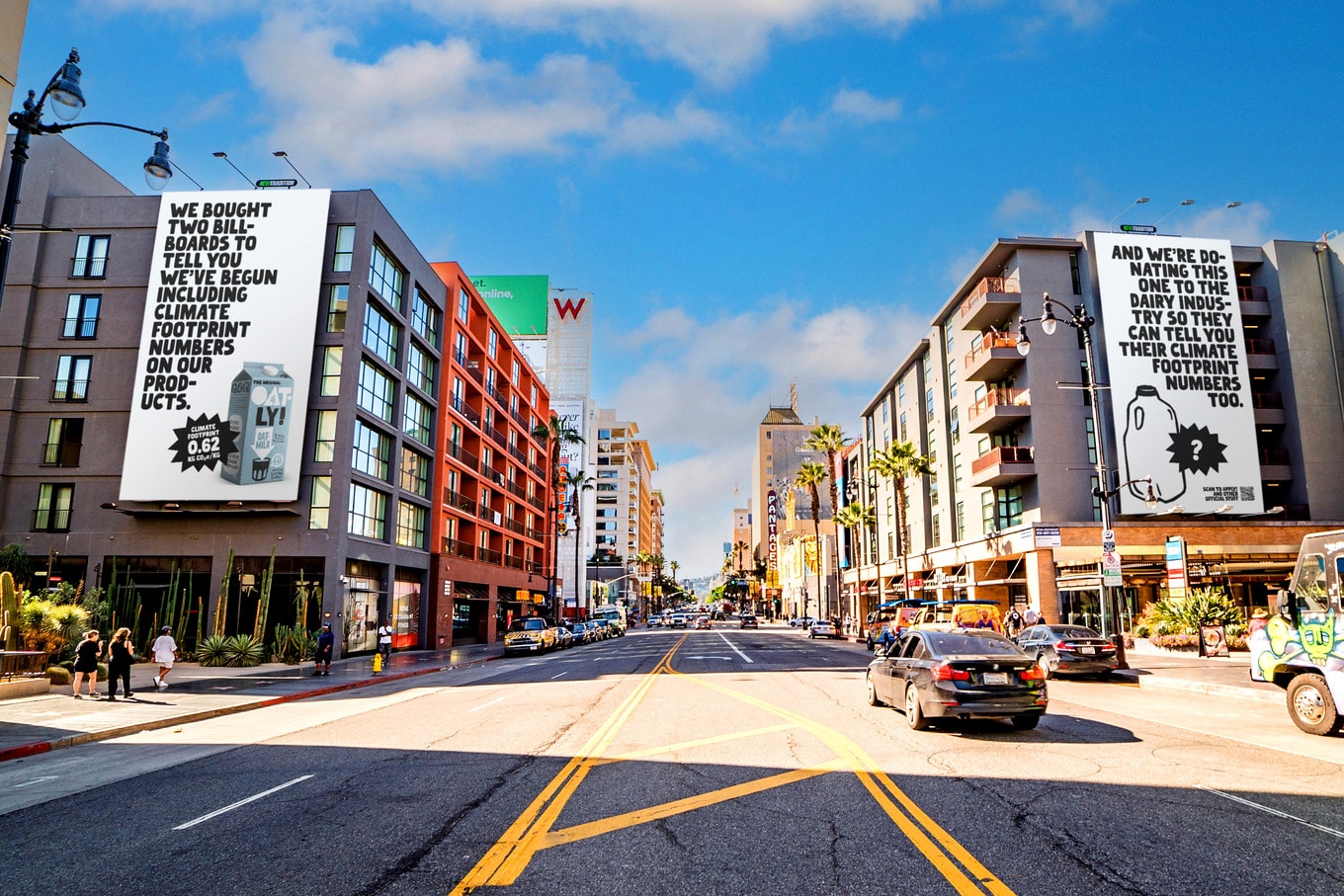 Oatly
Earlier this year, Oatly also unveiled its new packaging that prominently features climate impact right on the label. The company made the move in an effort to catalyze the food and beverage industry to display its carbon footprints to allow consumers to make sustainable choices.
And in May, on the heels of MilkPep's Wood Milk campaign with Aubrey Plaza—which mocked plant-based dairy products— Oatly took Big Dairy to task to reveal its own carbon footprint by taking out full-page ads in The New York Times, Los Angeles Times, and Washington Post and bought two adjacent billboards in Times Square and Hollywood Blvd.
For the latest vegan news, read: