July is National Picnic Month and to cap the celebration off right, fast-food chain Shake Shack is inviting consumers nationwide to sample its new plant-based menu offerings. Shake Shack opened its flagship location nearly 20 years ago in NYC's Madison Square Park, and this week, is rolling out its "Veg Out" picnic kits across select cities to pay homage to its park roots.
"Since the original Shake Shack opened in New York City's Madison Square Park in 2004, we've always looked for ways to stay true to our roots and make the most of green spaces all over the world with good food and good vibes," a Shake Shack spokesperson tells VegNews. "Many of our Shacks are located in and around parks with plenty of outdoor seating to emulate our original Shack."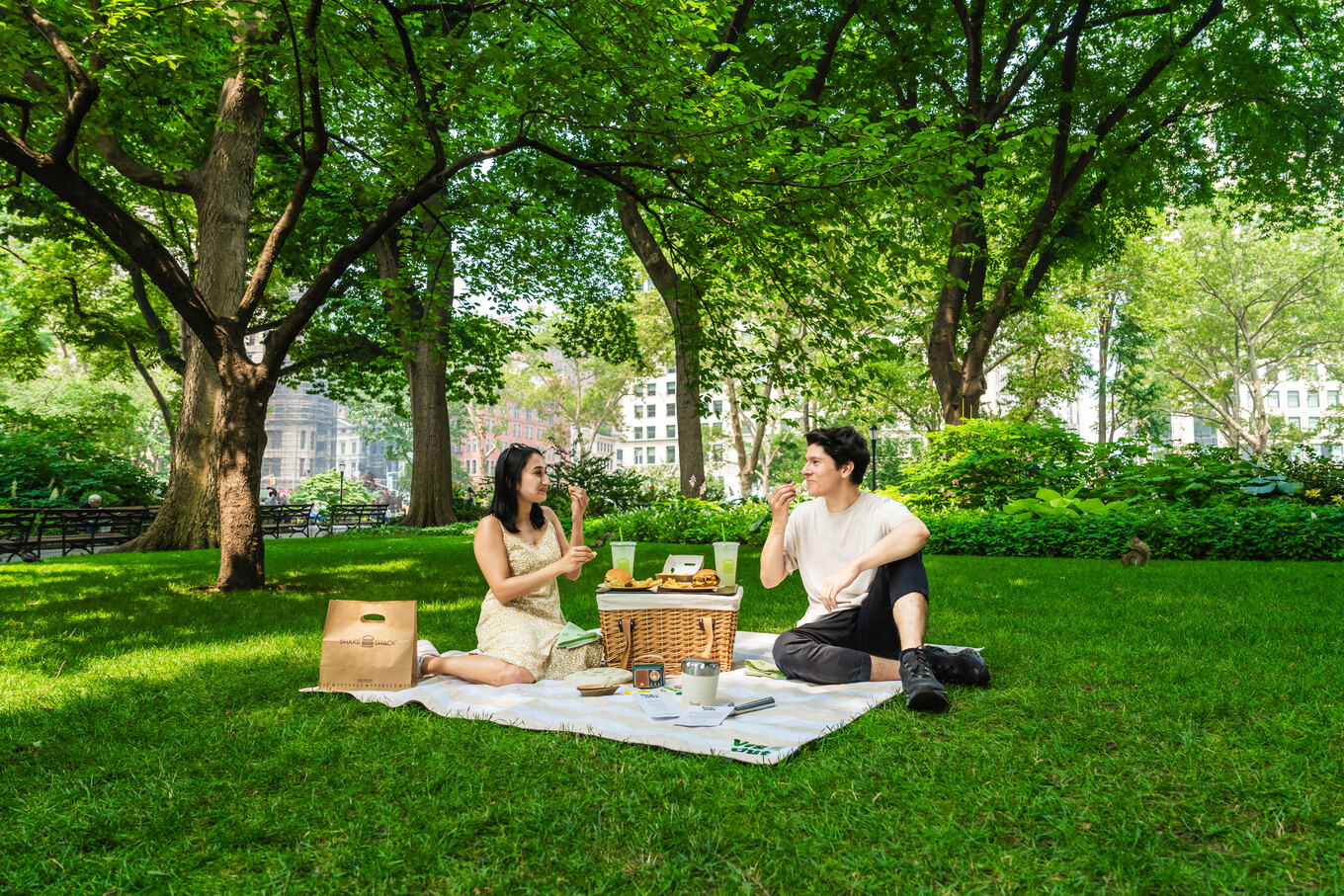 Yuxi Liu
Shake Shack has recently expanded its dairy-free milkshakes, custards, and Veggie Shack burgers to more than 260 locations nationwide. The new options were developed in-house, with the desserts made in partnership with the Chilean food-tech company The Not Company ("NotCo"), which uses an artificial intelligence-powered platform named Giuseppe to create plant-based versions of animal products.
This journey of embracing plant-based options has led Shake Shack to develop the "Veg Out" picnic kit, a limited-time offer designed for consumers to enjoy in the great outdoors.
Priced at $60 per kit, it comprises two Veggie Shacks, one pint of Non-Dairy Chocolate Frozen Custard made with NotMilk, two orders of crinkle cut fries, and two lemonades.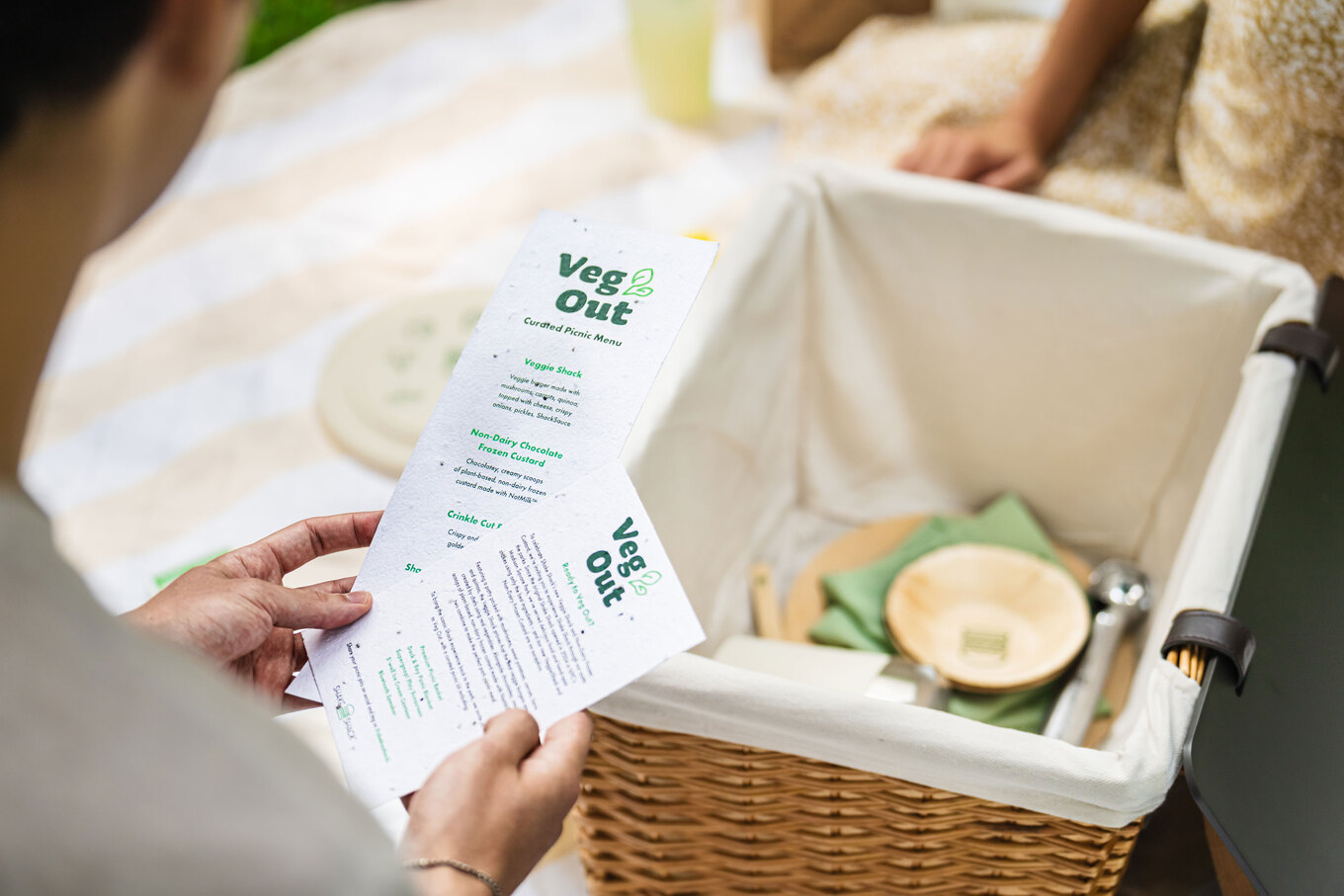 Yuxi Liu
The kits (valued at $250 each) also include picnic accessories, such as a Dock & Bay picnic blanket, Bluetooth speaker, a deck of playing cards, bamboo dishware, and utensils, among other items, all of which come packed in a premium picnic basket.
"We wanted the Veg Out picnic kit to bring Shack fans a next-level experience in an open-air setting," the spokesperson says. "We love how this idea brings forth our park roots and highlights our new plant-based menu items at the same time."
Shake Shack's plant-based picnic
The Veggie Shack, which forms the centerpiece of the "Veg Out" picnic kit, took five years to develop. The vegetable-forward patty is made from a blend of mushrooms, sweet potatoes, carrots, farro, and quinoa, and the burger comes topped with American cheese, crispy onions, pickles, and ShackSauce.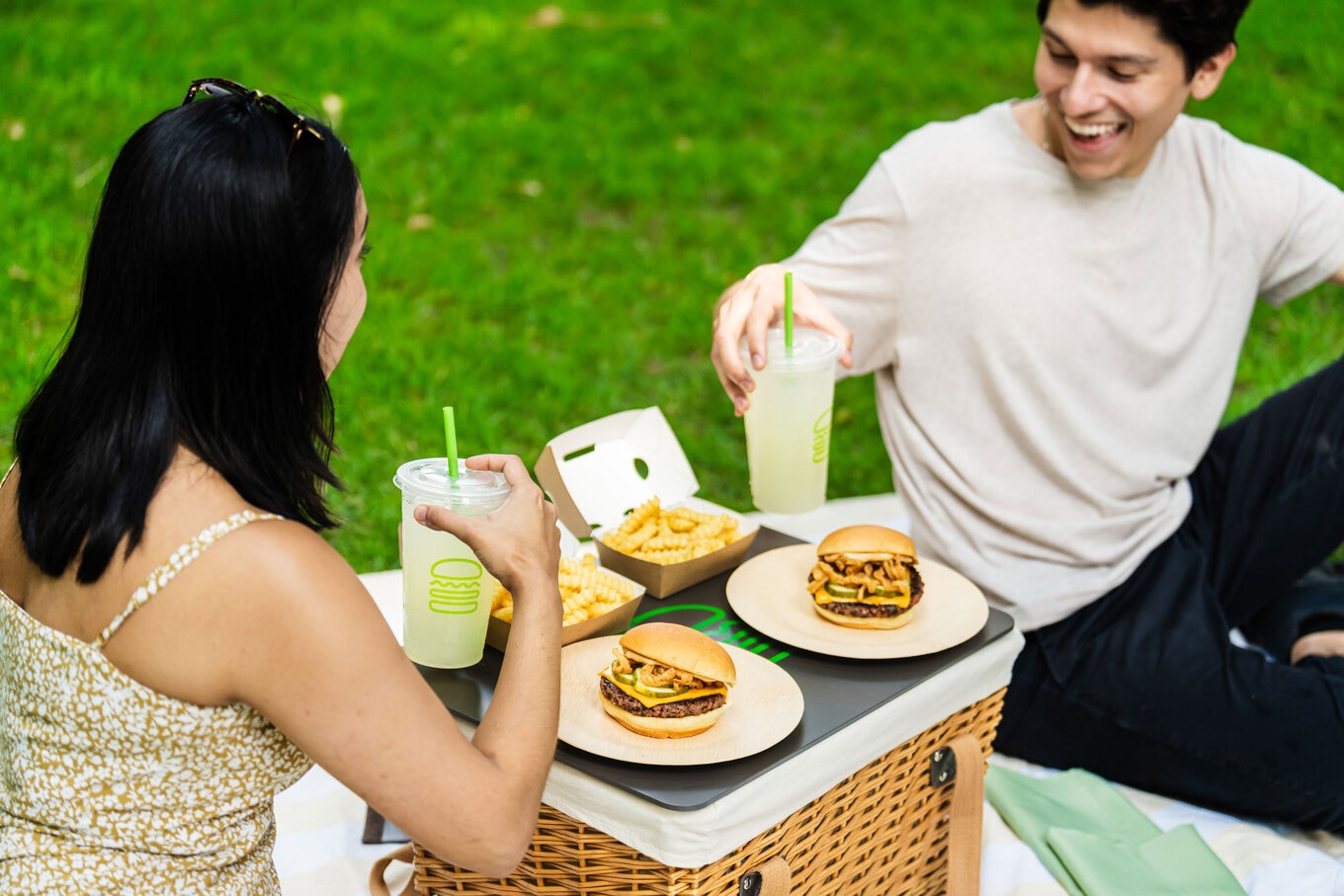 Yuxi Liu
While the Veggie Shack is not considered vegan-friendly because it contains animal-derived ingredients in the cheese, sauce, and bun, it aligns with the chain's desire to give consumers more meatless options.
"Our guests have been asking for more menu items, including plant-based options," the spokesperson says. "The new non-dairy shake, frozen custard, and Veggie Shack, which were created by our in-house chefs, are providing more options for them."
For the picnic kit, customers can alert a team member at pickup about any modifications. To order the Veggie Shack vegan, ask to hold the cheese, sauce, and crispy onions, and swap for a gluten-free bun (which is vegan).
How Shake Shack does vegan desserts
Also in the picnic kit are Shake Shack's first vegan desserts. The fast-food chain first unveiled its partnership with NotCo in May 2022 when it began testing the dairy-free milkshakes and frozen custards at 10 locations in New York and South Florida.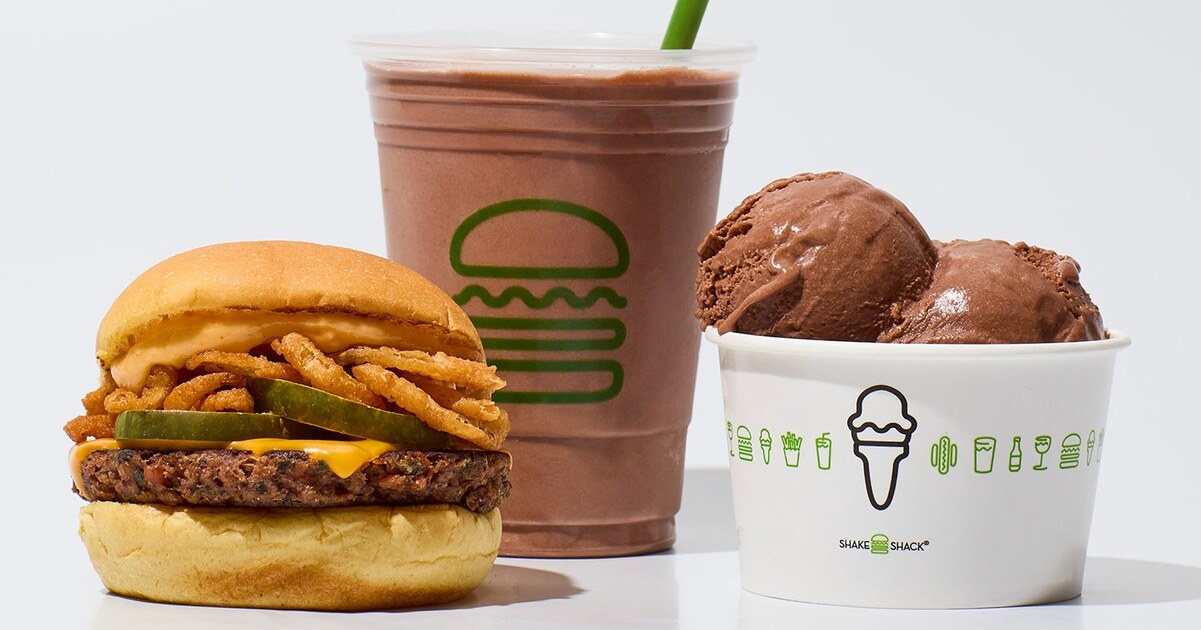 Shake Shack
These vegan desserts were met with enthusiasm from consumers, which landed them on the national menu, alongside the new Veggie Shack, in May.
"We're seeing a lot of buzz coming off the first few months of our nationwide launch," the spokesperson says. "We saw a really positive response from guests when we tested the items in just a few markets, so we knew we had to scale these items and bring to more guests across the country."
Founded in 2016, the Chilean vegan food-tech company has raised more than $1 billion in investment funding—elevating itself to the coveted "unicorn" status. In addition to Shake Shack, NotCo is partnered with other global giants such as Dunkin', Starbucks, Burger King, and Kraft Heinz, and helps all of them innovate plant-based offerings with its AI-driven approach.
NotCo's Shake Shack vegan dessert collaboration represents the first time the Chilean company's products have hit the US foodservice sector. And Shake Shack's investment in promoting it means that consumers nationwide can try NotCo's sweet treats.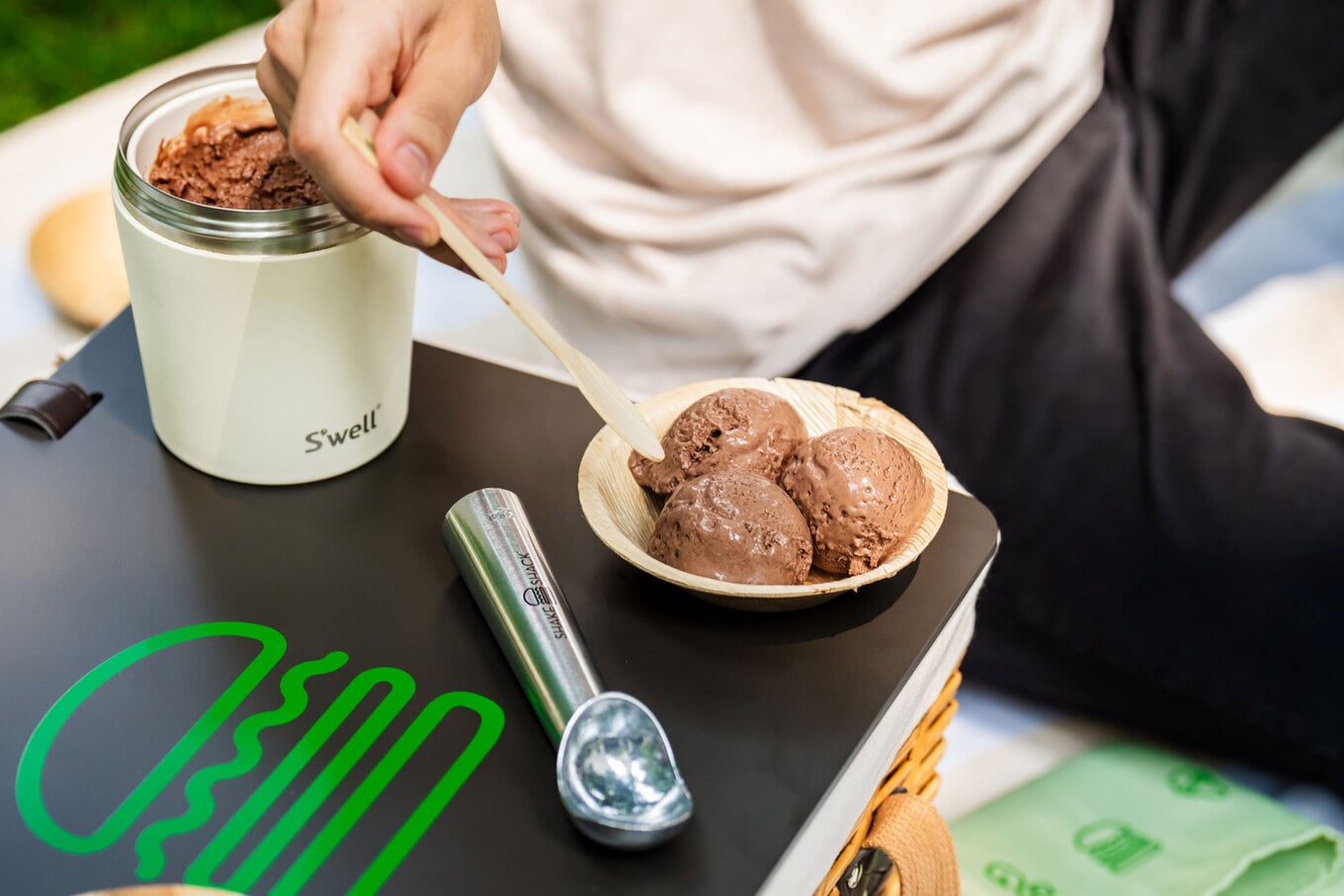 Yuxi Liu
The "Veg Out" picnic kits represent not only a celebration of National Picnic Month but also a testament to the exciting plant-based possibilities that the intersection of technology and culinary innovation can bring to the fast-food industry.
The picnic kits can be reserved this week and will be available for pickup on Saturday, July 29, or Sunday, July 30, at select Shake Shacks. The participating cities include New York, Atlanta, Chicago, St. Louis, Dallas, San Antonio, Denver, Los Angeles, San Francisco, and Washington, DC.
For the latest vegan news, read: