Washington, DC may be the epicenter of all things political in the United States but it is also becoming the capital of vegan brunch, with two businesses betting on fun new ways to attract food-lovers to the city.
This Saturday, DC Vegan is adding a new element to its multifaceted concept: a vegan American-Italian brunch that aims to draw in diverse crowds with an artisan cheese board, oysters mushroom Rockefeller, and fluffy lemon ricotta pancakes.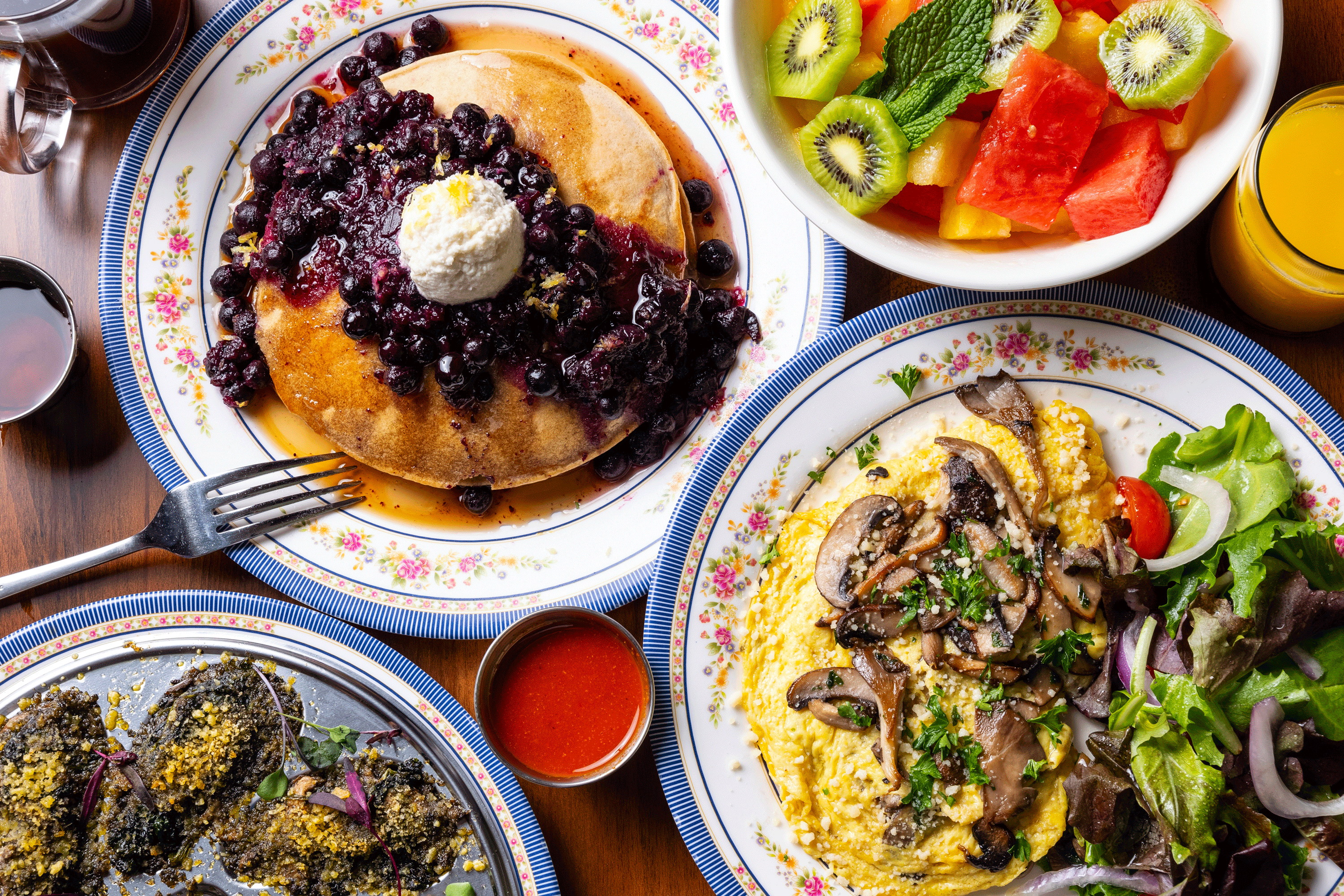 Scott Suchman
"DC is a brunch town, and we have always wanted to contribute delicious vegan offerings to this vibrant scene," DC Vegan co-founder Michael Jantz Moon tells VegNews. "We are so excited to show people how delicious and completely satisfying a vegan brunch can be."
Local mainstay Sticky Fingers Diner also just unveiled its Boardwalk Beach Club, a new speakeasy-meets-carnival concept that lures patrons into its back patio for creative eats, sips, and sweets.
The menus here are exciting and inspired, with an atmosphere to match. And the message is clear: Washington, DC is a clear destination for delicious brunch with the potential of changing the way the country thinks about food.
"Being steps away from the Capitol, and in a city that draws a socially conscious population, we're giving people a way to live up to their values while having a great time," Doron Petersan, founder of Sticky Fingers Diner and Bakery in Washington, DC, tells VegNews.
"And because DC pulls thought leaders and world-changers from all over the country and the planet, right down to our activist neighbors, we can be trendsetters by showing how easy it is to make an impact by where we choose to spend our money and the foods we choose to eat," Petersan says.
How DC Vegan does brunch
A year in the making, DC Vegan—the city's beloved vegan deli, cheese shop, bar, caterer, and more—has introduced an enticing brunch menu with an Italian-American flare.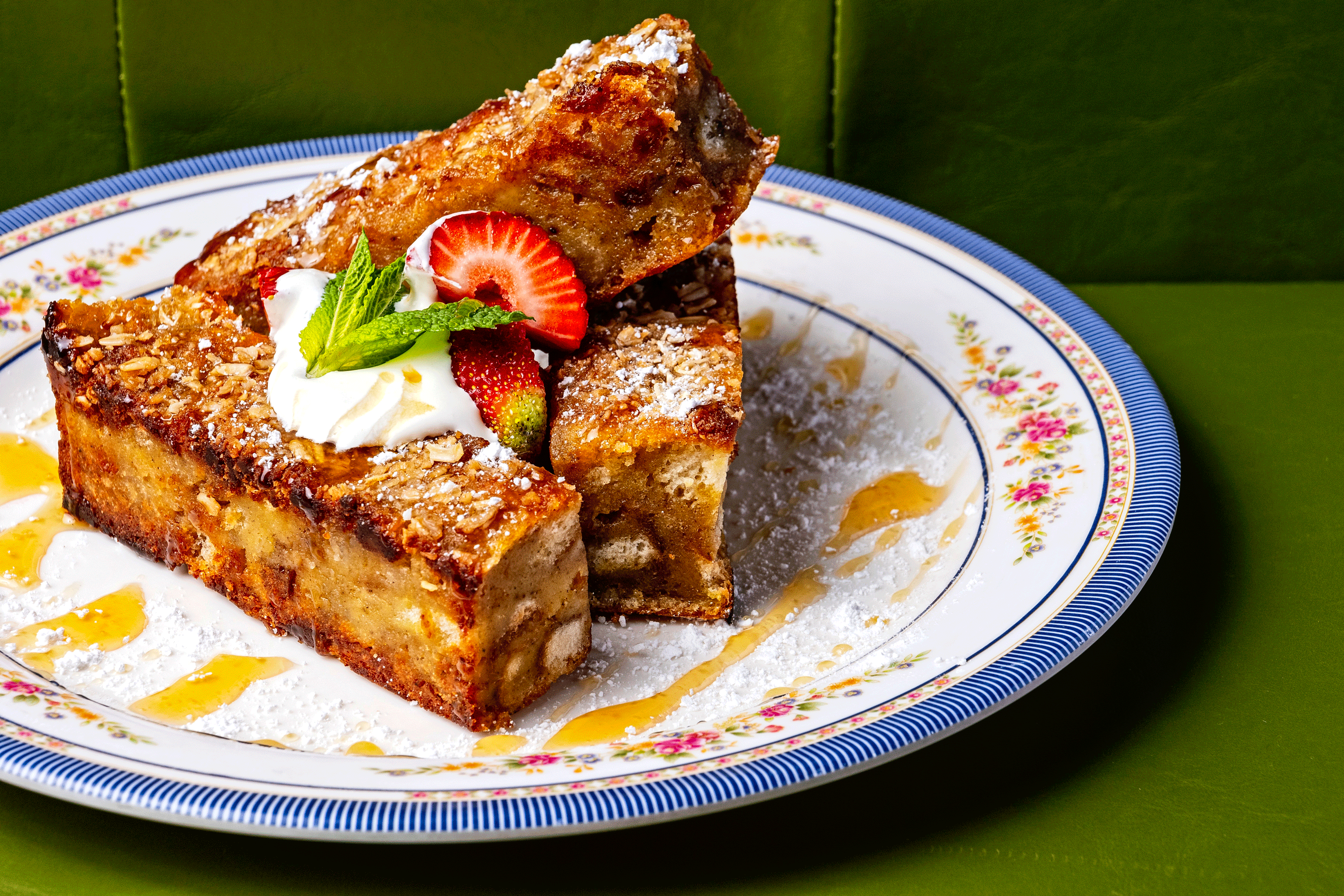 Scott Suchman
Chef Marquis Syphax, a brunch connoisseur, dug into the joy of having weekend brunch with friends in Manhattan to draw inspiration for dishes at DC Vegan. The must-haves? An artisan cheese board, sweet and savory French toast, and his favorite: oysters … but made vegan with mushrooms.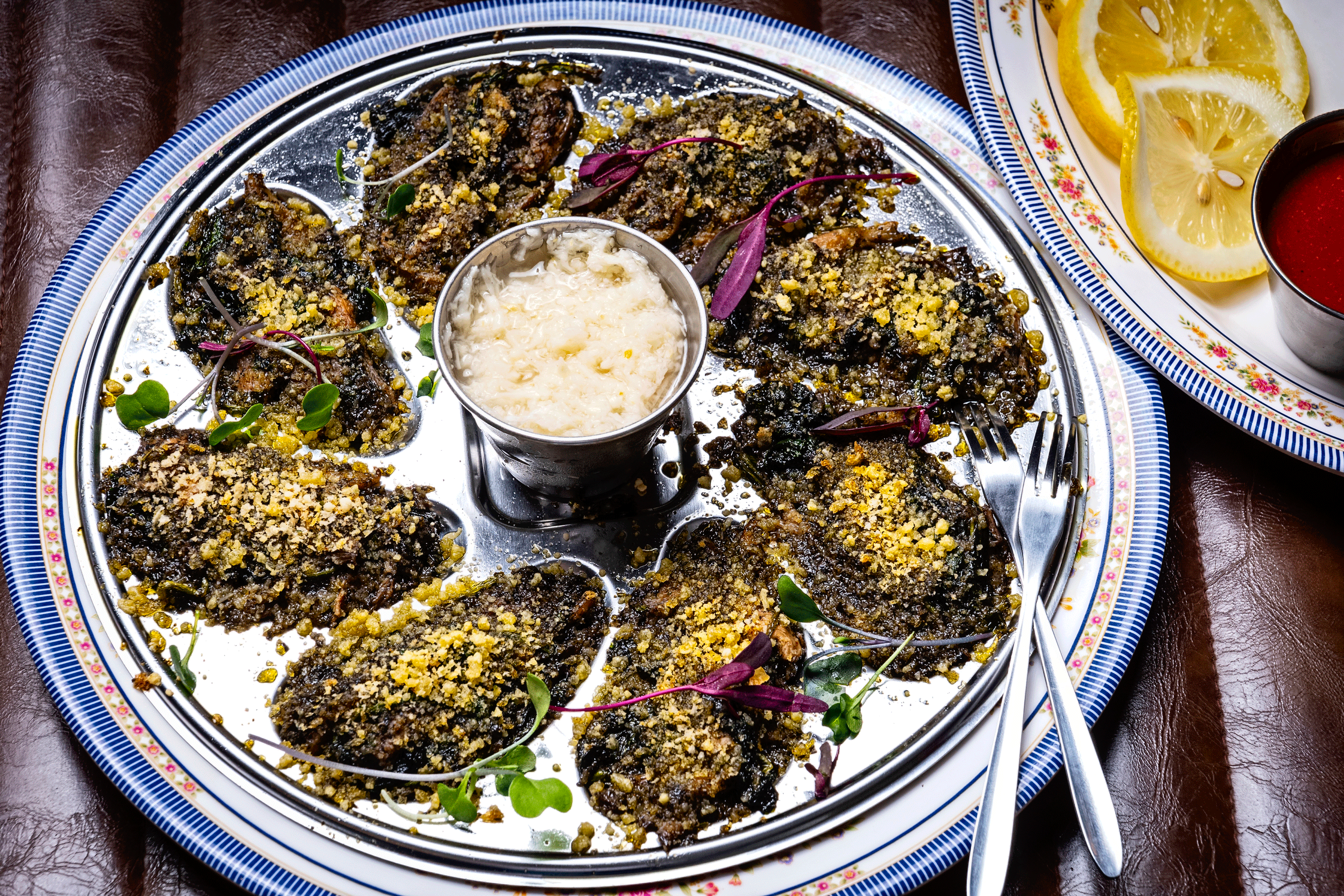 Scott Suchman
"I'm that die-hard about brunch that my friends and I would go to New Orleans and try out three or four different brunch spots to see who had the best oysters, so I know what goes into the process of making them look and taste great," Syphax tells VegNews.
Other dishes include decadent Sausage, Potato, and Cheese Frittatas; Wild Mushroom Truffle Omelets; Watermelon Gazpacho; and Valrhona Chocolate Bouino (a custard-like dessert).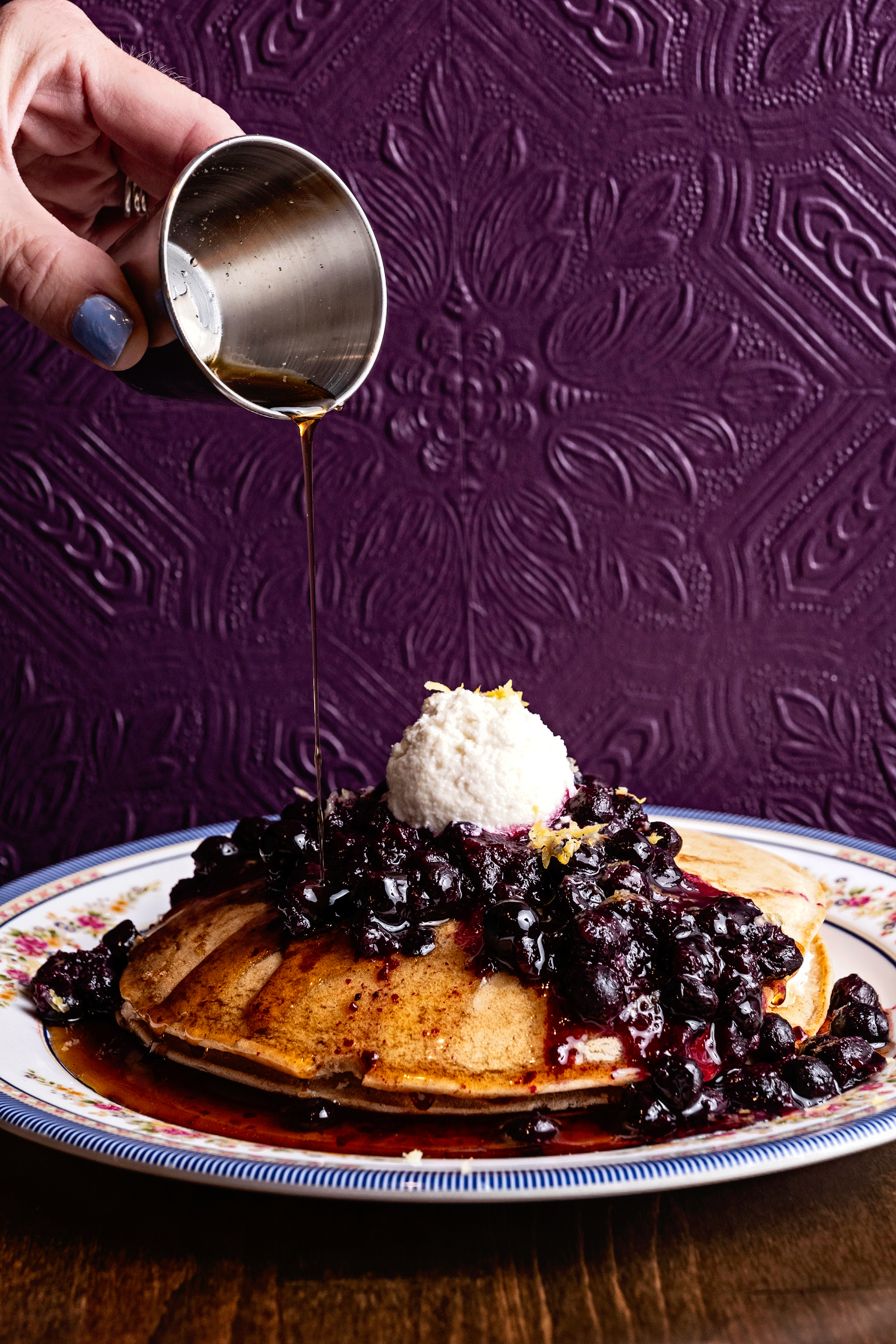 Scott Suchman
The pièce de résistance is a brunch staple that's hard to resist. "The last item I wanted us to recreate takes me right back to my childhood: lemon ricotta pancakes," the chef says. "Growing up, I would go to an amazing spot in New Jersey with one of my parents and have the ricotta pancakes."
"To recreate this dish years later here in DC is something I can really hang my hat on," Syphax says.
With the launch of brunch, DC Vegan founders, husband-wife duo Curran Moon and Jantz Moon, continue to redefine what is possible for plant-based fare inside of their three-story, 5,000-square-foot business.
"To our core, Michael and I believe there is no reason animals should ever be used for food—especially when there are so many delicious vegan options out there," Curran Moon tells VegNews. "Simply put, our food activism is for the animals and for underserved and underrepresented communities."
DC Vegan is also active in uplifting its community through the support of local organizations and schools. Ultimately, the founders hope that their compassionate message resonates with guests through the gastronomic experience they are crafting within the country's capital.
DC Vegan's brunch menu is served from 10am to 2pm at both the Botanical Bar—the first vegan bar in DC—and Parklet.
Secret Boardwalk Beach Club at Sticky Fingers
Meanwhile, a short hop away in DC's Atlas District, Sticky Fingers Diner just unveiled a concept that brings a bit of the New Jersey shore to the nation's capital. This establishment is helmed by Petersan, a two-time Cupcake Wars champ, who also owns bakery Sticky Fingers Sweets & Eats—a DC mainstay that has been churning out vegan treats for more than 20 years.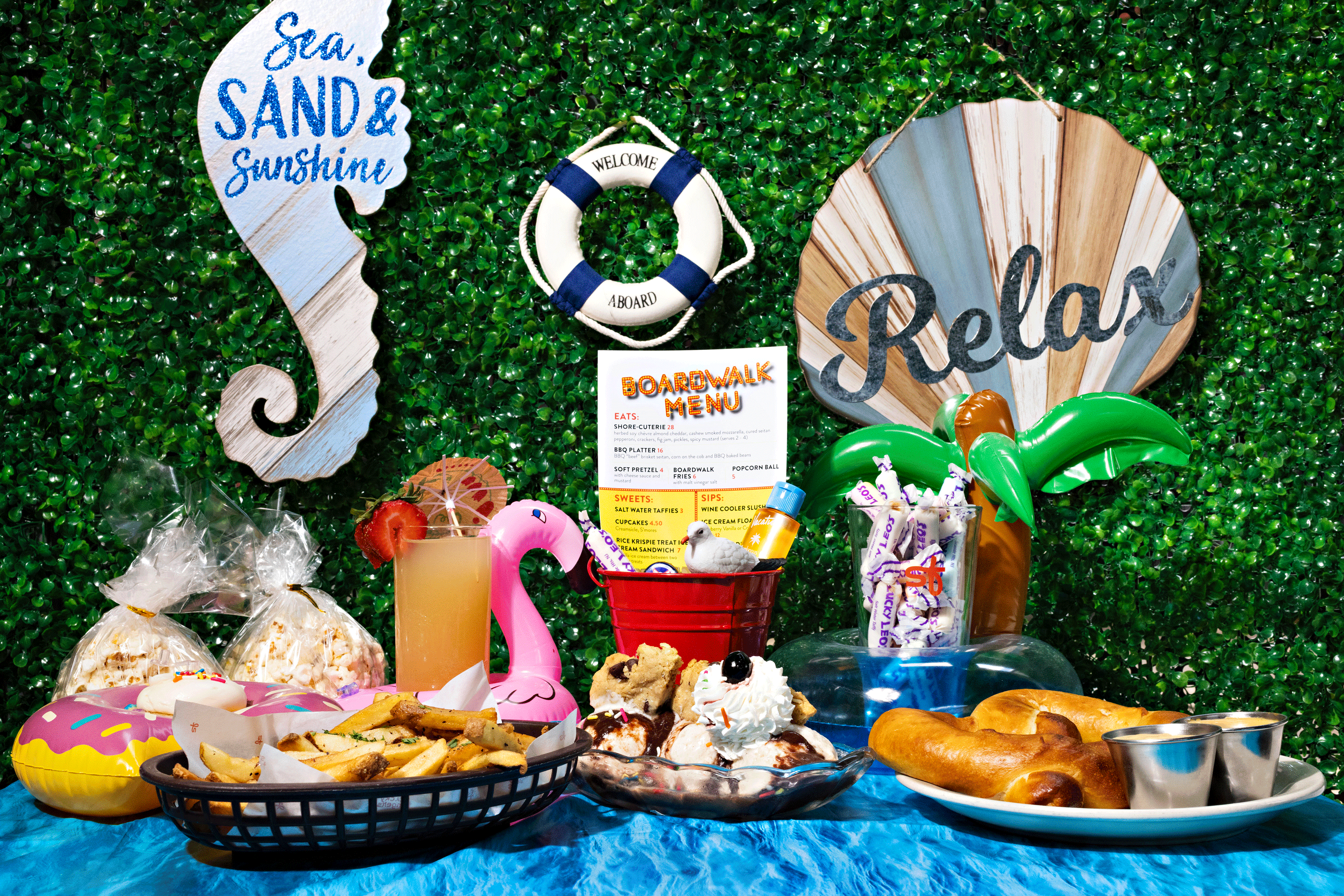 Deb Lindsey
The new Boardwalk Beach Club offers patrons a way to enjoy Peterson's culinary creations in the atmosphere of a hidden patio bar that marries the nostalgic essence of an ocean boardwalk in a setting that is simultaneously contemporary and cozy.
"I wanted to bring that fun energy to our guests in DC," Petersan, who grew up going to the boardwalk as a child, says.
"It can be pretty sweltering here in the summer and I wanted people to be able to feel the ocean breezes, enjoy ice cream floats and boardwalk food without having to sit in traffic on the Bay Bridge or I-95," she says.
The Jersey Shore boardwalk-inspired decor includes beach balls, beach pails filled with sand, and even baby oil, providing an authentic seaside feel.
On the menu, customers can find a variety of snacks including crispy boardwalk fries, sweet popcorn balls, soft housemade pretzels, and classic salt water taffy.
A highlight is the "shore-cuterie" platter, all made in-house by Petersan, which features a variety of herbed soy chèvre almond cheddar, cashew smoked mozzarella, cured seitan, pepperoni, crackers, fig jam, and pickles.
For heftier summer fare, the BBQ platter is anchored by a seitan-based brisket served alongside corn on the cob and barbecued beans.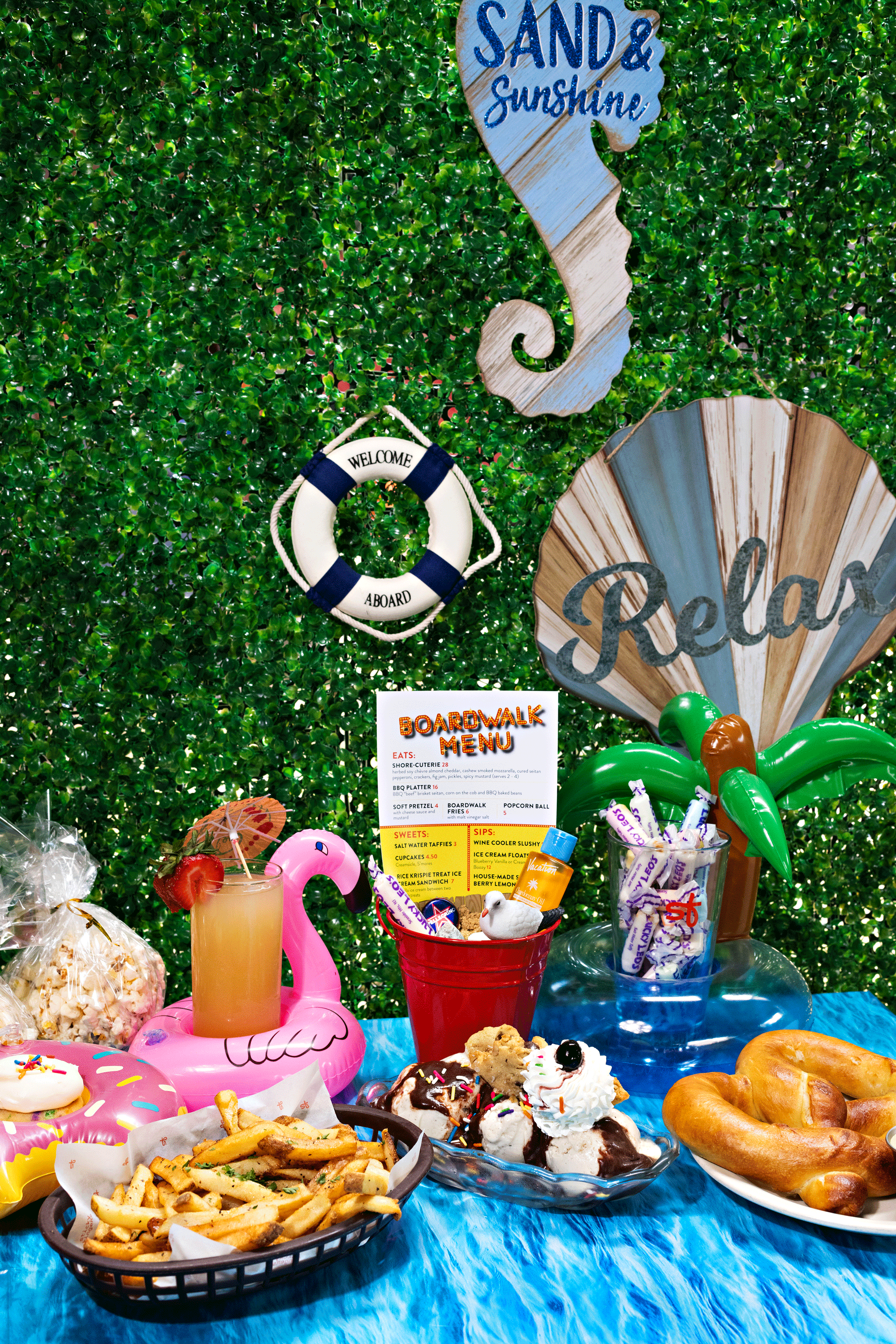 Deb Lindsey
The bar offers a diverse range of beverages, such as wine cooler slushies, boozy shakes, and a special housemade strawberry lemonade, along with drinks from the Sticky Fingers bar.
With the new concept, Petersan wants to advance her mission of creating an enjoyable and inclusive space for patrons while encouraging them to explore plant-based food options.
"Being a neighborhood hotspot in an extremely diverse area in an extremely racially and economically diverse city, making sure our offerings are plentiful and affordable is so important," Petersan says. "We want everyone to see this as a viable and appealing option, not just a niche way of eating."
Together with DC Vegan's new brunch, this concept helps solidify the city as a destination for vegan food. Petersan notes that the availability of plant-based food is spreading all over the country, including to the very nostalgic place that inspired the Boardwalk Beach Club.
"​​Last year we took a trip to the beach and went to one of the Jersey Shore Boardwalk towns, and every single ice cream shop had a vegan option which is so great," Petersan says. "We hope to see a day when vegan options are the majority, not just the alternative."