Whether your holiday plans involve staying dry or getting twisted, everyone deserves to raise a glass to celebrate the season. Inspired by the back-to-back holidays and the cozy winter season, these festive vegan beverages will warm your soul and delight your taste buds. All of the recipes can be modified to suit the party mood—spike the mocktails with your favorite vegan libation, or soften up the cocktails by using zero-proof spirits such as Seedlip, Spirits of Virtue, or Curious Elixirs. Put a bar cart on your wish list—you'll want to make these beverages all season long.
Are cocktails vegan?
One would assume alcohol in general would be vegan, but it's not always so clear-cut. The plant-based nature depends on two things: the brand and the individual. Some wine, beer, and spirits use animal-based fining agents such as egg whites, bone char, and milk and fish derivatives, among others. The fining process is similar to that of granulated white sugar; while animal ingredients are used to process the final product, these ingredients do not end up in the food (bone char is a common element in refining granulated sugar … not so fun fact).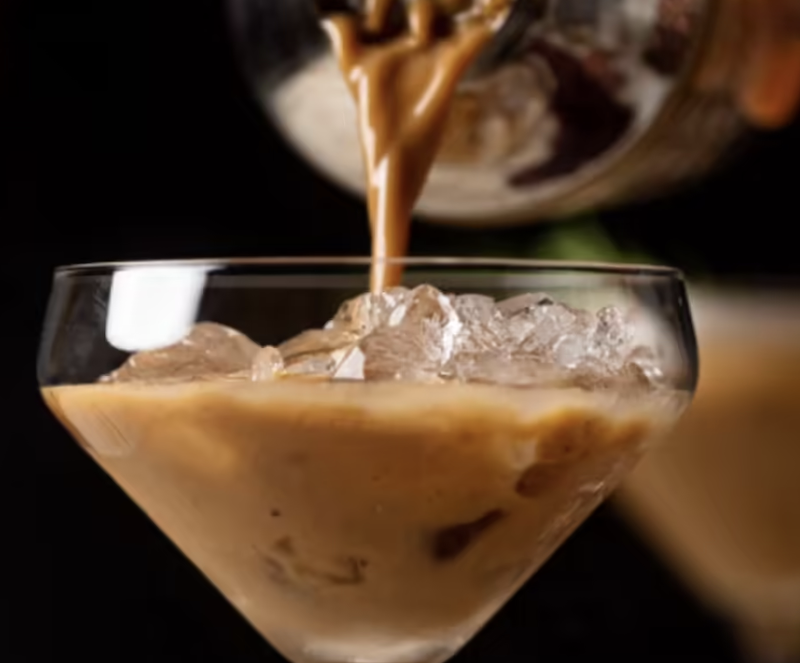 Shanika Graham-White
For some vegans, any use of animal product regardless of whether it ends up in their meal is prohibitive. Others are slightly more relaxed on this topic. It's up to you whether to enjoy a spirit that was fined with animal ingredients, but if you want to ensure your alcohol is animal-free, visit our wine and beer guides or check barnivore.com.
Beyond the alcohol itself, cocktails present another checkpoint, as some recipes may include animal ingredients such as honey, egg whites, cream, Worcester sauce, and clam juice. Fortunately, cocktail menus list out ingredients, making it easy to spot the vegan options.
The cocktails and mocktails listed below are all free of animal ingredients, and they'll definitely put you in a festive mood. Sláinte!
7 vegan holiday cocktails
Sometimes, hot cocoa and eggnog alone aren't enough to make an evening merry and bright. These seven vegan cocktails are delightfully sippable and range from just a bit of buzz to one-and-done.
Cocktails
1 Hanukkah Gelt Martini
This chocolaty spin on a classic cocktail can take your dreidel game to a whole new level. Be warned—this decadent drink is as strong as it is rich, so leave it for the adult games.
What You Need:
1½ ounces chocolate liqueur, plus extra for garnish
Cacao powder, for dusting
1 ounce Goldschlager
1 ounce Bailey's Almande
1 ounce vegan creamer
What You Do:
Rim a martini glass with extra chocolate liqueur followed by a dusting of cacao powder. In a shaker, add all ingredients and combine, then pour mixture into glass.
2 Tangerine Cream
An ode to stuffing stocking with oranges, this creamsicle-like cocktail is better than any citrus you'll pull out of a sock.
What You Need:
1 ounce orange vodka
2 ounces Vanilla Schnapps
5 ounces tangerine Italian soda
¼ cup ice
Coconut whipped cream, to garnish
Shaved vegan chocolate, to garnish
What You Do:
In a shaker, add vodka, schnapps, and Italian soda and shake to combine. In a tall glass, add ice and pour vodka mixture over ice. Top with coconut whipped cream and shaved vegan chocolate.
3 Golden Sufganiyot
It's a doughnut you can drink! Though it's inspired by the traditional jelly-filled Jewish doughnut, we wouldn't recommend this spiked beverage for breakfast. Save it for the evening celebration.
What You Need:
1½ ounces 360 Glazed Donut Vodka
1 ounce Slivovitz Golden Aged Brandy
3 ounces mixed berry juice
Aquafaba foam mixed with a drop of vanilla extract
What You Do:
Into a Nick and Nora glass add vodka, brandy, and juice, then top with a dollop of aquafaba foam.
4 Black Velvet Mazao
For the beer-based cocktail connoisseur, you can't go wrong with an expertly prepared Black Velvet. Skip the ordinary champagne and serve this bubbly beverage at your New Year's Eve get-together.
What You Need:
3 ounces deep-flavored fruited beer, such as Goose Island Parka Porter or Southern Tier Plum Stout
4 ounces Asti Spumante, or other vegan sweet sparkling wine
What You Do:
Into a flute, add beer and then pour sparkling wine on top.
5 Home Traveler
Instead of spiking your vegan PSL, try this homemade cocktail to warm up to the holiday spirit.
What You Need:
1½ ounces bourbon
1 ounce Aperol
2 ounces pumpkin-spiced apple cider
¼ ounce lemon juice
2 dashes ginger bitters
2 dashes chocolate bitters
Cinnamon stick and orange slices, to garnish
What You Do:
In a shaker, add bourbon, aperol, cider, lemon juice, and bitters, stir in ice, and serve in a rocks glass garnished with cinnamon stick and orange slices.
6 Christmas Golden Ivy
A seasonal variation of the Golden Ivy, this red- and green-hued libation offers a Christmas (and Kwanza) twist to the standard cranberry drink.
What You Need:
1½ ounces Courvoisier
1 ounce Manischewitz Red Wine
½ ounce Green Chartreuse
1 ounce cranberry juice
¼ cup ice
Sprig of rosemary, to garnish
What You Do:
In a shaker, add Courvoisier, wine, Chartreuse, and juice and shake. Add ice, shake gently, and strain into a coupe glass. Garnish with a sprig of rosemary.
7 Rockefeller Center
Shake up the traditional Manhattan—this seasonal spin will warm you right up after an evening spent out on the ice of Rockefeller Center.
What You Need:
1 ounce Monkey Shoulder (or other low to no peat scotch)
1½ ounces Pedro Ximenez Sherry
¼ cup ice
3 ounces citrus Hard Seltzer, such as Truly Lime or Willie's Superbews
Ginger Lemon
Candy canes, to garnish
What You Do:
In a glass, add scotch, sherry, and ice, and stir. Into a martini glass, strain mixture and garnish with a candy cane.
Mocktails
It seems as if mocktails are forever on the rise—and not just with the kiddos. While the booze is absent, you'll still feel a sense of jolly with these festive non-alcoholic beverages.
1 Pumpkin Juice
Mix up this kid-friendly drink inspired by the wizarding world. Note: if you can't find pumpkin juice, strain pumpkin purée through a nut milk bag.
What You Need:
1¼ ounces apple cider
1¼ ounces pumpkin juice
½ ounce lemon juice
¼ cup ice
4 ounces ginger beer
Cinnamon stick and orange wedge, to garnish
What You Do:
In a shaker, add cider and juices, and shake. In a tall glass, add ice and pour over cider mixture. Add ginger beer and garnish with a cinnamon stick and an orange wedge.
2 Kombucha Carrot Cake
Unlike other holiday beverages, this fizzy drink will make you feel amazing the morning after.
What You Need:
3 ounces carrot juice
2 ounces orange juice
⅛ teaspoon Ceylon cinnamon
⅛ teaspoon ginger powder
¼ cup ice
3 ounces GT's "Living In Gratitude" Kombucha
What You Do:
In a shaker, add juices, cinnamon, ginger powder, and ice, and shake. Into a tall glass, pour juice mixture. Add kombucha on top.
3 Pamplette
A play on the classic cocktail of the same name, this layered drink isn't too sweet despite all the fruity ingredients. Kids and adults alike will love the mild effervescence and fun colors of this trendy mocktail.
What You Need:
2 ounces organic grapefruit juice
4 ounces Izze pomegranate soda
2 ounces lavender shrub, try Bauman's Lavender Tangerine
Burnt lemon peel, to garnish
What You Do:
Into a coupe champagne glass, pour juice, soda, and lavender shrub. Garnish with burnt lemon peel.
4
Winter Pear and Elderberry Relaxer
We've heard winter pears and elderberries are staples up at the North Pole! Find elderberry syrup down south in natural food and alternative medicine stores.
What You Need:
1 teaspoon elderberry syrup
2 ounces pear juice
2 ounces ginger lemon tea
Martinelli's sparkling apple cider, to float
Pear slices, to garnish
What You Do:
Into a glass, add syrup, juice, and tea, and stir well. Top with the desired amount of cider and garnish with pear slices.
5Festivus for the Rest of Us
If you dream of drinking cranberry sauce, this will be your new favorite mocktail.
What You Need:
2 leaves of rosemary, plus a sprig for garnish
3 ounces cranberry juice
½ ounce simple syrup
¼ cup ice
2 ounces soda water
What You Do:
In a glass, add rosemary leaves, cranberry juice, and syrup and muddle. Add ice and gently shake. Into a coupe glass, strain mixture, top with soda water, and garnish with more rosemary.
6 Oatmeal Coffee Cake
Enjoy this coffee cake beverage hot or cold, but certainly alongside vegan biscotti—or actual coffee cake.
What You Need:
4 ounces coffee, caffeinated or decaf
2 ounces oat milk
4 drops mocha bitters
2 ounces Oat Yeah Oatmeal Cookie Creamer, steamed or frothed in a blender
What You Do:
In a small bowl, whisk together all ingredients, then pour into a mug. Pop mug into microwave for 1 minute for a hot drink. For a cold drink, refrigerate coffee before use.
Suzannah Gerber (Chef Suzi), Plant-Based Chef, cookbook authors, and executive chef of Haven Foods, is a food and medical industry consultant, and the author of Plant-Based Gourmet.
For more vegan cocktails, read: