When you're craving a takeout, it's hard to beat Chinese cuisine. A big, steaming pile of fried rice is essentially foodie bliss. But you don't have to splash out on restaurant prices to enjoy this comforting dish. If you're tightening the purse strings at the moment, here's how you can learn to make vegan fried rice yourself at home. It's so delicious, it'll be easier than ever to put down the takeout menu, pick up the wok, and get cooking.
Where did fried rice originate?
Fried rice usually consists of a mix of rice, vegetables, eggs, and, sometimes, meat and seafood products, like chicken and shrimp. It was initially invented in China, likely in the eastern Jiangsu province, as a way to use up old ingredients, avoid waste, and save money.
Now, fried rice is eaten across Asia, in countries like Thailand, Japan, and Korea, but it's also adored in the West, where it's usually ordered from Chinese restaurants. In the US, there are currently around 50,000 Chinese restaurants in operation.
Because fried rice is often made with eggs and meat, it's not always vegan. But that said, it is possible to find vegan versions (you can find our top picks for vegan Chinese restaurants in the US here!), or you can whip up your own at home.
How to make vegan fried rice
There are a few things you need to bear in mind when you're preparing to make vegan fried rice. First, ideally, you'll need a large skillet or a wok. The latter is traditionally used in Chinese cooking for stir-frying, but with either option, you'll need to stir quickly, keeping the rice moving at all times to stop it from burning due to the high heat.
Another important tip for making delicious vegan fried rice is to always use cold, pre-cooked rice. When rice has been freshly cooked, it's moist and sticky, which makes that delicious takeout-style fried rice texture harder to achieve. "Having some leftover rice on hand is a double win," notes recipe blog Connoisseurus Veg. "Because fried rice is always best when it's made with rice that's a couple of days old."
For more guidance on the best ways to make vegan fried rice, check out the recipes below.
7 vegan fried recipes to try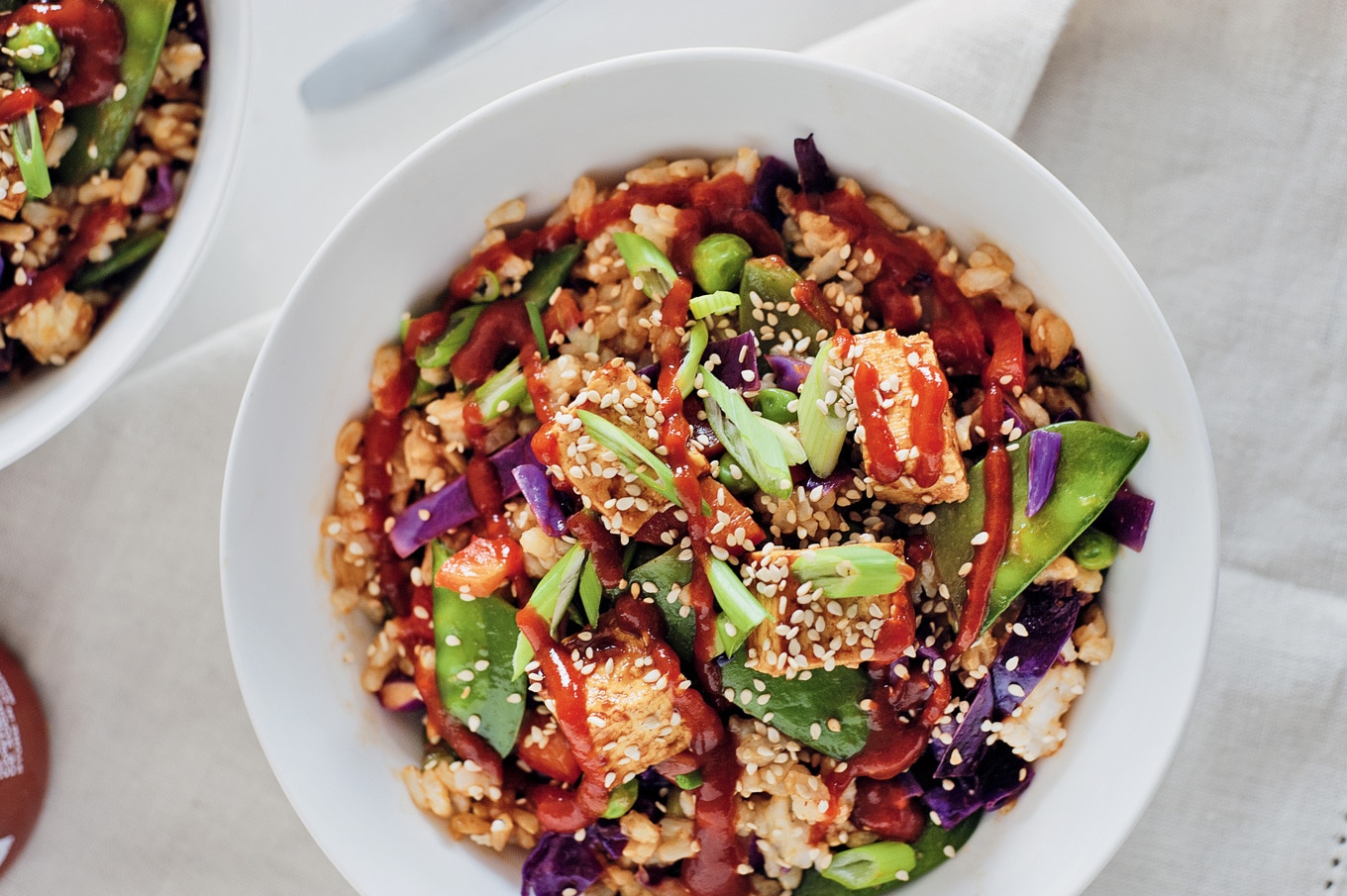 Alsion Bickel
1 Fried Rice Bowl With Baked Tofu
Add some extra protein and flavor to your fried rice by throwing in some marinated and baked tofu. This tasty, flavorful recipe is guaranteed to please everyone in the family—yup, even the picky eaters.
Get the recipe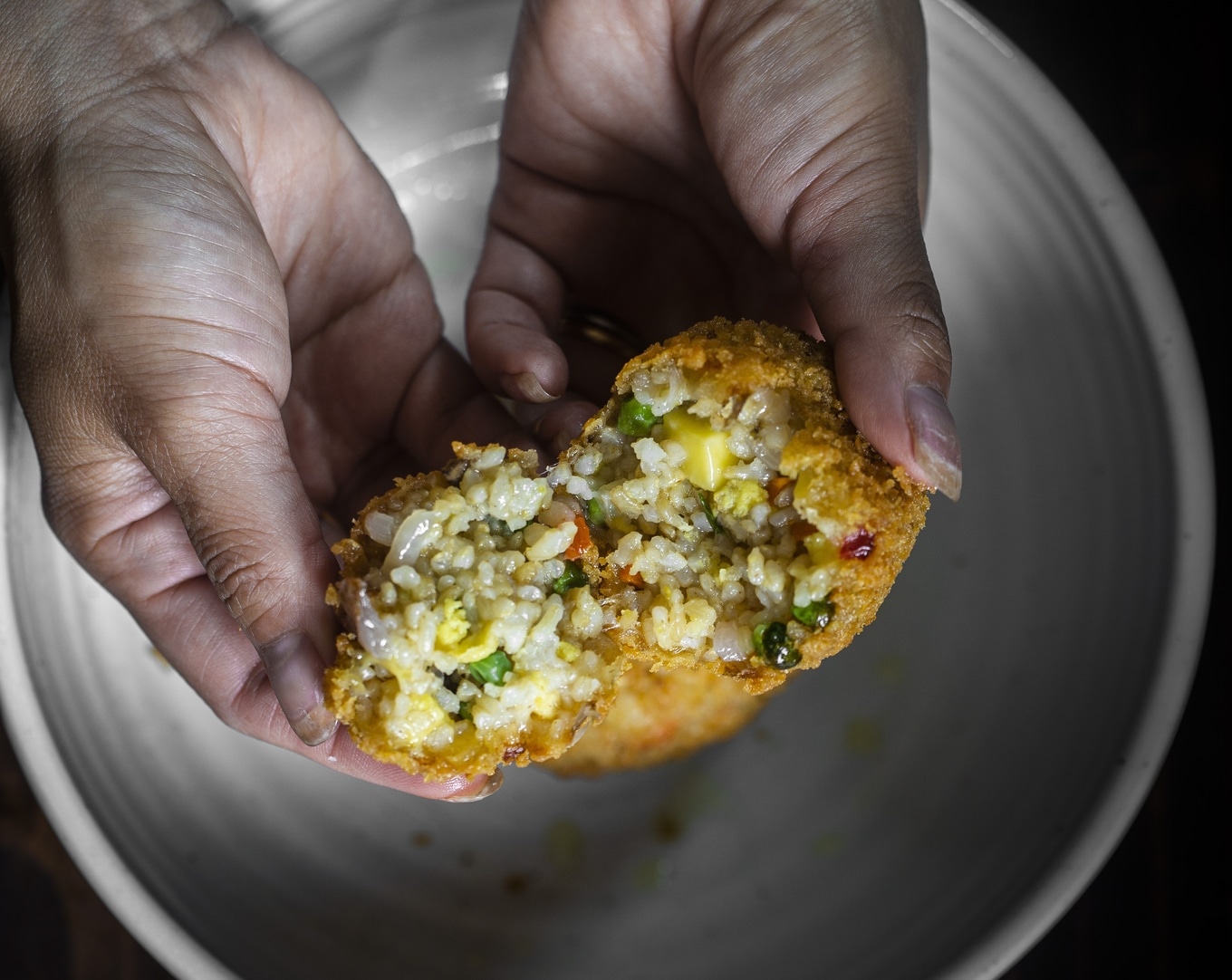 Joanne Molinaro
2 Korean-Style Suppli (Fried Rice Balls)
There are many ways to enjoy fried rice, but one of the best is in bite-sized, crispy ball form. This recipe is actually Roman, but it has been veganized by Joanne Molinaro of The Korean Vegan, who added chopped vegan gyerranmari (a salty, cheesy, egg-free omelet) to the recipe.
Get the recipe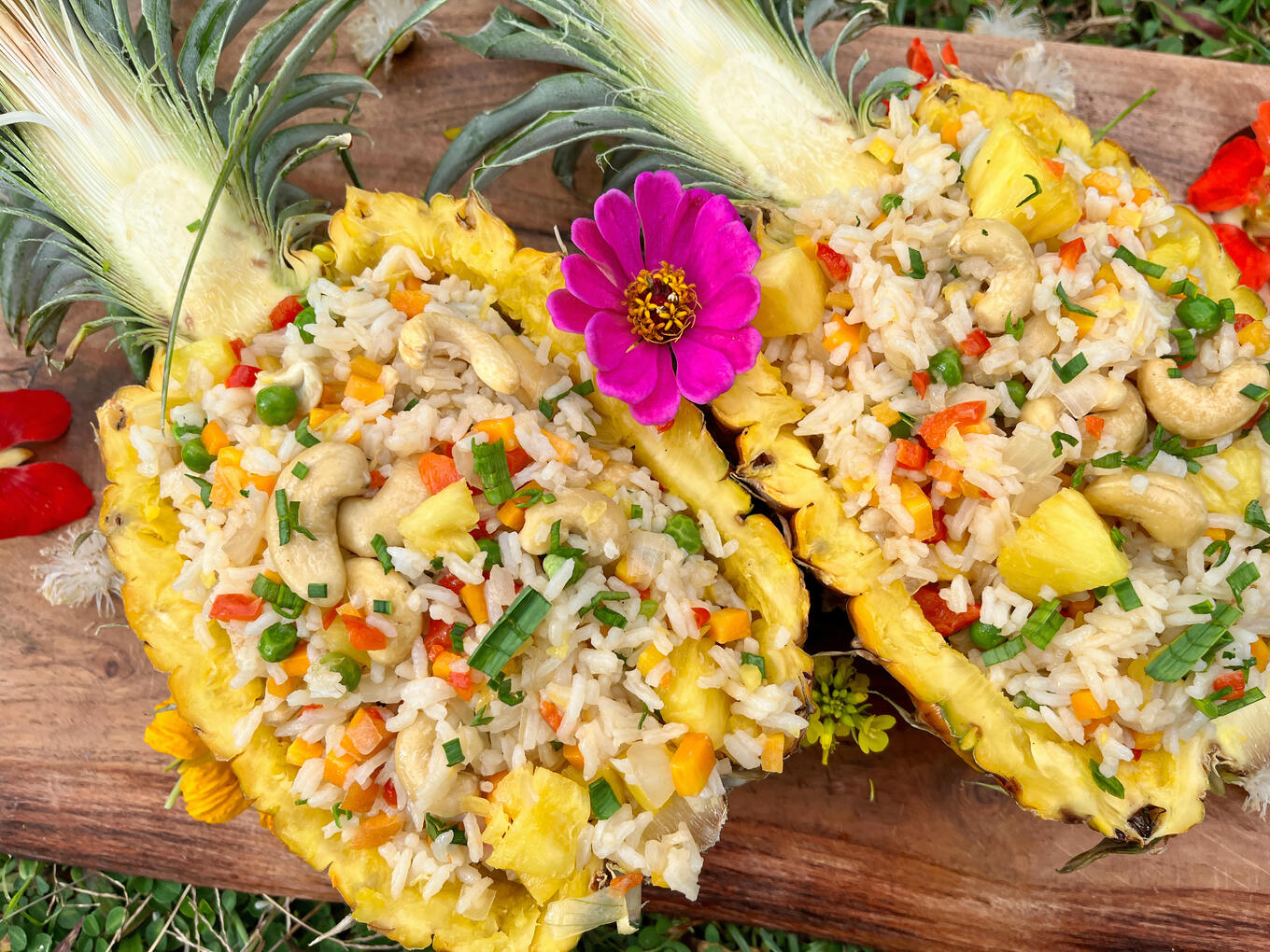 Deborah Gleason
3 Pineapple Cashew Fried Rice With Vegan Eggs
This refreshing, summery recipe mingles sweet pineapple with crispy fried rice and crunchy protein-packed cashews. For elevated fried rice, add the vegan egg, which is made with a mixture of chickpea flour, nutritional yeast, turmeric, pea protein, and kala namak.
Get the recipe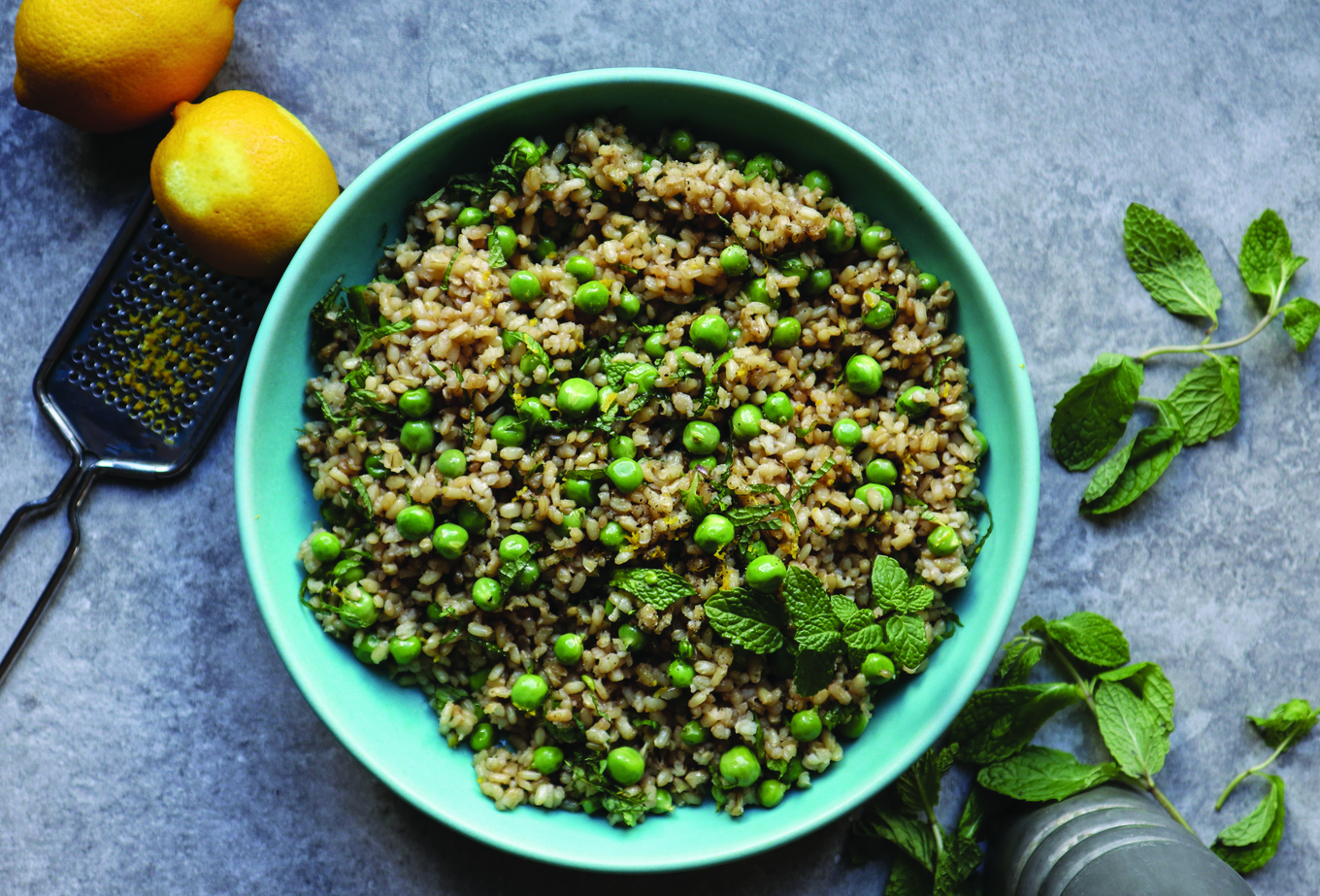 Christine Wong
4 Garden Vegetable Fried Rice
This tasty, earthy dish calls for a plethora of nutritious vegetables and herbs, including cauliflower, shallots, peas, swiss chard, and fresh mint. It's the perfect side dish to serve up with tofu or vegan meat or bring it to your next outdoor picnic or cookout to share with friends.
Get the recipe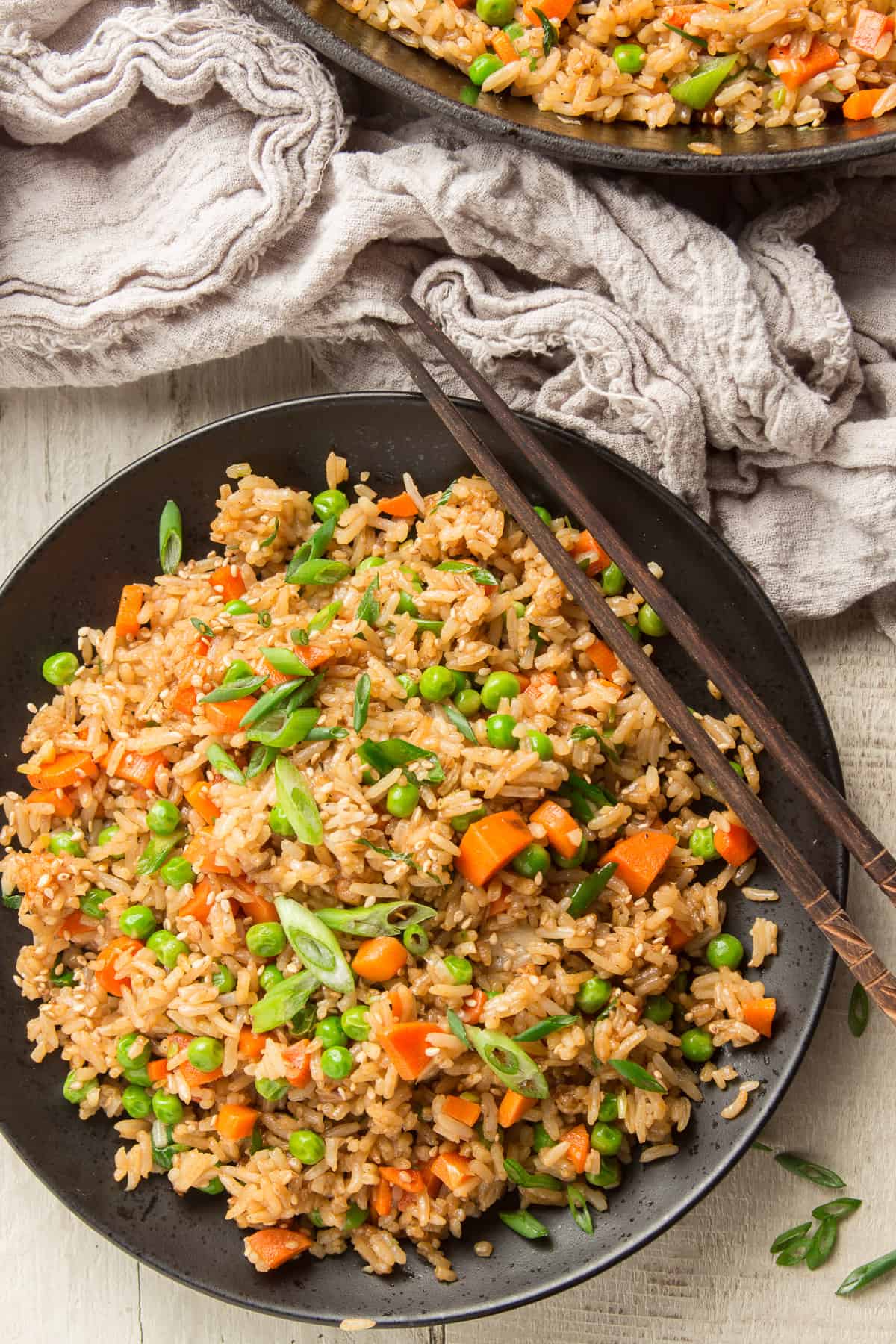 Connoisseurs Veg
5 20-Minute Vegan Fried Rice
If you're short on time, this simple vegan fried rice recipe comes together in just 20 minutes. It's loaded with vegetables, but you can also make your own additions. For extra protein, consider some pan-fried tempeh, vegan chicken pieces, or extra-firm tofu, and for extra spice, double up on the sriracha and chili oil!
Get the recipe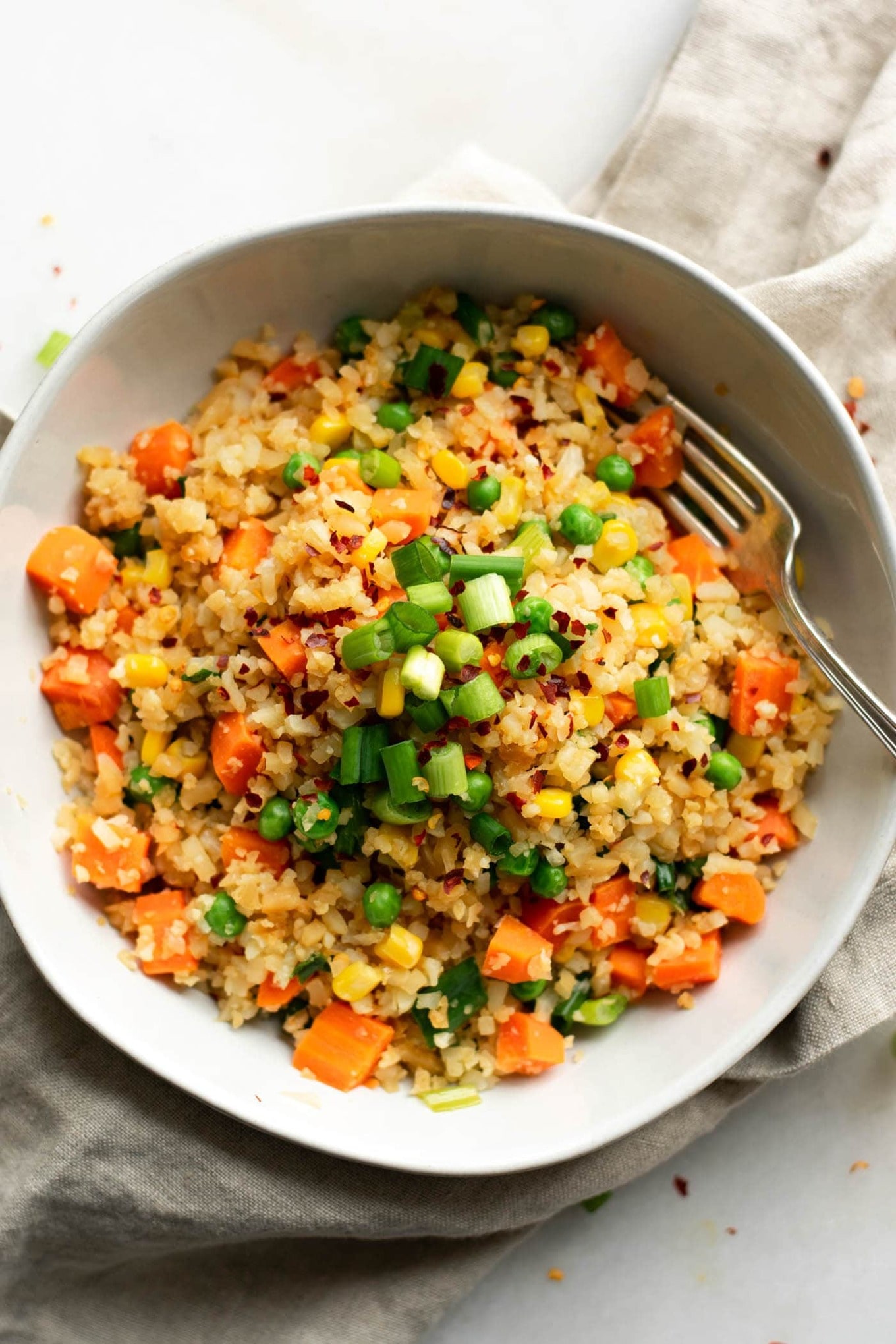 Running on Real Food
6 Cauliflower Fried Rice
Okay, so this recipe is slightly a cheat because it doesn't use real rice at all. Instead, it uses cauliflower. But stay with us. It's just as easy to make, and it's also quick, tasty, and it's so nutritious.
Get the recipe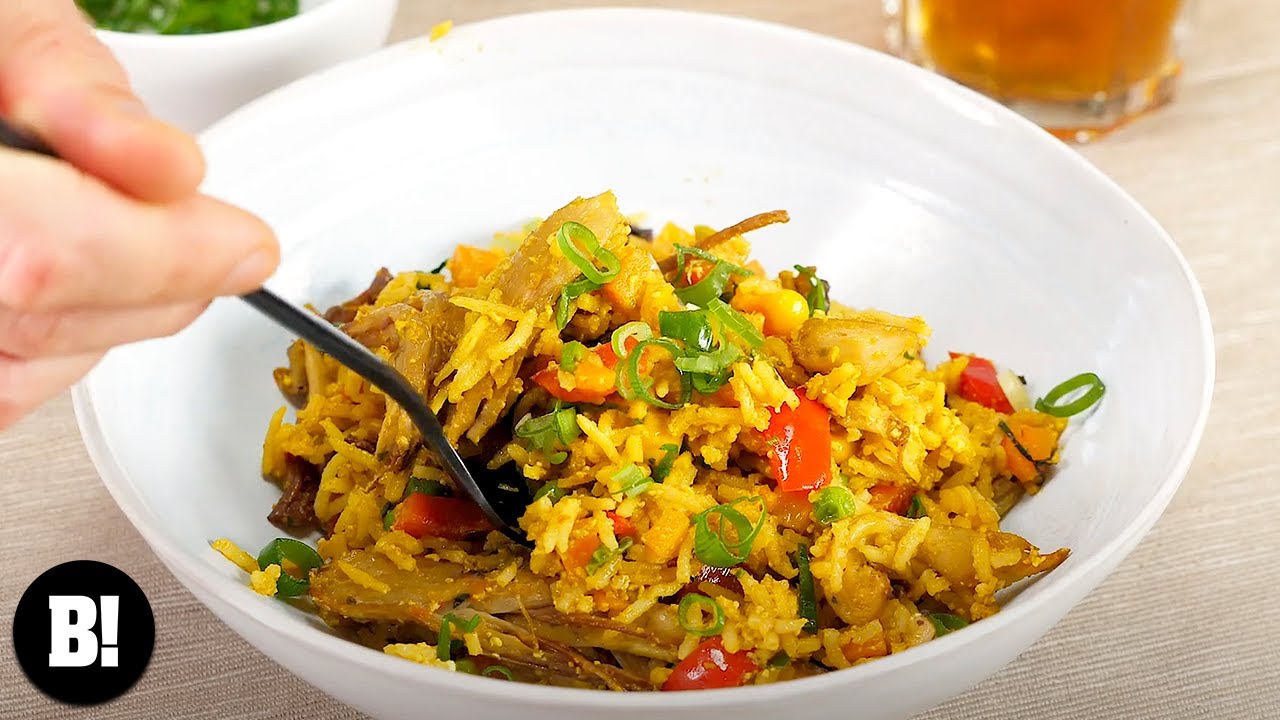 Bosh
7 Plant-Based Chicken Fried Rice
If your go-to Chinese takeout order used to be chicken fried rice, we have good news: you can recreate it from home using only vegan ingredients, and it tastes just as good. This recipe replaces chicken with pulled king oyster mushrooms, and honestly, once you've tried it, you won't want to eat fried rice any other way ever again.
Get the recipe
For more on vegan recipes, read: