It seems that every week in the world of vegan food news is more exciting than the last and this week is no exception. Plant-based milk got even more dairy-like thanks to Danone's innovations launched under its Silk and So Delicious brands, Natalie Portman helped French startup La Vie raise $28 million to bring its vegan bacon to the masses, and Cinnaholic's vegan cinnamon rolls are coming to a town near you in 2022. And Snoop Dogg might soon be slinging vegan hot dogs … fo' shizzle! Read on for more.
1Danone takes dairy-free milk to the next level
While it was previously known for its dairy business, in recent years, Danone has redefined itself with the acquisition of dairy-free brands such as So Delicious and Silk. And just holding onto the brands is not enough—Danone is innovating the dairy-free space with the launch of next-gen products under both brands, developed to help the hold-out milk drinkers ditch dairy for good.
So Delicious is bringing Wondermilk to the table, which is made by blending oats, coconut, and soy with coconut oil to create a more neutral-tasting, creamy base. By using this blend, Wondermilk differentiates itself from the likes of single-base almond, coconut, and oat milks with a more complex flavor profile that mimics milk. Wondermilk is the base for So Delicious' new vegan ice cream line which includes ice cream pints in Vanilla, Chocolate Cocoa Chip, Cookies & Crème, Buttery Pecan, and Strawberry flavors, along with sundae-style frozen dessert cones in Vanilla Peanut Sundae and Salted Caramel Sundae flavors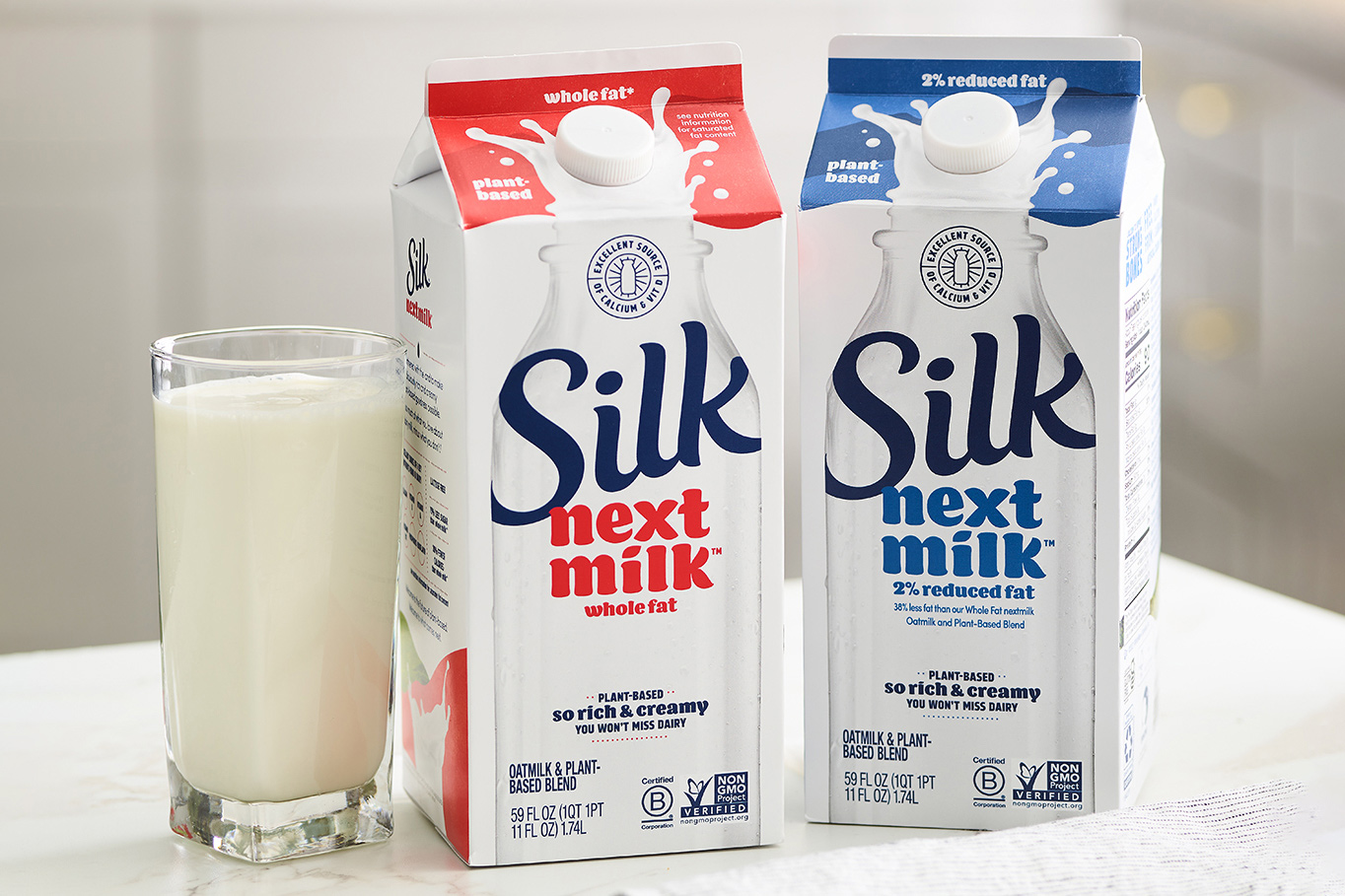 Silk
Similarly, Silk's new Nextmilk product line combines various plant sources to create a base for its whole fat and reduced fat vegan milks, developed to be just as creamy and tangy as the real thing. Nextmilk also mimics the nutrition profile of milk but without any lactose or animal cruelty.
"Some consumers remain skeptical about plant-based food and beverages due to taste and texture, but Silk Nextmilk is on a mission to change that. We deconstructed dairy to create this revolutionary product that delivers the taste and texture we think dairy drinkers will love," John Starkey, President of Plant-Based Food and Beverages at Danone North America, said in a statement. "Thanks to Silk Nextmilk—a true category game changer—we're confident dairy lovers will want to cross the aisle."
2 Oatly's making oat milk the new normal
And while we're on the topic of plant-based milk, Swedish brand Oatly is doing its part to make vegan milk the new normal with a campaign it launched this week. Oatly is known for its over-the-top antics (let's never forget its Super Bowl 2021 commercial) and it delivers a whole new level of cleverly weird anti-dairy content with "The New Norm&Al Show."
The campaign includes a five episode mini-series centered around the lives of oat milk carton puppets Norm and Al (you get it) and Norm's old pal, a dairy milk carton. The series hits on the challenges people face when navigating their lives away from old, unfavorable habits (like drinking dairy milk) and contends with them in a humorous way. Oh, and the puppets have the same aesthetics as the ones in Wes Anderson's Isle of Dogs because the same guy (Andy Gent) created them.
To bring the new "Norm&Al" to life, Oatly's hosting Oatly Not Milk Coffee Bar pop-ups in Manchester and London and partnering with coffee shops around the UK for further events.
3 Natalie Portman knowns good vegan bacon
Natalie Portman might not be the first person you think of when talking about vegan bacon but the actress is a proud investor in La Vie—a French company that just raised $28 million to bring its plant-based bacon to the masses. Currently, the brand distributes its vegan bacon at Carrefour grocery stores in France and aims to expand its retail and foodservice presence across Europe rapidly with its new investment.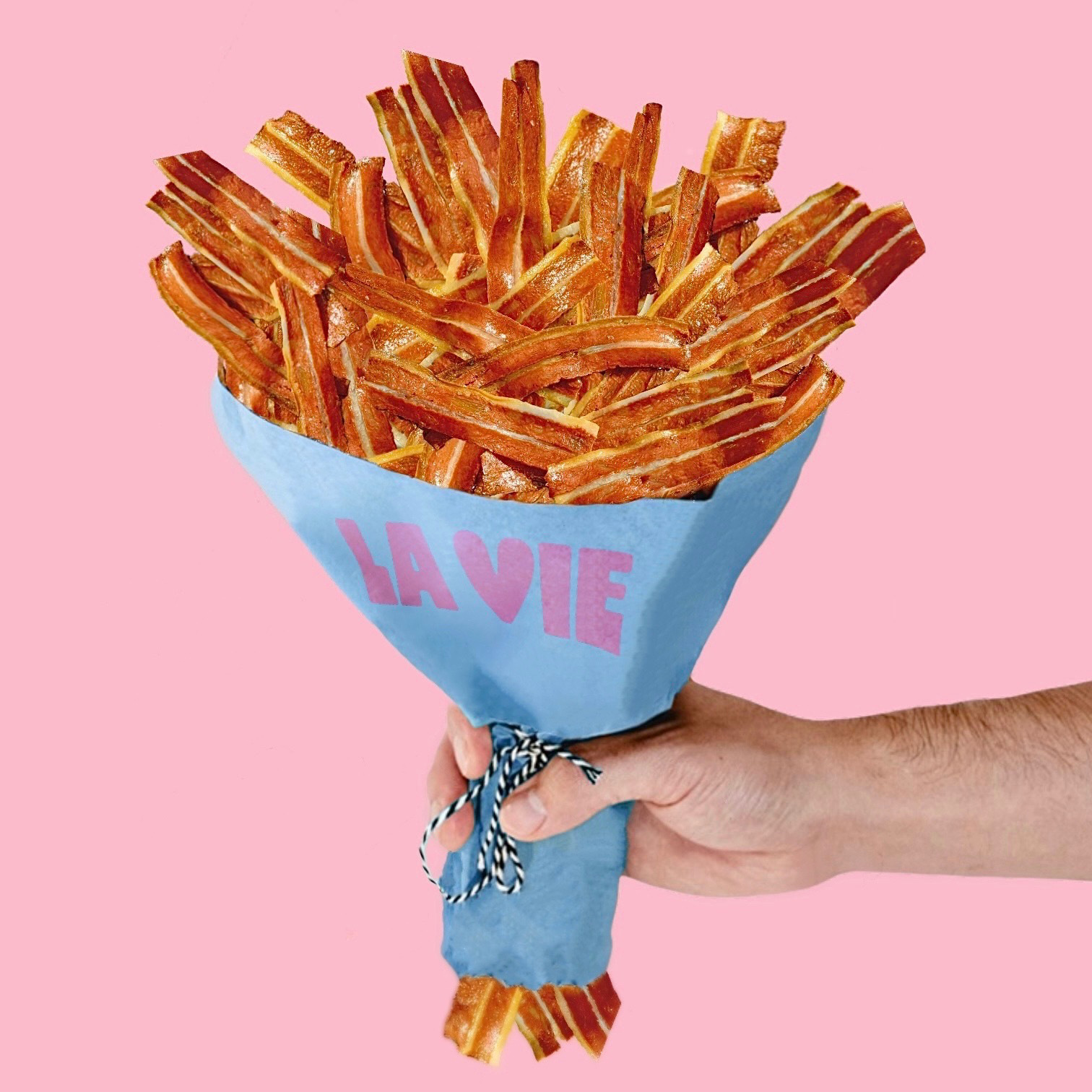 La Vie
In addition to meatless bacon, Portman loves all things vegan and ditched animal products after reading Jonathan Safran Foer's Eating Animals. The vegan actress collaborated with the author on a film adaptation of the book that debuted in 2017. In addition to La Vie, Portman previously invested in other vegan companies, including Oatly. To bring things full circle, Oatly's chairman Eric Melloul invested in La Vie alongside Portman. Magnifique!
4 Is Snoop Dogg about to launch vegan hot dogs?
Music icon Snoop Dogg's stage name is perfect for a hot dog venture and he might be doing just that, plant-based style. This week, we learned that the D-O-double-G filed an application with the US Patent and Trademark office to use the term "Snoop Doggs" as it relates to "hot dogs and sausages."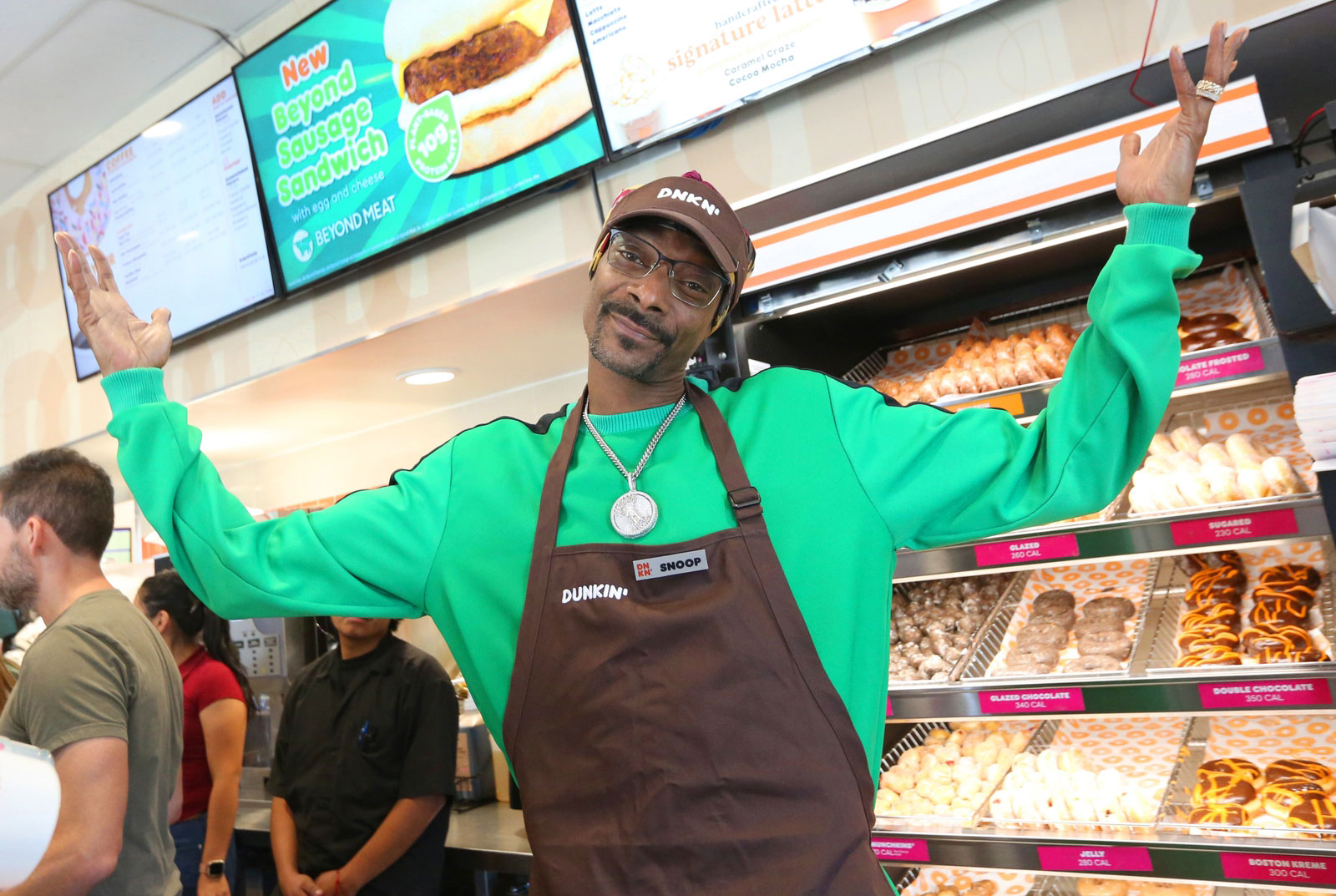 Beyond Meat
Snoop Dogg is totally grossed out by the way traditional meat hot dogs are made (us, too, Snoop!) and expressed this disgust on a 2014 episode of Jimmy Kimmel Live. Snoop Dogg is also a big supporter of plant-based meat and has been known to indulge in vegan burgers from LA's Vurger Guys and Atlanta's Slutty Vegan. Combine that with his investments in and endorsements of vegan brands Beyond Meat and Outstanding Foods (maker of tasty porkless snacks), and we're thinking "Snoop Doggs" will surely be made from premium plant-based meat.
5 Veganuary founder Matthew Glover is serious about vegan chicken
Matthew Glover founded Veganuary in 2014 with his wife Jane Land, a campaign that has helped millions of people around the world go vegan for January and beyond. Now, the activist is taking aim at the global poultry industry with VFC, a vegan chicken brand he co-founded with UK restaurateur Adam Lyons. The goal? Make vegan chicken that is so tasty and cheap that people will choose it over slaughtered birds.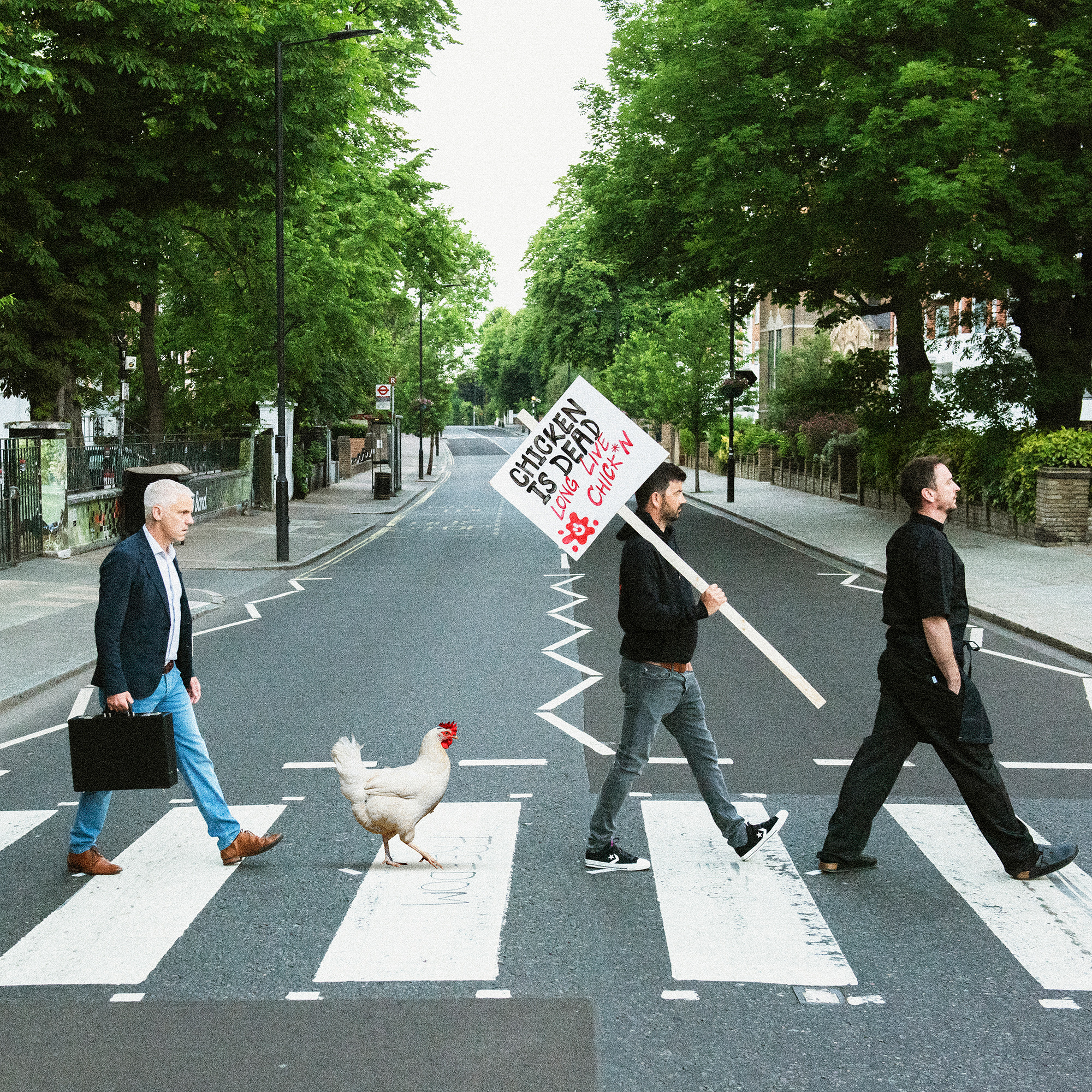 VFC
The 13-month-old company is hitting the ground running and this week, secured a $10.3 million investment, bringing its total funding to $14.3 million, to help fund its mission. One of its short-term objectives is to aggressively expand its vegan popcorn chicken, fillets, and bites to the United States, where it aims to give KFC-loving Americans another vegan chicken alternative.
"[Since launch], we've [already] spared 60,000 birds but, as that is just the number of animals crammed inside two sheds, we have a long way to go," Lyons said in a statement. "Still, we have an incredibly driven team, all 100-percent committed to doing good in this world, and we are determined to play our part in ending the suffering of animals in factory farms."
6 Cinnaholic's vegan cinnamon buns are coming to town
To end the week on a sweet note, vegan franchise Cinnaholic is bringing its customizable cinnamon rolls to 25 new locations this year. The bakery has been pumping out vegan treats since opening its flagship location in Berkeley, CA in 2009. After an appearance on Shark Tank, Cinnaholic began growing its business across North America.
Cinnaholic
The company closed out 2021 strong with $20 million in sales and big expansion plans on the horizon which means that brand new regions will be getting Cinnaholic bakeries this year, including Florida, Ohio, New York, and Massachusetts. What can new customers expect from Cinnaholic? Warm, freshly baked vegan cinnamon rolls made to order with your choice of toppings and frostings, along with cookies, brownies, and other sweet and savory treats.
For the latest vegan news, read:
Meet the Chefs on Food Network's First Vegan Episode of Beat Bobby Flay
This 115-Year-Old Chocolatier Is Turning Its Iconic Treats Vegan
McDonald's Expands Meatless McPlant to About 600 More Locations