Dairy-free buttermilk was always something home cooks made by adding acid to plant-based milk and waiting for it to curdle … until now. Dairy alternatives company Mill It created the first commercial dairy-free buttermilk, which relies on a proprietary blend of ancient grains. The company ferments these grains, which include millet and sorghum, to give its Plant-Based Buttermilk dairy-like characteristics.
"Ancient grains are very important in the process because they replace some of the traditional functionality in milk that allows us to ferment our plant milk and turn it into a probiotic buttermilk with acidic properties that are beneficial when baking," Mill It Founder Bill Meyers told VegNews.
While making vegan buttermilk substitutes at home is entirely possible, Mill It's version comes packed with probiotics and does not affect the flavor profile of baked goods. "Our buttermilk performs as a one to one replacer of traditional buttermilk in any recipe. This allows consumers to convert any of their favorite traditional recipes into plant-based versions," Meyers said. "This is superior to any home methods of curdling plant milk because the lemon juice or vinegar used can cause significant flavor defects and when the ratio of acid to plant milk is unbalanced it can ruin a recipe."
Mill It's vegan buttermilk is low in sugar, priced between $4.99 and $5.99 for a 32-ounce bottle and can be used in recipes such as baked goods, pancakes, and smoothies, along with more savory applications such as coleslaw, corn bread, and curry.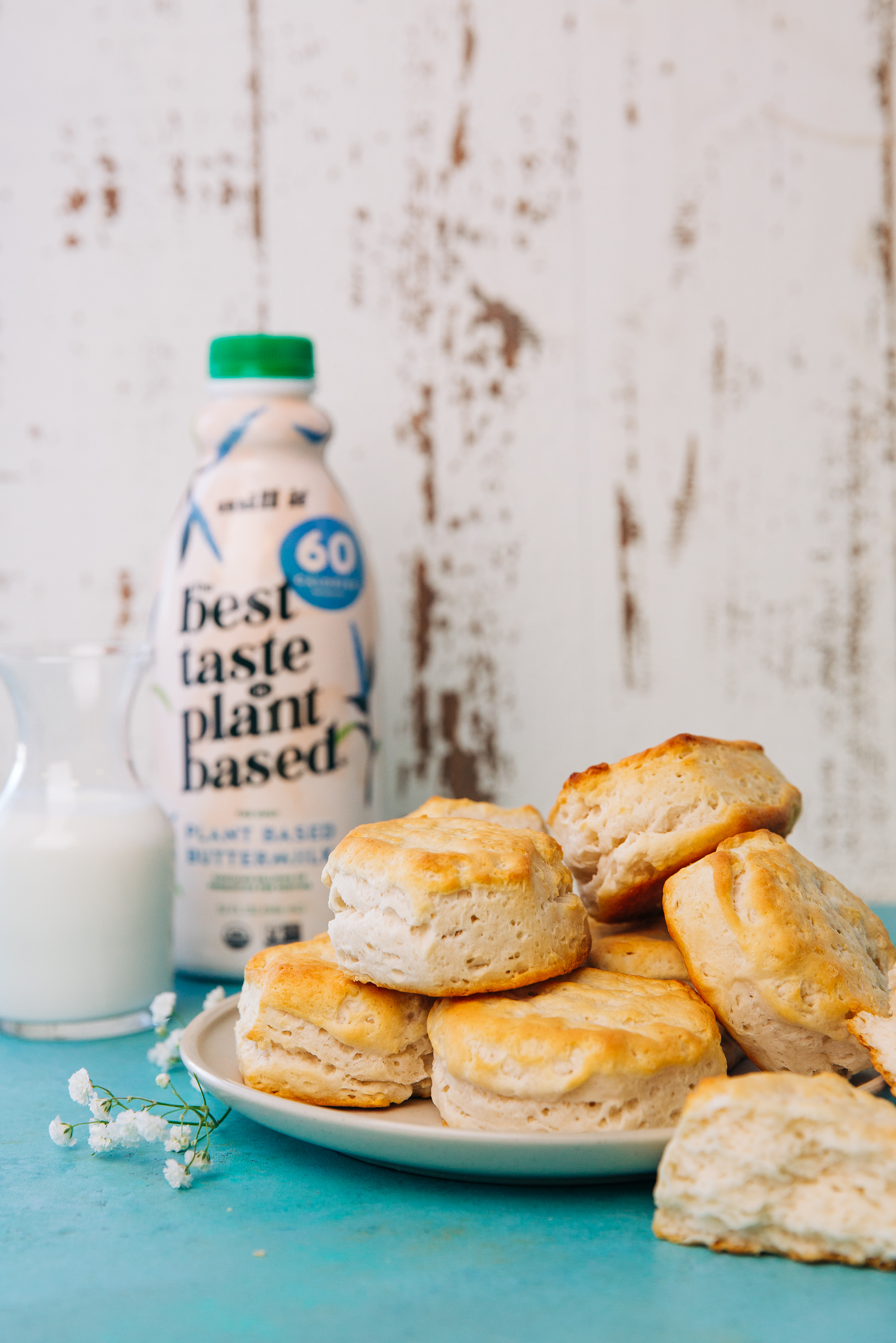 Mill It
Better milk: the making of dairy-free buttermilk
Mill It's vegan buttermilk was a serendipitous development that grew out of the company's desire to make creamy dairy-free dressings. After realizing that the dairy-free buttermilk itself is a functional and unique product, Meyers produced it as a stand-alone item.
"Buttermilk is the main ingredient in salad dressing and since most early plant-based dressings were replacing buttermilk with fatty oils or unsavory vegetable purées, we wanted to make something that would taste better and be healthier for consumers," Meyers said. "Once we developed the buttermilk, we quickly realized that vegan buttermilk could be used to make a lot of other products as well."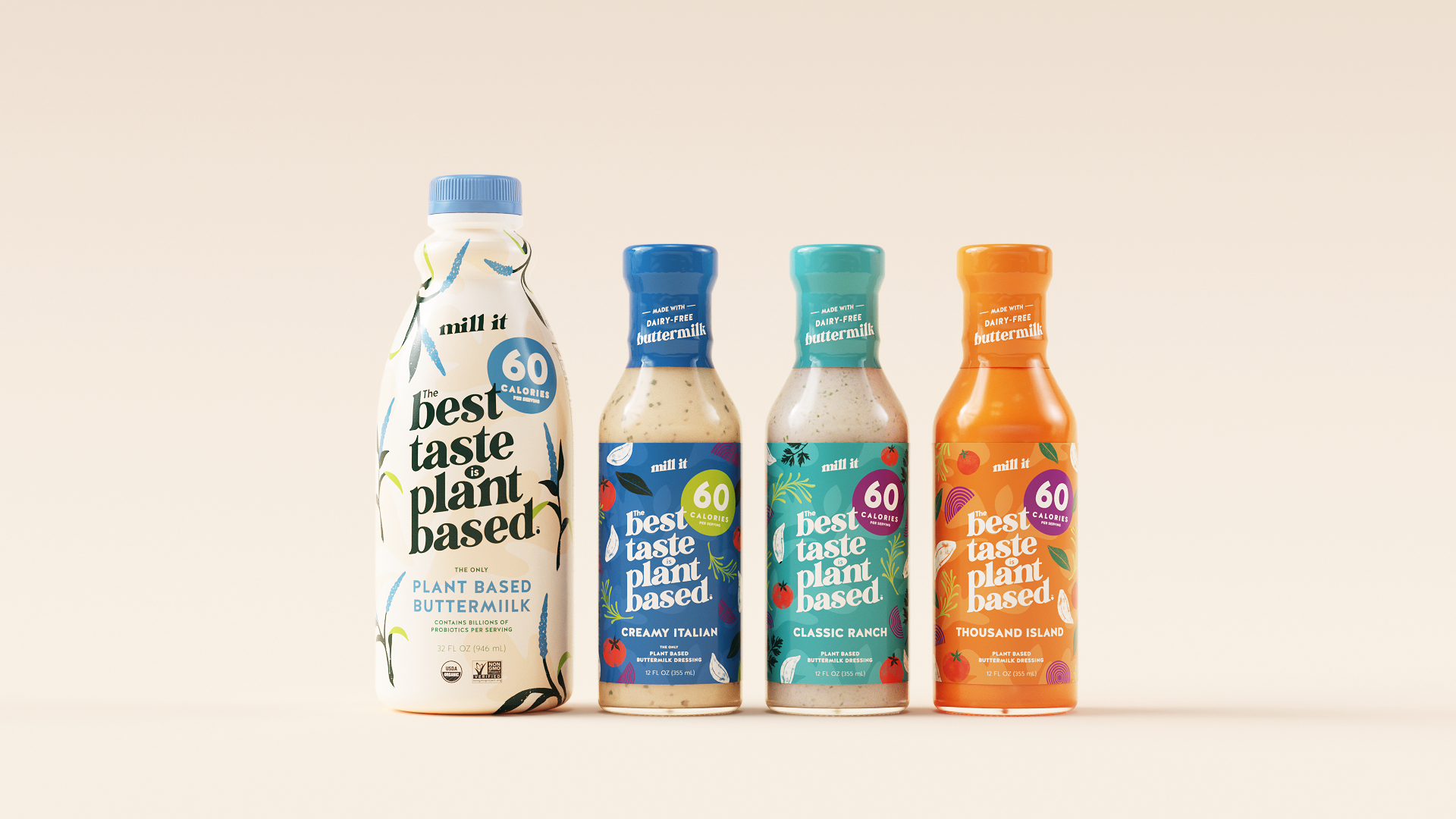 Mill It
In addition to buttermilk, Mill It also makes Classic Ranch, Thousand Island, and Creamy Italian vegan dressings. Mill It's products can be found at retailers such as Whole Foods, Harris Teeter, and Sprouts, and through online grocery stores Fresh Direct and Vegan Essentials.
Innovating the dairy-free category
Mill It's vegan buttermilk is one innovation that is closing any remaining gaps for consumers in the dairy-free category. Artisan vegan cheese pioneer Miyoko's Creamery is closing another: vegan cottage cheese. The company's founder Miyoko Schinner tinkered with various cultures and formulations to create the perfect dairy-free cottage cheese and found that watermelon seed milk and sunflower seed milk created the creamiest curds. Miyoko's Creamery is expecting to release the product commercially in 2023.
And while the plant-based milk category is fairly saturated, several brands have found new ways to bring innovation into the space, too. French multinational brand Danone—known best for its dairy products—decided that single-origin plant-based milks such as oat, almond, coconut, and soy could be blended together to create a better base. Earlier this year, Danone showcased this innovation with the launch of two line extensions under its WhiteWave portfolio of brands: Silk Nextmilk and So Delicious Wondermilk (which is also the base of a new So Delicious ice cream line).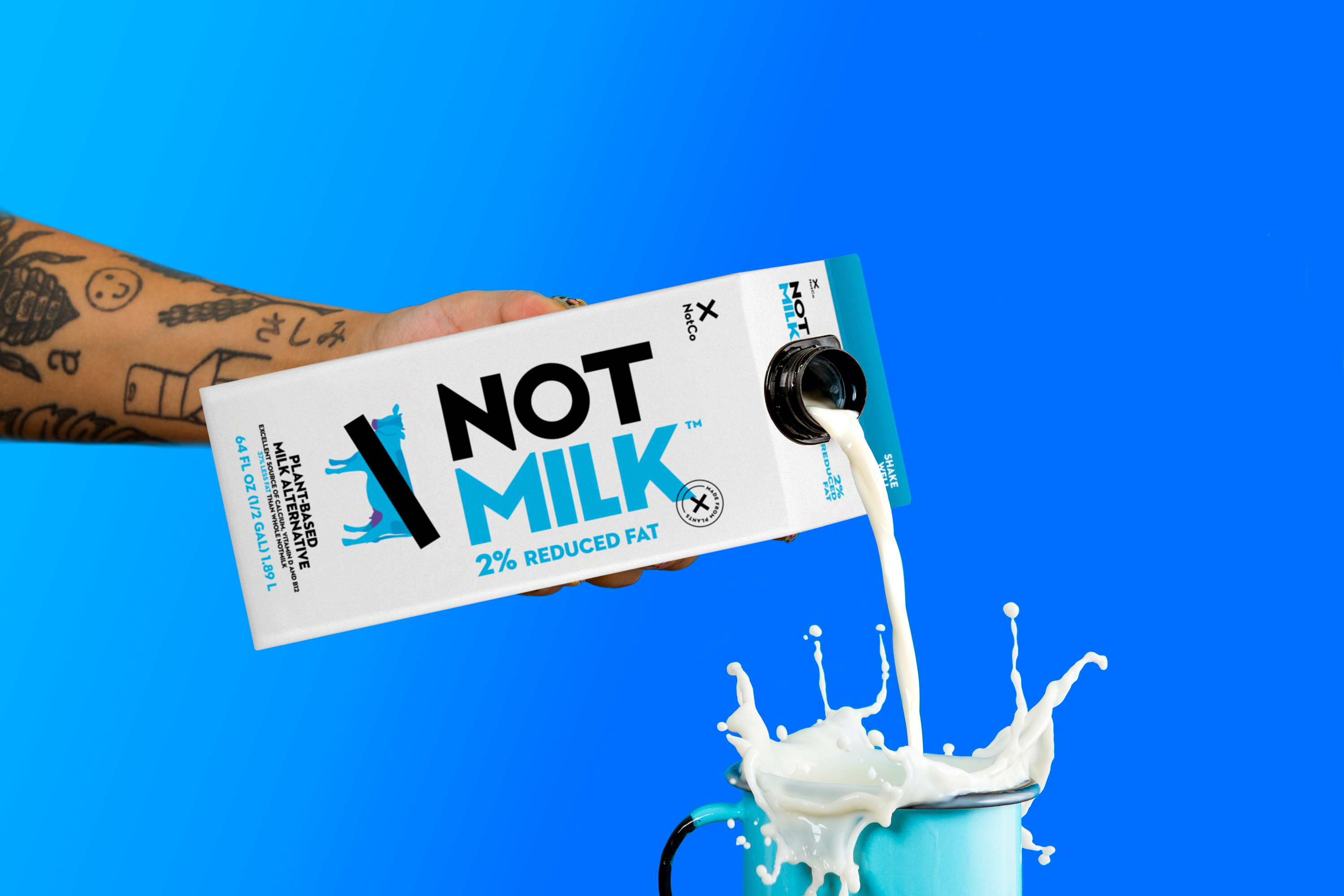 TheNotCompany
In Chile, TheNotCompany ("NotCo") is also blending plant-based ingredients into alternatives to animal products but with an added layer of artificial intelligence. Called "Guiseppe," NotCo's AI platform analyzes the components of animal products and helps recreate them with plant-based ingredients. For instance, NotCo's milk—or rather, NotMilk—features pea protein for creaminess and a bit of cabbage and pineapple juices to replicate the funk of dairy without cows.
NotCo has been innovating the dairy-free and meat alternative spaces in South America since 2015 and made its US debut by way of Whole Foods Market in 2020. This year, the innovative company announced its groundbreaking joint venture with international consumer goods giant Kraft Heinz. The newly formed Kraft Heinz Not Company promises forthcoming innovations in the form of co-branded products that could lead to major plant-based changes in the global food system.
For more about dairy-free innovations, read: Ben & Jerry's Launches Vegan Ice Cream made from Sunflower Butter
This New Dairy-free Ice Cream Is Made From an Unlikely Legume
Coolhaus Ditches Dairy With Help From Perfect Day's Animal-Free Whey