Thousands of years ago, on Indonesia's Sunda Islands⁠, humans started to cultivate the Sesamum Indicum plant for the first time. The plant's tall, thin stems produce white, purple, and blue flowers, but, while undeniably pretty, these aren't where the plant's true value lies. Over time, these flowers turn into capsules, which provide a vessel for one of the world's oldest crops: sesame seeds.
Crunchy, nutty, and slightly sweet, sesame seeds are renowned for their starring role on hamburger buns. But they're incredibly versatile and can be used in a multitude of different ways. As Sesamum Indicum plants now grow across continents, sesame seeds are used in many traditional recipes. And in the Middle East, they were used to form the basis of tahini.
With a market worth more than $1.2 billion, tahini is now loved all around the world. But what actually is it? And what is the best way to use it? We've got all the information you need (and recipes, of course).
What is tahini?
To make tahini, sesame seeds are soaked, crushed, and (often, but not always) hulled, before they are toasted and ground down into a paste. It can be enjoyed on its own as a salad dressing, dip, or used as a sauce base, but it's also a key ingredient in two more Middle Eastern classics: baba ghanoush and hummus. To make the former, it's blended with eggplant, as well as olive oil, garlic, salt, and lemon juice. The recipe for hummus is very similar, but the eggplant is replaced with chickpeas.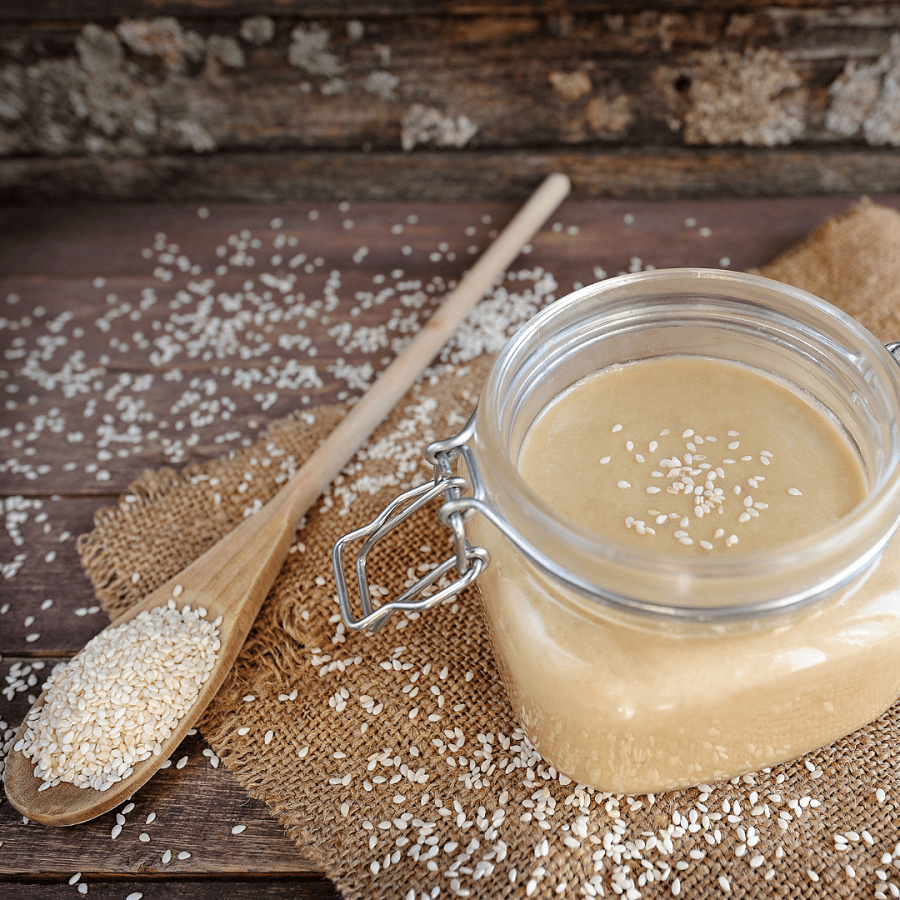 Canva
Is tahini vegan?
Because it's made with sesame seeds, which, of course, come from a plant and not an animal, tahini is vegan. It's as simple as that. That said, there are sometimes other ingredients, like oil and salt, added to the store-bought versions. But it's rare any ingredients of animal origin will make their way into the recipe!
Tahini nutrition
With its sweet, nutty flavor and creamy texture, tahini is undeniably a tasty vegan addition to most recipes. But it's also pretty good for you, too. That's because, like most seed- and nut-based butters and dips, it's rich in heart-healthy, monounsaturated fats. In fact, 100 grams of tahini contains around 24 grams of monounsaturated fat. Plus, it's also a source of fiber, vitamin B6, protein, vitamin B1, phosphorous, manganese, and lignans. The latter is a polyphenolic plant-based compound that has been linked with anti-inflammatory and antioxidant activity in the human body.

How do you use tahini?
Tahini is incredibly versatile. If you're in a rush, or you just want a simple snack, you can spread it on toast or use it as a dip for carrots or breadsticks. It's also delicious as a salad or baked potato dressing, or you could serve it on the side with a main meal. It complements many different ingredients, including falafel, tofu, roast potatoes, mushrooms, and more. But there's no rule that says tahini can only be enjoyed in savory dishes. It's also a great, creamy addition to smoothies, desserts, and even baked goods.

To inspire you, here we've gathered a few of our favorite ways to serve tahini, all of which show just how versatile this creamy Middle Eastern paste can really be.
Vegan tahini recipes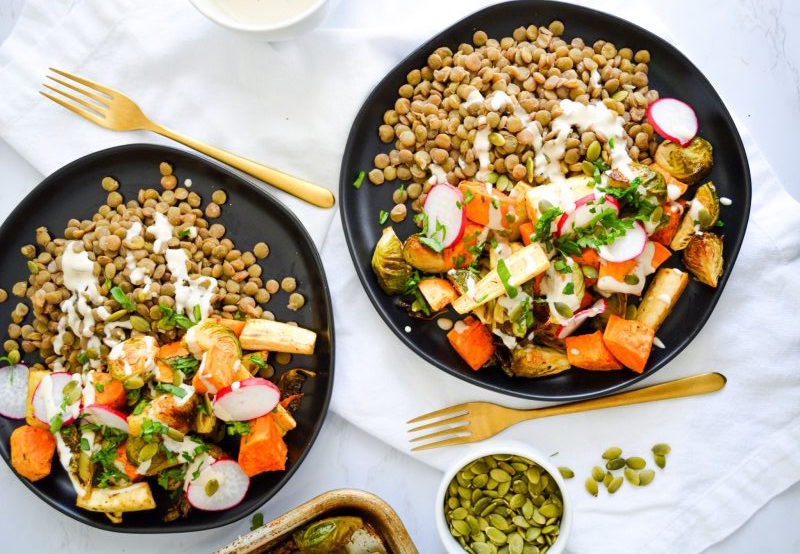 One Green Planet
1 Autumn Harvest Bowls With Tahini Dressing
Fall is a great season for vegetables. Some of the tastiest, most nutritious veggies, like Brussels sprouts and sweet potatoes, are harvested before the end of the year. To celebrate the deliciousness of this produce, throw them together in an autumn harvest bowl with a creamy tahini dressing to finish.
Get the recipe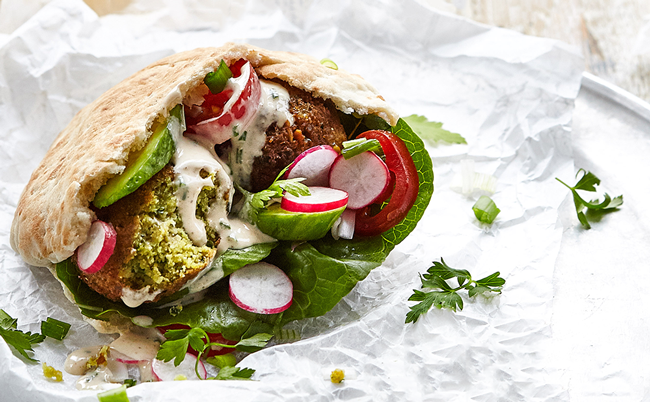 Tim Aitkins
2 Perfect Vegan Falafel Pita Pockets With Tahini Sauce
For the ultimate celebration of Middle Eastern flavors, combine tahini sauce with falafel (which likely originated in Egypt) and combine with tasty vegetables in a warm, filling pita sandwich.
Get the recipe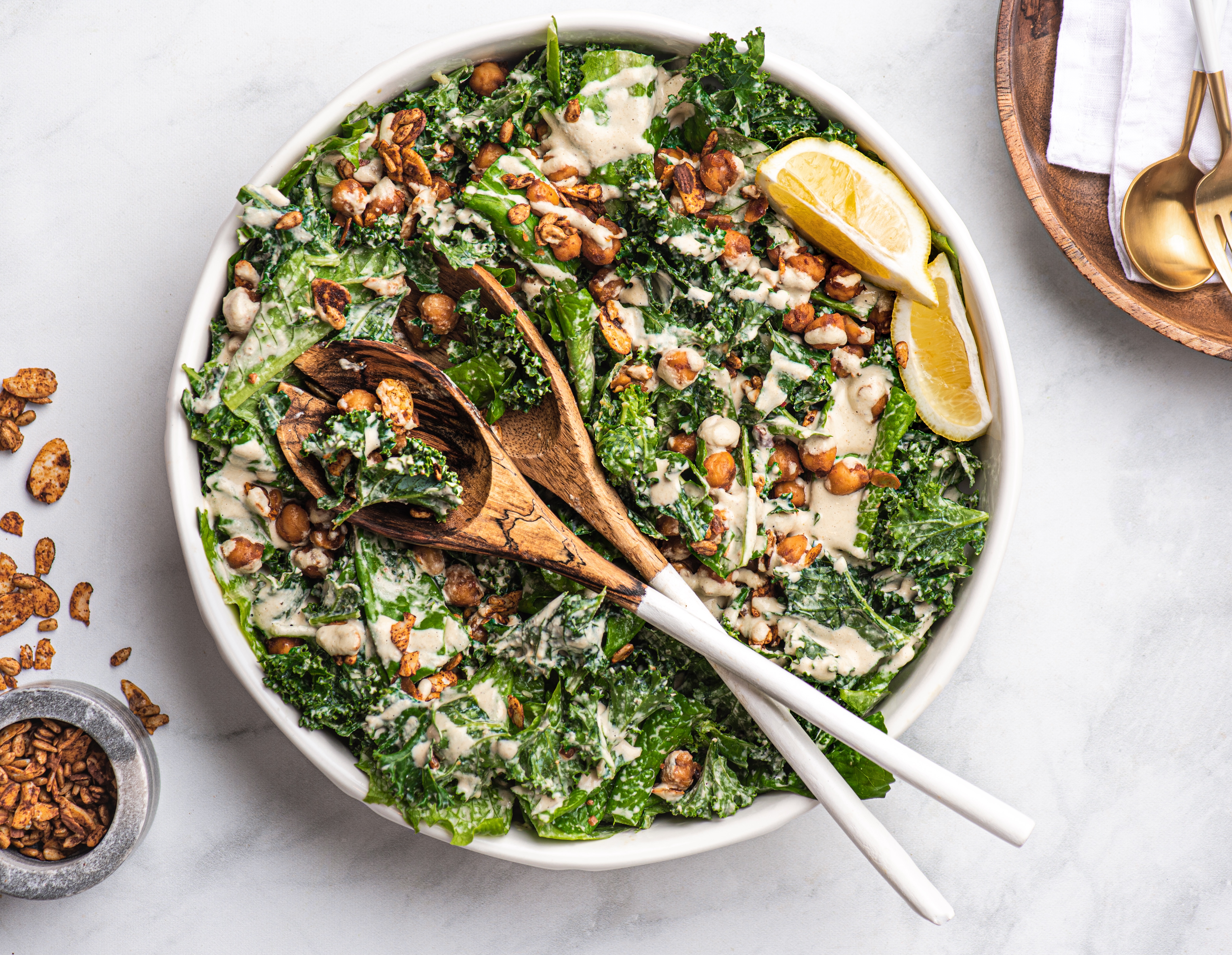 Ashley Madden
3 Tahini Caesar Salad With Smoked Chickpeas
The Tahini-based dressing in this recipe takes an already-delicious vegan caesar salad—which is served with crunchy chickpeas and vegan bacon bits—to the next level, thanks to its nutty, creamy, velvety texture.
Get the recipe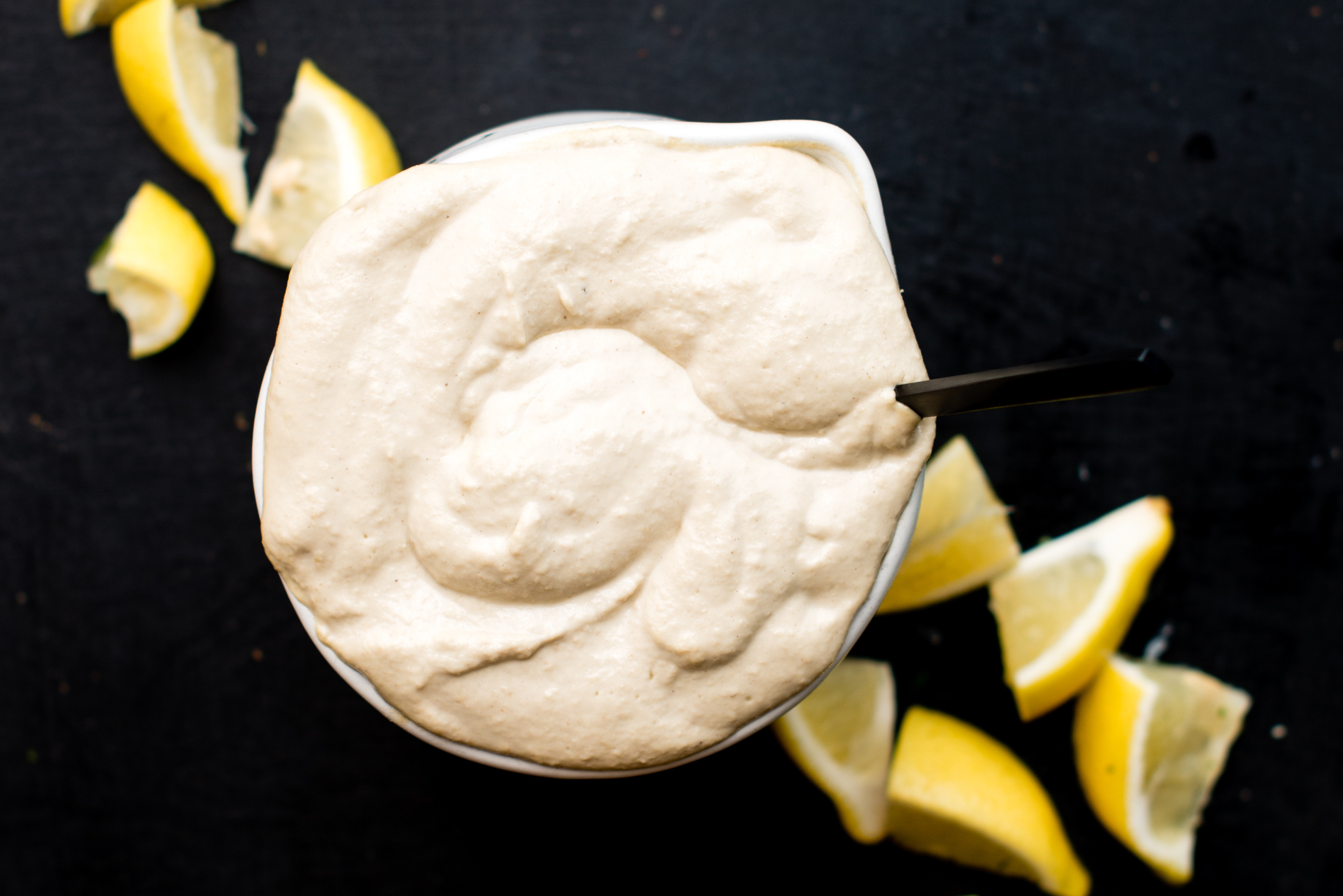 Caryn Jeanne Carruthers
4 Sunflower Tahini Alfredo Sauce
If you're in the mood for some creamy pasta, there are a few different ways to achieve the right velvety texture. You can use cashews, of course, or you could use a soft, cream cheese as a base. But another unique and nutritious option is tahini combined with raw sunflower kernels.
Get the recipe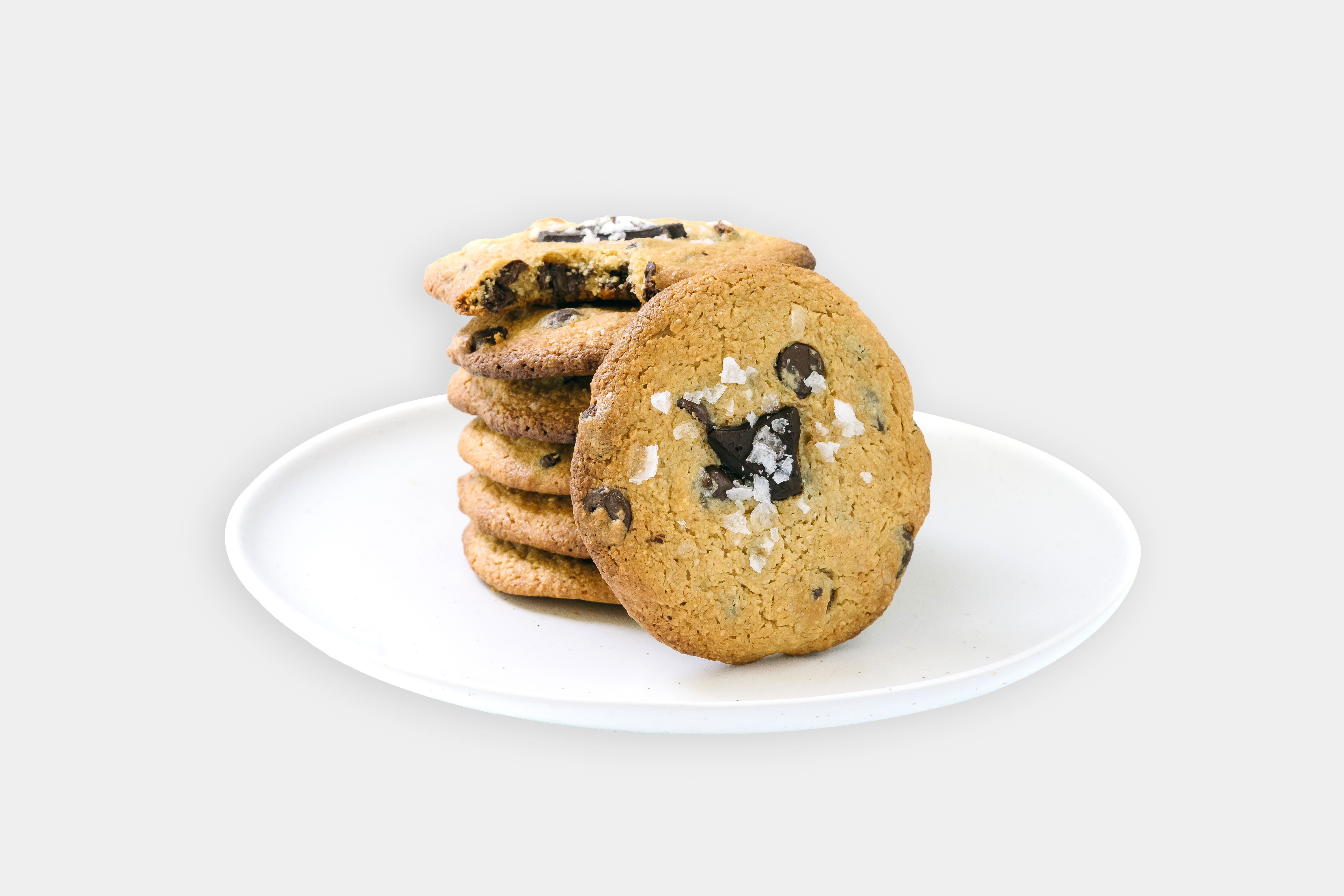 Carleigh Bodrug
5 Salted Tahini Chocolate Chip Cookies
Again, tahini seems like an unusual addition to a cookie recipe. But stick with us. Just like butter or margarine, it's easy to blend and mix during the baking process, and in the end result, its tasty, nutty, slightly bitter flavor shines through.
Get the recipe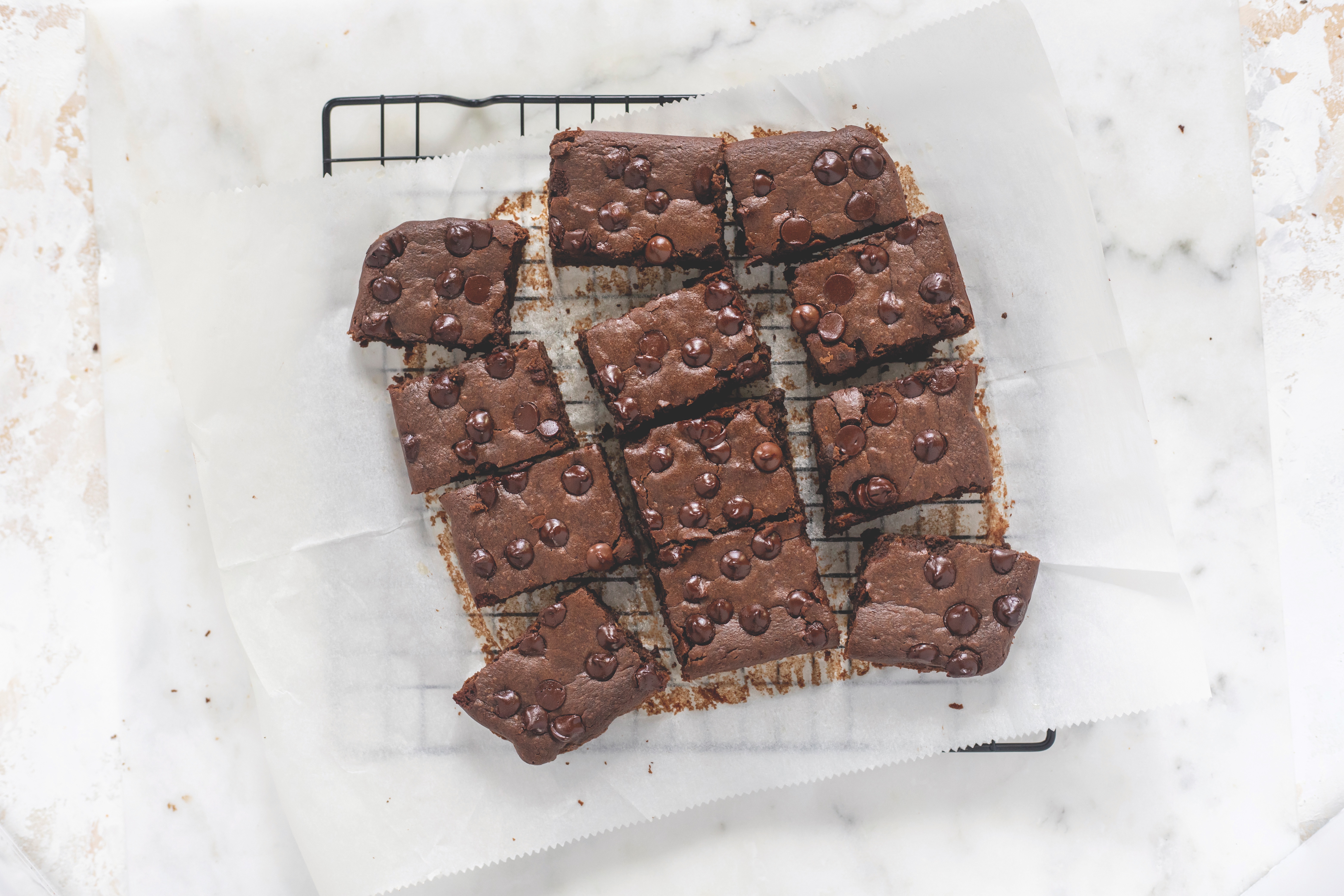 Charlotte Martin
6 Sweet Potato and Tahini Chocolate Chip Brownies
When you think of yummy, indulgent chocolate chip brownies, it's unlikely you imagine sweet potato and tahini on the ingredient list. But not only do these two ingredients combine to create a deliciously bitter, sweet, and nutty flavor profile, but they also had a secret dose of nutrition, too.
Get the recipe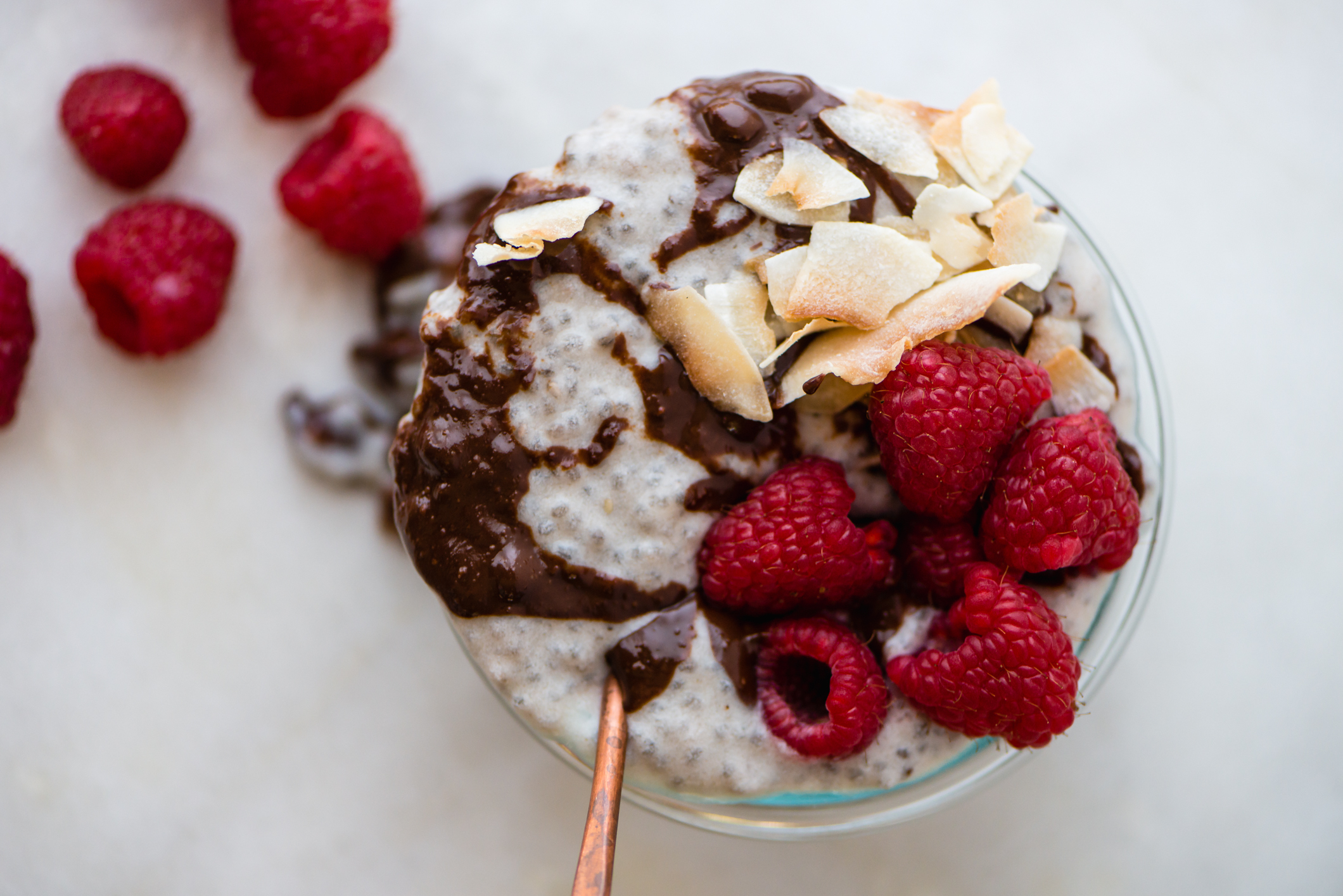 Caryn Jeanne Carruthers
7 Banana Tahini Chia Pudding
After a savory dish, it's always a pleasure for the taste buds to finish off with something sweet. This banana, tahini chia pudding is a great way to finish a meal. But it's also a tasty, nutritious way to start the day. Do all your prep the evening prior, so that when you wake up, all you have to do is simply eat and enjoy.
Get the recipe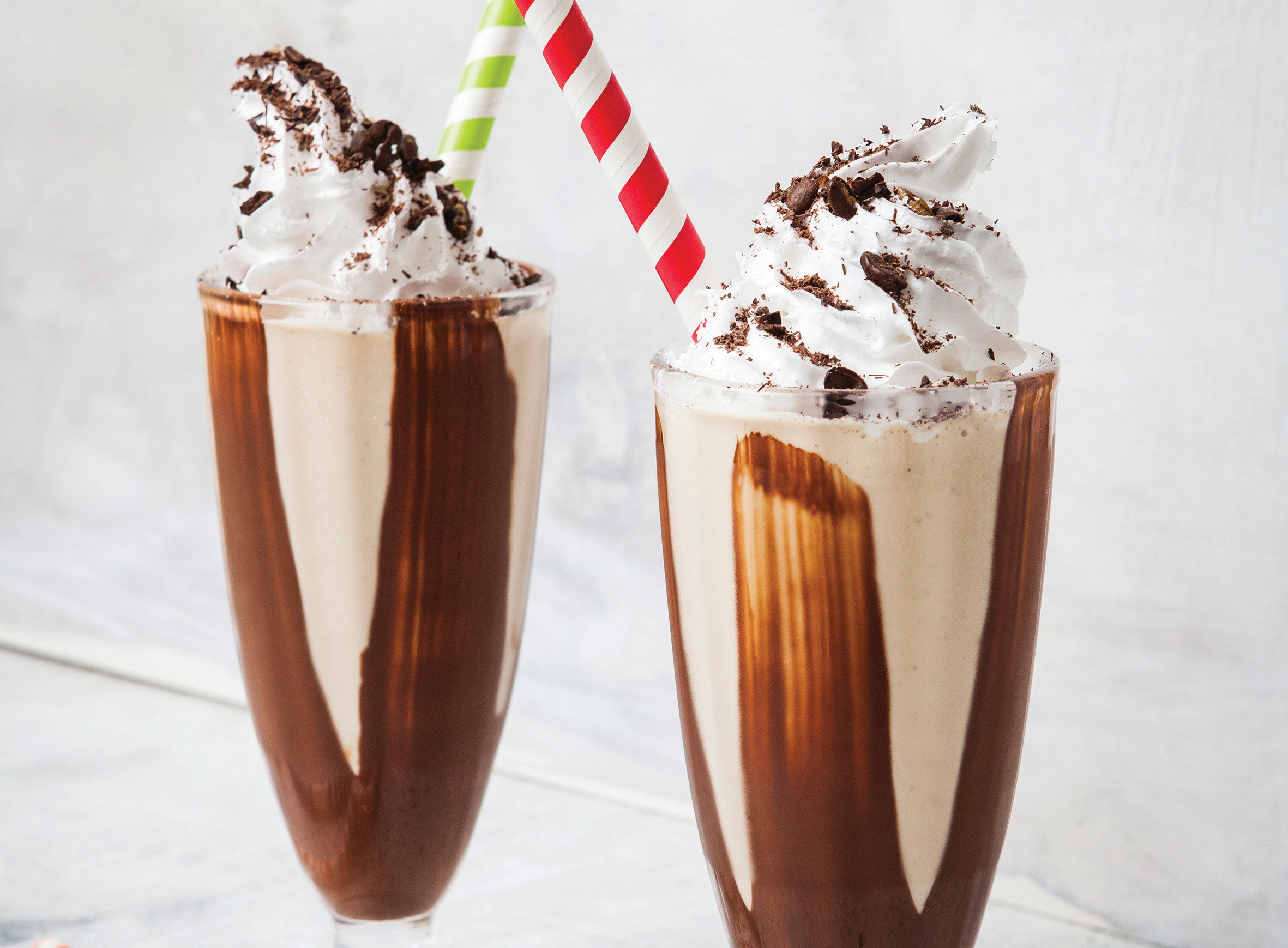 So Vegan
8 Tahini Coffee Shake With Dark Chocolate
When we were children, most of us wanted our milkshakes to be as sickly sweet and sugary as possible. As we get older, our tastes and food preferences tend to change, but that doesn't mean missing out on shakes. This tahini, coffee, and dark chocolate shake is one for the grown-ups: it's the right combination of rich, smooth, velvety, creamy, and indulgent.
Get the recipe
For more on vegan dressings and condiments, read: