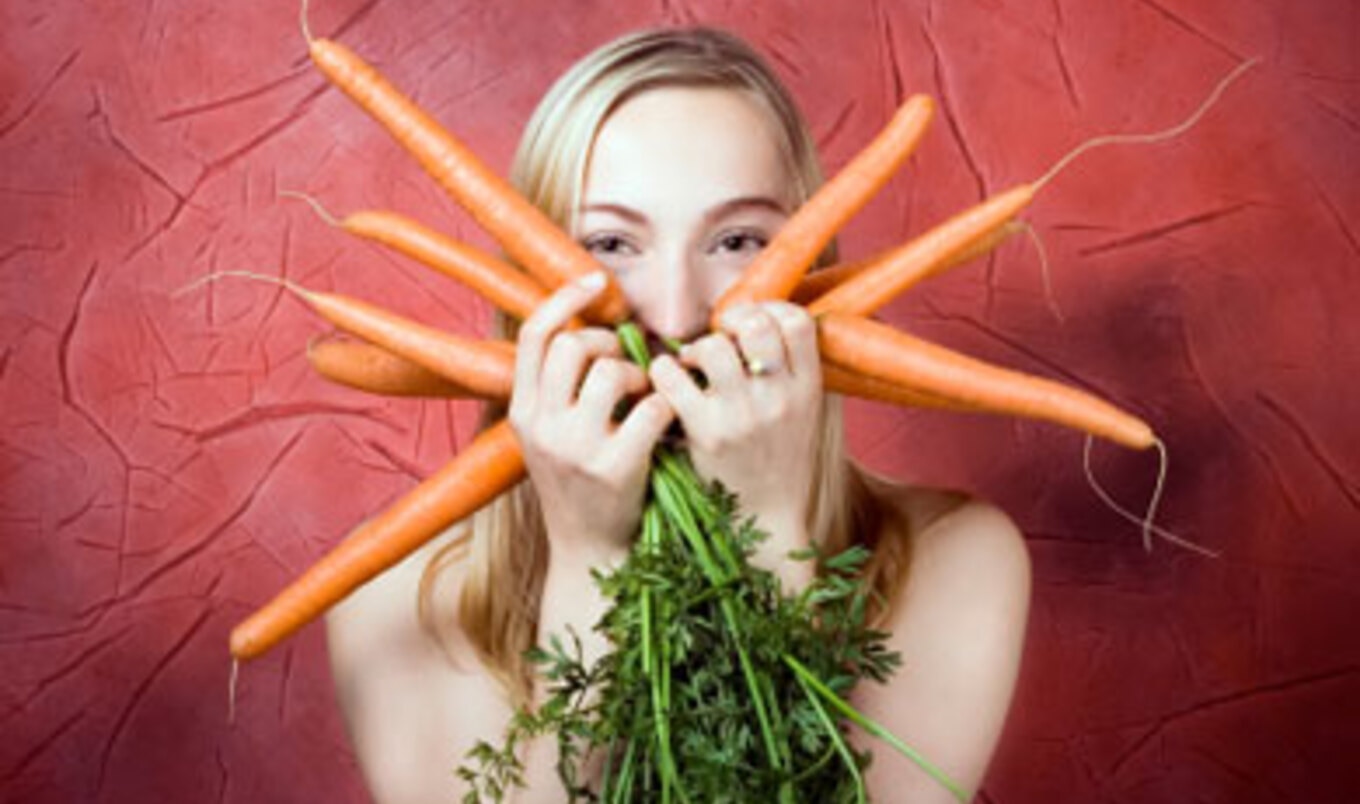 These plant-based staples will clear your complexion, fight wrinkles, and protect your skin from burns and dryness.
April 3, 2015
---
Spring is in full swing, which means you may be venturing outdoors to socialize and soak up some sun. With your jackets and sweaters in winter storage, you'll surely be showing some skin at your next backyard barbecue or beach outing. For a truly radiant glow, indulge in these nine nutrient-filled foods.
Tomatoes
Slice them, dice them, put them on a sandwich. or include them in your next kale salad. Tomatoes are packed with the antioxidant lycopene, which helps protect your skin from age-inducing free radicals. While you'll surely want to lather on sunscreen to ward off sun damage, studies have shown that tomatoes also offer ample protection against harmful UV rays. This Balsamic Grilled Salad is a tasty way to get your tomato on during your lunch break.
Flax Seeds
Flax seeds are rich with omega-3 fatty acids and help keep the skin hydrated, making them one of your greatest allies in the battle against wrinkles. Flax also keeps your heart strong by lowering triglyceride levels and reducing inflammation; you can get your flax fix with these Peanut Butter and Jelly Banana Muffins.
Dark Chocolate
Keeping a clear complexion can be pretty sweet—the cocoa powder in dark chocolate is filled with anti-aging antioxidants known as flavonoids. Besides contributing to a youthful appearance, chocolate has also been shown to prevent cancer and heart disease. To satiate your sweet tooth and maintain your healthy glow, we recommend keeping a pack of Newman's Own Super Dark Chocolate Cups on hand for mid-morning or afternoon snacking.
Sweet Potato
Sweet potatoes are packed with vitamin C, a nutrient that has been proven to reduce the appearance of wrinkles by bolstering collagen in the skin. For a full serving of this youth-boosting veggie, try our Curried Sweet Potato Soup, made with cinnamon and coriander, or grill up some Bistro Beet Burgers with a side of Sweet Potato Red Curry with Rice from Isa Chandra Moskowitz's Isa Does It.
Spinach
Along with regular application of sunblock, you may want to load up on leafy greens before you hit the beach this summer—an 11-year study, published in the International Journal of Cancer, found that consuming vegetables such as spinach and collard greens reduces the risk of developing skin tumors by more than 40 percent. A bowl of this Potato Spinach Salad, will help keep the doctor away.
Citrus Fruits
Citrus fruits pack a powerful punch of vitamin and nutrients that help keep your skin smooth and silky. Under their thick skin, oranges, grapefruits, lemons, and limes present a plethora of flavonoids and a huge helping of vitamin C, which will help keep the wrinkles at bay. Citrus fruits have also been shown to help prevent cancer, lower blood pressure and cholesterol, and treat headaches. Eat them solo, add them to a fruit salad, or indulge in this grapefruit and cranberry cocktail as you sun yourself poolside.
Safflower Oil
While safflower oil may come in handy in preparing tofu scramble or crisping your favorite faux bacon, it also helps to protect and moisturize skin when applied topically. Besides external use, incorporating safflower in your cooking also promotes dermatological health, and may be useful in treating skin conditions such as eczema, acne, and psoriasis.
Walnuts
Walnuts are another superfood laden with omega-3 fatty acids. They will also help you feel as young as you look, boosting your heart health by lowering your cholesterol and keeping your arteries clear. Serve walnuts as an entrée in this Kale Slaw with Barbecue Walnut Crumble or incorporate them into your dessert menu with these Mini Raw Vegan Berry Cacao Cheesecakes.
Carrots
Carrots' high levels of beta-carotene will provide you with vitamin A and antioxidants that are crucial for healthy skin. You may also want to include carrots in your cooler before you hit the beach—according to the National Institutes of Health, beta-carotene has been shown to protect people with sensitive skin from sunburns. Go simple and pair some carrot sticks with your favorite brand of hummus, or infuse an Eastern influence into your evening meals with this Asian Coleslaw.
While these foods will make you shine, shimmer, and glow, remember that healthy skin is an extension of your overall well-being. The better you treat yourself, the better your complexion and appearance will reflect it. So, hit the beach, pack some carrots and kale, and treat yourself.