Let's be honest, when your tummy is rumbling after a long day, it's easy to head to your phone and start browsing Deliveroo, Postmates, or UberEats. That way, you don't have to fire up the oven, do any prep, or really, even leave the sofa. Convenience is one reason that the food delivery app industry is booming. (By 2029, it's predicted to hit a value of more than $320 billion.)
But another way to make mealtimes easier—and prevent the daily struggle of figuring out what to eat and how to make it—is to make your own meal plan ahead of time. Doing this, and cutting down on takeouts, is also better for our health and helps us get more variety in our diets. And it has some environmental benefits, too. Here's more about why, and how, to create a vegan meal plan. Plus, we've included all-important recipe inspiration.
Why create a vegan meal plan?
Without a meal plan, it's easy to fall into the habit of eating the same things all of the time. There is nothing wrong with having favorite meals, of course. But when we feel like we're lacking inspiration in the kitchen, this may lead us to opt for convenience foods or takeout more often, which isn't always the best for our health.
In 2017, one study published in the International Journal of Behavioral Nutrition and Physical Activity revealed that participants who ate home-cooked meals more than five times a week consumed more fruit and vegetables than those who only cooked from home three times a week. And another 2014 study from John Hopkins Center for a Liveable Future, concluded that people who often cook from home eat healthier foods, and consume fewer calories, than those who don't.
Of course, cooking nutritious food isn't always accessible for everyone all of the time, especially for those who may work unpredictable shifts or late nights, or who live in food deserts. The latter refers to areas where fresh, healthy, affordable food is limited. In the US, it's estimated that more than 23 million people live in food deserts. You can read more about creating healthy, plant-based options in underserved communities here.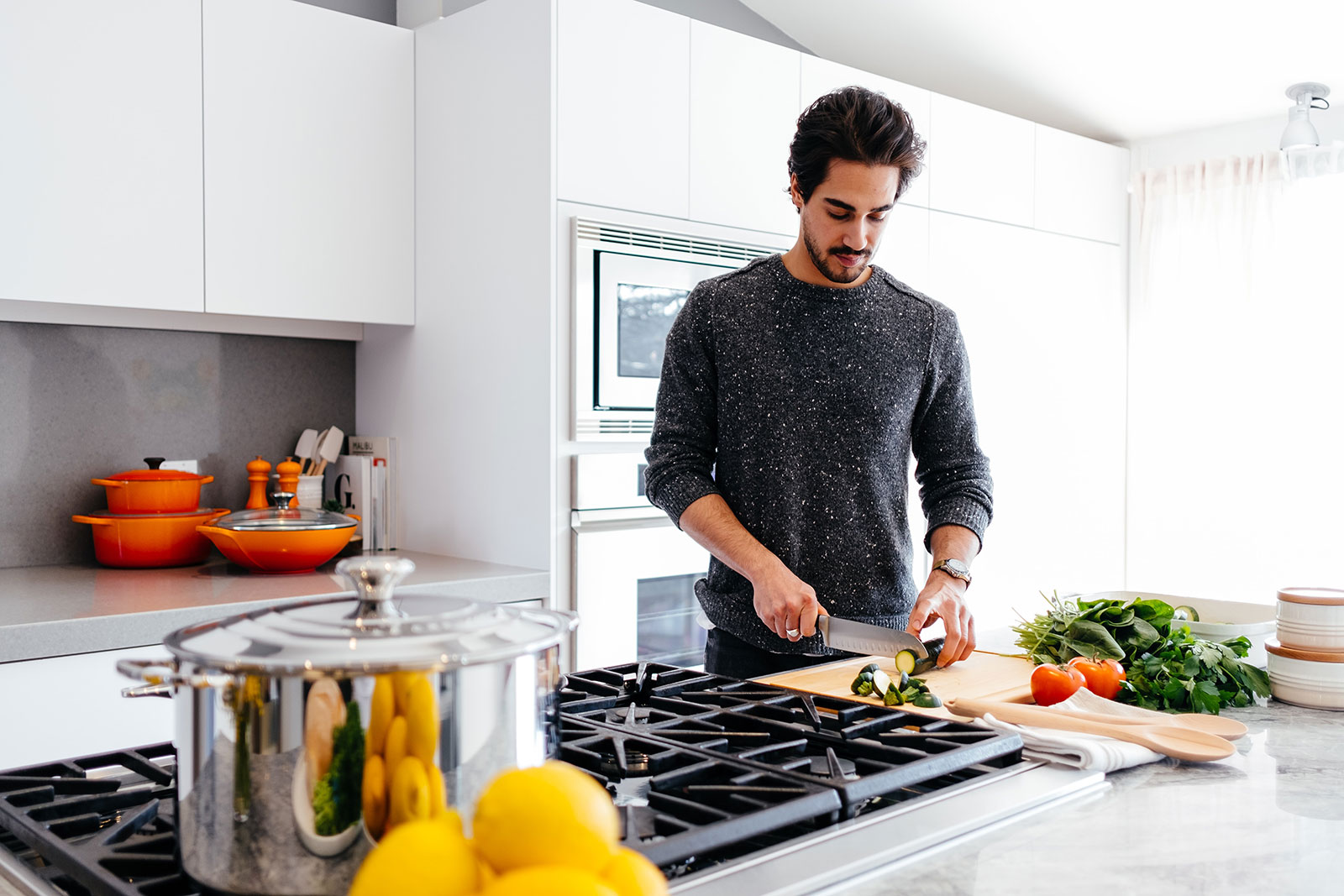 Jason Briscoe/Unsplash
Benefits of vegan meal planning
For those who do have the means and access, meal planning can provide many benefits. And they're not just nutrition-related either. For one, preparing what you're going to eat in advance, and adding up how much each of the necessary items will cost before you go shopping, may help you stick to a budget, particularly when money is tight. Ingredients like canned beans, for example, are often inexpensive, but they're also versatile, which means you can use them in several different recipes.
But another key benefit of meal planning is the impact it can have on the environment. If you stick to your plan, you won't throw away as many ingredients, which means you will reduce the amount of food you waste.
Research suggests that every year, the average person in the US throws away more than 200 pounds of food. This is not only a waste of the time, energy, and resources it took to produce, but also when it's in the landfill, food waste emits methane, a potent greenhouse gas.
Shopping for a vegan meal plan
The best way to shop for your vegan meal plan is to work out what you're going to eat first and then hit the grocery store. With so many options on offer, trying to shop and create a meal plan at the same time can be a little overwhelming. This way, you can also work out how much you want each meal to cost, and research the right products ahead of time to help you stick to your individual budget. Items like vegan meat can vary significantly in price⁠. (Plant-based sausages, for example, can range from around $4 per pack to nearly $8.)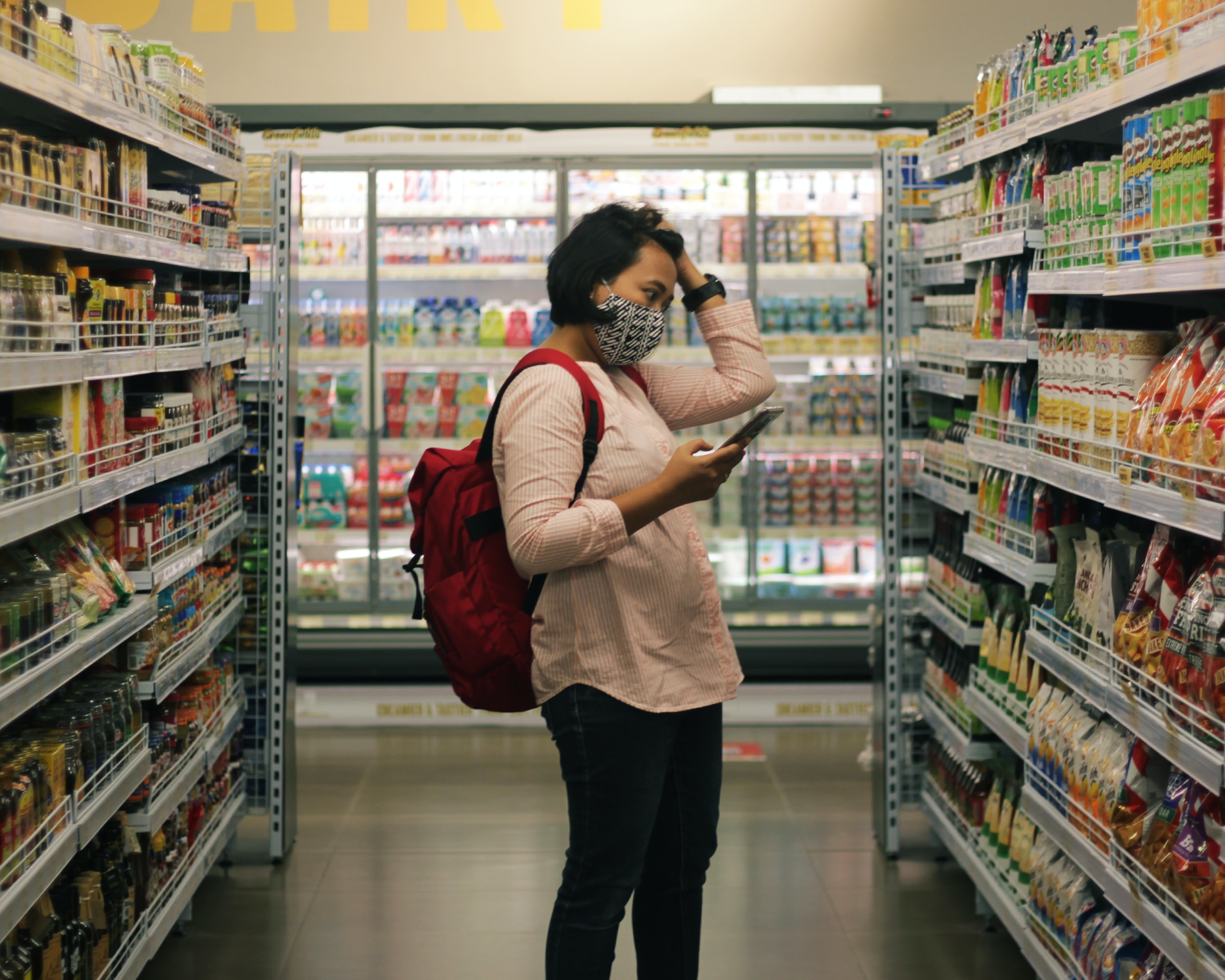 Unsplash
Sample vegan meal plan
Sometimes the biggest problem with creating a meal plan is a lack of inspiration. It can be difficult to think of different things to make that are both tasty and nutritious. But don't worry! Because this is where we come in. Here, we've put together a sample meal plan for one day, and after that, we've compiled several different vegan recipes you can try.
For ongoing inspiration, you can also sign up for our Ultimate Vegan Meal Planner, which provides you with your own customized plan based on a lifestyle quiz. After that, you'll have access to automated shopping lists, too.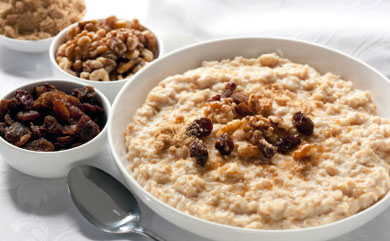 Patti Breitman
Breakfast: Cinnamon Nut Oatmeal
Starting a winter morning with a hearty, steaming bowl of oatmeal is a no-brainer, particularly if it's topped with cinnamon, fruit, and nuts. It's loaded with goodness, it'll warm up your insides, and it's quick to make, too.
Get the recipe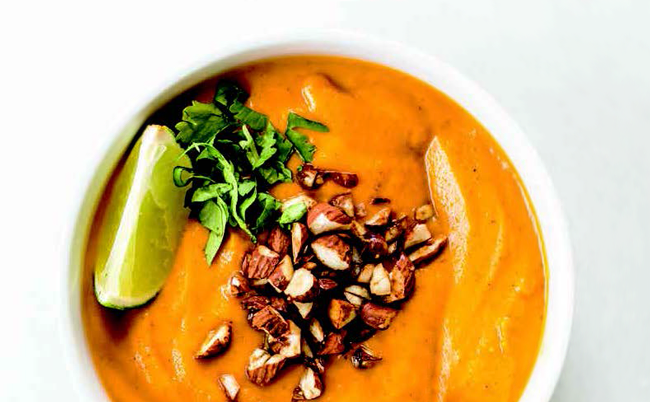 Oh She Glows
Lunch: Vegan Thai Carrot Soup
Soup is a great lunch option because they help you to feel full and satisfied throughout the afternoon, without needing to prepare a big meal. Plus, because they're often loaded with veggies (this one calls for carrots, onions, garlic, and sweet potatoes), they're good for boosting your immune system as well.
Get the recipe
Dinner: Vegan Shepherd's Pie
There's no rule that says pie always has to be sweet, and it doesn't always have to involve pastry either. This British classic features a mix of vegetarian burger crumbles, peas, gravy, and herbs, as well as a comforting, creamy mash potato top. Again, it's perfect for the winter months.
Get the recipe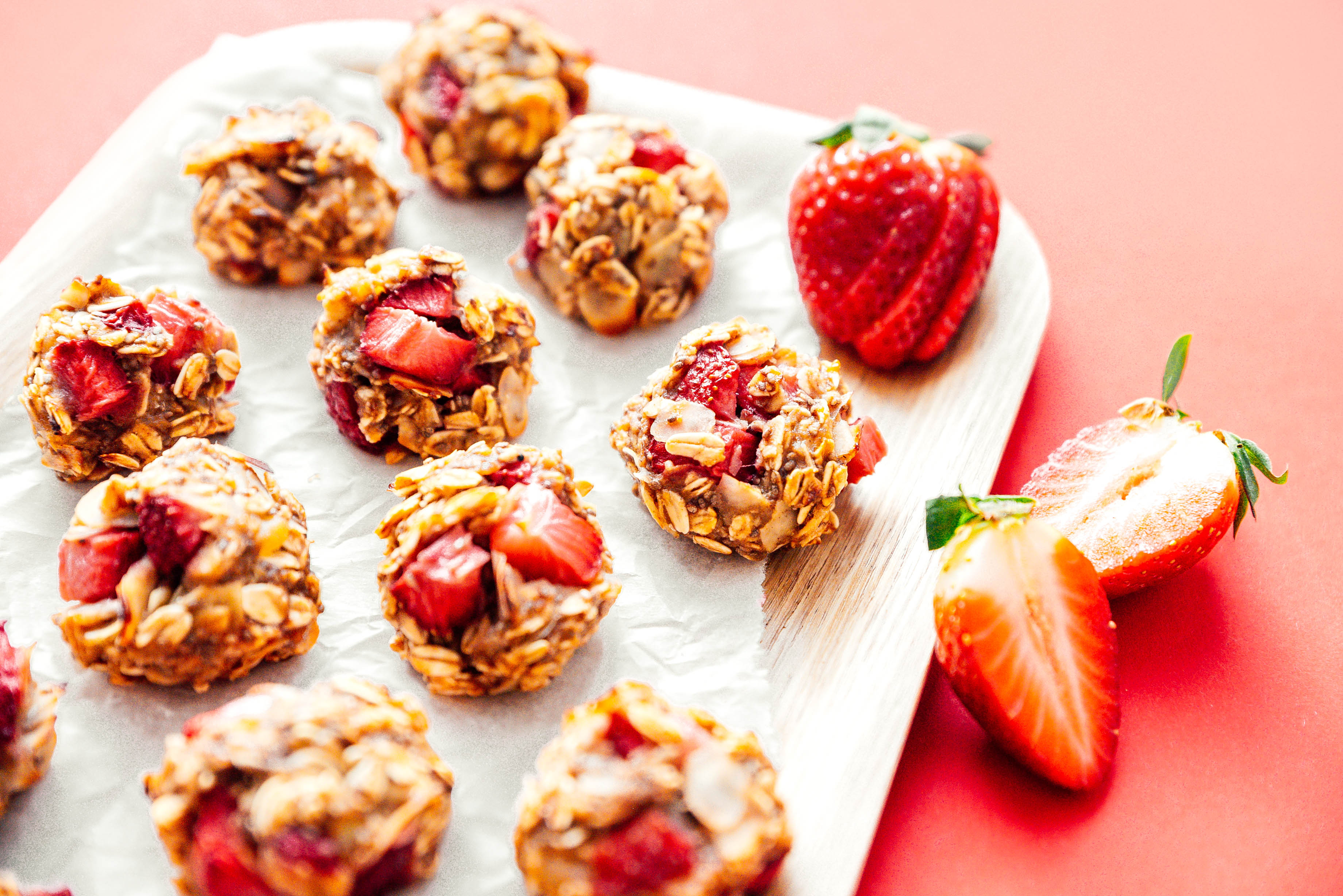 Sarah Bond
Snack: Strawberry Chia Oat Bites
There's no harm in factoring snacks into your meal plan, too. And, if you have the time and energy at the beginning of the week, make a batch of tasty oat bites to see you munching through until Friday.
Get the recipe
More recipes for your vegan meal plan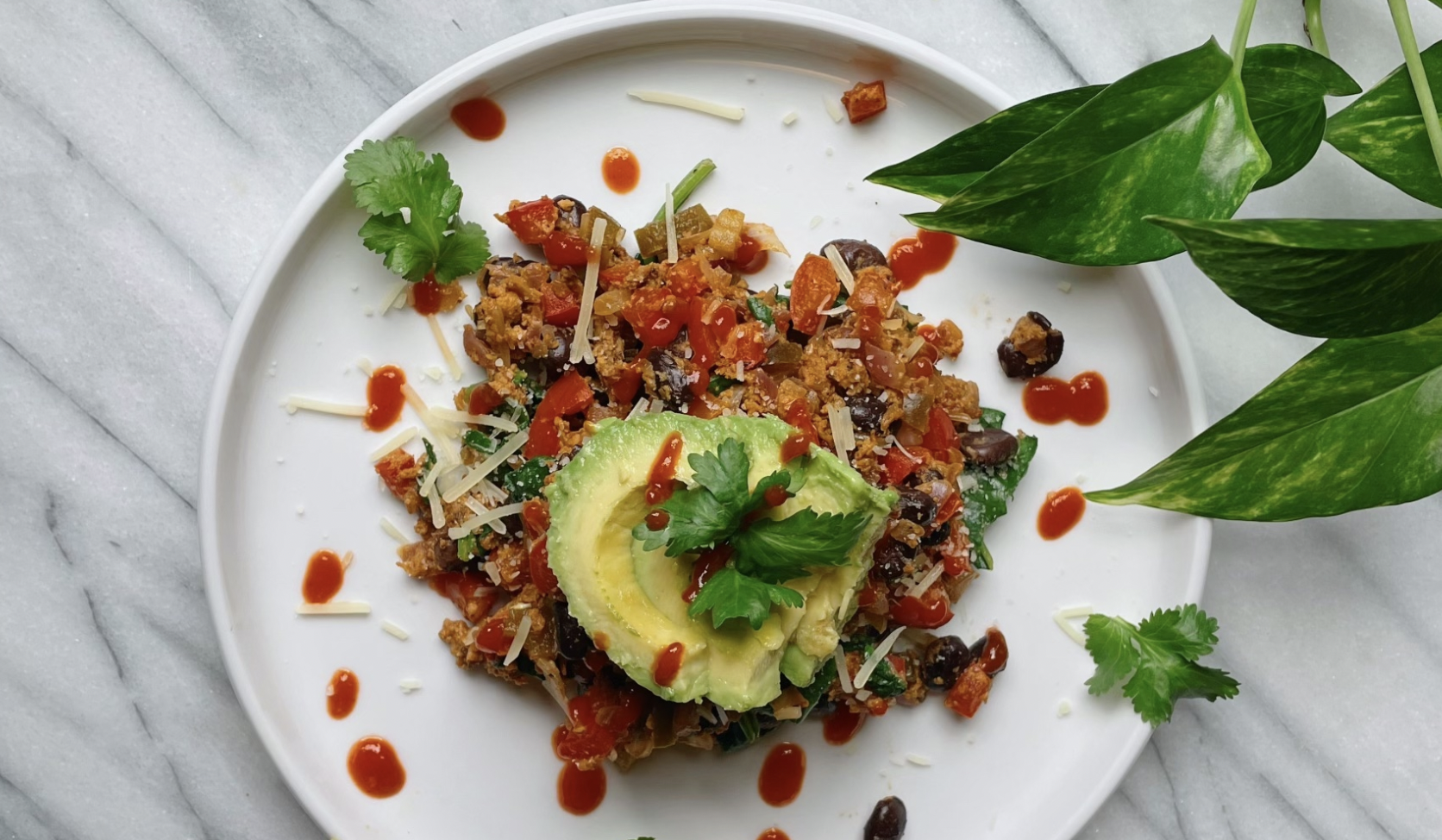 VegNews
1 Spicy Southwest Breakfast Scramble
When breakfast or brunch rolls around, scramble (made with tofu, or JUST Egg, in this case) is always a quick, nutritious, satisfying option. To liven up the vegan classic, this recipe calls for cayenne pepper, jalapeños, and black beans, as well as bell peppers and red onions.
Get the recipe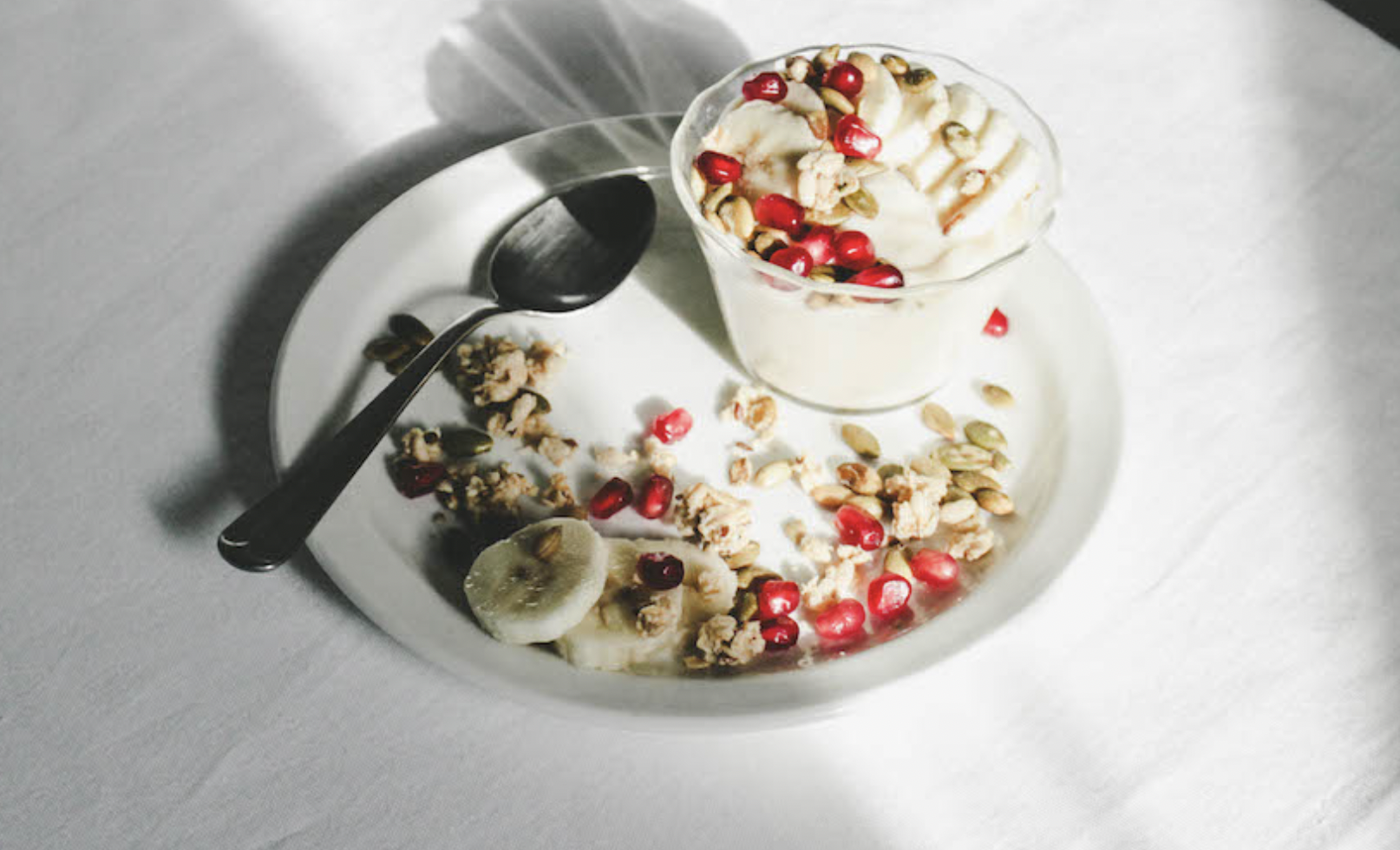 VegNews
2 Breakfast Parfait
Yogurt is an easy breakfast go-to, but it's not always the most exciting meal. However, it's easy to upgrade yogurt by adding ingredients like seeds, granola, and fresh fruit, just like this recipe demonstrates.
Get the recipe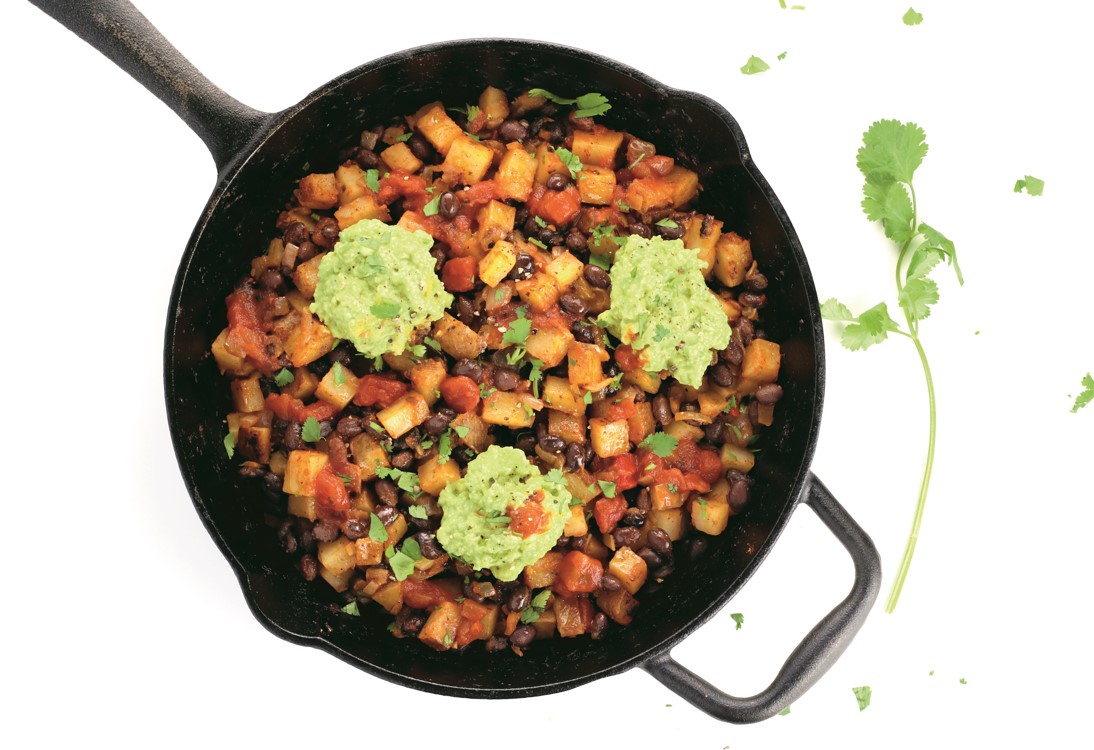 Sam Turnbull
3 Breakfast Hash
It's called breakfast hash, but you can enjoy this tasty recipe, which calls for russet potatoes, onions, beans, and spicy salsa, at any time of the day, be it brunch, lunch, or even dinner. It's quick, easy, and ultra-satisfying.
Get the recipe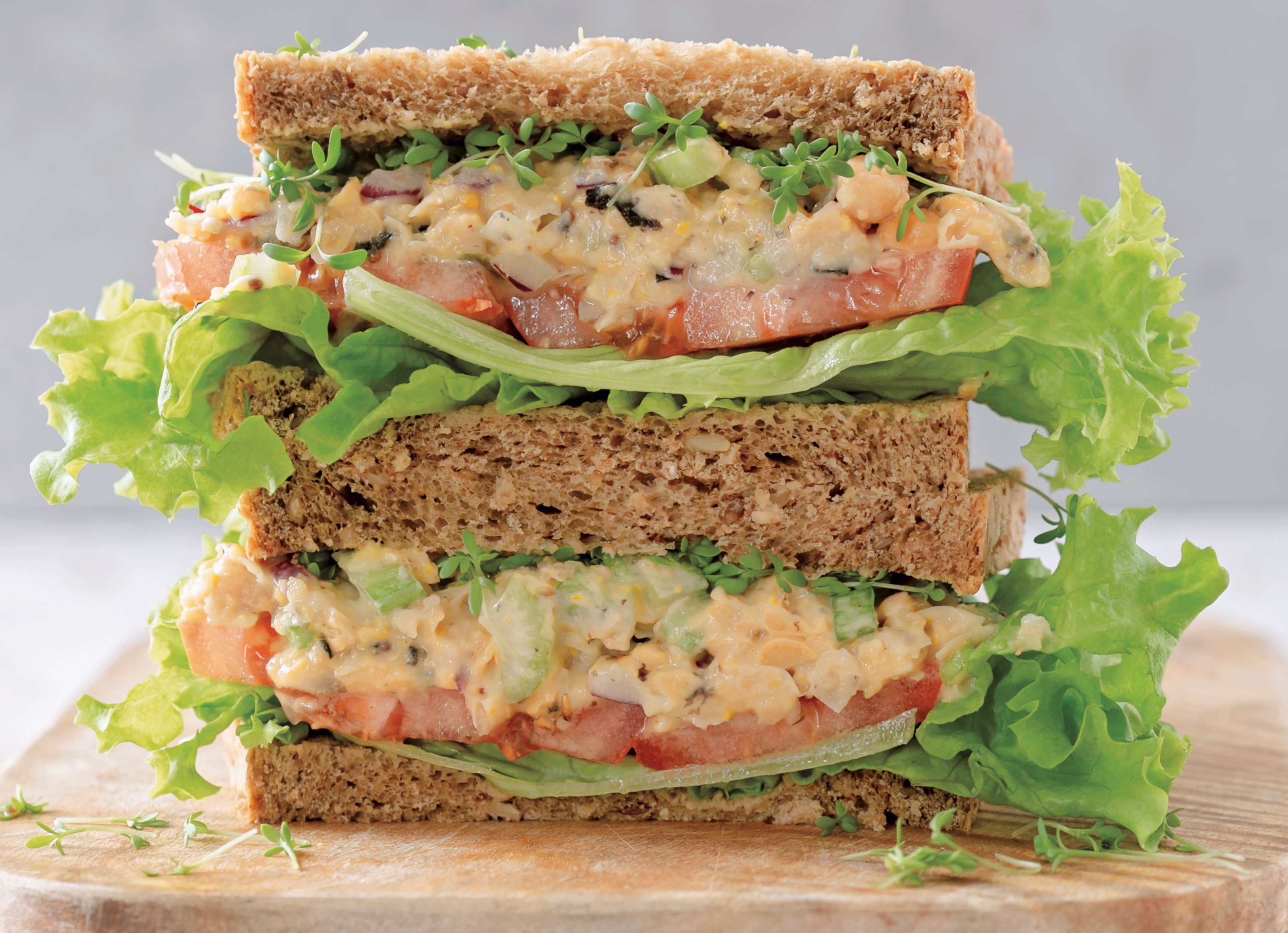 Andrea Bloomfield
4 Chickpea Tuna Salad Sandwiches
If you have to eat lunch on the go throughout the week, sandwiches are always a quick and easy option to prepare for. All of this recipe really requires, for example, is canned chickpeas and mayonnaise. The rest of the ingredients you choose depends on your preference.
Get the recipe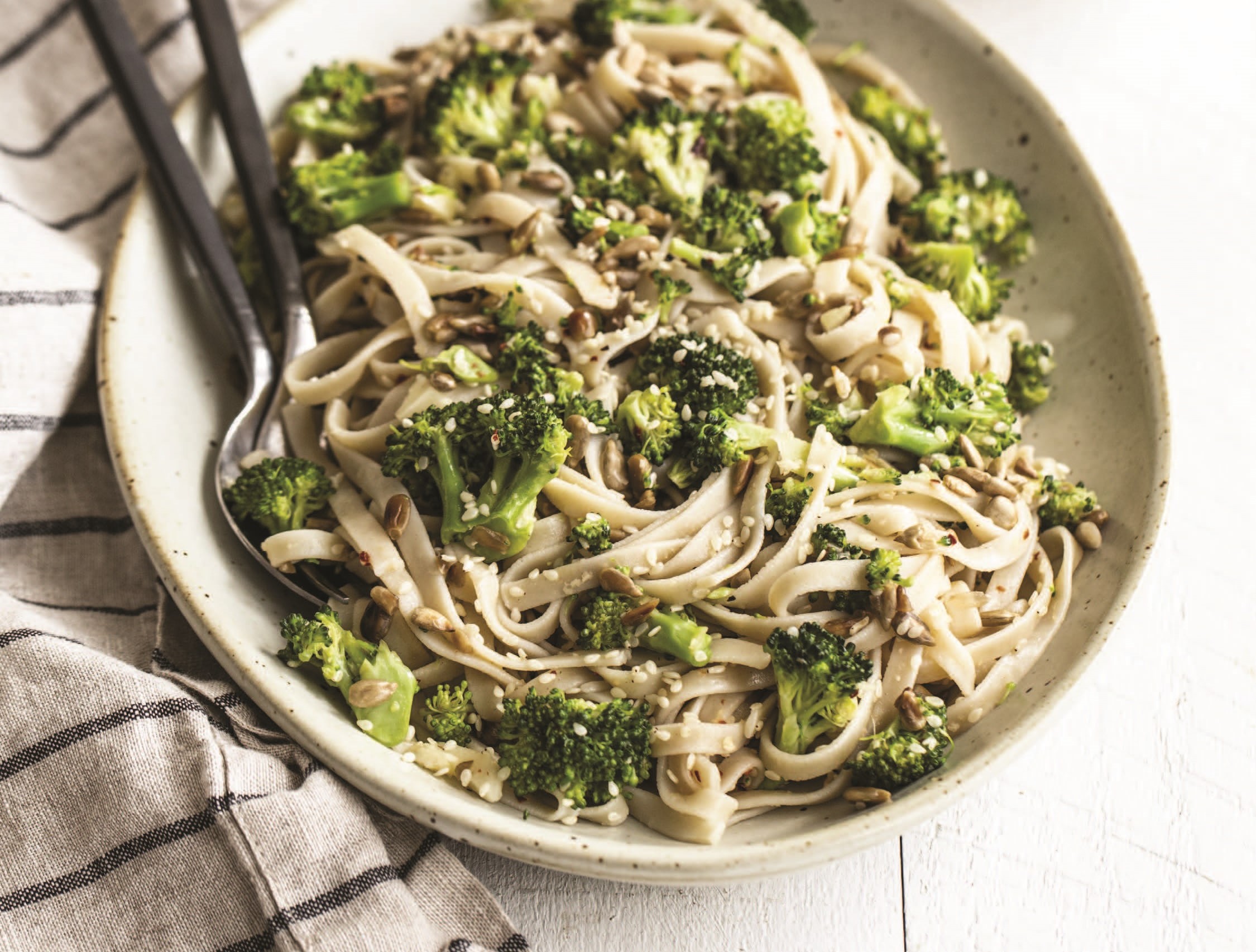 Ashley McLaughlin
5 Ginger Broccoli Noodles
This versatile, nutritious recipe can make for a quick and easy lunch or dinner, depending on the time of day. For added protein, add tofu, tempeh, or a vegan meat product of your choice.
Get the recipe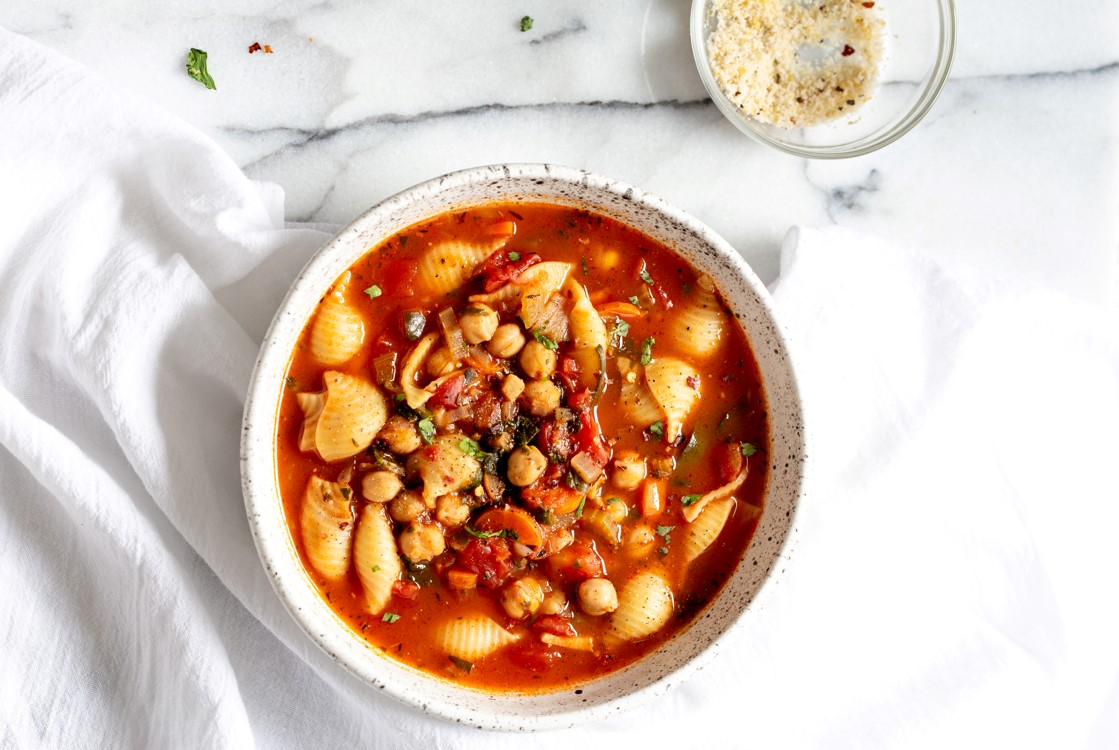 Richa Hingle
6 Instant Pot Minestrone Soup
Nothing says comfort food like minestrone soup. Add in your favorite beans, vegetables, pasta, and top with your go-to vegan cheese brand for a super hearty lunch or dinner. A side of crunchy bread wouldn't go amiss either!
Get the recipe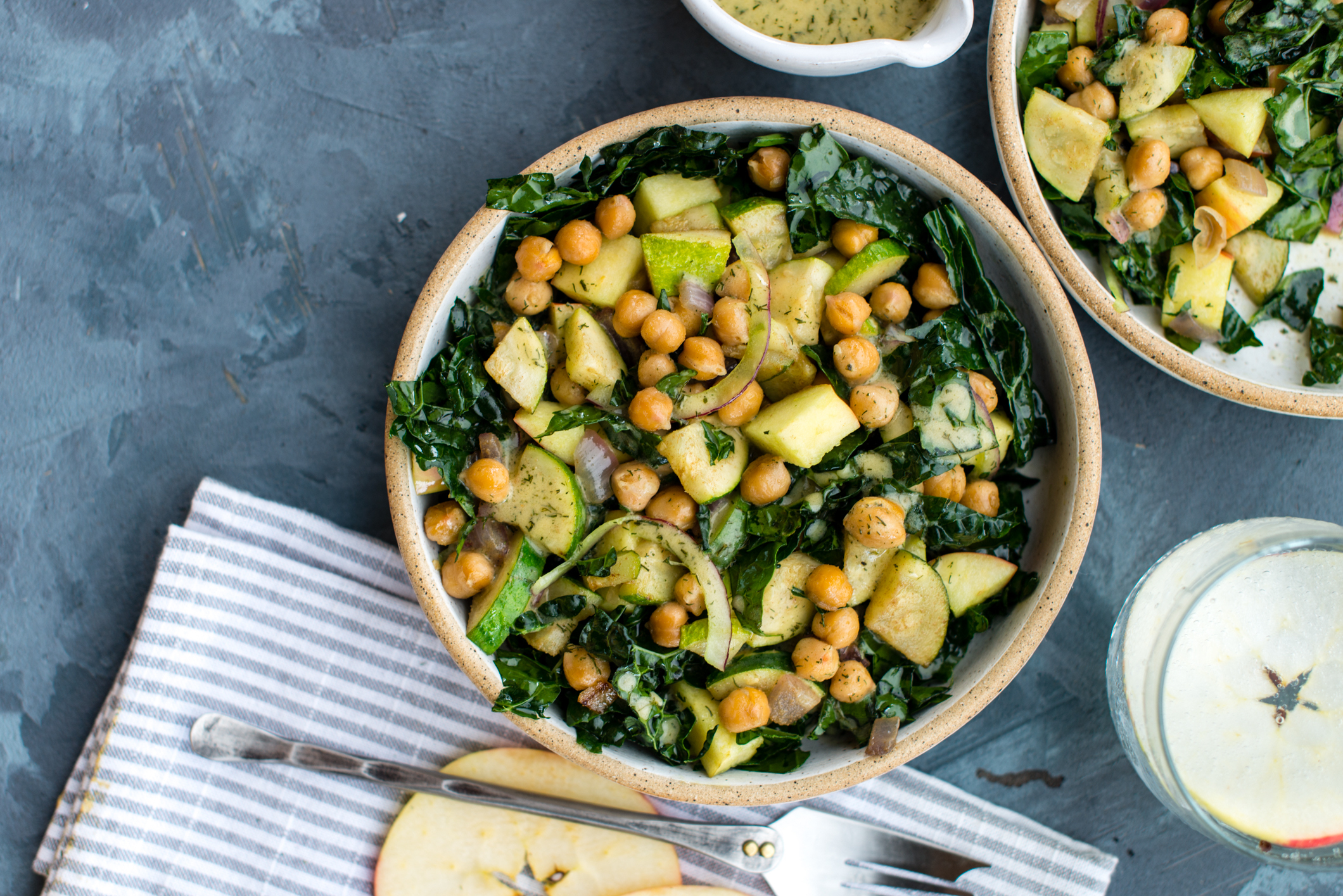 Caryn Jeanne Carruthers
7 Apple-Chickpea Kale Salad
Can't decide on a hot or cold lunch? Do both! This tasty salad combines heated chickpeas, zucchini, and onions, with cold kale, apples, and red onion. Serve with a tangy dill dressing for an extra boost of flavor.
Get the recipe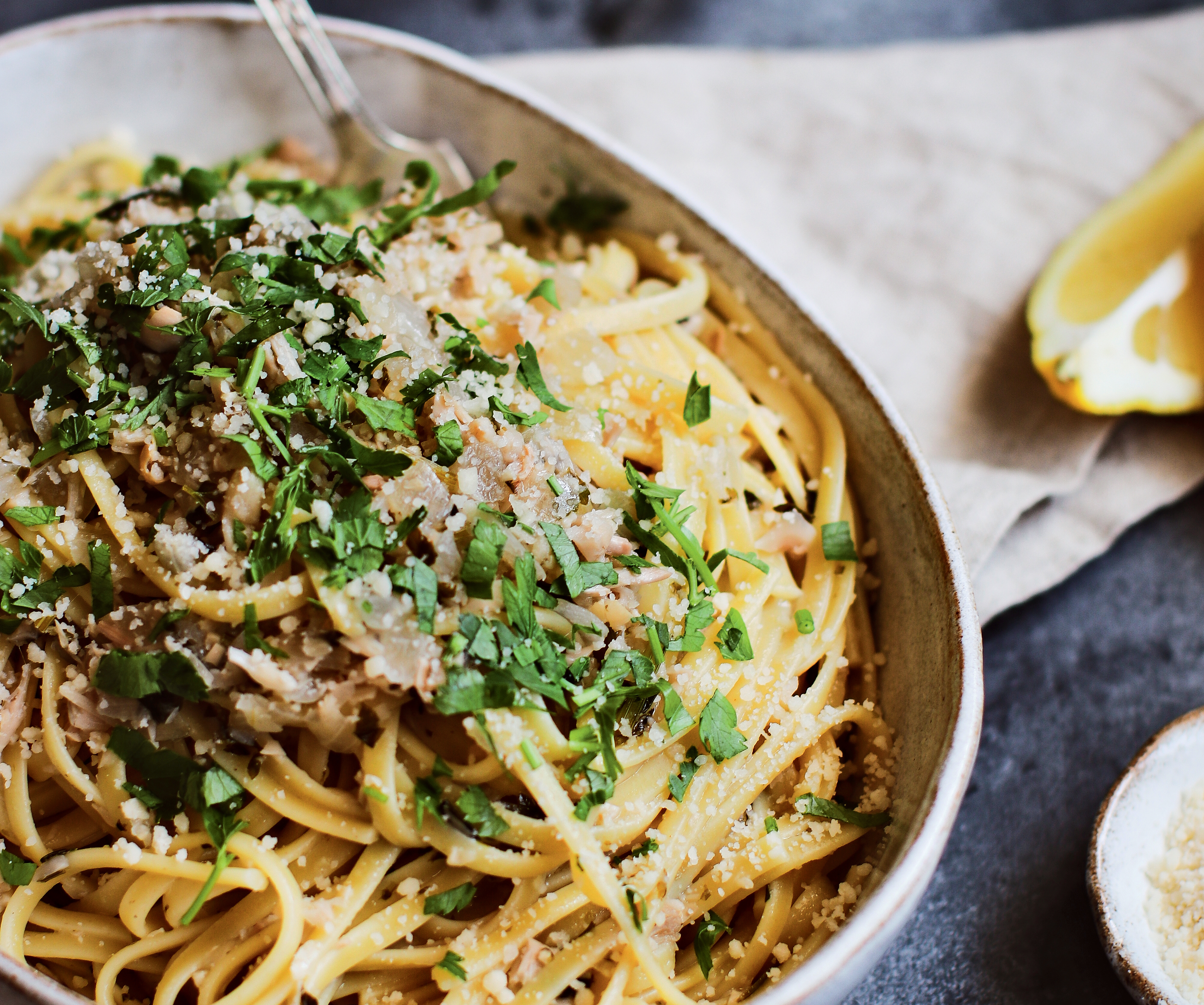 Brianna Claxton
8 Linguine with Vegan White Clam Sauce
Going vegan doesn't mean missing out on your favorite creamy, fishy dishes. This delicious linguine recipe subs jackfruit for clams, but hearts of palm will work just as well.
Get the recipe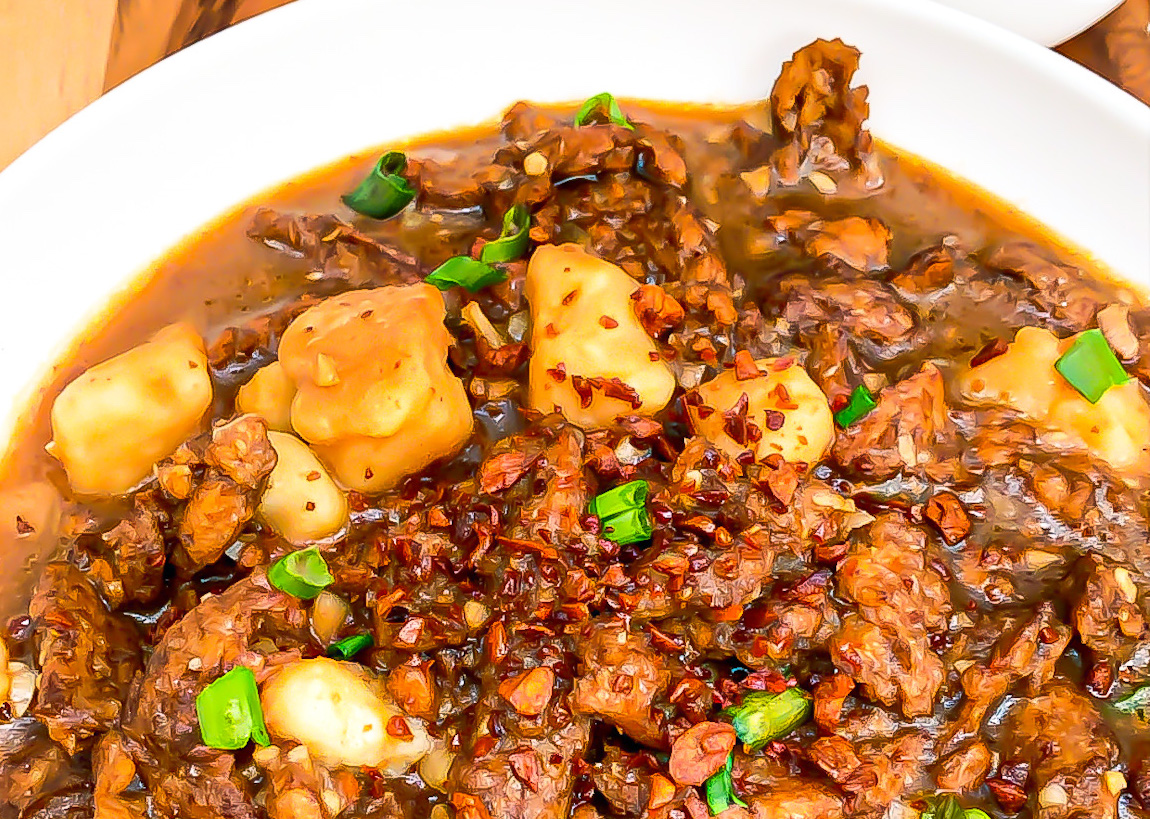 Reina Montenegro
9 Adobo with Tangy Soy Curls and Potatoes
Traditionally, Filipinx adobo usually involves meat or seafood, but neither is a necessity. Instead, this recipe calls for soy curls and potatoes, which are cooked with broth, soy sauce, peppercorns, and brown sugar. The result is a hearty, warming stew ideal for the chillier months of the year (or the hot ones! There are no rules).
Get the recipe
Zach Neil
10 BBQ Pulled Mushroom Sliders
This recipe is all about maximizing taste for minimal effort because all it involves is a few basic ingredients and an Instant Pot, which does most of the work to produce the flavor.
Get the recipe
For more recipe inspiration, read: