Most of us look at flowers and see a pretty, bee-friendly addition to our gardens and homes. But while flowers are undeniably nice to look at, they also have benefits beyond their appearance. Many flowers are actually edible, and make a tasty, colorful addition to all kinds of different meals. But it's not as simple as heading out to your backyard and picking the first flower you see, throwing it onto your plate, and hoping for the best. Here's more about which flowers are edible, how to cook with them, and, of course, some delicious vegan recipe ideas, too.
Which flowers are edible?
There are more than 400,000 flowering plant species in the world, and they all come in different shapes, sizes, and colors. While some can be eaten, it's important to note that some are also poisonous. Foxgloves, for example, look pretty, but they are toxic to humans and many animals, so for that reason, it's vital to do your research before you start experimenting with edible flowers.
When it comes to finding safe, edible flowers, one option is to look for those that grow on vegetables and herbs, like pea blossoms, squash blossoms, and mint flowers. But you can also eat many flowers that aren't attached to some form of produce. Marigolds, roses, lavenders, begonias, fuchsias, and geraniums are just a few more examples of safe, edible flowers.
When you buy, just ensure you're purchasing the food-grade version, and if you want to eat flowers from your own garden, make sure they haven't been sprayed with any chemicals, like bug or weed killer, prior to eating.
Do you cook edible flowers?
There are many different ways to prepare and cook with edible flowers. You can use them as a simple garnish for dishes like salads, pastas, and vegan eggs, or bake them into cakes and cookies. "Dried lavender flowers can be added to a jar of granulated sugar," Mary Newman, PhD, author of the book Edible Flowers: A Global History, told the Michelin Guide. "And then, when making a pound cake or sugar cookie, strain and use the infused sugar."
Alternatively, you could freeze edible flowers into ice cubes and add them to cold water, lemonade, or punch, for a pretty, colorful, and refreshing beverage choice.
Vegan recipes with edible flowers
If you love the idea of cooking a dish with edible flowers, but you're not sure where to start, we've gathered a handful of ideas below. From sweet to savory, we've got something for everyone. Bon appétit!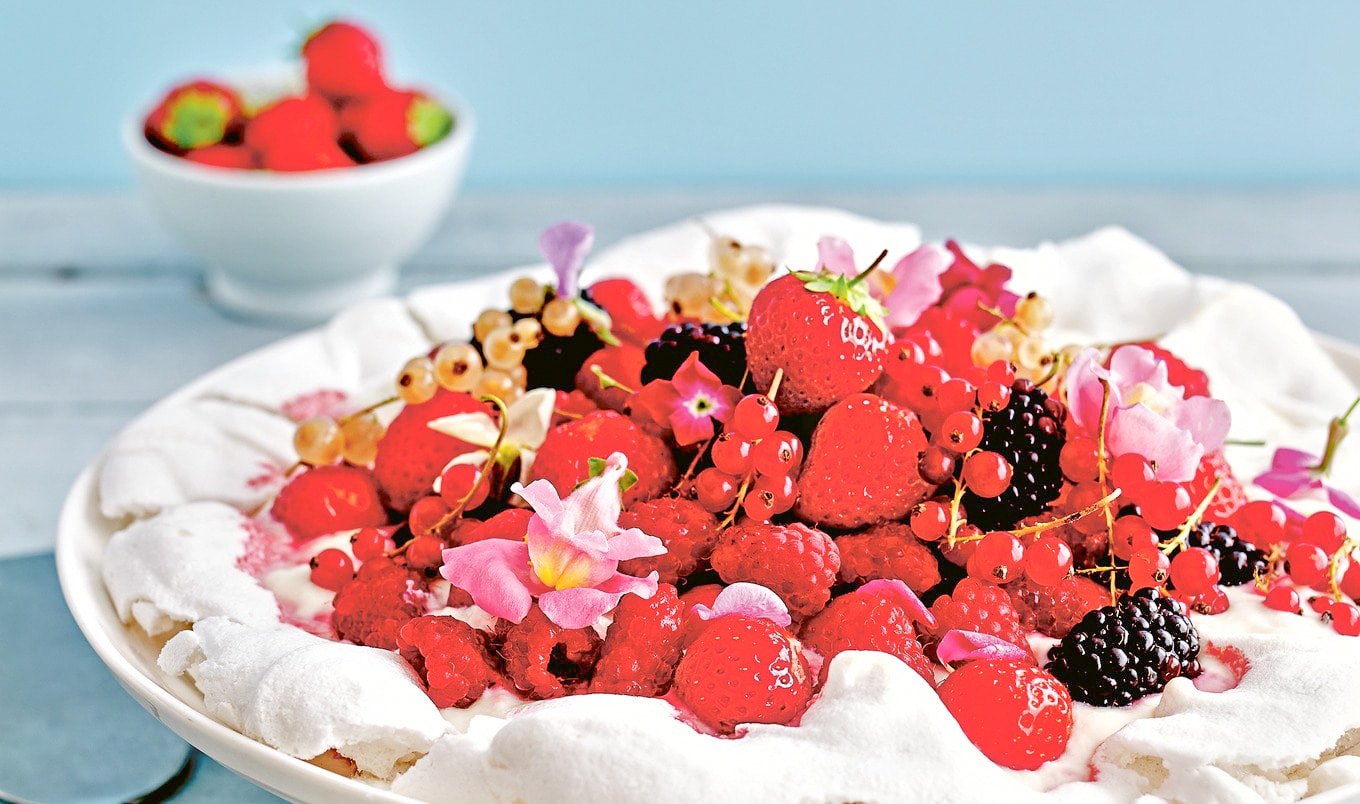 Heather Whinney
1 Mixed Berry Pavlova
If you're looking for an elegant, pretty dessert idea to impress your loved ones at your next soirée, this mixed berry pavlova will absolutely do the trick. Topped with mixed berries, vegan yogurt, and edible flowers, it's as delicious as it is good-looking.
Get the recipe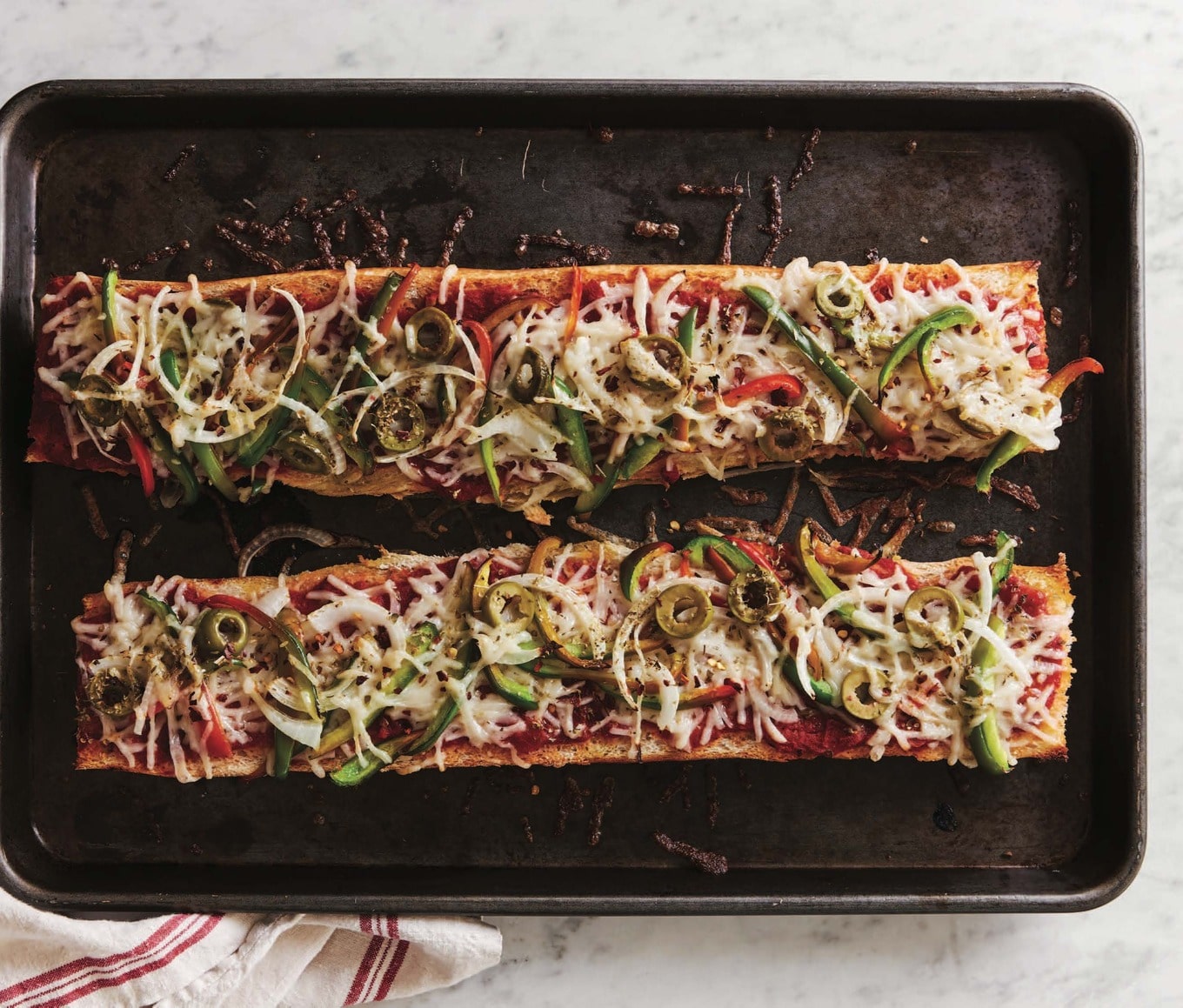 Dustin Harder
2 Unicorn French Bread Pizza
Flowers on a pizza?! Yep, it's a thing. And it's tasty, too. This vibrant, fun recipe is great for fussy kids (and adults). Made with just a handful of ingredients, including French baguette and marinara sauce, it's also simple and quick to pull together.
Get the recipe
Labeless Nutrition
3 Pansy Shortbread
These might be the prettiest shortbread cookies we've ever seen. Pansies are another example of a popular edible flower, and have a pleasant, minty taste that goes beautifully with these crunchy, buttery cookies.
Get the recipe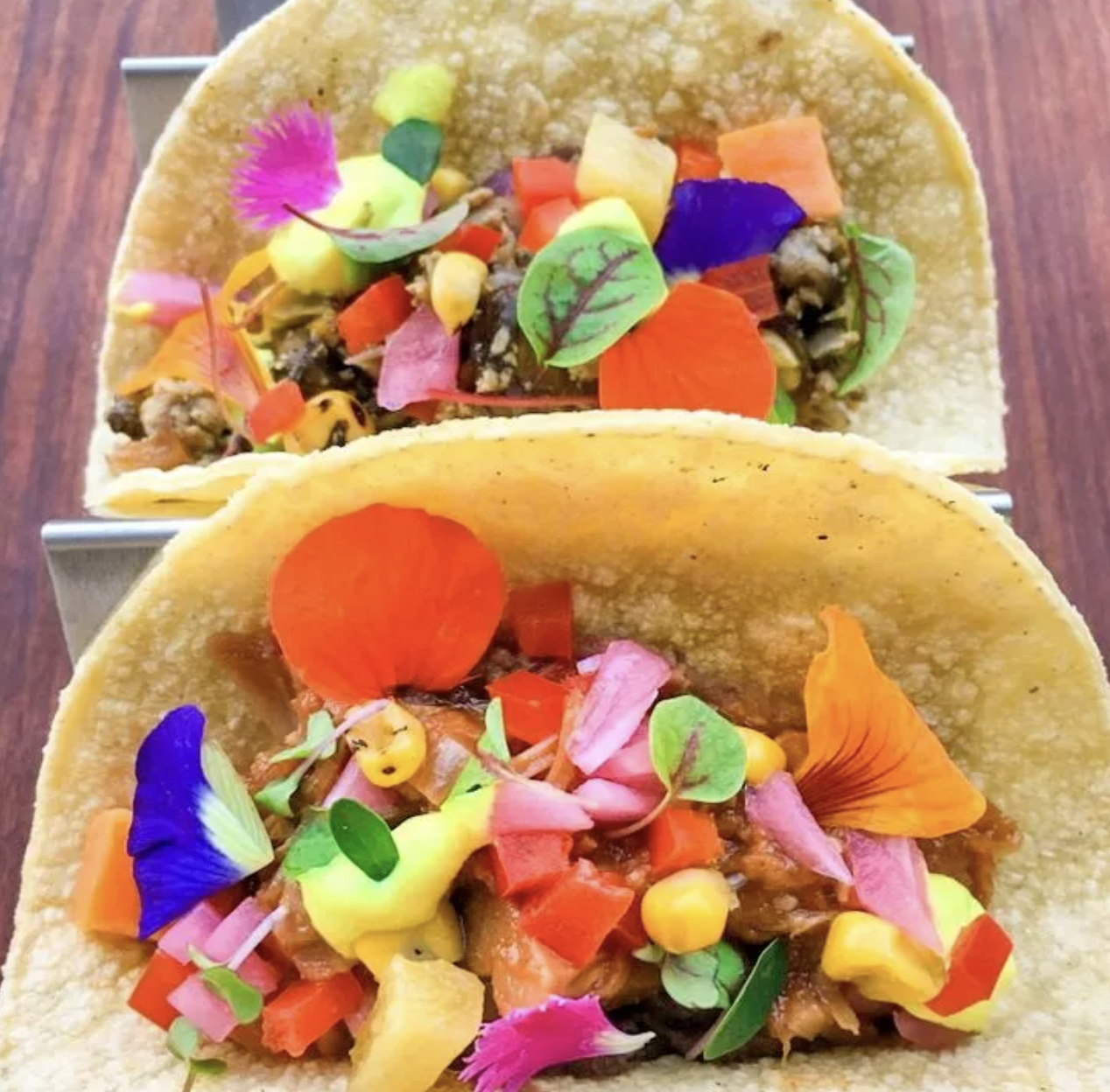 The Feed Feed
4 Jackfruit & Flower Tacos
Bored of your usual go-to taco fillings? Make things extra vibrant by mixing some edible flowers into the mix! Made with fresh orange juice and tomato sauce, the zesty flavors of this dish are perfect for summer.
Get the recipe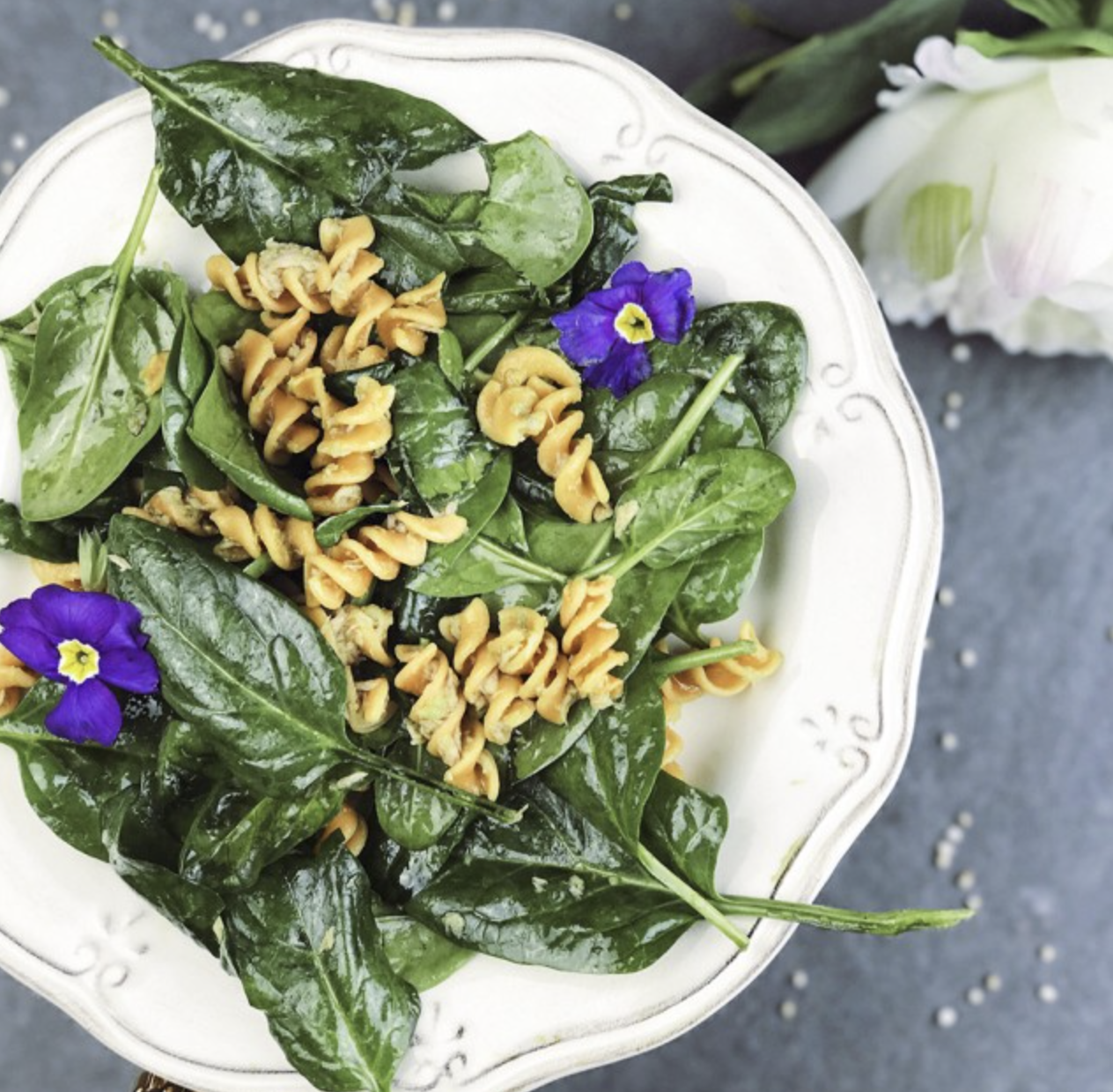 Vegan Easy
5 Lentil Pasta With Edible Flowers
For a fresh, tasty lunch, combine lentil pasta with greens, pumpkin seed oil, and sweet, edible primrose flowers. For the dressing, grab your favorite from the store or, alternatively, whip up your own cashew mayonnaise!
Get the recipe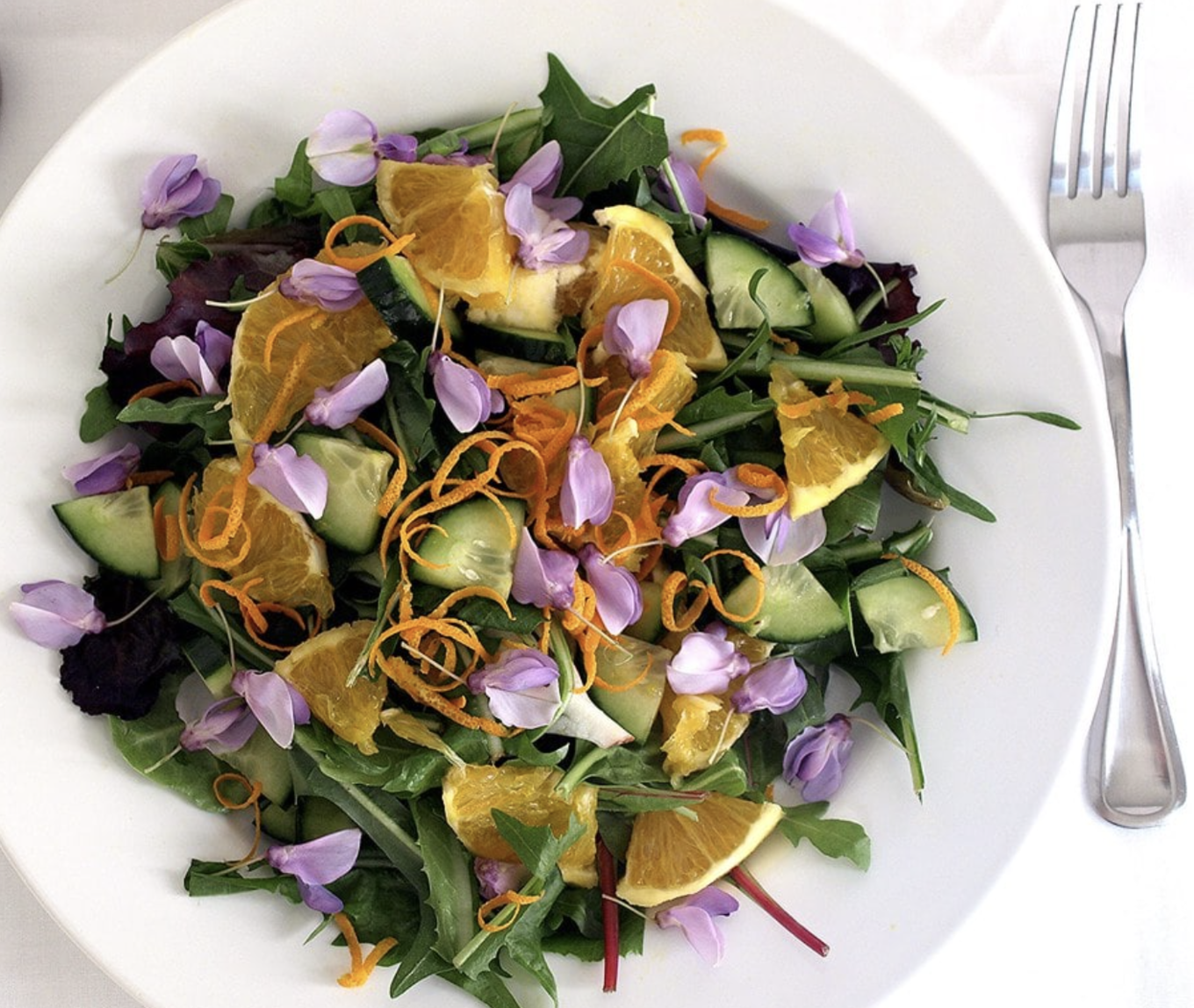 The Simple Veganista
6 Spring Salad With Edible Flowers & Dandelion Greens
This salad is spring in a bowl! Just pick your favorite edible flowers (this recipe calls for wisteria) and combine with delicious dandelion greens. The latter is an edible weed with a versatile, tangy flavor, with just a subtle hint of bitterness.
Get the recipe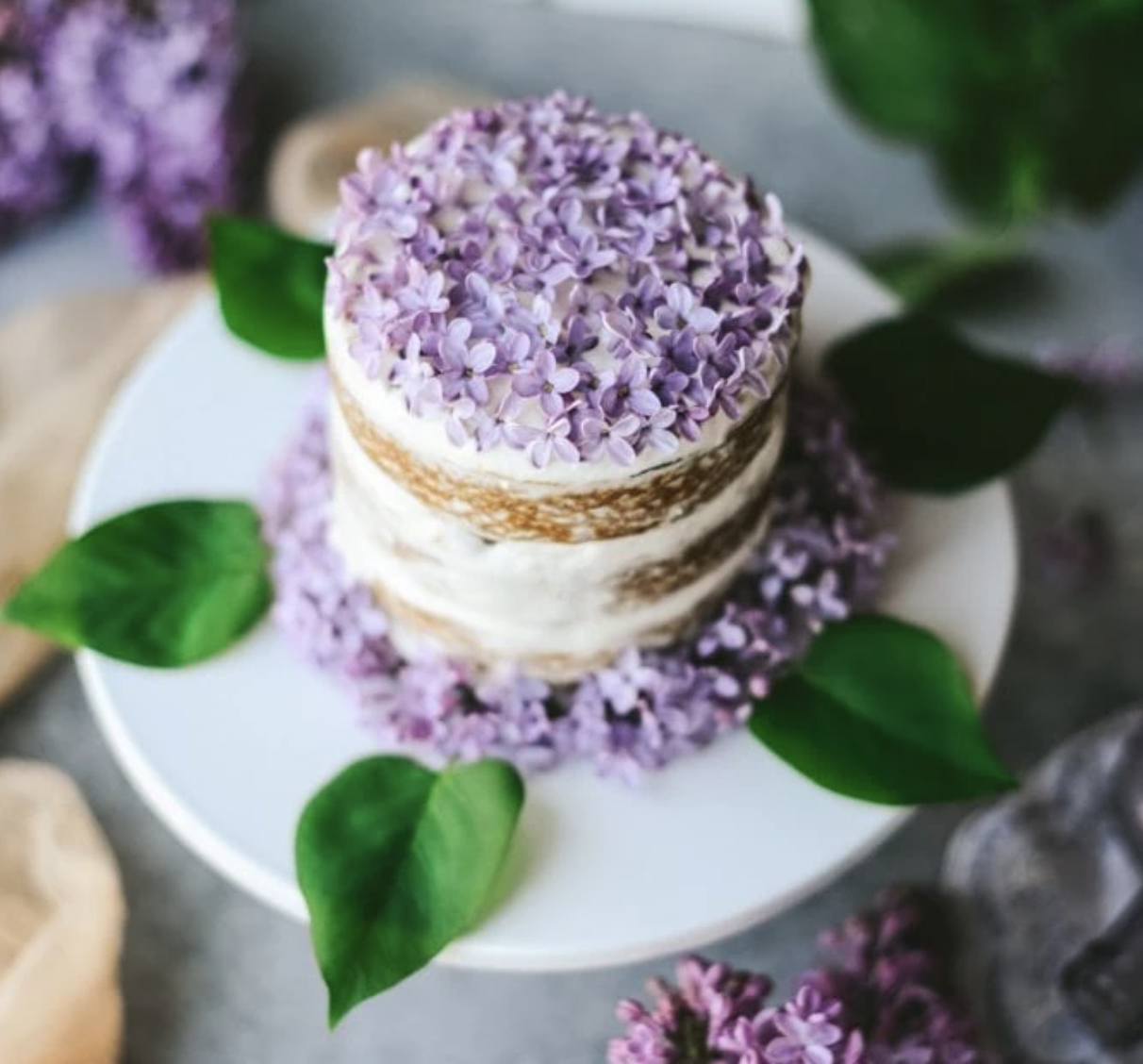 Fare Isle
7 Lilac Lemon Cake
This recipe is one to bookmark for the next special event in your life. It looks beautiful and tastes delicious, so just make sure you make enough, as everyone will be asking you for seconds.
Get the recipe
Here at VegNews, we live and breathe the vegan lifestyle, and only recommend products we feel make our lives amazing. Occasionally, articles may include shopping links where we might earn a small commission. In no way does this effect the editorial integrity of VegNews.