Vegan food is becoming big business. By 2030, the market is set to hit more than $65 billion in value. And as plant-based brands get bigger, so do their marketing budgets. And while previous strategies may have focused on pulling on people's heartstrings, vegan brands and organizations seem to have landed on a new strategy: play on the humor. Funny, innovative, and thought-provoking vegan campaigns and commercials are popping up all the time now. Here, we've rounded up some of the most memorable from 2022.
Vegan brands in the media
It's hardly a surprise that, in the past, veganism has had a reputation for being pretty serious. After all, fundamentally, the movement is a protest against cruelty and exploitation. Every year, billions of animals are slaughtered in the food industry. Most of them spend the majority of their lives in cramped, dirty conditions on factory farms, which also drain natural resources and pollute the atmosphere.
All of that is not just serious, but some may argue, heartbreaking, too. Historically, animal-rights organizations have used this thread to convince people to ditch animal products. Campaigns have centered around exposing and raising awareness of cruelty. This has its place, of course. But lately, vegan brands have been changing tack and lightening their tone to appeal to a wider demographic.
Quorn
"Brands are looking to target different audience segments, like families with teenagers who have specific dietary requirements, younger generations who are experimental with food, or foodie millennials," Chris White, who founded design agency This Way Up, told Creative Review.
After all, most of the public isn't vegan. But many people are curious about meat reduction and plant-based products. Research shows more than half of young Americans call themselves flexitarian, and more than a quarter of Brits are reducing their meat intake.
"For many, plant-based is still serious, self-righteous, and worthy," White added. "Humor plays an important role in breaking down the stigmas, opening the door to wider audiences."
Vegan marketing in 2022
This year, brands have embraced the fun side of veganism, but they haven't lost their integrity. Commercials and ad campaigns have, for the most part, been tongue-in-cheek. They have focused on directing attention to important issues with creativity and playfulness, but in a way that doesn't detract from the overall takeaway: that we need to move away from animal products.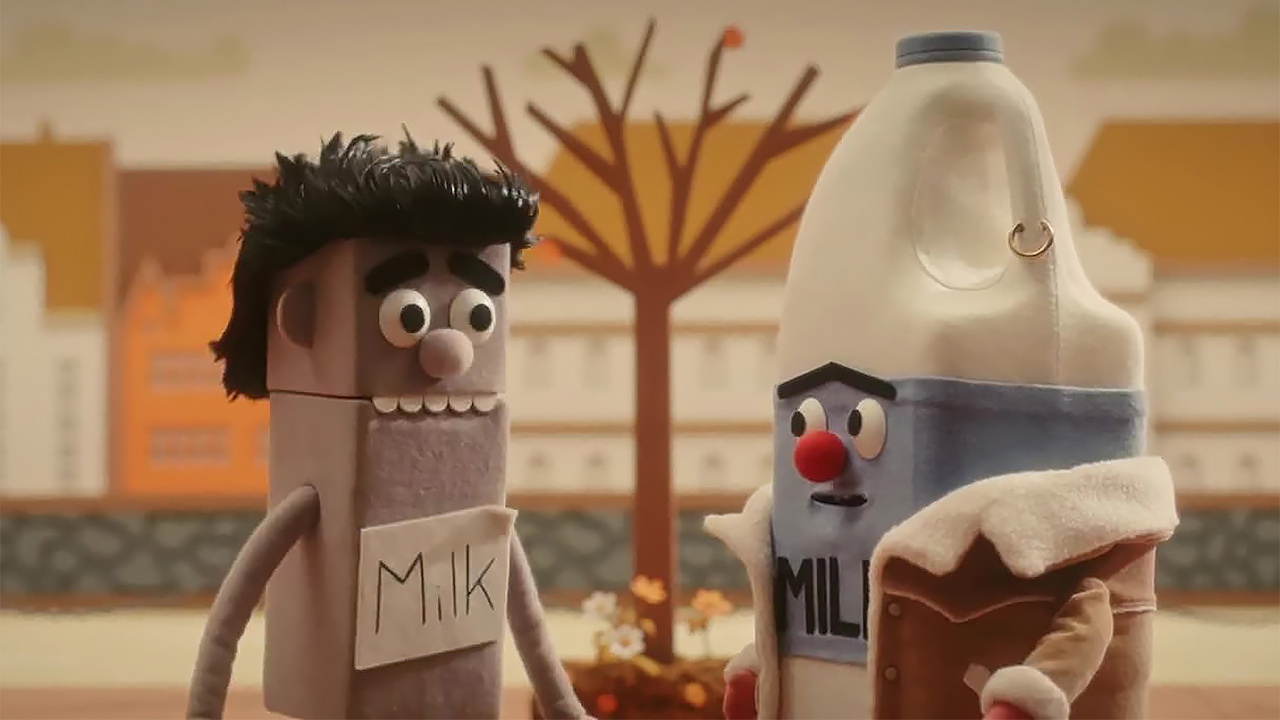 Oatly
Oatly's school milk commercial, for example, which sees a young girl pushing oat milk like drugs throughout the school day, is amusing and upbeat, thanks to Curtis Mayfield's "Pusherman" soundtrack. But the message is serious: the brand has been rallying the European Union to include plant-based milk in its School Scheme, which offers schools financial aid to buy food for students.
Even vegan nonprofits, which, historically, have embraced more solemn campaigns, have embraced a lighthearted tone. But again, the true meaning is far from lost. Take Vegan Friendly's "Hell of a Steak" commerical, for example, which sees diners innocently order a steak, only to be doused with all the resources it takes to put the meat on the menu.
Oatly and Vegan Friendly aren't alone. The world's biggest plant-based brands and organizations have produced some of their most creative content yet this year. Here are a few examples of some of the funniest commercials from 2022.
Funny vegan commercials
1 Oatly's "The New Norm&Al Show"
The school milk advert wasn't Oatly's only commercial this year. The brand also created its own in-house puppet show, which, despite running on UK TV channels and YouTube, was designed to feel like a new series, rather than an advertisement. It features two oat milk carton puppets called Norm and Al, and one old pal called Milk.
"We wanted to push the message across that, now more than ever, it's easier to go plant-based, and to make that even easier to digest, why not have puppets deliver that message, because who doesn't love puppets?" Oatly's Creative Director Michael Lee told Campaign.
2 Quorn's "So Tasty Why Choose The Alternative?"
Another meat-free brand that got the people-love-puppets memo is Quorn. The brand's new commercial starts with a woman sitting in her kitchen, about to eat a sandwich, while a sultry voiceover talks about Quorn's new Deli Slices. The camera pans to a puppet pig speaking into a microphone as he states: "I wouldn't bother wondering what the alternative is," before he's joined by two more puppet farm animals: a cow and a chicken.

"We want to make [people] laugh while also demonstrating just how delicious our new products are. As we know, switching consumers into our products from their usual meat deli slices will be another step towards helping the planet," Quorn's Marketing Director Gill Riley told The Drum.
3 Beyond Meat's "You've Evolved" series
Beyond Meat's key message has always been that meat can still be tasty, juicy, and nostalgic, without needing animal products. The ingredients can change and evolve, but the essence of the food remains the same. Earlier this year, it released a series of commercials for its new jerky, which played on this theme. In various settings, including a gym, a supermarket, and an office, people talk to their former selves, back when they were angsty teens. The tagline reads: "You've evolved. So should your snacks."
4 PETA's "Fight the Bite" Superbowl Ad
In the past, PETA has not shied away from being graphic and controversial with its campaigns. But with this year's Fight the Bite Superbowl commerical, it embraced the new, fun, creative marketing narrative being pedaled by plant-based food brands. At the same time though, it kept its all-important animal-rights messaging.
The commercial depicts "unexplained video clips," which show fast-food chicken items turning back into real birds and attacking unsuspecting diners. The ad ran on a number of sports channels, and the goal was to remind Superbowl viewers that chicken wings (a fan favorite throughout the sporting competition) come from real animals.
5 JUST Egg's "Really Good Eggs'"
Celebrities have become a huge part of the vegan movement. A number of A-listers and musicians have backed plant-based brands financially, and even starred in their commercials. This year, vegan egg brand JUST Egg released two commercials featuring two of their star investors: Serena Williams and Jake Gyllenhaal. With an iconic voiceover from J.B. Smoove, one of the ads shows Williams sitting in her kitchen, eating a meal, which has been meticulously prepared by an in-house team of scientists and nutritionists.
"I'll let you in on a secret: I don't actually have a scientist in my kitchen. It's not that exciting in there. But I do have JUST Egg," Williams said in a statement speaking about the advert. "Who can turn down being narrated by J.B. Smoove?" Gyllenhaal added.
6 Redefine Meat's "Cow Repurposing Institute"
Plant-based brand Redefine Meat arguably wins the award for the most creative and comical commercial of the year, with its Cow Repurposing Institute. The ad imagines a world where people have stopped eating meat, and cows are free to pursue their passions and career goals. They can operate drones, massage humans, or become academics. They can even communicate and joke about getting revenge on the humans that farmed them.
The commercial is also accompanied by a website landing page, and a statement from the Cow Repurposing Institute's faux founder. It reads: "Cows are interested in and challenged by, a number of multifaceted undertakings—and this line of work is much preferred to chewing grass, day in and day out."
7 Wholly Veggie's "Haha You Just Ate Vegetables"
Canadian brand Wholly Veggie's new ad series has two central themes: heavy metal and lies. In each short clip, an unsuspecting diner is fed Wholly Veggie's products by their parents or their partner, without knowing they're totally plant-based, while a heavy metal song plays. The tagline reads: "Haha, you just ate vegetables."
The commercials were created for Wholly Veggie by an independent agency called Party Land. "Knowing we wanted to stand out, heavy metal felt like a surprising approach for not just the category but for advertising as a whole. Metal is one of the more mischievous genres, which connects well with the idea underpinning the campaign," Wholly Veggie Co-founder Matt Heath told Adweek.
Memorable ad campaigns
As well as commercials, many plant-based brands and organizations chose to carry out full-blown ad campaigns, across various different mediums, this year. As with the commercials, many took a tongue-in-cheek approach. Here are some of the year's most memorable.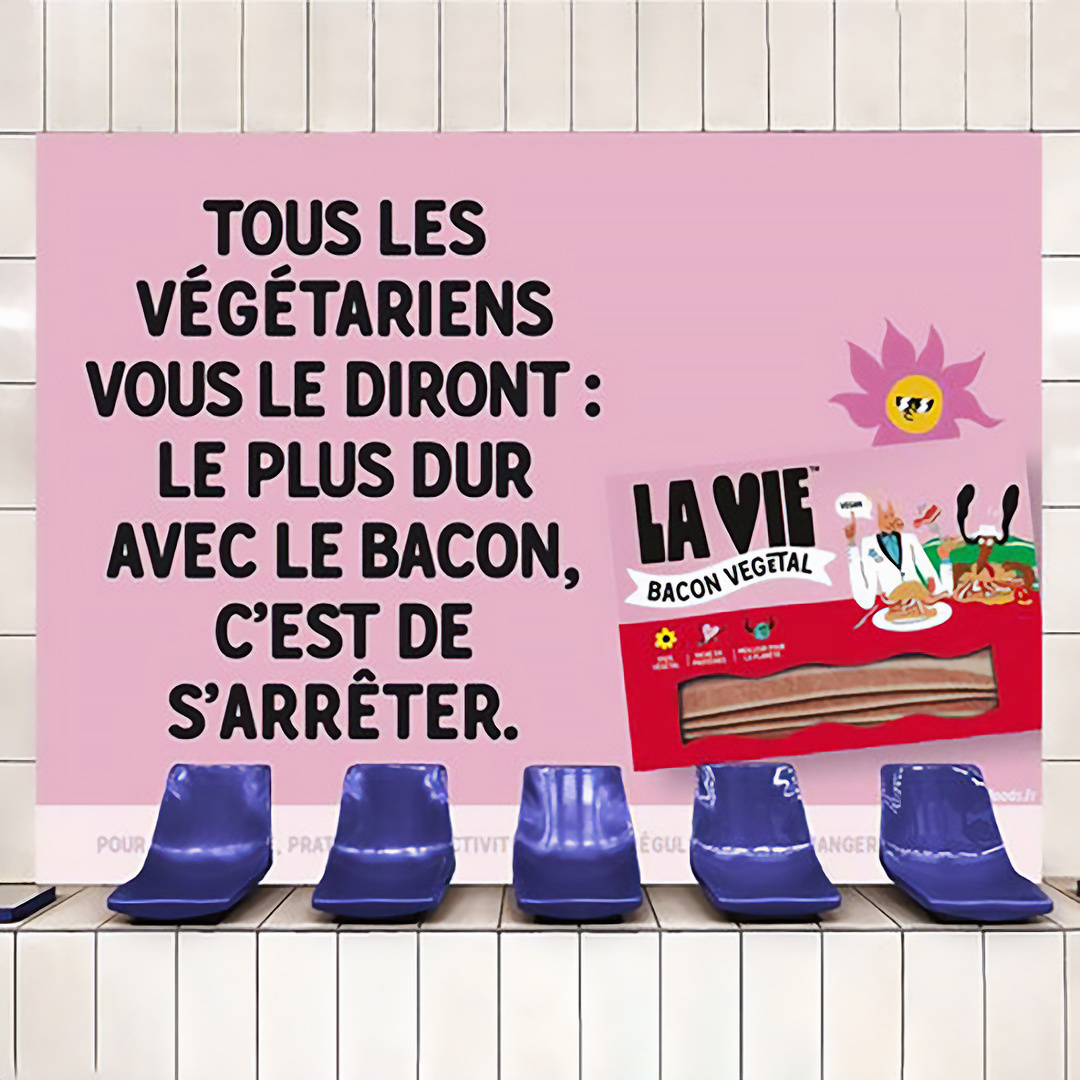 La Vie
8 La Vie's vegan bacon billboards
To celebrate its launch into the UK, French vegan bacon brand La Vie has been running an ad campaign in the country's cities for a while now. The campaign actually started back in September, despite La Vie's vegan bacon not being available in the UK at that time. Acknowledging this with a touch of self-deprecating humor, one of its bus stop ads read: "The best tasting plant-based bacon in Britain isn't available in Britain. French exporting at its best."
When the product finally launched in UK supermarkets, La Vie leveled up its cheeky tone with a dig at the UK's former Prime Minister Boris Johnson. One poster read: "Britain's newest best faker. Sorry, Boris."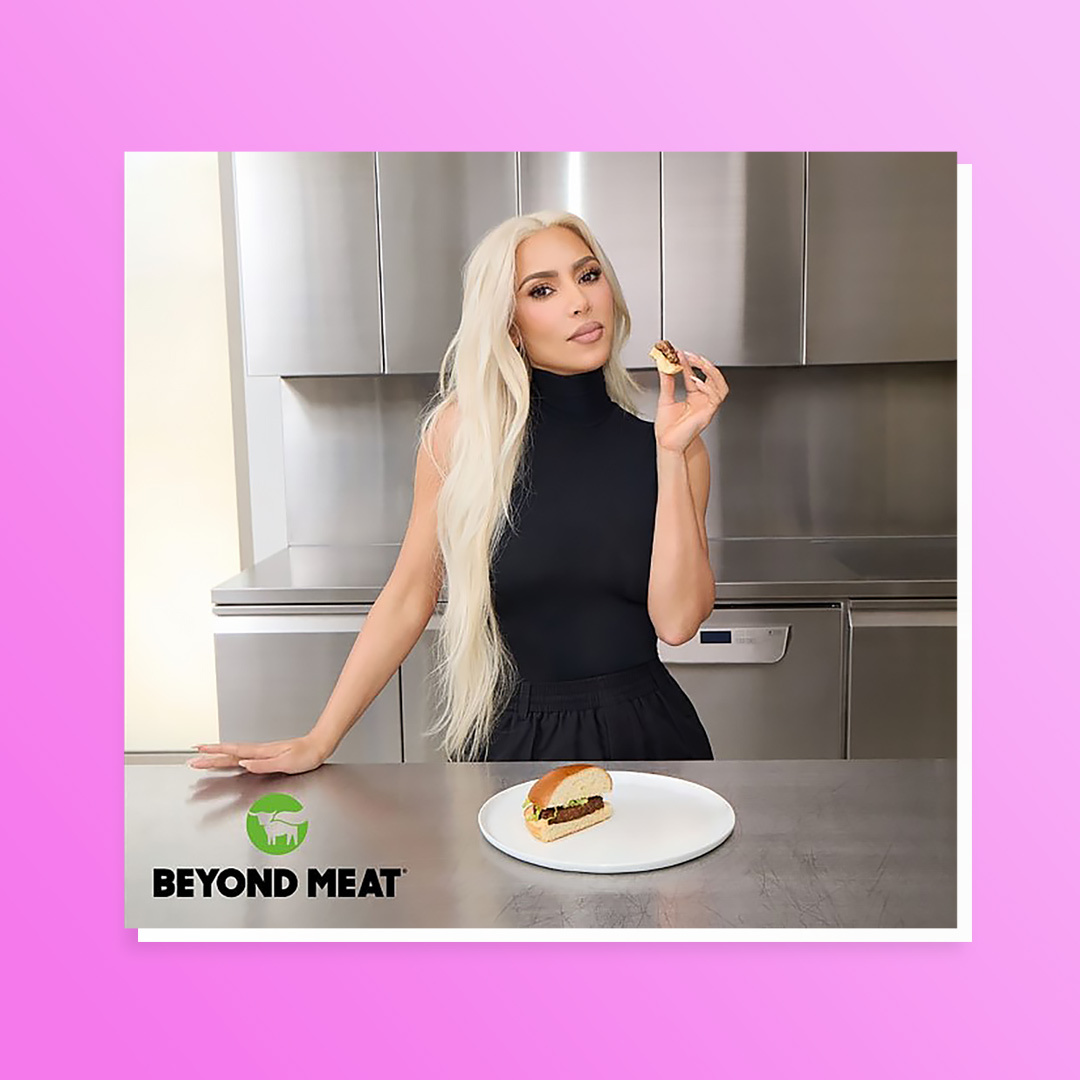 Beyond Meat
9 Beyond Meat's Kim Kardashian partnership
Back in May, Beyond Meat teamed up with reality TV icon Kim Kardashian. The duo's campaign centered around Kardashian's new role as Beyond Meat's "Chief Taste Consultant," and saw the mega-influencer post a video of herself trying the burger in an ad to her Instagram account, which has 333 million followers. "I believe so much in the mission of Beyond Meat that I've stepped in to help with my greatest asset, my taste," she says in the Reel.
As part of the campaign, Kardashian also shared her favorite products in the brand's newsletter. And recently, she appeared on Beyond Meat's own social media promoting the brand's vegan nuggets.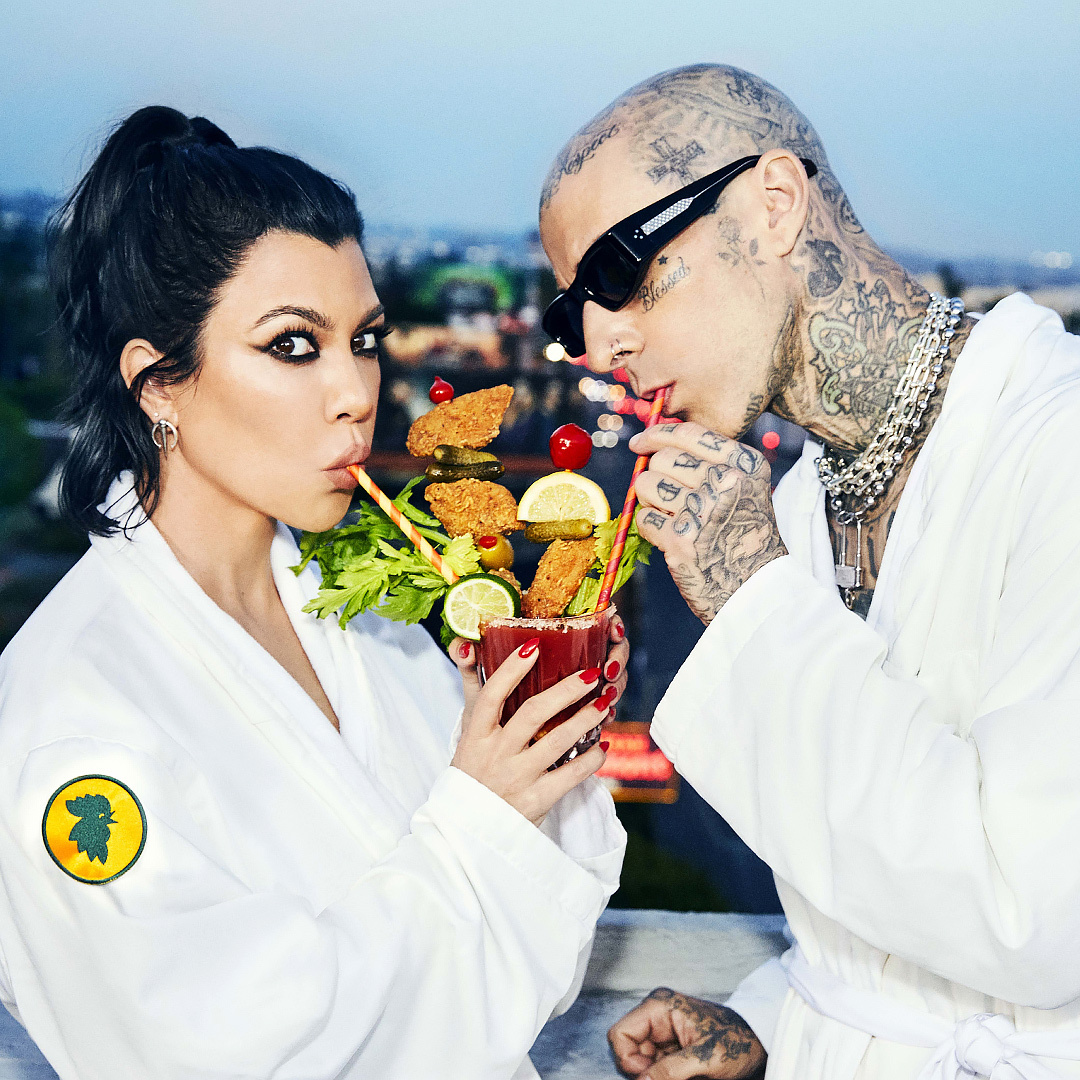 Ellen von Unwerth
10 Daring's 'Saucy' campaign with Kourtney Kardashian and Travis Barker
Like her sister, Kourtney Kardashian-Barker also showed her love for vegan meat this year, in a campaign for plant-based chicken brand Daring. Together with her husband Travis Barker, Kardashian-Barker appeared in a fun, glamorous, romantic, (and a little raunchy) photoshoot to promote Daring's products. The 'Saucy' campaign, which was photographed by the iconic Ellen von Unwerth, was predominantly rolled out across social media, including the Barkers' personal accounts.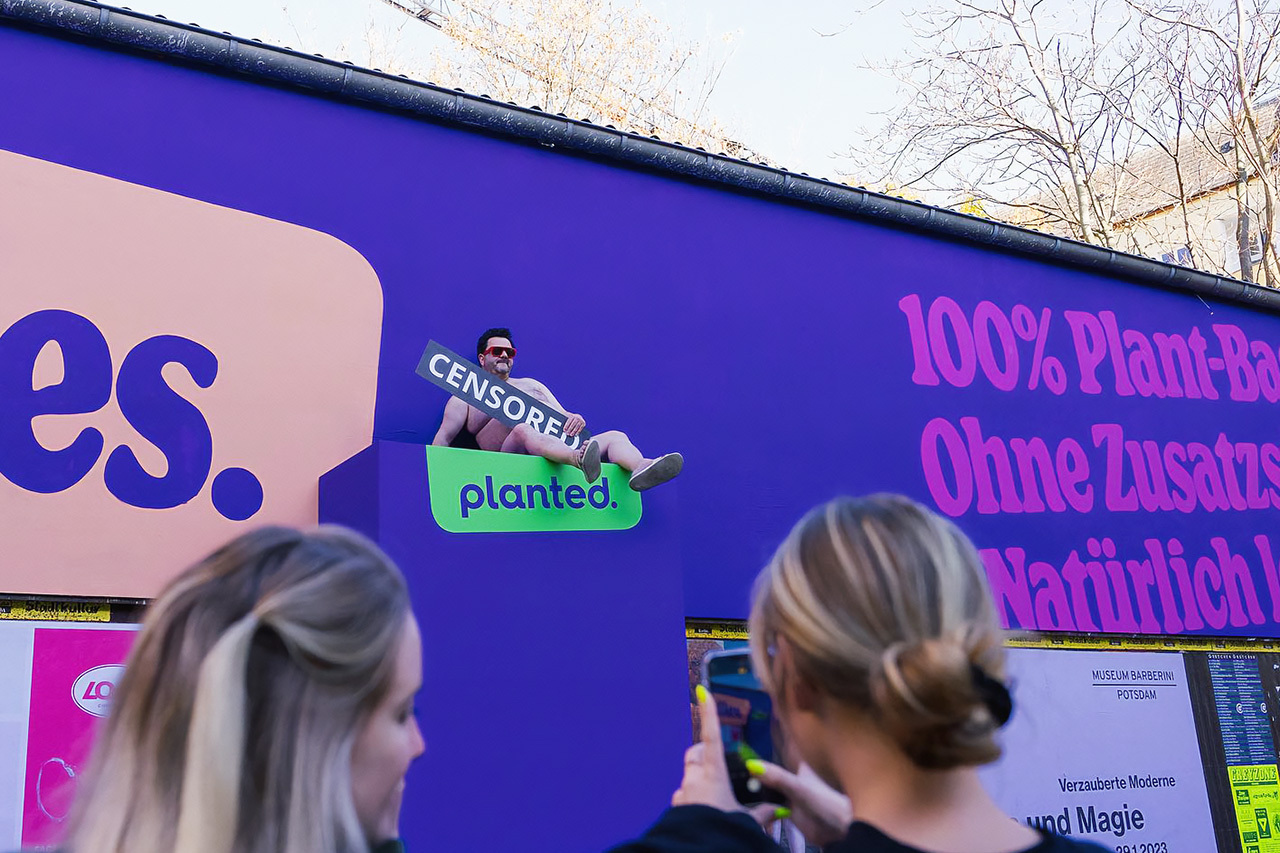 Planted
11 Planted's naked Oliver Polak billboard
Last month, vegan brand Planted teamed up with German comedian Oliver Polak to promote its new plant-based kebab meat with a giant billboard in the middle of Berlin. So far, it all seems quite normal. But the twist was Polak was totally naked. According to the brand, the comedian came without clothes to draw attention to the fact that Planted's vegan kebab comes "without animal suffering, additives, or a burden on the environment."
"If we want to encourage people to think differently we have to go unusual ways – and that's what we're doing with this campaign!" the brand's Co-founder Pascal Bieri said in a statement.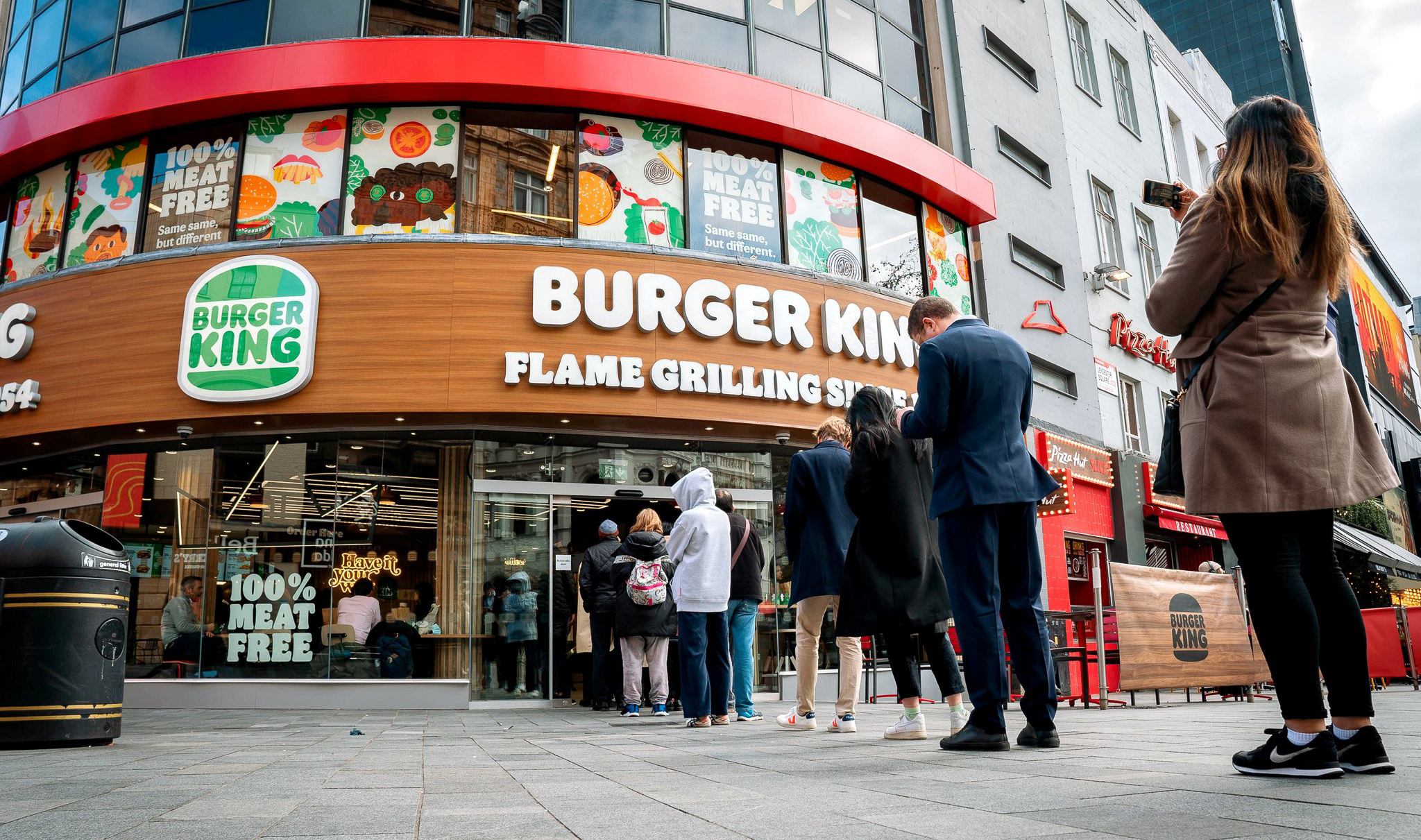 Burger King
12 Burger King's "Regular or Without Meat?" campaign
Over the last year or so, Burger King has been stepping up its vegan game by expanding its plant-based menu in various markets and even opening entirely meat-free locations. Back in the summer, its Austrian franchise chose to launch a new campaign called "Meat Option," which questioned the idea that meat is always the "normal" choice.
For one week, a trial in Vienna saw customers have to specify if they wanted meat with their order or if they wanted it "regular," which was plant-based. Their reactions were filmed for the campaign, and a short clip was posted on social media. "Meat is one option, but it is not the only one. We leave it open to our guests what is normal for them," Jan-Christoph Küster, Chief Marketing Officer of the TQSR Group, the Austrian master franchisee of the Burger King brand, said.
For more on vegan campaigns and commercials, read: