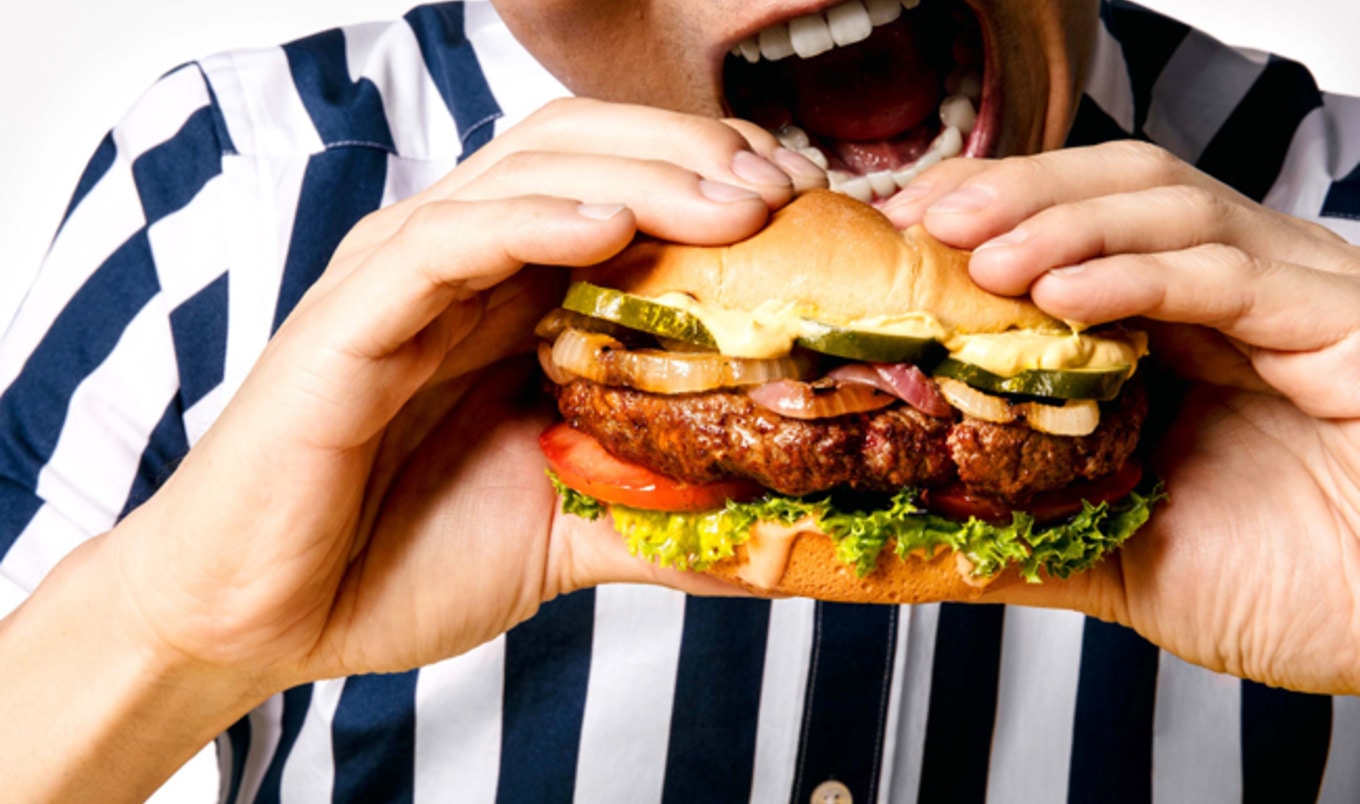 Two succulent patties, extra cheese, and all the vegan bacon under the sun—our fantasy burger is the best way to say adieu to summer.
September 5, 2016
---
As summer comes to an end, we're dreaming of one final veggie burger bash with some of our favorite trimmings. To accomplish this, we're using a juicy patty (or two) from our favorite veggie burger mongers and topping them with accoutrements such as avocado, onions, and a hefty dose of vegan bacon. After slathering these with melted vegan cheese and serving steaming hot on a toasted bun, you'll want to chase summer around the globe. For those of you who can't follow the sun, unhinge your jaws because we're about to unleash the components of our ultimate vegan burger.
The patty
Because we're going for the ultimate veggie burger, something special is in order, which is why the Beyond Burger—with its plant-based beet blood and toothsome texture—meets our special sizzling needs. And we're not stopping at a single patty—our double-decker burger will be built with greatness thanks to the newly released Impossible Burger (made with wheat, coconut oil, potato protein, and plant-derived iron-rich heme), the taste of which turned forward-thinking Momofuku restaurateur and chef David Chang into a believer that plant-based protein is the food of the future.
The cheese
If you've read the current issue of VegNews Magazine—wherein we sampled more than 60 varieties of artisanal vegan cheese to bring you the 10 best—you know that we're serious about vegan cheese. From soft, tangy spreads to heartier wedges, 2016 is a tough time to choose just one dairy-free cheese. But for their perfect nuttiness and meltability, slices of Field Roast's Chao cheese—in Creamy Original, Coconut Herb, and Tomato Cayenne—are a sure bet for an unforgettable gooey cheeseburger.
The toppings
In addition to the basic veggie staples—onion, pickles, tomato, and lettuce—we're thinking outside of the bun with avocado and plenty of plant-based bacon. And since we're in burger dreamland, we're throwing in every bacon from the new Baconish cookbook (we're talking coconut bacon, eggplant bacon, rice paper bacon, shiitake bacon, tempeh bacon, seitan bacon, and carrot bacon). Add a bit of Tofurky's well-seasoned smoky maple bacon on top, and this monster burger is ready to roll.
The bun
We think a soft bun toasted on the grill makes the ideal vehicle to get our burger from hand to mouth. However, many commercial buns are loaded with ingredients we're not too fond of (we're looking at you, corn syrup and honey!) Rudi's Bakery makes a great organic bun, while BFree Foods also has gluten-free brown seeded rolls that are devoid of wheat, soy, GMOs, and sugar. Brush each side with a smear of Vegenaise before loading it with our over-the-top fillings, and we'd say you've got yourself the ultimate veggie burger.