For Ancient Romans following Apicius, a recipe book likely compiled in the fifth century, a few different recipes might jump out. Braised flamingo, perhaps, or even brain sausages. Or maybe a dish called Isicia Omentata, which, by modern-day standards, is essentially a simple ground meat, pepper, and nut burger.
Apicius demonstrates that making burgers out of simple ingredients isn't a modern-day invention. Humans have been squashing various foods together into patties for, quite literally, centuries. But it was in the 1940s when the first documented mention of a veggie burger, created with nuts and legumes, occurred on an American radio show.
In the decades that followed, a few chefs experimented with housemade veggie burger patties, ditching traditional meat and opting for plant-based ingredients instead. In the 1980s, London restauranter Gregory Sams dubbed his version a "VegeBurger," and in the same decade, Paul Wenner, a vegetarian restaurant owner from Oregon, made the "Gardenburger."
Since then, the trend for housemade veggie and vegan burgers hasn't slowed down. While many restaurants opt for plant-based meat patties from brands like Beyond Meat or Impossible Foods, you can still find housemade, veggie-based burgers on a number of menus across the US. If you've got a craving to satisfy, here are a few of the best housemade vegan restaurant burgers worth a try right now.
What is a housemade burger?
A housemade burger is, quite simply, a burger patty that is made in-house, by a restaurant's own team. Not all restaurants make their own burgers. Instead, many choose to sell branded burgers made by an external company. (Many have partnerships with Beyond Meat or Impossible Foods, for example.)
Housemade vegan burgers are often made with whole food, plant-based ingredients, like beans, mushrooms, and spices. They tend to be less processed than plant-based meat branded options and have more of a veggie patty feel than a meat feel.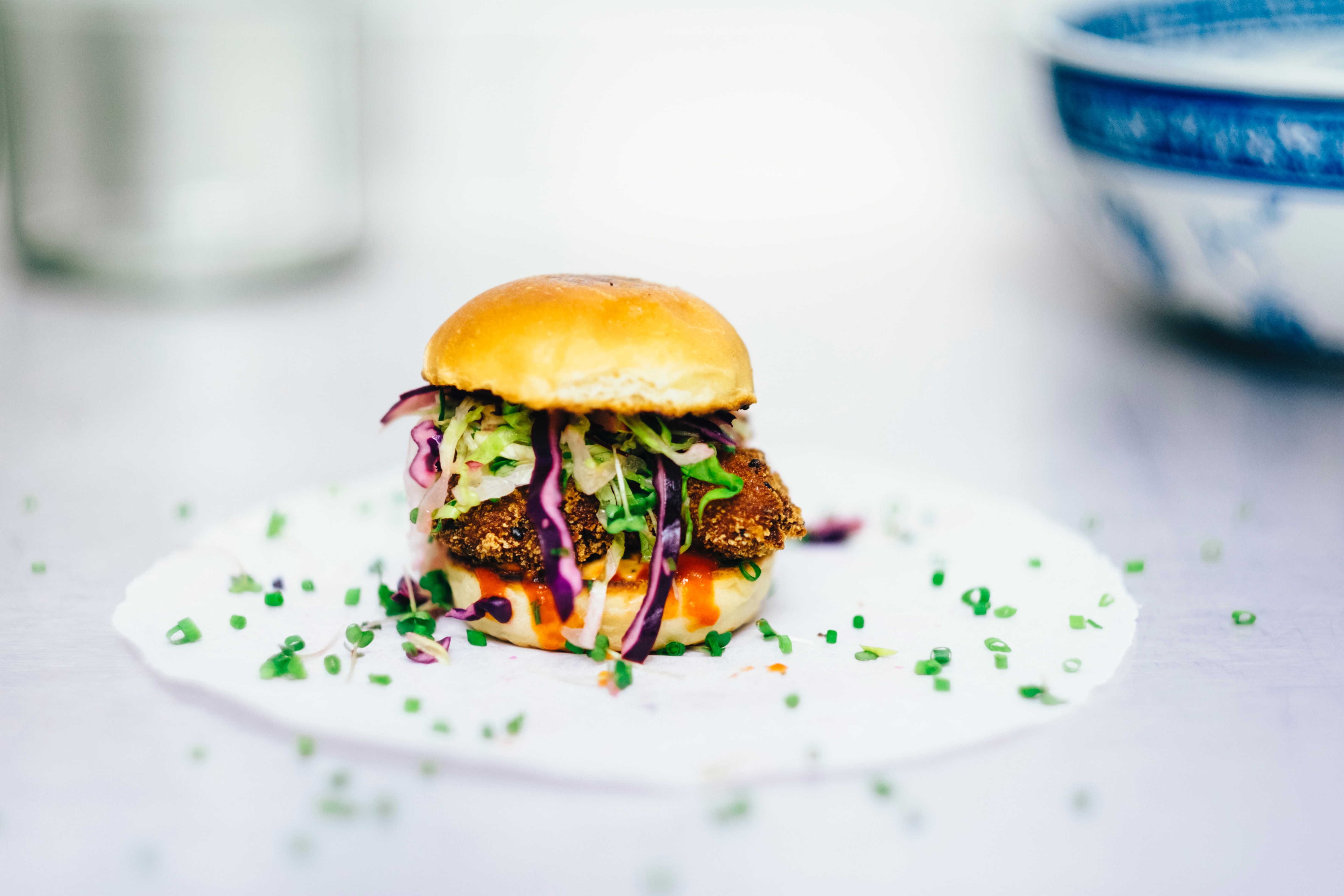 Unsplash
Is a housemade burger healthier than a Beyond or Impossible burger?
If you're choosing a burger based on its nutritional value, a housemade vegan burger is often healthier than a Beyond Burger or an Impossible Burger (although the latter two are still healthier than beef, and packed with protein, too).
This is because housemade patties likely contain ingredients that are fresher and not as processed, like kidney beans, mushrooms, rice, and chickpeas, for example. However, not all housemade vegan patties are the same, and it's worth checking the ingredients list before you order, or discussing your choice with your server, if you want to learn more about the nutritional value of your meal.
Housemade vegan restaurant burgers worth a try
Feeling hungry? All of these restaurants offer delicious, satisfying burger options. And, of course, all of their patties are housemade.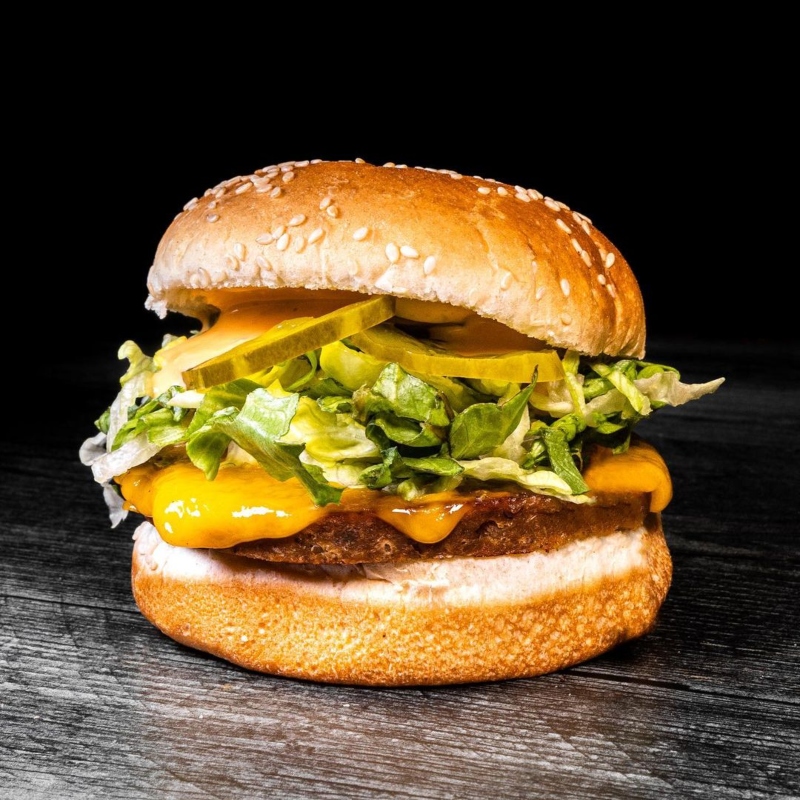 Marty's V Burger
1 Marty's V Burger
Marty's V Burger got its start back in 2014 when it debuted at the NYC Vegetarian Food Festival. Since then, it has opened two New York City locations (one in Queens and one in Manhattan) and developed an extensive menu, complete with Drumstix, Cheeze Fries, Chik'n Sandwiches, and its own housemade burger patties.

The patties, made with a blend of meaty seitan, as well as black beans and rice, feature in many of its menu options, including its Original World Famous Burger (served with melted vegan cheese and special sauce), its Shroom Steakhouse Burger (which features sautéed mushrooms), and its Mona Lisa option (which comes with jalapeño tartar sauce).
Check it out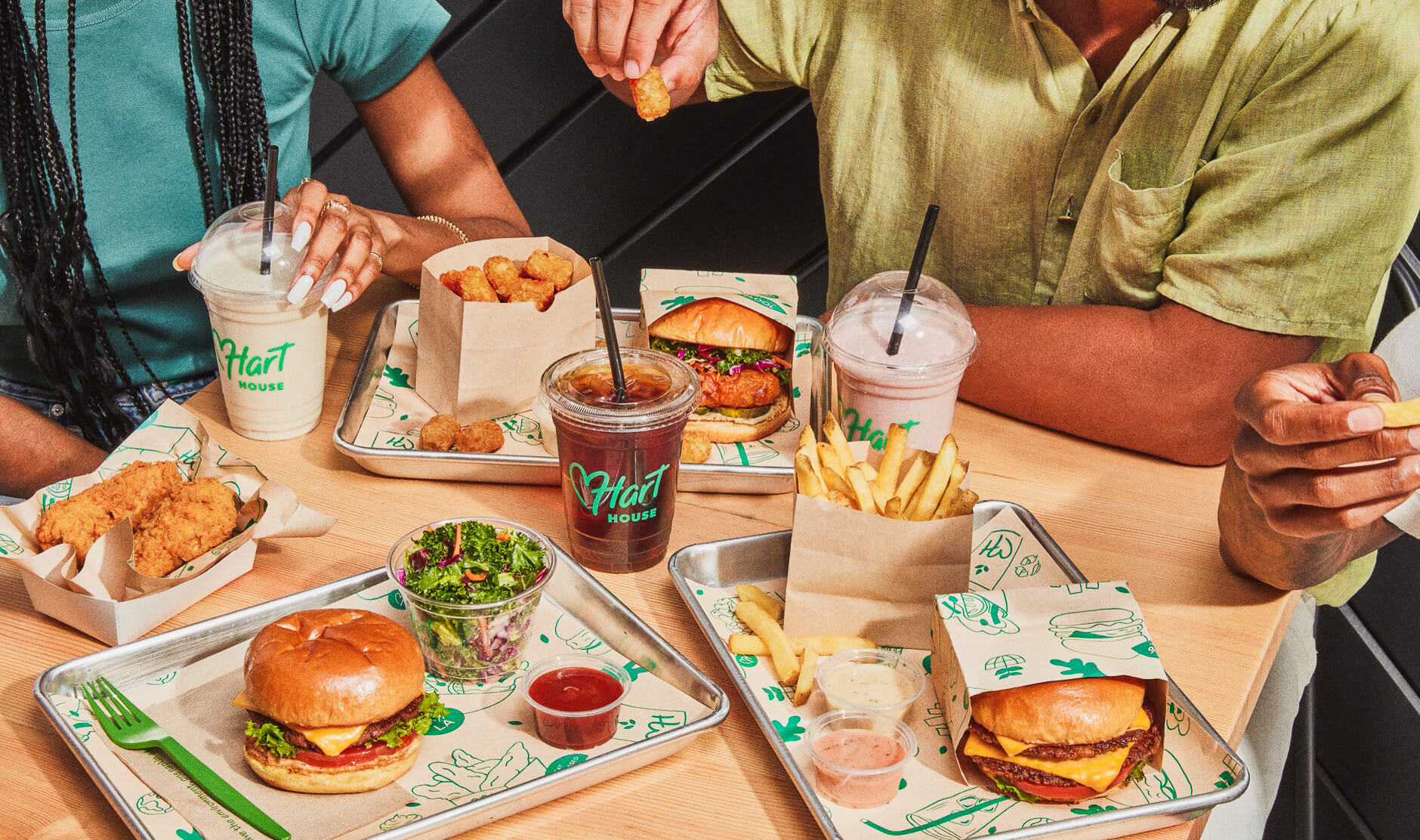 Hart House
2 Hart House
Founded by comedian Kevin Hart (alongside "a team of passionate partners"), the health-focused, fast-casual chain Hart House has two California locations, in Westchester and Monrovia. A new spot in Hollywood is set to open soon.
The chain's "signature plant-based patties" are made in-house and they are beef-style, although there isn't much information about the ingredients. You can buy them in a single or double burger option, and each comes served with American vegan cheese, salad, and Hart House signature sauce.
Check it out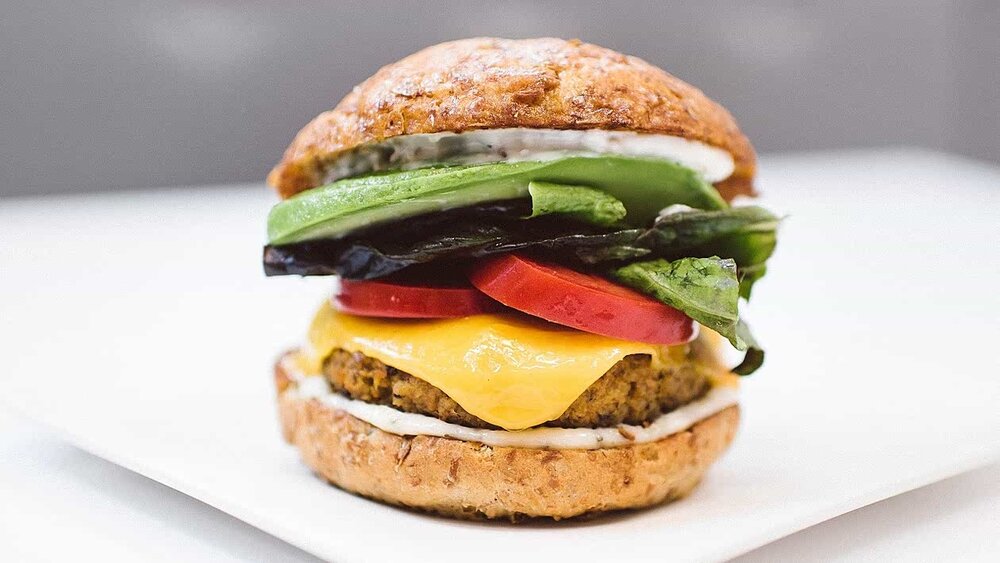 Next Level Burger
3 Next Level Burger
Next Level Burger has nine locations in California, Oregon, Washington, Colorado, Texas, and New York. But thanks to a recent $20 million investment, it is planning to expand, so keep an eye out for new spots opening near you. The vegan chain is known for its tasty shakes, vegan chicken, and, of course, its burgers, many of which are made in-house (although it does offer the Beyond Burger too). Its Signature Burger, for example, features a housemade organic quinoa and mushroom patty, topped with pepper jack cheese, avocado, and its own ghost sauce recipe.
Check it out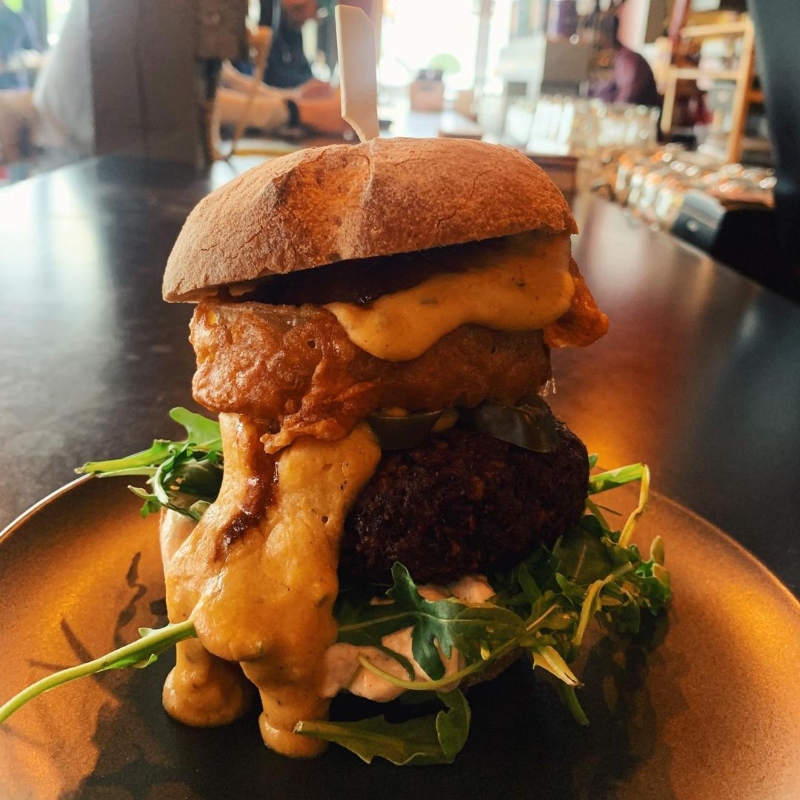 @flourishthefoodtruck/Instagram
4 Flourish
If you happen to be in Portland and you're looking for nutritious, wholesome food, seek out the vegan restaurant Flourish. With options like Buffalo Chickpea (which features a chickpea patty dipped in Buffalo hot wing sauce) and the Un-Beetable Burger (which, features a housemade beet-lentil-walnut patty), all of its dishes are designed to be as flavorful as they are comforting.
Check it out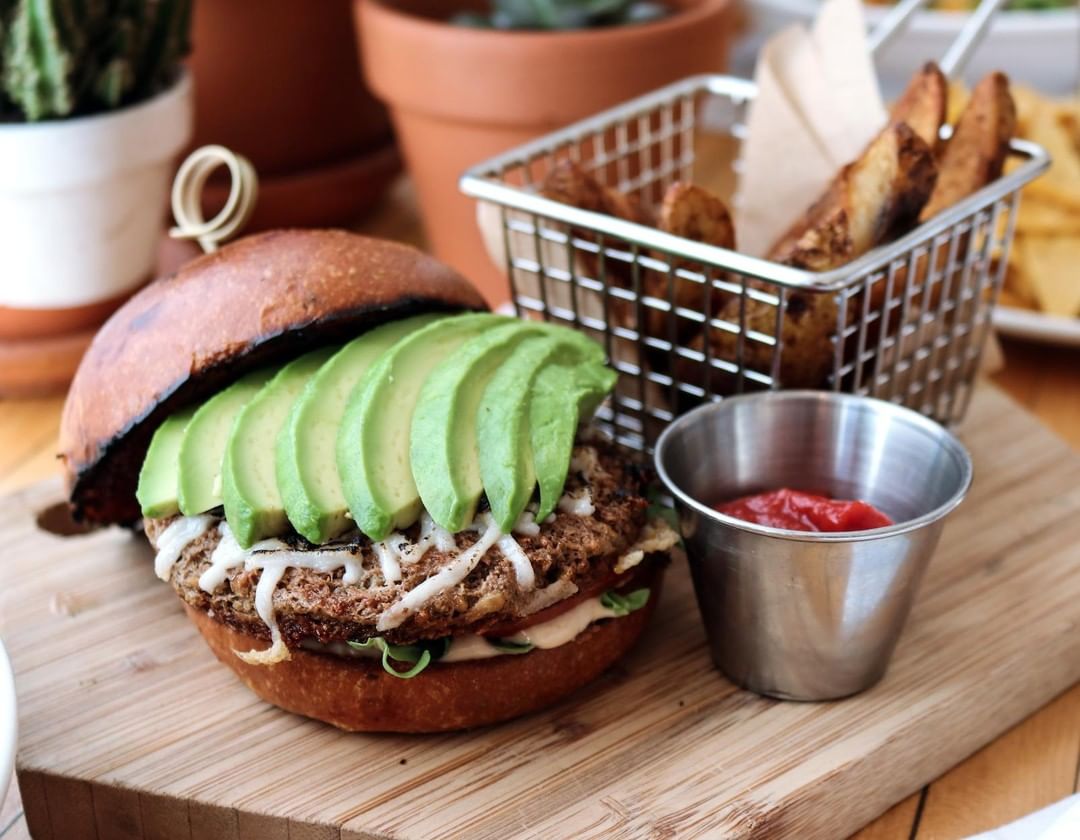 @thebutchersdaughter_official/Instagram
5 The Butcher's Daughter
The name implies that this restaurant is going to be all about meat, meat, meat. But that couldn't be further from the truth. The only thing this chain, which has locations in New York and Los Angeles, is interested in butchering is vegetables. The menu is packed with options, including a selection of burgers. For meat lovers, there is the Impossible Burger, but there's also the Butcher's Burger, which includes a beet and Akua kelp patty.
Check it out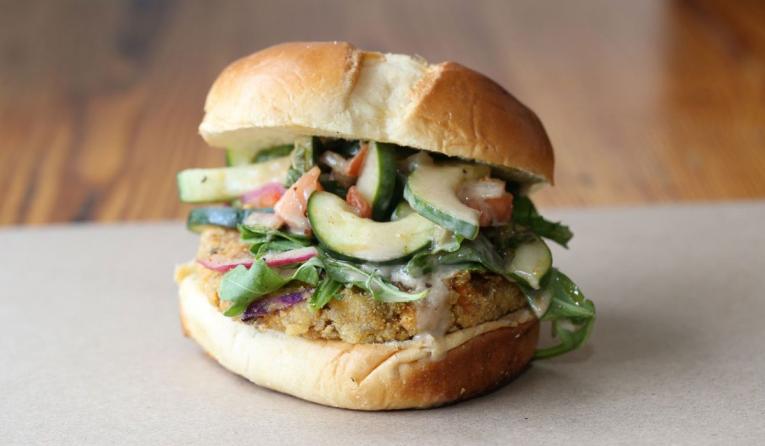 Farm Burger
6 Farm Burger
Farm Burger, which has restaurants in Alabama, Georgia, North Carolina, and Tennessee, offers several different patties, and many of them are not vegan. But if you're in the area and fancy something wholesome and nutritious, they also offer a housemade vegan burger, which consists of quinoa, black-eyed peas, kale, roasted mushrooms, sweet potatoes, and spices. For those who prefer a meatier texture, the chain also offers the Beyond Burger as an alternative.
Check it out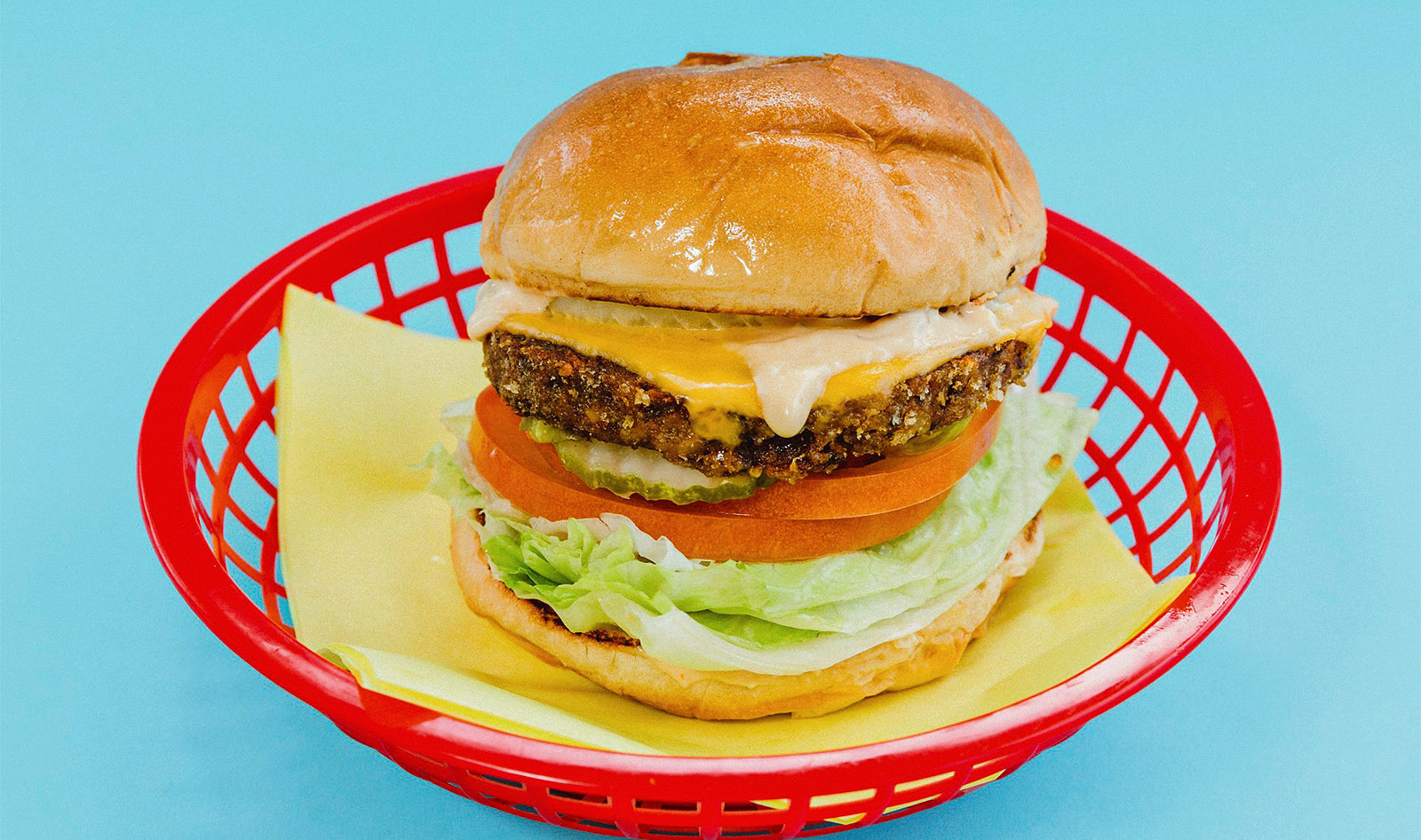 Burgerlords
7 Burgerlords
Los Angeles burger chain Burgerlords prides itself on making most of its menu offering in-house, and its burgers are no exception. Most of its meals can be made with two of its housemade patties, and which one you prefer depends on the kind of texture you're after. Prefer something with a softer, vegetable-based feel? Try its Original Veggie Patty, which features eggplant, mushrooms, carrots, cashews, and miso, as well as its signature spice blend. If you're after something with a meatier bite, the chain also offers its own Plant-Based 'Beefy' Patty, which it makes with soy protein.
Check it out
Vegan burger options in restaurants
If you're in the mood for a burger, but you can't get hold of a housemade patty, or you just prefer the taste of Beyond Meat or Impossible Foods (you do you!), there are plenty of other options available. Here are just a few examples of the most delicious vegan burger options on offer right now in US restaurants, but if you want more, you can also follow our guide to the 18 juiciest vegan burgers that are better than a Big Mac.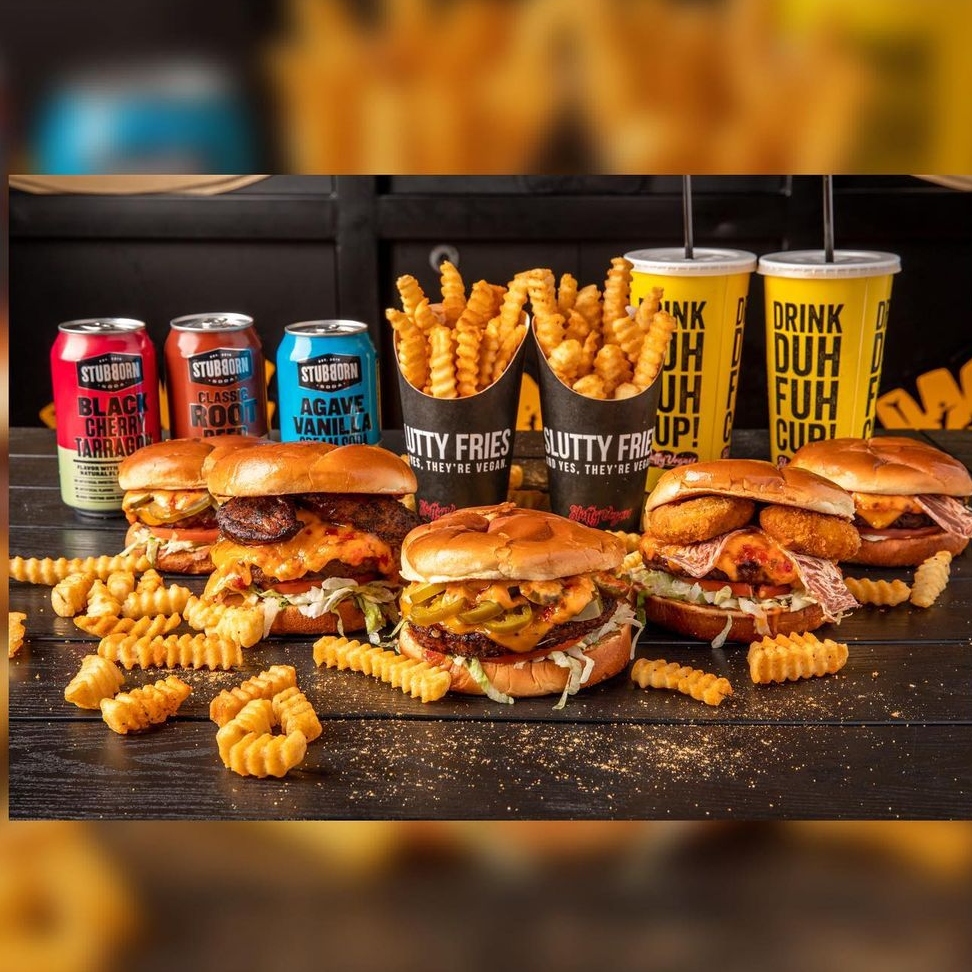 @sluttyveganatl/Instagram
1 Slutty Vegan
Slutty Vegan often has queues out the door for a reason: its burgers are the sloppiest, tastiest, and most indulgent in Atlanta. And, as the name suggests, they're all totally vegan. Served with either an Impossible Burger or a Beyond Burger, try options like the One Night Stand, which comes with vegan bacon, cheese, caramelized onions, and the chain's own signature Slut Sauce, or the Super Slut, which is also loaded with guacamole and jalapeños.
Check it out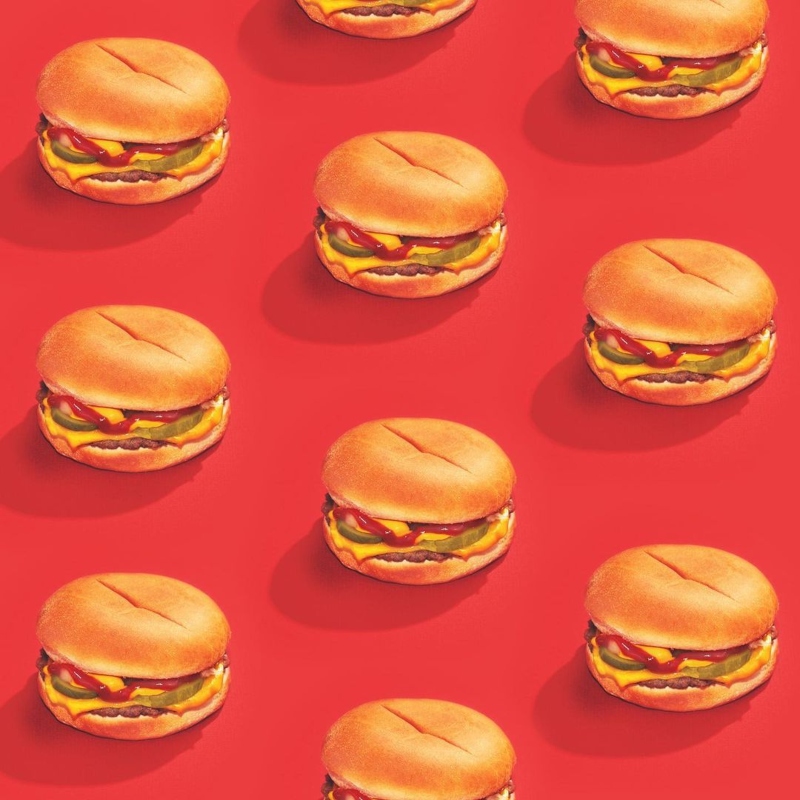 Mr.Charlie's
2 Mr.Charlie's
Let's be honest, in the US, McDonald's isn't that great for vegan options. (Where are you, McPlant?) But if you're craving a Big Mac, then Mr. Charlie's has your back. All of the California vegan chain's menu options mimic those from the fast-food giant, and many, like the Not a Cheeseburger and the Not a Double Double, come complete with the beef-like Impossible Burger.
Check it out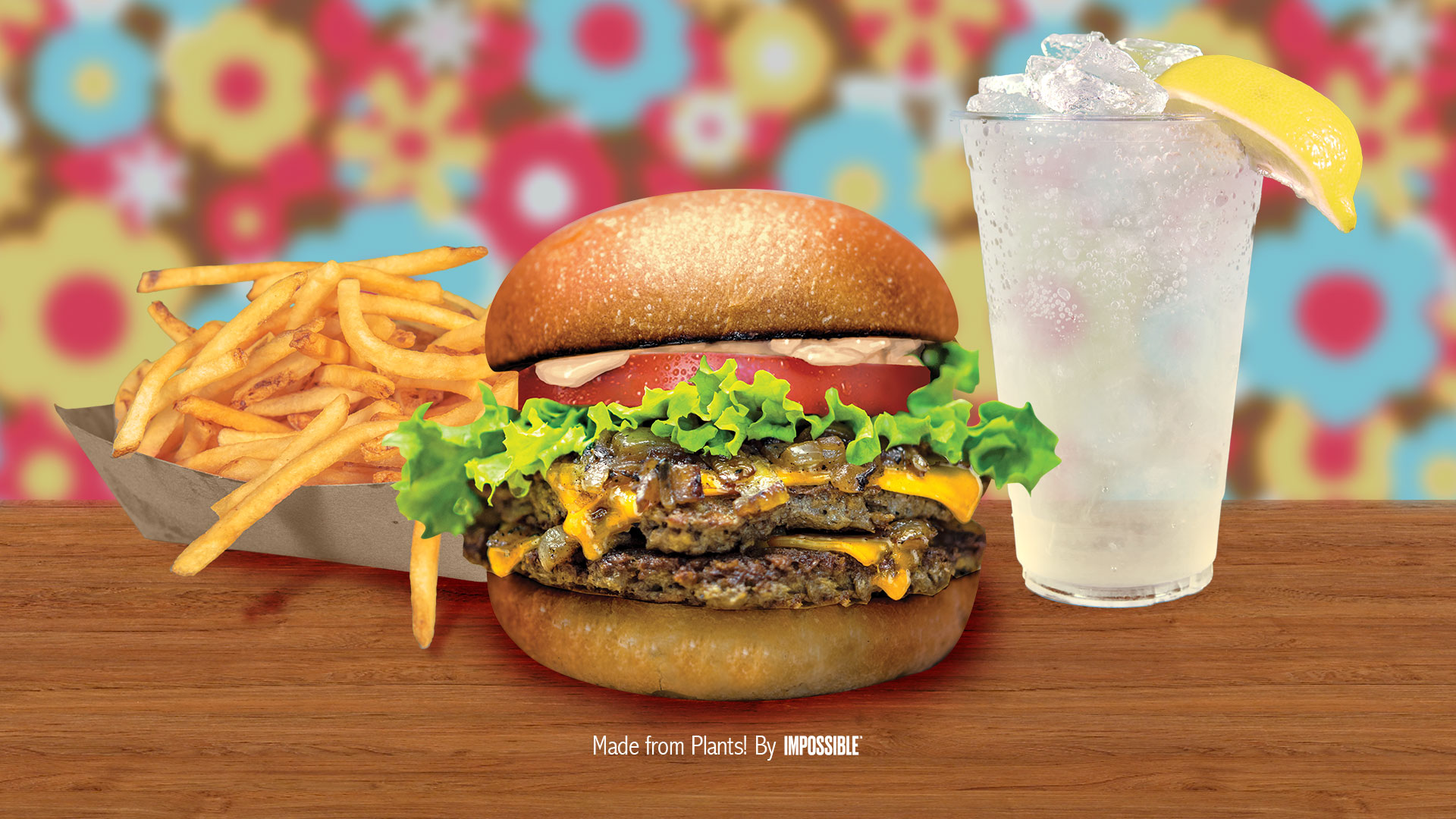 Monty's Good Burger
3 Monty's Good Burger
Monty's Good Burger, another California-based vegan chain, has a simple, yet delicious burger menu. Its signature Monty's Good Burger can be ordered as a double or a single and comes with an Impossible patty, as well as dairy-free Follow Your Heart cheese. You can also grab a side of Daring Chicken Tenders, as well as a creamy vegan shake to wash it all down with.
Check it out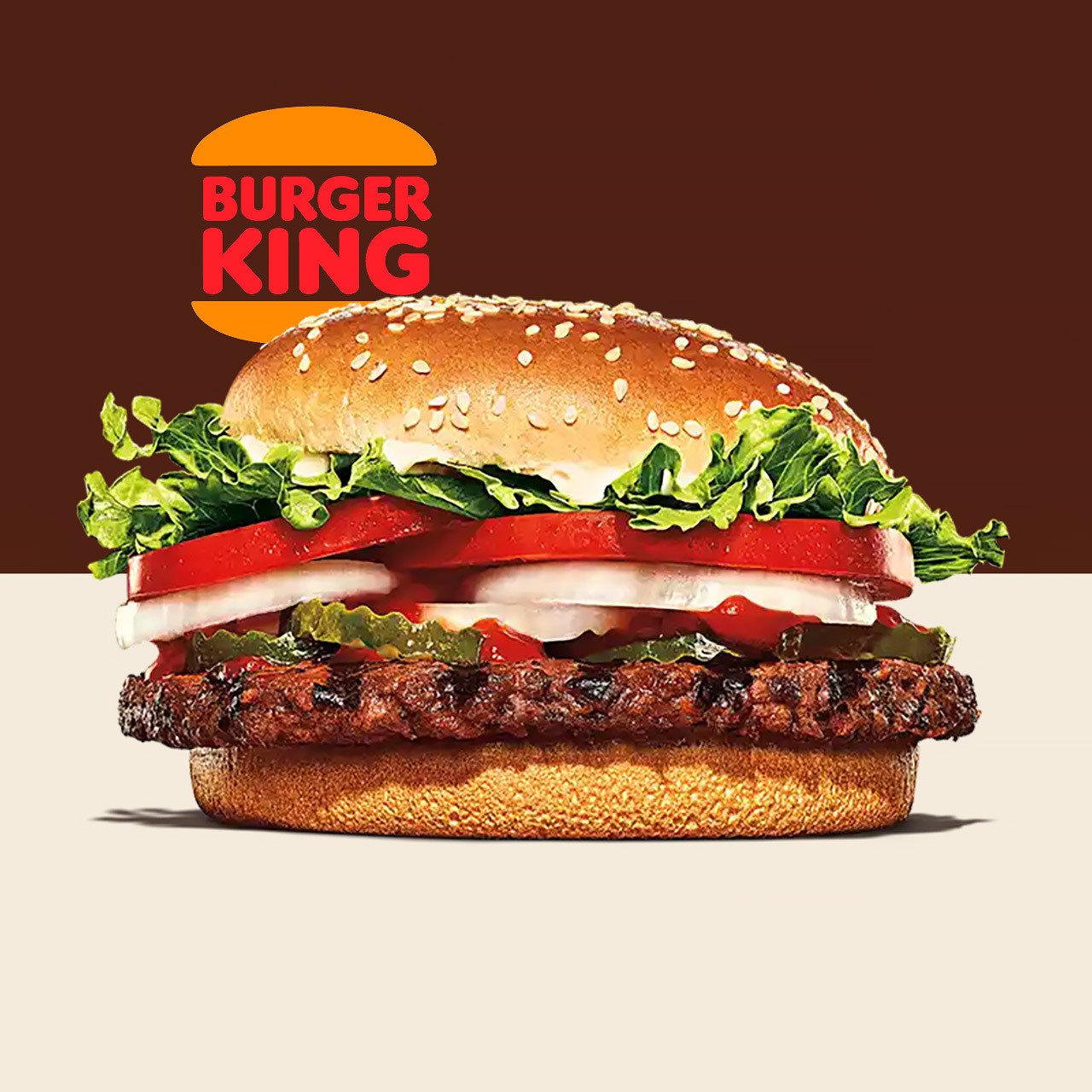 Burger King
4 Burger King
Arguably one of the most accessible vegan burger options around, due to the fact it's available in more than 7,250 locations, Burger King's Impossible Whopper features, you guessed it, an Impossible Burger. It also comes complete with salad, pickles, and ketchup, but if you're ordering it vegan, make sure to hold the mayo.
Check it out
Make your own housemade burger
If the Impossible Whopper just doesn't cut it for you, and you have your heart set on a housemade burger, then another option is to make your own patty to your own tastes at home. Here are a few of our favorite vegan burger recipes, featuring tasty and nutritious plant-based ingredients.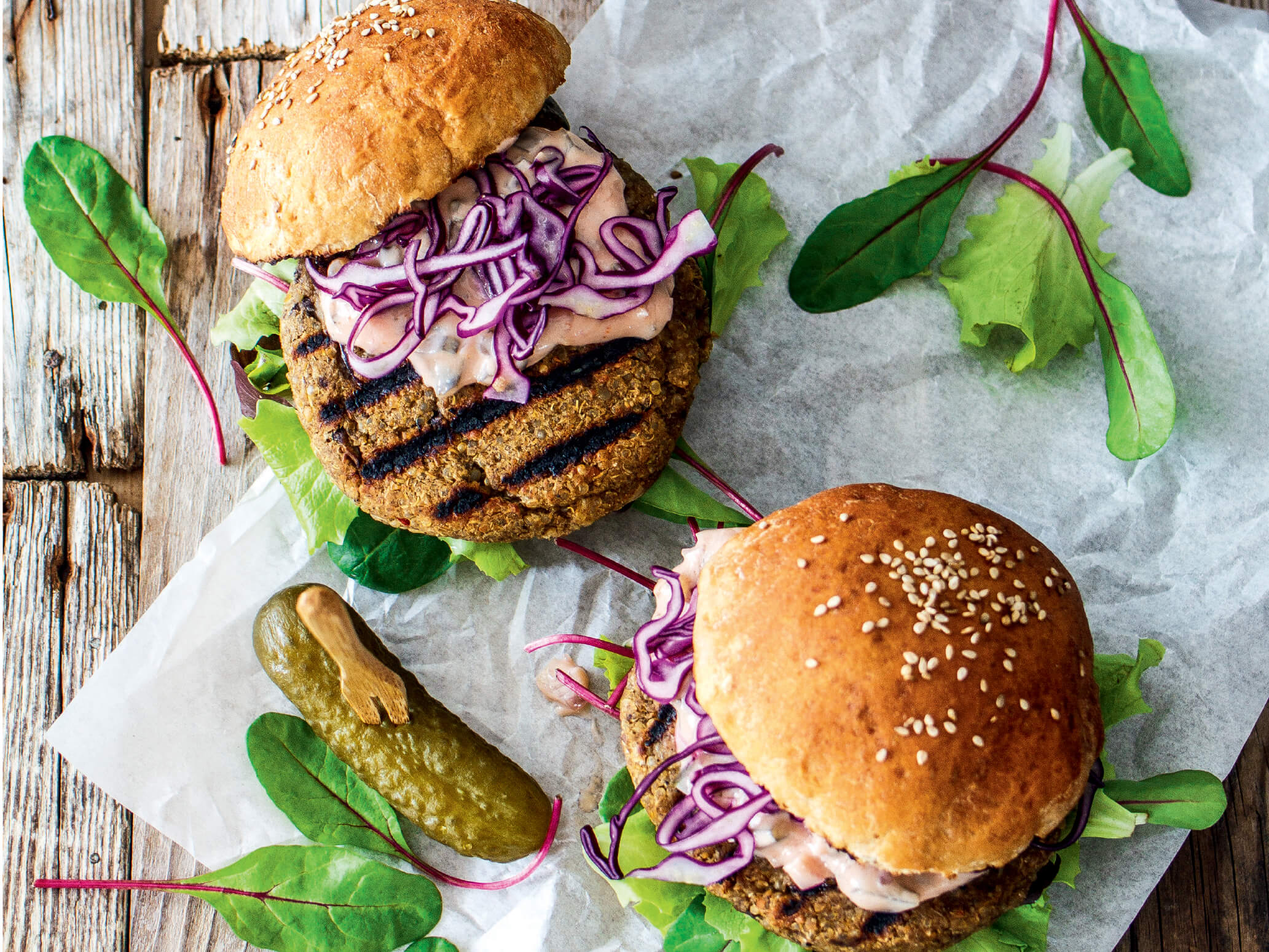 Nadine Horn and Jörg Mayer
1 Quinoa and Chickpea
Packed with protein, these quinoa and chickpea patties are quick and easy to make. (Just make sure you have a blender at hand to mix all of the ingredients together.) When you're done, chuck them in the grill pan to make them satisfyingly crispy.
Get the recipe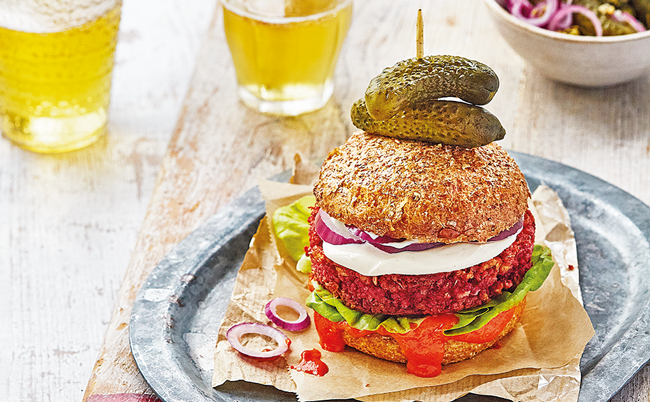 Tim Aitkins
2 Mediterranean Falafel
Bored of eating standard falafel? Make this healthy Mediterranean snack more interesting by turning it into a burger patty instead, and serve with vegan mayonnaise and a delicious salad of your choosing.
Get the recipe
3 Tempeh Mushroom
If you like the idea of a homemade vegan patty but still enjoy a meaty texture, consider making your burger with tempeh. Similar to tofu, this protein-packed ingredient has a juicy meat-like mouthfeel.
Get the recipe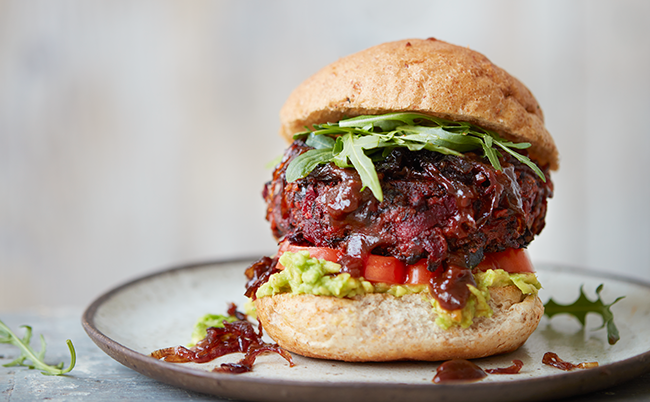 The New Nourishing
4 Beefy Vegan Beet
Another one for those who love that meaty burger taste, this homemade patty features simple, whole-food ingredients, including black beans and beetroot, as well as rolled oats and nutritious flaxseeds.
Get the recipe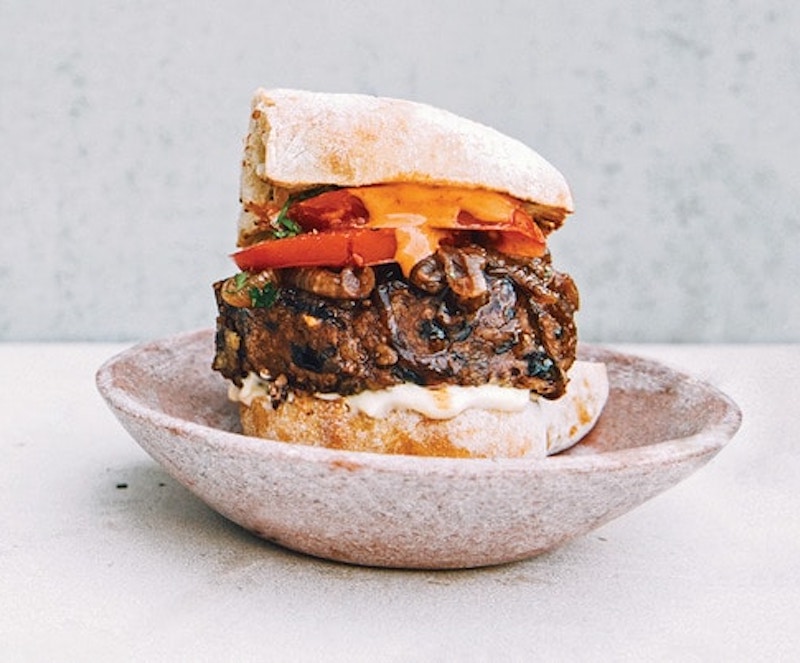 Quarry Books
5 Ancho-Spiced Barbecue
If you like your burgers sloppy and messy (the more mess, the better the burger in our view), load up this ancho chile-spiced black bean burger with lashings of barbecue sauce, as well as multiple slices of vegan cheese. Don't forget the caramelized onions either! Heaven.
Get the recipe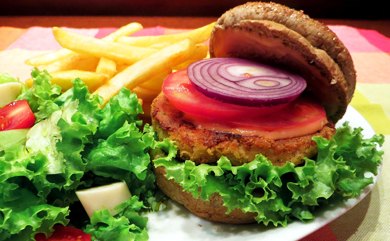 Daniel Biron
6 Smoked Chickpea
Thanks to the addition of tangy and flavorful barbecue aioli, this isn't your standard chickpea patty. The recipe also calls for firm tofu, brown rice, nutritional yeast, and tasty liquid smoke.
Get the recipe
For more burger content, read: