Last summer, McDonald's ended the US test of its McPlant burger before it ever got the chance to tempt customers with a nationwide launch.
Luckily, vegan sandwiches at fast-food chains are no longer difficult to come by, but before Impossible Foods and Beyond Meat infiltrated drive-thru culture, plant-based restaurants were making their own super-stacked veggie burgers.
But before we get into the meat-free joints giving the Big Mac a run for its money, let's look into McDonald's short-lived vegetarian offering.
Why did McDonald's get rid of the McPlant?
In early 2022, McDonald's McPlant trial was well underway in several locations across the US. While not 100 percent vegan, the burger was entirely meat-free and featured a Beyond Meat patty served with tomato, lettuce, pickles, onions, mayonnaise, ketchup, mustard, and American cheese.
But after the testing period ended, instead of a nationwide launch, the McPlant completely disappeared from menus.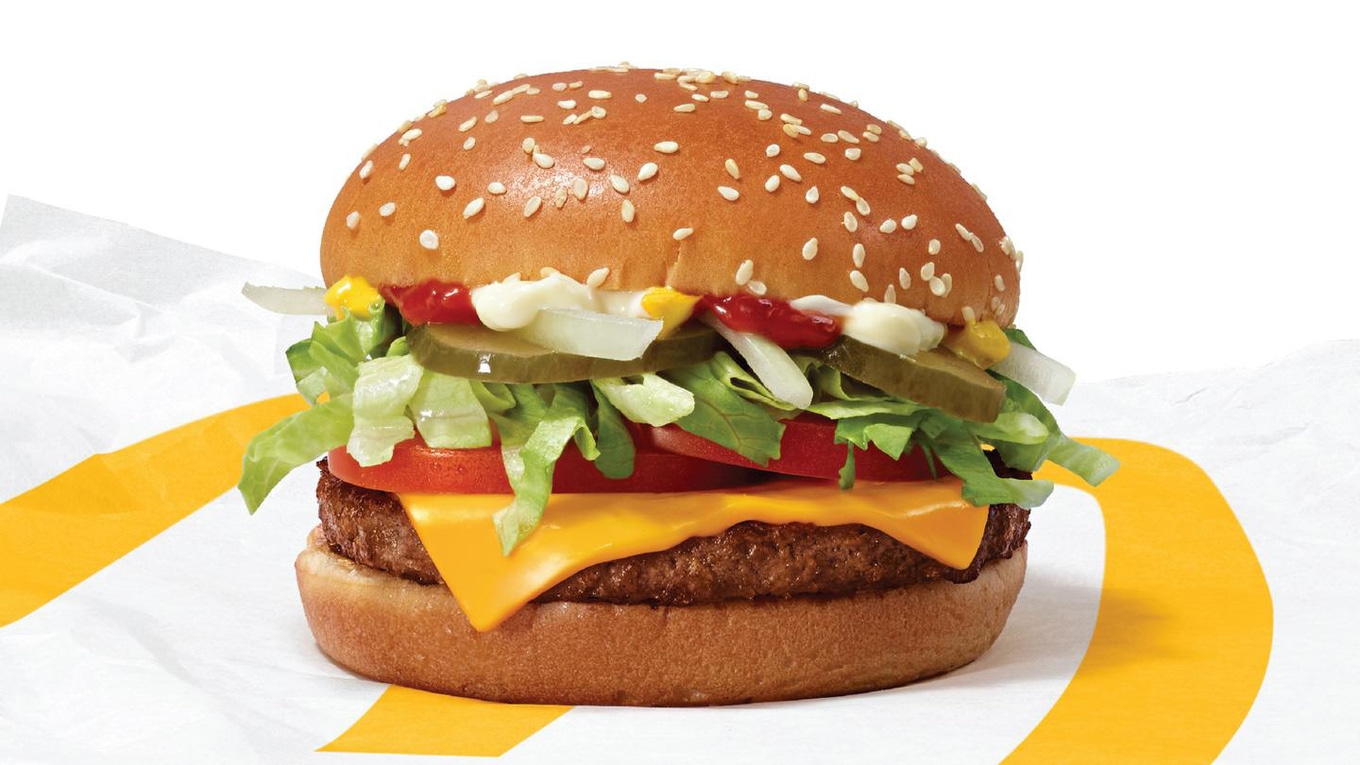 McDonald's
Later on in the year, McDonald's confirmed that no further expansions of the McPlant were planned, and this was due to "underwhelming" sales performance. There are a few theories as to why this happened, but according to Restaurant Business Online, one potential barrier to a successful trial was the McPlant's placement in rural locations, where demand for meat-free options is historically not as high.
As of yet, there have been no further announcements regarding vegan burgers or any other options at McDonald's locations in the US. That said, it's worth noting that the McPlant has witnessed success in other markets, including the UK, where the Double McPlant was rolled out nationwide.
Craving a vegan Big Mac? These meat-free burgers do it better
Vegans and omnivores have raved over the Burger King Impossible Whopper, the Carl's Jr. Beyond Famous Star, and the McPlant in UK McDonald's. But as far as we're concerned, vegan restaurants will always be the king of the hill.
From Los Angeles to New York City, and to all of the local gems in between, these vegan handholds are putting the Big Mac to shame.
The best places to grab a juicy vegan burger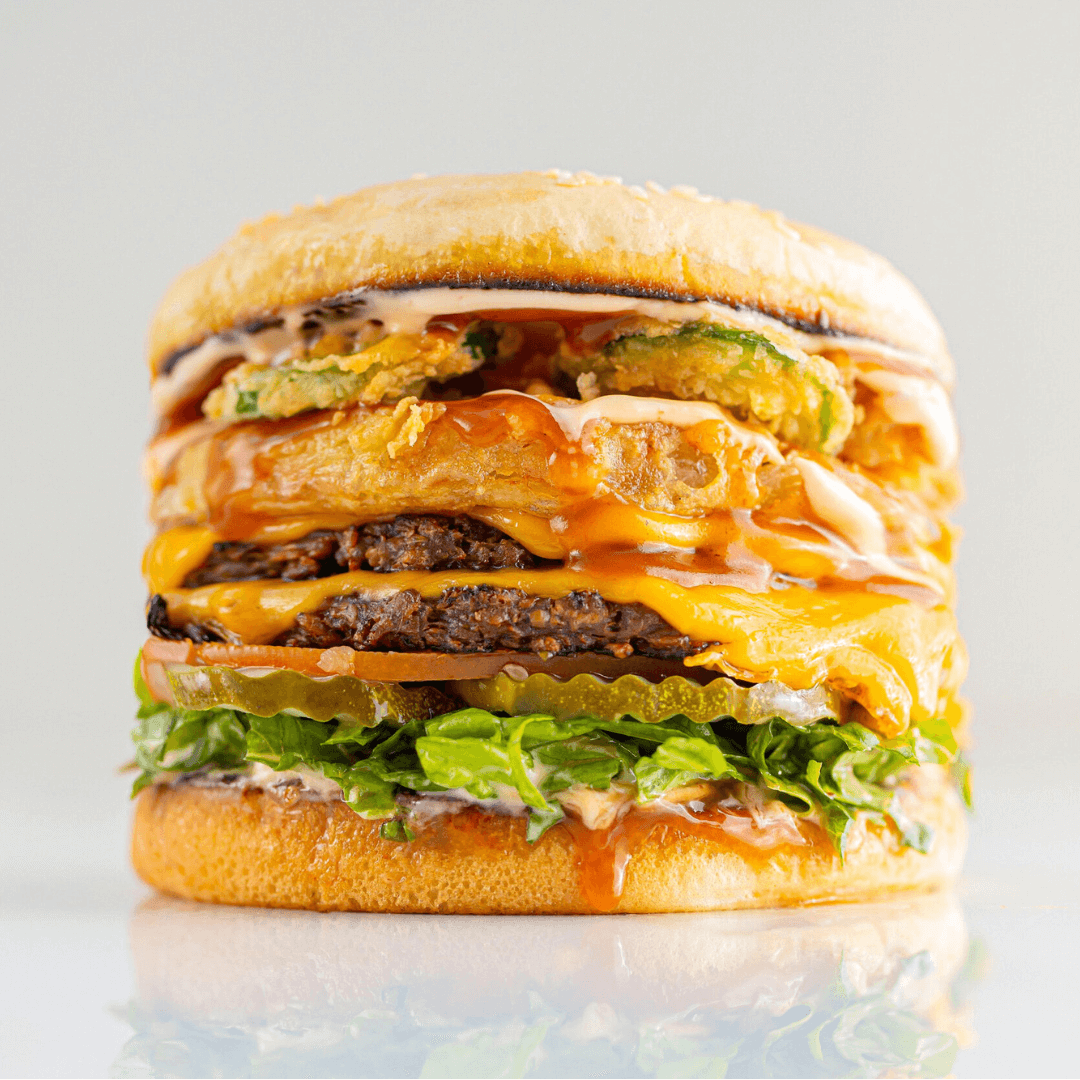 Vurger Guyz
1 The Vurger at Vurger Guyz
Los Angeles, CA
Beloved by Angelenos and Hollywood celebrities, Vurger Guyz can't be missed when in the City of Angels. The food truck's Vurger is topped high with vegan American cheese, lettuce, fried onions, pickles, tomatoes, and fried jalapeños. Choose between Sunrise, Sunburn, and Sunset sauces to complete your order. Make it a double for an extra meaty burger.
FIND IT HERE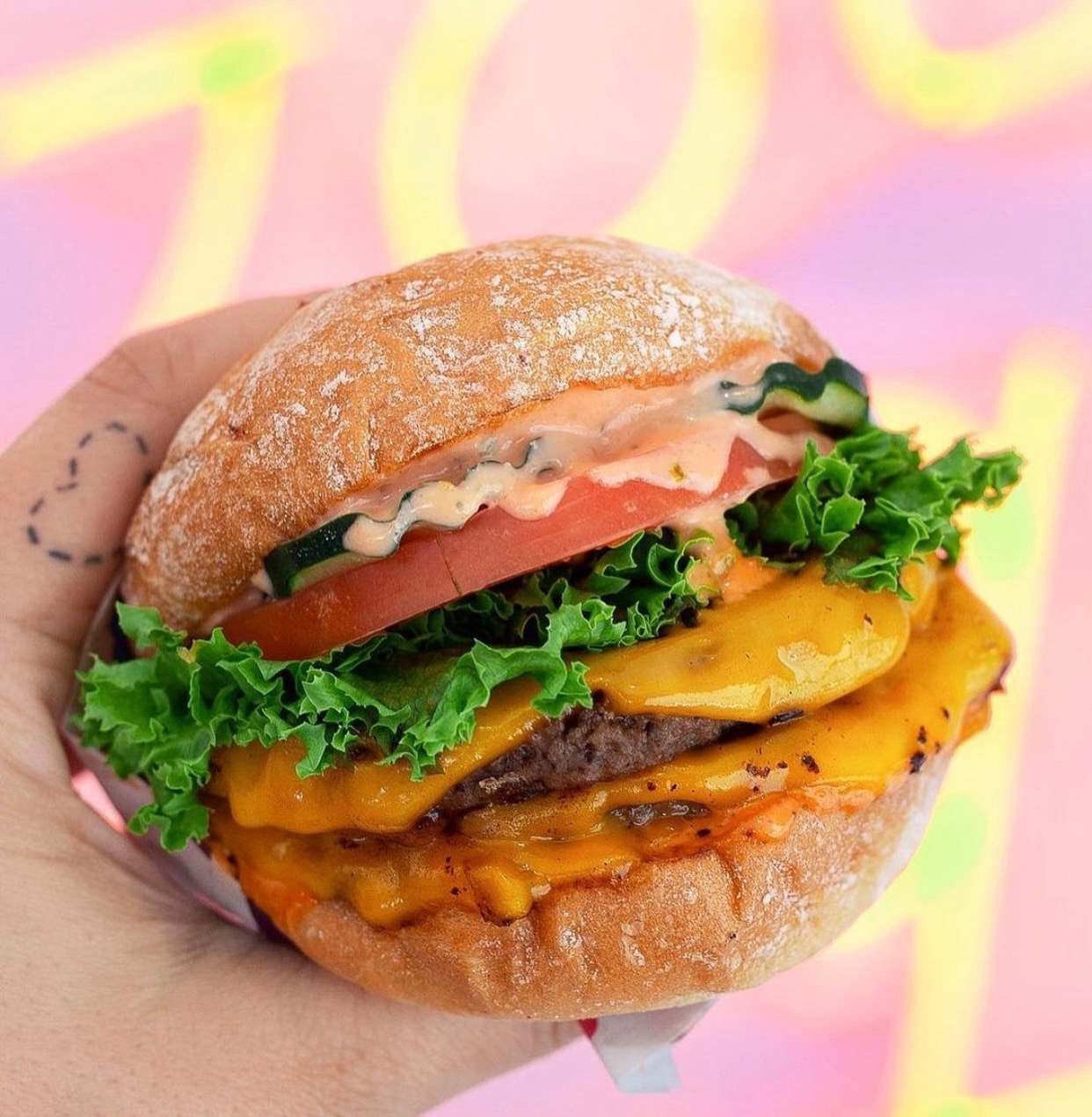 Monty's Good Burger
2 Double Cheeseburger at Monty's Good Burger
Multiple locations, Southern California
Coined the "Vegan In-N-Out," Monty's aptly mimics this Southern California burger chain right down to the secret sauce. This signature sandwich is stacked with two Impossible patties, melty Follow Your Heart cheese, house spread, lettuce, tomato, pickles, and grilled onions on a soft brioche bun. Pair with a side of crispy-yet-tender fries and a dairy-free strawberry shake.
FIND IT HERE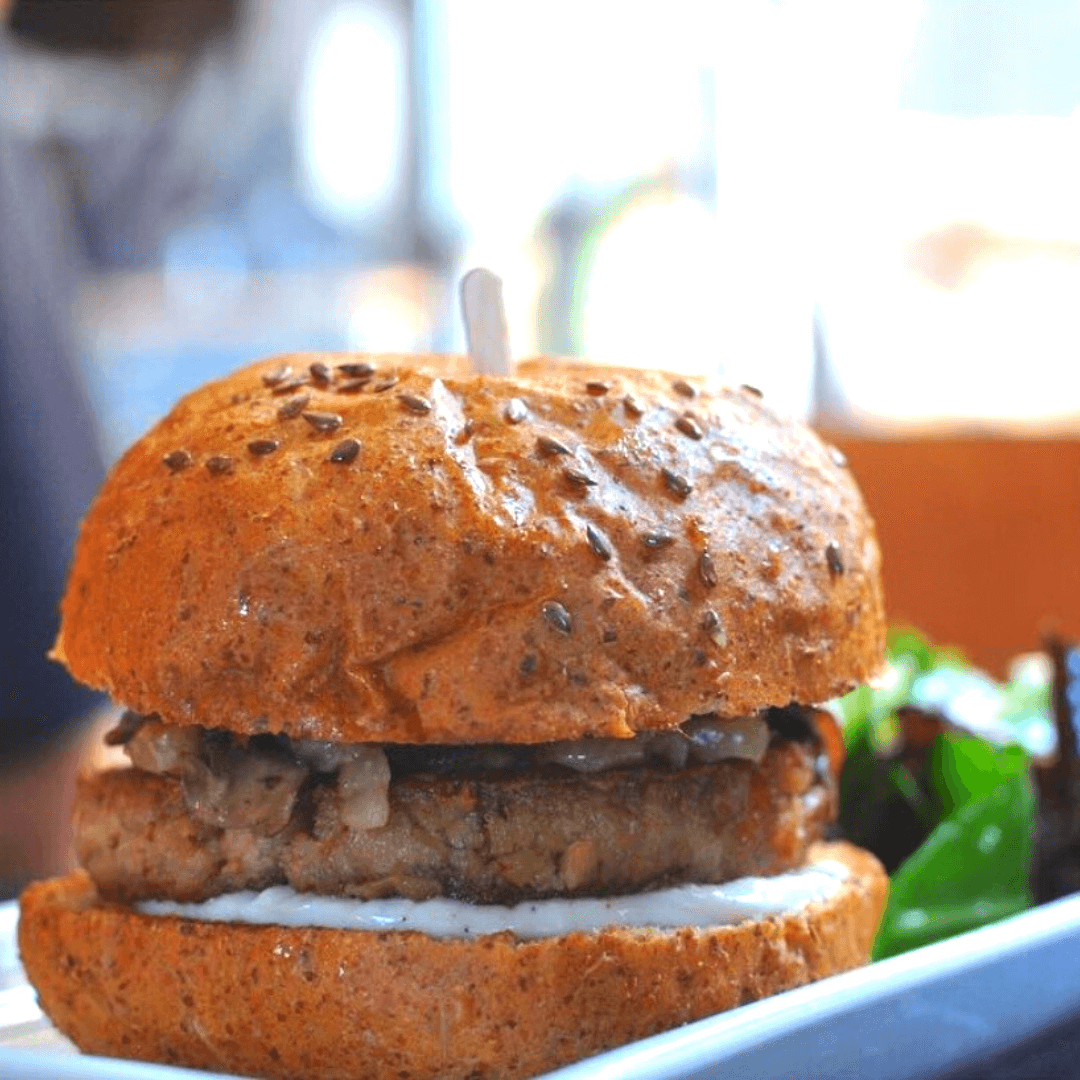 @frankybananas/Instagram
3
Truffle Burger at Freesoulcaffe
Tustin, CA
In full transparency, the size of this burger is a bit underwhelming. However, for what it lacks in volume, it makes up in flavor. Made with a beefy vegetable-based patty and topped with caramelized onions, sauteéd mushrooms, and truffle aioli on a flax seed bun, this handheld from Freesoulcaffe is the most gourmet burger on our list.
FIND IT HERE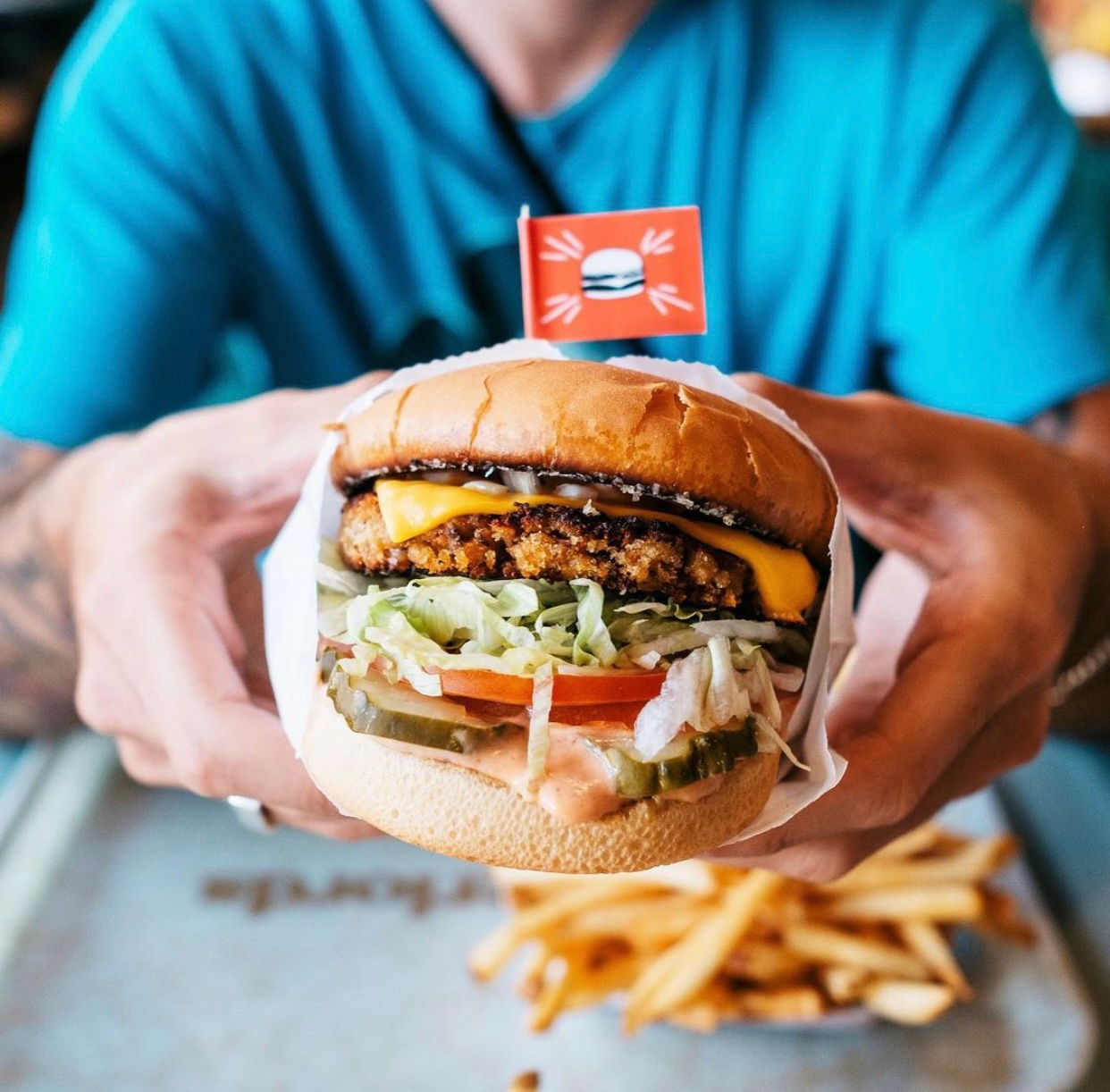 Burgerlords
4Burgerlords Vegan Cheeseburger at Burgerlords
Los Angeles, CA
Opt for the signature Burgerlords Vegan Cheeseburger featuring a housemade patty and topped with dairy-free American cheese, lettuce, tomato, onion, pickles, and Burgerlords' signature sauce. Pair with a side of animal-style Lord of the Fries and a tahini milkshake for true bliss.
FIND IT HERE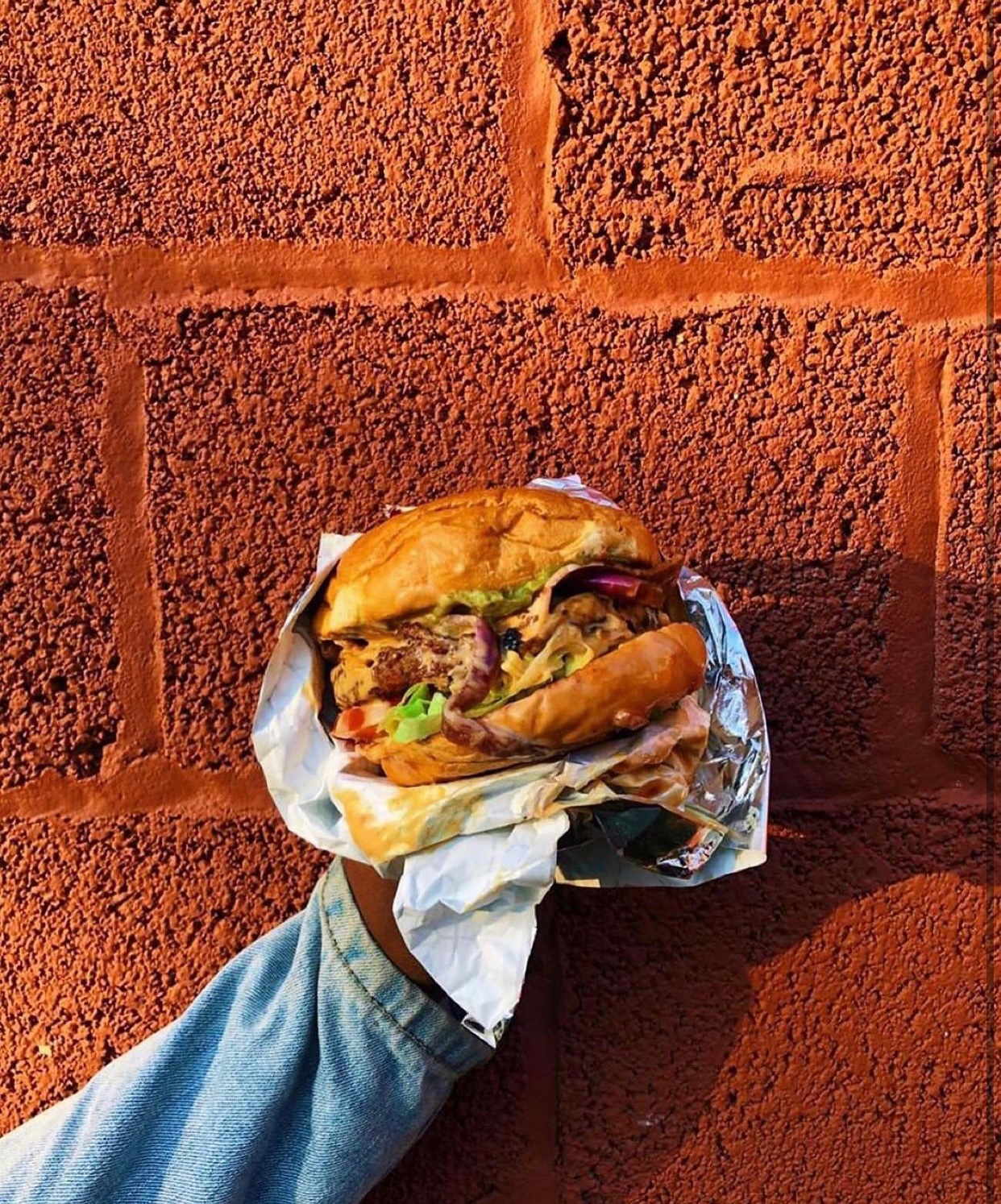 @blackfoodiefinder/Instagram
5 Fussy Hussy at Slutty Vegan
Multiple locations
What began as a local food truck has become a popular vegan micro-chain in Georgia and beyond.
Each menu item is a solid choice, but if you're looking for a McDonald's replica, the Slutty Vegan's Fussy Hussy is where it's at. Dive into a plant-based patty topped with vegan cheese, caramelized onions, pickles, lettuce, tomato, and Slut Sauce.
What makes this burger even better than the Big Mac? It comes sandwiched between two vegan Hawaiian buns. Aisha "Pinky" Cole, you're making our dreams come true!
FIND IT HERE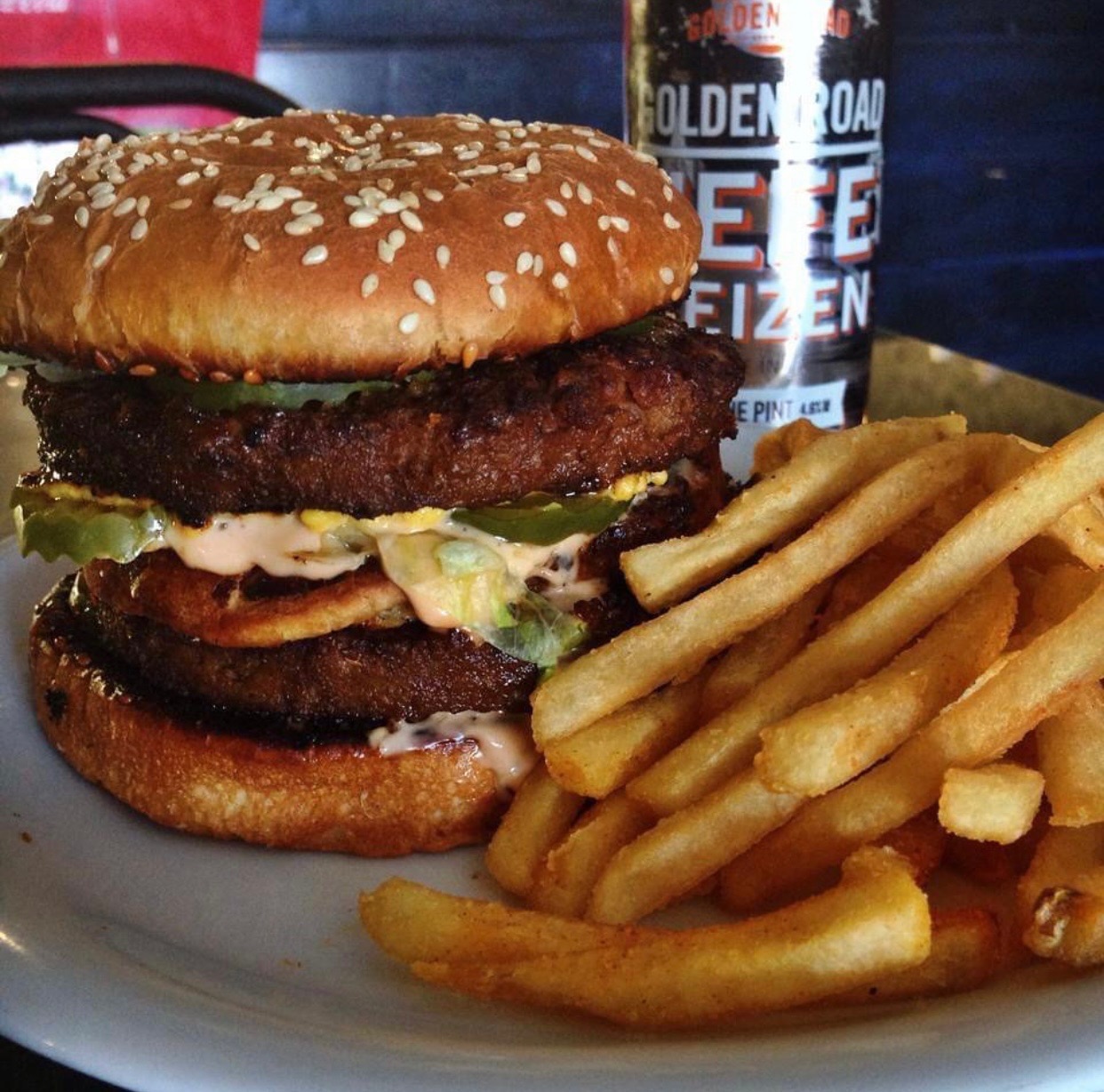 @christineelisemccarthy/Instagram
6 The Big D at Doomie's Home Cookin'
Los Angeles, CA
You have to ask for the secret menu to order this Big Mac copycat at LA's Doomie's Home Cookin'. Piled high with two vegan patties and three buns—in addition to all the standard Big Mac toppings—one would never guess this burger didn't come through the drive-thru.
FIND IT HERE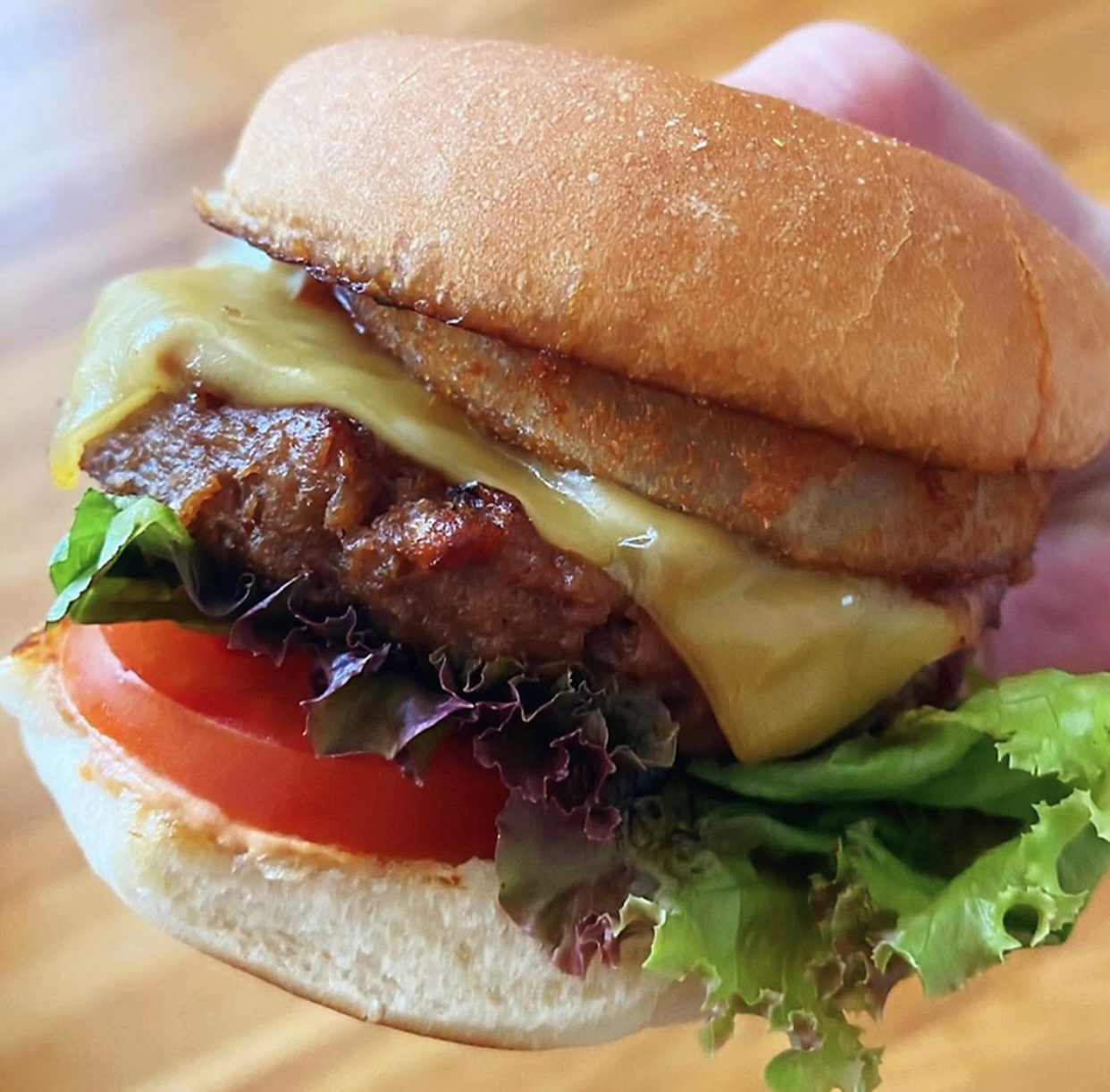 Next Level Burger
7 The Maverick at Next Level Burger
Multiple locations
With locations in California, Oregon, Washington, New York, Colorado, and Texas, Next Level Burger is redefining fast food one state at a time.
Many of its ten locations can be found in Whole Foods Markets. Skip the hot bar and head to the Next Level register to order The Maverick. This burger is made with a house-seasoned Beyond patty slathered with special sauce, your choice of vegan cheese, crispy onion rings, tempeh bacon, hickory barbecue sauce, dill pickles, lettuce, and tomato between a buttery, toasted pretzel bun.
FIND IT HERE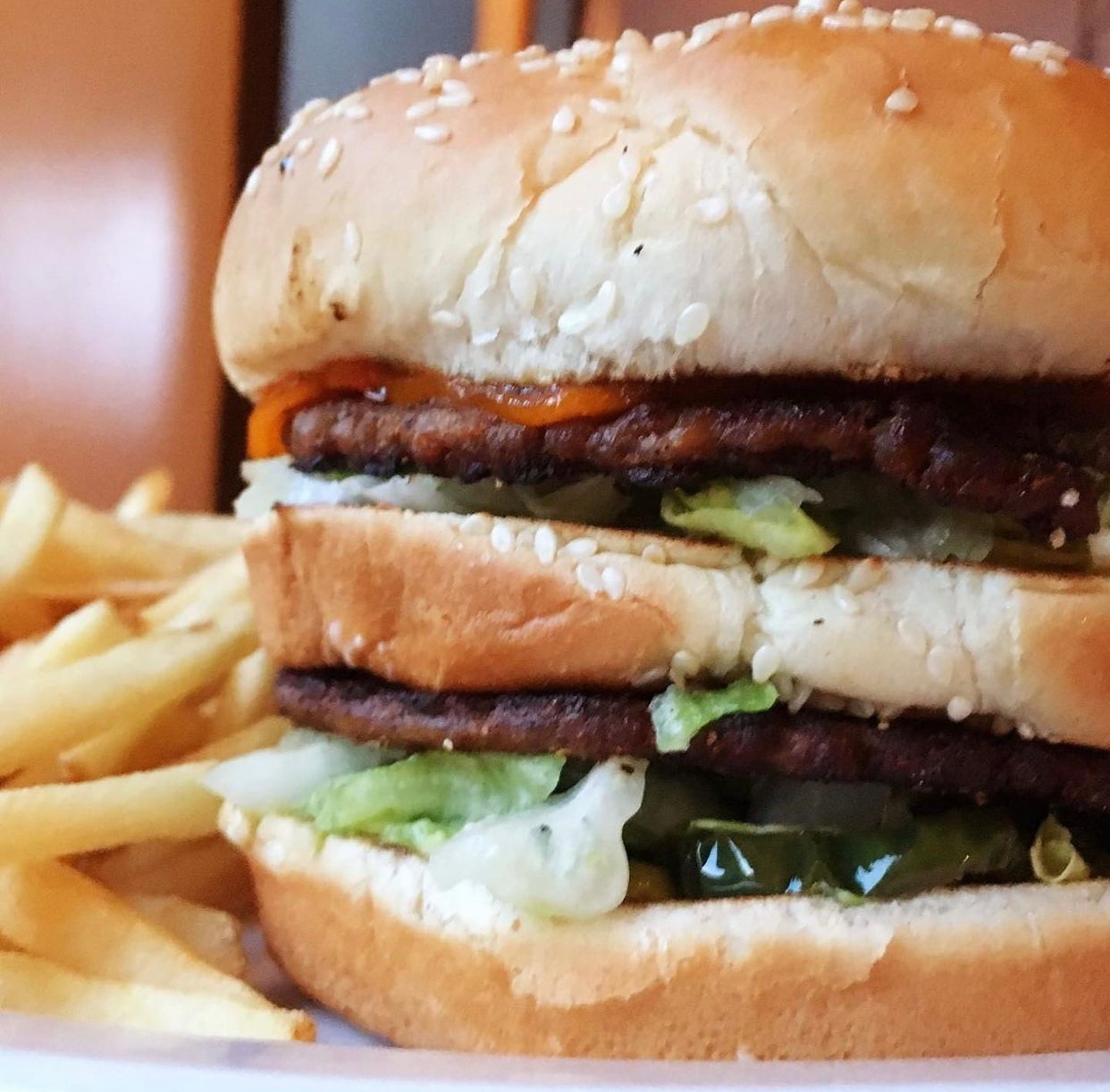 Green New American Vegetarian
8Big WAC at Green New American Vegetarian
Phoenix, AZ
Phoenix's favorite casual vegan eatery, Green New American Vegetarian, has a burger on its menu to rival all other fast-food contenders—the Big WAC. There's nothing fancy about it—just a double patty served with special sauce, pickles, cheese, lettuce, and onions on a traditional sesame seed bun—but this sandwich is perfect in its simplicity.
FIND IT HERE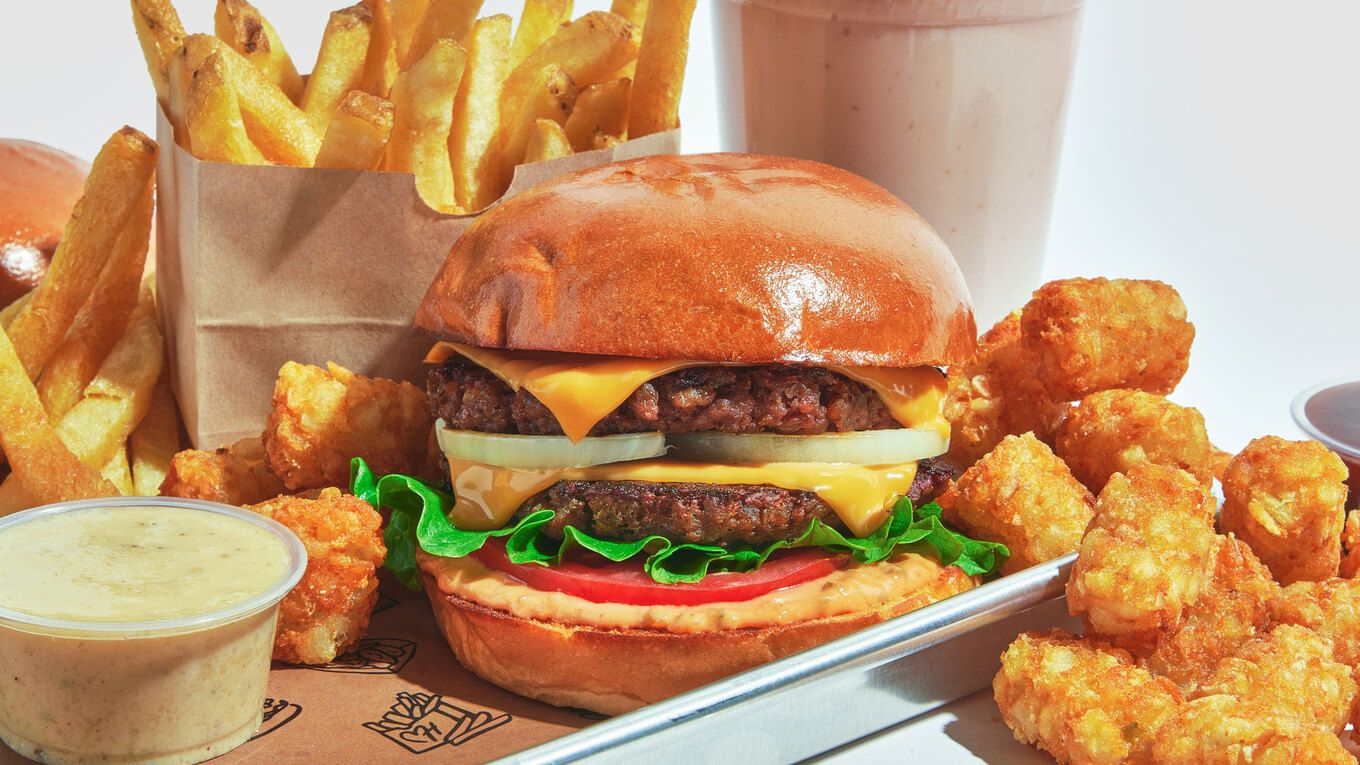 Hart House
9 Double Burg'r at Hart House
Los Angeles, CA
Two plant-based patties are stacked high and topped with American cheese, lettuce, tomato, onion, and housemade Signature Sauce at this new vegan chain founded by Kevin Hart.
FIND IT HERE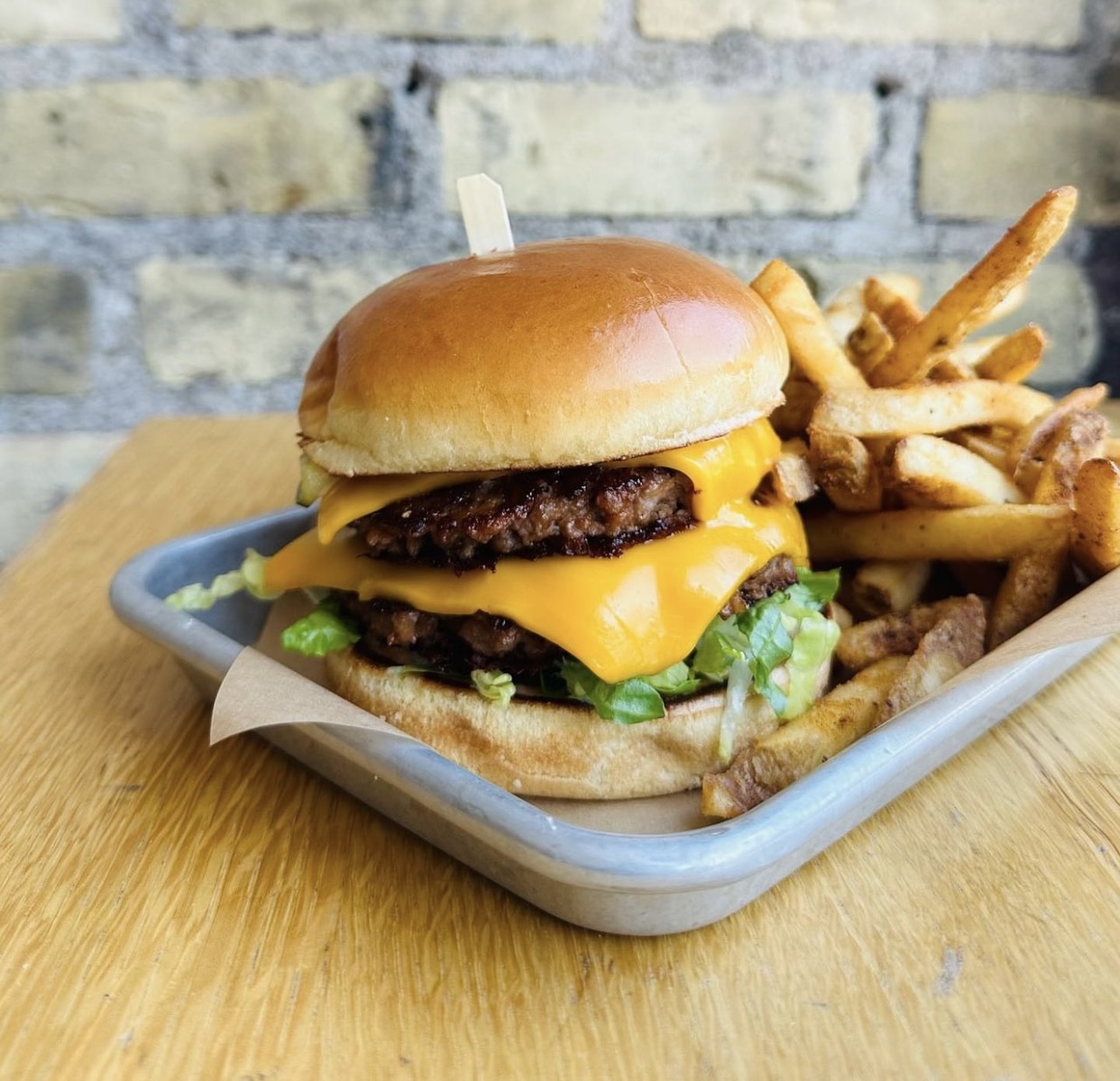 J Selby's
10The Dirty Double at J Selby's
St. Paul, MN
J Selby's is a solid contributor to Minnesota's burgeoning vegan food scene. Known for its plant-based renditions of fast-food, bar, and diner dishes, you can bet the menu includes a stellar Big Mac-style burger. The kitchen relies on two beefy vegan patties to mimic this McDonald's icon.
FIND IT HERE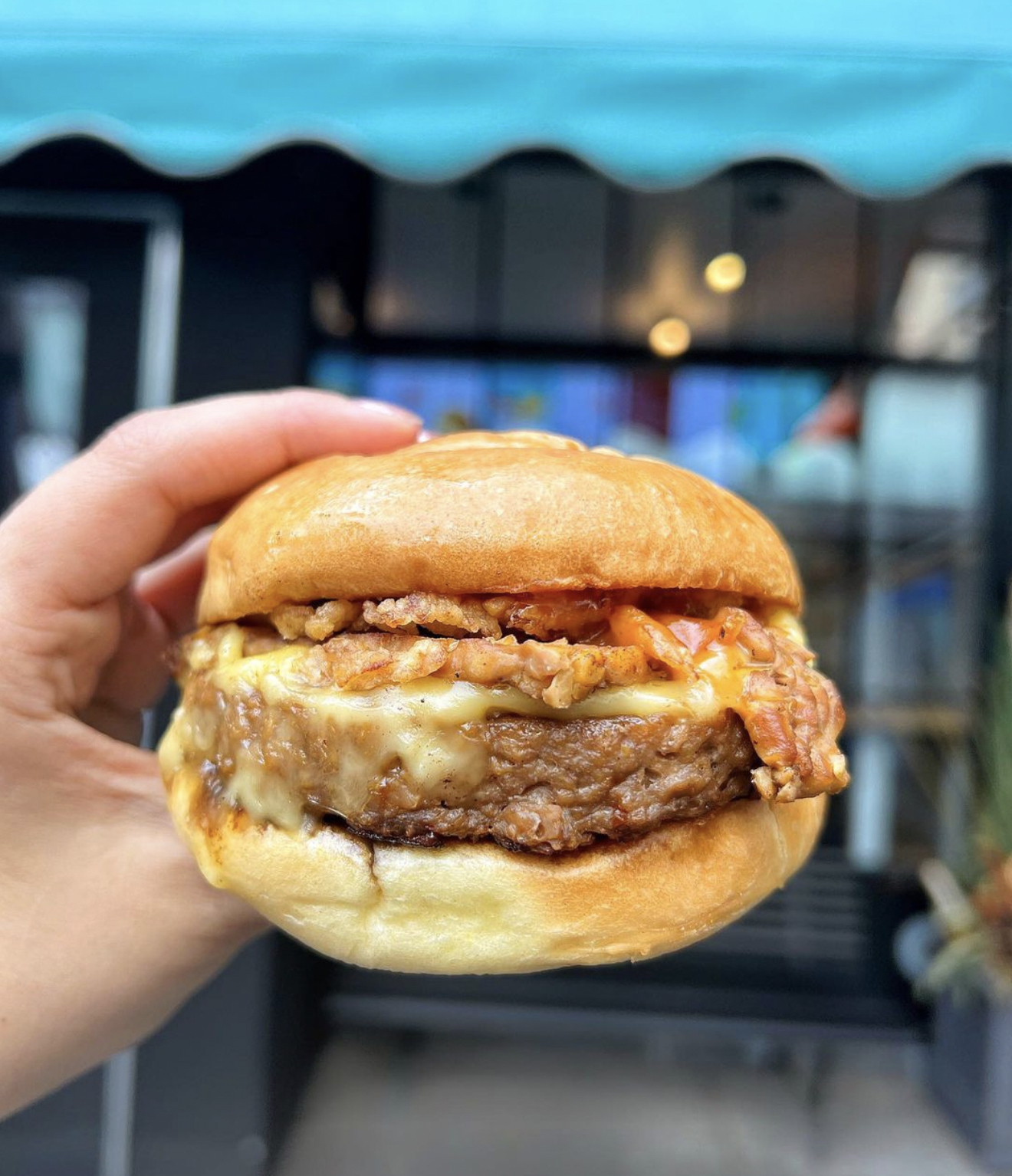 @platefulofgoodness/IG
11 Smokehouse Burger at HipCityVeg
Philadelphia, PA and Washington, DC
You can't go wrong at HipCityVeg. The fan-favorite Smokehouse Burger is sure to satisfy even the biggest cravings. Made with a grilled vegan patty and topped with crispy onions, tangy barbecue sauce, and smoked gouda, pair this veg handheld with sweet potato fries and a chocolate milkshake for a meal you won't soon forget.
FIND IT HERE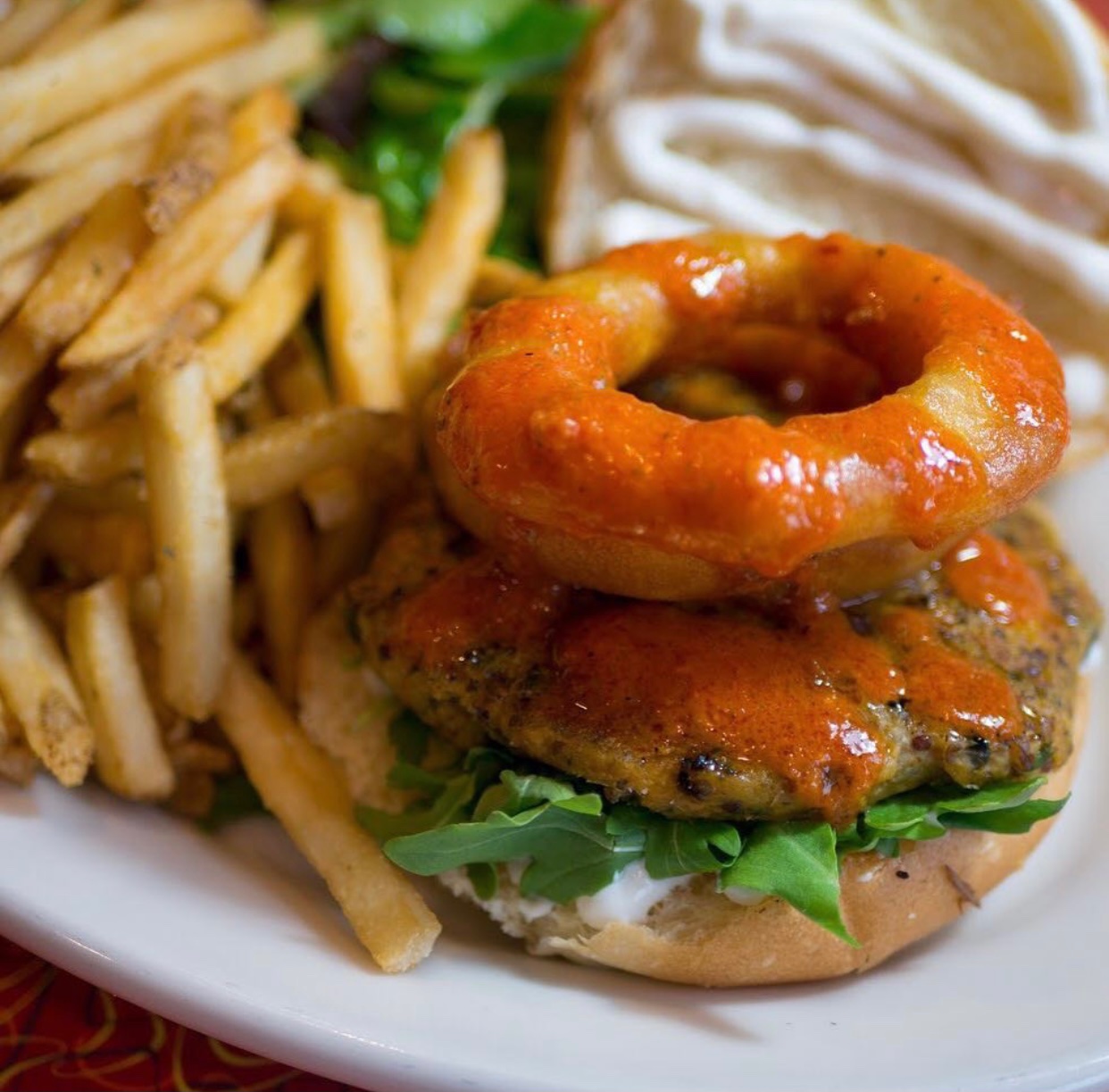 Veggie Galaxy
12Kendall Square at Veggie Galaxy
Cambridge, MA
Veggie Galaxy grabbed the attention of Food Network star Guy Fieri and was featured on the popular Diners, Drive-Ins, and Dives primetime show.
While the menu offers several standout burgers to choose from, the one that most resembles the Big Mac is the Kendall Square. Made with a sweet potato and black bean burger, roasted red pepper purée, onion rings, roasted garlic mayo, and baby arugula, this sandwich beats anything we've ordered from a drive-thru window.
FIND IT HERE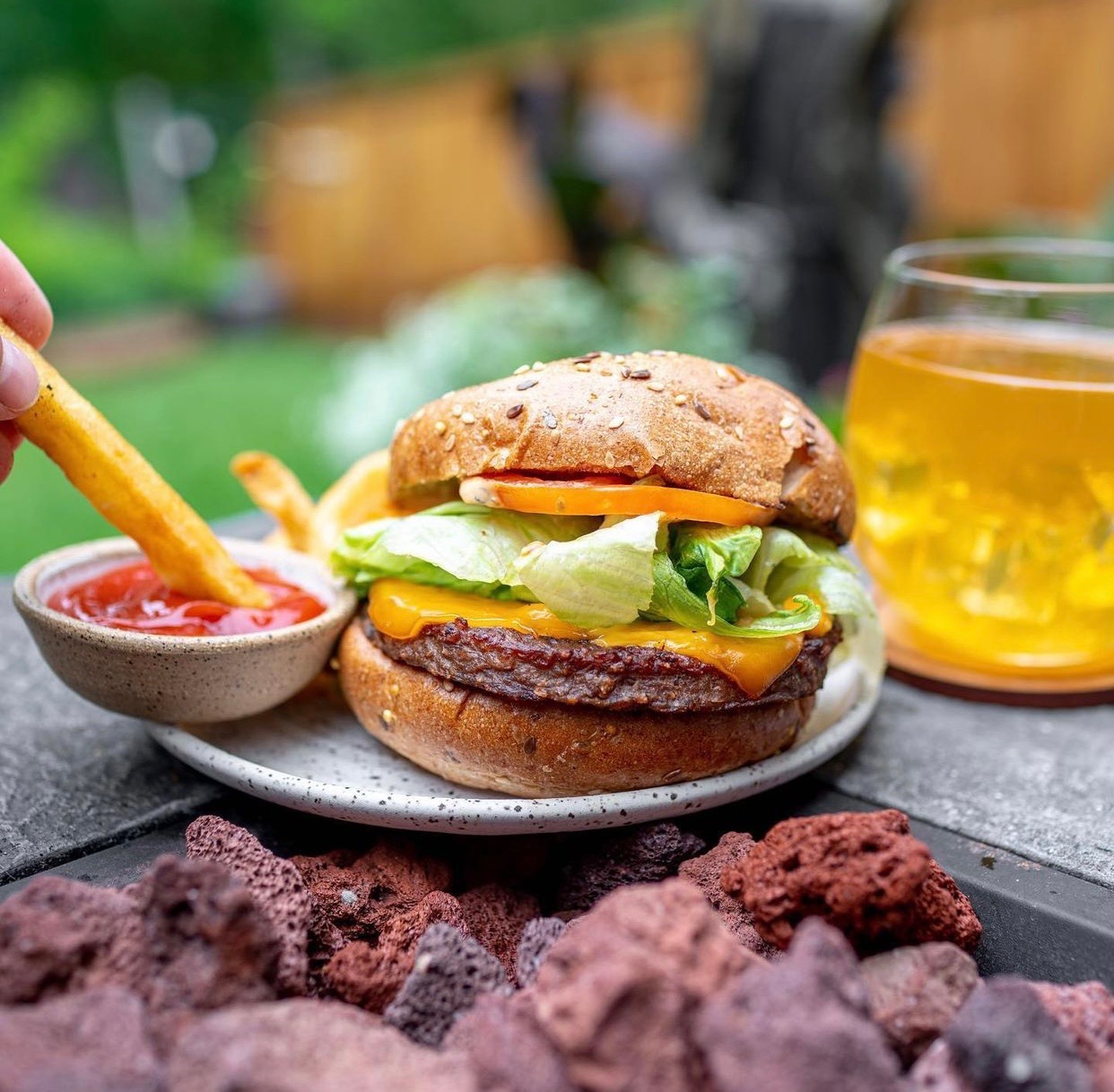 Veggie Grill
13The VG Classic at Veggie Grill
Multiple locations
Veg chain and safe haven Veggie Grill has been slinging plant-based favorites since 2006. The simple VG Classic is a can't miss. Order this Beyond patty topped with lettuce, tomato, American cheese, pickles, onions, and special sauce for a Big Mac taste that's better than the Mickey D's original.
FIND IT HERE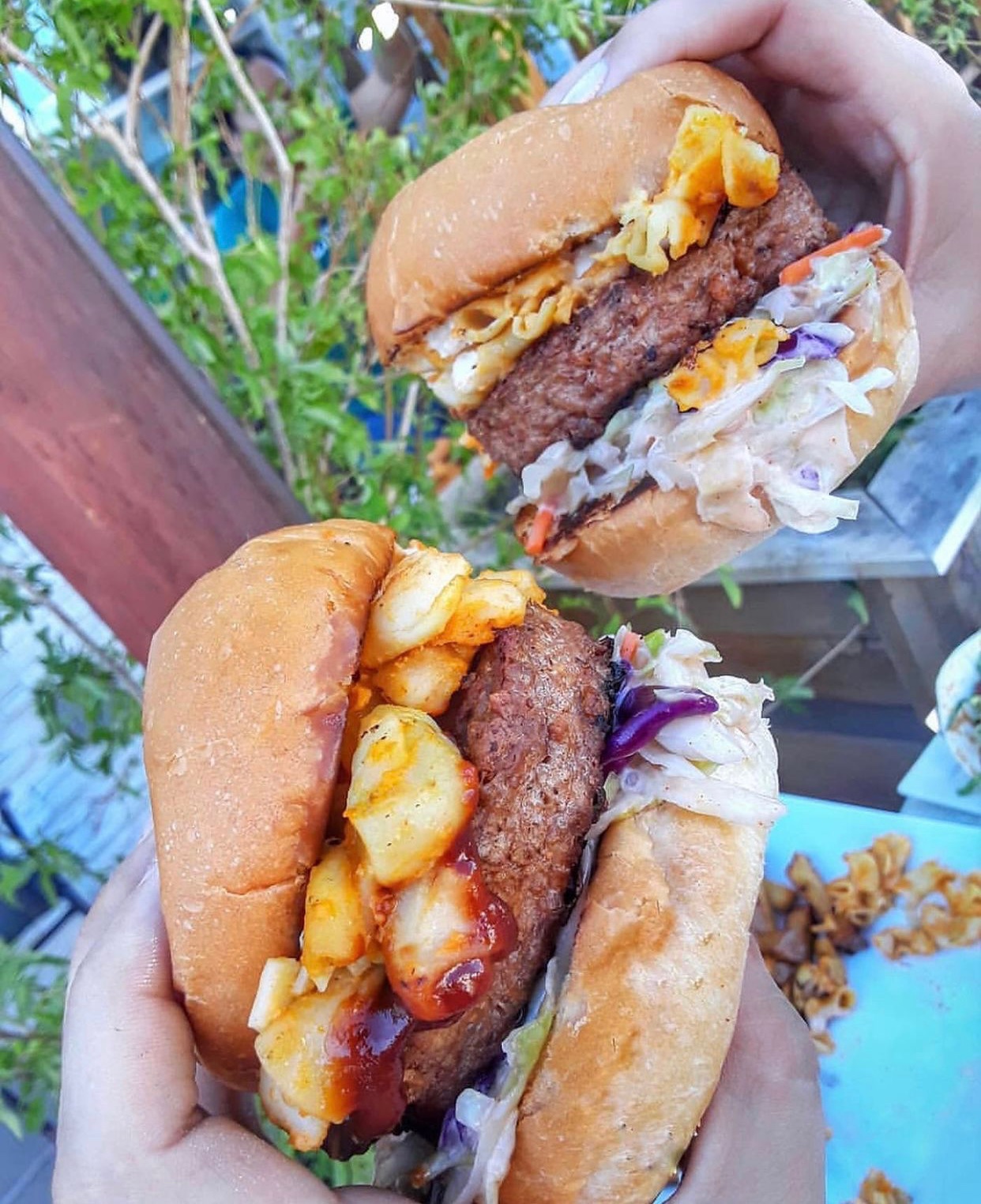 Vegenation
14 The Mac Daddy Burger at Vegenation
Las Vegas, NV
Representative of its hometown, this burger is nothing short of "extra." Vegenation's southern spin on the Big Mac features a vegan patty topped with mac and cheese, collard greens, barbecue sauce, coleslaw, and secret burger sauce.
FIND IT HERE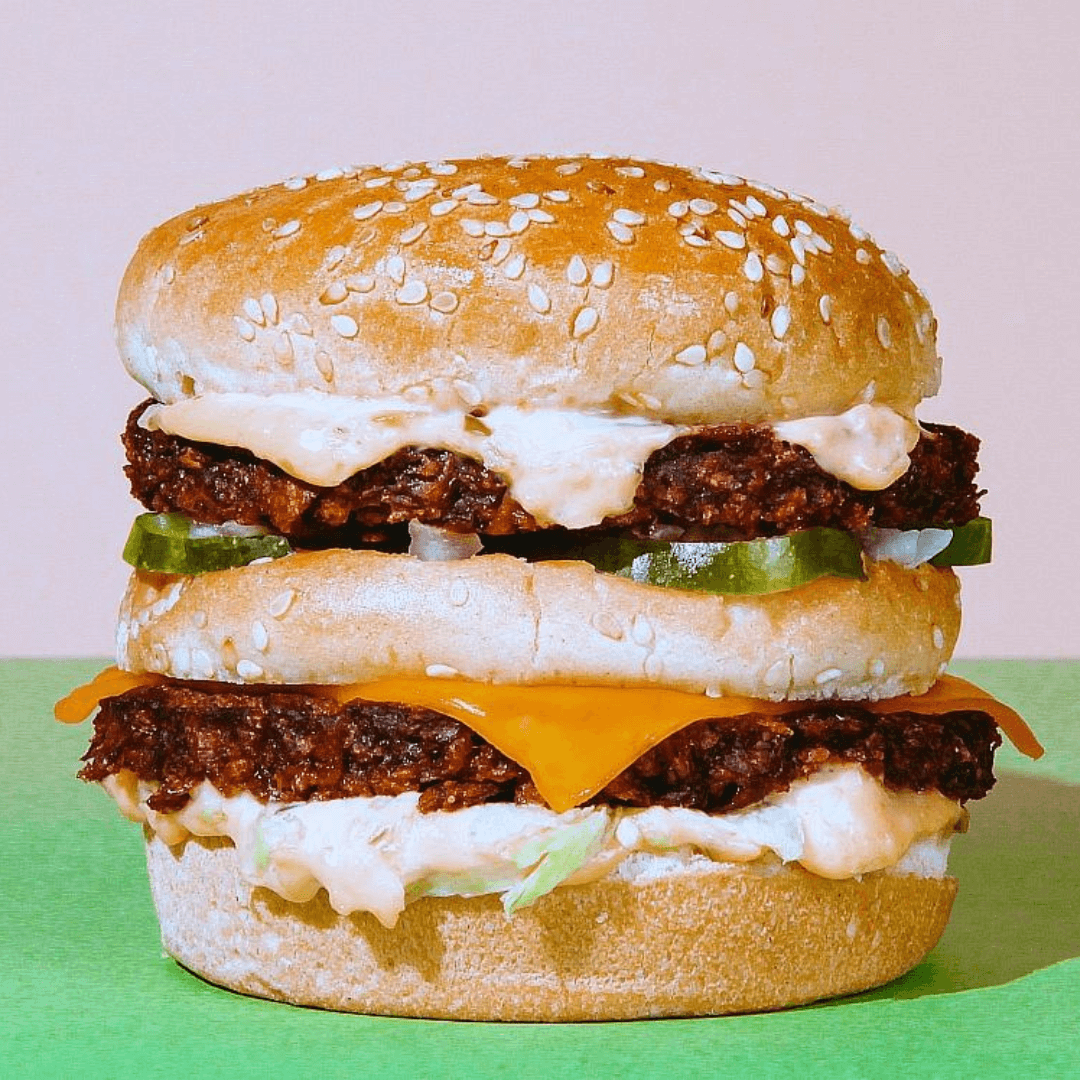 Plant Power Fast Food
15 The Iconic Burger at Plant Power Fast Food
Multiple locations
This vegan fast-food chain is giving Mickey D's a run for its money. In this signature burger, a beefy vegan patty is topped with secret burger sauce, American cheese, lettuce, and grilled onions for an epic handheld that'll have you saying, "Big Mac, who?!" Complete your order with a creamy milkshake, and you've got yourself an unparalleled burger experience.
FIND IT HERE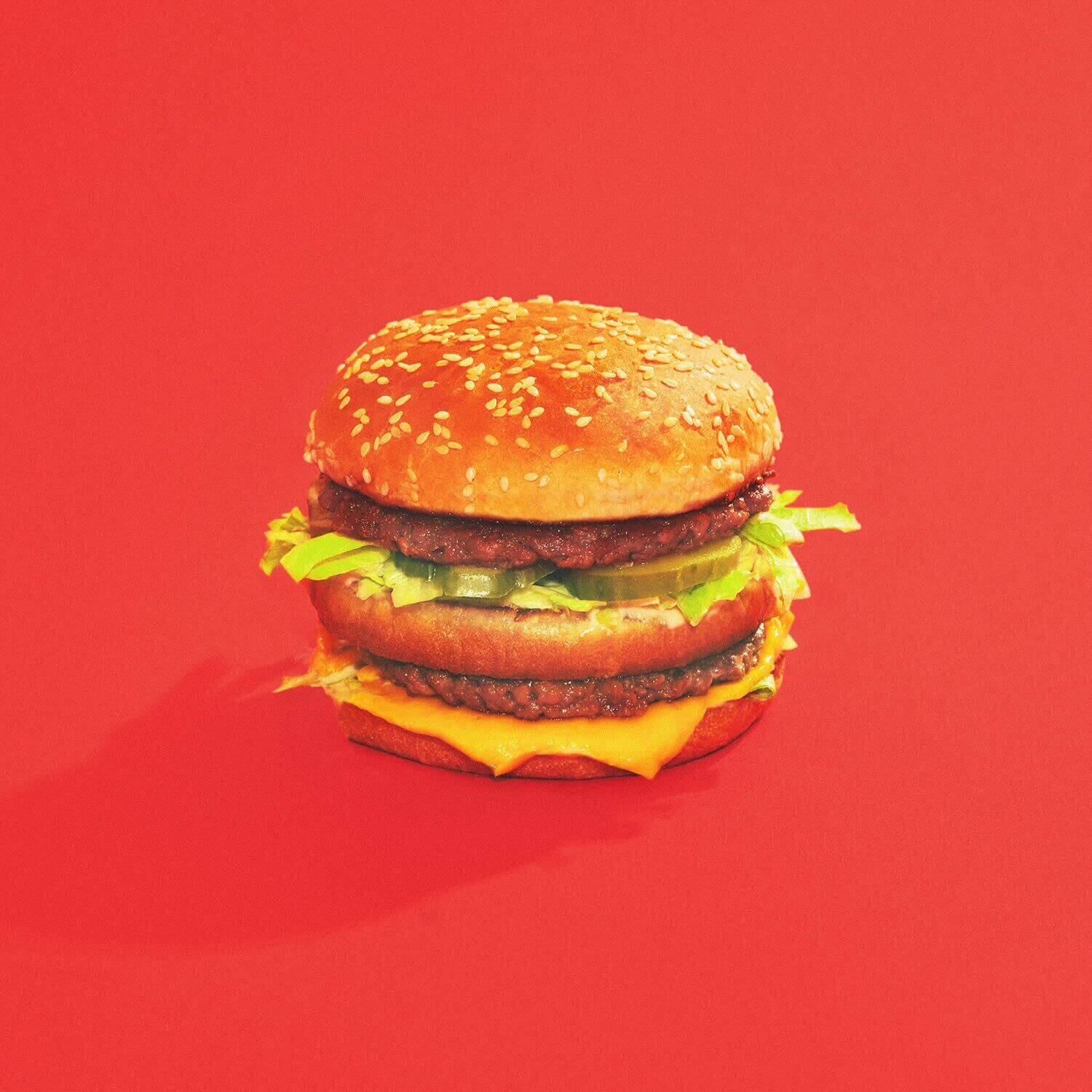 Mr. Charlie's
16Big Chuck at Mr. Charlie's
Los Angeles and San Francisco, CA
The TikTok sensation dubbed "the vegan McDonald's" provides mouthwatering plant-based fast food while also doing good.
Mr. Charlie's partners with the Dream Center, a nationwide organization that helps unhoused and formerly incarcerated people get back on their feet by providing them with housing, training, and additional resources, to staff its restaurant. Grab its Big Chuck for a tasty burger that gives back.
FIND IT HERE
Editor's note: This list is by no means exhaustive. Vegan restaurants all across the country are masters of making plant-based versions of fast-food classics like the Big Mac. As always, we encourage you to get out there and support your local vegan restaurants so they can keep on feeding the community.
For ever more vegan burgers and sandwiches, read: