It seems that every week in the world of vegan food news is more exciting than the last and this week is no exception. Going vegan this Veganuary has never been easier with new plant-based options at Domino's in the United Kingdom, Mellow Mushroom in the United States, and Beyond Meat's new vegan steak at Costco locations across five states. You want ice cream? Salt & Straw's Veganuary menu is replete with vegan options, some created to mimic classic desserts. Read on for more.
1Domino's Hot American vegan pizza
At Domino's locations in its domestic market in the United States, cheesy vegan pizza is not a thing (yet). However, hop over to the United Kingdom, and the chain has been going all-in on vegan food for a while with dairy-free cheese, vegan dips, and plant-based pepperoni sprinkled generously across its menus.
For Veganuary this year, Domino's UK is hitting the chain's US fans where it hurts with its new vegan American Hot pizza. The new spicy pie features vegan pepperoni by The Vegetarian Butcher, sliced red onions, spicy green jalapeños, vegan mozzarella, and classic tomato sauce slathered over vegan dough.
Domino's UK
The new vegan pizza is available at all 1,190 Domino's locations across the UK and for delivery through its app.
In addition to Domino's UK, other locations overseas have myriad vegan options, including in Australia where the chain added Impossible Foods' plant-based meats to its 700 locations last year.
Hey Domino's US, we'll take a vegan British Hot pie—whatever that may be—if we have to. Just give us a decent vegan pizza, already.
2Mellow Mushroom's DIY pizza
Can't make it to Domino's UK for Veganuary? United States-based chain Mellow Mushroom has got just the thing to keep you well fed through January and beyond. The chain has been notoriously vegan-friendly for years but this month, it's kicking it up a notch with a new DIY option. Here, guests can build their own vegan pizzas using 19 ingredients that range from tempeh to Follow Your Heart's dairy-free cheeses.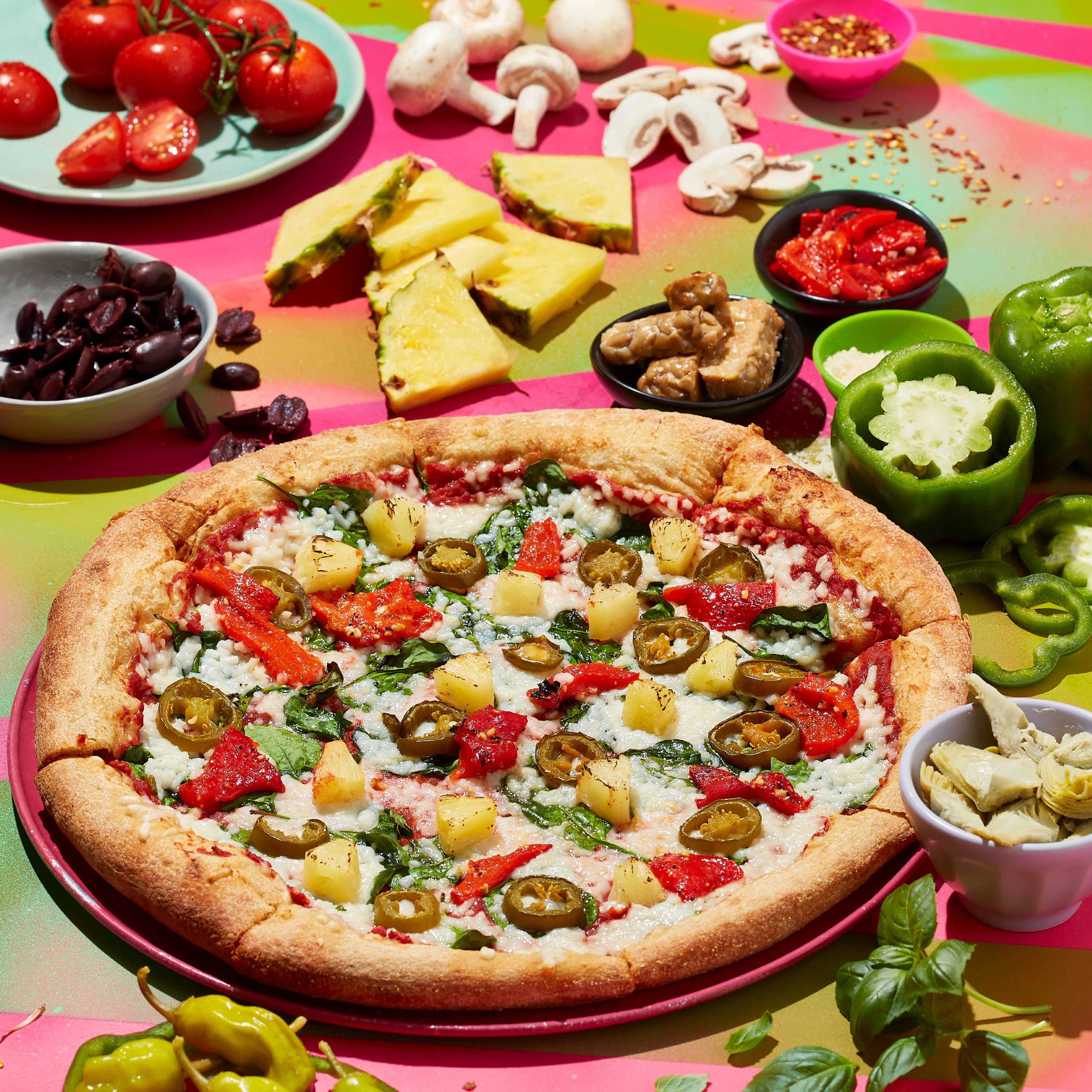 Mellow Mushroom
"Mellow Mushroom is delighted to launch our 'Build Your Own Vegan Pizza' option just in time for Veganuary," Anne Mejia, VP Brand Development, Mellow Mushroom, said in a statement. "At Mellow Mushroom, we take pride in the inclusive nature of our menu offerings, and our ability to serve delicious pies, salads, and munchies that accommodate dietary needs and preferences while maintaining great quality."
This new feature joins preconfigured vegan menu items on the Mellow Mushroom menu such as pretzels, cheesy pizzas, tempeh hoagies, and more.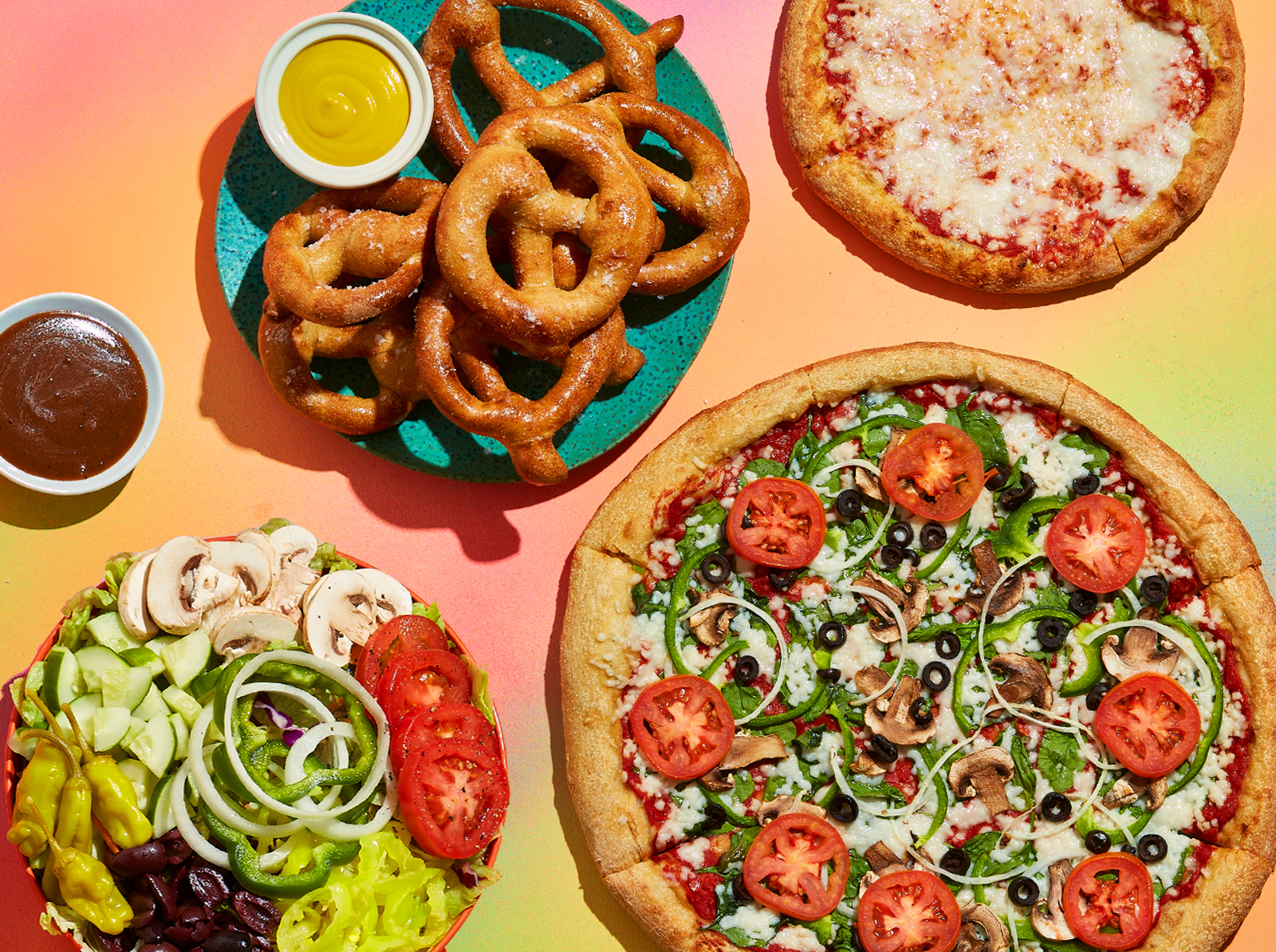 Mellow Mushroom
"We all have the power to make the world a little kinder, greener, and healthier this new year," Wendy Matthews, Veganuary US Director, said in a statement. "It's great to see restaurants like Mellow Mushroom embracing this opportunity and providing planet-friendly vegan options that showcase how delicious, varied, and satisfying vegan food can be."
The new Build Your Own Vegan Pizza option is available at Mellow Mushroom's more than 160 locations across 20 states.
3Beyond Steak hits Costco
If you're like us, you might be taking a break from cooking huge family meals. Once you get back in the mood to host taco Tuesdays for the fam, Beyond Meat has got just the thing: vegan steak in bulk.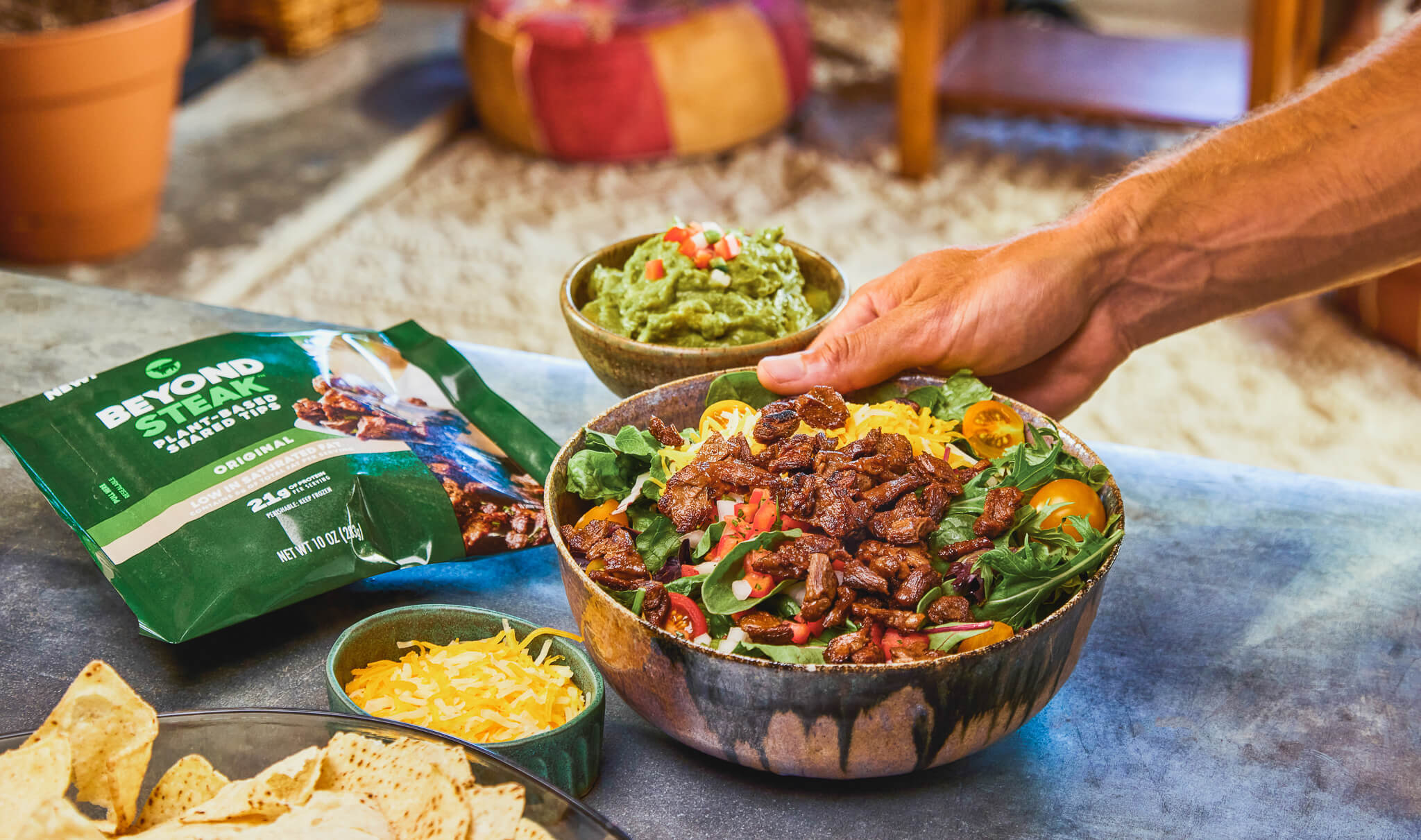 Beyond Meat
The vegan company launched its Beyond Steak plant-based seared tips in October at 5,000 stores, including Walmart and Kroger. This month, Beyond Meat expanded its first vegan steak offering—available in 28-ounce bags—into approximately 50 Costco locations across Arizona, Nevada, New Mexico, Colorado, and Southern California.
And if you're a Sam's Club member, Beyond Meat's vegan popcorn chicken just launched at all locations in bulk 30-ounce bags for all your party snack needs.
4Vegan cookie dough at 16 Handles
New York City-based froyo chain 16 Handles is dipping its feet further into plant-based options. That's because this week, the franchise owner and CEO Neil Hershman acquired DŌ, a vegan cookie dough company that has gained a celebrity fan base since it was founded in 2014 by Kristen Tomlan.
"I started DŌ in a quest to create a worry-free indulgence that I could selfishly eat, bake, and share with others," Tomlan said in a statement. "The mission for this brand was always about spreading joy, which has been and always will be my favorite part of the baking process."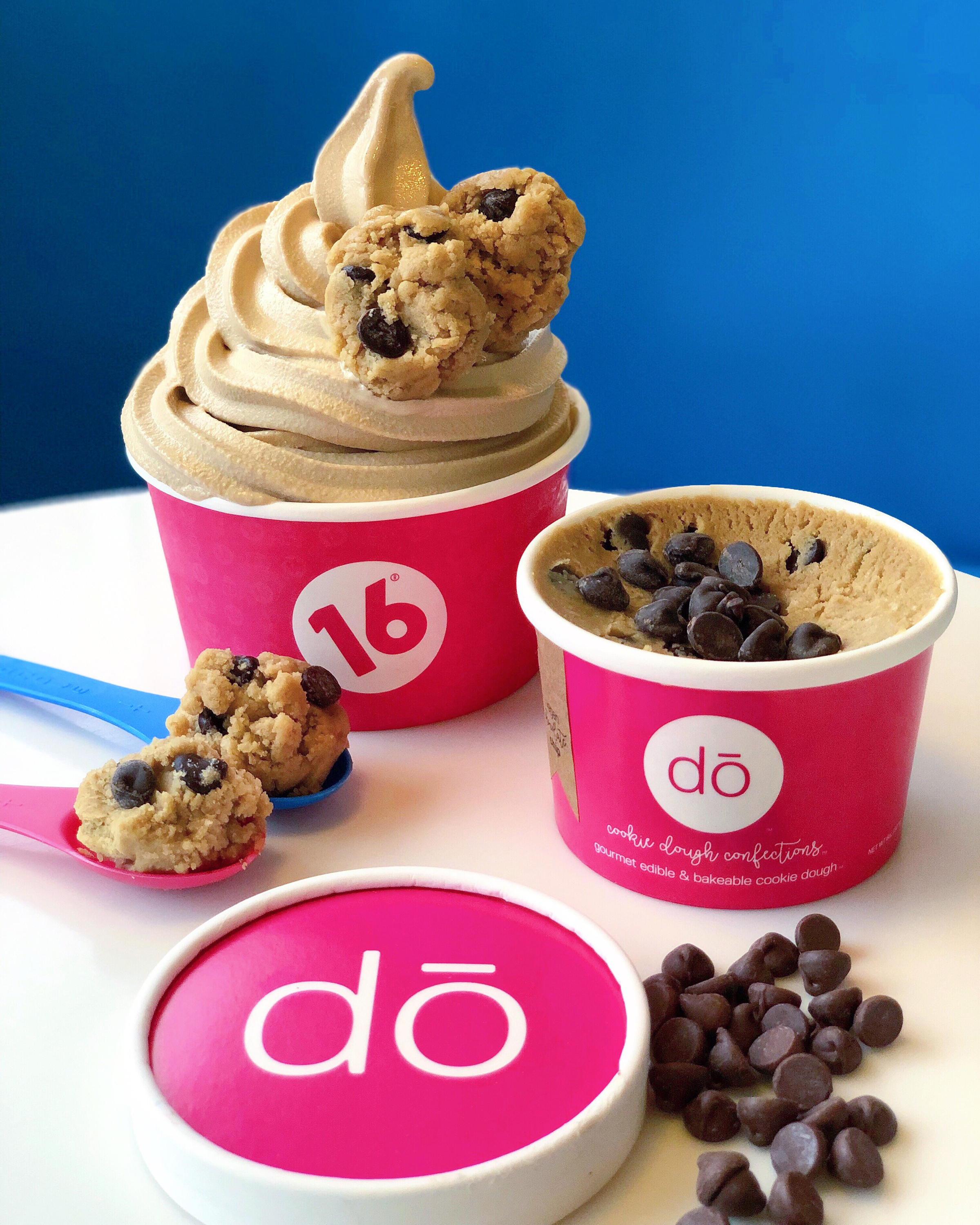 16 Handles
DŌ is a longtime partner of 16 Handles and this acquisition will put an exclusive line of the company's vegan cookie dough at all 30 locations of the froyo chain. Currently, the shops serve DŌ as a topping and inside to-go pints.
"It's been a dream come true to collaborate with 16 Handles' New York City locations over the past five years, so expanding the partnership and growing our brands together is exciting for us both," Tomlan said. I'm looking forward to this next chapter and being able to continue to spread happiness through these two iconic New York desserts."
As part of the acquisition, Hershman—who personally operates 12 dessert shops—will replace Tomlan as owner of DŌ and as the company's CEO, while Tomlan will remain at the company as its Chief Brand Officer.
"DŌ is one of New York City's favorite and most unique desserts, and it's been so popular selling alongside our artisanal frozen yogurt at 16 Handles in the past," Hershman said. "I'm so excited to take Kristen and my partnership to the next level as we integrate DŌ's addictive edible cookie dough into the self-serve topping bar and to-go freezer at all of our 16 Handles locations, especially as we continue to expand nationally."
In addition to DŌ, 16 Handles has a longstanding partnership with Oatly and is currently serving 11 oat milk soft serve flavors such as Chocolate Peppermint, Banana, Caramel Apple Pie, and Cinnamon Bun.
5Salt & Straw's five new vegan ice cream options
Every January, artisanal chain Salt & Straw entices Veganuary participants—and everyone else—with its expansive vegan ice cream offerings during its annual Dairy-Free Decadence Series. From now until February 2, five decadent dairy-free options are joining Salt & Straw's permanent vegan flavors: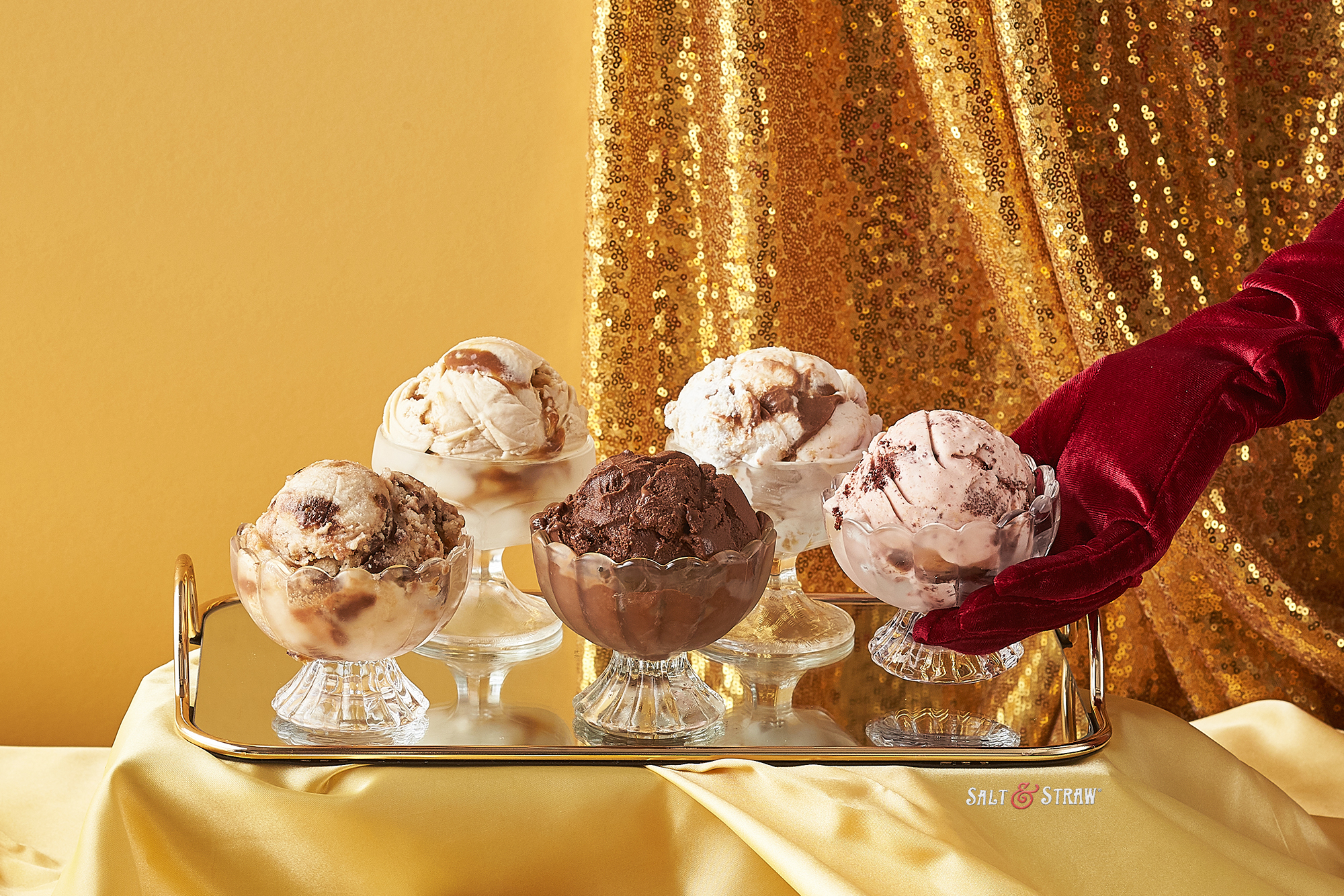 Salt & Straw
Bananas Foster: inspired by the old-school dessert, this coconut cream-based (and banana-infused) ice cream is generously swirled with a luscious caramel made from banana purée, rum, molasses, and warm spices
Chocolate Sorbet: a blend of dark cocoa powders with rich chocolate that results in a velvety ganache spiked with a dash of flaky salt
Toasted Oat Milk & Cookies: a take on milk and cookies, this flavor features chewy homemade chocolate chip cookies mixed into a cinnamon-spiked vanilla oat milk ice cream with ribbons of rich ganache folded in
Peanut Butter Brittle Caramel Fudge: a creamy coconut vanilla ice cream drizzled with a housemade semi-sweet caramel fudge swirl and then flecked with pieces of crispy brittle studded with peanut butter
Red Velvet Cake with Cream Cheese Frosting: coconut ice cream that is infused with red velvet batter and dotted with homemade red velvet cake slathered in tangy cream cheese frosting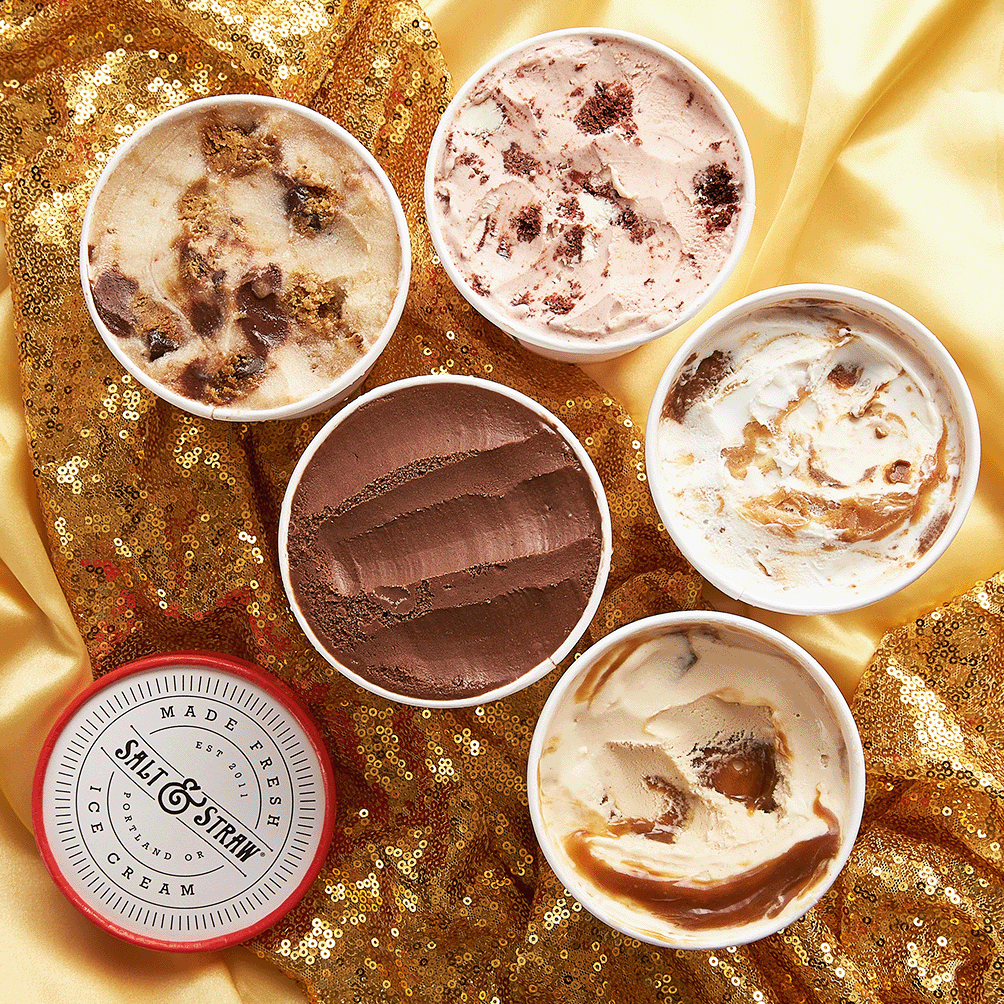 Salt & Straw
The Dairy-Free Decadence Series menu—available in scoops shops and as pints that ship nationwide—is proof that going vegan for Veganuary (and beyond) is just so easy this year.
For the latest vegan news, read: