The days of boring salads are officially behind us with exciting vegan restaurant news cropping up every week. World Vegan Month is upon us and Tanaka Ramen & Izakaya has a new menu to celebrate. The team at Manhattan's Seasoned Vegan Real Quick just gave a classic NYC sandwich a plant-based makeover. Plus, over in Brooklyn, a new Caribbean spot HAAM is putting on the final touches before opening day this week.
And, of course, Thanksgiving is on everyone's mind, and if cooking is not your jam, heading to Veggie Grill or Crossroads Kitchen for the feast-tivities will not disappoint. Read on for more.
1Seasoned Vegan's new menu
New York's bodega sandwiches are a thing of beauty and the classic Chopped Cheese serves as inspiration for a new offering from Seasoned Vegan Real Quick—a new iteration of shuttered Harlem mainstay Seasoned Vegan.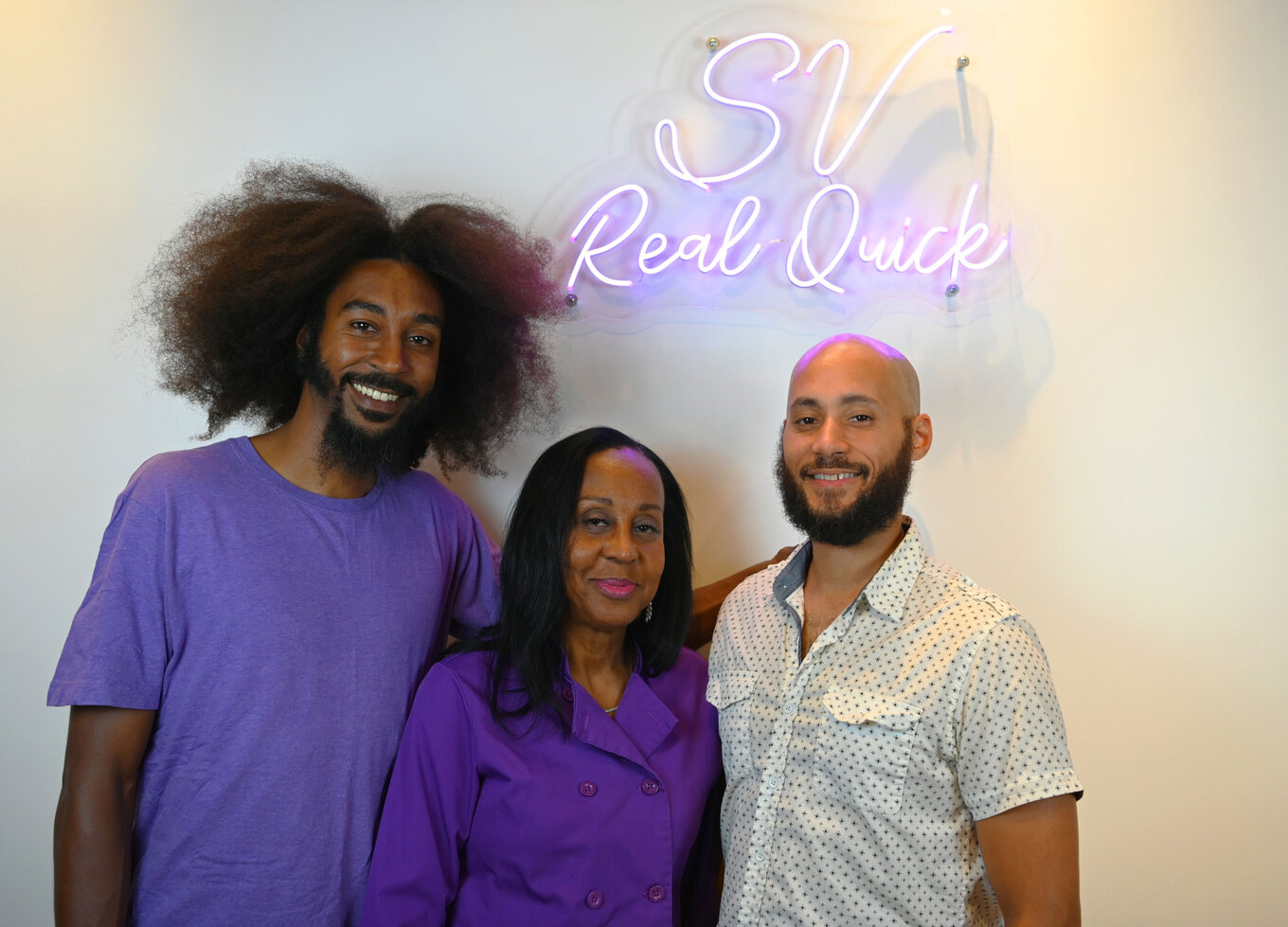 Michael Tulipan/MST Creative
Under the helm of Brenda "Chef B" Beener and her son Aaron Beener, the eatery recently updated its menu, bringing the Harlem Chopped Cheese Burger into the spotlight. This inventive vegan take on the classic New York chopped cheese sandwich is crafted with oat "meat," the burger is chopped and grilled with ketchup, then topped with vegan cheddar, lettuce, tomato, and vegan mayo on a pretzel bun.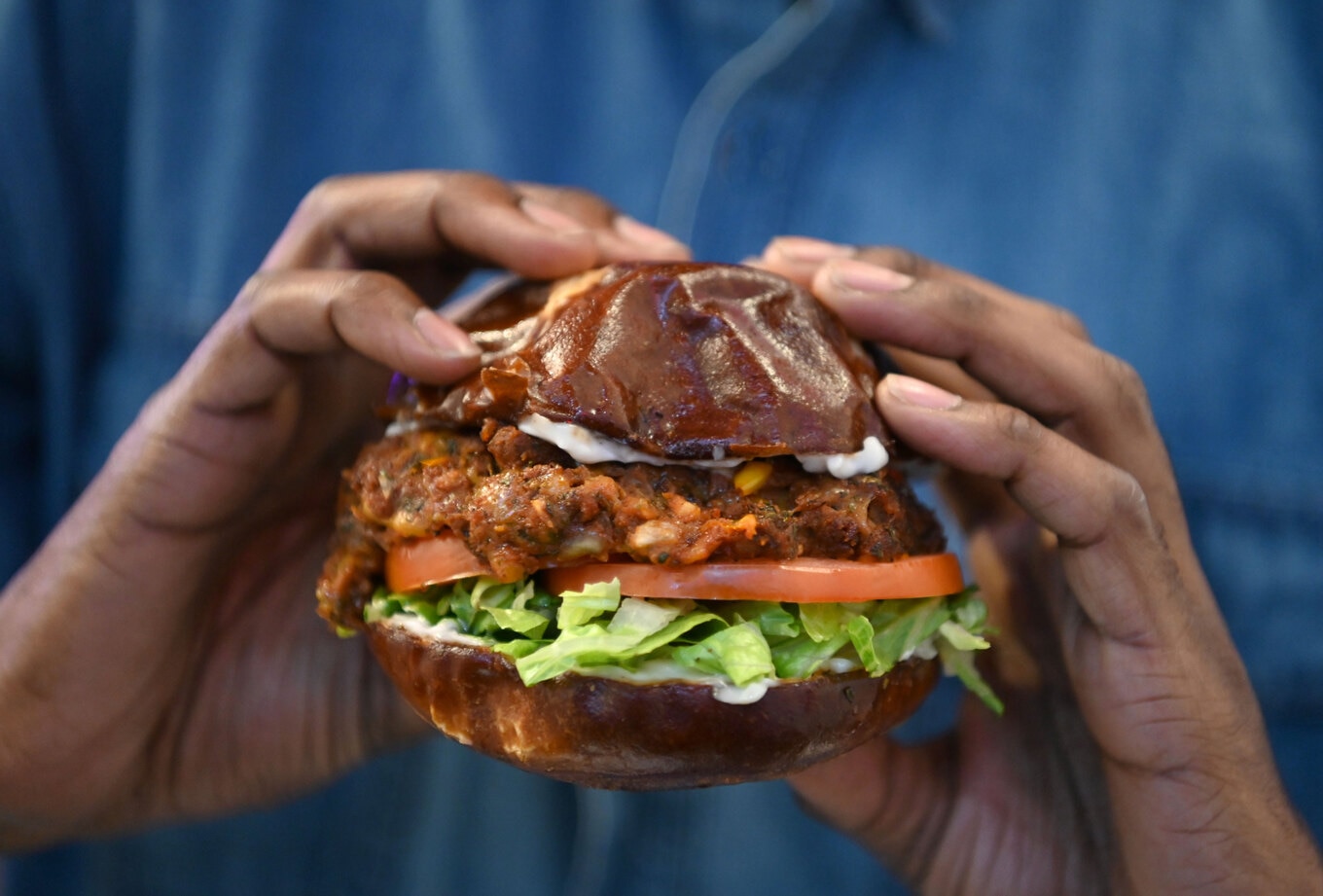 Michael Tulipan/MST Creative
The inclusion of this sandwich pays homage to the Beeners' original Seasoned Vegan establishment in Harlem, reflecting their commitment to offering comforting, plant-based versions of familiar dishes.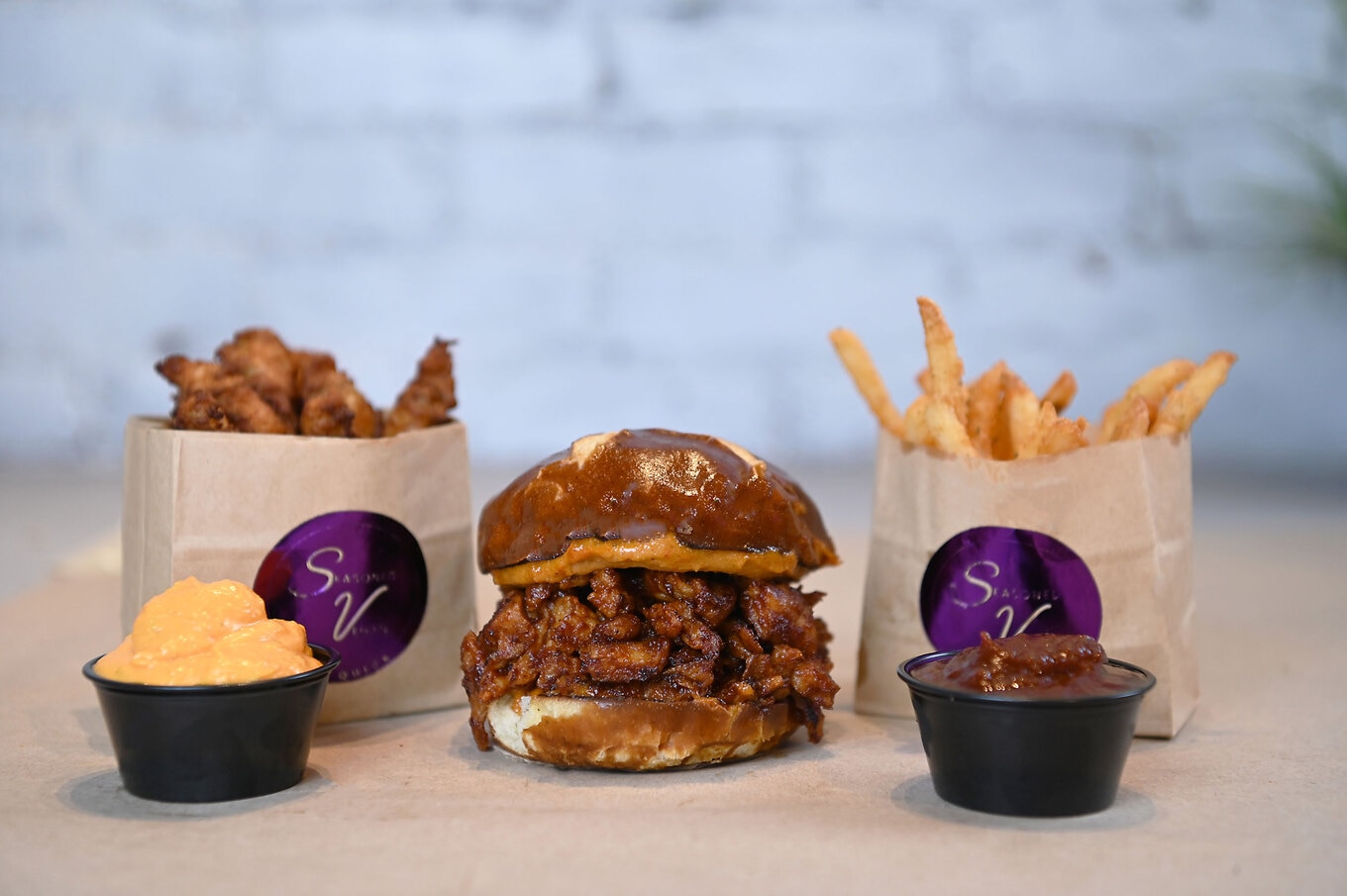 Michael Tulipan/MST Creative
The menu update also sees the return of fan favorites, including their acclaimed vegan mac and cheese, alongside a range of salads and greens, and their house-baked vegan cupcakes—in flavors such as vanilla, chocolate, and red velvet—rounding out the dining experience with a sweet finish.
With the restaurant's transition from a full-service venue in Harlem to a more streamlined, to-go format in the East Village, the Beeners continue to serve up beloved dishes that reflect their New Orleans roots and innovative culinary spirit, now accessible in a quick-service setting.
2Veggie Grill gets festive with mushroom meat
In these tough economic times, vegan fast-food pioneer Veggie Grill is restructuring to bring consumers the best animal-free fare in a way that makes fiscal sense. One way is through partnering with innovators to showcase their vegan products to its large fan base.
This initiative is highlighted by its two new seasonal offerings: the Turk'y Cranwich and the Harvest Mushroom Stew. The new menu items, created in partnership with Prime Roots and Fable, are part of Veggie Grill's mission to offer health-conscious and trend-setting food choices.
Veggie Grill
"Veggie Grill customers can look forward to new menu offerings that embody their favorite fall comfort flavors in better-for-you ways, and feature innovative mushroom-powered plant proteins from industry leaders Prime Roots and Fable," T.K. Pillan, co-founder and CEO of Veggie Grill, said in a statement.
The Turk'y Cranwich features Prime Roots' Cracked Black Pepper Koji-Turkey made from mycelium, the fast-growing root system of mushrooms. This sandwich also combines cranberry aioli, golden "turkey" gravy, homemade cranberry stuffing, lettuce, and tomato, and is served on grilled sourdough bread.
"At Prime Roots, we value innovation and sustainable offerings, which aligns perfectly with Veggie Grill's mission of serving plant protein-powered food for all," Kimberlie Le, co-founder and CEO of Prime Roots, said in a statement.
"We are incredibly eager to introduce Veggie Grill guests to our Koji-Turkey deli meat alternative, which we are confident will be a delight for those looking to indulge in plant-based dishes that evoke the flavors of a traditional Thanksgiving feast," Le said.
The Harvest Mushroom Stew offers a hearty blend of tempeh, Fable's mushroom meat, and vegetables, creating a warming dish ideal for the fall season.
These seasonal menu items are available at all 17 Veggie Grill locations nationwide until December 31.
3Brooklyn gets new Caribbean
This week, a new Caribbean restaurant HAAM—which stands for "Healthy As A Motha"—will open in the Williamsburg neighborhood of Brooklyn, NY. The establishment marks the culmination of owner Yesenia Ramdass's journey from exploring vegan alternatives to becoming a committed advocate for plant-based cooking.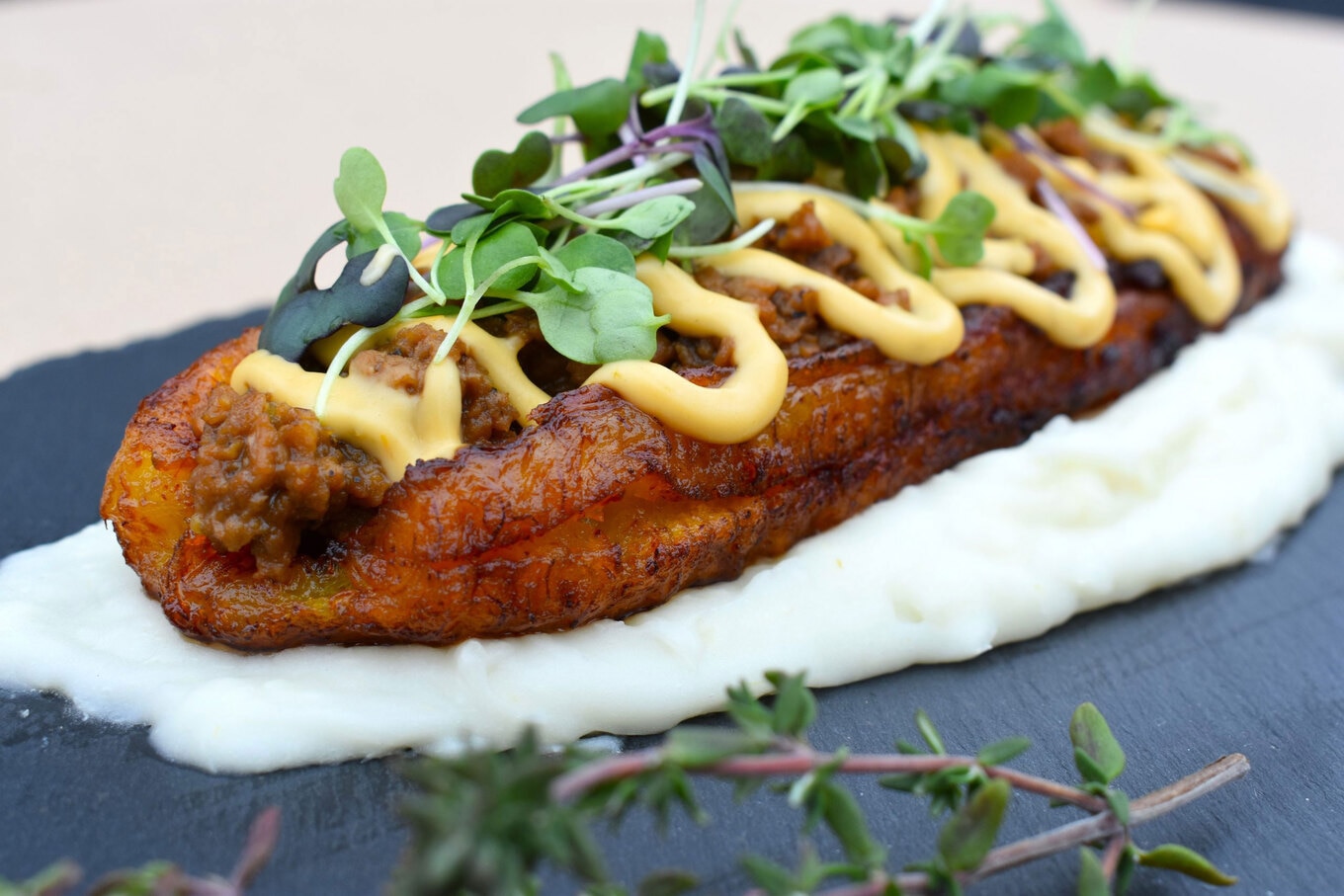 HAAM
Originally a social media project that she started in 2019 and expanded into pop-ups and a delivery service, HAAM will transition into a physical space where Ramdass can engage with her audience more intimately.
The restaurant aims to offer a homely Caribbean experience—a blend of Ramdass' Dominican roots and her husband's Trinidadian background—through both ambiance and a menu that boasts vegan versions of traditional dishes.
"I'm a first-generation Dominican American, so I was very tied to the island," Ramdass told local outlet Resy New York.
"If I can make a little bit of an impact with a small part of the population in my city, that will be worth it," she said.
At HAMM, Ramdass will highlight the versatility of mushrooms and other plant-based substitutes to recreate familiar flavors in dishes like mofongo and ceviche. Here, plantain boats get a topping of vegan beef and dairy-free jalapeño queso for a sweet, tangy, and spicy dish.
Guests can also sample innovations such as Chunk Foods plant-based steak, which comes topped with chimichurri as part of a classic rice and beans dish that also features crispy tostones.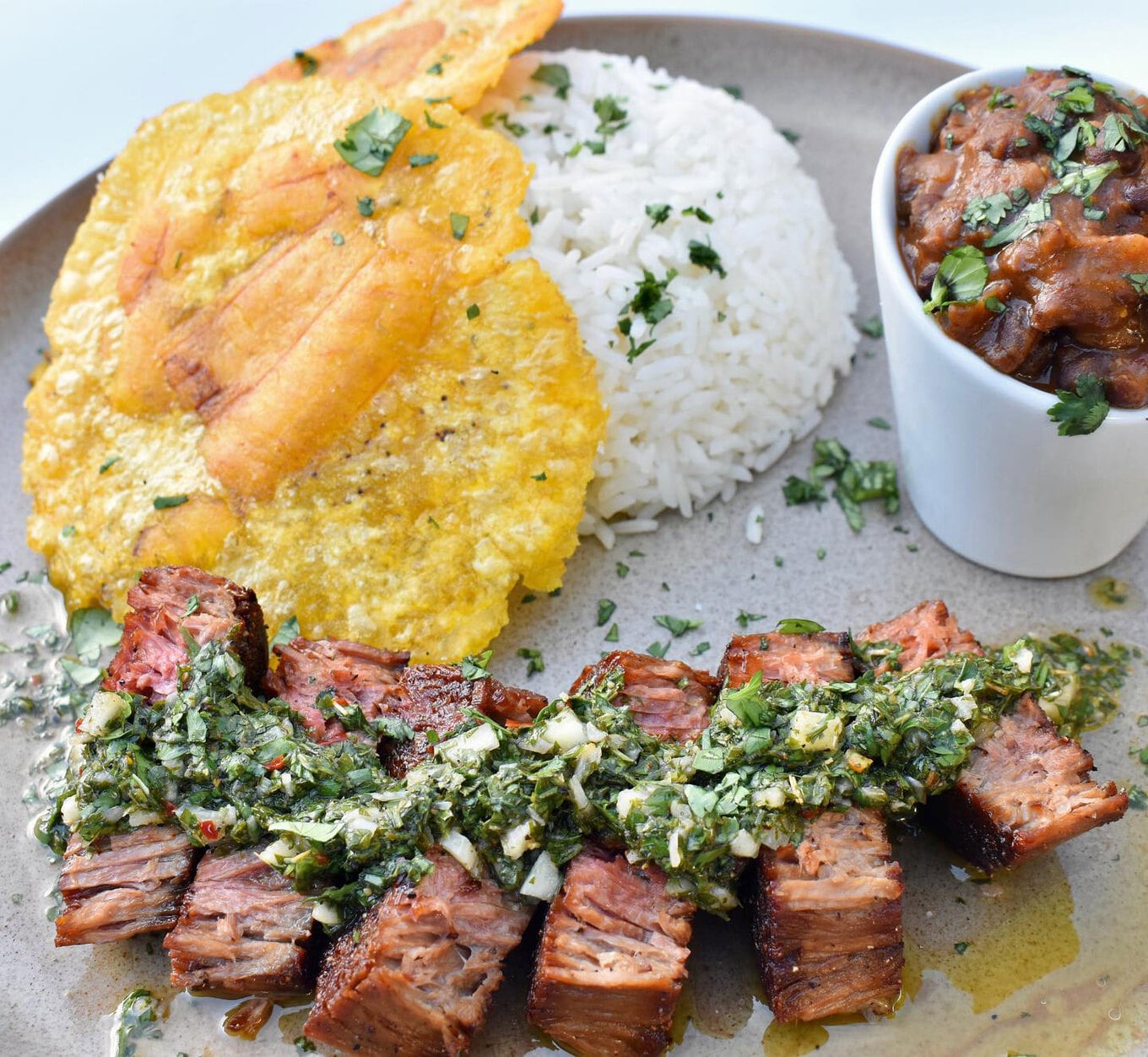 HAAM
The eatery will also offer fresh tropical fruit—and potentially cocktails made from them, pending a liquor license—reminiscent of Ramdass' father's fruit stand offerings. HAAM will also serve desserts made from fruits such as soursop, along with beer and wine.
4Classic Thanksgiving at Crossroads
Thanksgiving dinner reservations just opened at Crossroads Kitchen's three locations, and they're selling fast. Chef and owner Tal Ronnen and his crew created a memorable meal that hits on all the classic Thanksgiving cravings without any animal products.
The four-course menu (priced at $75 per person, drinks excluded) starts with a celery root soup with Granny Smith apple and chive oil before progressing to a Waldorf salad made with endive, pears, grapes, and candied walnuts, dressed with a creamy yogurt vinaigrette.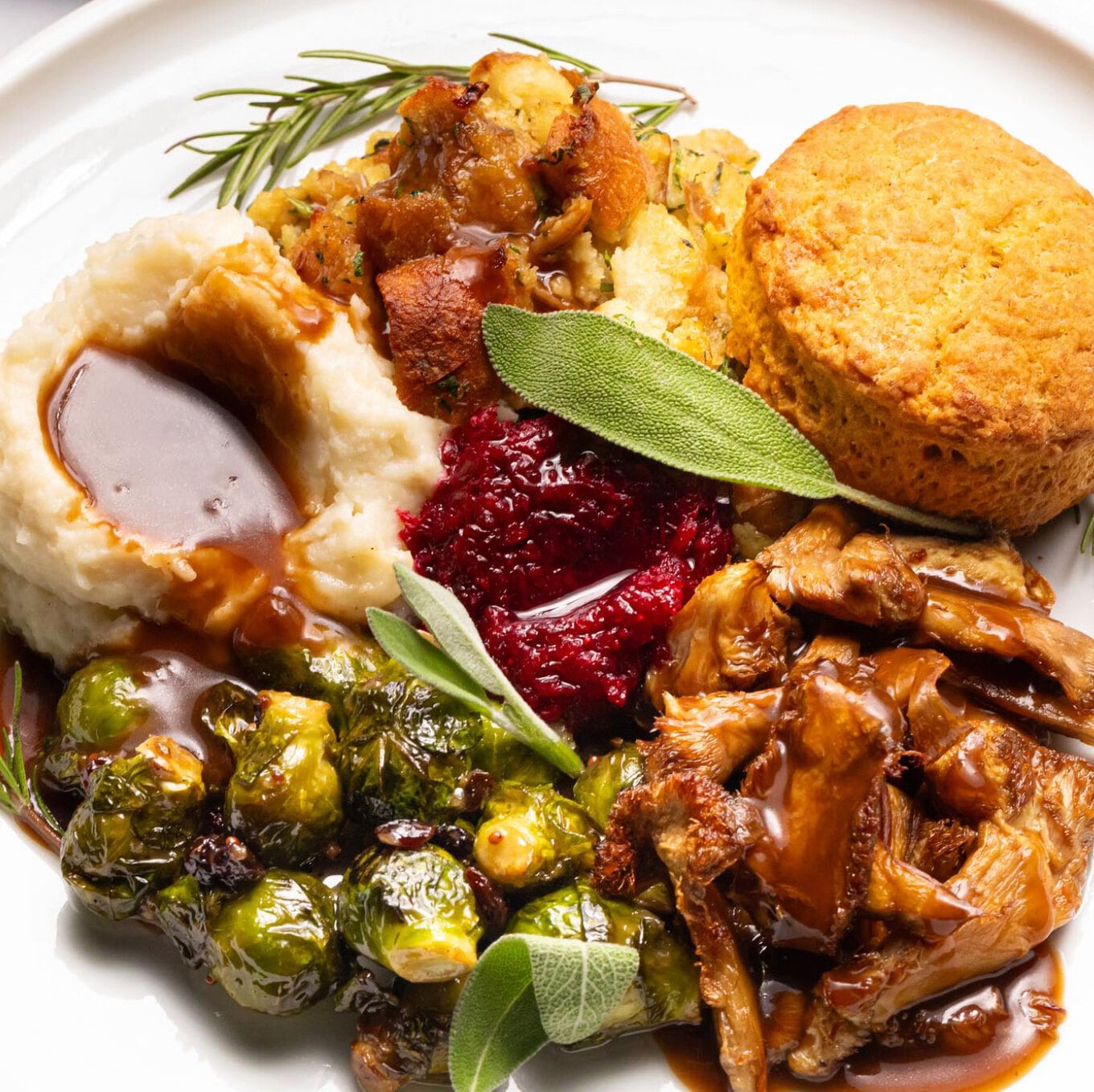 Crossroads Kitchen
The main course offers guests a choice between breaded scallopini or pulled lion's mane mushrooms that come slathered in an herb gravy. The included sides here are classic: mashed potatoes with gravy, stuffing, Brussels sprouts, sweet potato biscuits, and cranberry relish.
For the final dessert course, Crossroads is offering either cranberry sorbet or a slice of pumpkin pie with whipped cream.
How do we know that this meal is bound to be epic? This year, Crossroads won three categories in the VegNews Restaurant Awards: Best Restaurant in Los Angeles, Best Fine-Dining Restaurant, and (the mother of all) Best Restaurant in America.
5Ramen in Hawaii for World Vegan Month
While we might be in full Thanksgiving mode, let's not forget that November is still World Vegan Month, and we can't think of a better way to celebrate than with a savory bowl of vegan ramen. In Honolulu, local mini-chain Tanaka Ramen & Izakaya has stepped up with a special menu to honor the month.
Restaurant owner Tina Wang revealed the new vegan menu—which merges Japanese and Chinese culinary traditions—on a recent Sunrise Weekends segment with local outlet Hawaii News Now.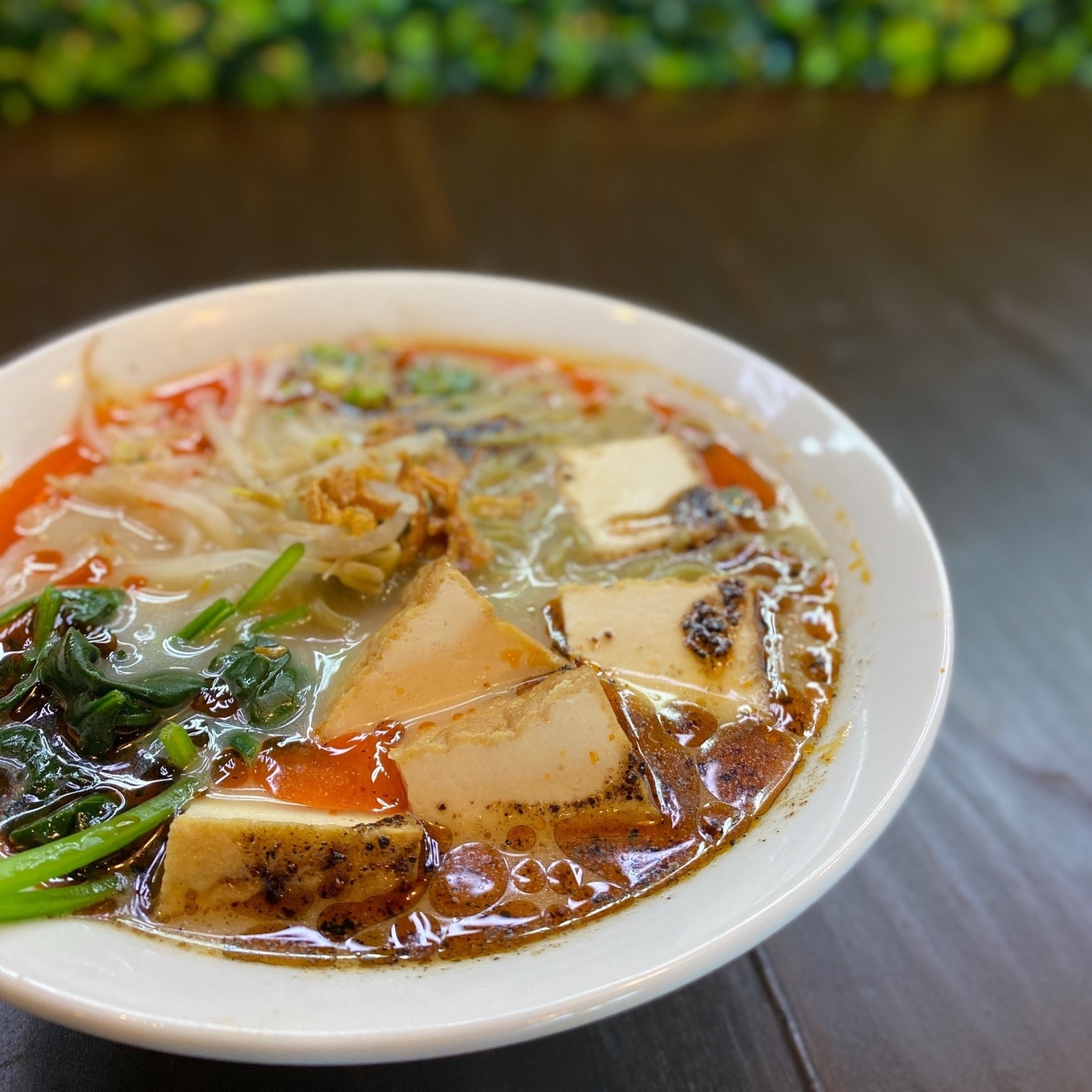 Tanaka Ramen & Izakaya
The new menu includes an array of dishes. The Vegan Mapo Tofu Rice is a notable addition, combining tofu, eggplant, green peas, and chives for a fulfilling vegan meal. The Spicy Creamy Vegan Ramen melds creamy textures with spicy and umami elements and comes garnished with green onions, spicy bean sprouts, atsuage (deep-fried tofu), crispy onions, garlic, and chili oil, all twirled together with green-hued kale noodles.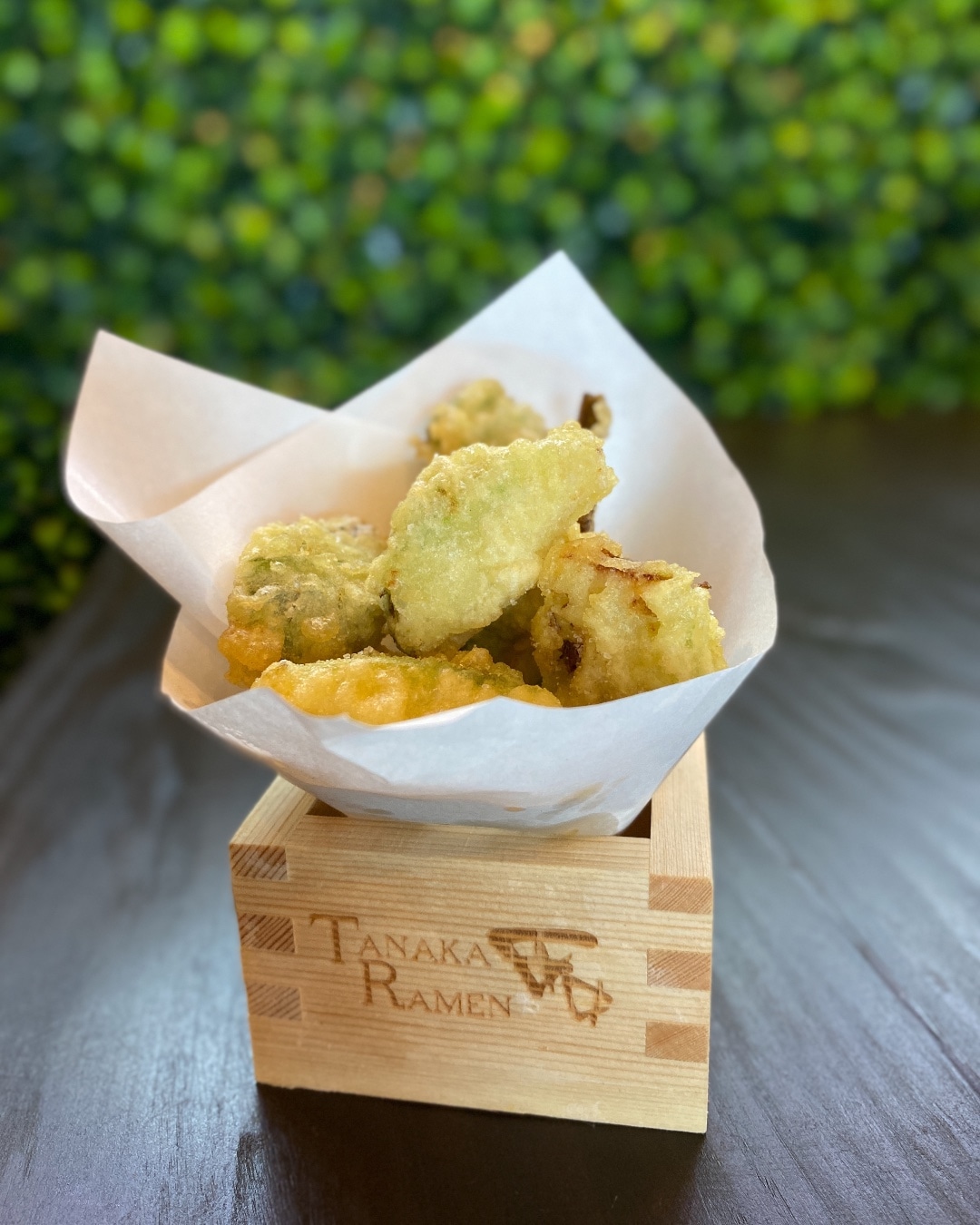 Tanaka Ramen & Izakaya
For those seeking a lighter yet flavorful option, the Cold Tofu Salad features soft tofu, kikurage (wood ear mushrooms), and green onion, drizzled with a homemade chili sesame sauce. Adding a crunchy element to the menu are the Tempura Brussels Sprouts.
Side dishes on the menu include seaweed salad, edamame, and uniquely flavored fries available in both truffle and cumin varieties.
Can vegan ramen be a Thanksgiving centerpiece? We don't see why not.
For the latest vegan news, read: