Gen Z is leading a transcendent shift in plant-based food consumption. This is particularly evident in the plant-based milk category where the demographic consumes five times more than any prior generation. This means that in college, Zoomers are reaching for anything but cow's milk for their coffee. So how are campuses keeping up?
At the University of San Diego, award-winning coffeehouse Aromas is now the first known on-campus café in the country to offer oat milk by default.
"The 'Oat Milk Initiative' was one of the winning ideas from the 2021 Changemaker Challenge, a social innovation competition focused on ways to make our campus more sustainable and inclusive," Juan Carlos Rivas, PhD, Director of Social Change and Student Engagement for the Changemaker HUB at USD, tells VegNews.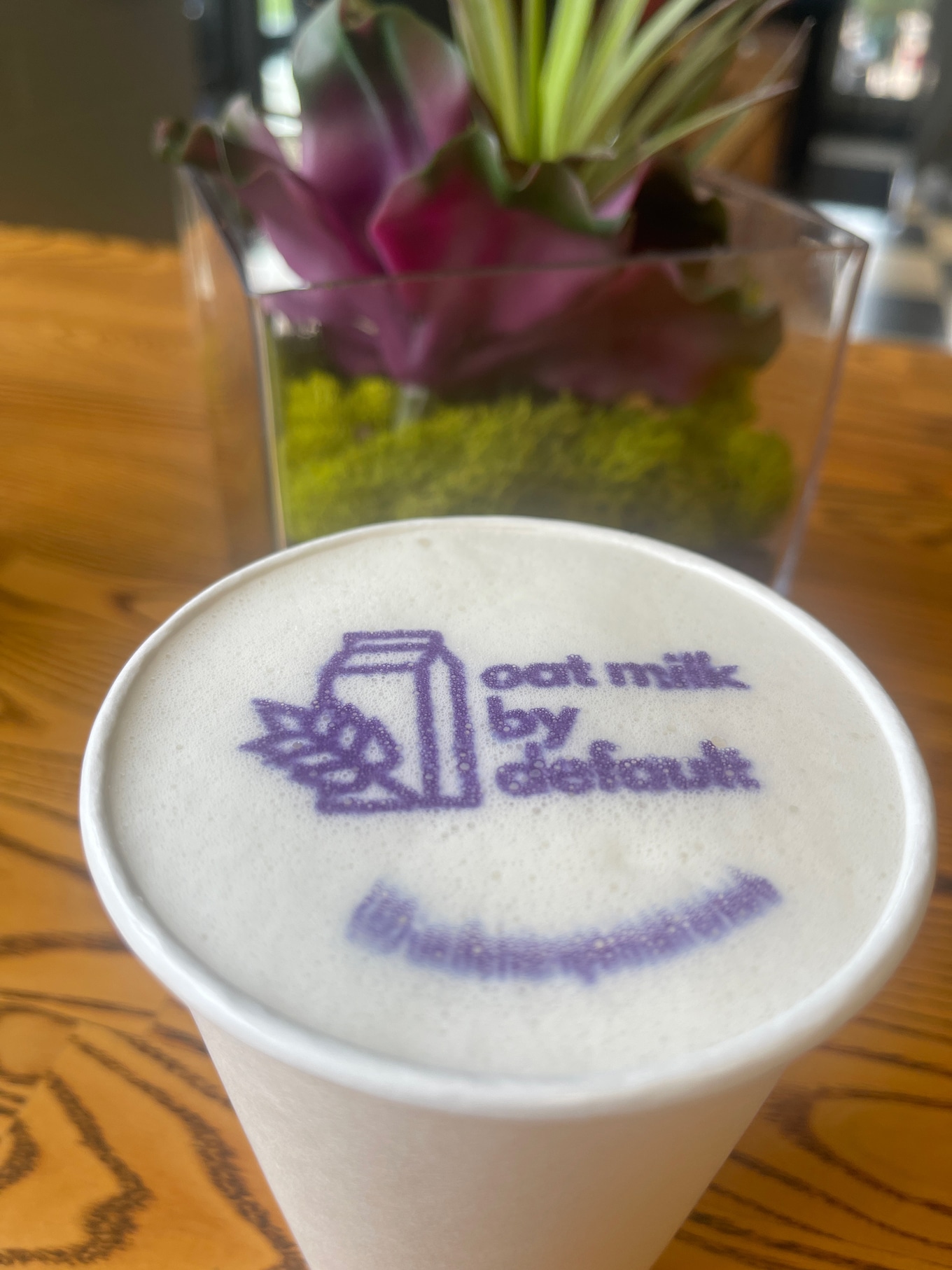 USD Aromas Cafe
"In spring 2022, a team of students developed the idea," Rivas says. "Over the past year, they worked with Dining Services and nonprofits Farm Forward and Better Food Foundation to design and test the viability of serving oat milk as a default at no extra cost."
The achievement is a result of collaboration between emerging leaders and organizations, including USD student organizer Jaylynn Choi and Factory Farming Awareness Coalition (FFAC) which works with multiple USD professors to incorporate lessons on the impact of factory farming into their curricula.
Though Gen Z is the most receptive to plant-based options, universities are diverse ecosystems that must delicately balance the preferences of a wide range of populations. Lifelong defaults don't simply change overnight, but employing a concept known as DefaultVeg proved to be a savvy approach.
"DefaultVeg is an easy and cost-neutral 'nudge' that makes plant-based foods and drinks the default, while allowing people the choice to opt into meat or dairy," Better Food Foundation Campaigns Director Laura Lee Cascada tells VegNews.
"Because people like to eat what's considered normal, DefaultVeg has a powerful impact, increasing the uptake of vegan food by about 60 percent, and it works anywhere food is served," she said.
Coffee shifts to oat milk
Cow's milk is no longer the expected default option at a growing number of places. In 2021, Blue Bottle Coffee began an oat milk default pilot program in select California cafés which it expanded to all California locations and various East Coast locations last year. Earlier this year, Stumptown Coffee Roasters followed Blue Bottle's lead with its own pilot program making oat milk the default option for coffee orders.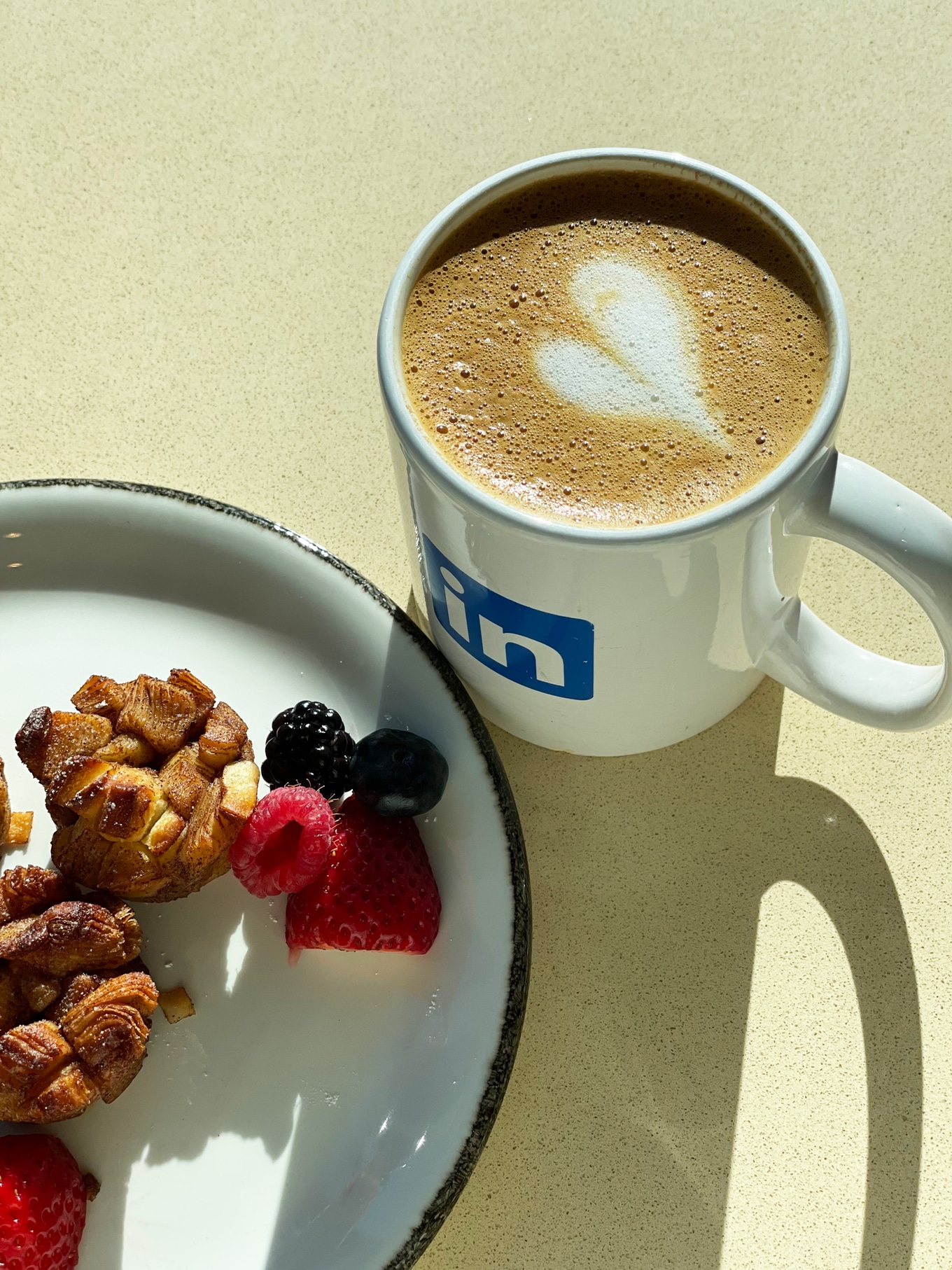 LinkedIn
Even LinkedIn shifted to a majority plant-based menu at its San Francisco office, buoyed by an oat milk default for its coffee orders. And while dairy remains the default at Peet's Coffee, the chain dropped its vegan milk surcharge for the month of April (Earth Month) to remove the cost barrier to making more environmentally friendly choices.
And colleges are taking this trend on campus, and for good reason. At USD, implementing a vegan milk default is also an inclusive move as many students of color cannot digest dairy.
"Coffee is so core to our culture, so our daily cappuccinos can play a pivotal role in displacing antiquated norms around dairy," Cascada says. "As younger generations flip their frappes to plant milk for animals, the environment, and social justice reasons, cafés, especially at universities, are responding by changing their own defaults."
"By not only removing the upcharge for plant milks, but also serving them by default, cafés like Aromas at USD are making their menus more sustainable and more inclusive to those with dairy allergies or intolerance— which is particularly prevalent in communities of color," Cascada says.
Rivas confirms that the reasons for implementing the vegan milk program span inclusivity, environmental concerns, animal welfare, and more.
"This program is an example of USD's commitment to social change," Rivas says. "Given that oat milk is free of the top allergens and has a low ecological footprint, making oat milk our default option ensures the most sustainable and inclusive option is more affordable for our community."
"We are excited to be at the forefront of creating more inclusive choices at universities in the US, particularly through student-led projects transforming our community," Rivas says.
Changes on the Horizon
Sodexo Campus, the college and university arm of one of the world's largest foodservice providers, recently announced that it will make 50 percent of its menus plant-based by 2025. The provider pledged to increase its plant-based meal offerings on college campuses after determining that 70 percent of its carbon footprint in 2020 came from animal-based foods.
This commitment, in combination with programs such as DefaultVeg and student-led initiatives like the vegan milk default at USD, mean that big changes are on the horizon at colleges, and more campuses are leading the charge.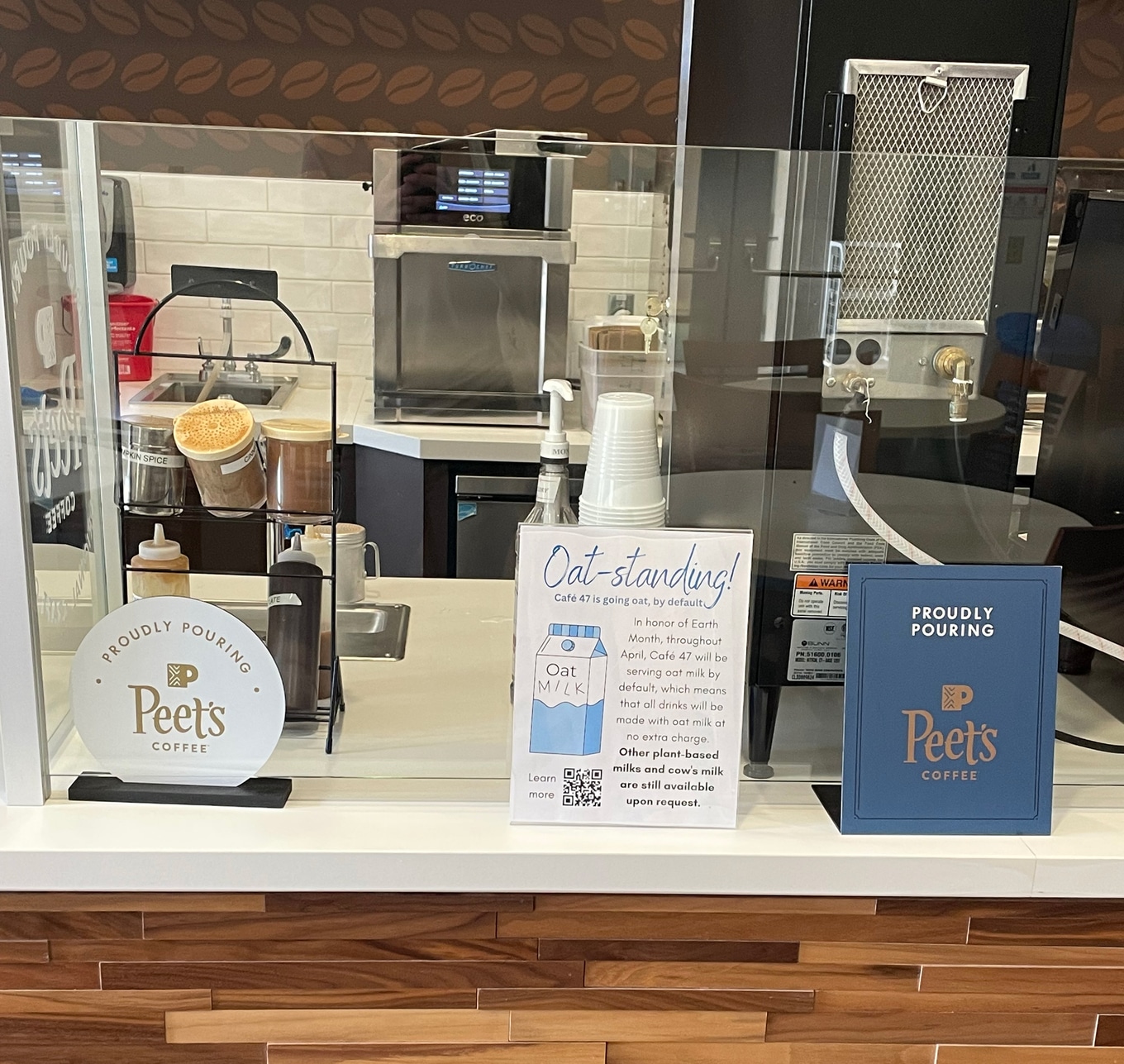 Pamona College
Although Aromas is in the final week of their month-long pilot program, the advocacy of a student two hours north just made Pomona College the second known school in the country to feature an on-campus café that serves oat milk by default.
Located in Claremont, CA, the on-campus café already featured a vegan-friendly menu, making the default a natural next step.
Pomona College student and FFAC Leadership Collective Fellow Hannah Hughes teamed with Kiely Smith (the FFAC's Advocacy Institute Program Manager) and Mikhala Kaseweter (the DefaultVeg Campaigns Fellow at Better Food Foundation) to convince Café 47 to default to oat milk for the remainder of the spring semester.
Additionally, Hughes planned a well-received vegan festival at a dining hall on campus in April attended by more than 300 people
Can Starbucks default to oat milk?
These pilot programs are all exploring a permanent shift to dairy-free defaults. But what if a major chain like Starbucks made the change?
In recent years, the coffee giant has made some steps in the right direction, namely by removing surcharges for dairy alternatives throughout the United Kingdom, Germany, and France (and never charging extra for them in China and India).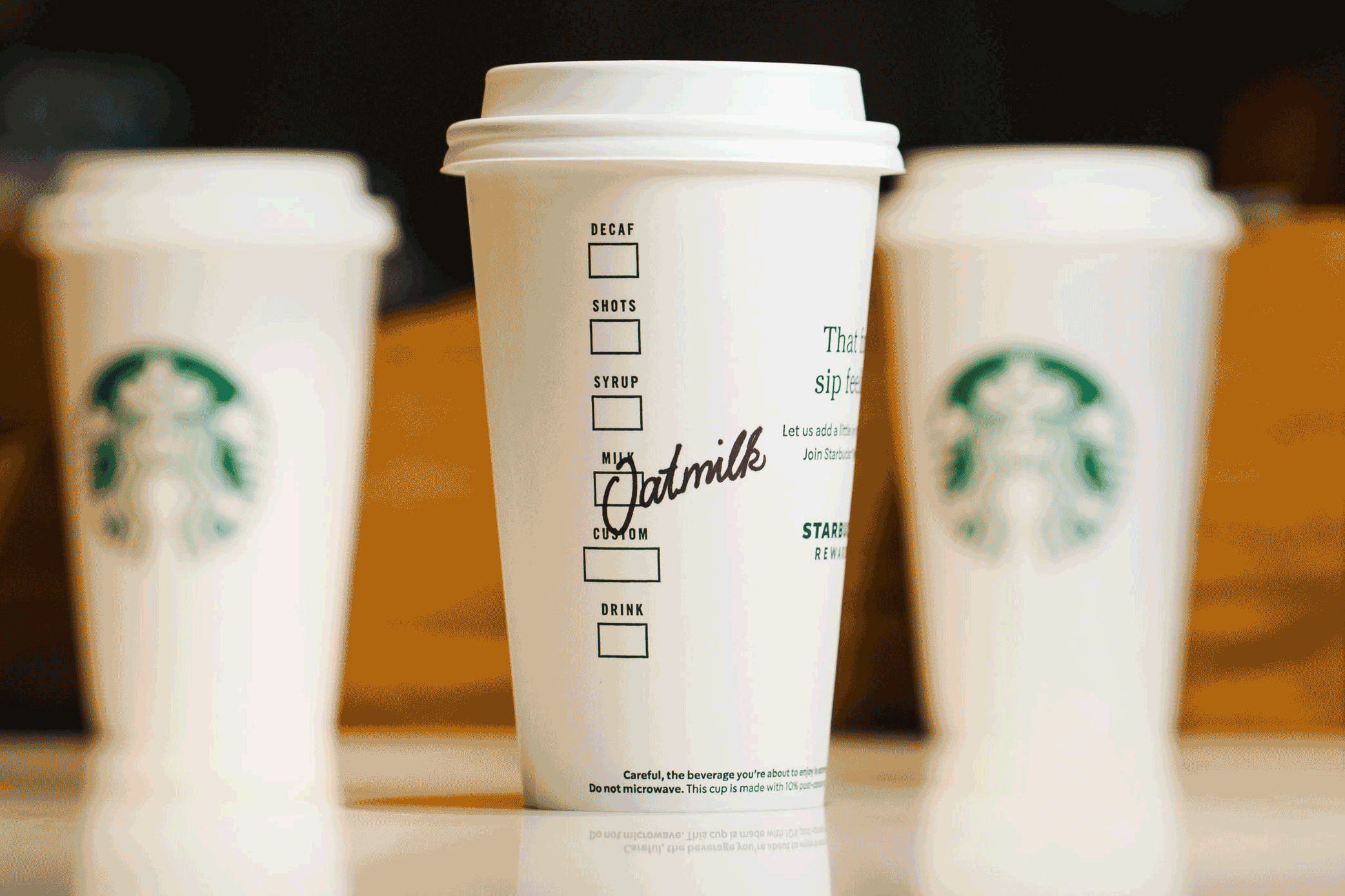 Starbucks
However, Starbucks' recalcitrance with regard to its vegan milk surcharge in the US—where it operates more than 15,000 stores, or approximately half of its global outposts—has been the subject of continued protests, including some led by celebrities such as James Cromwell, Paul McCartney, and Alicia Silverstone.
What kind of difference could wider oat milk as default programs make?
"For every latte you switch from dairy to oat, you save two showers' worth of water," Cascada explains. "And for every three lattes, you save the same emissions as driving a mile in a car."
As an example, Cascada explains that Better Food Foundation worked with Guilder Café in Portland to remove dairy as its default, reducing the carbon footprint of its drinks by 12 percent.
"Imagine how this could add up at a chain like Starbucks," Cascada says. "If it shifted even half of its six billion cups of coffee served from dairy to oatmilk each year, it could save over 400 million kg of CO2 emissions, or the equivalent of driving a car one billion miles."
For the latest vegan news, read: