Americans love nuggets. In fact, according to Statista, in 2020, more than 73 million people in the US ate chicken nuggets. They are, without a doubt, one of the most popular frozen chicken products in the country. But there's a problem with all of this consumption: chicken nuggets are terrible for the environment and for the animals. Approximately 99 percent of chickens in the US are raised on factory farms, in cramped, industrialized conditions, where they have little more space than an A4 piece of paper to move around. Plus, the ammonia pollution from these farms also emits nitrogen, a greenhouse gas 300 times more potent than carbon dioxide.
It's all pretty grim. But by choosing vegan chicken, consumers can have their nuggets and eat them, too—without many of the welfare and environmental implications. And that's why the vegan chicken market is seriously heating up. From fast-food giants to meat industry titans, it seems everyone wants a piece of this growing market.
The growth of the vegan nugget market
According to a report by Orion Market Research, the vegan chicken nugget market is on the up. From 2021 to 2027, it's expected to expand at a compound annual growth rate of 12.5 percent. Many people are choosing more plant-based products for environmental and ethical reasons, but this report also cites health as a driving factor.
"Due to the COVID-19 pandemic, people have avoided eating non-veg food items and adopted vegan eating habits," the report notes, after stating that "people are more aware and concerned about their health." Chicken nuggets are a form of processed meat, which is associated with a number of increased health risks. Some research has suggested that it may be linked to a higher risk of cancer, heart disease, diabetes, and even dementia.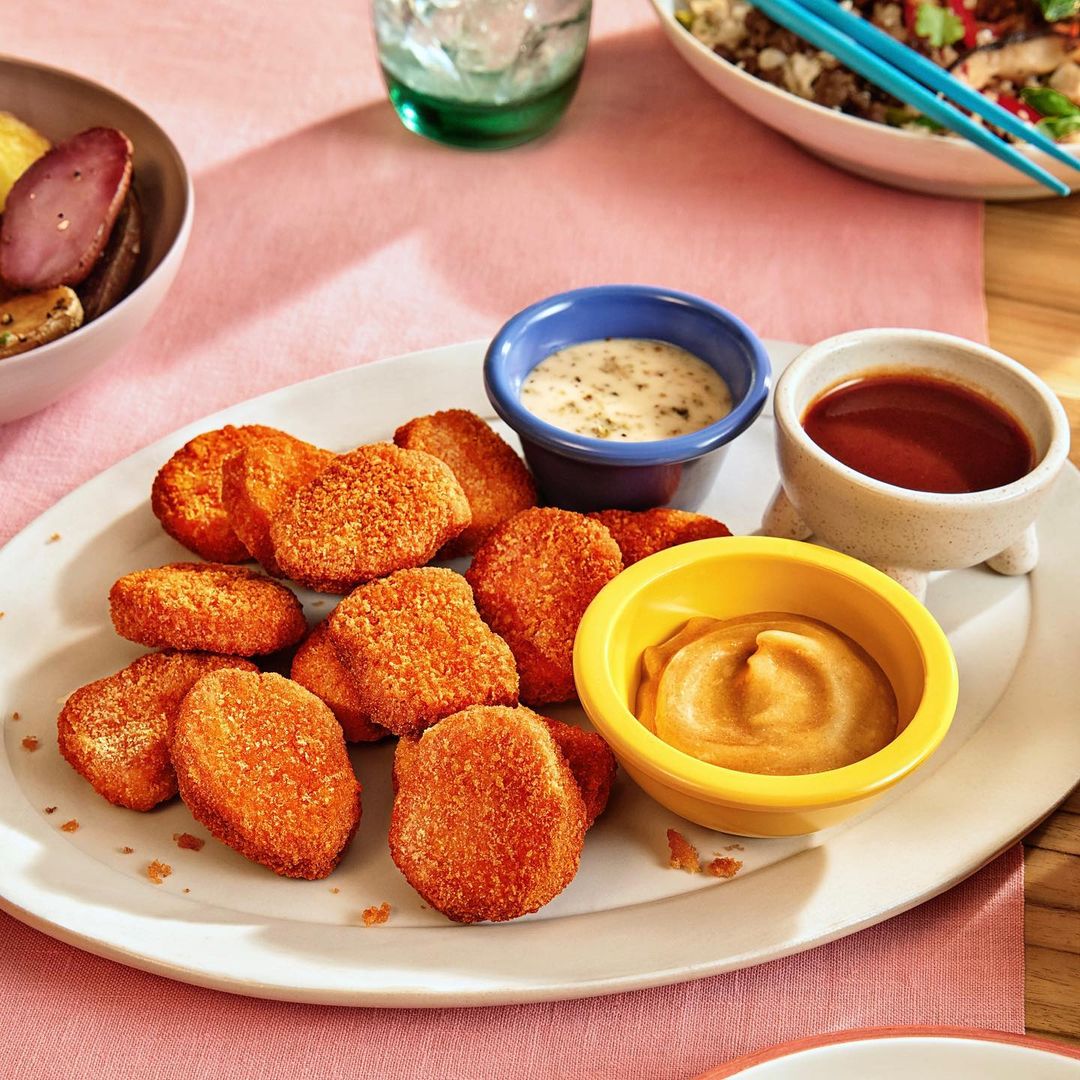 Impossible Foods
Vegan meat, on the other hand, is considered to be a healthier option. Last year, one review from Bath University, which examined 43 studies, concluded that "plant-based dietary alternatives to animal products are better for the environment and for human health when compared with the animal products they are designed to replace."
Shifting attitudes aren't just driving the vegan chicken market, but the growth of the plant-based industry as a whole. In 2021, research from Bloomberg suggested that the plant-based foods market could hit $162 billion in the next decade. "Food-related consumer habits often come and go as fads, but plant-based alternatives are here to stay—and grow," Bloomberg Intelligence analyst Jennifer Bartashus said.
More brands launch vegan chicken—including one meat giant
With demand rising for more vegan chicken products, more and more brands are launching their own versions onto the market, joining more established players like Quorn, Beyond Meat, and Impossible Foods. In the UK, Burger King has even offered vegan nuggets, made by the Dutch brand The Vegetarian Butcher, since early 2022.
Back in June 2023, Chilean food-tech company NotCo, which also has its vegan chicken in Burger King locations in Colombia and Chile, announced it was expanding its range of vegan chicken products into Canada for the first time. In October, it revealed it had used its patented AI technology (called Giuseppe) to create vegan chicken dinosaur nuggets with ingredients like bamboo, peach powder, and fava beans.
"At NotCo, we're reinventing the foods we love to eat," NotCo CEO Matias Muchnick said in a statement at the time. "NotChicken Dino Nuggets are a testament to our dedication to continued, exciting plant-based innovation that won't ever require you to compromise on taste."
Another food-tech company Meati Foods, which is based in Colorado and makes realistic vegan meat from mycelium, is also focusing its attention on nuggets. At the end of October, it revealed that it was making its new vegan chicken Crispy Bites available for purchase direct-to-doorstep. "The magic of MushroomRoot delivers again," the brand declared on Instagram.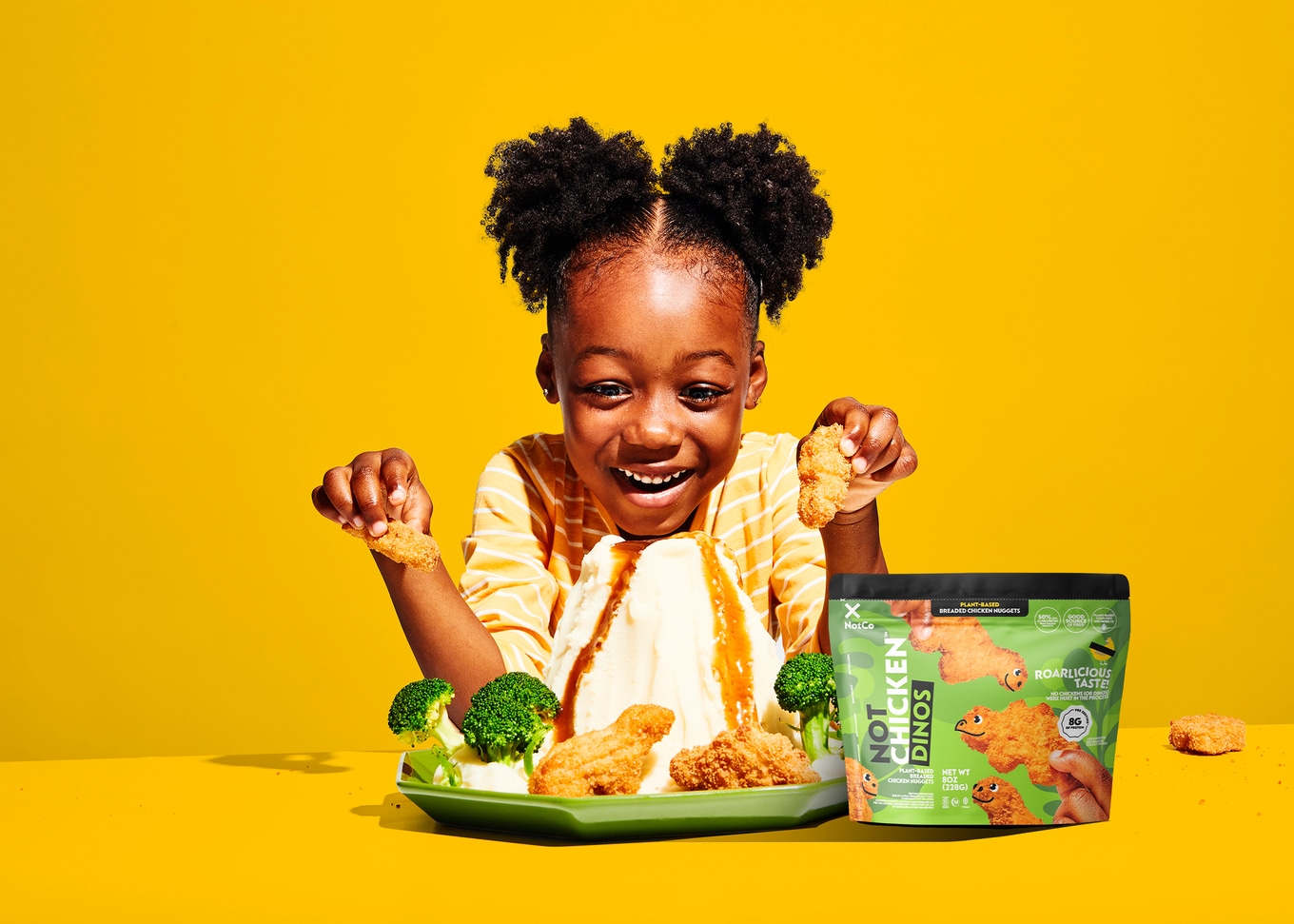 The Not Company
In Sweden, IKEA is also getting in on the nugget hype, launching wheat-based nuggets in its frozen section. And back in the summer, Tyson Foods, one of the biggest meat corporations in the US, quietly launched its first vegan chicken nuggets at Target stores. The company had launched nuggets before, under its Raised & Rooted brand, but these are the first vegan nuggets that bear the meat giant's own name and branding.
The new launch cements Tyson's position as one of the leaders in the meat-free nugget market. Another report by Future Market Insights, which predicted the nugget market could reach more than $708 million in value by 2033, named the meat giant as a key player alongside brands like Beyond Meat, Impossible Foods, Tofurky, Gardein, Nestlé, and Kellogg's.
"These companies are investing heavily in product innovation and marketing to gain a competitive edge in the market," the report notes. "They are also focusing on expanding their distribution networks to reach more consumers and increase their market share."
The vegan chicken battle is far from over, and we can't wait to see what it brings us next—our stomachs are ready.