The people of ancient China had a unique way of warding off evil spirits: peaches. Well, more specifically, the wood from peach trees. Sorcerors or shamans (called Wu) would carry peach rods with them, in a bid to protect ancient rulers from potential evil influences. Thousands of years on, peaches are still a big deal in China, where they have been cultivated for centuries. In fact, the country is now the biggest supplier of the popular fruit, responsible for producing nearly 16 million tons of peaches and nectarines every year.
But while they may have a long, fascinating history in China, today, peaches are loved all over the world. They're juicy, sweet, and a little bit tangy, making them the perfect snack or dessert ingredient. But they're also nutritious. Here's more about the benefits of eating peaches, plus, tasty vegan recipe ideas.
What are the benefits of eating peaches?
Just like apricots and plums, peaches are a drupe, which is a type of fleshy fruit with a single seed. They have soft, fuzzy skin and a sweet center, which is usually white or yellow. This tasty center is also packed with nutrients—they're a good source of vitamin C, fiber, vitamin A, potassium, vitamin E, vitamin K, and more vitamins and minerals. On top of this, they also contain antioxidants, which are plant compounds that help to protect the body from harmful oxidative damage.
Because of their fiber content, peaches may help to maintain healthy digestion. They are also associated with lowering cholesterol levels, improving skin health, and even reducing the symptoms of allergies. This may be because they help to prevent the release of histamine in the body, although further study is needed.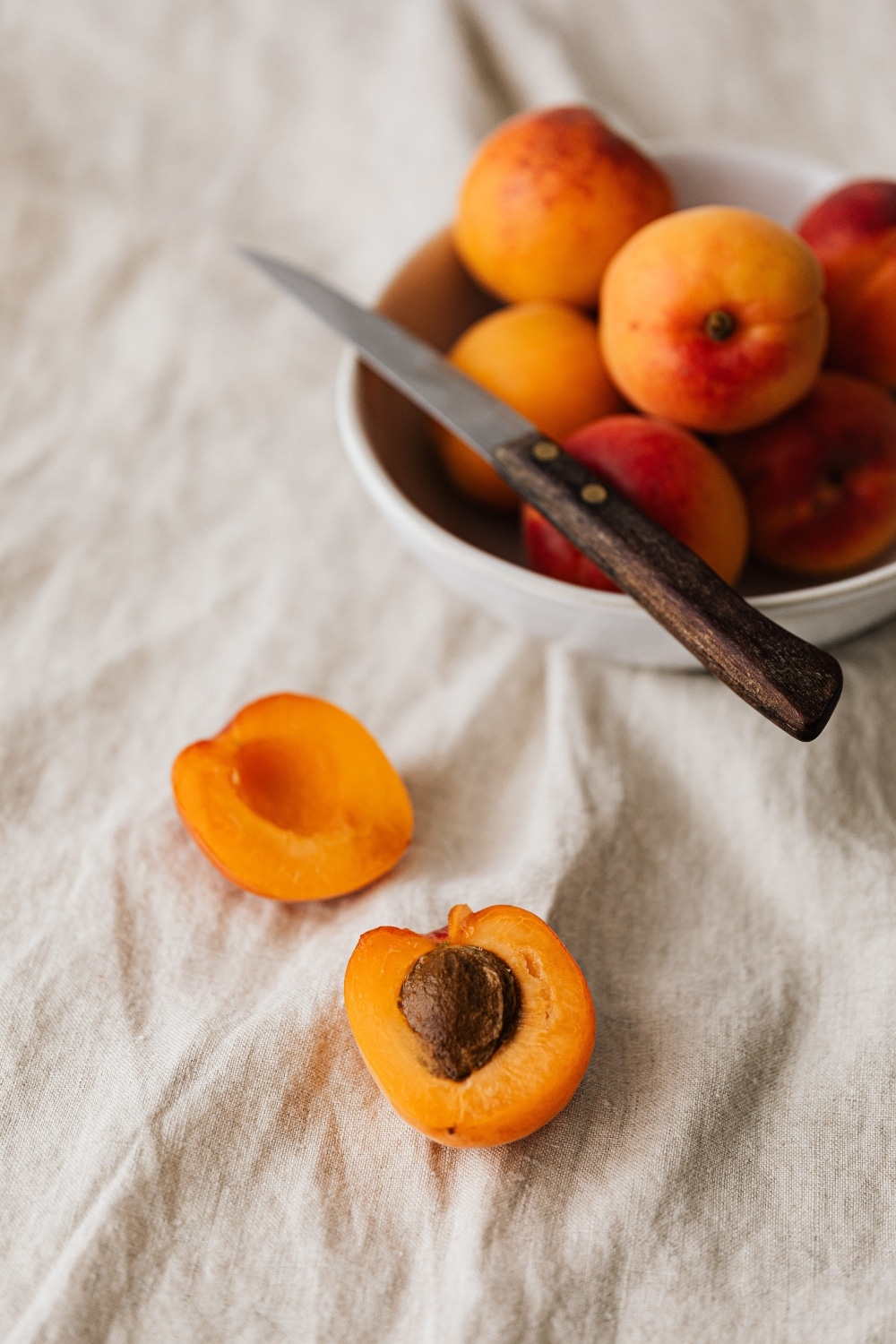 Pexels
What foods can be made from peaches?
You can buy peaches fresh, frozen, dried, or tinned, and they can be used in many different ways. They make a great snack on their own, but you can also use fresh or frozen slices for smoothies, mocktails, juices, or sorbets. You can add them to dessert pies, tarts, parfaits, cobblers, or crumbles—the options are endless. For more ideas, find some of our favorite peachy recipes below.
Vegan recipes with peaches

1 Smoked Peaches With Boozy Rum Whip
These juicy, smoky peaches pair beautifully with rum-infused vegan whipped cream. Pro tip: store the cream in the freezer for 10 minutes to get that perfect texture before serving.
Get the recipe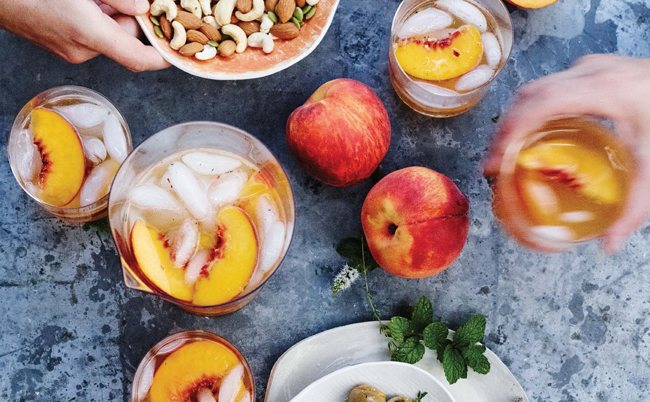 Anson Smart
2 Boozy Ginger-Peach Mint Sangria
Sitting out in the sunshine with a cool glass of sangria is one of the best bits of the summer. Make yours from home by combining ripe peaches with grape juice, fresh ginger, and vegan-friendly sauvignon blanc.
Get the recipe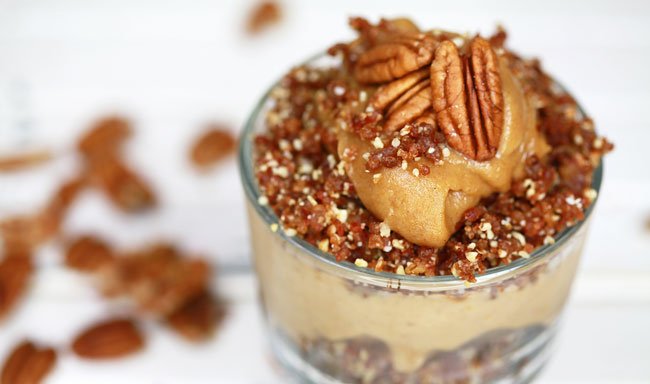 Natalie Norman
3 Peach Cobbler Parfait With Whipped Caramel Sauce
This recipe gives a modern, vegan twist to one of the all-time favorite summer classics: peach cobbler. It's easy and quick to make, and, of course, absolutely delicious. You can use store-bought ice cream, but we recommend whipping up some tasty banana nice cream if you have the time.
Get the recipe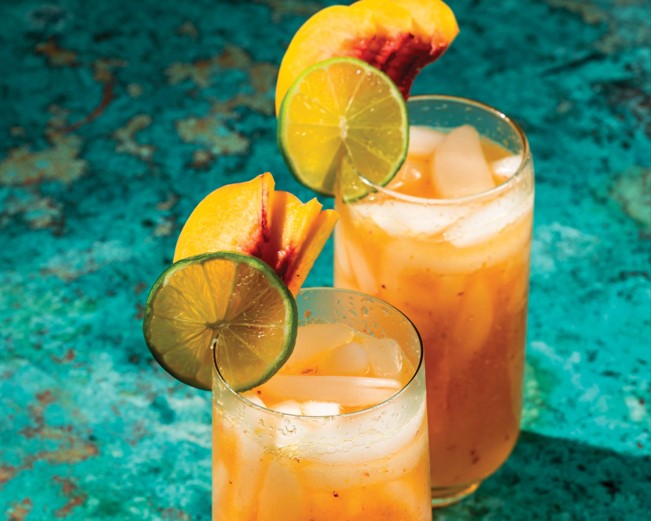 Candice Hutchings
4 Peachy Bourbon Moscow Mule
Peaches are the ultimate addition to a boozy summer drink, as this recipe proves. Prefer to keep it alcohol-free? Omit the bourbon (or opt for an alcohol-free alternative!) for a refreshing mocktail instead.
Get the recipe
Hannah Kaminsky
5 Peach & Blueberry Tumble
A tumble is very similar to a fruit crumble, but according to this recipe, it's called a tumble "because you basically tumble all the ingredients in a slow cooker." After that, you have a delicious, fruity dessert, but you only had to put in minimal effort. A win-win.
Get the recipe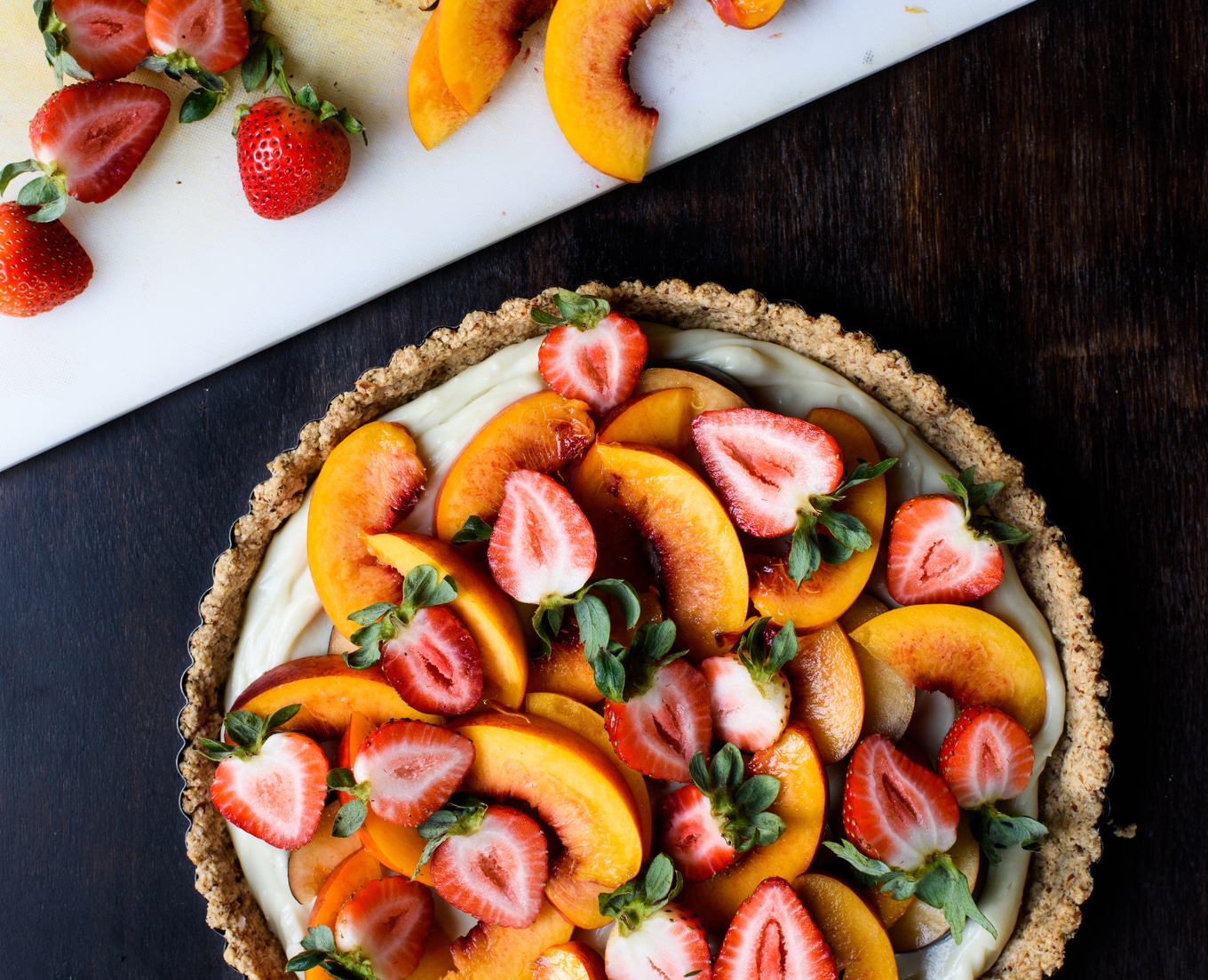 Alexandra Shytsman
6 Summer Fruit Tart With Vanilla Custard and Pecan-Oat Crust
For a show-stopping, aesthetically pleasing summer dessert, bookmark this summer fruit tart. And not only does it look beautiful, it tastes great, too. Again, you can opt for store-bought vegan custard, but making your own vanilla version will make this seasonal dessert even better.
Get the recipe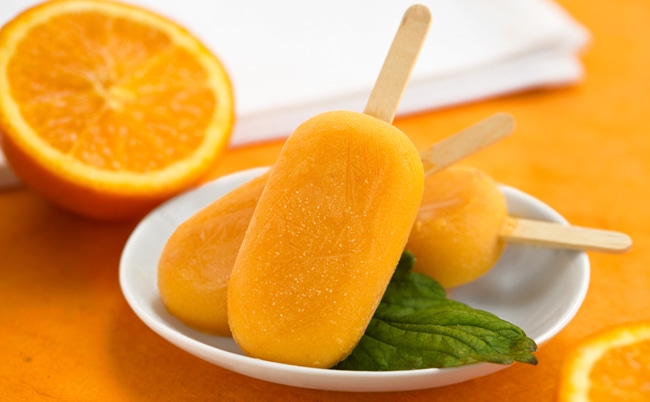 Hannah Kaminsky
7 Orange Creamsicle Popsicles
Peaches might be drupes and not citrus fruits, but their sweet flavor compliments zesty oranges perfectly. This refreshing popsicle recipe combines both fruits and is the ideal way to cool down on those super hot summer days.
Get the recipe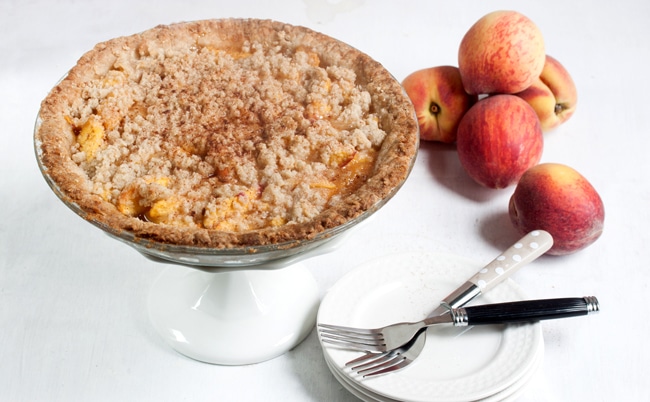 Allyson Kramer
8 Gluten-Free Crumble Top Peach Pie
Imagine this: you're dining al fresco in the garden and the sangria is flowing. You've finished a tasty summer main, and now, it's time for dessert. That dessert has to be this delectable crumble-top peach pie.
Get the recipe
For more on vegan ingredients, read: