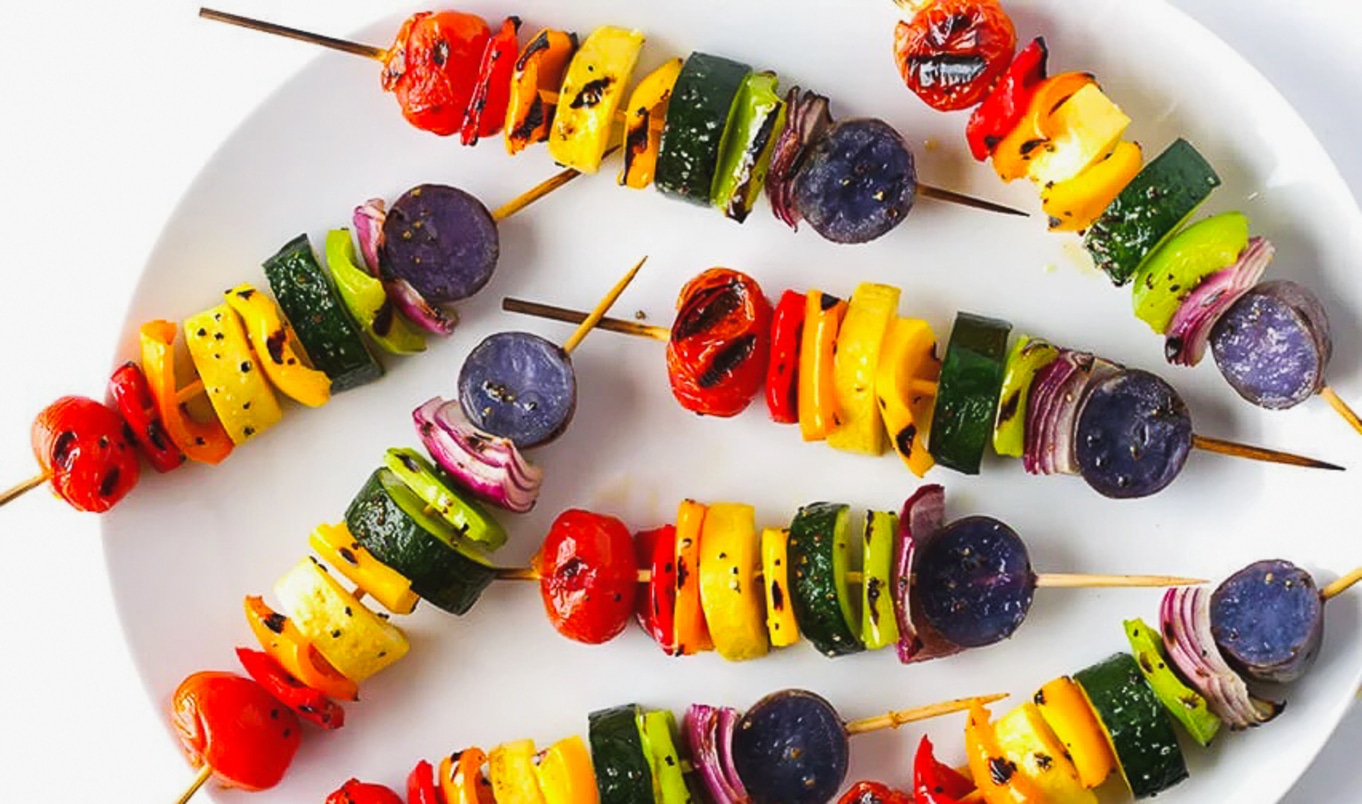 Colorful vegan recipes that are as deliciously appetizing as they are breathtakingly beautiful are the perfect way to get in the spirit of Pride.
June 29, 2022
---
With an array of plant-based treats featuring every color of the rainbow, we're bringing this year's Pride Month celebrations into our kitchens. Make these tasty eats with family or gather with friends and toast to a happy Pride!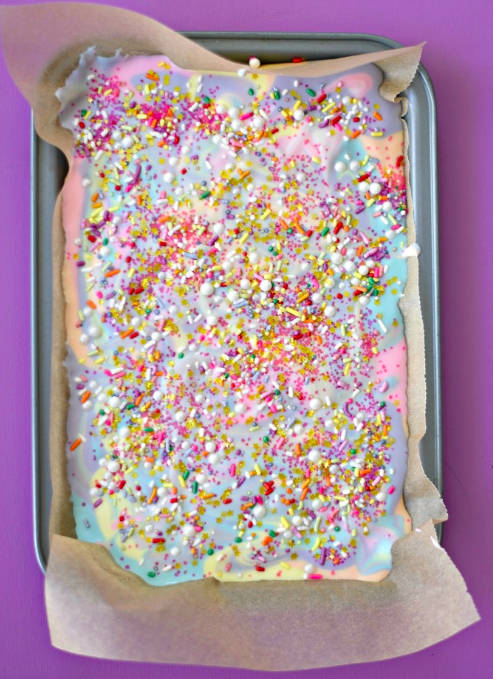 Fork & Beans
1 Unicorn Yogurt Bark by Fork & Beans
This magical, kaleidoscope treat transforms vanilla yogurt into a pastel-colored rainbow with all-natural food coloring. Covered in sprinkles, this simple snack comes together in five easy steps (and with just three ingredients). This whimsical bark is deliciously delightful!
Get the recipe here
2 Rainbow Veggie Skewers by Gimme Some Oven
In this fresh and easy recipe, squash, bell peppers, tomatoes, red onion and purple potatoes are marinated, then threaded onto skewers to represent the pigments in the rainbow. We suggest serving them over white basmati rice for a delectable presentation that mimics a rainbow in the clouds.
Get this recipe here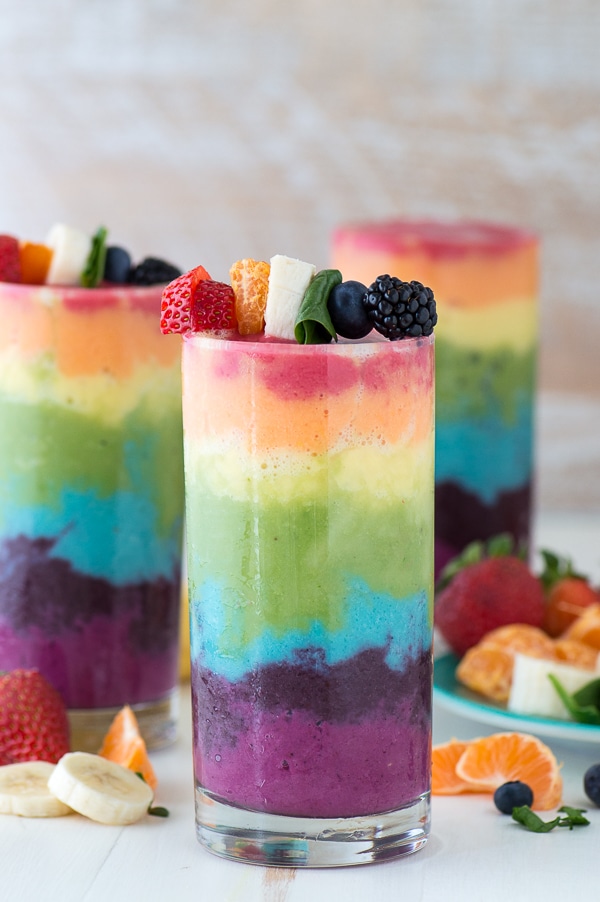 The First Year
3 Rainbow Smoothie by The First Year
For one day a year, say goodbye to your average breakfast smoothie. With seven stunning layers, this morning treat combines plain or vanilla yogurt with handfuls of fruit in each of the rainbow hues before being topped off with a fruit skewer.
Get this recipe here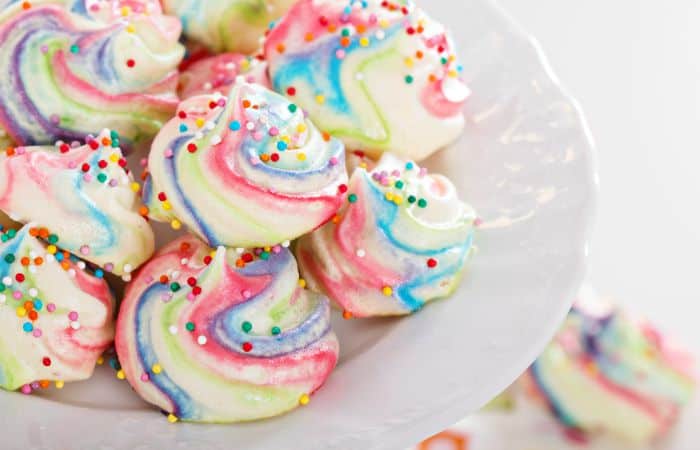 Nerdy Mama
4 Egg-free Rainbow Meringue Cookies by Nerdy Mama
Take your rainbow with you in pocket-sized meringue cookies thanks to these eggless delicacies made with one of our favorite ingredients—aquafaba! This delightful recipe takes a mere 15 minutes to prepare, but you'll be pacing your kitchen floor while waiting for them to finish baking (in just about an hour and a half.)
Get the recipe here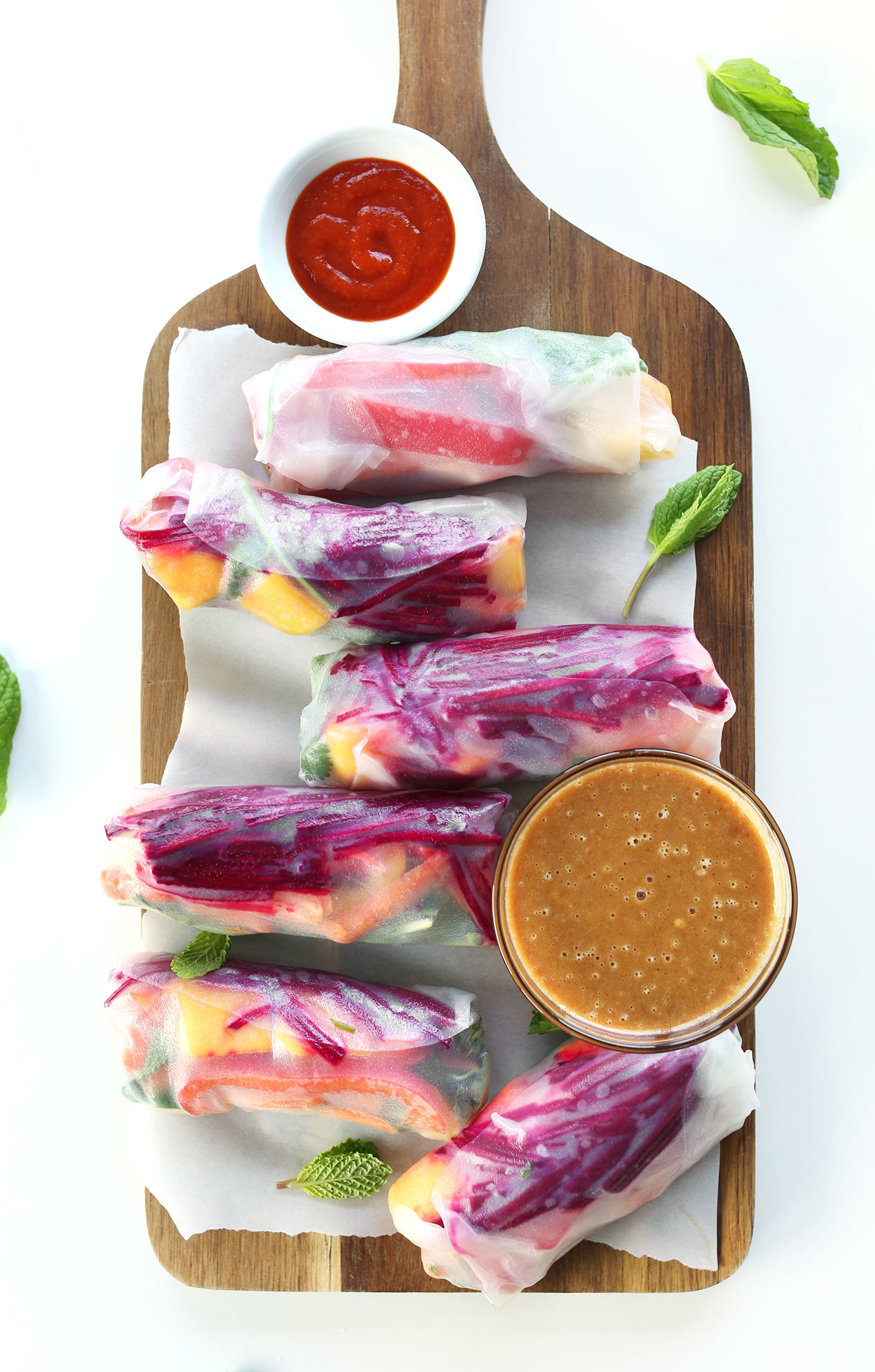 Minimalist Baker
5 Rainbow Spring Rolls With Ginger Peanut Sauce by Minimalist Baker
Look no further for the pot of gold than in these spring rolls. The full spectrum of the rainbow is illuminated with the assortment of fruit and vegetables (including mint, cilantro, bell pepper, mango, carrot, and beet) inside these psychedelic wraps. Full of health-boosting ingredients, these garden-fresh rolls deliver a bounty of wellness treasure.
Get the recipe here
6 Rainbow Unicorn Dip by Chocolate Covered Katie
Propel the rainbow to new heights with this decadently luscious dip. Chocolate Covered Katie's healthy cheesecake recipe inspired the batter, which is swirled with all the shades of the rainbow. With only 10 minutes to create this fairytale-esque concoction, you'll be snacking on this decadent dip in no time!
Get the recipe here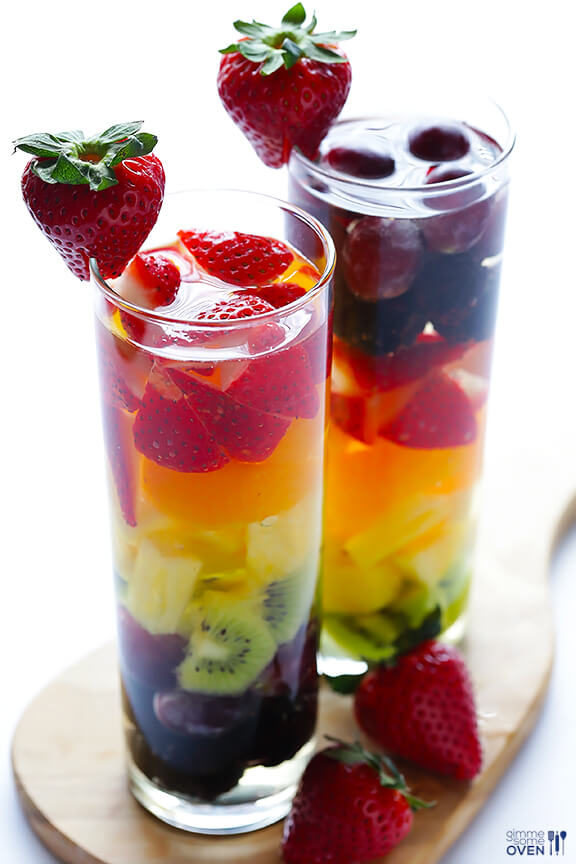 Gimme Some Oven
7 Rainbow Sangria by Gimme Some Oven
Toast to Pride with this colorful libation featuring several layers of fruit chunks in all the colors of the rainbow drenched in white wine and brandy. Build your drink to your desire with this recipe from Gimme Some Oven, but don't drink so many that you forget to say "cheers!"
Get the recipe here

BitterSweet
8 Rainbow sushi rolls by BitterSweet
Taste the rainbow in these multi-colored rolls that serve as a variation on the classic California roll. Blogger (and VegNews contributor) Hannah Kaminsky replaces crab with jackfruit and naturally "dyes" sushi rice with beet juice, turmeric, spirulina powder, and cabbage water for a roll that is as stunning to look at as it is delicious to taste.
Get the recipe here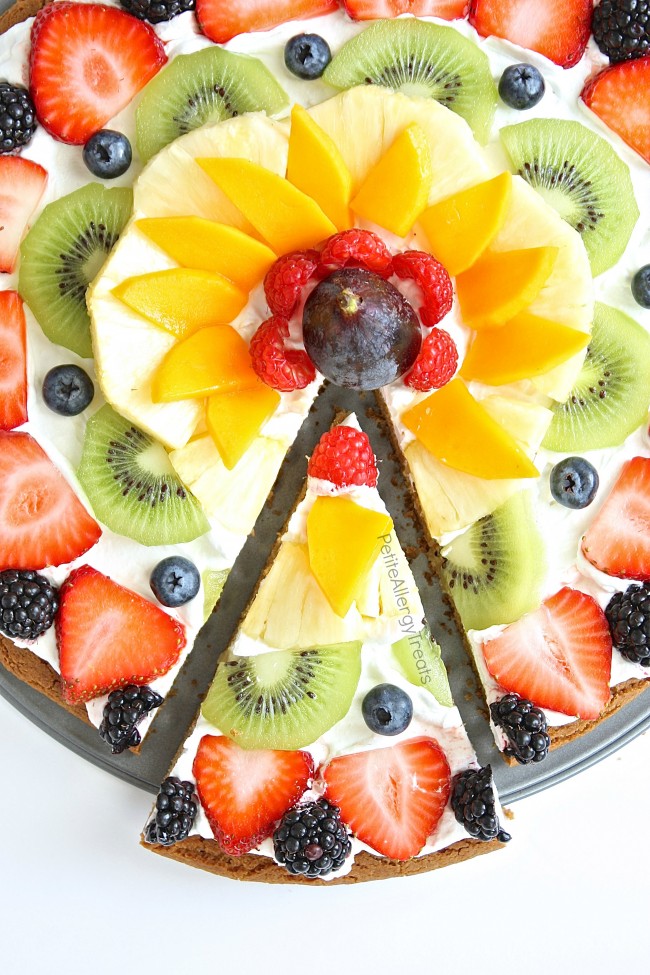 Petite Allergy Treats
9 Rainbow Fruit Pizza by Petite Allergy Treats
In this gluten-free recipe, top an eggless sugar cookie crust with fresh fruit, followed by a dairy-free frosting whip. Simple yet elegant, this dessert is our new favorite way to get in all our daily fruit servings.
Get the recipe here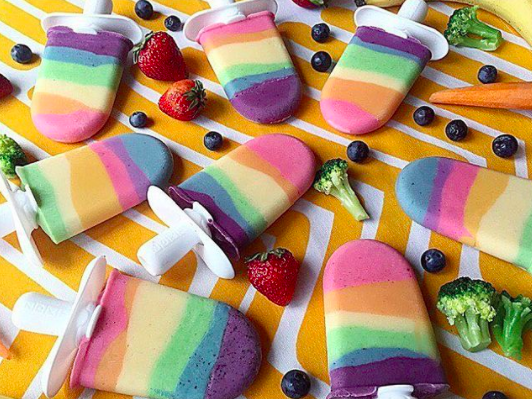 Lunches and Littles
10 Rainbow Smoothie Pops by Lunches and Littles
These popsicles are as much a delight for the eyes as they are the stomach. Blend yogurt with frozen fruit in assorted colors, then pour them into popsicle molds layer by layer. Well worth the time and effort, these frozen treats are creamy and rich with flavor. We might never look at rainbows again without a mouthwatering desire for these frozen treats.
Get the recipe here
For more ways to celebrate Pride Month, read:
9 Vegan Brands to Support to Show Your Pride
Seattle's Queer-Owned Dough Joy Expands to Third Location
10 Contemporary Queer Vegans You Need to Know About
Stephanie Dreyer is the founder of VeegMama, where she helps families cook and eat healthier.