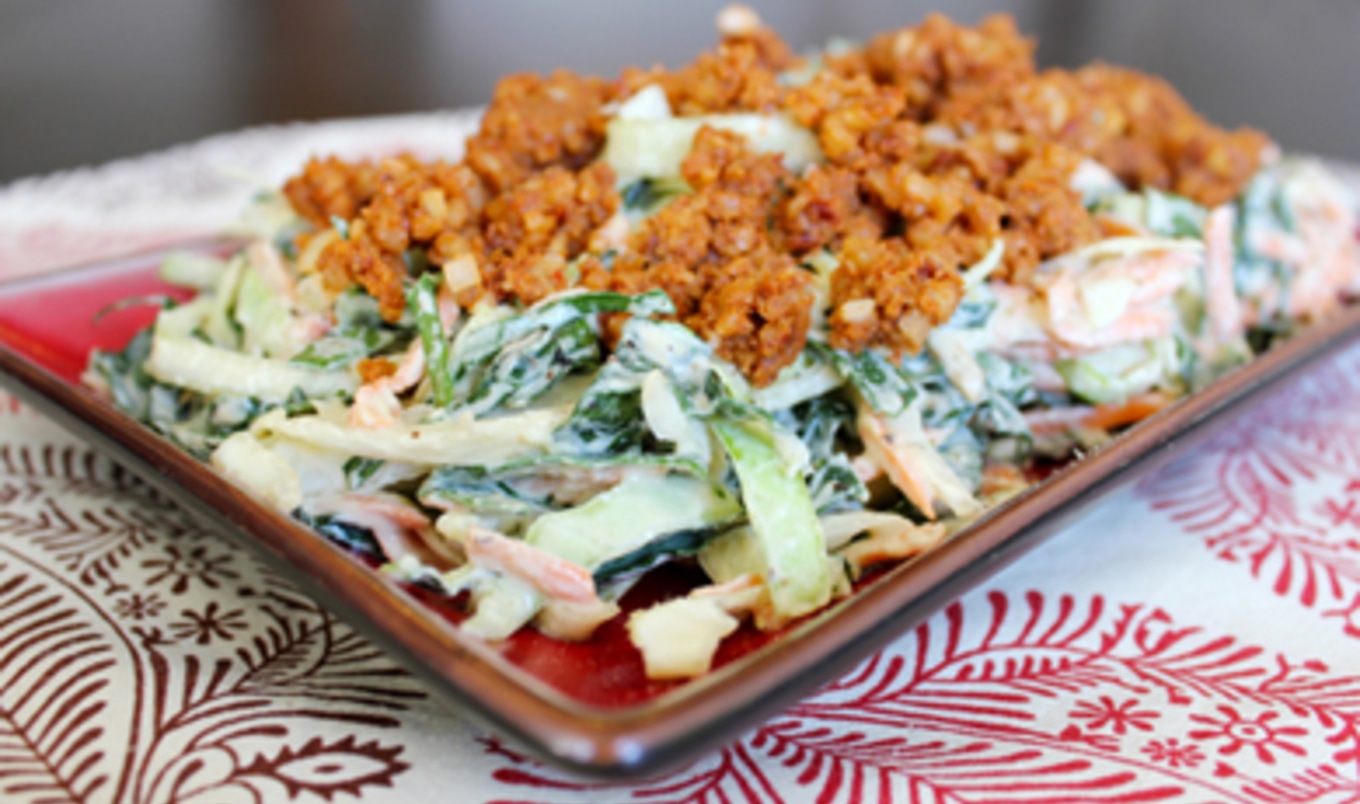 A raw, nutritious update to cabbage coleslaw gets an added kick of flavor with the addition of a smoky barbecue topping.
July 15, 2012
Shredded kale offers a creative edge to classic coleslaw. Topped with a barbecue-inspired walnut crumble, this dish is perfect for backyard picnics (if the weather cools off enough).
Serves 4
What you need:
For the kale slaw:
3 cups shredded cabbage
2-1/2 cups shredded kale
1 cup shredded carrot
1/4 cup thinly sliced sweet onion
1/4 teaspoon celery seed
For the mayo:
1/3 cup raw cashews, soaked for 1 hour, drained, and rinsed
1/3 cup raw sunflower seeds, soaked for 4 hours, drained, and rinsed
1/4 cup water
2 tablespoons apple cider vinegar
2 tablespoons olive oil
1 teaspoon maple syrup
3/4 teaspoon salt
For the barbecue walnut crumble:
5 sundried tomatoes, soaked for 2 hours, drained, and rinsed
1 tablespoon olive oil
1 tablespoon water
1 teaspoon maple syrup
1 teaspoon apple cider vinegar
1 teaspoon smoked paprika
1/2 teaspoon chili powder
1/4 teaspoon ground chipotle
1/4 teaspoon salt
1-1/2 cups raw walnuts
1 tablespoon minced sweet onion
What you do:
For kale slaw, in a large bowl, toss together all ingredients and set aside.
For the mayo, in a high-speed blender combine all ingredients and blend until very smooth. Pour over the kale slaw and mix well.
For the barbecue walnut crumble, in a food processor, place sundried tomatoes, olive oil, water, maple syrup, vinegar, paprika, chili powder, chipotle, and salt. Process until a smooth paste forms. Add walnuts and pulse to create a crumbly texture. Scrape into a medium bowl and fold in sweet onion.
To serve, divide kale slaw and top with barbecue walnut crumble.