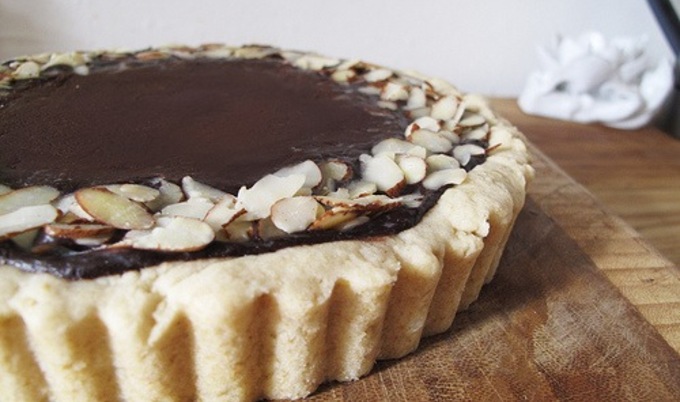 Vegan Chocolate Tart
This decadent chocolate tart is a party-perfect treat to bring to your next vegan dinner party or any celebration.
Tarts are great for bringing to parties or when entertaining because they can be made far in advance of your guests' arrival and look beautiful. Chocolate and coffee are combined in this tart for a truly spectacular ganache filling. Thanks to our friends at Craft magazine for sharing this delicious recipe with VegNews readers!
What you need:
For the crust:
1/2 cup non-hydrogenated margarine
1/3 cup sugar
1 teaspoon vanilla
3/4 cup walnuts, finely chopped
1-1/2 cups all-purpose flour
For the filling:
1 cup bittersweet chocolate, chopped
1-1/4 cups coffee
1 tablespoon cornstarch
1 teaspoon vanilla
1/4 teaspoon salt
1/3 cup almonds, slivered (optional)
What you do:
Preheat oven to 350 degrees. In a medium bowl, cream margarine and sugar with whisk until light and fluffy. Add vanilla and walnuts and mix. Add in flour 1/3 cup at a time and mix until dough sticks together and is slightly moist.
Into a tart pan, press dough with your fingertips. Bake until edges are just barely starting to brown, about 20 minutes. Allow crust to cool completely before filling.
For the filling, in a small pot, melt chocolate until it softens. In another small pot, bring coffee to a boil. Pour coffee over softened chocolate and stir mixture until smooth. Add cornstarch, vanilla, and salt to mixture. Pour filling into cooled crust. Place tart in refrigerator and chill for 6 hours. Decorate top of tart with slivered almonds along edge of crust as desired, then slice and serve.
Photo courtesy Becky Stern
Want more of today's best plant-based news, recipes, and lifestyle?
Get our award-winning magazine!
Subscribe