When it seems like the cold weather will never end, find cheer in the fact that it's soup season. No matter what the weather app says, comfort and warmth can be found in a big bowl of vegan soup, preferably served alongside a generous hunk of a toasted and buttered baguette. From hearty chili, to classic tomato, to vibrant purple yam bisque, slurp up some instant happy with these 13 comforting vegan soups.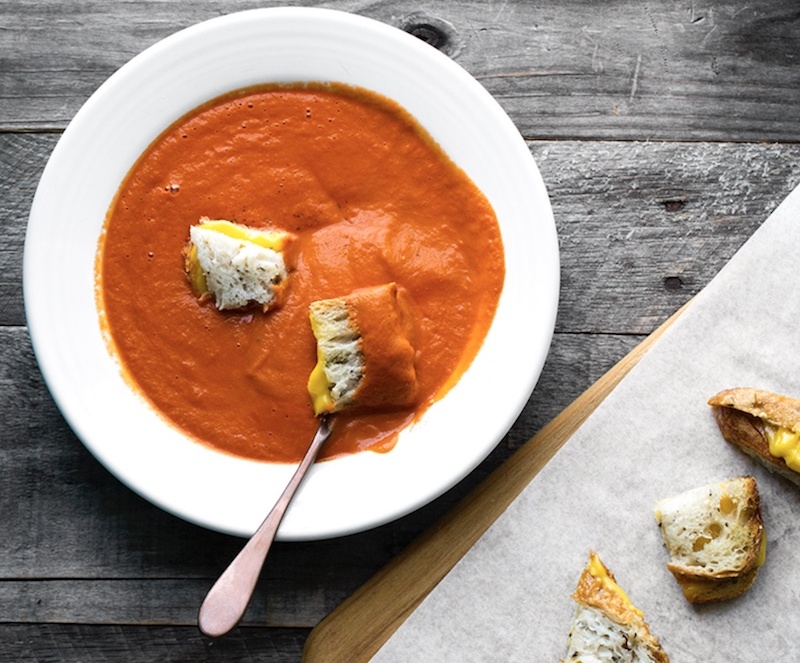 Healthy Happy Life
1 Tomato Soup & Grilled Cheese Croutons by Happy Healthy Life
There's tomato soup with grilled cheese, then there is tomato soup with grilled cheese croutons. Oh yes. Silky, creamy, gooey, crunchy, buttery goodness all in one unbelievable bite. There is arguably nothing better on rainy days.
Get the recipe here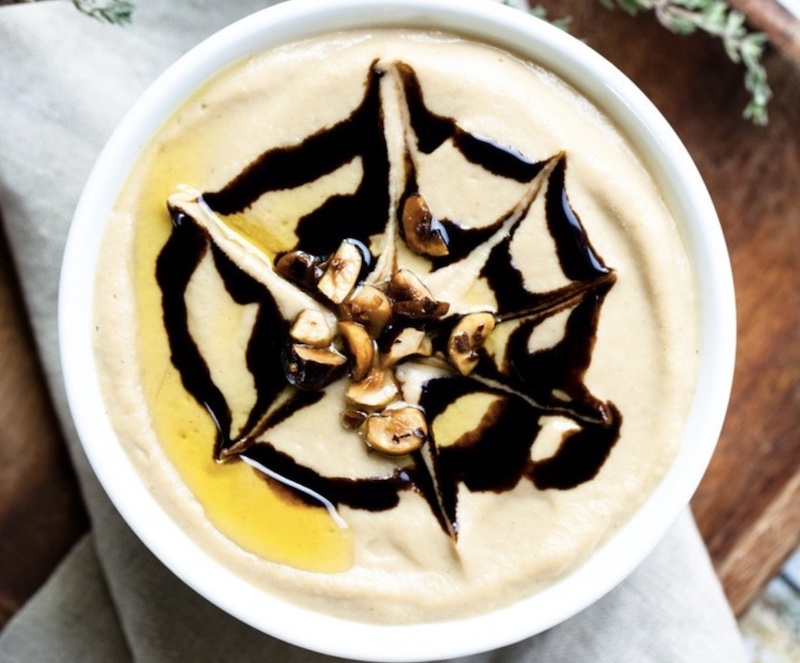 Carrots and Flowers
2 Creamy Roasted Sunchoke Soup by Carrots and Flowers
What happens when you cross the comfort of a potato with the flavor of an artichoke? Sunchokes. What happens when your roast these wonderful root veggies, puree them, and fold in cashew cream and a balsamic glaze? Magic—in soup form.
Get the recipe here
Vegan Richa
3 Instant Pot Lasagna Soup by Vegan Richa
Everything you love about lasagna, but in a slurpable, trendy "bowl food" form. Instant Pot or stovetop, this Italian soup comes together in about a half hour, making it a perfect weeknight meal. Further, it's absolutely loaded with belly-warming ingredients, as any good vegan lasagna should.
Get the recipe here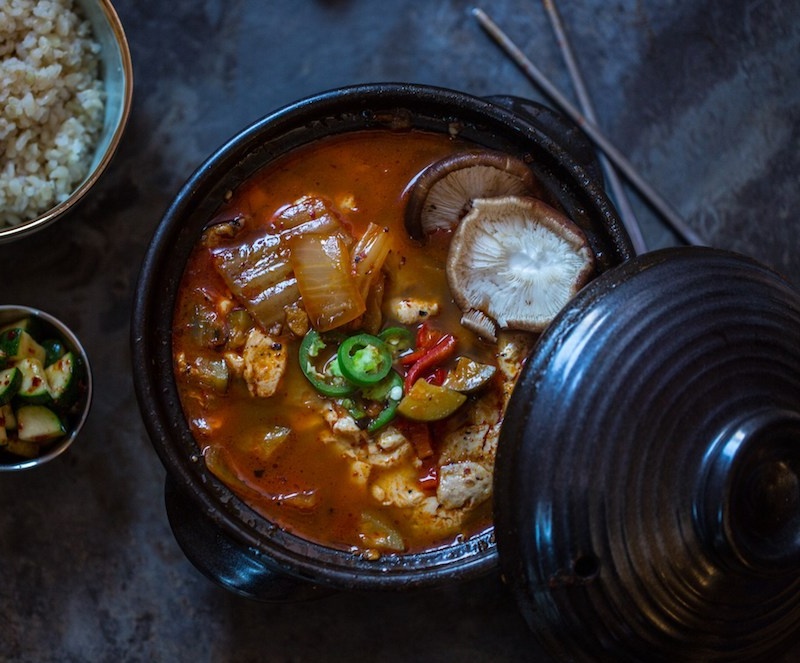 The Korean Vegan
4 Soon Tofu Stew by The Korean Vegan
It's incredibly disheartening to discover that most tofu soups in restaurants contain fish sauce. Avoid disappointment and make your own. Pair it with some fish-free kimchi and give yourself a pat on the back for veganizing this popular Korean dish.
Get the recipe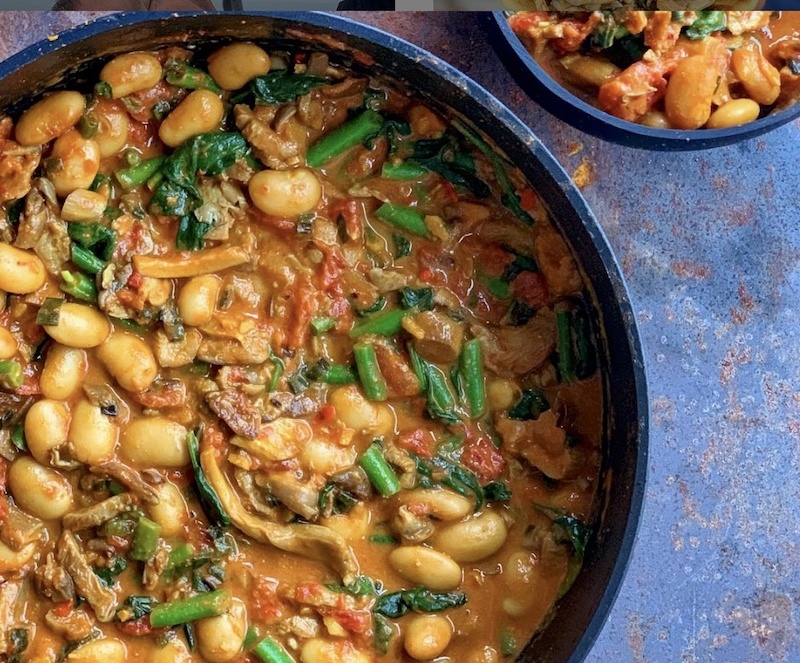 The Happy Pear
5 Spinach and Butterbean Curry by The Happy Pear
Bring the heat! Or not. You decide how spicy you like it by adjusting the seasoning in this deliciously thick and protein-packed stew. Bonus: IBS sufferers rejoice! This just happens to be a low FODMAP meal (meaning it's relatively safe for those with tummy issues).
Get the recipe here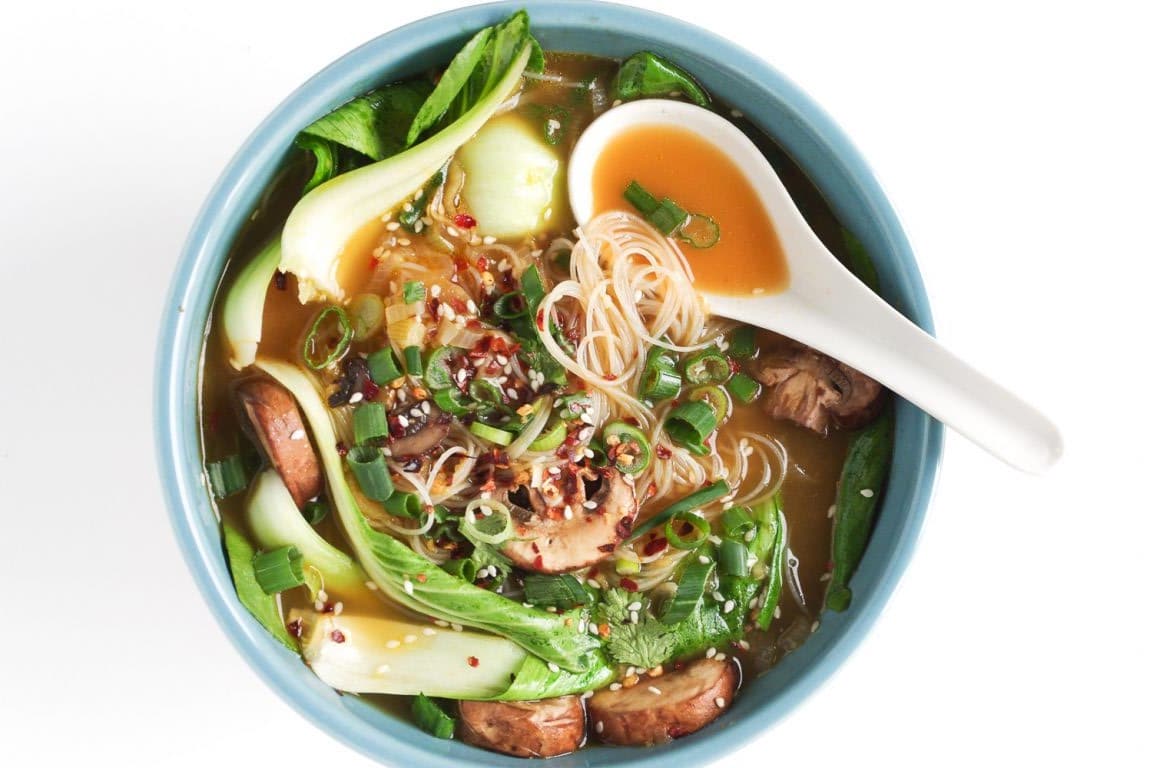 The Forked Spoon
6 Ginger Garlic Noodle Soup by The Forked Spoon
This fragrant soup isn't just easy to make, it also packs an immune-boosting punch thanks to ginger and garlic! Stay inside and cozy up with this Asian-inspired, veggie-loaded soup for a warm, autumn night.
Get the recipe here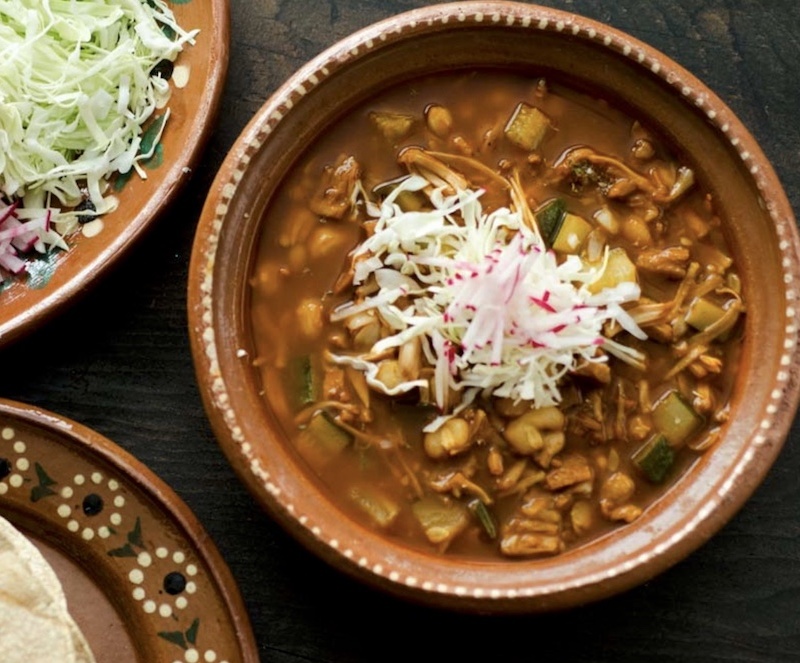 Dora's Table
7 Jackfruit Vegan Pozole Rojo by Dora's Table
Those who have had good pozole have reserved a special place in their heart for this traditional Mexican soup. There's nothing quite like the perfect combination of toothsome hominy paired with just the right amount of spicy, chili-based broth. The addition of jackfruit gives this aromatic stew another layer of texture. Unlike many soups, this recipe is anything but one-note.
Get the recipe here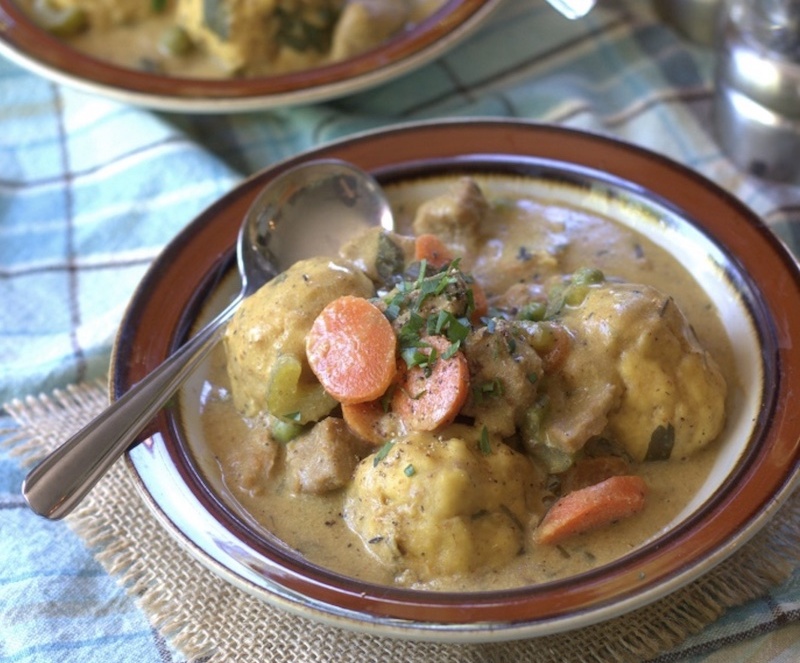 Connoisseurus Veg
8 Vegan Chicken and Rosemary Dumplings Stew by Connoisseurus Veg
When you're alone but really need a warm hug, this soup is your second best option. Dive into the thick, pillowy rosemary dumplings and use them to sop up your sad feelings—and the savory herb broth. Dumplings make everything better.
Get the recipe here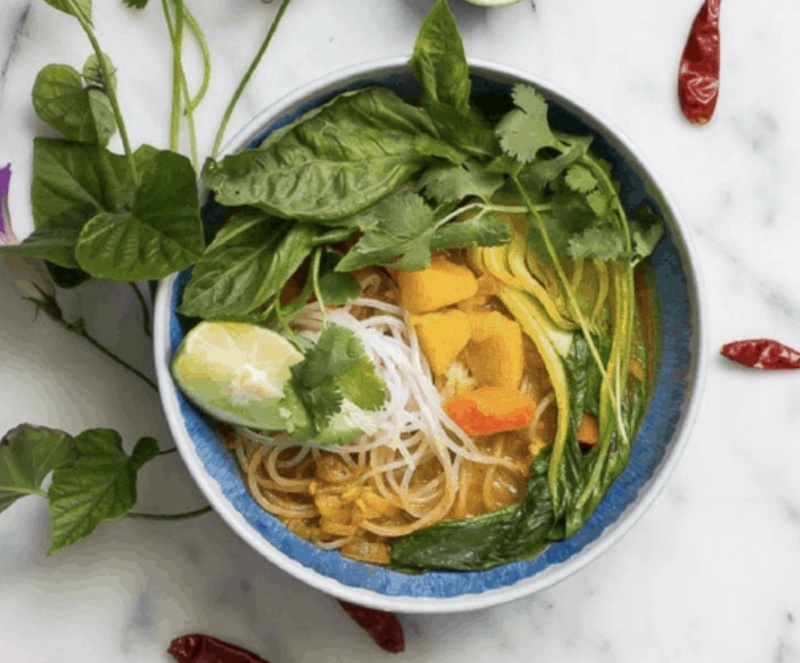 Rachel Carr
9 Coconut and Winter Squash Stew by Rachel Carr
Eat with the seasons and enjoy a flavorful meal that won't weigh you down. Chef Rachel Carr combines the season's best produce with gluten-free glass noodles in a light, ginger and lemongrass-infused broth to keep you full and energized. Bring on the snowball fight!
Get the recipe here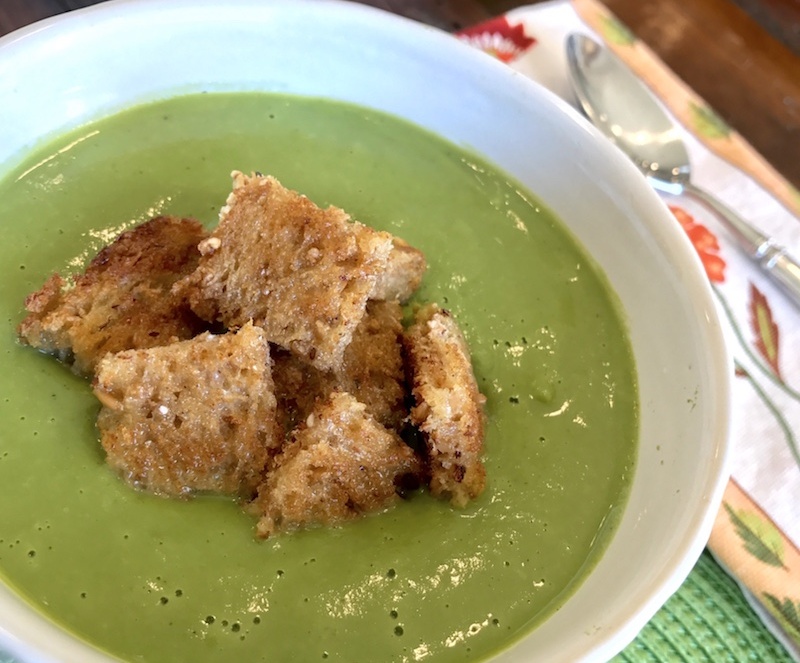 Audrey Dunham
10 Easy Super Greens Soup with Buttery Toast Croutons by Audrey Dunham
Juicing? Try souping. This thick and creamy green soup packs in a serious amount of nutrients, but unlike green juice, you won't freeze while drinking it during the colder months. It's also much more convenient to make; simply blend the ingredients together in a high-speed blender. No juice machine cleaning required!
Get the recipe here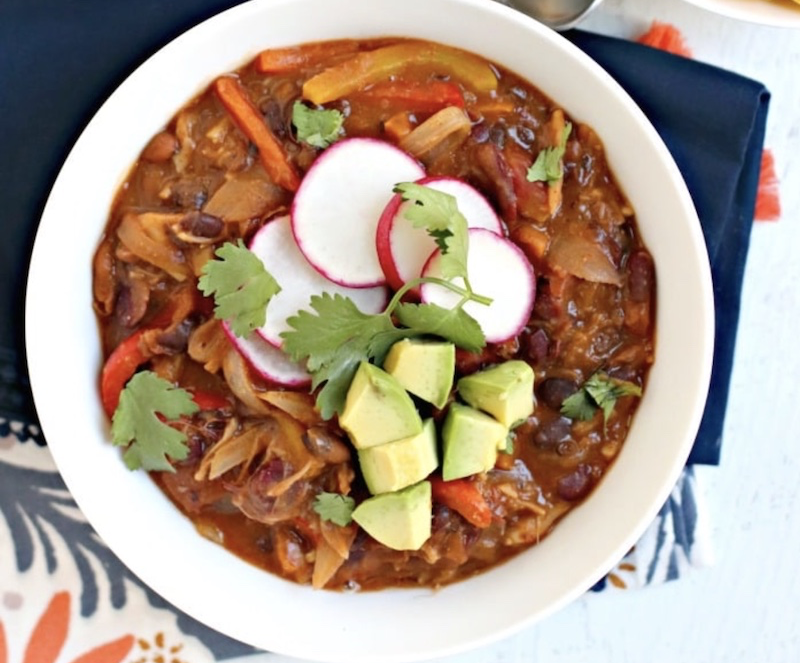 Veggies Save the Day
11 Jackfruit Chili with Fajita Veggies by Veggies Save the Day
Veggies Save the Day has packed all of our favorite fajita ingredients into a one-bowl wonder. This chili is bursting with three kinds of beans, tender jackfruit, fire-roasted tomatoes, and bell pepper, and plenty of spices to warm you up on a blustery fall day.
Get the recipe here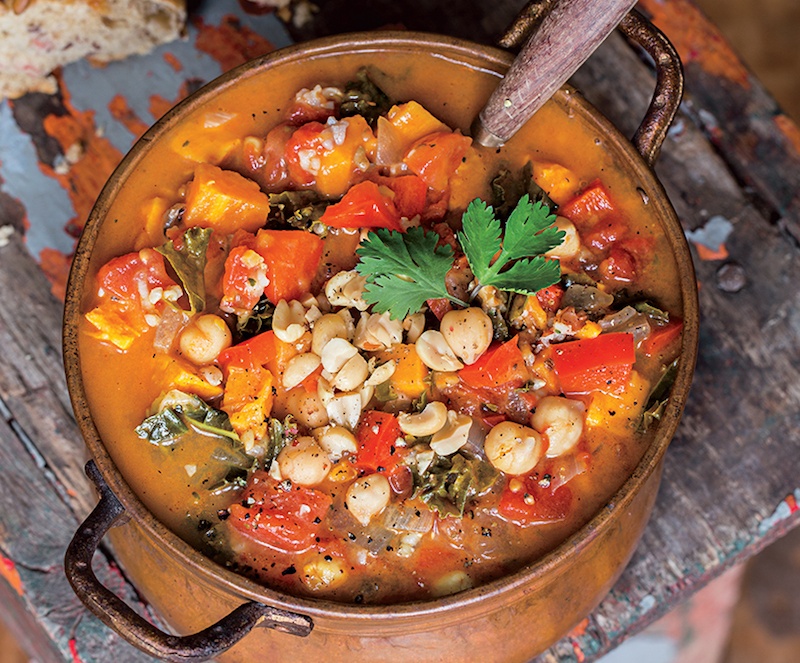 Oh She Glows
12 African Peanut Stew by Oh She Glows
Really, all there is to say is, "Please sir, may I have some more." Make a double batch of this addictively tasty soup and stockpile it in your freezer. It's simply that outstanding.
Get the recipe here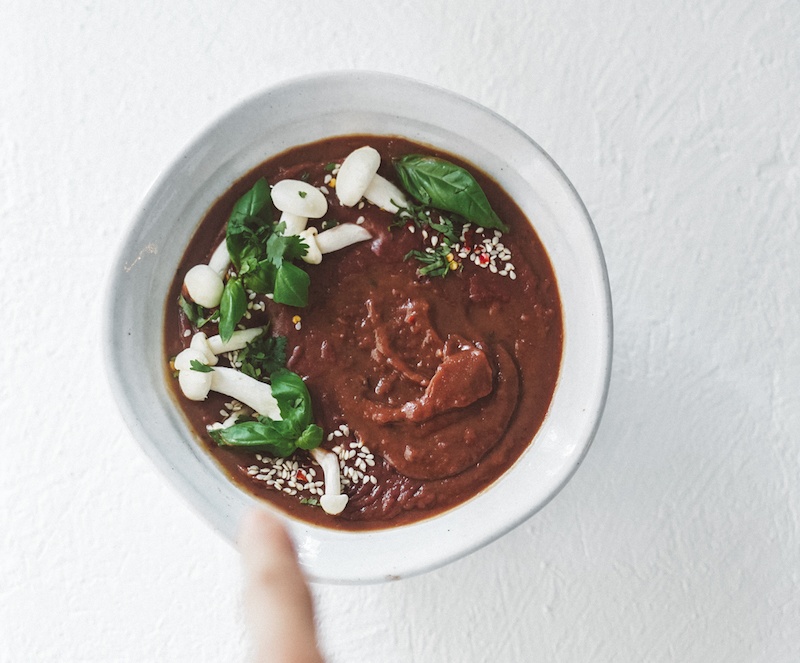 Food by Maria
13 Adaptogenic Purple Yam Soup by Food by Maria
This is not your average potato soup. Not only is it far more appealing to the eye thanks to its gorgeous purple hue, but this luxurious soup contains ashwagandha powder, which is known to reduce stress. Help yourself to a bowl after a hectic day, and let those worries go. You can deal with digging your car out of the snow tomorrow.
Get the recipe here
For even more vegan soup recipes, read:
Vegan Peanut Vegetable Stew
Easy, Creamy Vegan Pumpkin Soup
Vegan French Lentil & Kale Soup
JUST LAUNCHED! Get our 10 Easy Vegan Summer Meals recipe book as a FREE instant download.
JUST LAUNCHED! Get our 10 Easy Vegan Summer Meals recipe book as a FREE instant download.