Perhaps it's the nostalgia of chasing the ice cream truck as a kid or memories of splitting a "twin popsicle" with your friend and trying to make sure it splits evenly, but whatever the reason, everyone loves popsicles. Since the dog days of summer are the optimal time for us to perfect our own recipe, here are 13 of our favorite popsicles to make.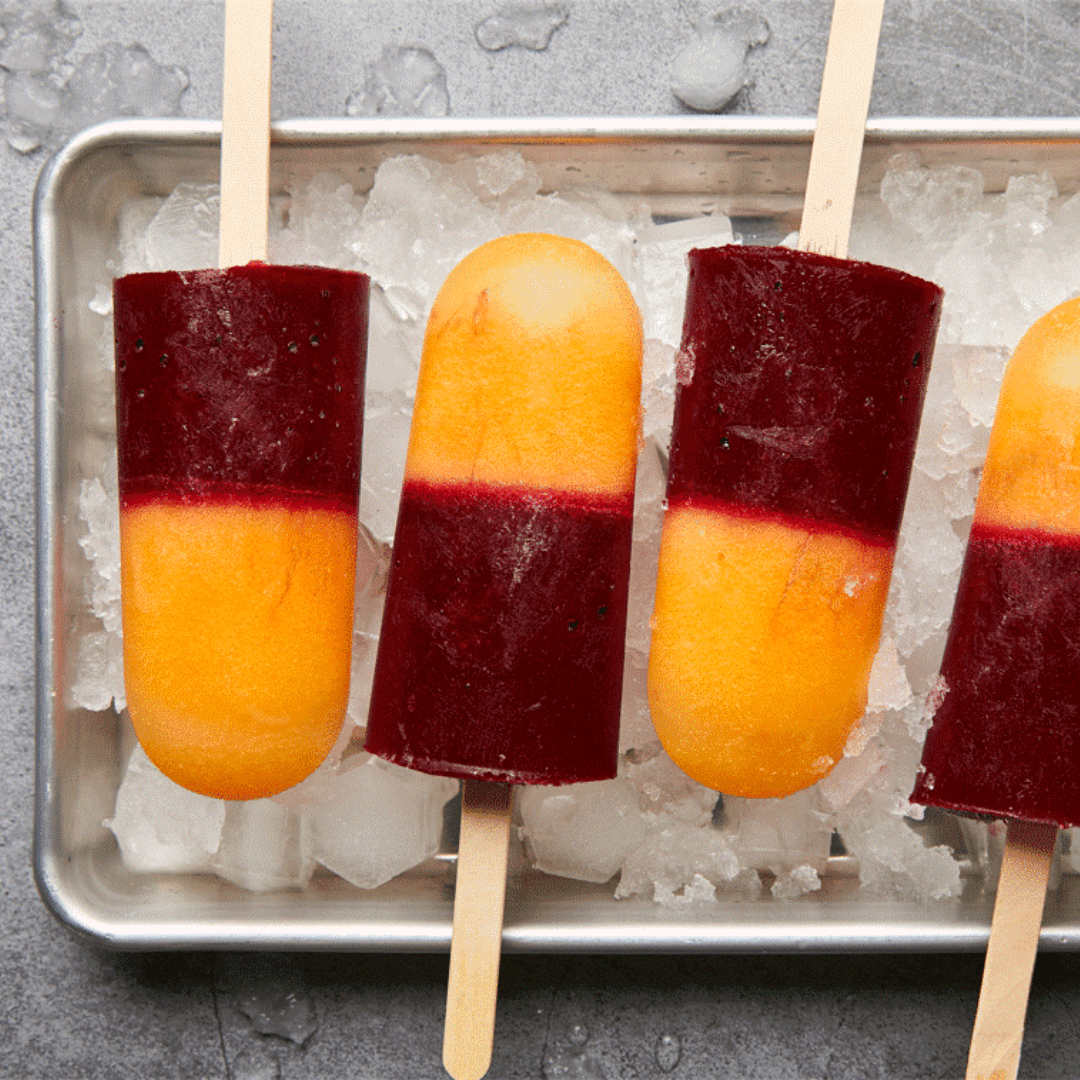 1 Vegan Cantaloupe and Prickly Pear Ice Pops by Alejandra Schrader
Brightly hued and refreshing, these ice pops blend cantaloupe, prickly pears, and a splash of lime juice for a Latin American-inspired treat. Visit your local farmers' market or your nearest Mexican grocery store if you can't seem to find prickly pears. Trust us, these pops are totally worth the hunt.
Get the recipe here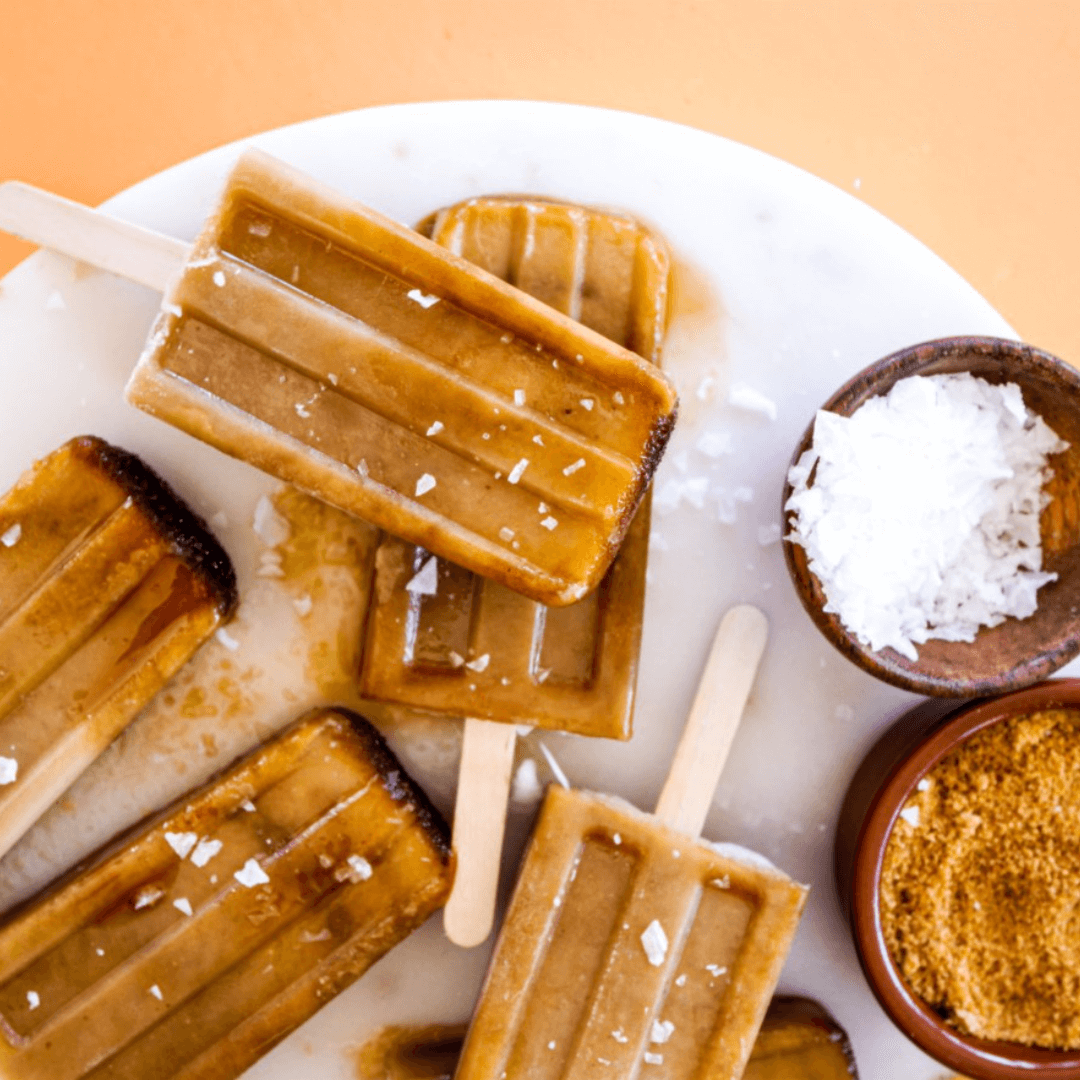 Bailey Ruskus
2Salted Dulce de Leche Popsicles by Bailey Ruskus
Just the name of these popsicles is enough to get you drooling. The caramel flavor comes from a creamy blend of cashew milk and coconut sugar. Throw in some flaky salt, vanilla, and a couple tablespoons of tapoica flour (the secret ingredient!), and you've got yourself a dessert worthy of making time and time again!
Get the recipe here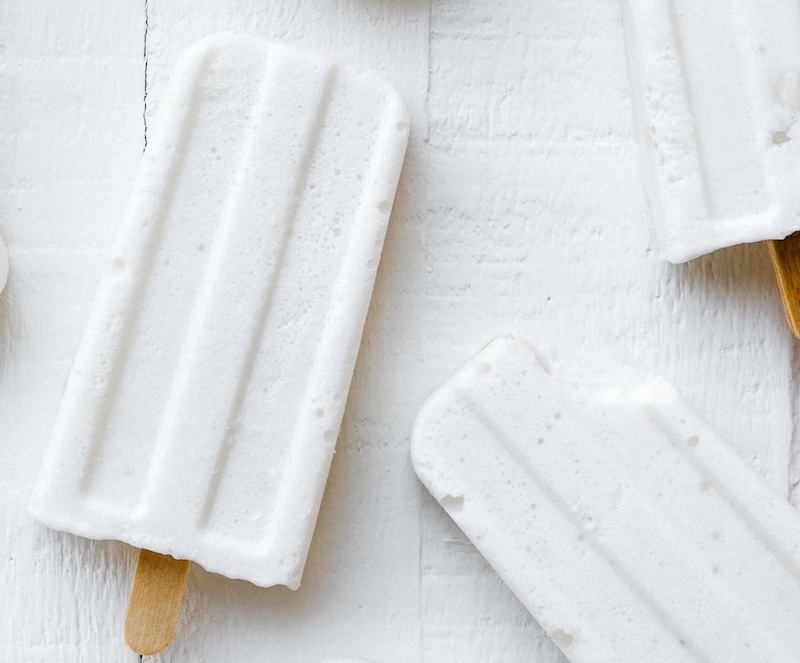 Sarah Bond
3 Vegan Marshmallow-Coconut Cream Popsicles by Sarah Bond
VegNews readers will agree: you need to make these popsicles now! One of our most popular recipes, these frozen sweets owe their signature fluffiness to the star ingredient: aquafaba. Your friends, family, and even neighborhood kids will be asking you to make these every summer. Consider yourself warned.
Get the recipe here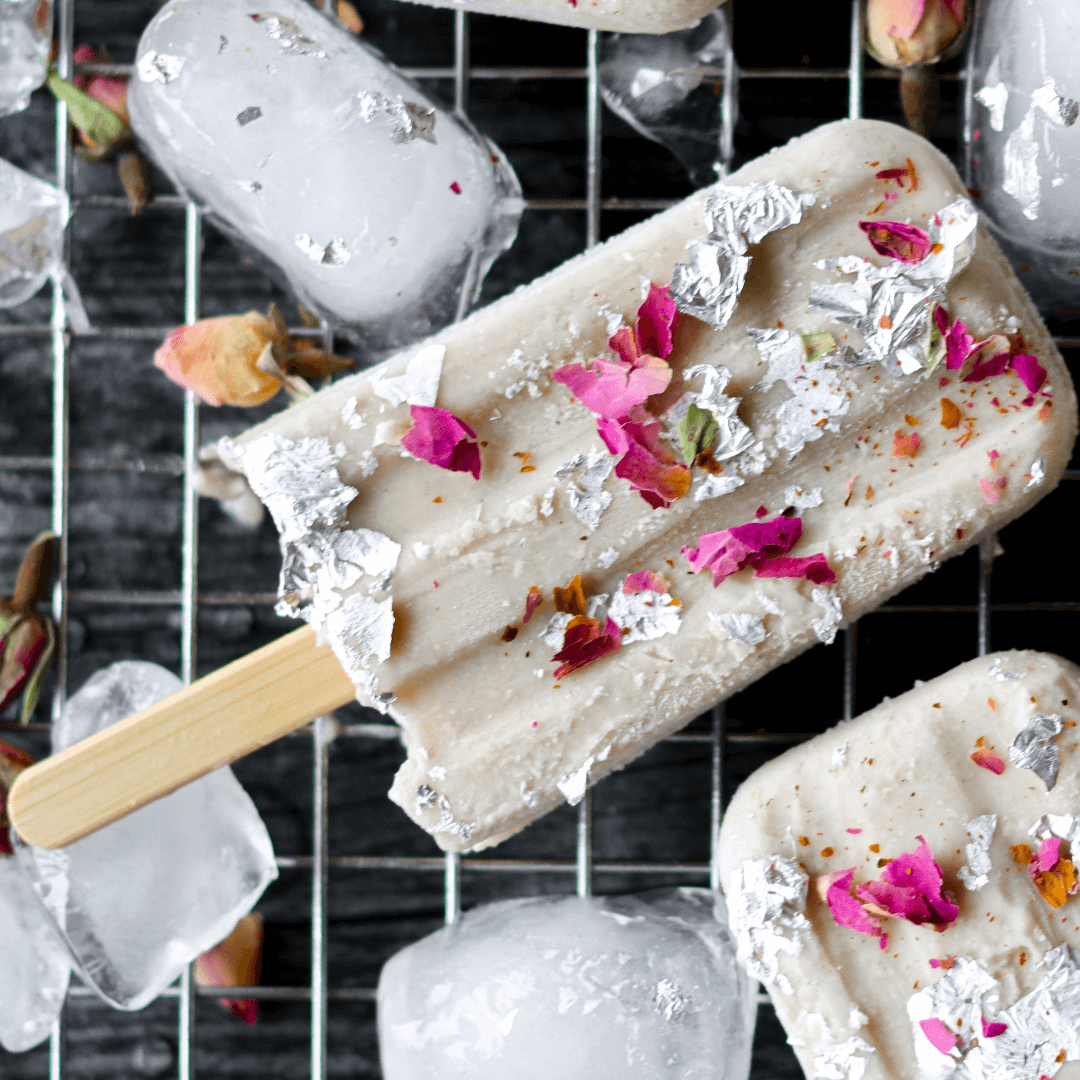 Shivangi Rao
4 Vegan Kaju Katli Kulfi (Indian Cashew Fudge) Ice Cream Bars by Shivangi Rao
This fusion dessert combines two classic Indian sweets: kulfi (a dense ice cream) and kaju katli (a type of cashew fudge). Add delicate foral notes of rose water, and you've got the perfect dessert.
Get the recipe here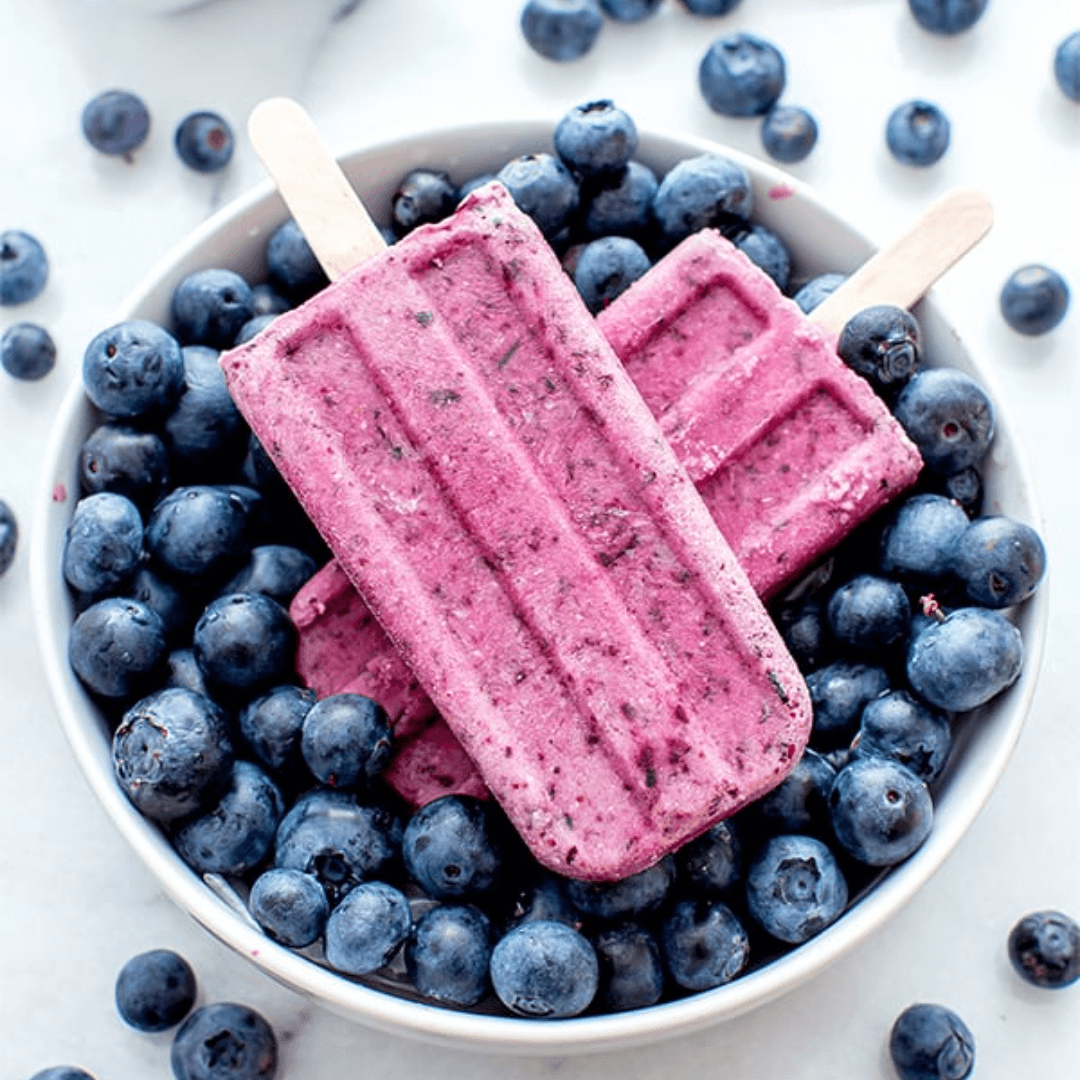 Beaming Baker
5Blueberry Coconut Popsicles by Beaming Baker
This recipe is super simple and uses just three ingredients: full-fat coconut milk, blueberries, and maple syrup. Use this recipe as an excuse to buy up some fresh blueberries at your local grocery store or have them delivered!
Get the recipe here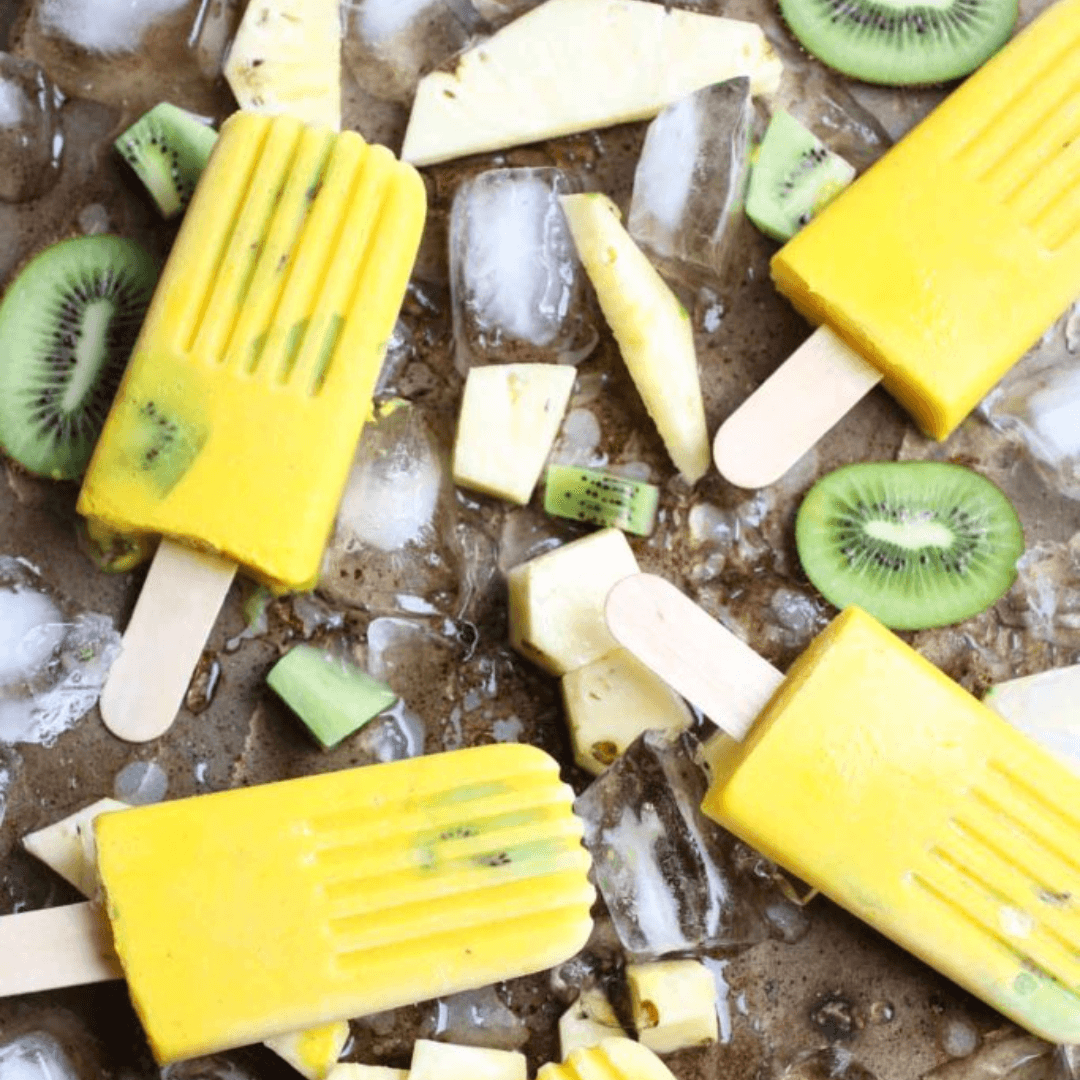 Abra's Kitchen
6Tropical Turmeric Popsicles by Abra's Kitchen
Using chopped pineapple, kiwi, and coconut oil, this recipe is a tropical treat waiting to be made and devoured. The addition of turmeric makes these treats anti-inflammatory for an added health bonus. This recipe also has the odd ingredient of black pepper which works with the turmeric to increase its healing properties. Did you know that piperine, the active compound in black pepper, can increase curcumin absorption by as much as 2,000 percent?
Get the recipe here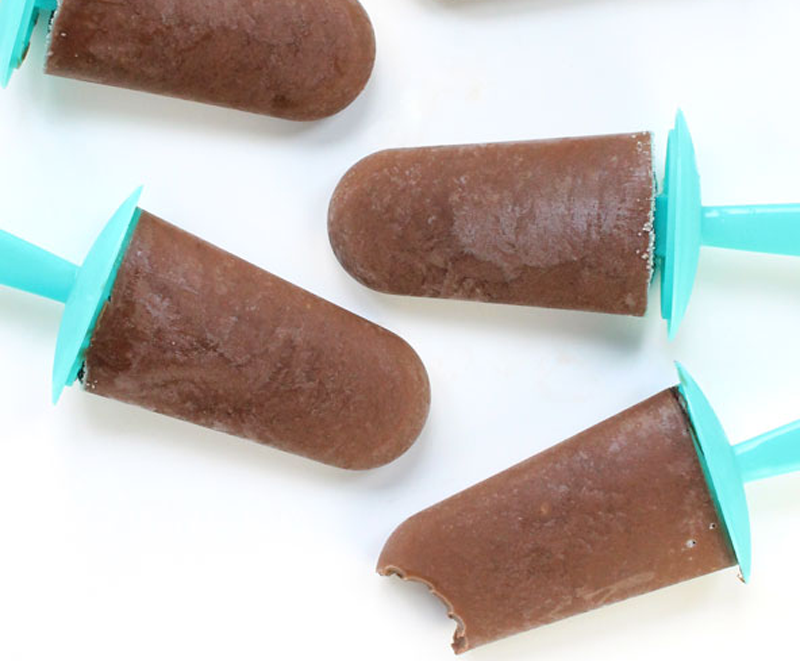 It Doesn't Taste Like Chicken
7The Creamiest Vegan Fudgesicles by It Doesn't Taste Like Chicken
Fudgsicles are a true elementary school throwback (memories of melted chocolate dripping down your face, anyone?)! This recipes uses dairy-free milk, full-fat coconut milk, sugar, cocoa powder, vanilla extract, and the secret ingredient of corn starch (to give it a chewy, fudgy, creaminess) to create these popsicle throwbacks.
Get the recipe here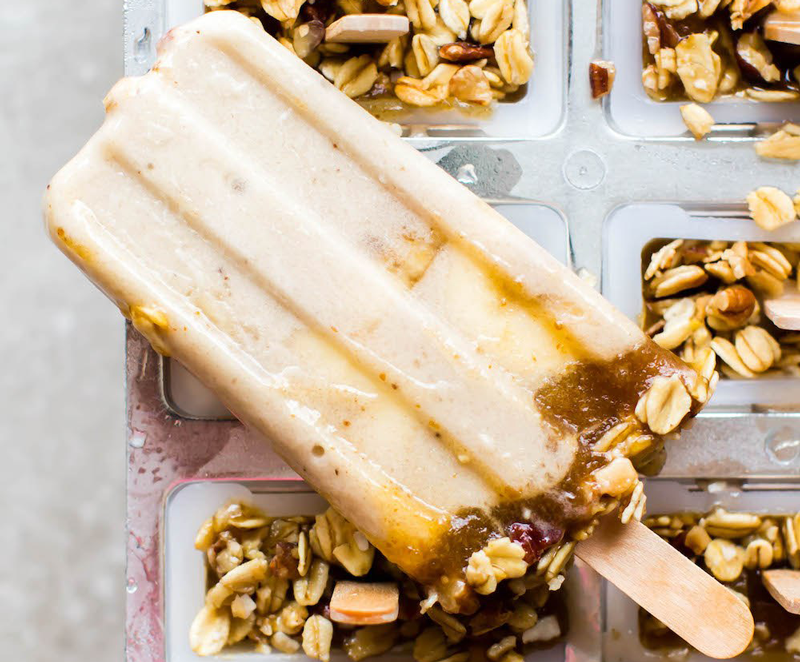 Feasting on Fruit
8Banoffee Ice Cream Pops by Feasting on Fruit
These banoffee ice cream pops use banana ice cream (or "nice cream," as it's become known in the vegan world) mixed with homemade, healthy toffee; a date caramel layer; and a caramel sauce drizzle to create a very decadent ice cream pop. Crumbled vegan cookies, graham crackers, or your favorite granola all work to create the "toffee" portion.
Get the recipe here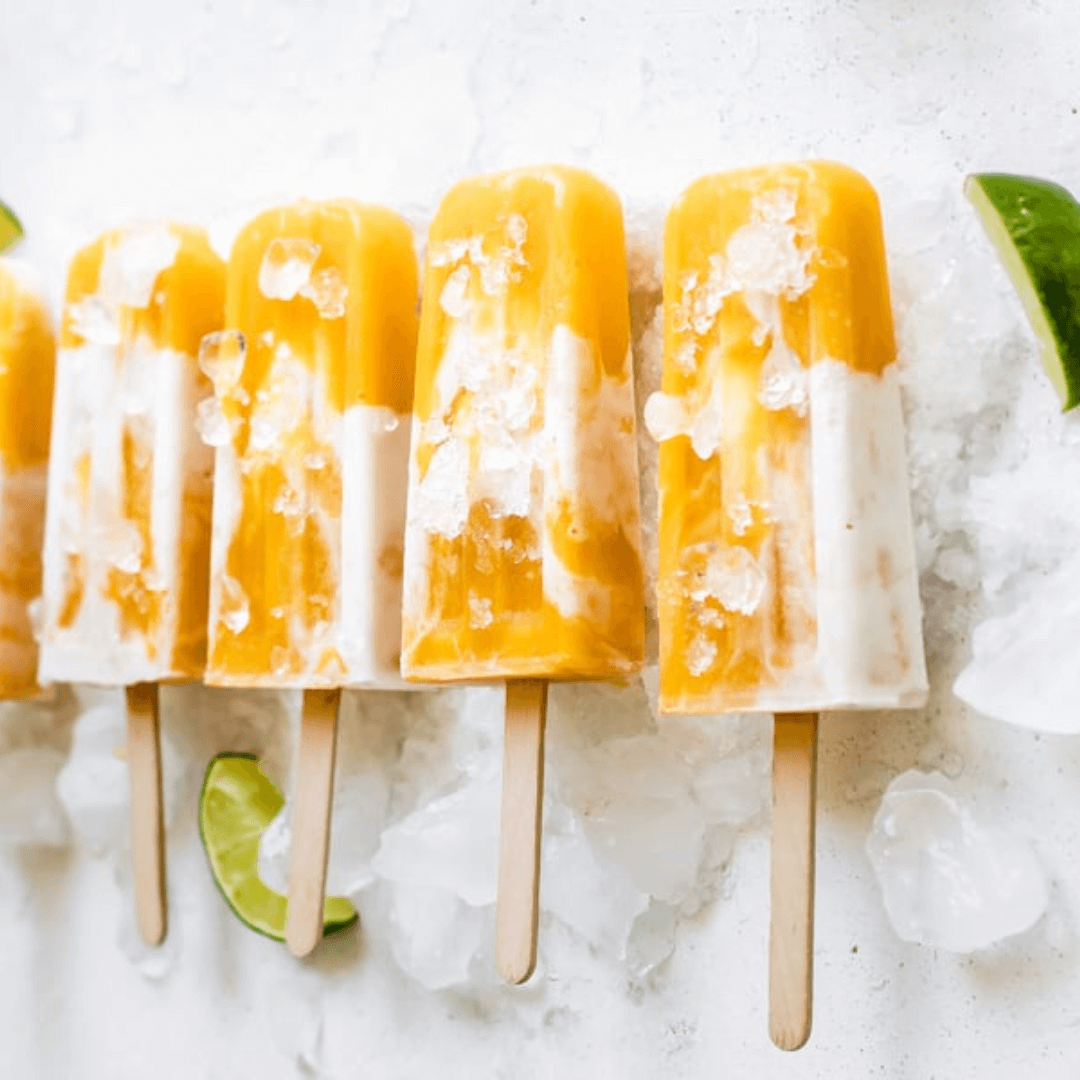 Choosing Chia
9Vegan Mango Lassi Popsicles by Choosing Chia
Who doesn't love a cool, creamy mango lassi? So why not channel that into a popsicle? This recipe has done just that using mango, coconut yogurt, vanilla extract, orange juice, and a touch of lime. Channel the delicious flavors of this classic, vegan-friendly beverage while keeping cool and enjoying a sweet treat!
Get the recipe here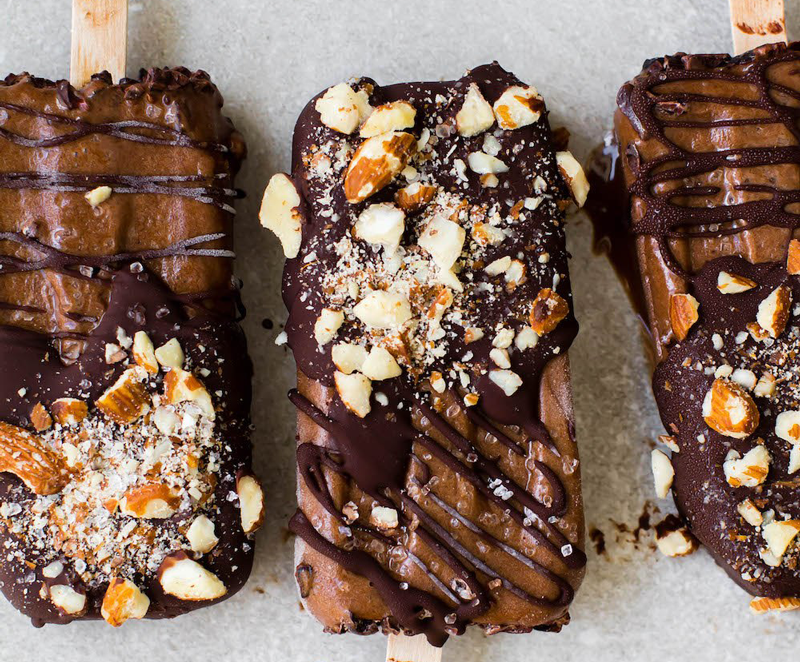 Feasting on Fruit
10Chocolate Almond Sea Salt Ice Cream Pops by Feasting on Fruit
These pops are truly a full dessert in one easy-to-make and easy-to-eat package! Creamy cacao nib ice cream is coated in dark chocolate, sprinkled with almond chunks, and finished with a sprinkle of sea salt. Need we say more?
Get the recipe here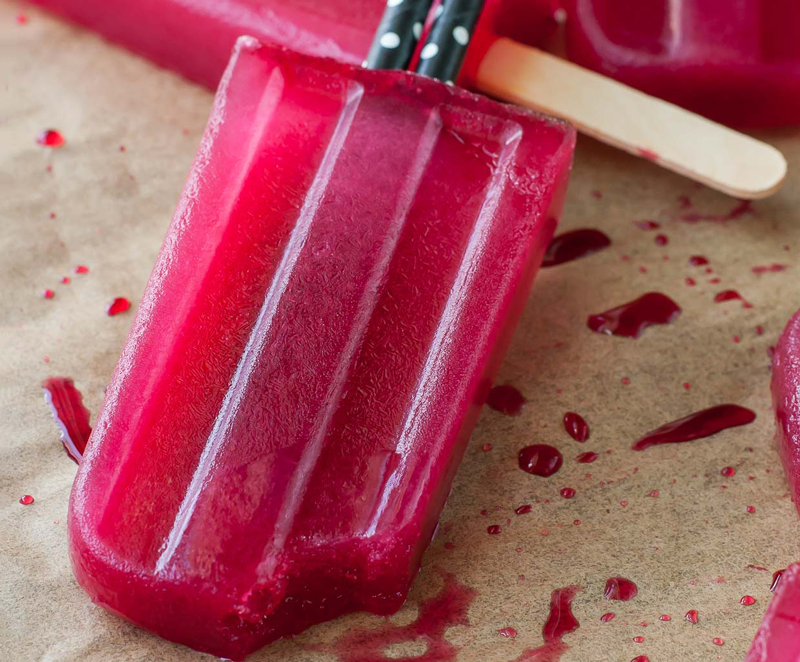 Peas and Crayons
11Green Tea Hibiscus Pops by Peas and Crayons
This recipe is worth it just for the amazingly bright pink color! These are definitely a great thirst quencher and are just the perfect afternoon treat on a hot summer day. Using water, green tea, hibiscus, a bit of sugar, fresh pineapple juice, and lime juice, it's like drinking a delicious glass of iced tea on a stick!
Get the recipe here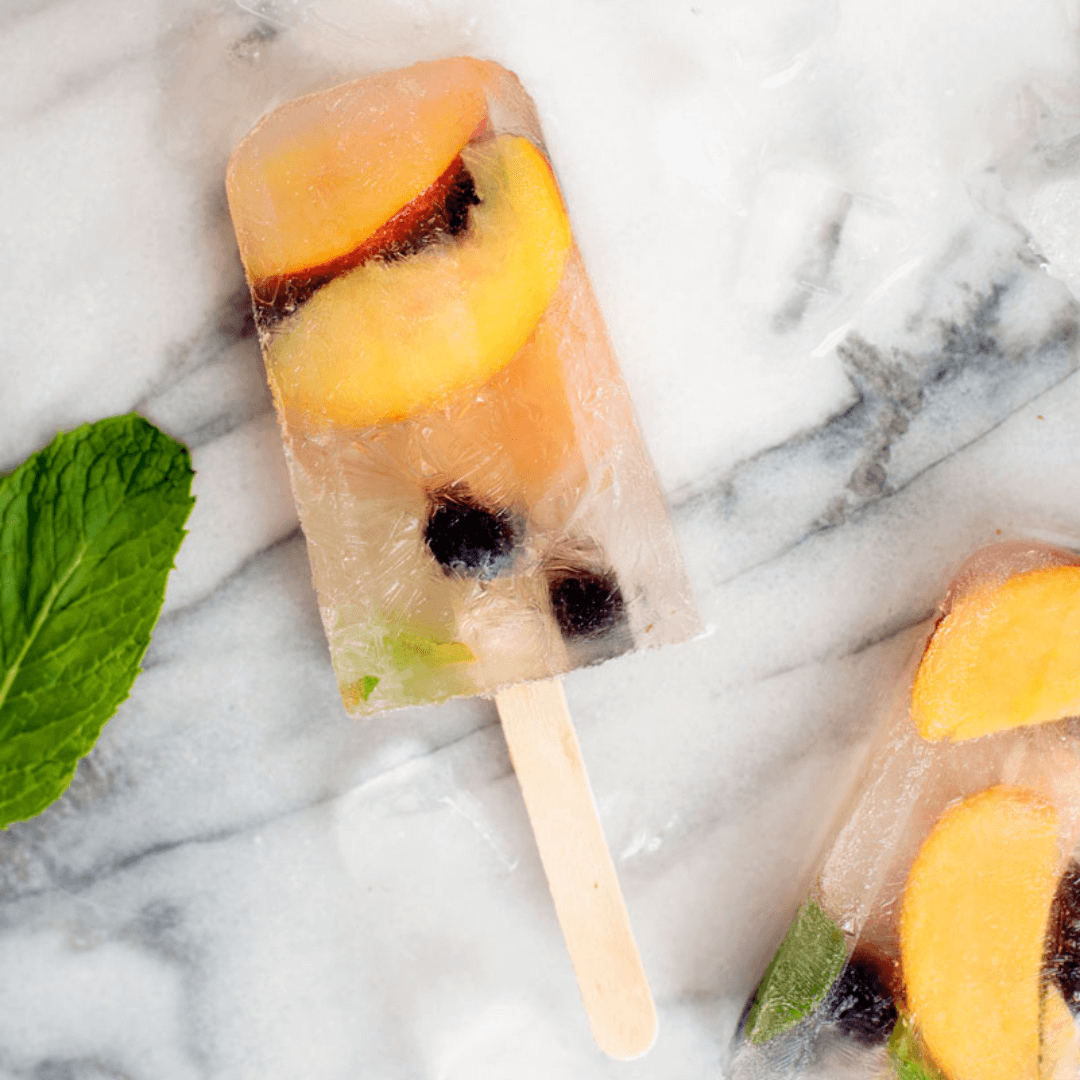 A Side of Sweet
12Boozy Peach Sangria Popsicles With Prosecco by A Side of Sweet
These prosecco sangria popsicles are a great way to up your Sunday brunch at home. Peaches, blueberries, and fresh mint give them a sweet taste while the fruity white wine (like a Sauvignon Blanc or Riesling), peach schnapps, and prosecco certainly give these treats a kick!
Get the recipe here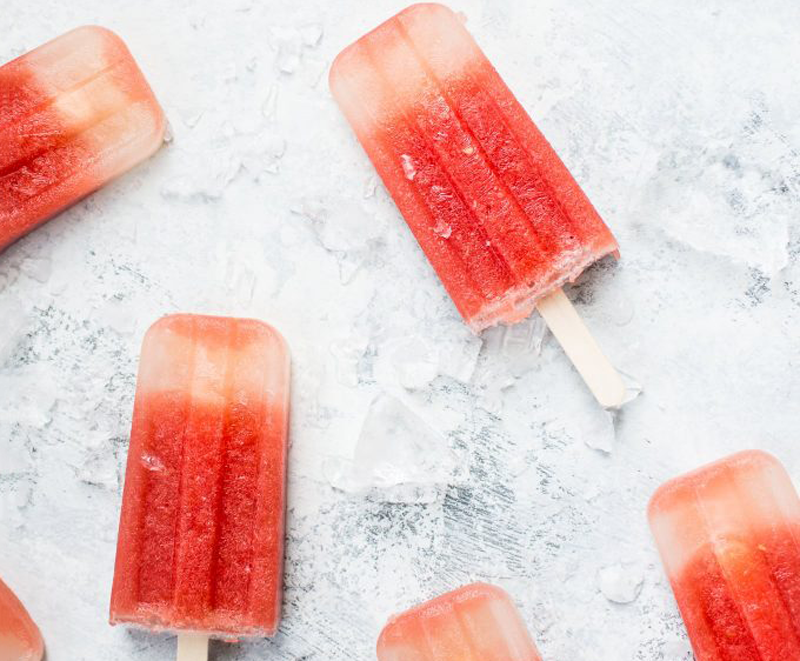 Salt & Lavender
13Watermelon Margarita Popsicles by Salt & Lavender
Recreate the ever-tasty margarita in popsicle form! Simply combine a small watermelon, juice of 1 lime, 4 ounces of tequila, and a bit of sea salt, and you're set! This one is best served with chips and guac for a fun summer treat.
Get the recipe here
For more vegan frozen treats, read:
12 Best Dairy-Free Oat Milk Ice Creams to Keep in Your Freezer
Where To Get Vegan Ice Cream This Summer
12 Vegan Frozen Desserts To Get You Through Summer
Hayden Seder is a freelance writer and editor in Sun Valley, ID.