For movie buffs and adrenaline junkies who prefer more than It's a Small World-level thrills, Universal Studios is the theme park of choice. From the iconic backlot tour to the death-defying drop at the end of Jurassic World—The Ride, Universal offers a full day of entertainment value for film enthusiasts and thrill-seekers. And let's not forget, Universal is the mecca of all things Harry Potter fandom. However, when you're standing in line for an hour waiting to ride the Hogwarts Express, it hits you. You're hungry, and you need more than a Kind Bar from Starbucks. Up until very recently, vegans were out of luck when it came to fun theme park food at Universal; we survived off fruit cups, sad theme park salads (hold the meat and cheese), and whatever plain bagel or oatmeal the in-park Starbucks had on offer. As of spring 2022, vegans can enjoy Universal Studios with a full belly (although, maybe hold off until after you ride the somewhat nauseating 4D rides–The Simpsons one in particular). From, vegan Butterbeer to an English pasty, here is your vegan guide to Universal Studios Hollywood and Orlando.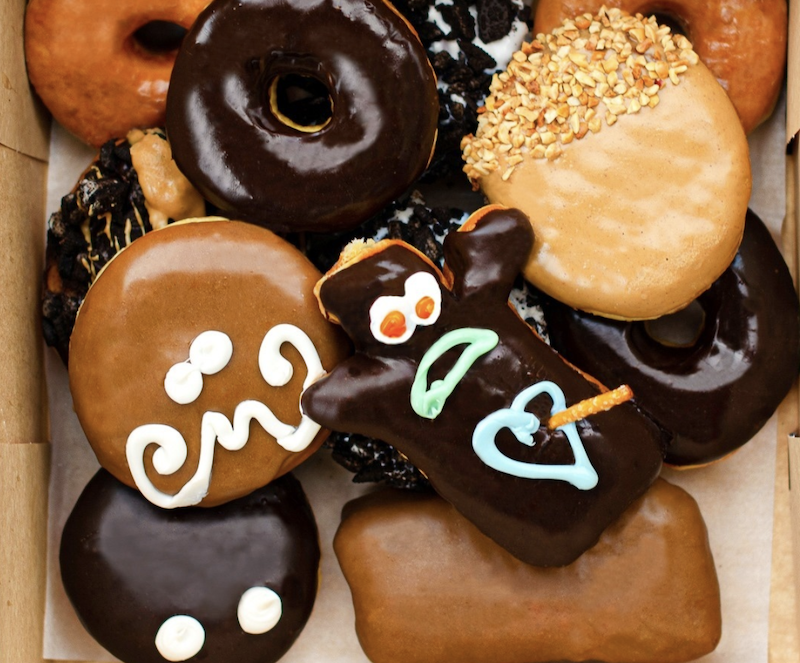 Voodoo Doughnut
Universal Studios Hollywood
Just off the 101 freeway, you'll find the original Universal Studios. The studio campus was established in 1915, followed by the theme park decades later in 1964. The park underwent major renovations in the years prior to 2015 when it debuted The Wizarding World of Harry Potter and premiered massive updates to its aging rides. This reboot installed 4D experiences to many of its attractions, updated the Jurassic Park ride to include characters from the most recent Jurassic World film franchise, and revamped the narratives on the famous backlot studio tour.
The vegan options at this park have massively improved in recent years, but not quite to Orlando standards. The good news is: there's enough to satisfy you during the day, and three fabulous vegan-friendly restaurants (SunCafe Organic, Vegetable, and H.O.P.E) are just across the 101 and open for dinner.
Note: this guide does not include CityWalk—the shopping, dining, and entertainment precursor to the park. We would still prefer to go across the freeway to a vegan restaurant for dinner, but we can't fail to mention Voodoo Doughnuts here. From frosted cake options to voodoo-shaped, yeasted, and jelly-filled, this pink sweet shop is a must whenever visiting Universal Studios Hollywood.
Simply Magical Susan
Vegan food options: The Wizarding World of Harry Potter
While the Florida-adjacent park celebrated a vegan menu update in the spring of 2022, these options weren't adopted by its California counterpart. According to the Universal Studios Dietary Food Guide, the only vegan entrée option at The Three Broomsticks is the Asparagus Platter. Thankfully, there's more to it than just asparagus. The plate consists of jumbo seared asparagus, mashed potatoes, cabbage, minted peas, and roasted tomato. Note: when ordering this or any other option at the park, specify that you're vegan. If you're looking for just a snack, the fresh fruit, corn on the cob (request no butter), and garden salad are also vegan here.
Within the Three Broomsticks and at the Hog's Head stand, you'll find Pumpkin Juice, Gilly Water, Pumpkin Fizz, and chilled Butterbeer. In Muggle terms, Pumpkin Juice is a sweet, chilled beverage made from apple juice, pumpkin purée, apricot purée, and natural flavors. The Pumpkin Fizz is the same thing, only carbonated. Gilly Water is essentially premium-priced bottled water—the park just adds coloring and a hint of natural flavors. Thanks to efforts by the Protego Foundation, Butterbeer can finally be enjoyed vegan when when ordered in its chilled application. Cheers!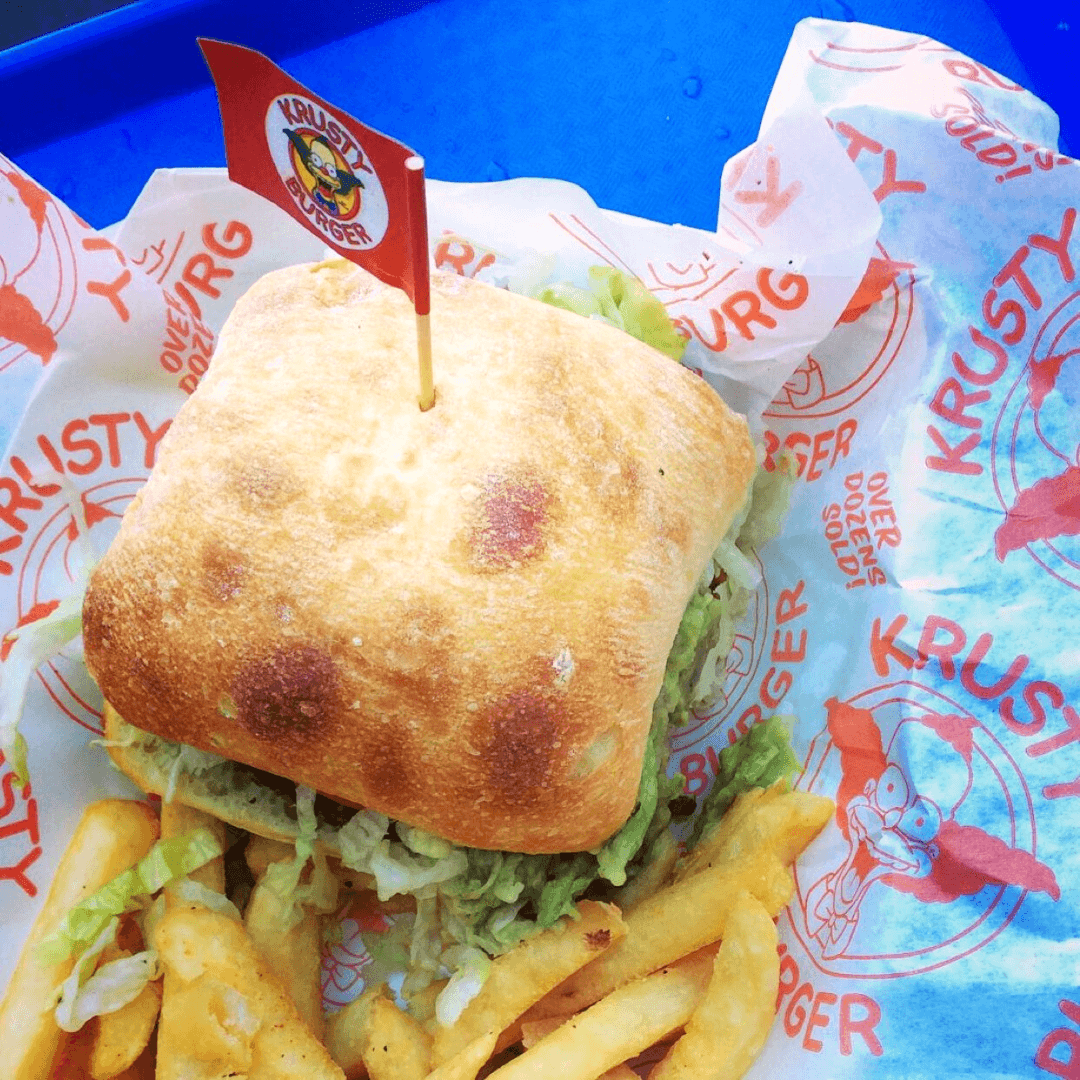 Universal Studios
Vegan food options: Upper Lot
The Upper Lot is a vegan's best bet for food options at the Hollywood Theme Park. Of course, there's Starbucks, but you'll also find snacks and sandwich options at a number of the Upper Lot venues. Two restaurants offer a vegan Beyond BBQ Cheeseburger (yes, made with dairy-free cheese), and Krusty Burger offers a more vegetable-forward Mother Nature Burger. A word of caution: the fries at this park are not vegan-friendly. Universal says they are vegetarian, which leads us to believe that they are coated in a dairy-derived artificial or natural flavoring. You can enjoy your burger with a fruit cup at most of these establishments.
Cocina Mexicana also offers sustenance by way of chips, guacamole, and Beyond Meat al pastor. Ask for the Taco Platter with the Beyond Meat option, no queso fresco.
For a sweet treat, unfortunately, Lard Lad's Donuts is out of the question, but the Spiced Cashew Brittle served at City Snacks and Cocina Mexicana is animal-free. You'll also find a satisfying soft pretzel (salted or cinnamon) at the Universal Snack Shop.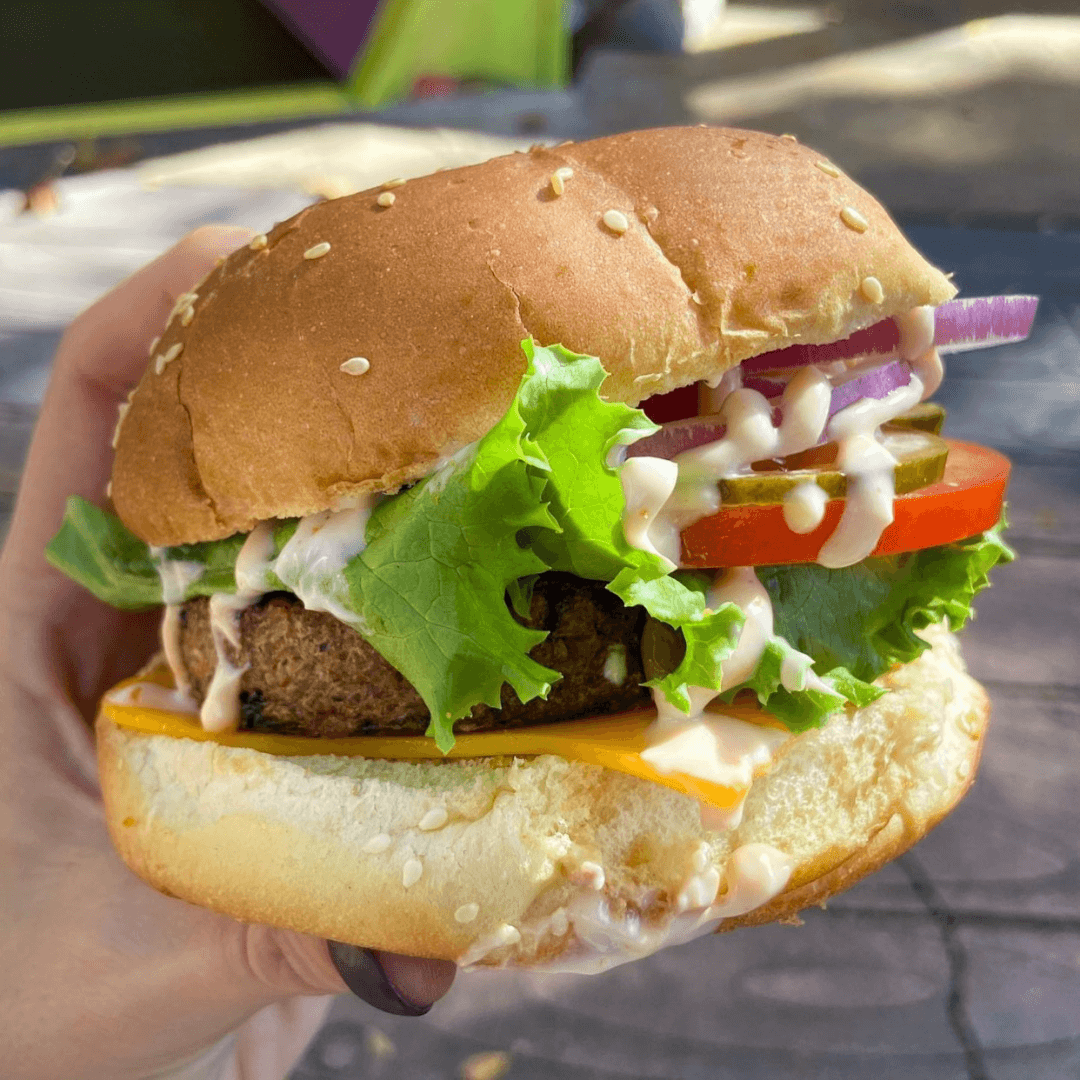 Universal Studios
Vegan food options: Lower Lot
Remember this: you will have to walk back up these stairs eventually. Universal's Lower Lot is 345 steps (or 18 stories) below the Upper Lot. Some pass holders even use these steps for a daily workout. Vegan food options are slim down here—we suspect the herbivorous dinosaurs from Jurassic World are hoarding them all. However, this portion of the park does offer a fun island-themed getaway that serves over-the-top alcoholic beverages. Isla Nu-Bar is the place to park it if you're in the mood for a tiki-themed cocktail.
Food-wise, Studio Cafe serves up a decent Vegan Bahn Mi along with cool fruit-based popsicles and Minion cotton candy. The Jurassic Cafe also offers a Beyond Meat patty, though the accouterments are not vegan-friendly. When all else fails (or you just need a caffeine boost to get up those stairs), the Lower Lot Starbucks will provide.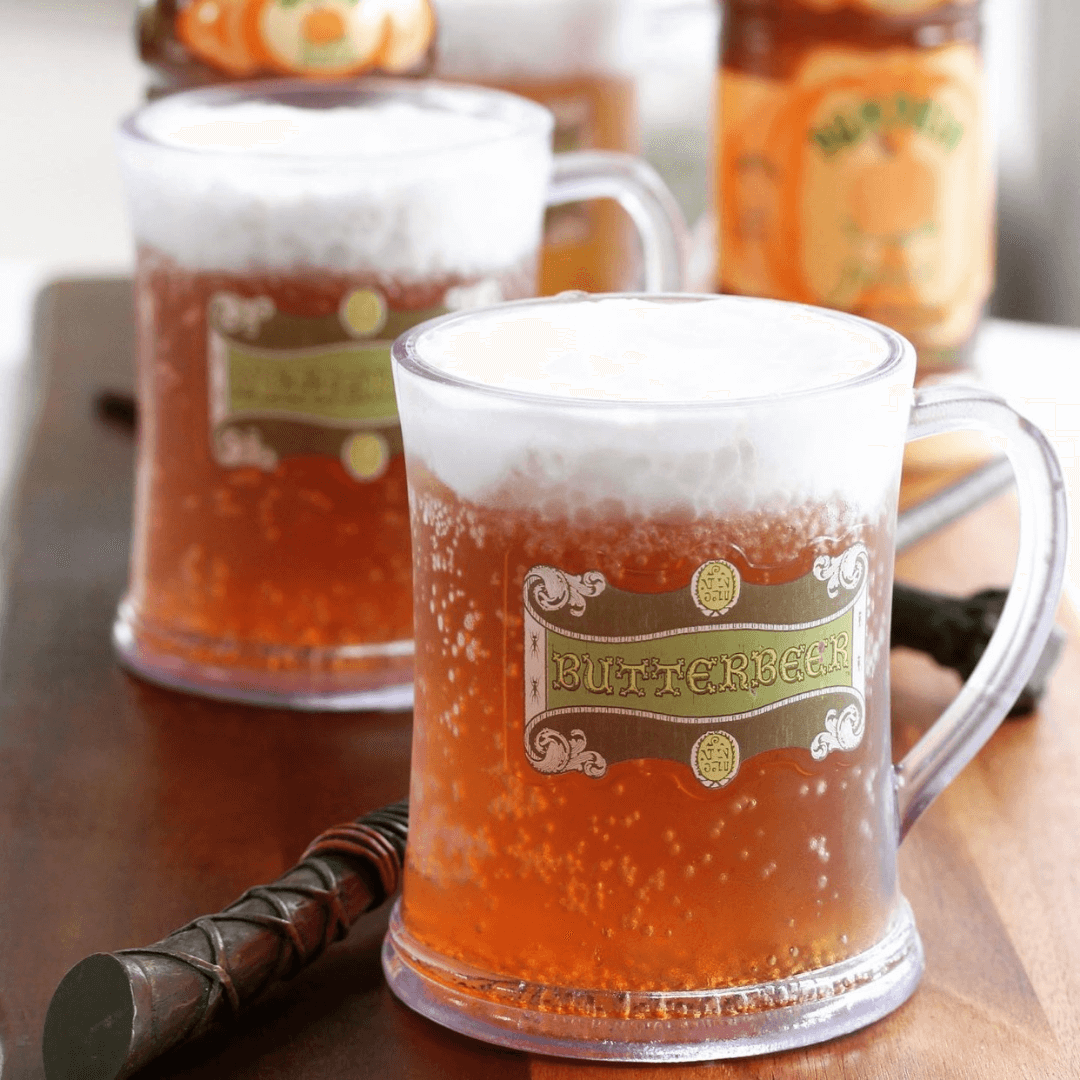 Universal Studios
Universal Studios Orlando
Orlando seems to be the vegan testing ground for many theme parks. Like Disney World, Universal Orlando tends to debut plant-based items before they eventually make their way over to the West Coast. This guide specifically covers Universal Studios and Universal's Island of Adventure. To prevent this from becoming an encyclopedia, we've left City Walk and Volcano Bay out.
Vegan food options: Universal Studios Florida
It's 7am and you're so excited to get to Universal Studios that you forgot to eat breakfast. Before you fast-track it onto a ride, swing by the TODAY Cafe for vegan options far more exciting than a fruit cup. The morning show-themed eatery offers vegan croissants, overnight oats, towering avocado toast, and a vegetable-forward vegan panini called the I Heart Vegan. Al Roker is looking out for the vegans!
If you're here for Harry Potter, you're in luck, because the theme of witches and wizards extends throughout Universal Studios and Island of Adventure. Stop by the Leaky Cauldron for Hearty Irish Stew or a flaky Shepherd's Pasty Pie. Each entrée comes with its own vegan side, and we highly recommend completing the meal with a tall glass of Pumpkin Juice. A Shepherd's pie made with Beyond Meat is also on offer at Finnegan's Bar & Grille.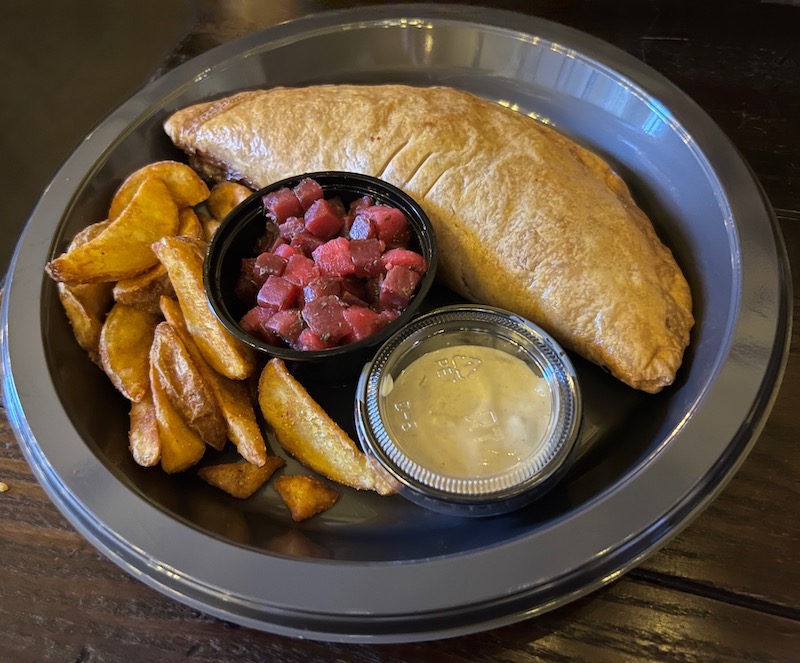 Universal Orlando Vegans
Once you've ridden Escape from Gringotts to your heart's content and you've ventured out to other areas of Universal Studios, check out the many vegan options scattered throughout the campus. Thanks to Executive Chef Ron Cope, hearty dedicated vegan options are available at most park restaurants. In the mood for something carb-heavy and satiating? Lombard's Seafood Grille offers a solid vegan noodle option by way of Golden Gate Noodle Bowl (request vegan modifications). Craving Italian? Louie's Italian Restaurant offers meaty spaghetti bolognese, spaghetti marinara, and minestrone soup. You can also order a whole vegetable pizza for the table and request no cheese. Note: this move also works at Luigi's Pizza.
If you're in town for Horror Nights, don't miss a taste of the seasonal classic: Vegan Pizza Fries at KidsZone Pizza. Yes, they're just what they sound like: French fries topped with marinara, vegan cheese, and plant-based pepperoni. Visitors take note: KidsZone Pizza is only open for special events, such as Horror Nights and Mardi Gras.
For a standard Beyond Burger, Mel's Drive-In and Richter's Burger company all offer this reliable vegan option. While not a burger, The San Francisco Pastry Company offers a substantial vegan sandwich and even vegan croissants. Similar plant-based croissants and a vegan brownie are also available at Croissant Moon Bakery.
Looking for just a snack to get you through a particularly long line? Most stands offer refreshing fruit cups at the very least, and Fast Food Blvd near the Simpsons even carries hummus. Like Universal Studios Hollywood, there's always Starbucks.
Vegan food options: Island of Adventure
Ready to try something … adventurous? This is the theme park to do it. You won't find Pizza Fries, but you will find a plethora of satiating vegan options to fuel your jam-packed day of thrills. Below, we've broken it down by quick service, carts, and sit-down dining.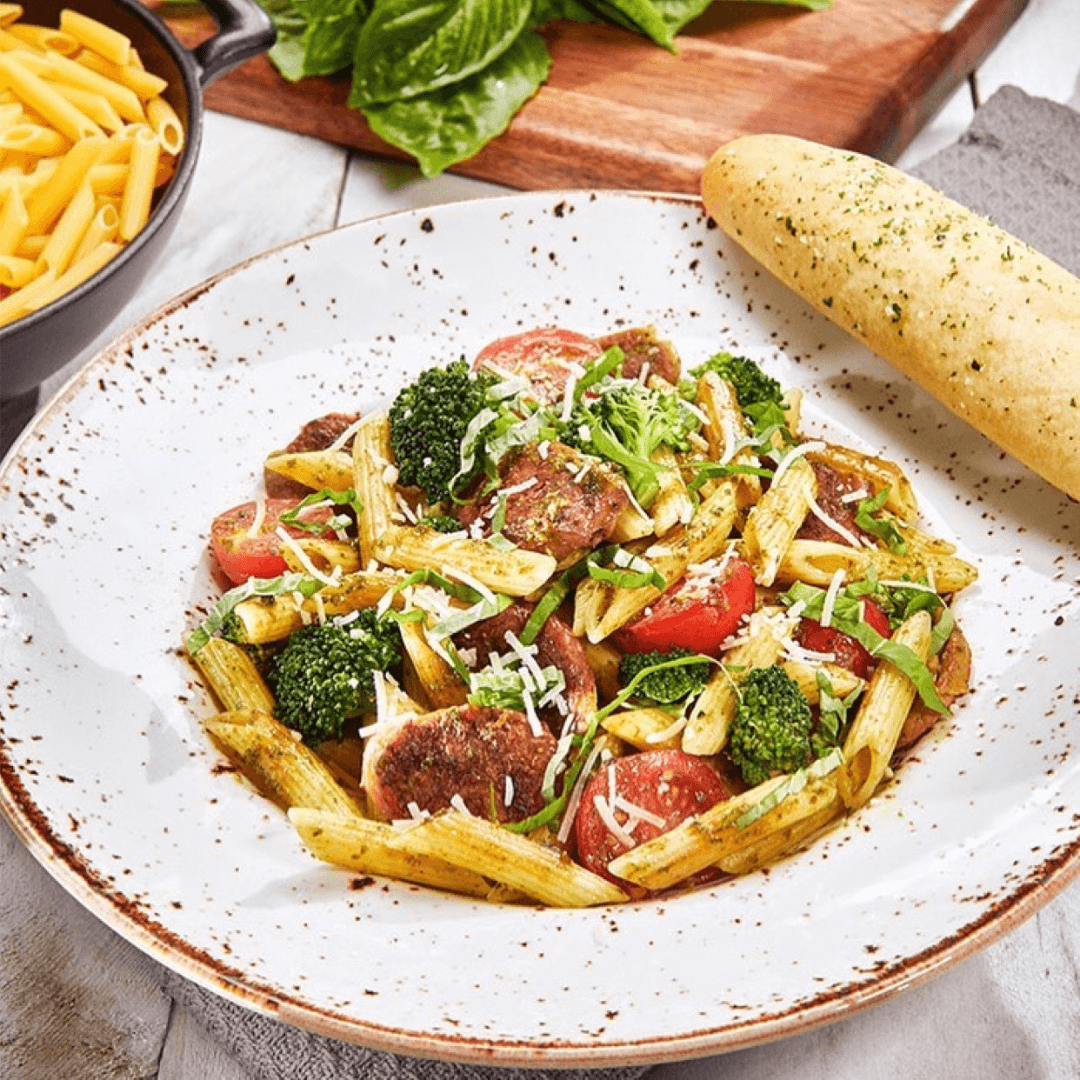 Island of Adventure
Quick service
When you're at a theme park and aren't fortunate enough to hold a season pass, you want to get the most out of your time there. Quick service is the way to go if you identify with this scenario. For quality Italian-inspired eats that don't require a waiter, check out Cafe4. The menu offers vegan spaghetti bolognese, eggplant parmesan, and breadsticks with marinara. The Green Eggs and Ham Cafe isn't quite Italian, but the Vegan Pizza Tots do come with melty vegan cheese and marinara.
Prefer a handhold? Embrace your inner Marvel superhero at the Captain America Diner. The Beyond Burger patty comes with Follow Your Heart cheese and a schmear of vegan garlic aioli on a plant-based bun. And here's the best part: in Orlando, these fries are vegan! A (vegan) cheesy veggie burger is also on the menu at Wimpy's.
On a rare chilly day in Florida, the Comic Strip Cafe has the thing: vegan tofu ramen. The spot also offers marinara with breadsticks and yucca fries with plant-based mayo ketchup. Odd assortment, we know, but at least there's something for every craving.
For Mediterranean-esque meals, stop by Doc Sugrue's Desert Kebab House. The menu offers a Vegan Meatball Kebab plate as well as a hummus appetizer served with vegetable crudite and pita bread. Fire Eater's Grill offers a similar Mediterranean-inspired menu with its Falafel Gyro (hold the tzatziki).
To satisfy the healthy eater in your group, check out the menu at Thunder Falls Terrace. The Rice Bowl served with jackfruit and no cheese is a nourishing and filling bowl of rice, beans, jackfruit, plantains, and salsa.
Missing Harry Potter? Head to the Three Broomsticks. The eatery offers vegan breakfast options by way of porridge (aka oatmeal, ask for no butter croissant) and modified English breakfast items such as baked beans, grilled tomatoes, sautéed mushrooms, and breakfast potatoes. For lunch and dinner, tuck into the Mushroom Pie Platter and enjoy a frosted vegan Butterbeer for dessert. Note: the chilled Butterbeer at this park is vegan if ordered without the foam topping. The warm Butterbeer; however, contains traces of dairy.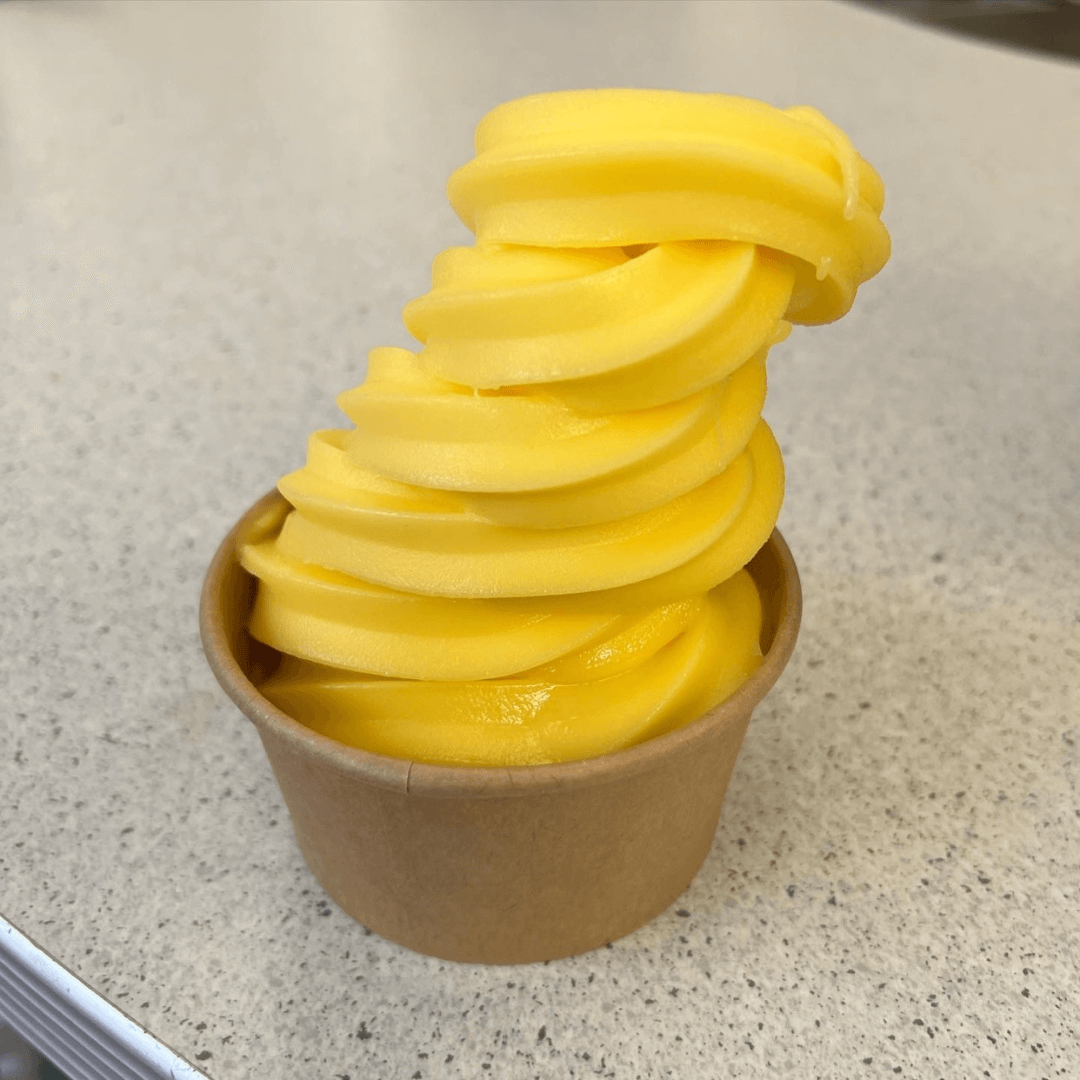 Universal Studios
Carts and stands
The window service spots and carts throughout the park are ideal for snacks and sweets. On a hot day, vegan park-goers should turn to Chill Ice Cream for a refreshing Dole Whip (in a cup, the cones are not vegan). The various concession stands that line pedestrian paths also carry this irresistible pineapple sorbet as well as a selection of chips, soft pretzels, ICEEs, and roasted nuts.
Sit-down dining
Mythos Restaurant is an establishment we'd patronize even if it was outside of the theme park. The solid menu offers a good amount of vegan options from appetizers to mains. Start with the Lemon Hummus or Mezze Platter then move to the vegan-friendly Souvlaki Couscous Bowl or Vegan Pad Thai. Specify that you're vegan when ordering so the kitchen knows to make the appropriate modifications (removing the feta and tzatziki, swapping in vegan peanut sauce).
Confisco Grille offers similar vegan options to Mythos in a table service setting. The Lemon Hummus appetizer and customizable vegan pad thai are both available here, though the Udon Noodle Bowl with Tofu (request no egg) is unique to this spot.
For more on vegan theme parks, read: